From the bump to the baby, making keepsakes along your little one's journey should be fun. With so many different options on how to make and print these treasured memories, we thought we would help you out with some clever ideas. Here are 4 ideas you should include in your nursery collection.
1.The Beginning
It's always a cute idea to start from the beginning. Try a sweet wooden artistic picture of either mom's tummy.  If it's an adoption, try doing a clever, small print of the baby's sonogram or a snap from the first day you brought the baby home. The great thing about wood prints is that they add a warmth to the room immediately. The natural grain will show through the hi-lights and you can easily make a series of 4×6 blocks month by month of the baby for the first year.


2. The Announcement
Now that baby is here, it's time to celebrate and let friends and family know! Baby announcements have come a long way. You can now make mini pieces of artwork that will impress and let the world know, your squad just got a little bigger. Choose from four different paper finishes and personalize the card with baby's weight, length and date of arrival. It's a card worthy of going on the mantel and it's one of a kind just like your little bundle of joy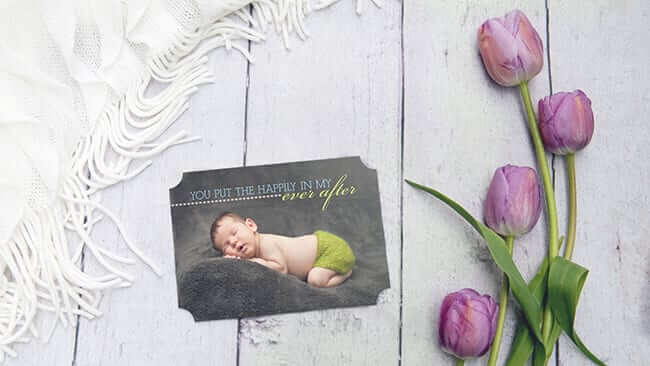 3. The Newborn Book
Cherish those first few months! Whether or not you get professional photos of baby's first few weeks of life, the one thing to do is to get that window of time photographed and printed. The below example is a 6×6 – 10 page Hudson Album. It's perfect in size to give to the grandparents for a brag book. No need to rework it, simply make a copy of it in the PixPublisher software to 8×8, 10×10 or 12 x 12 for yourself and you've made an heirloom your child will love to have when they get older.


4. The Large Art Piece
Now it's time to start thinking about the bigger picture, the centerpiece of the room.   Metal prints are lightweight and offer superb image quality on aluminum. When you are deciding on a finish for a portrait of your baby, stick with the white. The white will make sure the skin tones stay intact, silver finish is generally for black and whites or architecture. Metal prints are easy to hang with a french cleat system on the back. Plus, you have over a dozen choices in sizes and shapes. For a softer look, you may want the satin finish as opposed to the glossy.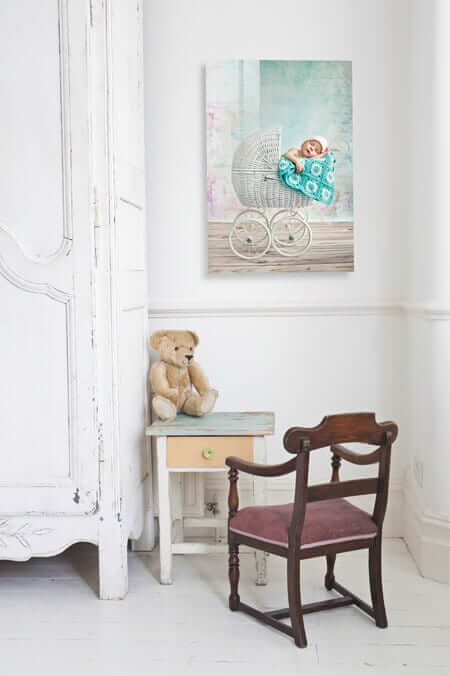 5. Print Every Step
If you are looking to keep your baby's room current and fresh the older they get, then there are a few great ideas to keep up with changing out images. The clothesline is simple and easy. Print your photos, hang up a decorative string and pin square and small photos to the string with clothespins. 5×5  size prints are the perfect fit because they are affordable and easy to switch out.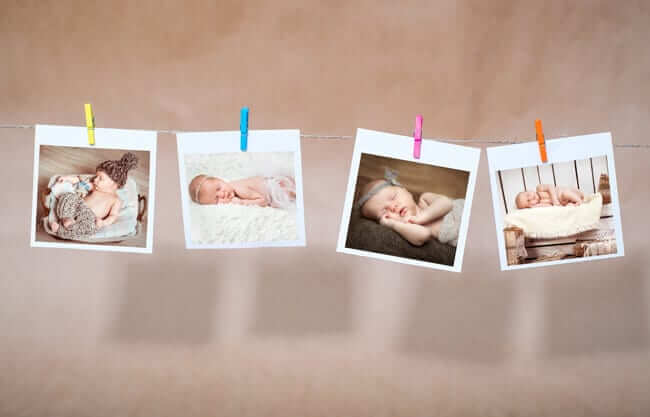 If you are looking for other great ways to decorate your baby's nursery, check out this blog post on 15 Amazing and Free Nursery Printables to add more artwork to the room.