A gallery wall is an incredible way to decorate a personal space; They're glamorous, aesthetic, and personalized in every detail. But a display with such a crisp and luxurious appearance would surely come with a dramatic cost, right?
Right and wrong. If you want to display the most opulent printing materials in a home gallery, such as metal and acrylic, the price of each piece will add up fast. Worth it? Absolutely – but not a great fit if you're looking for a lower-investment gallery.
We're going to walk you through how to create a large and beautiful gallery wall for $100. We've put together four different approaches, highlighting what you'll be able to create whether you're starting from scratch or already have a few frames to fill. See our guide for building your gallery wall to turn your prints into a professional-level gallery!
The best part? Spend $100 with Printique, and your incredible display will ship to you for free!
Ready to create your museum-worthy display?
---
The 8-Frame Horizontal Gallery
This is our start-from-scratch $100 gallery. Even if you have never owned a photo print or frame before, you'll be able to construct this within your $100 budget!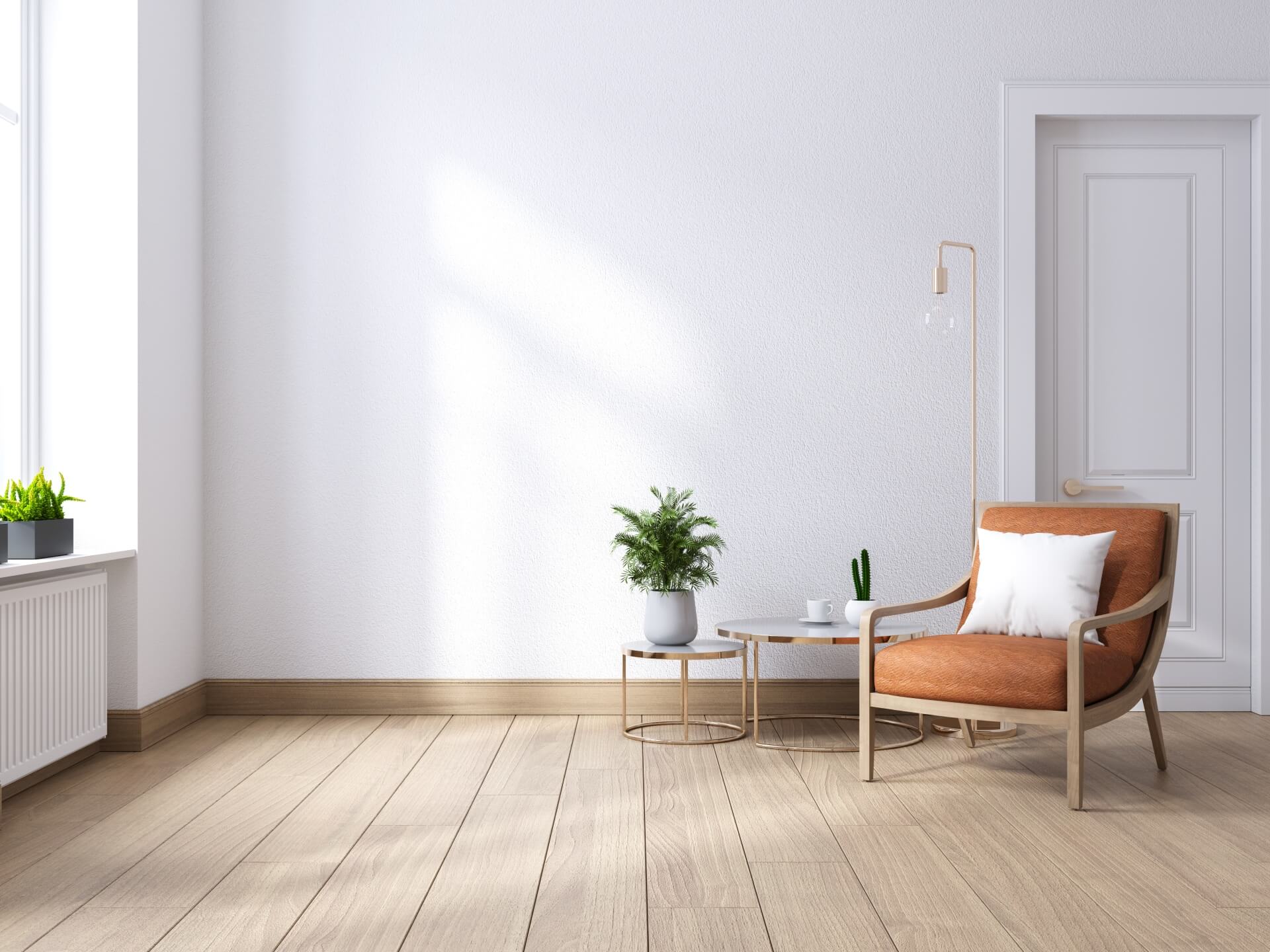 Begin by identifying a decently large empty space in your home. In the best case scenario, the room will be anchored by a few pieces of furniture, as pictured above. See how that wall space is just begging to be decorated?
This style is also great for hallway display, given its large horizontal span. It will look gorgeous centered above a couch or other long piece of furniture. It's also a fun way to elegantly and neatly display artwork in your child's room.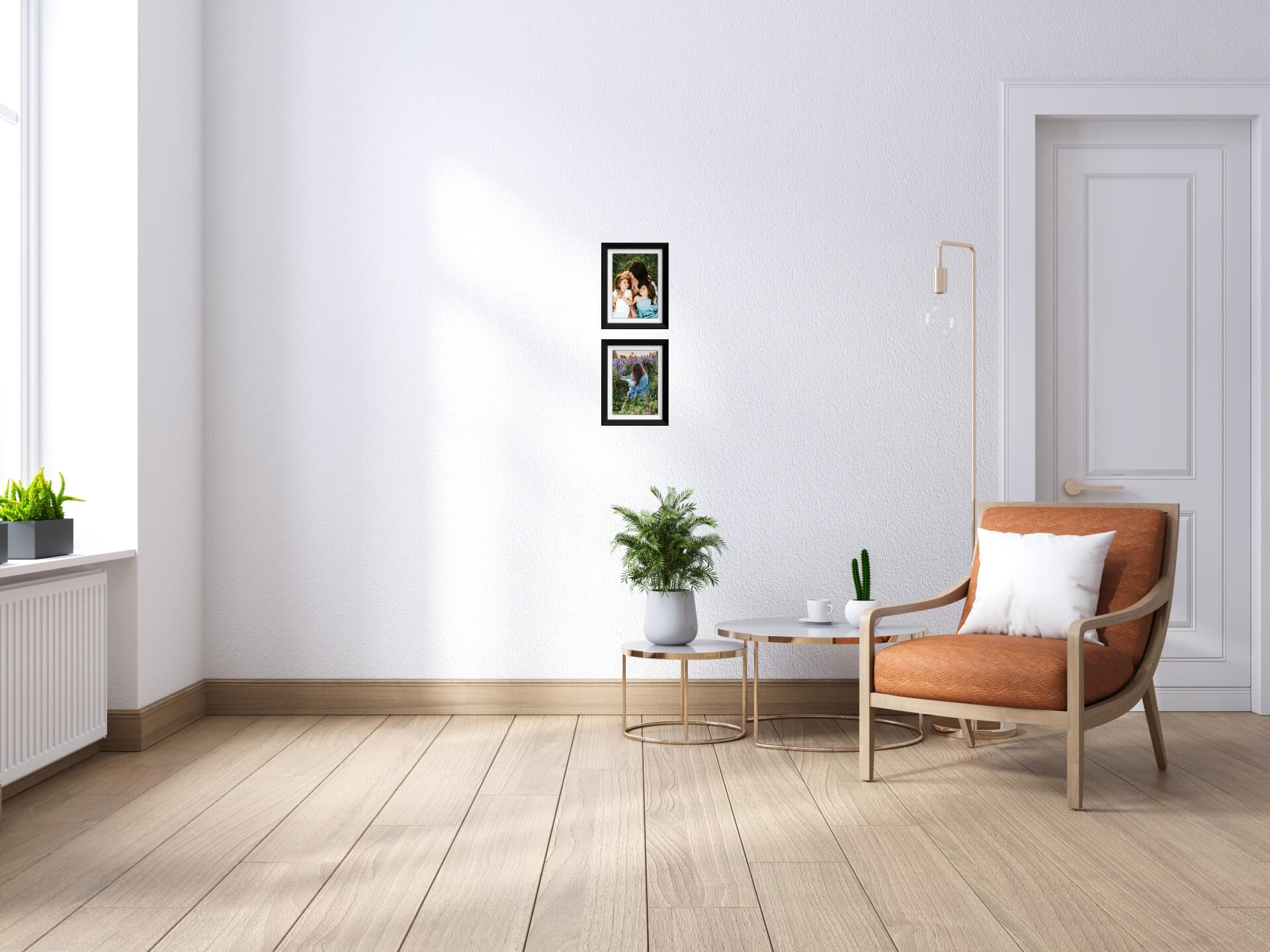 You'll want to begin this gallery with two photo prints; in this example, we'll be using 6×9 inch photo prints, but you can alter that slightly up or slightly down to accommodate what fits your space (and what frames you are able to find). We also use a blend of colorized and black and white photos in our example; This isn't necessary, but it has gorgeous results!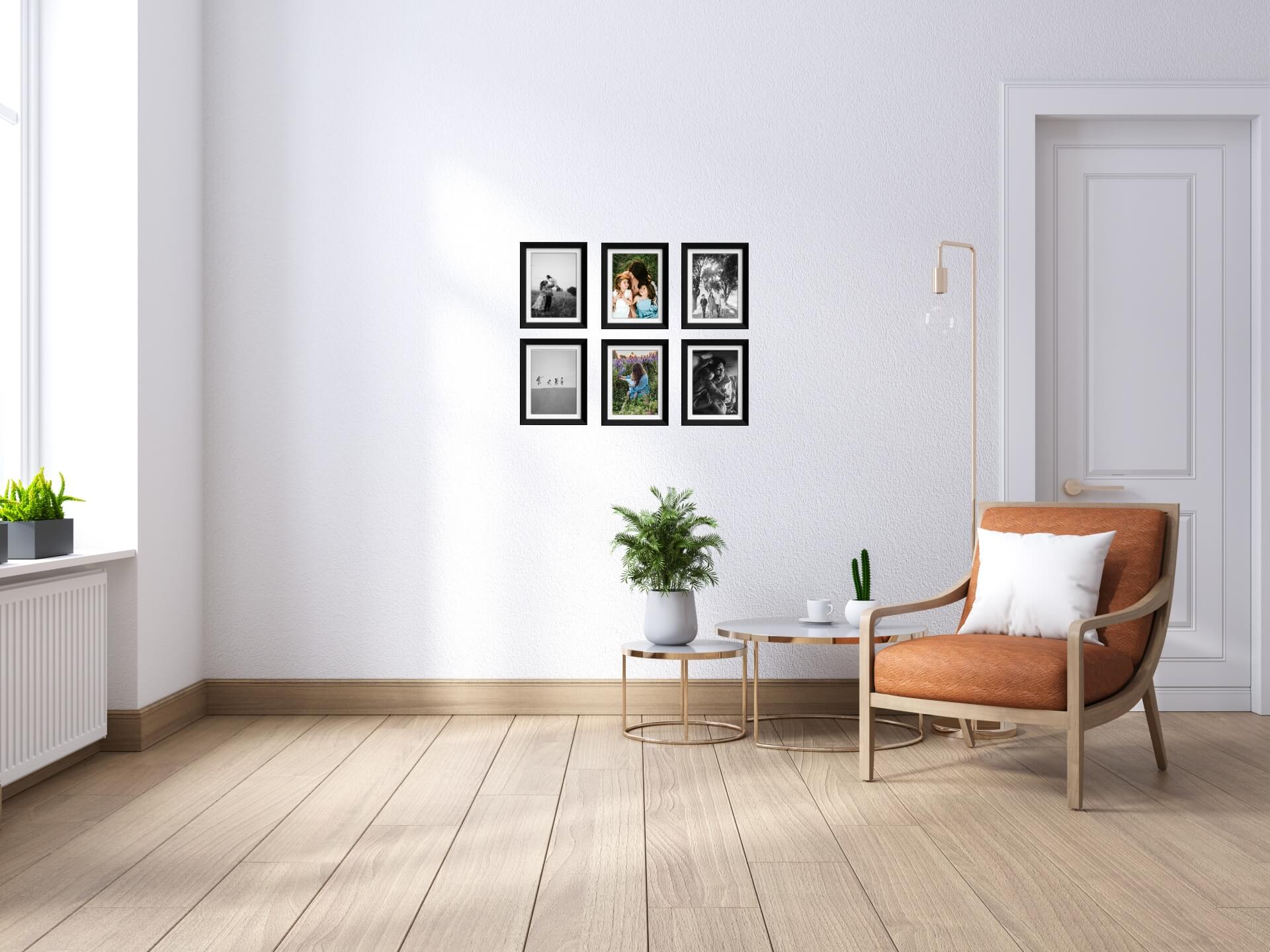 Once you have centered your starting prints in the space you would like to hang them, build off of them in both directions. We added four framed black and white prints, two on either side of our starter prints.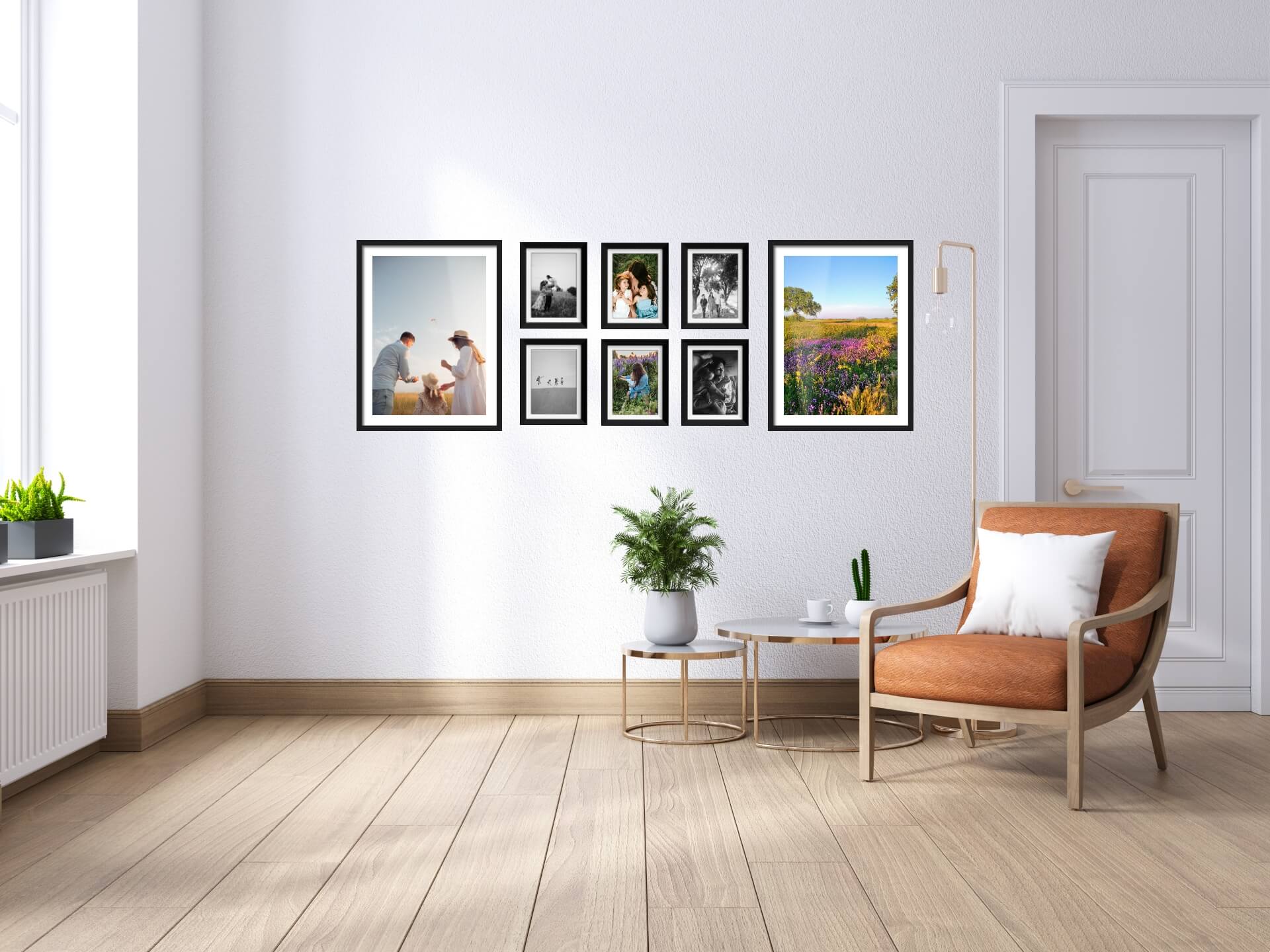 For the final step of this gallery, cap the ends of your gallery with two framed poster prints. For the most aesthetic result, print photos that connect with the color scheme of your starter prints!
For this project, your two poster prints – if printed on 16×20 inch premium Luster paper – will cost $31.48. Six 6×9 inch prints will cost $9.54. This leaves you with a remaining budget of $58.98 to frame your prints!
If you've ever bought frames, you know they can be pricey! We recommend getting a set of simple black frame prints with white matting included to stay within budget while nailing the high end look. Floating frames can also have a beautiful appearance, especially if your gallery will be hanging in an area that receives natural sunlight! Stores like Michael's, Walmart, and Target often offer great deals on framing.
If you're putting together a more eclectic gallery, make this project all the more fun by hunting for deals on Facebook Marketplace and local Buy Nothing groups.
---
The 8-Frame Clustered Gallery
This gallery calls for the same materials of the first gallery, with a slightly different arrangement.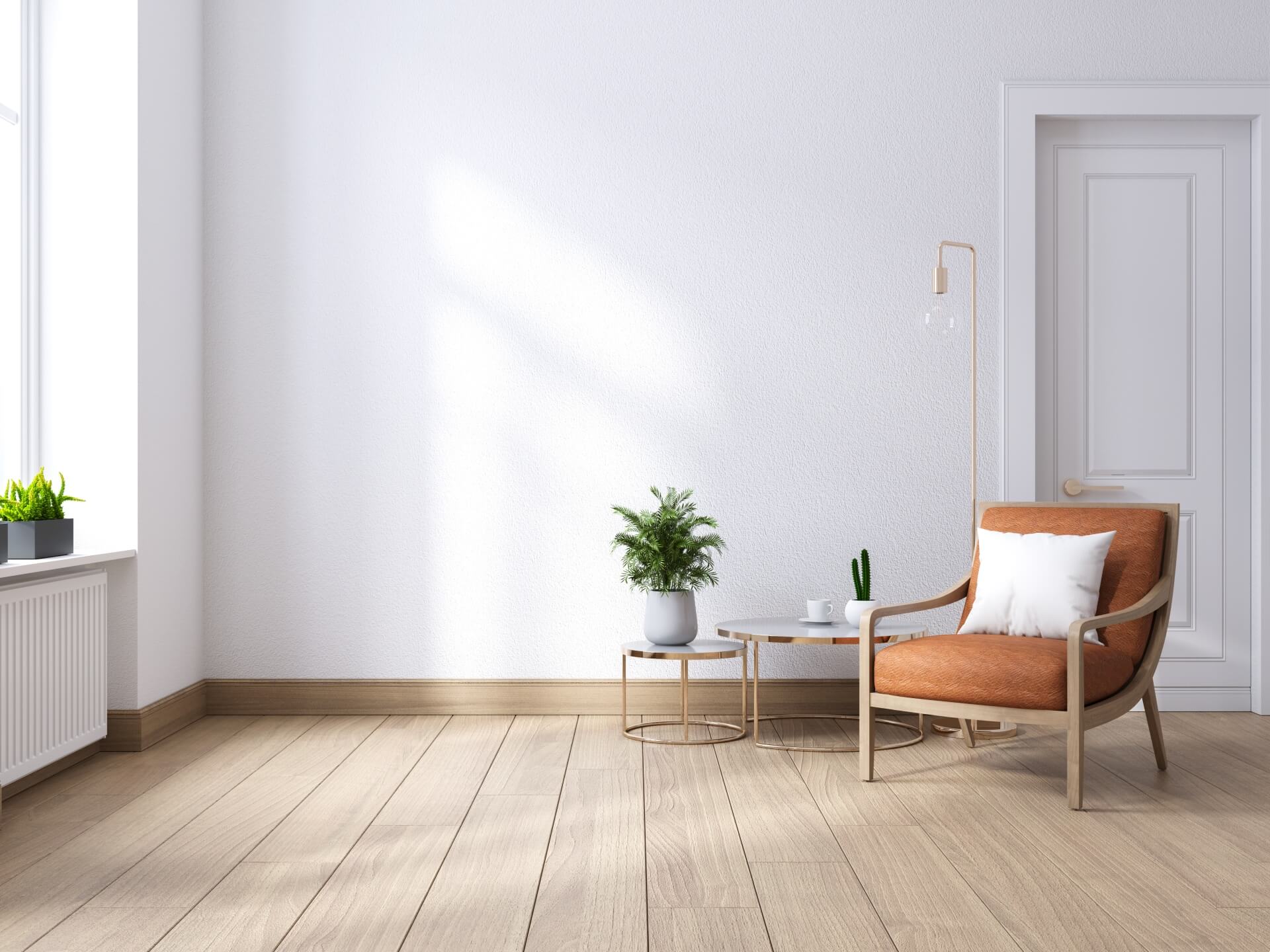 For this gallery, you'll want to begin with your two large framed posters. This will help ensure your gallery stays balanced as you build around it with smaller pieces.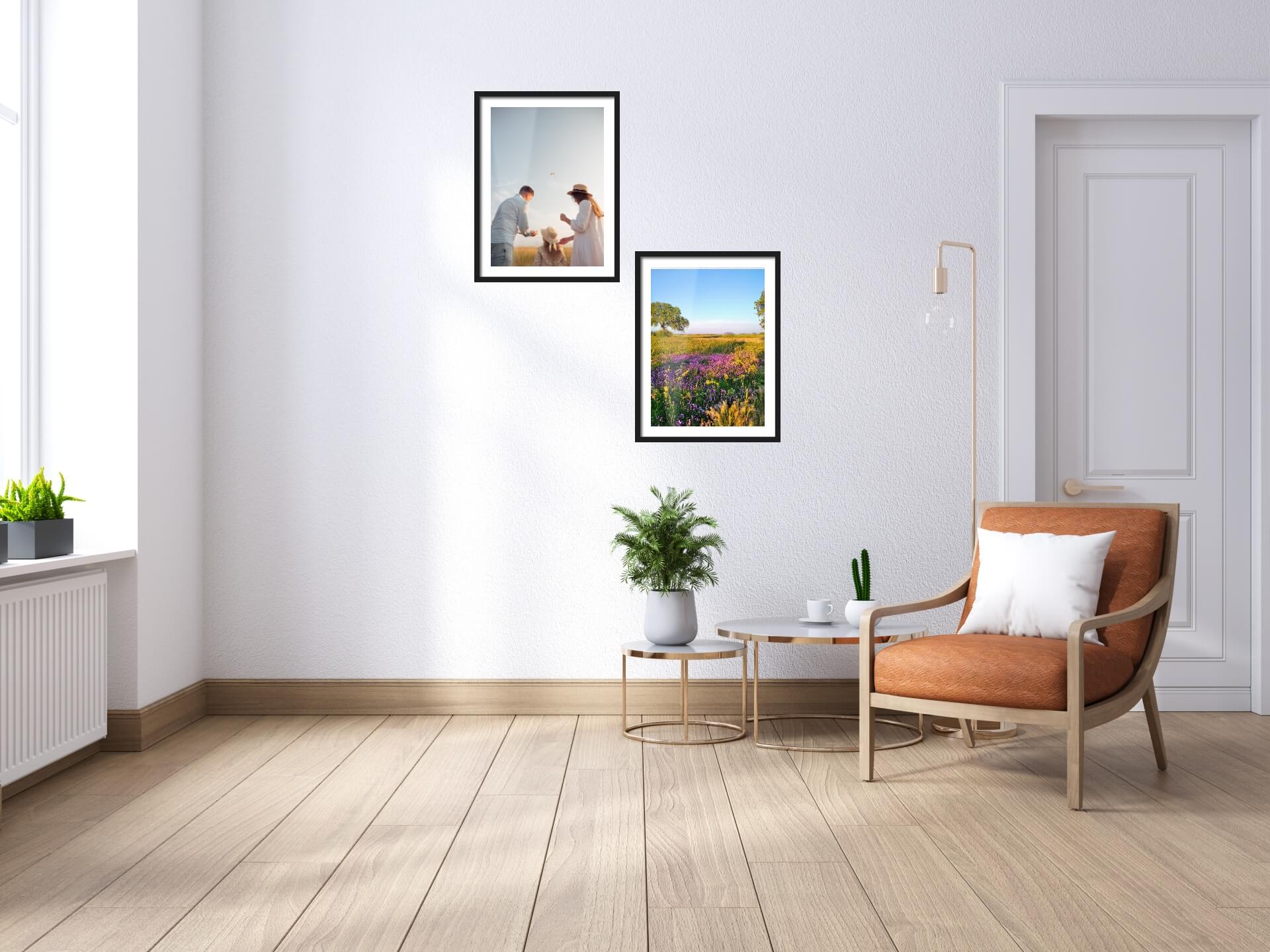 Next, you'll want to add your two smaller prints along the side of your larger frames.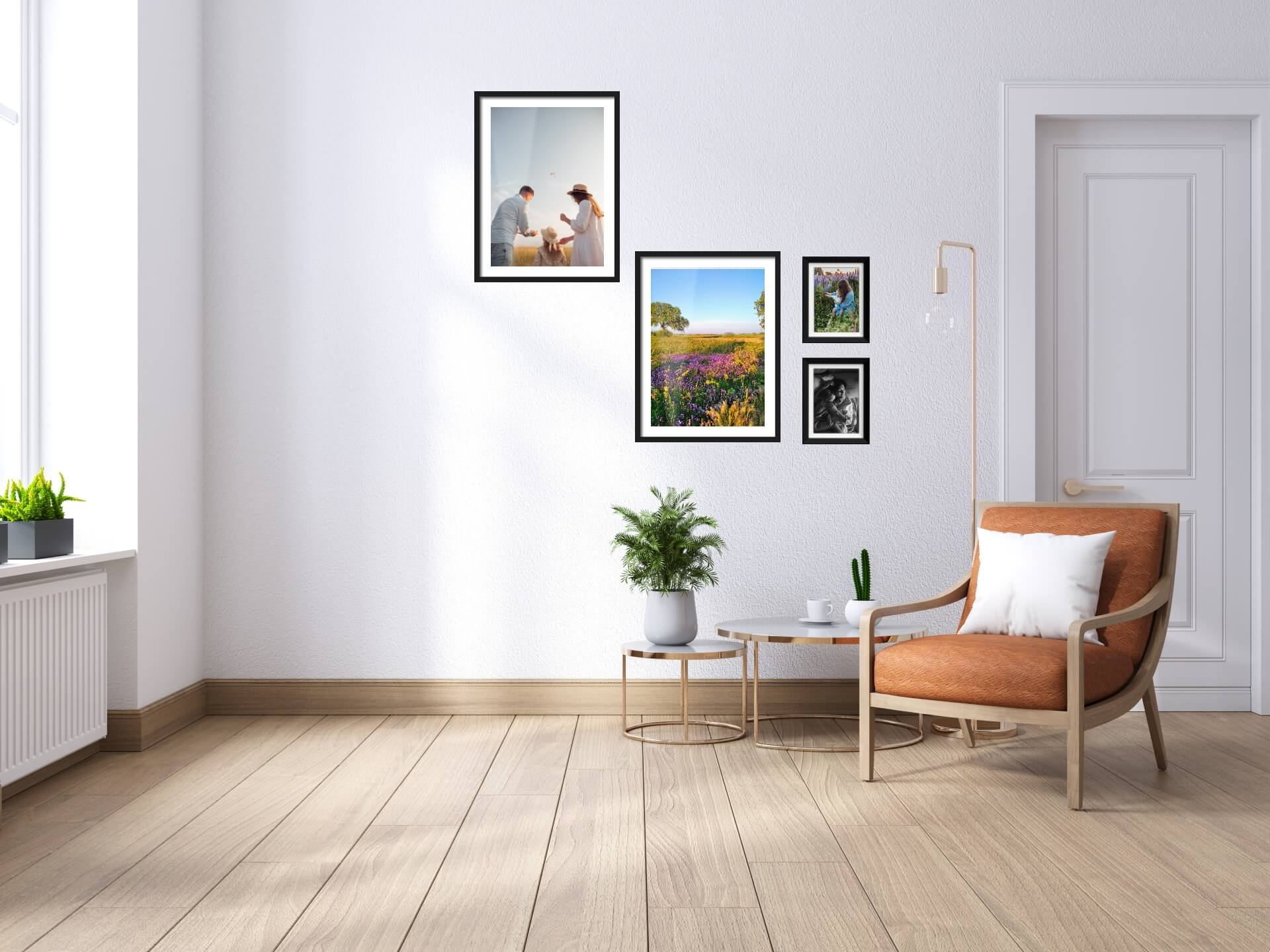 Fill in the gap areas created by the two large framed prints.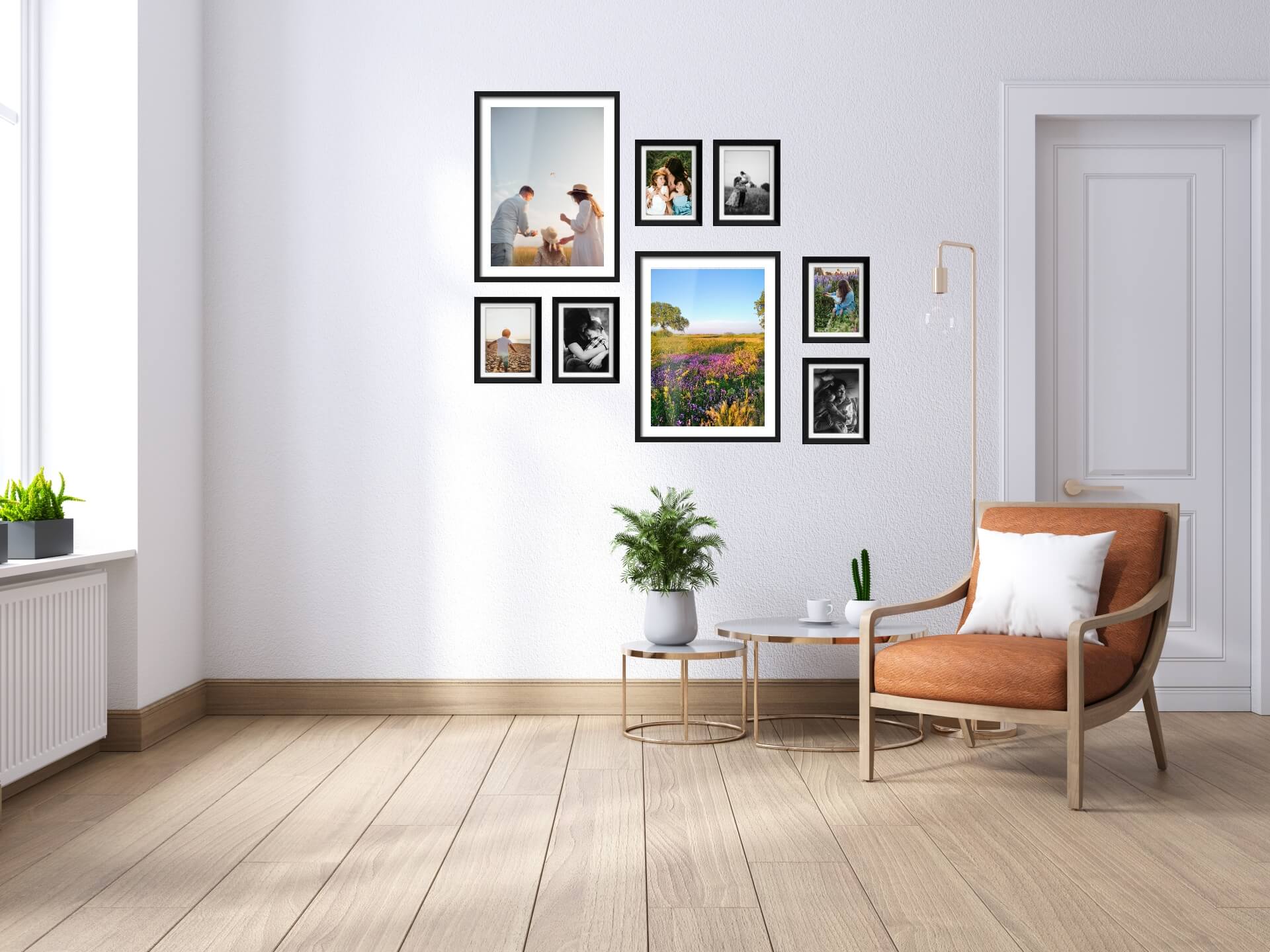 We love this gallery for a few reasons; First, it has a flexible application, thanks to its easy-to-mirror arrangement and well-balanced shape. Secondly, if you're using eccentric, mix-matched frames, this shape will aesthetically absorb the range of frame sizes; None of your frames will stick out awkwardly from an otherwise aligned group. Finally, it's easy to grow! If you're gifted a photo print, it will be easy to add it to this gallery. Whereas the horizontal 8-frame gallery calls for certain print sizes and orientations, this gallery is much more flexible in what it can accomodate.
---
The 8-Frame Gallery, Poster Prints Edition
The following two galleries are for those of you who already have a few frames in your possession and are looking to build them into a new gallery wall. Starting from scratch, this project will put you slightly over your $100 budget; But with a few frames already in hand, you'll be building an incredible gallery wall for not a dollar more!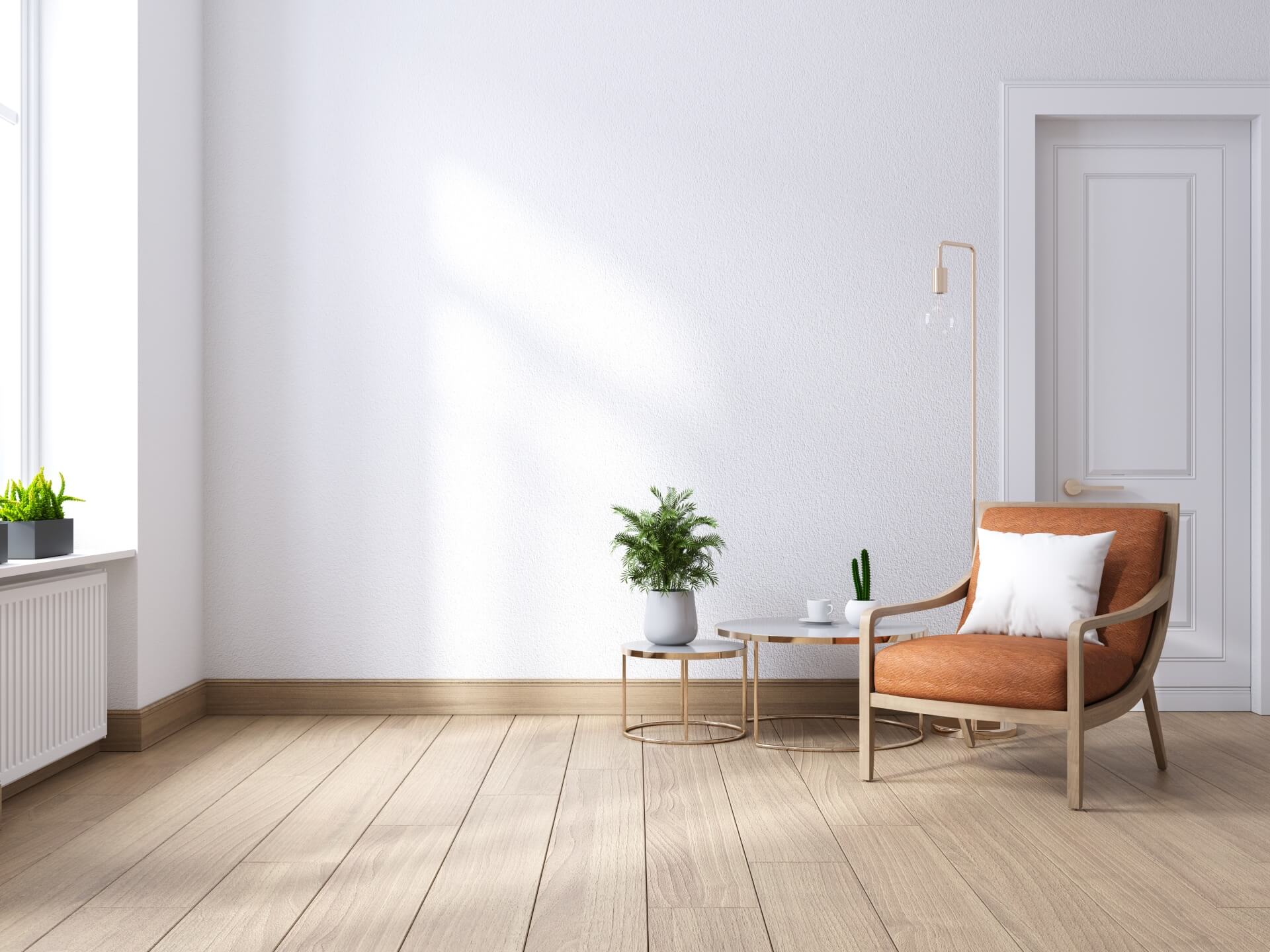 You'll want to start with your two framed poster prints again. Because this gallery puts frames you already own to use, you'll have to approach it with a more flexible structure in mind. The arrangement we outline below is easy to adjust based on the frame size you're using; The one necessity is two larger frames, and six smaller frames. Use what you have to reduce the spend however much you can.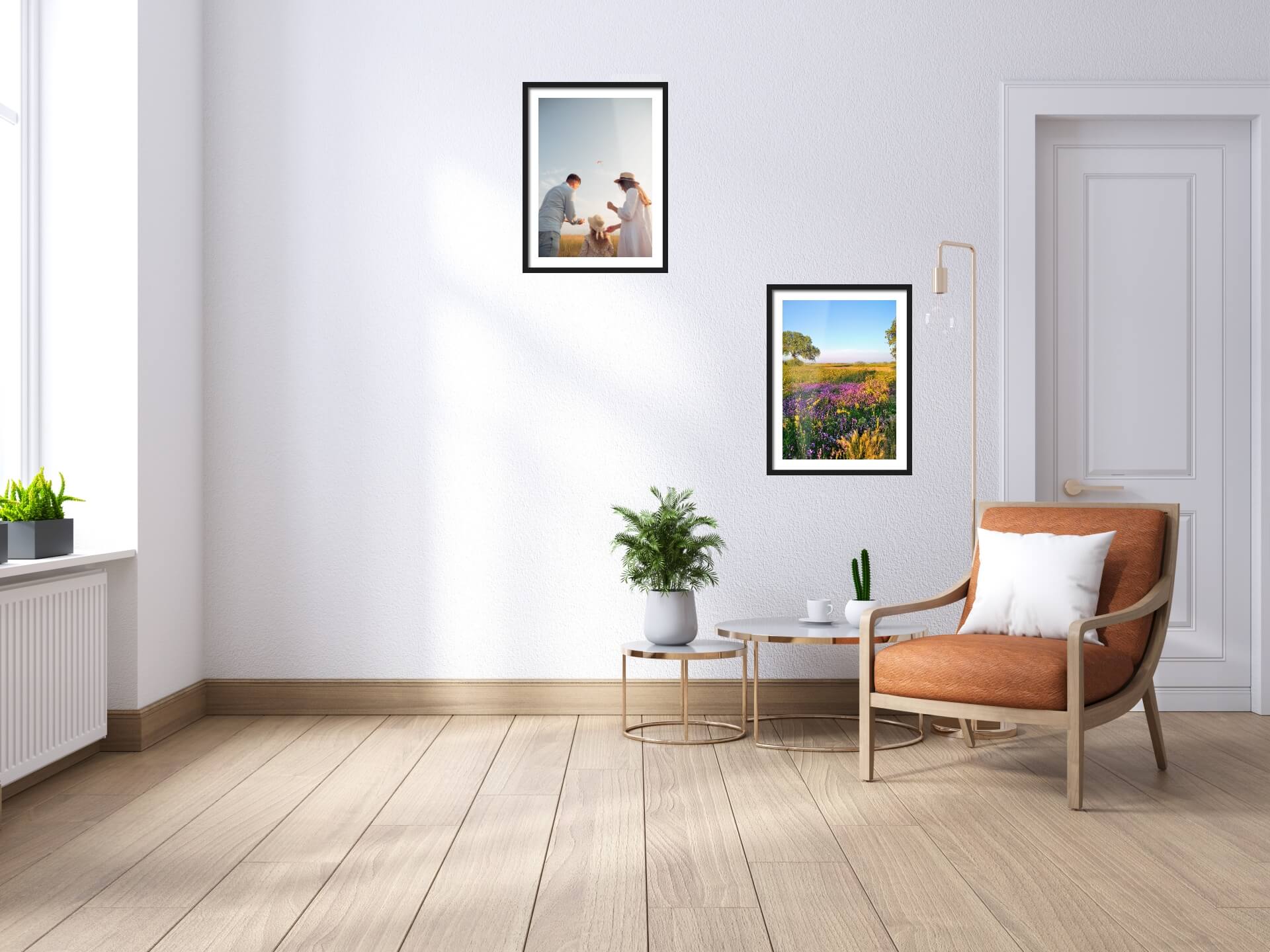 Once you've hung your large framed prints, fill in the outer borders of your gallery with two unframed poster prints. For the frameless prints, we recommend printing textured, vintage illustrations. This will help keep their presence large even without a frame.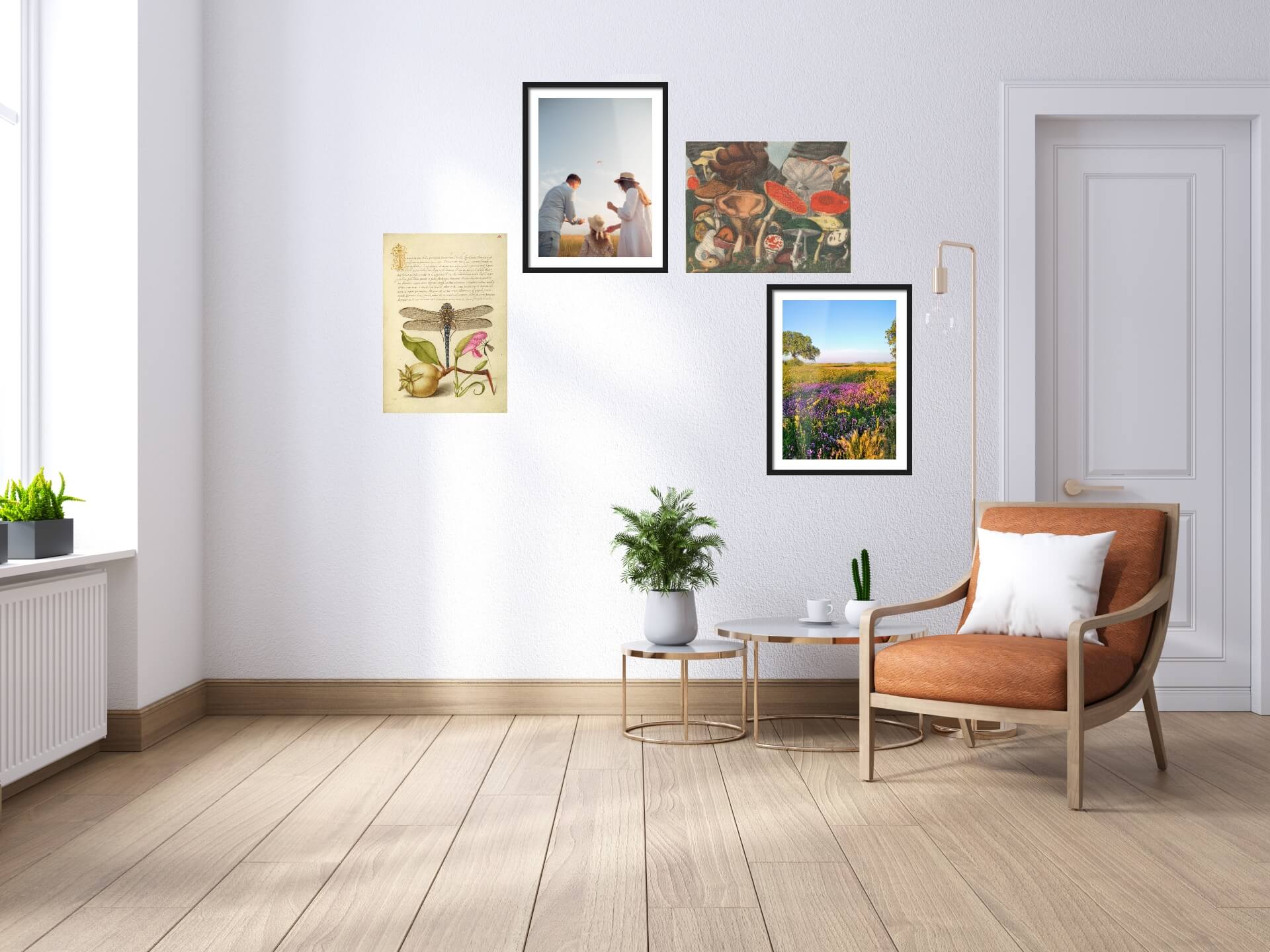 Finally, you'll want to fill in the final gap of your gallery with your six small frames. We love this gallery for its flexibility and incorporation of various mediums!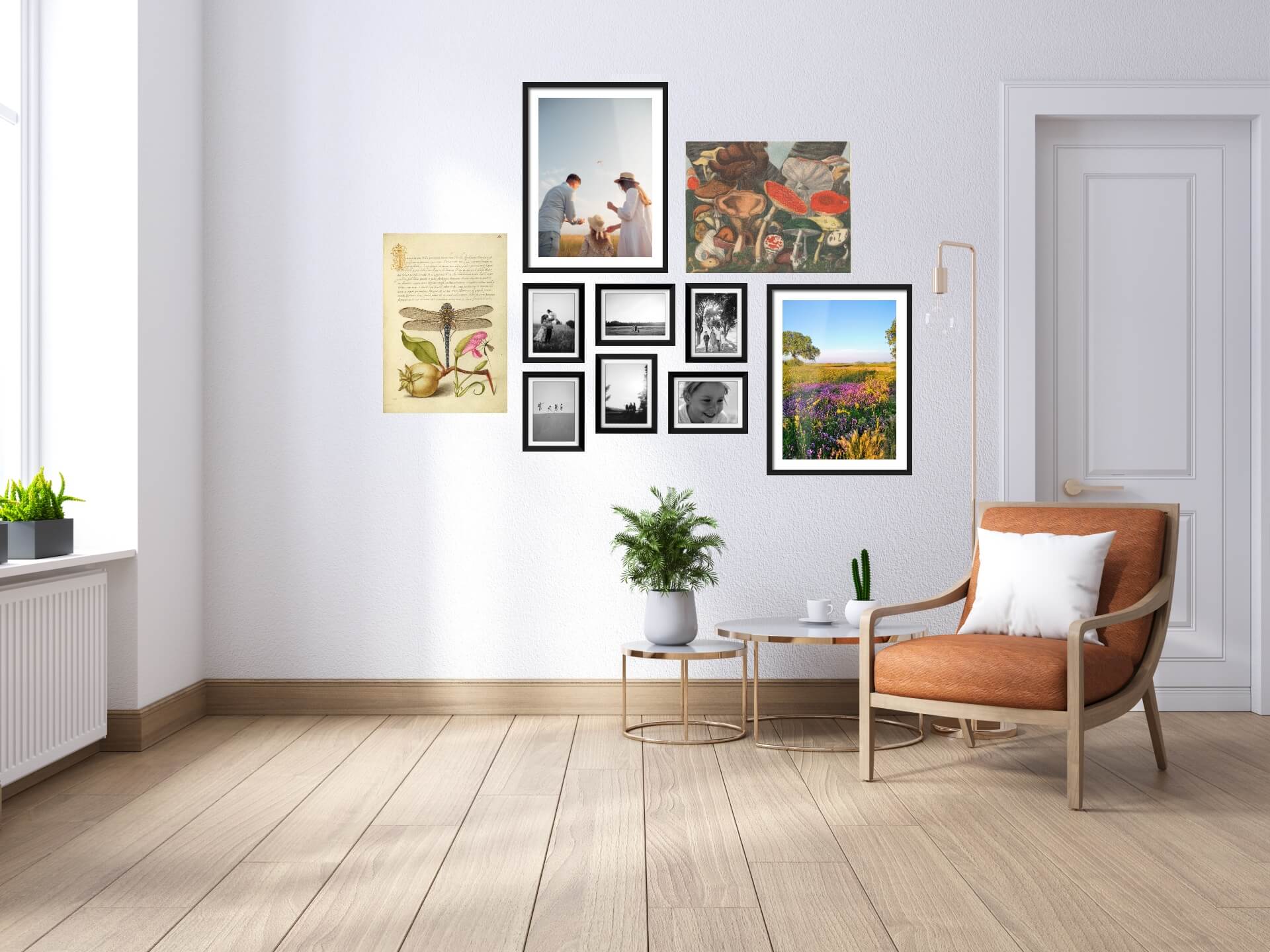 Stunning! The blend of black and white photos, colorful photos, and illustrations gives this gallery character while keeping it neat and elevated.
---
The 6-Frame Gallery, Poster Prints Edition
For this next project, you'll only need six frames. It's constructed slightly differently from the previous gallery, but possesses the same flexible qualities!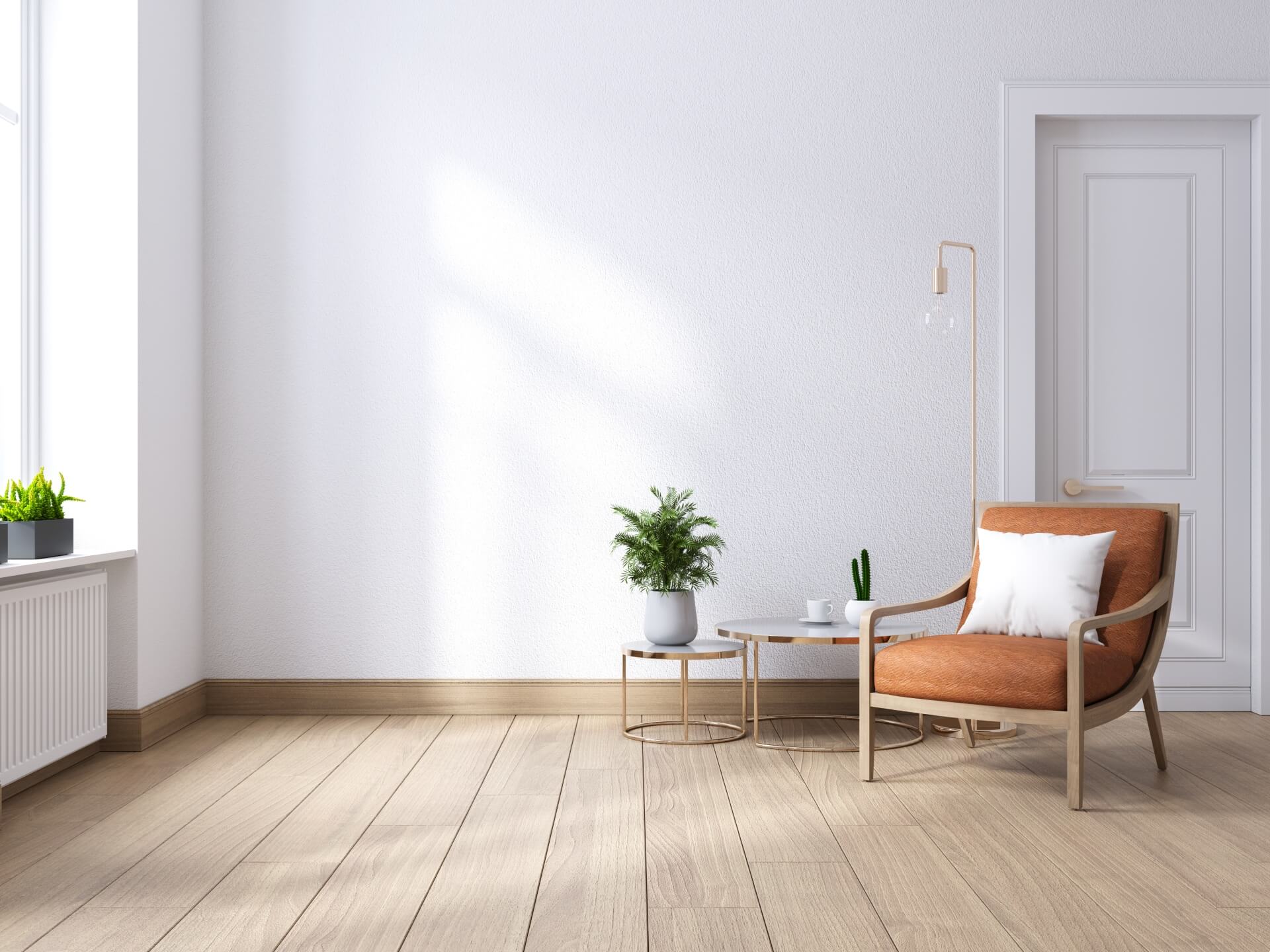 Again, you'll want to begin with your large framed poster prints. For this gallery, we recommend placing them slightly closer together. They'll have a more centralized presence in this gallery, rather than serving as gallery borders.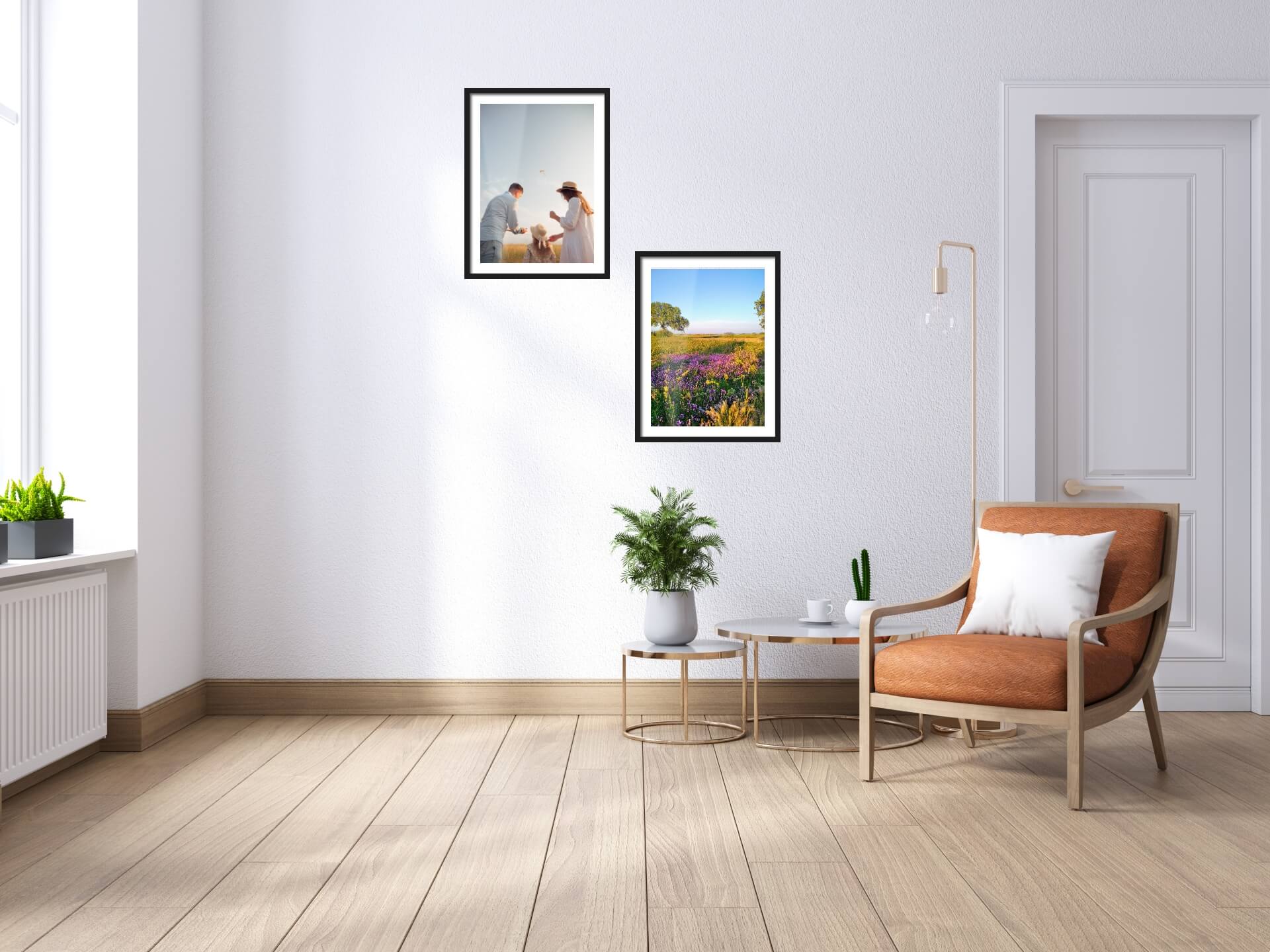 Next, you'll want to add your frameless prints diagonally across from each other, creating a somewhat jagged square shape.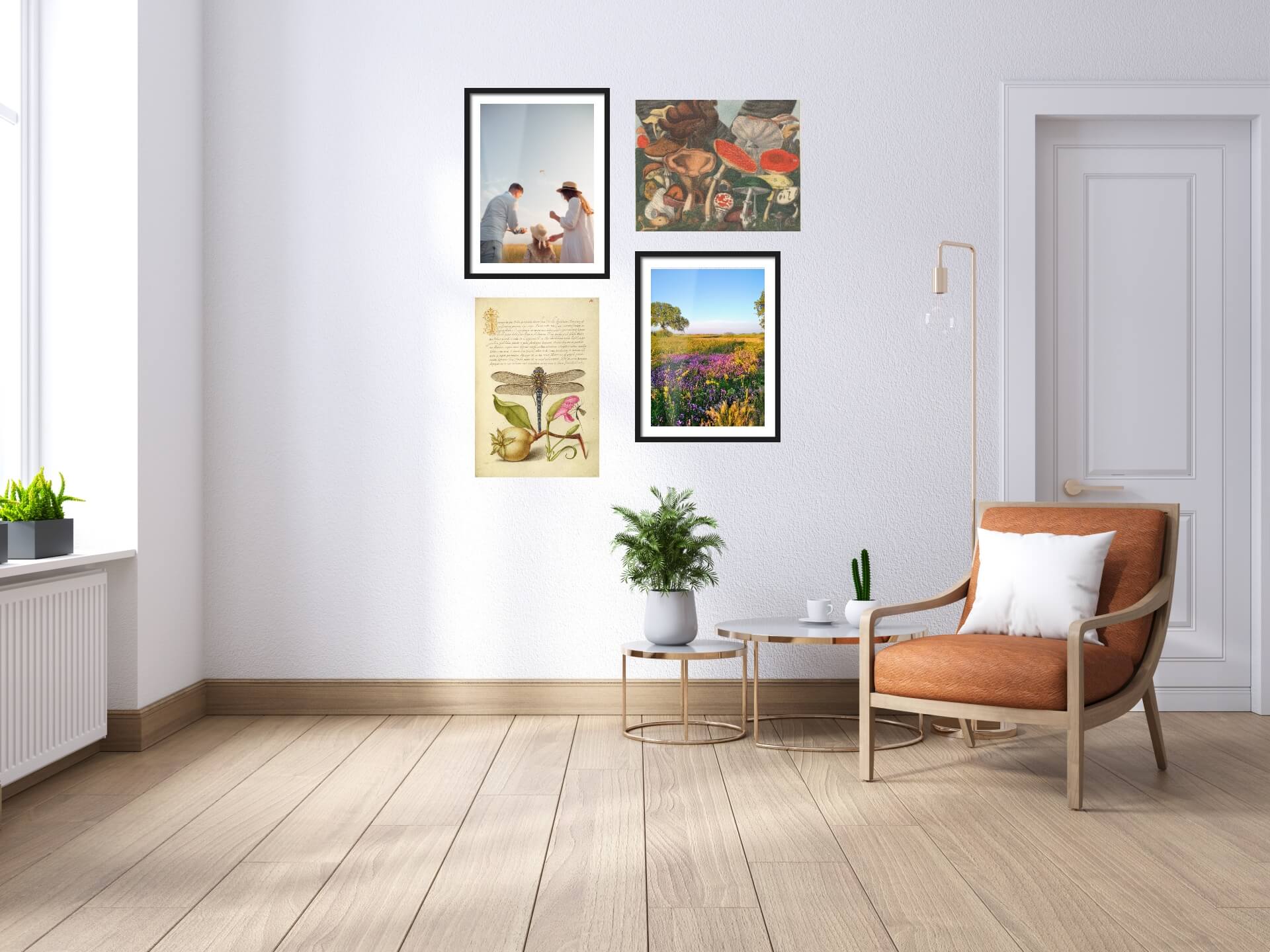 Finally, you'll want to add your small prints along the outside of your gallery. We recommend beginning with the top print of one side of your gallery, and the bottom print of the other side of your gallery. This will help you avoid accidentally arranging your small prints along the same line as each other; If the small prints are lined up on both sides of the gallery, the unaligned arrangement of the central part of your gallery will appear messy.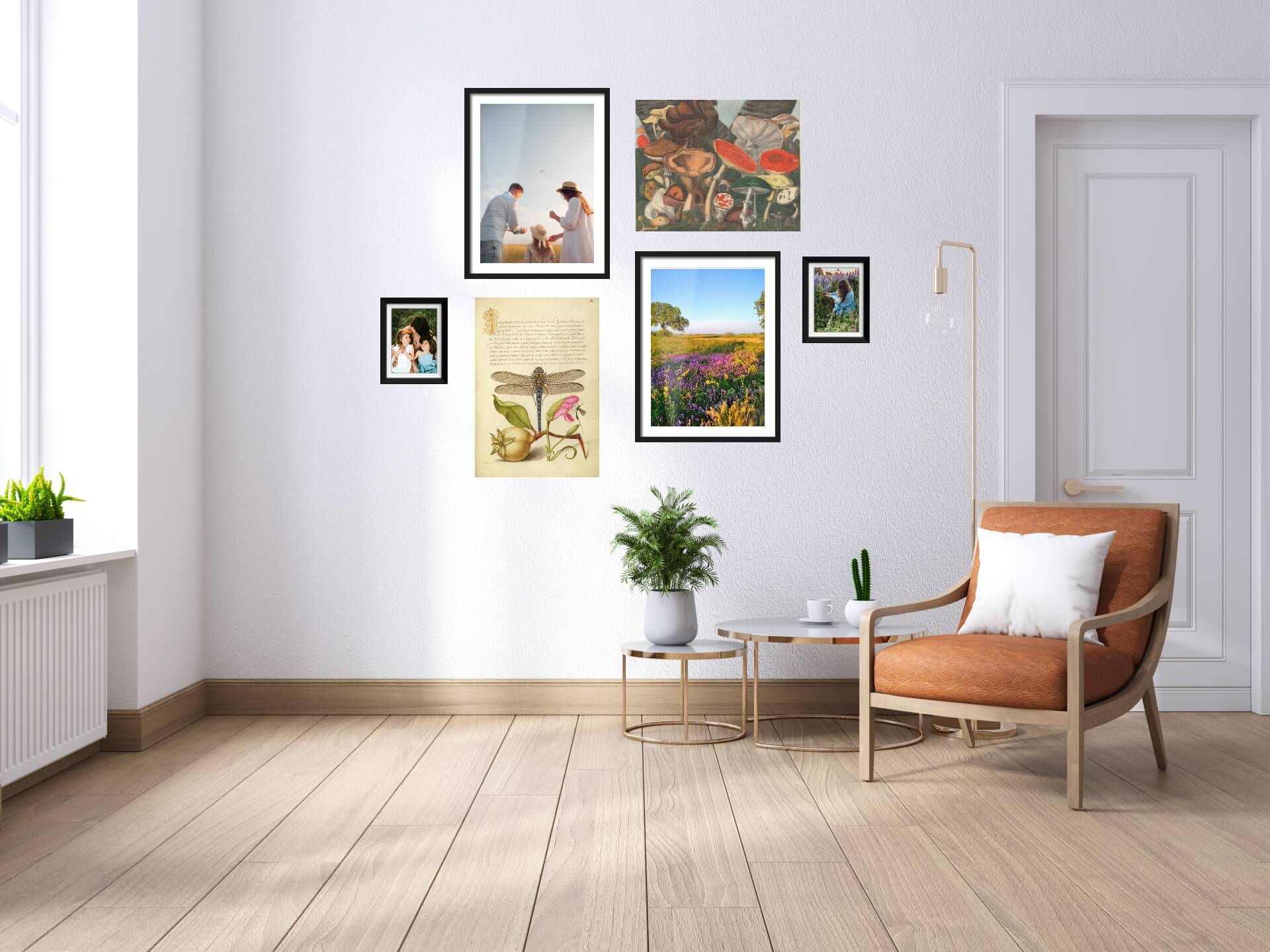 Hang your final prints, and your gallery is complete!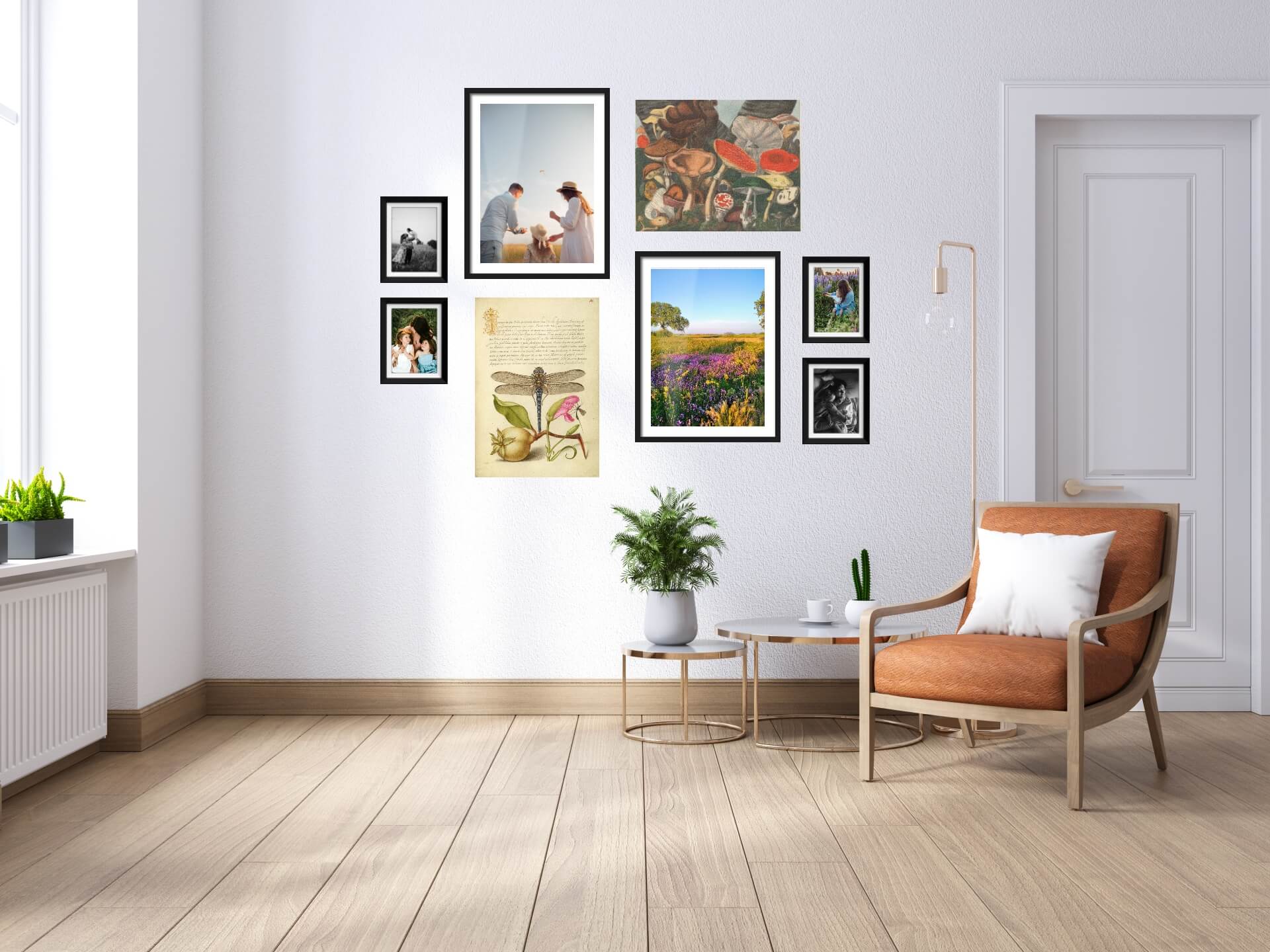 ---
Gallery Tips to Keep in Mind.
Here are some gallery tips to keep in mind, no matter the project you're tackling!
Always arrange your gallery on the floor before hanging.
Laying your gallery out on the floor is a great way to figure out exactly how you want to hang your photos before committing to it on the wall.
If you're decorating your child's space, incorporate their art.
When creating a gallery for your kids, incorporating their self-made art is a great way to grow a gallery for no extra cost. See our tips on turning your kid's artwork into a gallery here!
Use free-to-print designs to save on fine art downloads.
The public domain makes it possible to bring incredible vintage art to life for just the cost of printing. While some vintage art costs hundreds of dollars, free downloads from the public domain can land you art prints for less than $20.
See some of our favorite free printables at the links below!
Free winter sports printables: https://www.printique.com/blog/free-to-print-winter-sports-posters/
Free nature printables: https://www.printique.com/blog/free-printables-nature-edition/
Free travel printables: https://www.printique.com/blog/free-to-print-printable-travel-posters/
Free NASA printables: https://www.printique.com/blog/free-to-print-nasa-posters/
Free calligraphy printables: https://www.printique.com/blog/free-to-print-art-prints-calligraphy-edition/
Free Kodak printables: https://www.printique.com/blog/free-to-print-printables-kodak-edition/