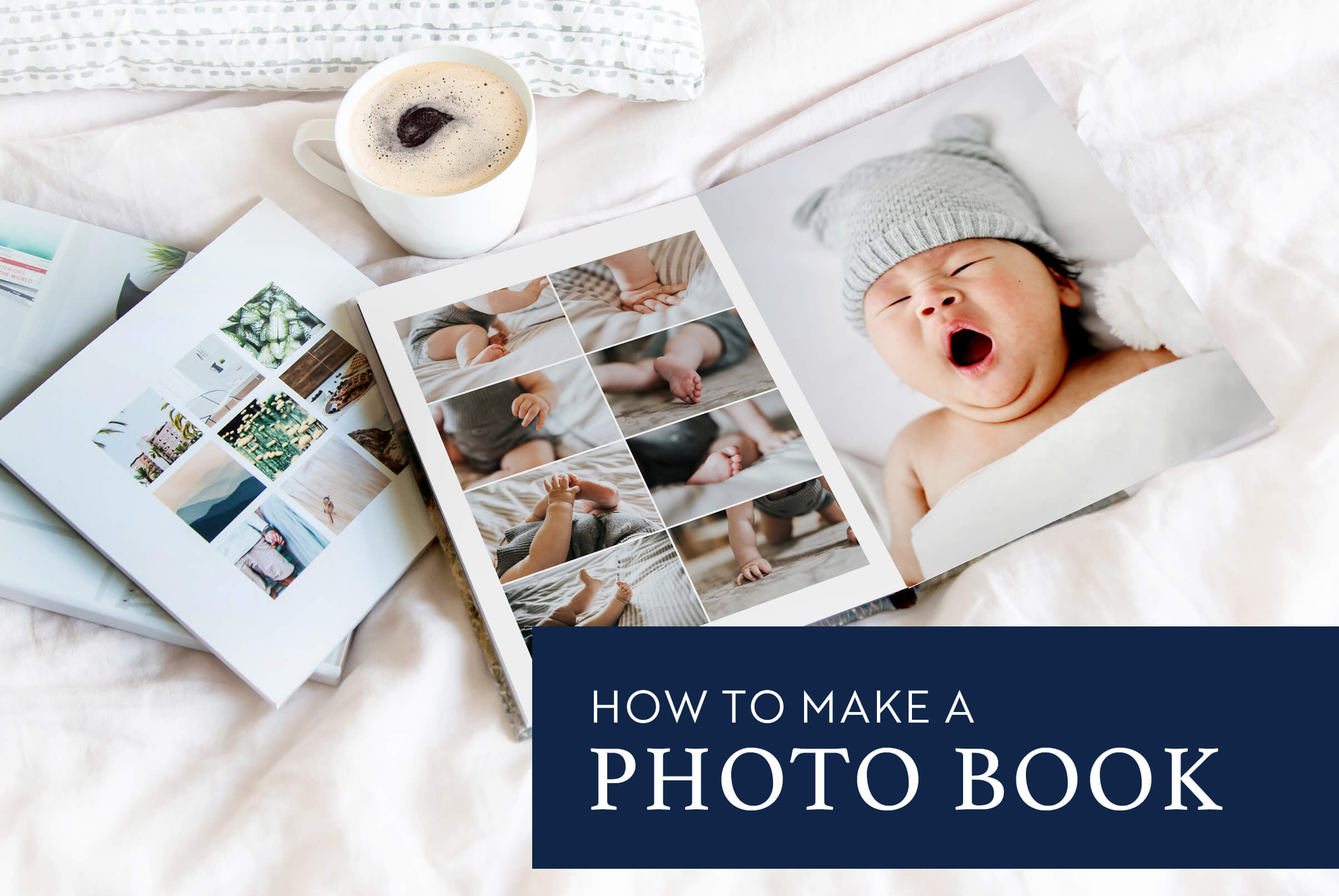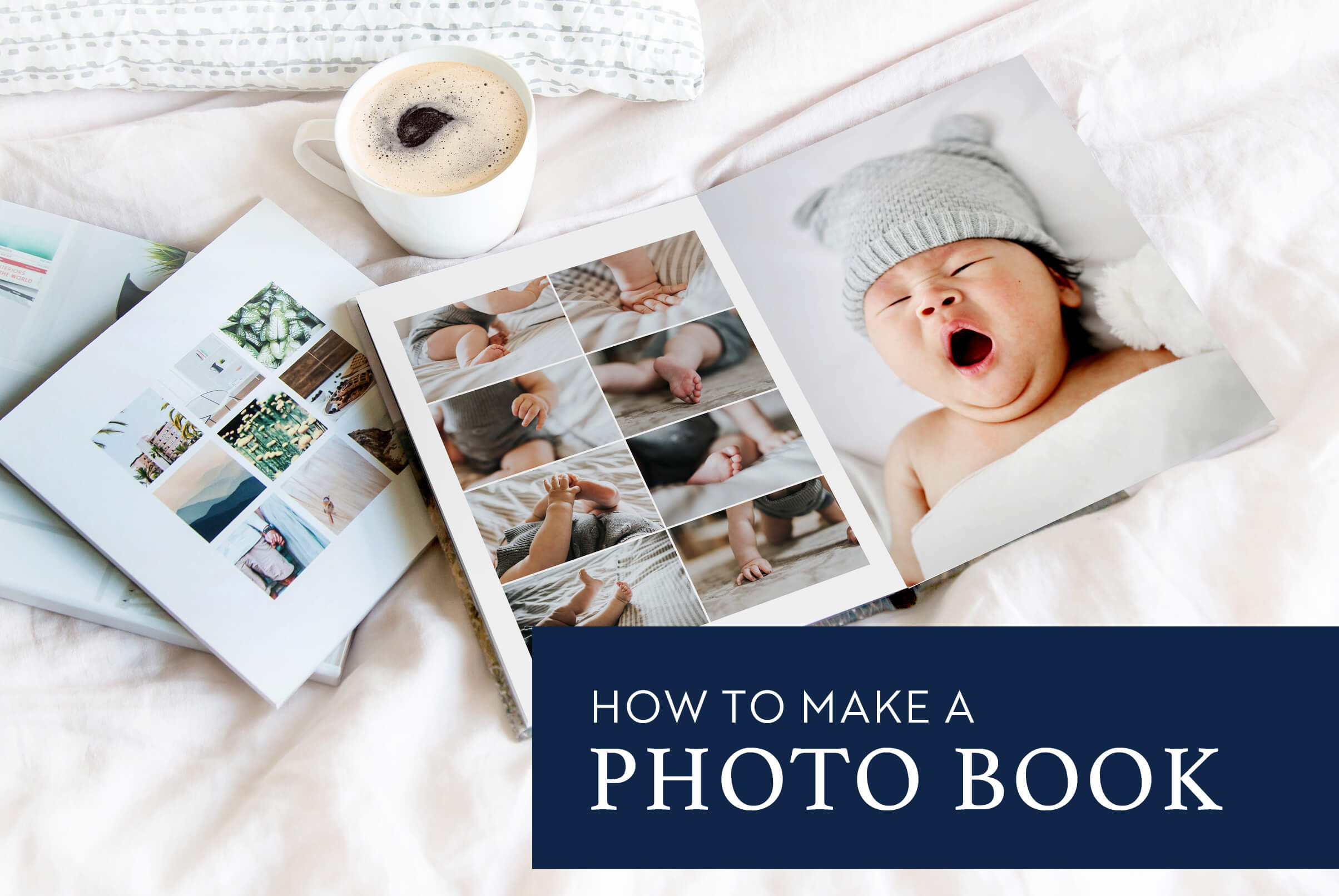 Today's digital world has transformed photography into a part of daily life for nearly everyone — you've probably accumulated hundreds if not thousands of snapshots of precious memories. But for many people, those photos live primarily on their phones and hard drives. That's a great start, but now it's time to take the next step and learn how to make a photo book.
In the last few years, the power of print and the photo book has captured our collective attention and imagination. Today there are more options than ever for creating photo books, and it's never been easier to create your own to share your family memories, cherished events, recent adventures and artistic projects. A photo book is an easy and affordable way to put your memories in a high-quality physical format and customize their presentation. Photo books are typically smaller and thinner than traditional thick photo albums, which means you can make dozens of books for smaller occasions like birthdays, vacations and holidays.
With so many options, how do you make the best custom photo book possible? Photo book makers — like Printique's book builder — make it easy. In this guide, you'll learn the key steps you need to create your own photo book, no matter the purpose, as well as inspiring topic ideas.
Tips for Creating Your Photo Book
When making your photo book, be creative and have fun with it, but make sure you have a plan before you start. The following are general guidelines that help to make an aesthetically pleasing book. You can adapt them however you need to so you can make a book that fits your unique style and that you'll love for years to come.
Be Purposeful With Your Book's Theme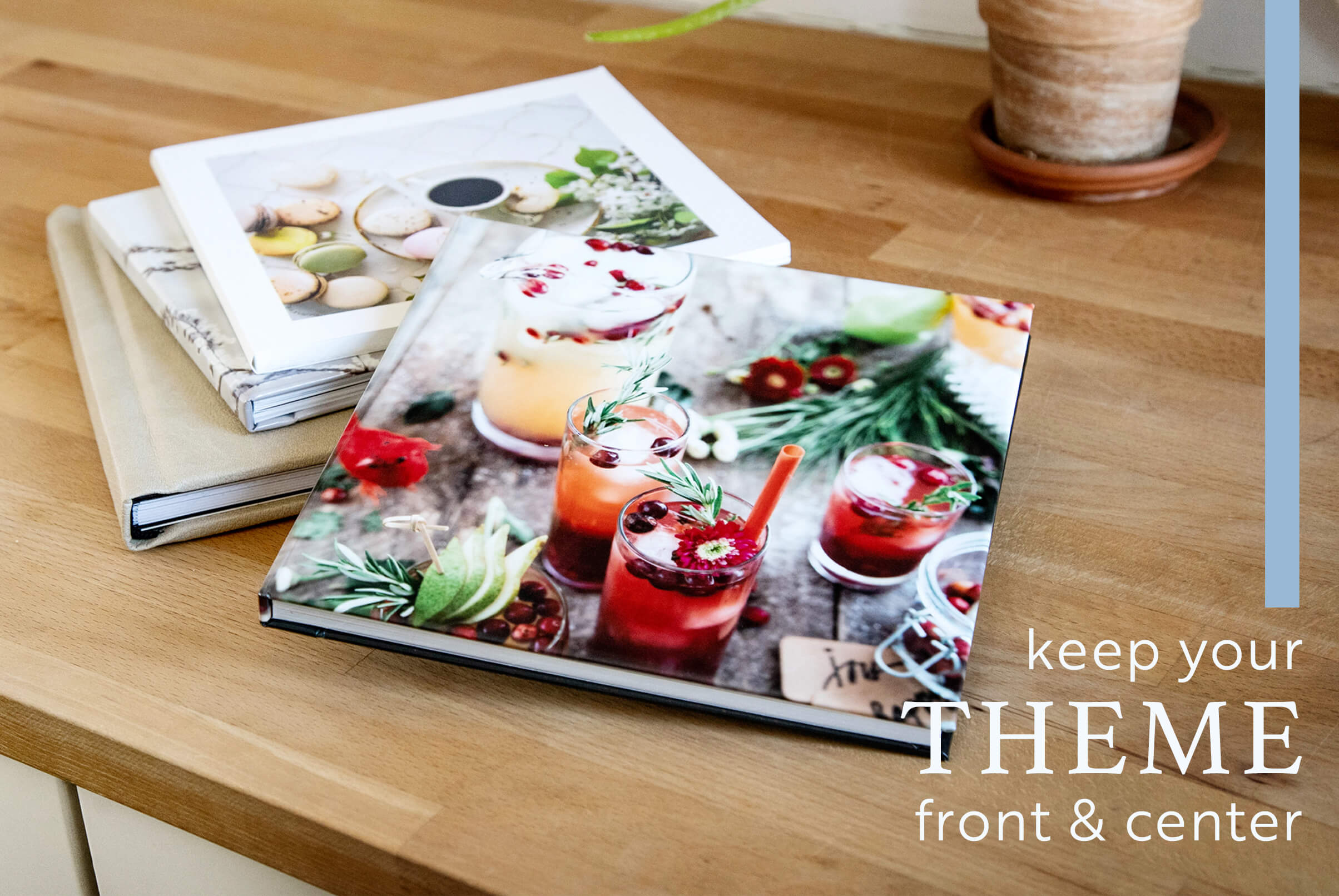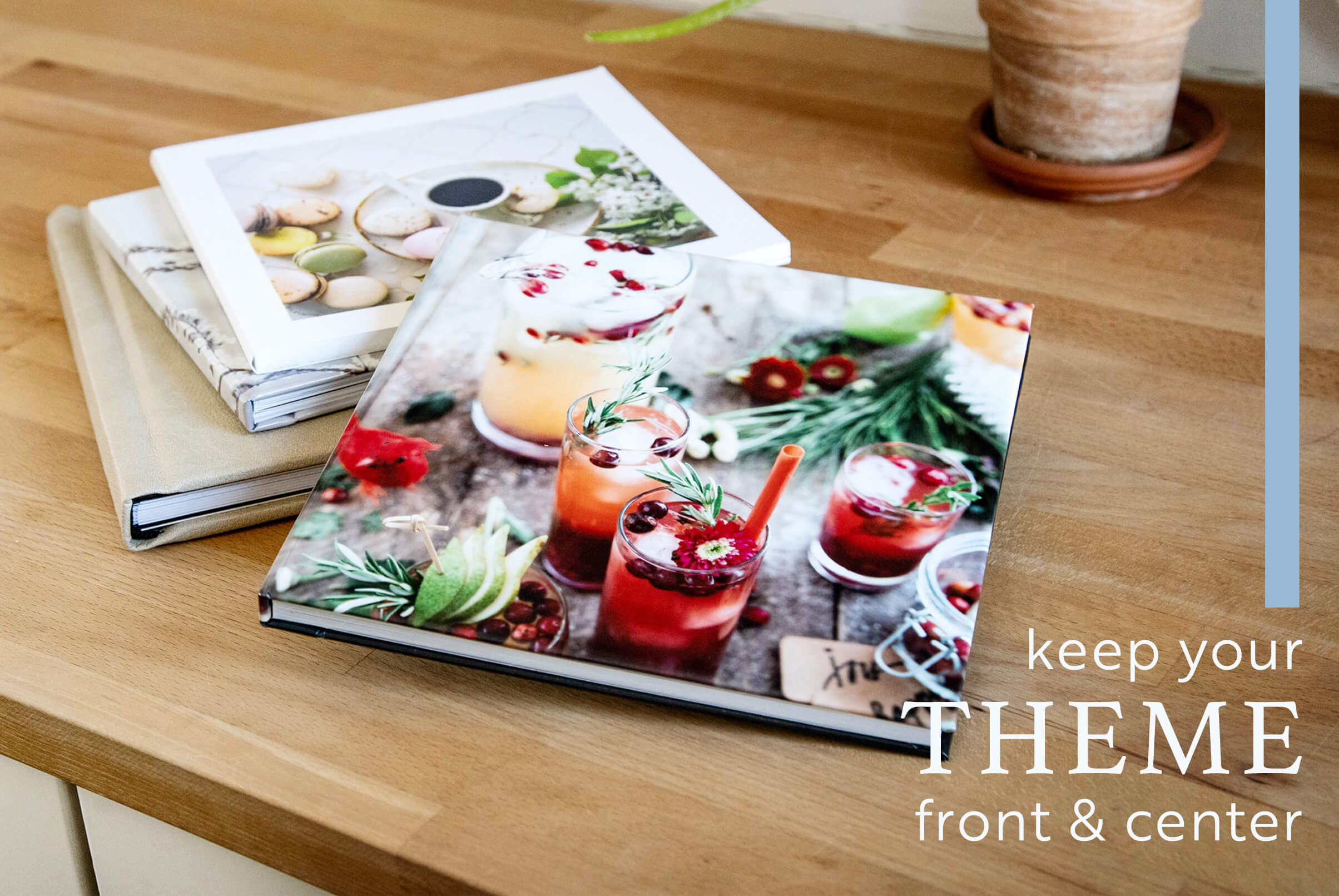 Each photo book has a purpose. It could be for something as elaborate as a beautiful destination wedding, something as casual as a birthday party for your dog or conceptual art project. Whatever it is, make sure the elements of your book point back to that purpose.
When you're curating the photos for your project, always keep your theme front and center and make sure the photos serve the concept. Your book will have more impact if it is a cohesive collection and not a random assortment of pictures that you like. The same goes for your visual theme, which should keep the pages from being too wildly different from each other. Doing this will help your readers follow along with the story and bring them into the moment.
Easy-to-Use Software Simplifies the Process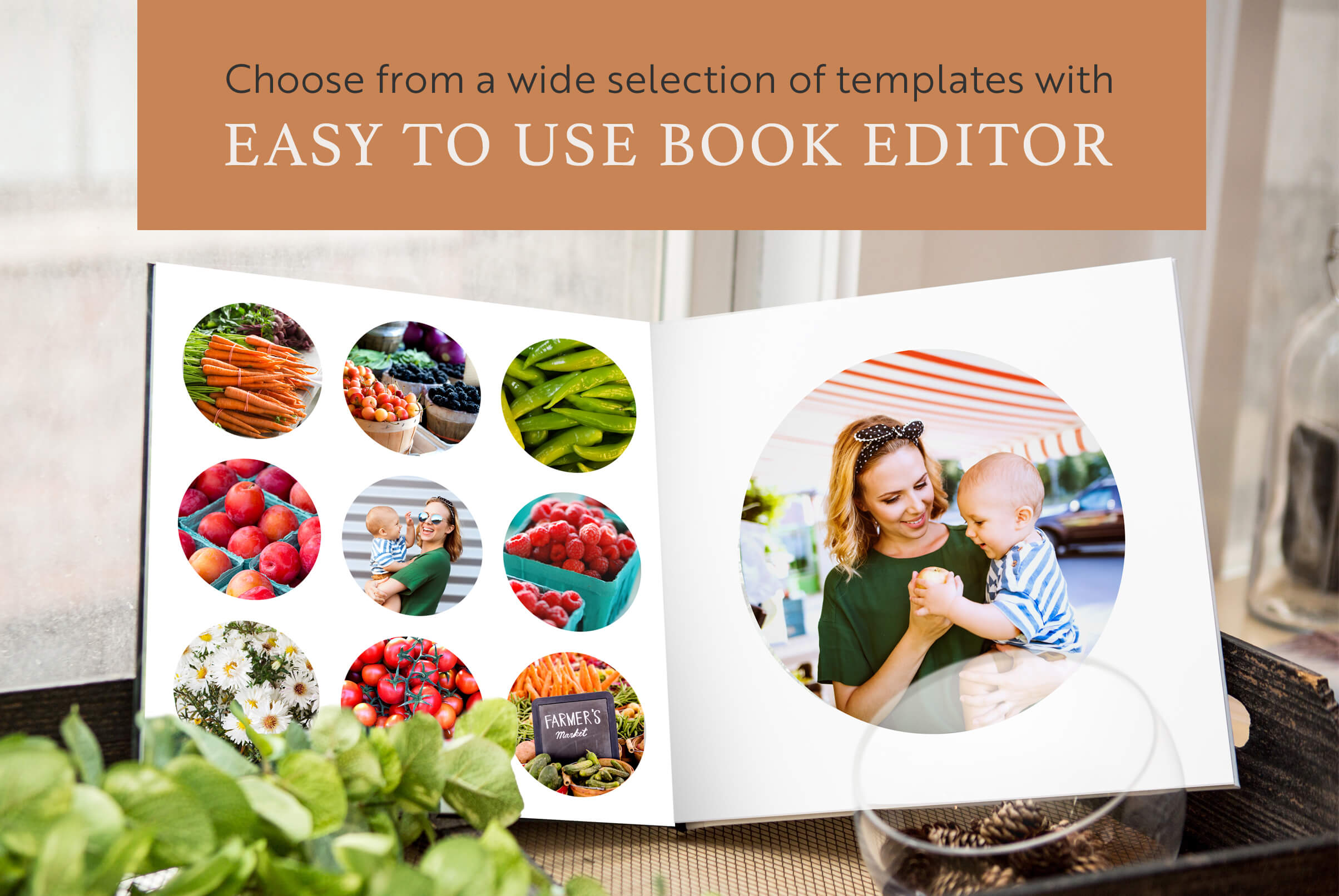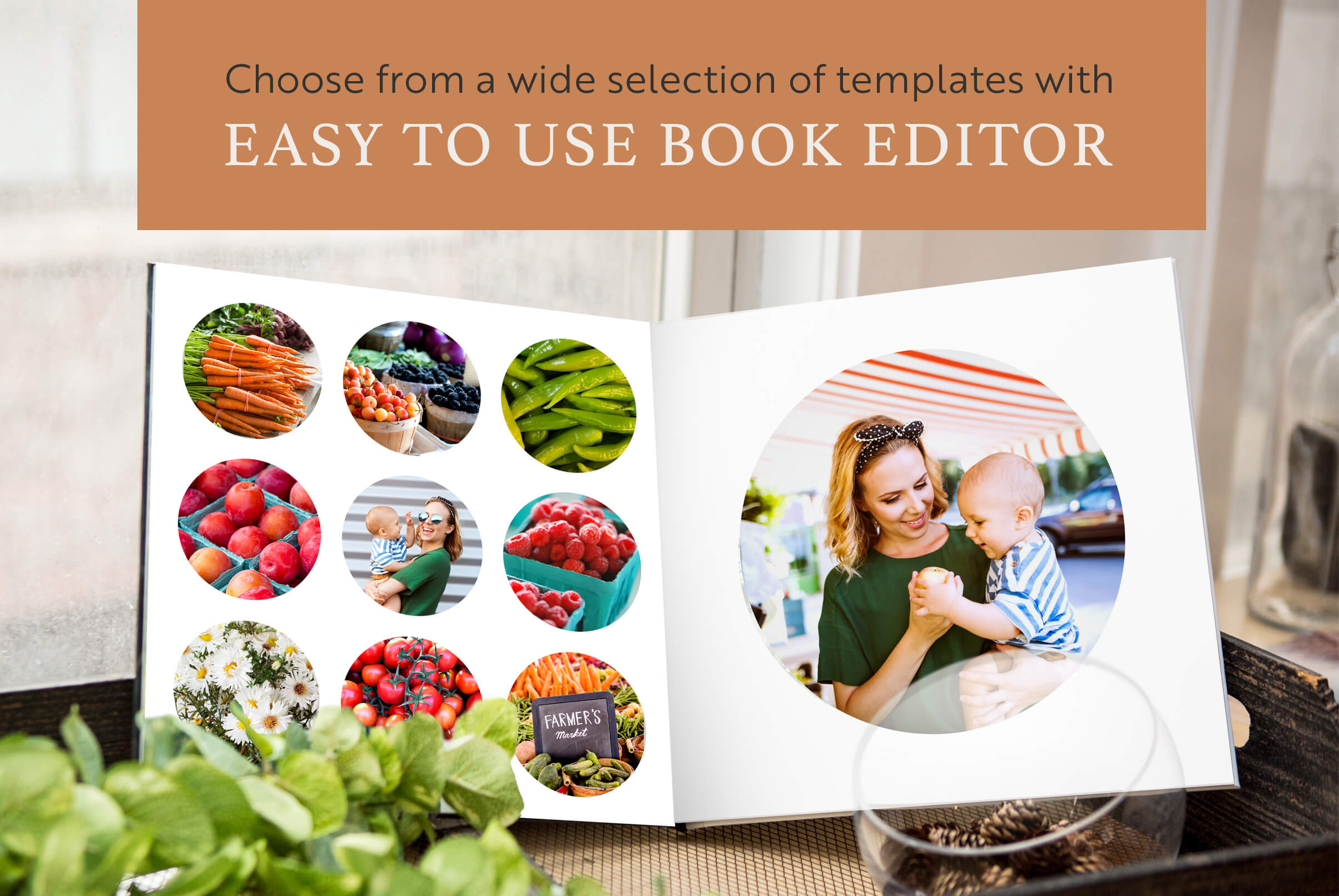 Good photo book editing software should be easy-to-use, allow for high levels of customization and come with first-class customer support. It's a good thing Printique has all that and more. The Printique book editor is very user-friendly. You can choose from a wide variety of themes or build your own, with thousands of layouts, frames, fonts, backgrounds and stickers at your disposal. If an image is too low-quality to print well, we'll tell you. The image will be highlighted in red, so you know to swap it out before continuing.
Pick Your Book's Cover, Size, Layout & Paper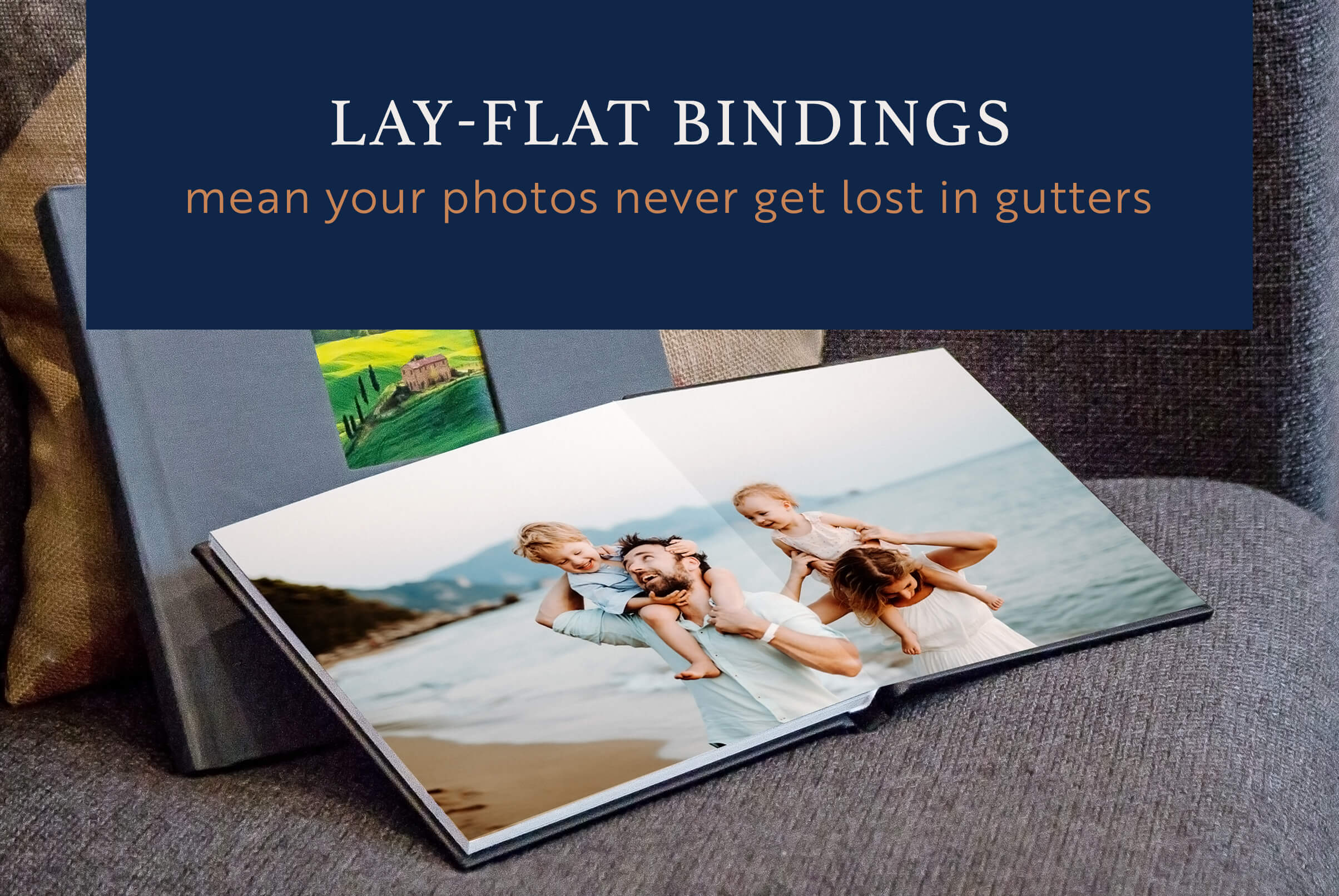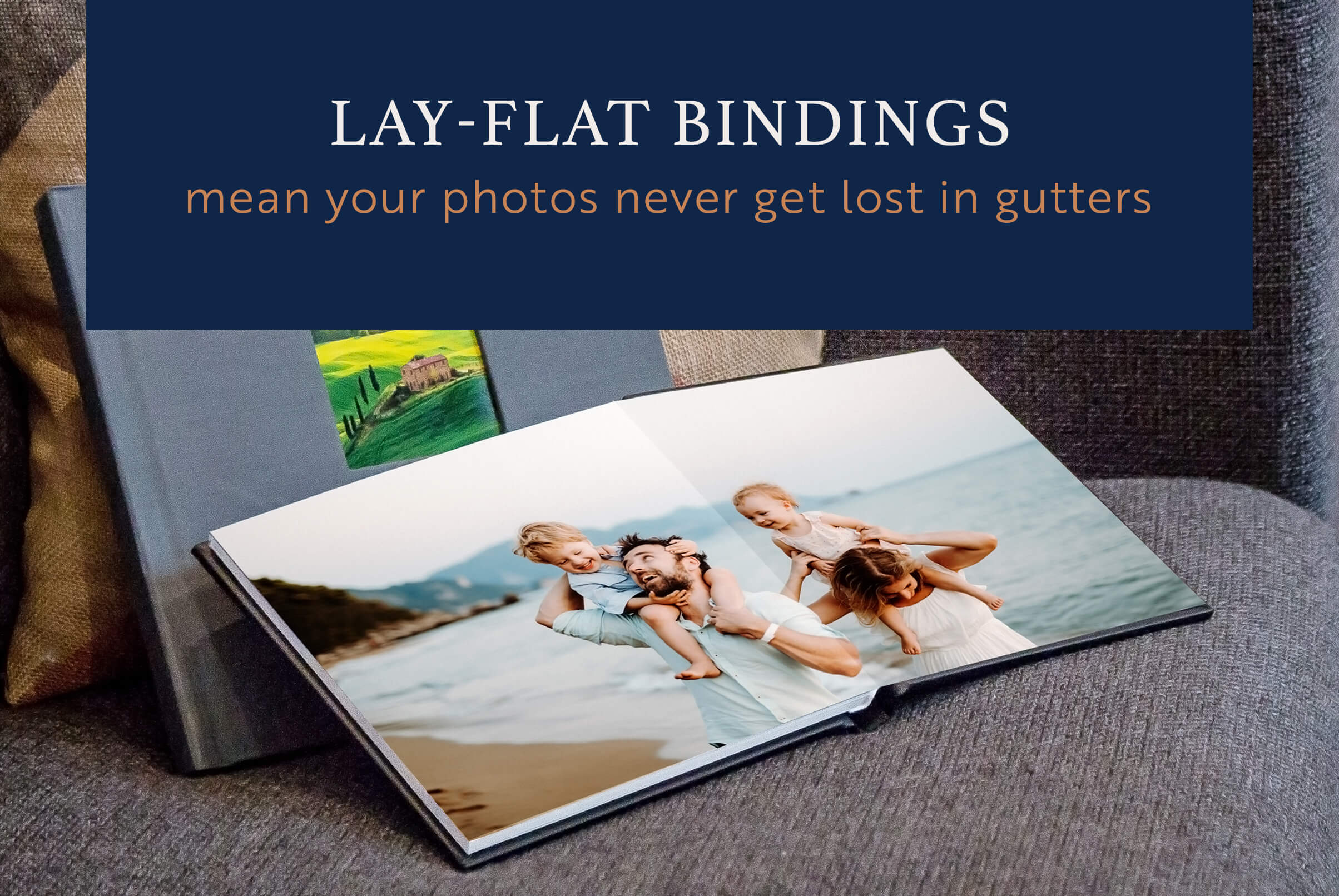 How your book is printed determines how it gets viewed for years to come. There are a few different features of a book's style and design that you'll want to consider.
Size: What dimensions would you like for your book? Do you plan to create multiple photo books and do you want them to be the same size so they can stack easily and look good on a shelf? If so, make sure you pay attention to the size, because it will determine the size of the rest of the books you create.
Orientation: Our books are offered in three orientations: landscape, portrait and square. We only use lay-flat bindings in our books and albums, so details in all your photographs, whether horizontal and panoramic, never get lost in the gutter.
Landscape: Think majestic prairies, empty horizons, grand spectacles or conga lines of dancing relatives. But, landscape is not just for land and sea. This canvas allows for dramatic cropping and interesting use of space. This form accommodates multiple images and layouts, as you will generally not have a single image on each and every spread.
Portrait: This vertical form is popular, and is best suited for single-focus subjects, full figures, upright pictures, fashion imagery, and images of people.
Square: A new modern favorite thanks to Instagram, the square format is adaptable to a wide range of topics and photo styles. An excellent choice for close up portraits, pets, simple nature images, close-ups and lifestyle
Cover: The cover is the first impression people will have of your photo book, so you want to make sure it catches their attention and represents the story inside. We offer four types of covers for your photo book, each with their own unique strengths.
Hardcover: more than 80 styles of texts, and 100 individual pages of photos. A variety of cover styles to choose from.
Softcover: printed with archival inks on 100% recycled paper
Fabric: Choose a world of colors and fabrics to suit your style or decor; customize with a die-cut window or foil-stamping.
Premium Albums: A soft-touch, matte material is wrapped around a thick board with a rounded spine for added durability. Hardcover, Metal and Leather
Paper: Paper quality is also significant. We print on six different professional photo papers and use the most advanced printers to deliver a vibrant, high-quality image.
Luster: a popular universal choice. A hybrid of gloss and matte, that handles a wide spectrum of image types and brings out the best in them all.
Glossy: This finish glows with a high-contrast appearance and an almost shiny look. Brings an unexpected "pop" to any image.
Silk: Like its name indicates, delicate, soft and sophisticated. A wedding photography favorite as Silk is especially flattering for wedding gowns. Delivers a linen-like texture with royal radiance and a vintage feel.
Deep matte: This highly advanced and evolved finish is a frequent choice of professional photographers and discerning artists.
Linen: A textured finish added to our Luster paper. The advantages of texturing artistically enhance both the visual and tactile aspects of your images. Textures, like linen, also provide a barrier to scanning for unauthorized reproduction and bolster copyright protection.
Pebble: A textured augmentation added to our Luster finish. Texturing is both practical and artistic. On the practical side, texturing is a smart way to deter scanning for unauthorized reproduction and bolster copyright protection. On the artistic side, texturing adds an interesting professional finish to any photograph.
Curate Your Photos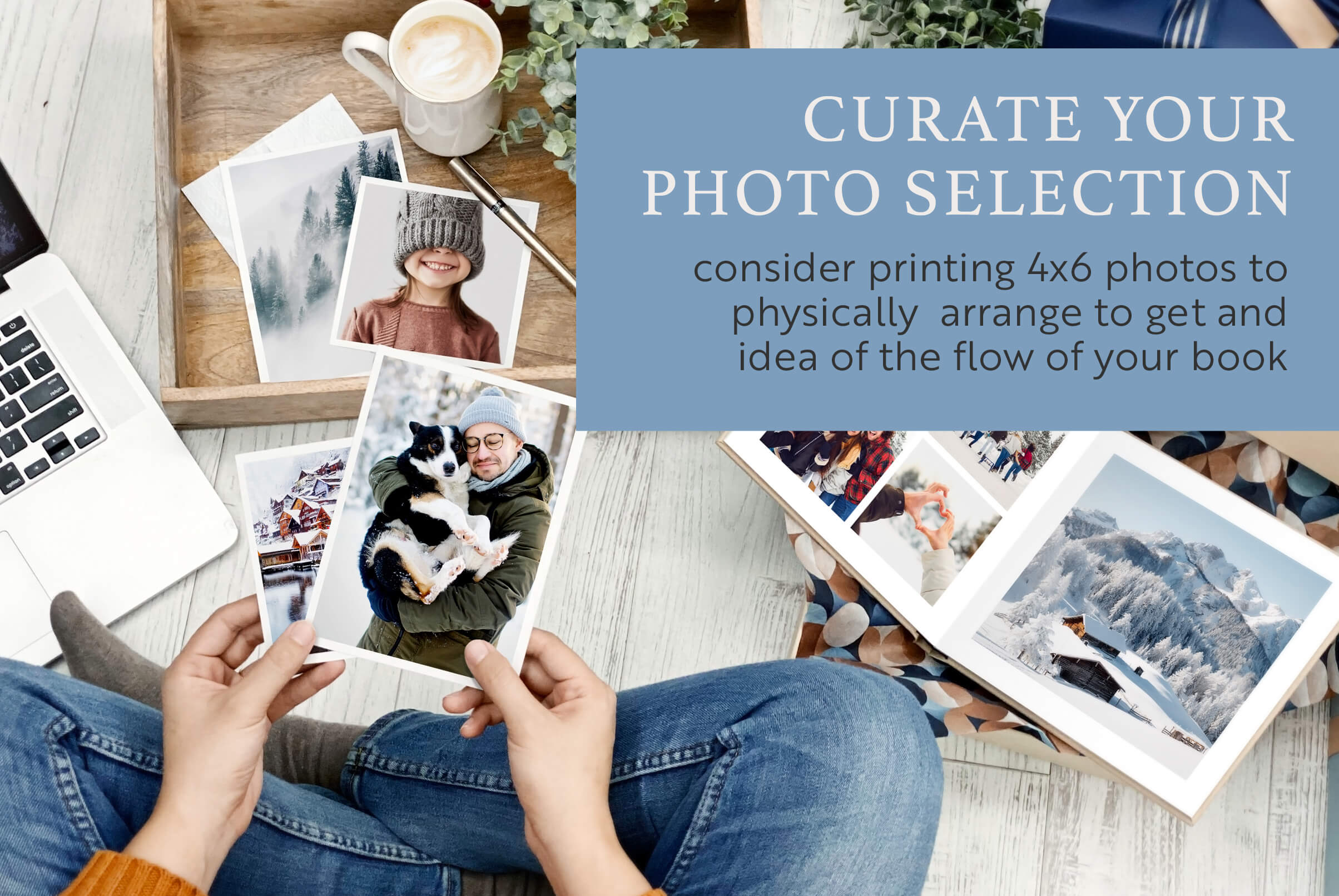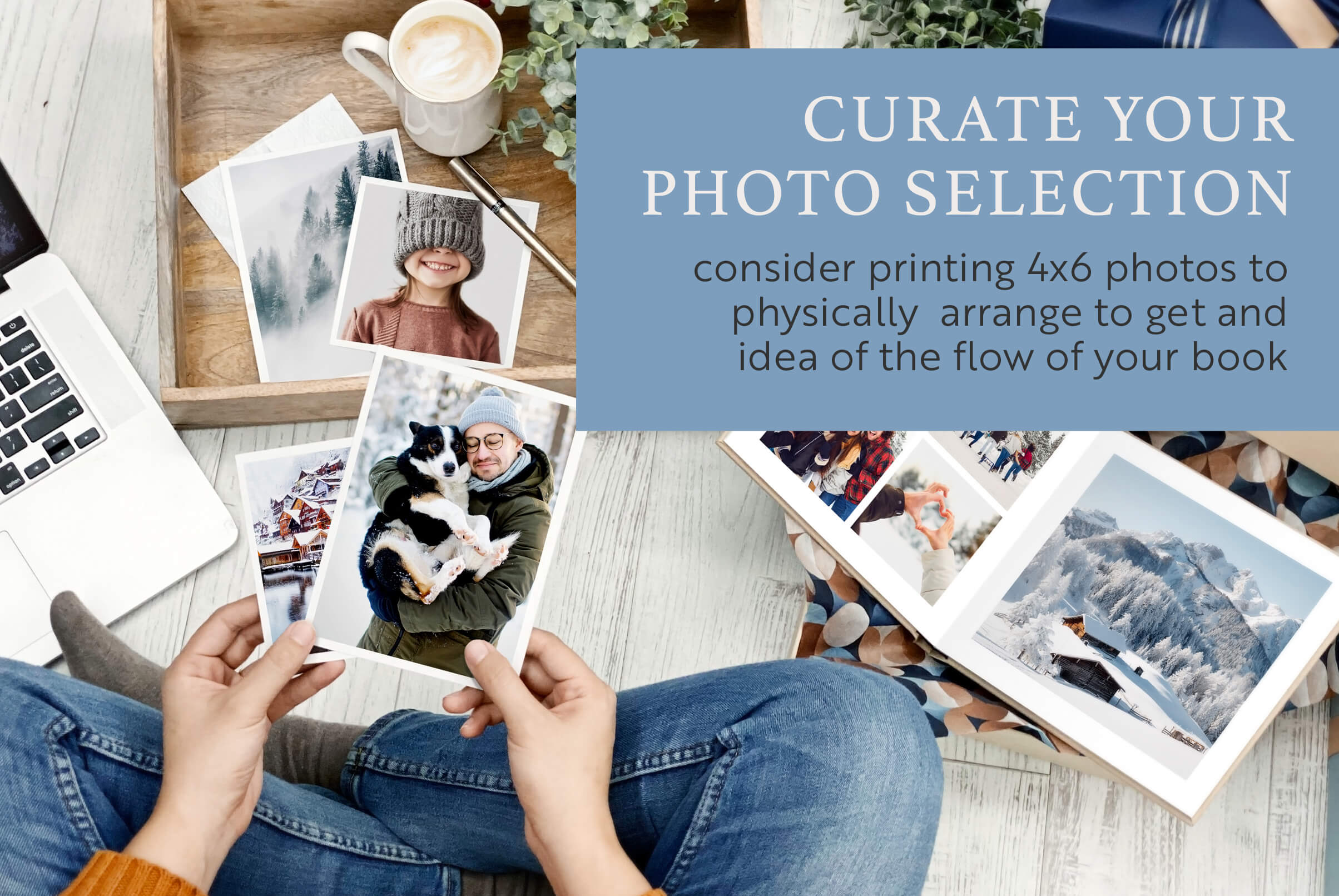 Selecting which images to use might be the most exciting part of making a photo book. You get to select and gather precious memories and artistic gems. If you're putting together marketing materials, you get to pick stunning photos from that recent shoot to draw-in potential clients .
Take some time and organize your photos. After you do it this once, you can easily make another book for your next personal project or professional need. To keep track of pics you've used already, use subfolders to stay organized and label them well.
Organize Your book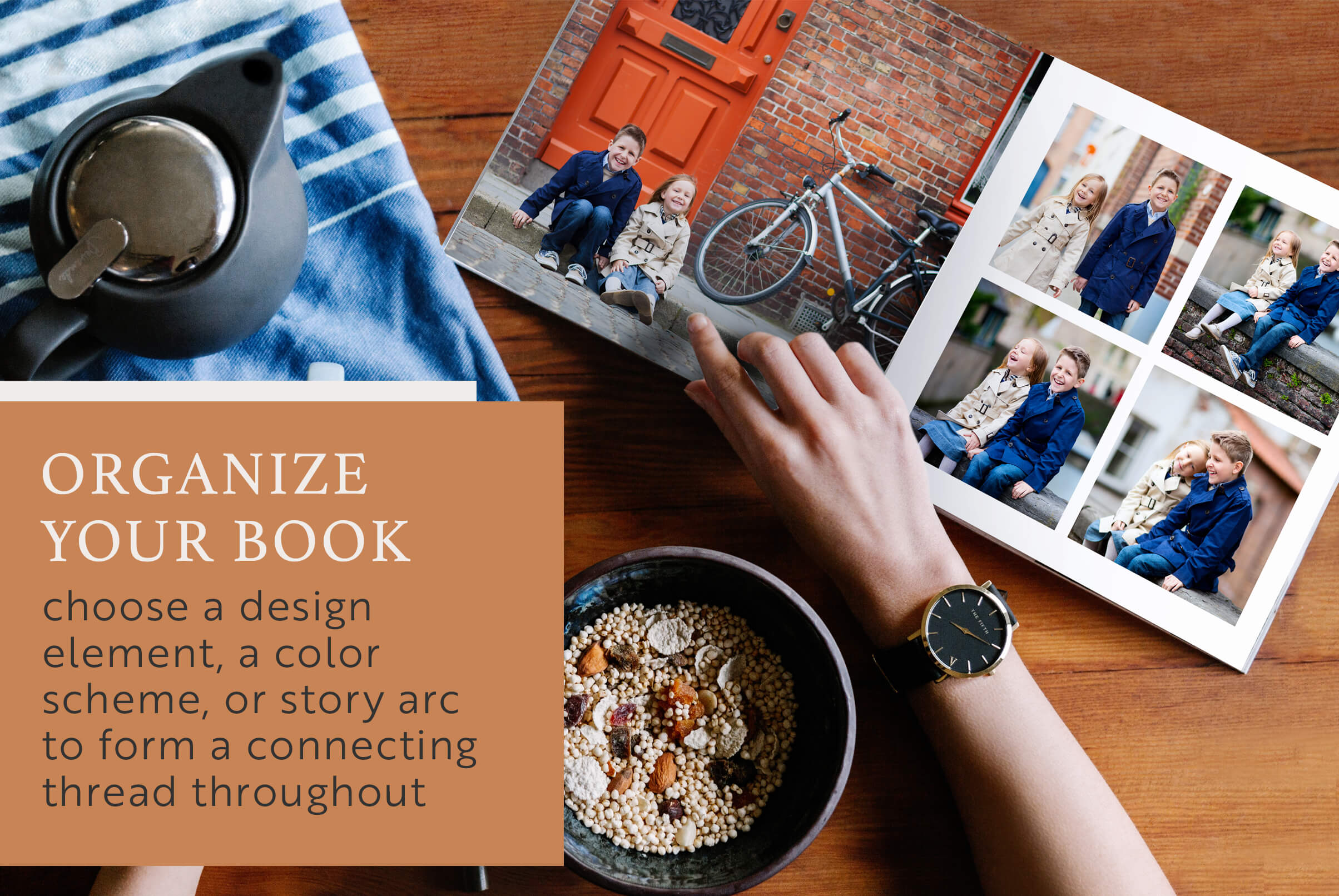 Organizing your photo book is where you get to play with layouts and design. Pick a connecting thread — a design element, or color scheme — there are many different organizational methods you can use. You can tell your story chronologically, like a year-in-review, or build a wedding album for each set of parents featuring pictures of them and you.
You could also use themes or move geographically, such as through a road trip or a vacation. Maybe you don't have a story to tell and want to let your pictures do the talking. Using aesthetics is a perfectly good method of organization. Sometimes patterns and graphic touches can be the most effective in your book.
Diversify Your Layouts Within the Book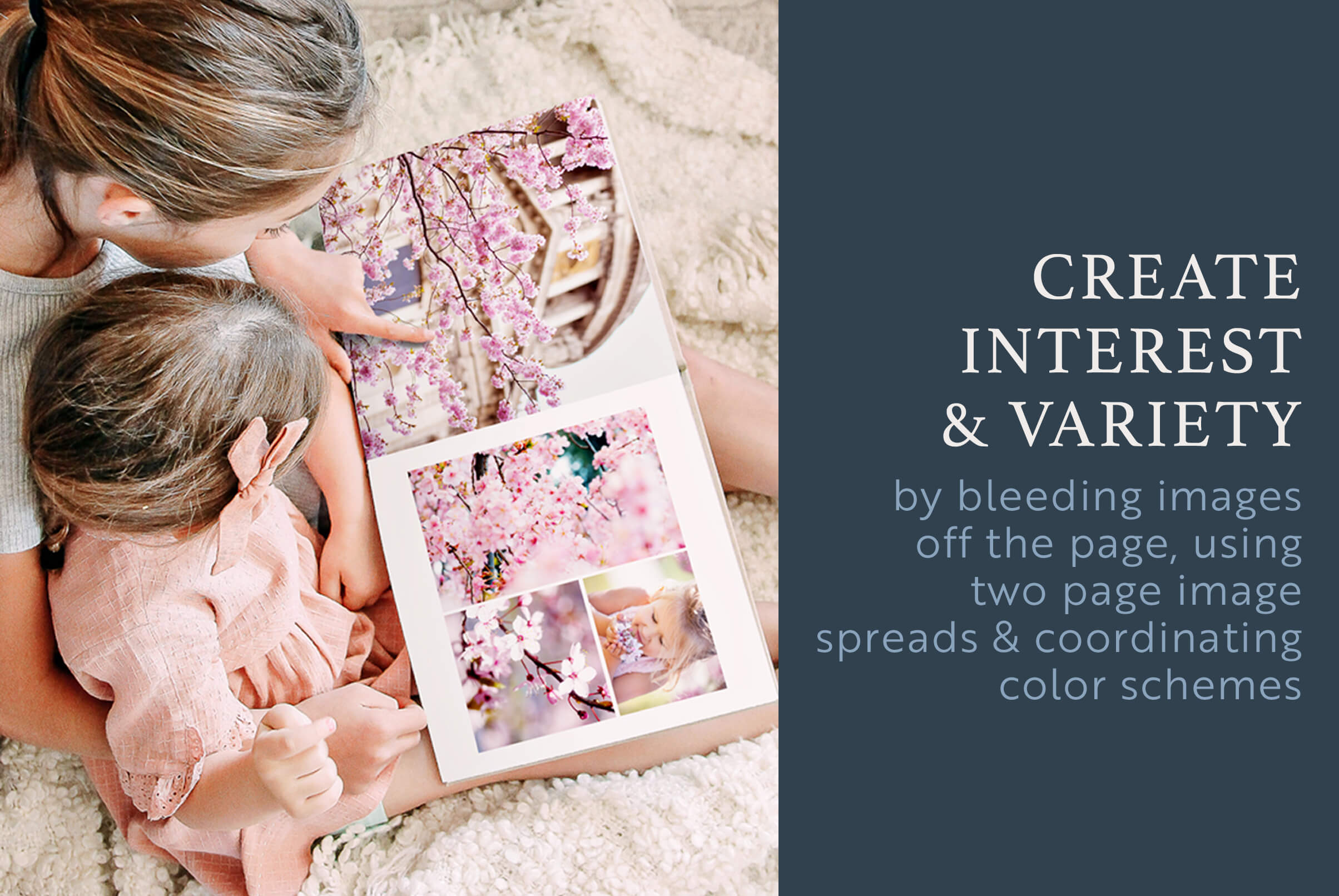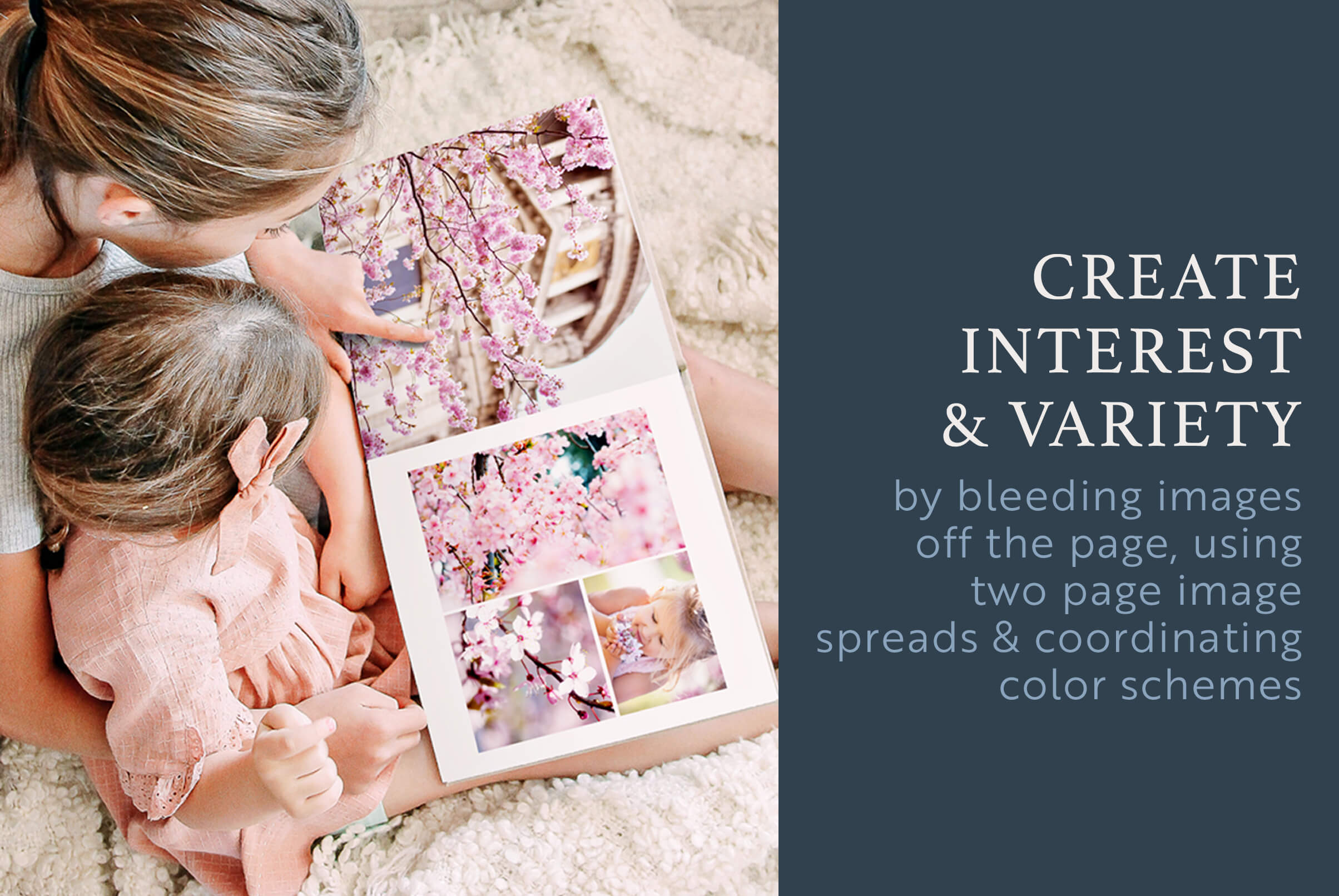 Every photo book needs variety. That doesn't mean you should throw consistency out the window, but don't be afraid to play with the layout options. Our eyes like contrast, and variety is a key design principle to keep in mind when creating your images and selecting your photos.
As far as layout goes, you can use what's called page bleeding. When you bleed an image, you make it so large that it fills the entire page all the way to the edges. There won't be a border or any white space on a full-page bleed. You could also make your photos span across a two-page spread. A spread is the two pages that face you when you lay a book down.
As for your photos, don't be afraid to put a wide shot next to a close-up. This kind of contrast can be good design practice. Another way you can add variety is by selecting colors that work well together. Complementary colors pop, but you can also make an exciting theme by using photos with similar color schemes.
Another thing to keep in mind is your focal point. If you're using multiple images on a page, it helps to direct the eye around the page somehow. Using varying sizes as well as white space on the page can add interest and help direct focus to each image.
Text adds another dimension to your photo book and add context to the visual narrative. There are many approaches to including text in a photo book including an introduction at the beginning, captions for photographs, personal insights and anecdotes throughout the book, and much more.
We offer dozens of templates to inspire you and make the process more seamless. You can use them as a starting point and modify when creativity strikes. We offer dozens of templates to help guide you in the design process. Each can be customized and modified to your creative desires
Popular Photo Book Themes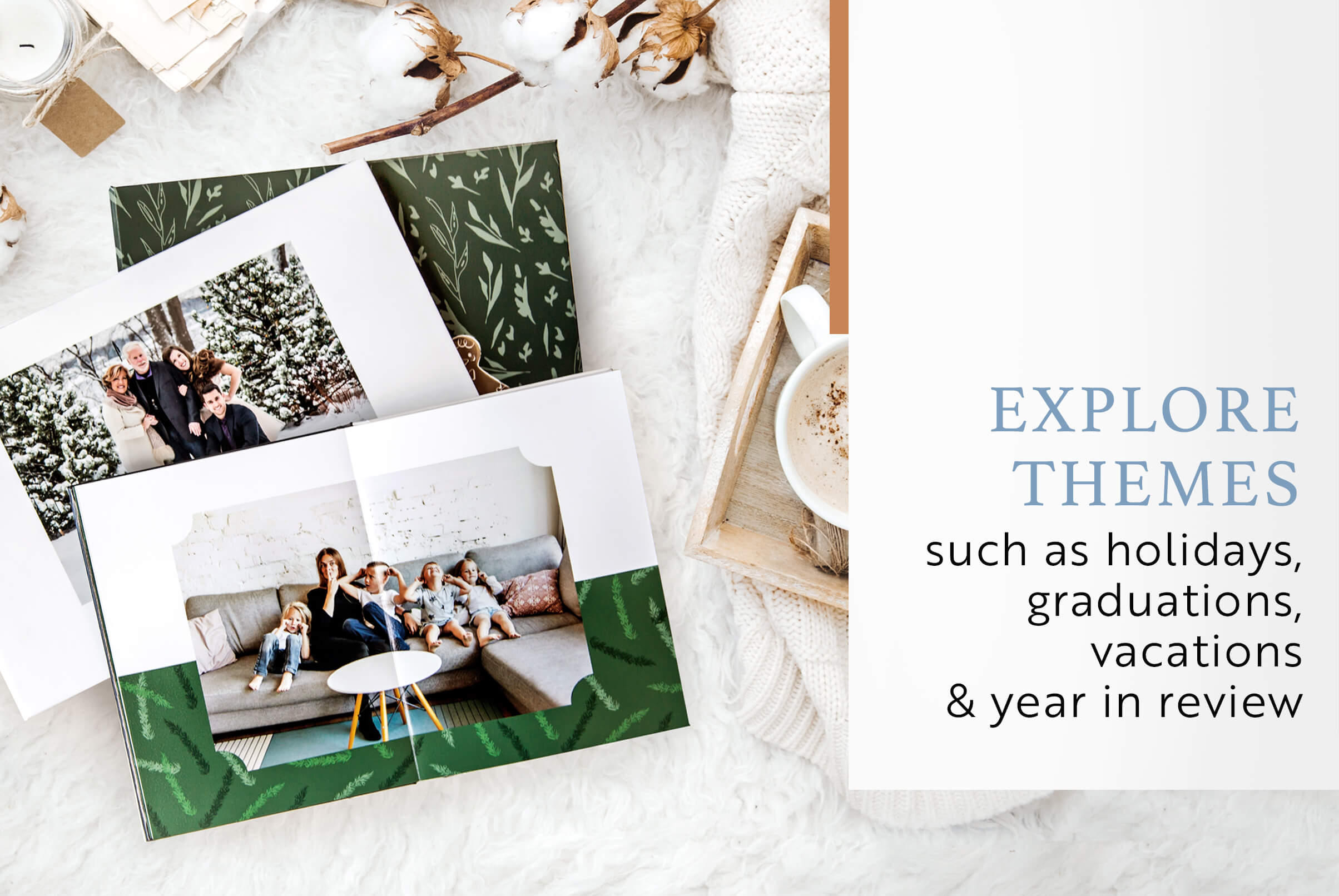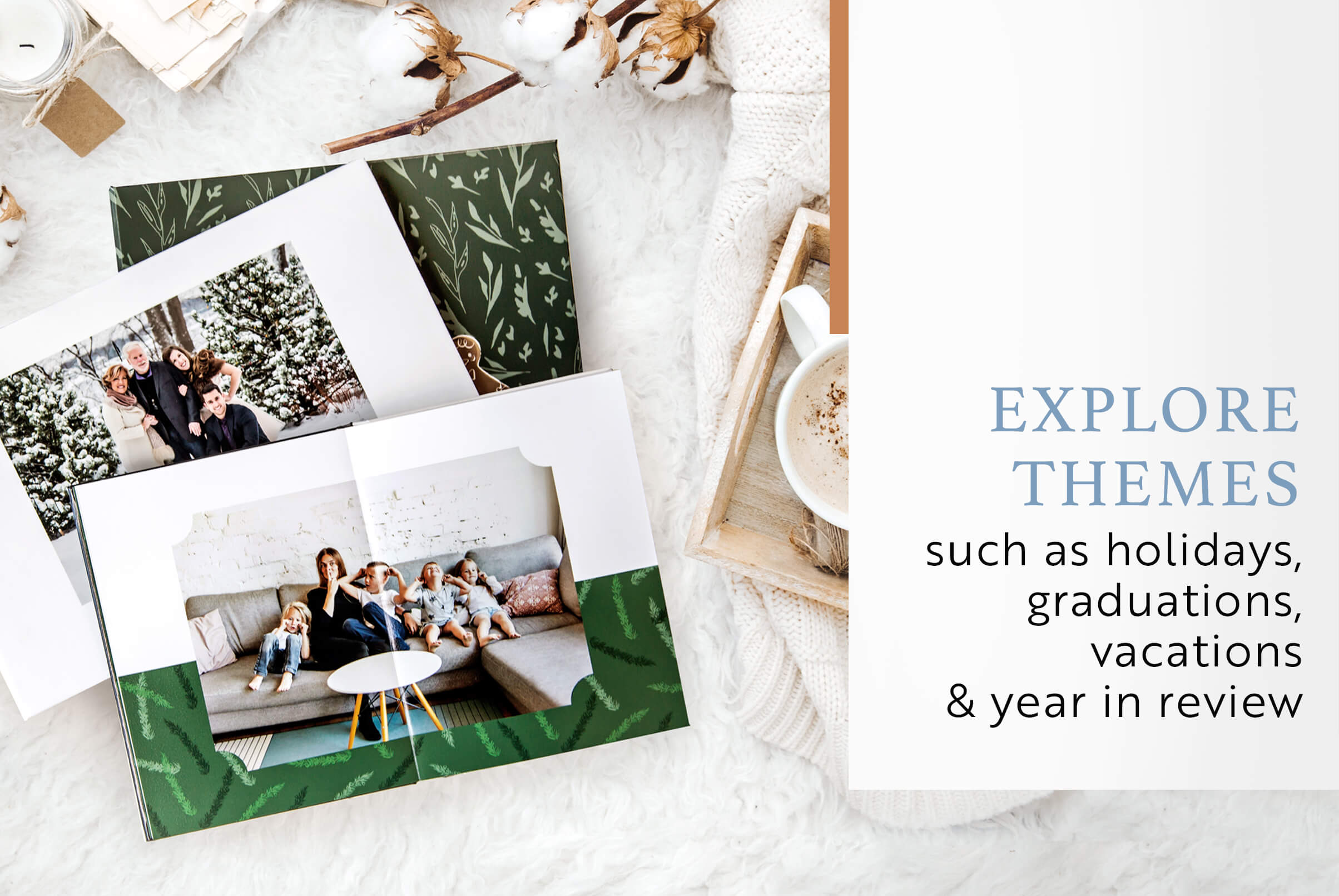 Now that you've got the basics down, it's time to get creative. For inspiration, here are a few popular photo book themes to get you started:
Birthday Photo Books
Whether the star of the show is celebrating a sweet sixteen or a 70th birthday, photo books can be a great way to bring the celebration to life.
Halloween Photo Books
If you're a trick-or-treat ghoul who thinks it's never too early for Halloween decorations, you might want to showcase the festivities or commemorate the costumes you're kids chose this year with in a photo book.
Holiday Gathering Photo Books
What better time to photograph everyone and celebrate your reunion with a photo book filled with all the festive moment you shared.
Graduation Photo Books
When graduation is all said and done, you can preserve the day in a book. graduation photo book is a great way to commemorate all the hard work you've done.
Wedding Photo Books
Wedding photography is, on average, the fourth-highest cost associated with a wedding, so make sure you display those photos with a gorgeous, professional-quality book.
Vacation Photo Books
Photography and tourism go together, and when we're on vacation, we take pictures of everything, so there's plenty of material for a memorable photo book.
Yearly Photo Books
One type of "just because" photo book is a yearly book. If you're a parent or grandparent, you can document everything the family did that year. Chronological order works well here.
Create Your Photo Book Today With Printique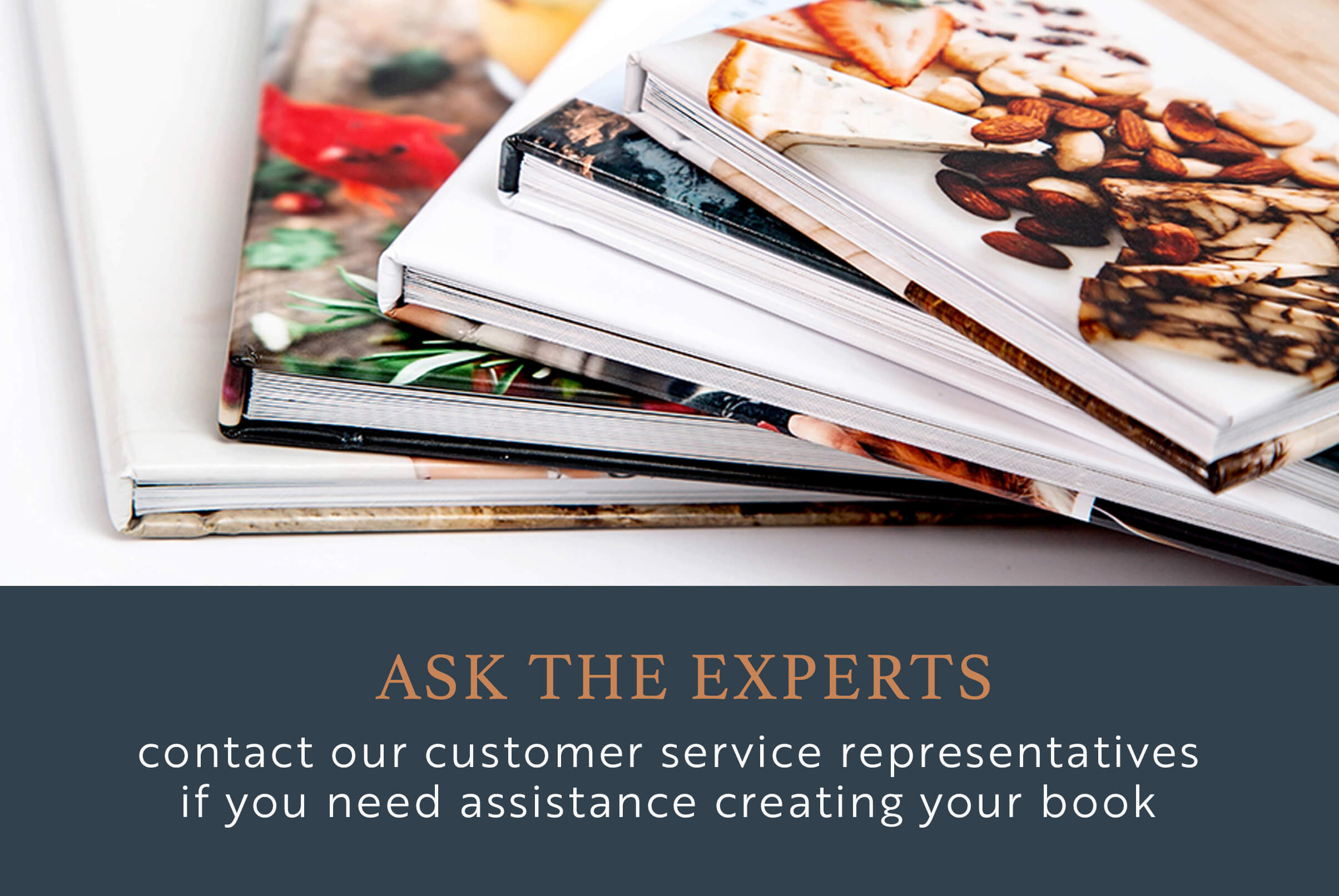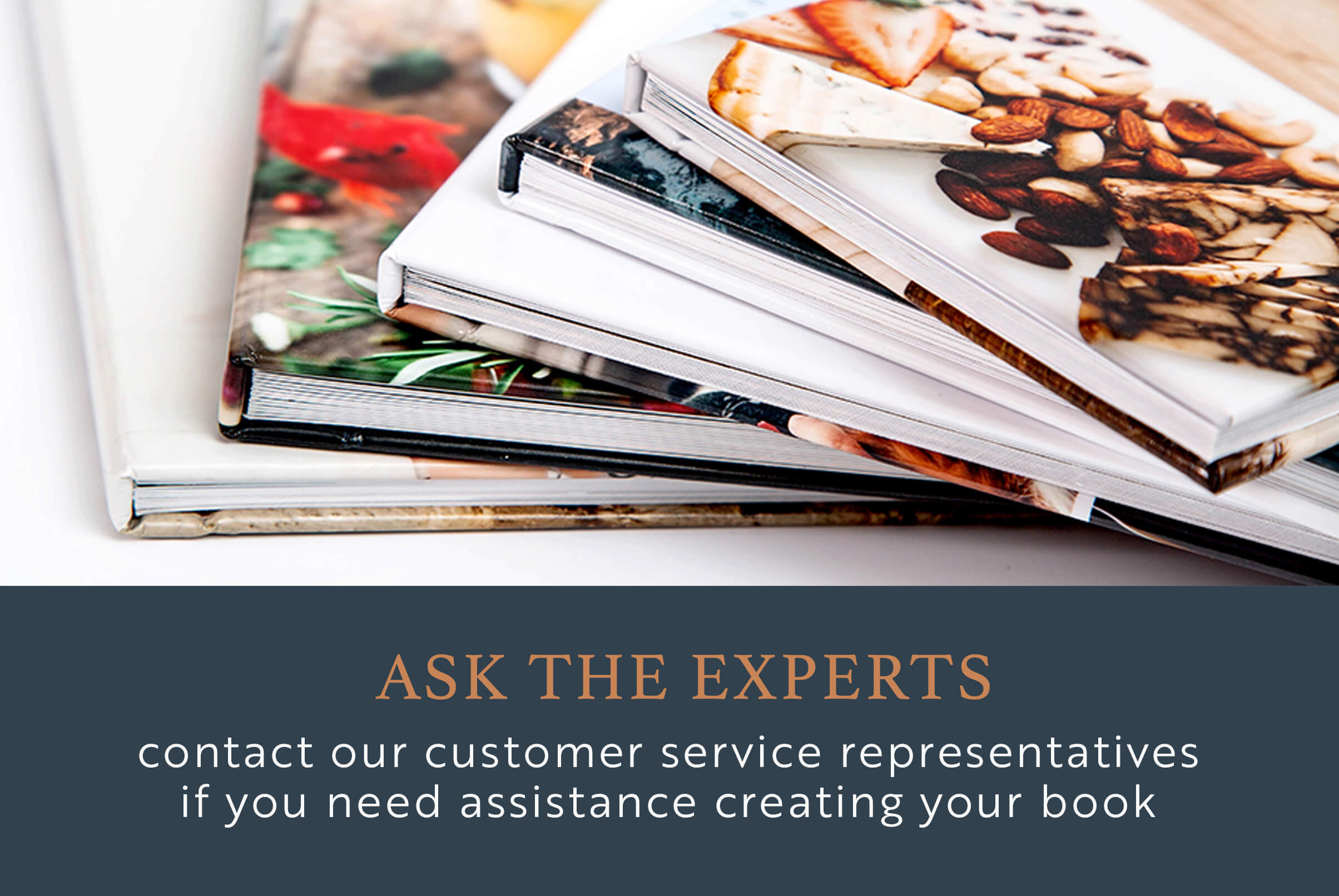 With Printique, you get America's top-rated online photo printing service at your fingertips to create whatever type of photo book you can think of. We have a variety of layouts and themes for you to choose from, and you can customize them as much or as little as you need. Our easy photo book maker has auto-fill options and templates, so you don't have to start from scratch. Softcover books can be up to 40 pages, while hardcover books reach up to 100 pages of professional-grade photo paper.
After printing, skilled technicians will review your book to ensure it reaches our high standard of quality. We also have devoted customer service representatives to make sure you are satisfied with your purchase. Head on over to our photo book page to start designing your book today!
If you have any questions about our photo books and albums, don't hesitate to contact us: service@printique.com or (888) 216-6400
For more great tools to help you visualize and create your prints, check out our getting started with Printique guide.