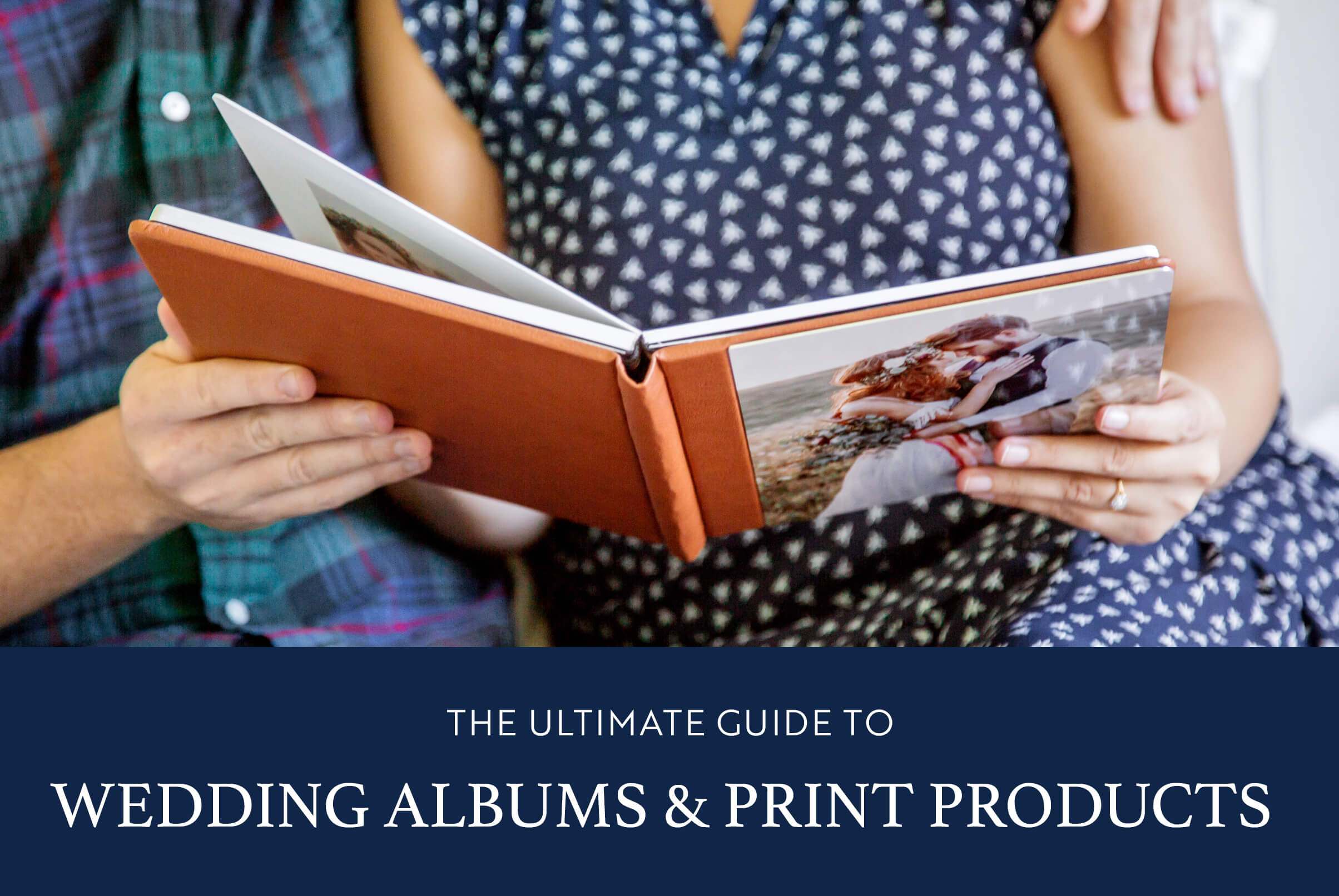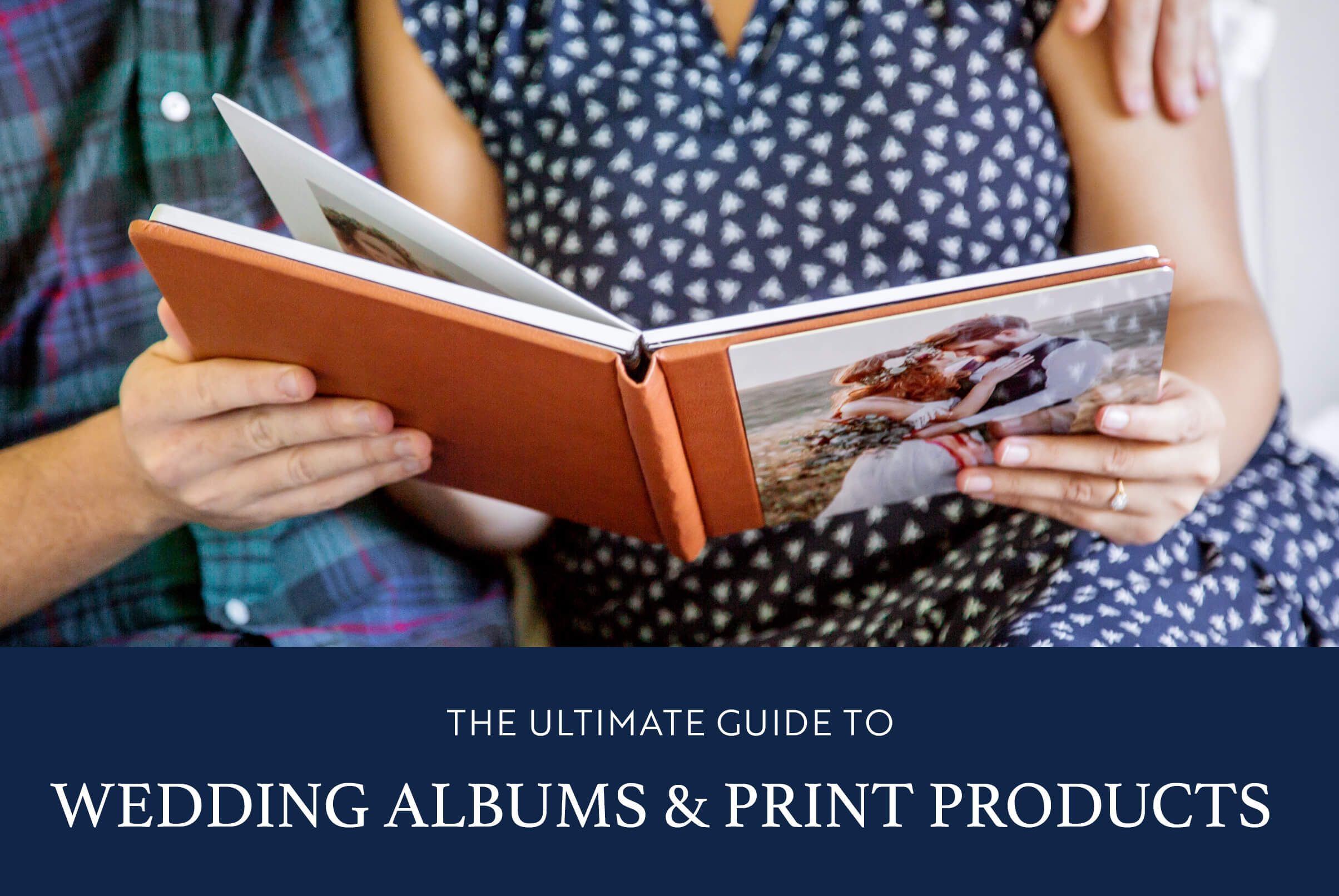 Want to know the secret to being a great wedding photographer? It's all about exceeding your clients expectations with service and print products. Many photographers will offer wedding albums as their one and only option for couples. However, if photographers look at the milestone as a whole, there are several photo print products they can offer clients before, during and after the wedding. Here's our guide to the photo print cycle of a wedding.
It Starts With the Engagement Photos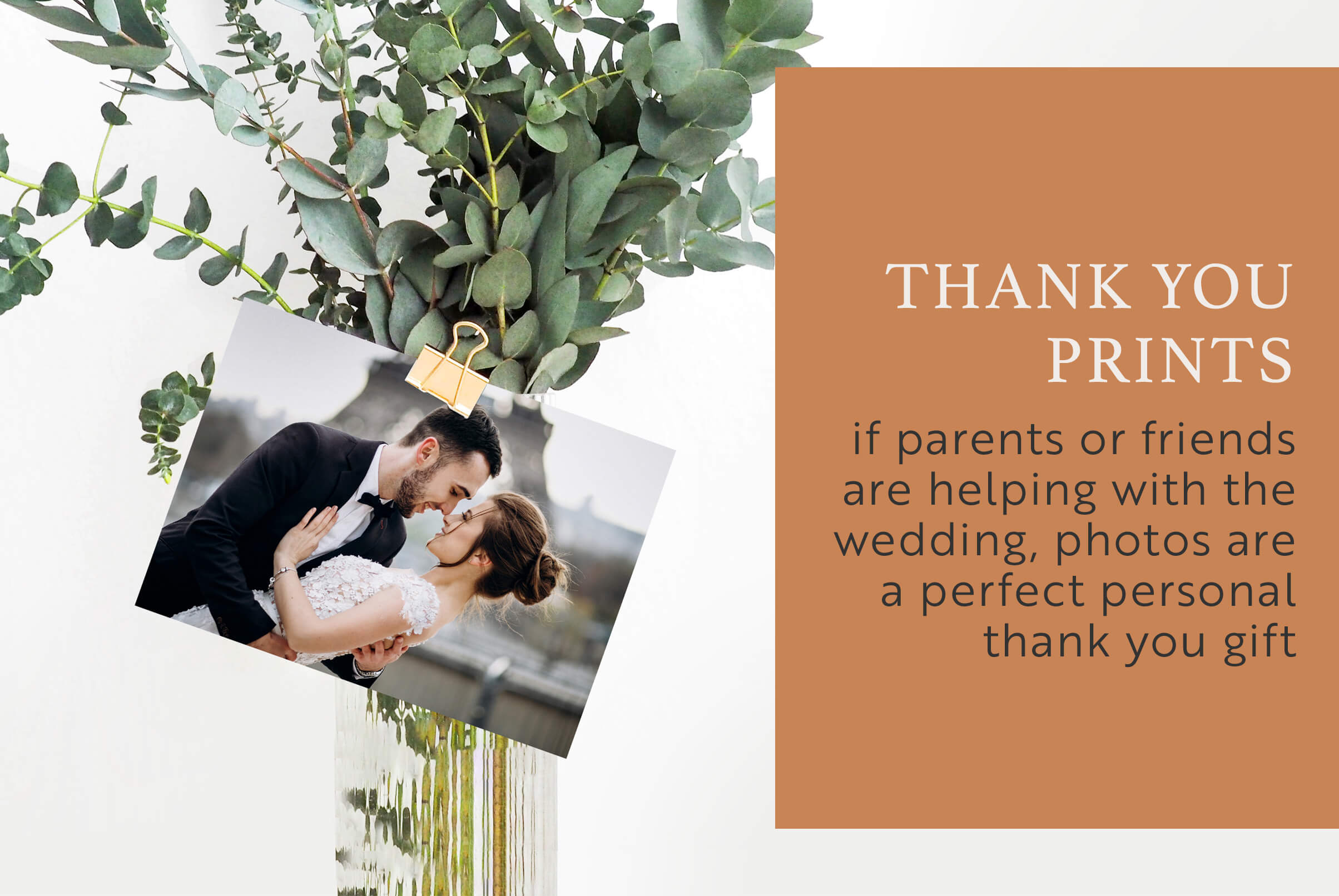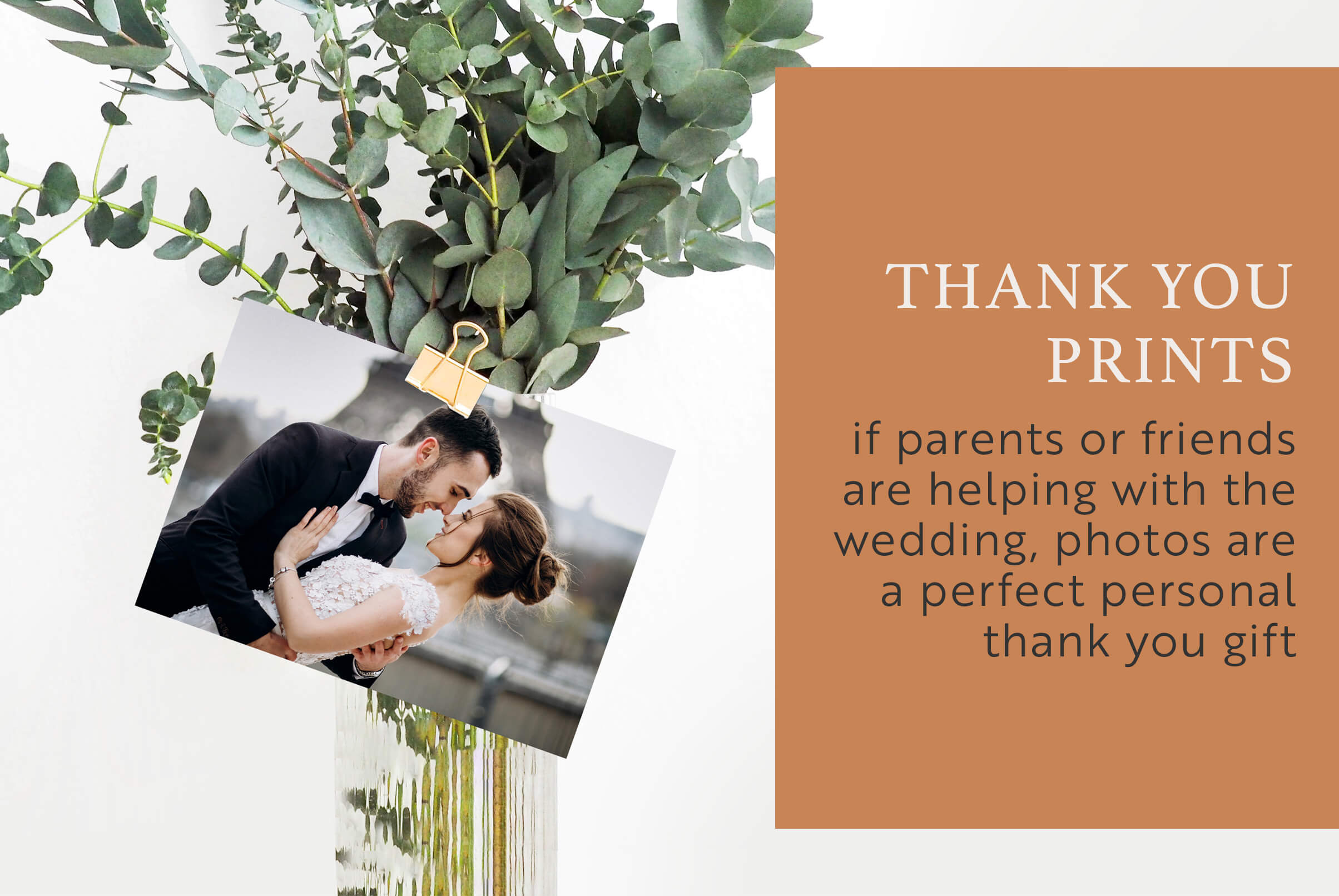 Engaged couples having their photos created by a professional photographer has been around for decades. Back in the day, it was important to get your engagement photo printed in the local paper so everyone could see the announcement, cut it out and put it on their fridge. That's where it ended with engagement photos.
However, times have changed and now most professional photographers will include all-out longer engagement photo shoots into their wedding packages.The reason being, it lets the couple get comfortable with the photographer as well as provide the couple with professional photographs they can share, print and display. Most couples will NOT have professional photographs of themselves prior to the wedding so engagement photos will be useful gearing up for the big day.
Photos make the perfect gifts not only for the couple but for others. If parents or friends are helping out with the wedding, photos are the perfect and very personal thank you. Choose from six different types of photo paper including Luster, Glossy, Matte, Silk, Linen, Pebble and Deep Matte. Printique still uses traditional silver halide printing which means the photos offer more vibrant colors, depth and better flesh tones.
If couples are looking for something a little more artsy, consider offering giclee prints which are digitally produced on fine art Hahnemuhle paper.
Save the Dates Date Cards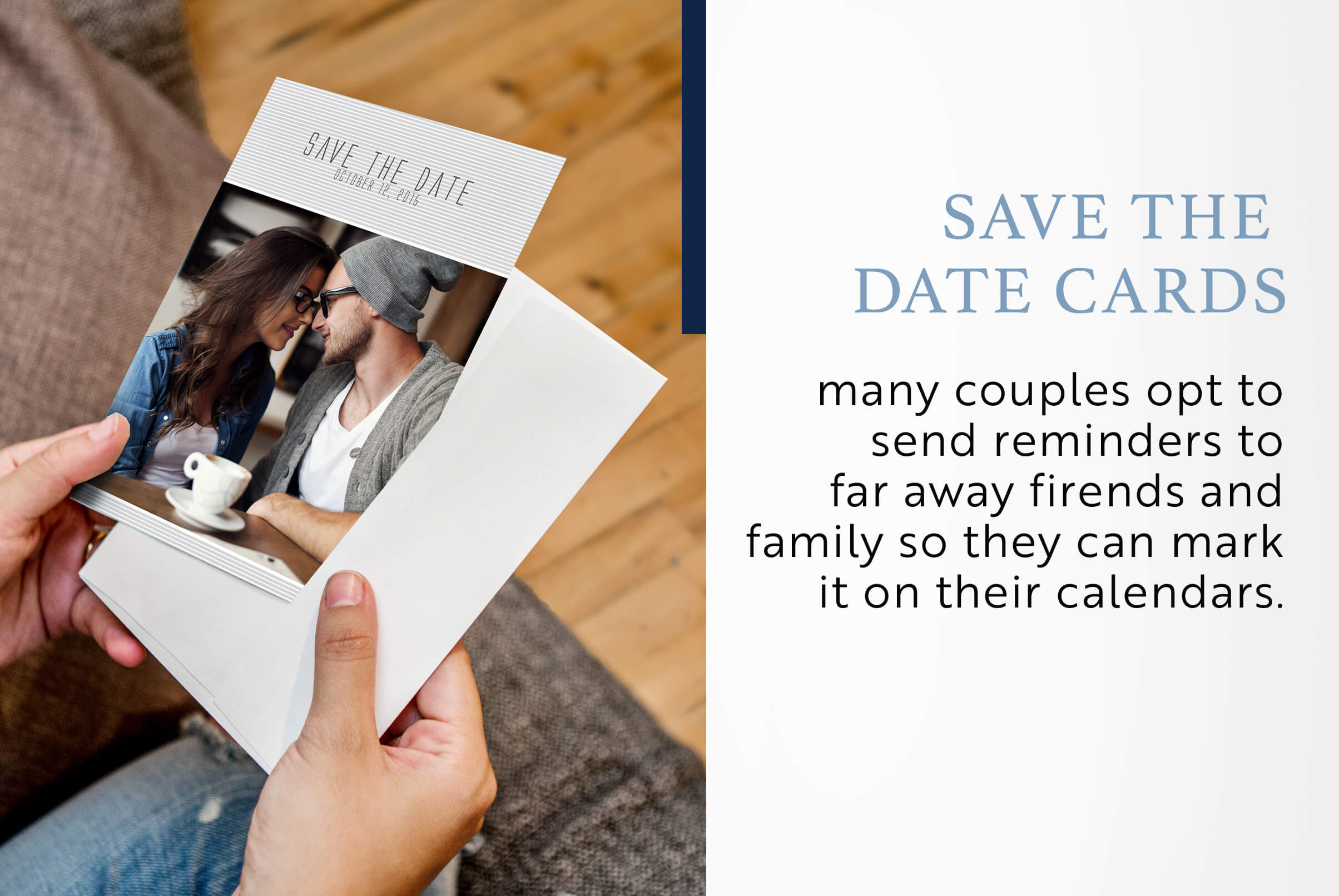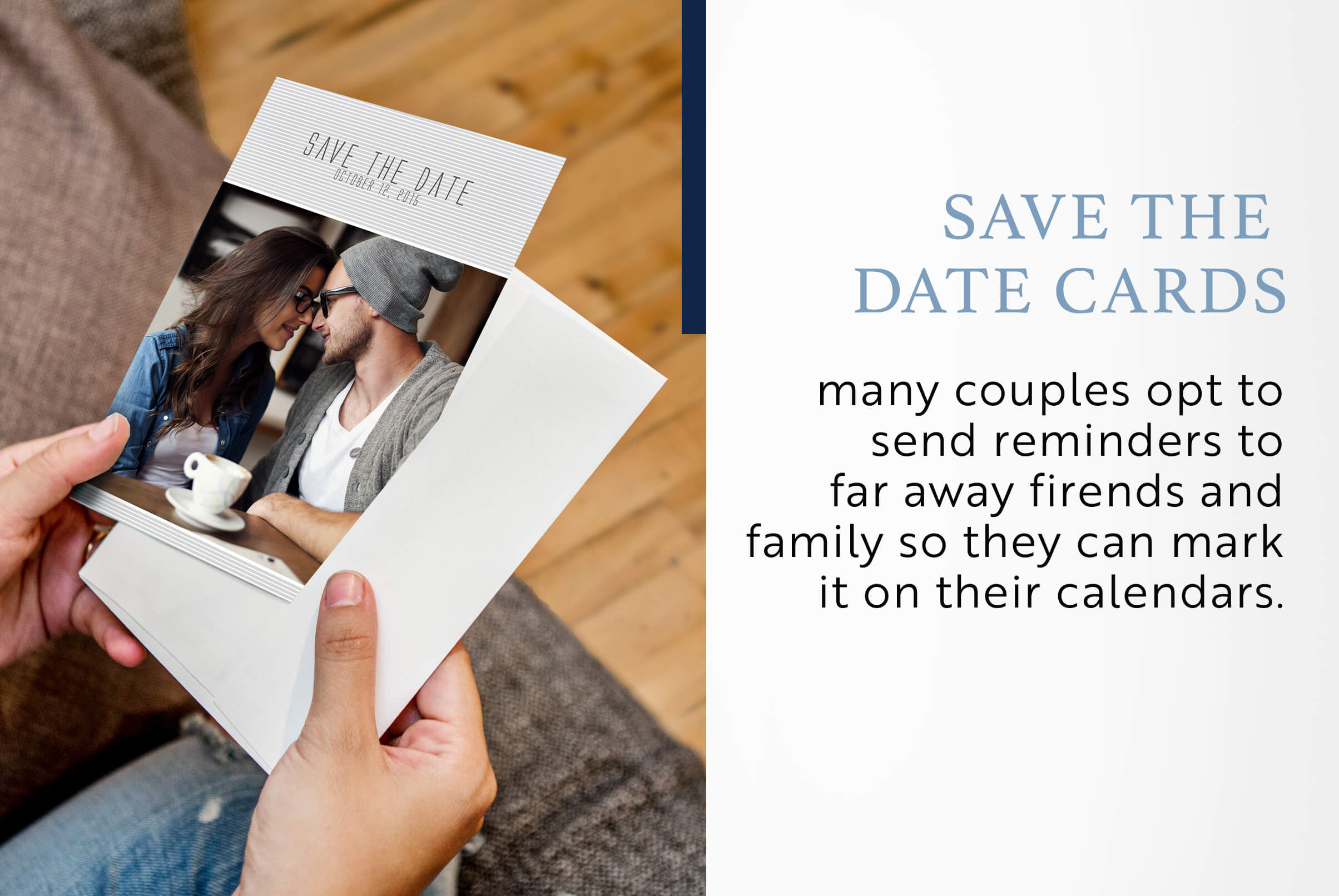 According to The WeddingWire, the average couple is engaged for 13 months. In more populated areas, getting your venue of choice can often take more than 13 months. So planning for weddings often can take more than a year.
With such a stretch before the actual wedding, a lot of couples will start to think about sending out save the dates to loved ones and those far away so they can mark it on their calendars to make sure they don't miss the big day. The window for sending out the save the dates is generally 6-8 months prior to the wedding.
Photos that typically do best for Save the Dates are more lifestyle and light-hearted. The save the dates are more casual than wedding invitations and the photo chosen for the save the dates can reflect a more casual and fun reminder.
The Wedding Invitation
Now that Save the Dates are out and the big day is drawing nearer, wedding invitations are next up next. As far as timelines, invitations are typically sent out about 6-8 weeks prior to the wedding. Invitations set the stage and the mood for the wedding. Formal, classic or modern, the photo and invitation should match the feel of the wedding.
Invitations will tend to be a little more elaborate than the Save the Dates because more information is being included in the invitation.
For both the save the dates and the wedding invitations, Printique offers dozens of different designs and templates. Photographers may also design their own cards to match the color and theme or the couple's wedding.
Choose from four different kinds of paper, felt, linen and pearl. There are a number of sizes including the more popular 5×5 and 5×7 – double sided. We also offer a number of card edge designs including square, bracket, ticket and scroll. All cards arrive with free linen envelopes. Please note when some sizes require a higher postage amount than others.
Sign In: Books or Canvas and Metal Prints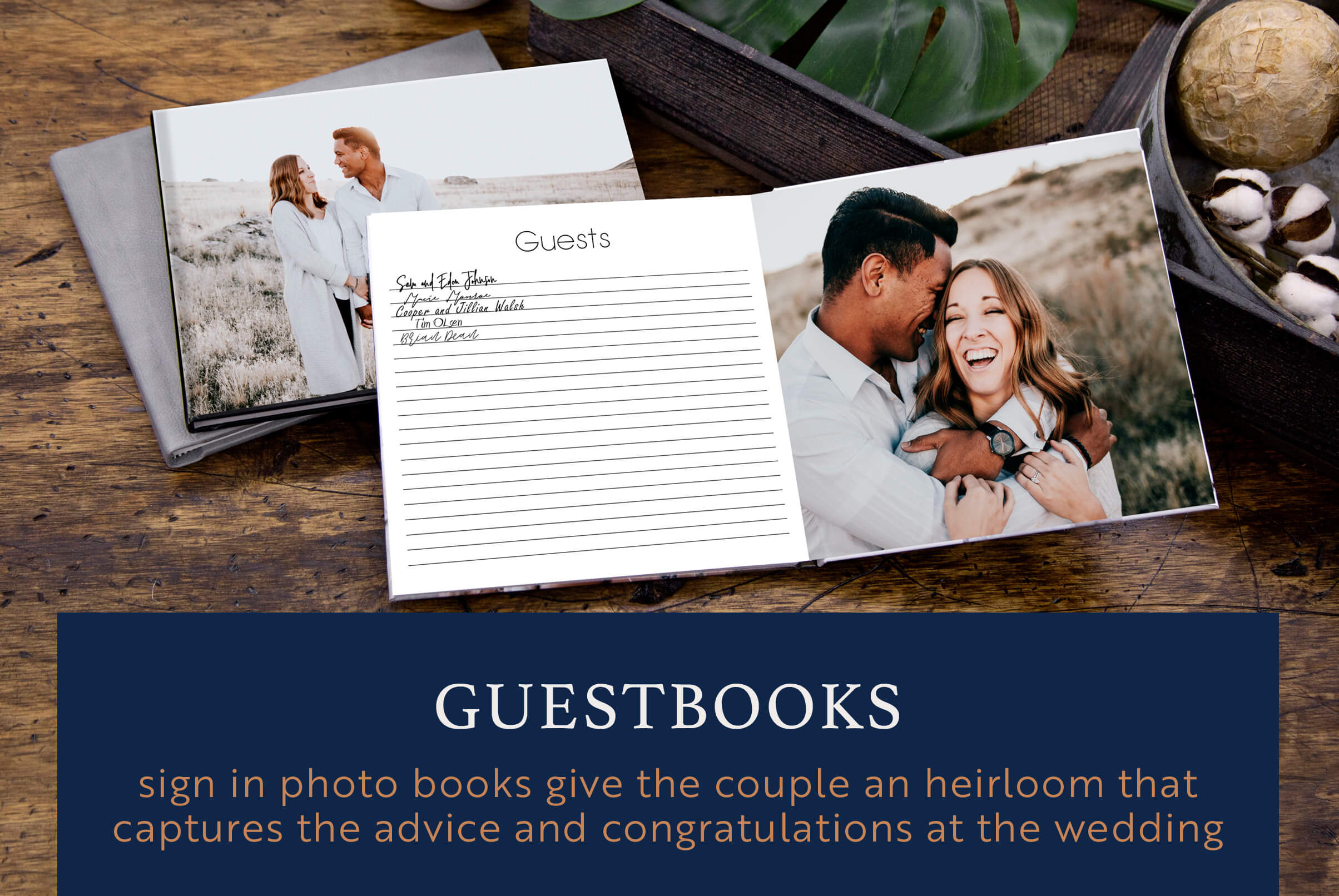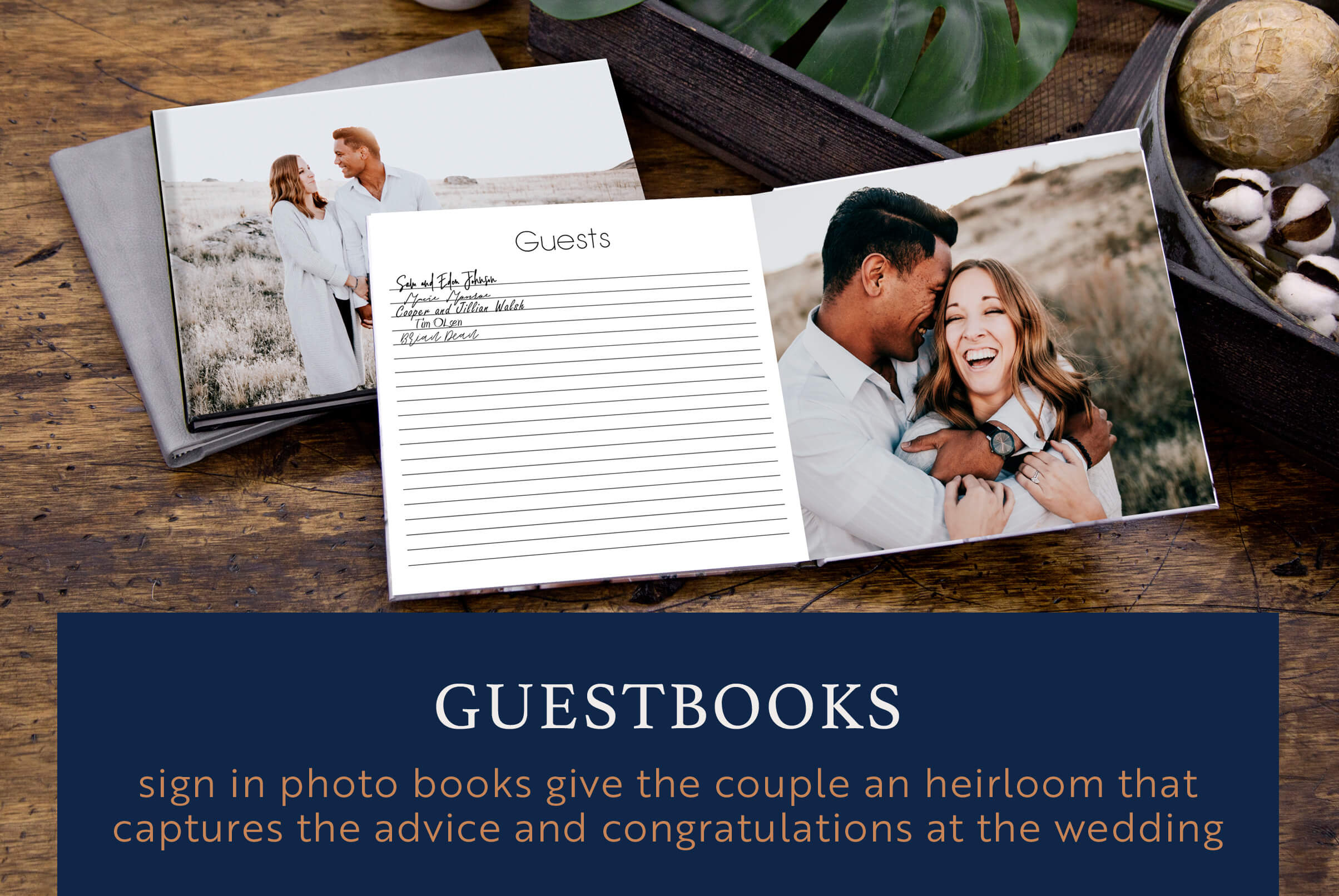 A wedding is a celebration and the event goes by in the blink of an eye, so it's nice for the couple to have a little memento of all their guests that came out for their special day.
Two popular choices for the guest table include a Sign in Photo Book or a Sign in Wedding Canvas or Metal Print.
A sign in photo book gives the couple an heirloom that captures the advice and congratulations of family and friends at the wedding. When laying out the photo book make sure there is enough space for the signature and notes. When choosing paper, luster or matte typically fare best with sign in markers. The photo book is a wonderful way to incorporate the engagement photos with memories of the day.
On the other hand, a sign in Wedding canvas or metal print offers one wedding keepsake that will be proudly displayed on the couple's wall. When deciding on the size of canvas or metal, think big. An 11×14, although sweet in size, won't be able to accommodate a lot of signatures because the couples photo will take up a larger part of the surface. Depending on the size of the wedding, typically sizes 16×20 through 20×24 are the perfect fit.
When choosing a photo for the sign in, find an image where there is enough negative space for the signatures. Also, make sure to check the sign in markers. They should be permanent and have a smooth scroll with no bleed.
Photos or Cards for Wedding Table Numbers
Let's talk about wedding decor. There are a number of fun ways to incorporate photos into the wedding reception.
Couples can make table names and numbers a lot more fun by including childhood photos of the couple. Or showcase different photos of the couple through the years, or even more fun print travel photos of where the couple has ventured. By doing this simple act, couples can make their tables more personal and intimate.
Paying homage to weddings of the past is a lovely way for couples to display their parents or grandparents on their wedding day. It's fun for the guests to look at comparisons between the sets and see how times have changed throughout the decades.
Photo Album for the Wedding Couple
This is the pinnacle of offerings for print products for wedding couples. The album will showcase the best of the moments from this one day. As a photographer, you have a vision on how it should unveil. In fact, a lot of photographers will specifically shoot the wedding with the album in mind.
So how do you help the wedding couple narrow down the most important images to make the album stunning ? Instill in them, that the wedding album is a story of their day. There is a beginning, a middle and an end. Have them pick a few images from each category, getting ready, ceremony, formals, favorites of just the couple, reception and dance. From the favorites of just the couple, choose a photo that sets the stage and opens the album, then pick one that will close the album. Giving the couple a set amount of photos 40-50-60 will make them focus on what's most important.
Presenting the Wedding Photo Album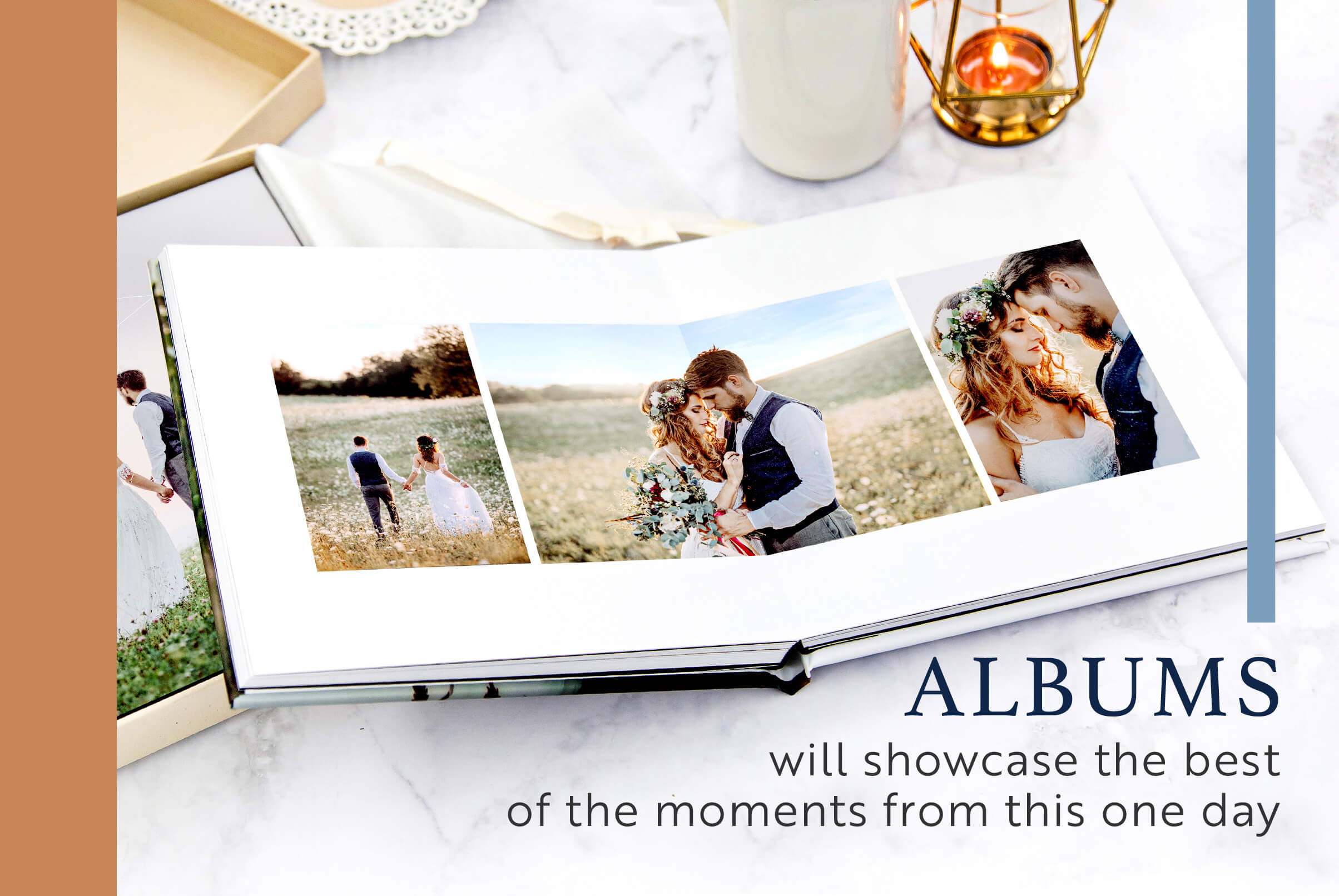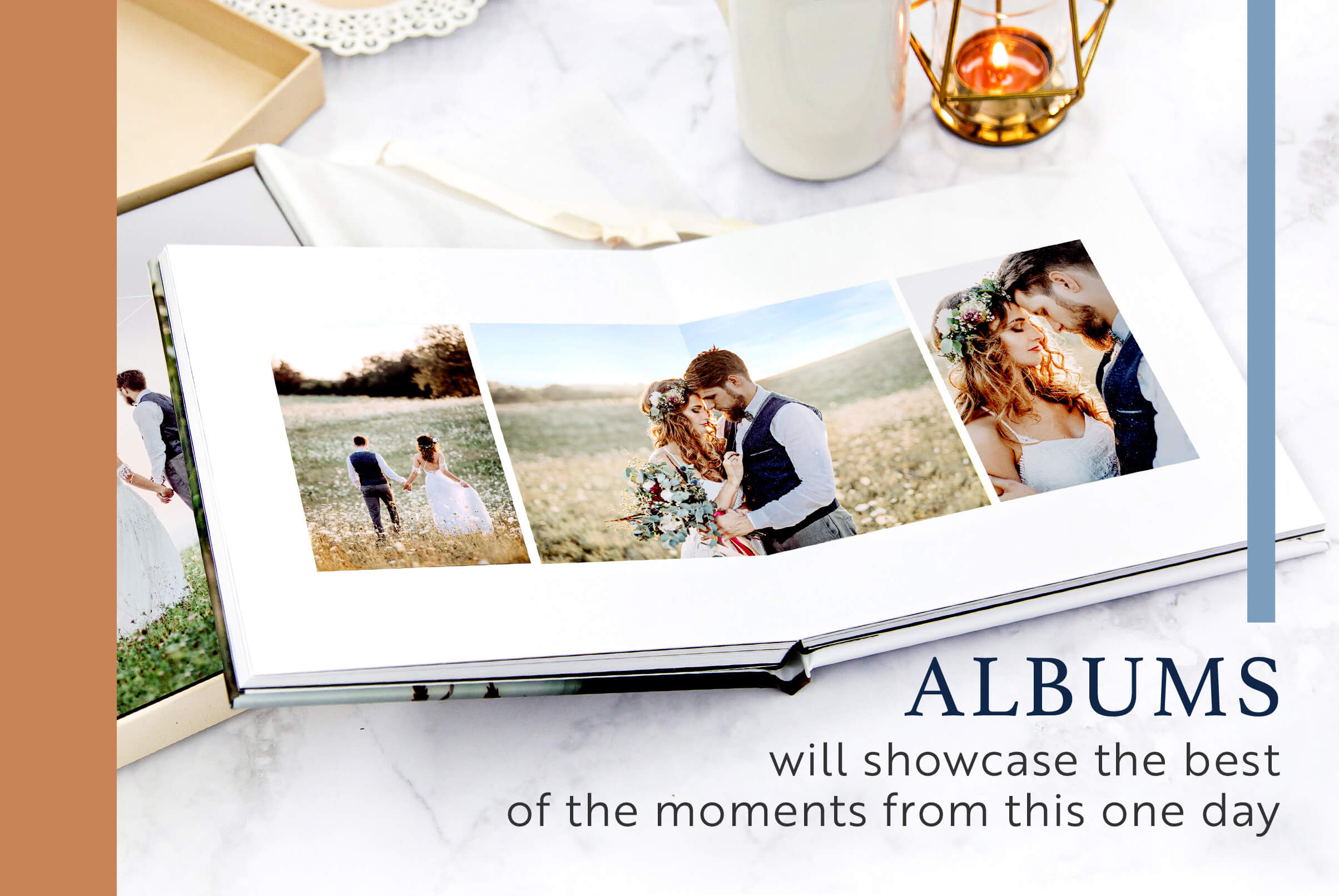 Now let's talk about the presentation. Printique offers a number of premium albums that will accommodate everyone from the classic leather and leatherette covers to the more modern hardcover and metal covers.
Choose from four different colors in genuine leather and 13 in the leatherette as well as portrait, square and landscape orientations with 8 different paper choices for most sizes.
If the couple is more modern, then present the Metal or Hardcover Premium albums. The metal covers are quite unique by embedding a high-quality metal print right into the cover. The choices for the metal covers include the full cover, panoramic or a large or small window. All metals embedded onto the cover have a glossy finish showcasing an enhanced and vibrant image.
Hardcover albums showcase a wrap around image. The image covers both the front and back. Hardcover albums are finished with a soft-touch coating for a luxurious feel and a velvet look.
Choosing the Extras for Hardcover Albums
Once the premium album is designed, you can now offer the extras. Printique offers debossing on the cover for the leather and leatherette covers as well as some of the metal covers. For all albums, photographers will need to choose between contemporary then or classic thicker pages. Please note when choosing the contemporary pages you will be able to design an album up to 100 pages. Because of weight, if the thicker more robust classic pages are chosen you will only be able to design up to 50 pages.
Gilding on the pages will add that extra special touch. Choose from silver, gold or black. With all of these options, photographers can truly design an album that's just as unique as its couple.
Finally, don't forget the archival boutique box. Albums should be stored flat and the archival box is the best way to protect these wedding memories.
Smaller Books for Parents, Friends and Bridal Party
Did you know you can make smaller duplicates of the main wedding album? So if the couple chooses a 12×12, they will also have the option to make smaller albums of the same books from 10×10 to 8×8 to 6×6. An exact replica of the wedding album is typically perfect for the parents of the couple.
If the couple would like a smaller book for the parents but with just a few changes, here's a Printique hack. Make a copy of the original album and give it a different name. You are then able to edit that copy. Once completed, you can make a copy of it in smaller sizes. Simply order the smaller sizes and you've saved yourself some time in recreating the entire album.
If the couple would like smaller copies for their bridal party or other relatives, you can also take their wedding album and convert it to a hardcover photo book.
Bigger Wedding Wall Decor – Statement Piece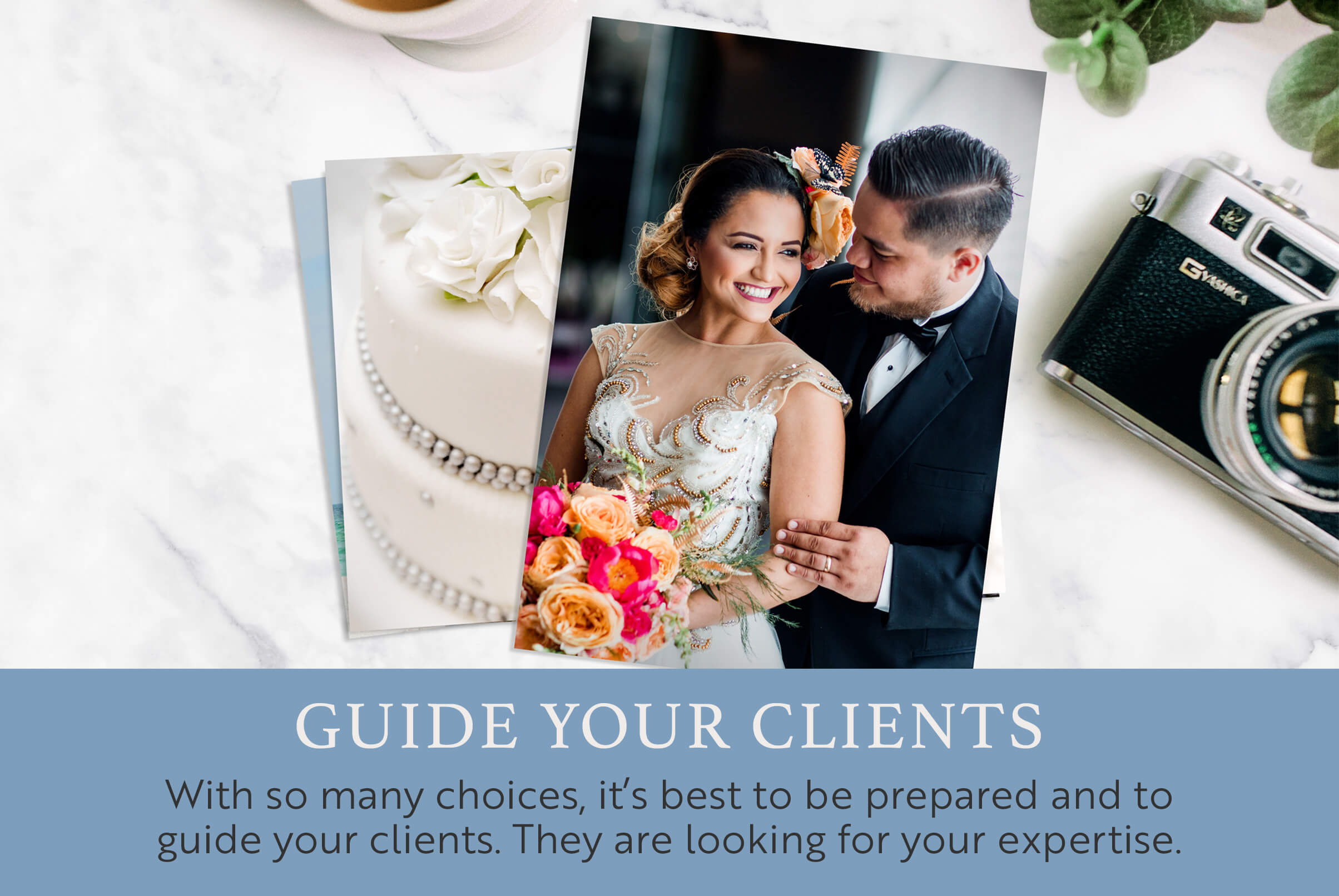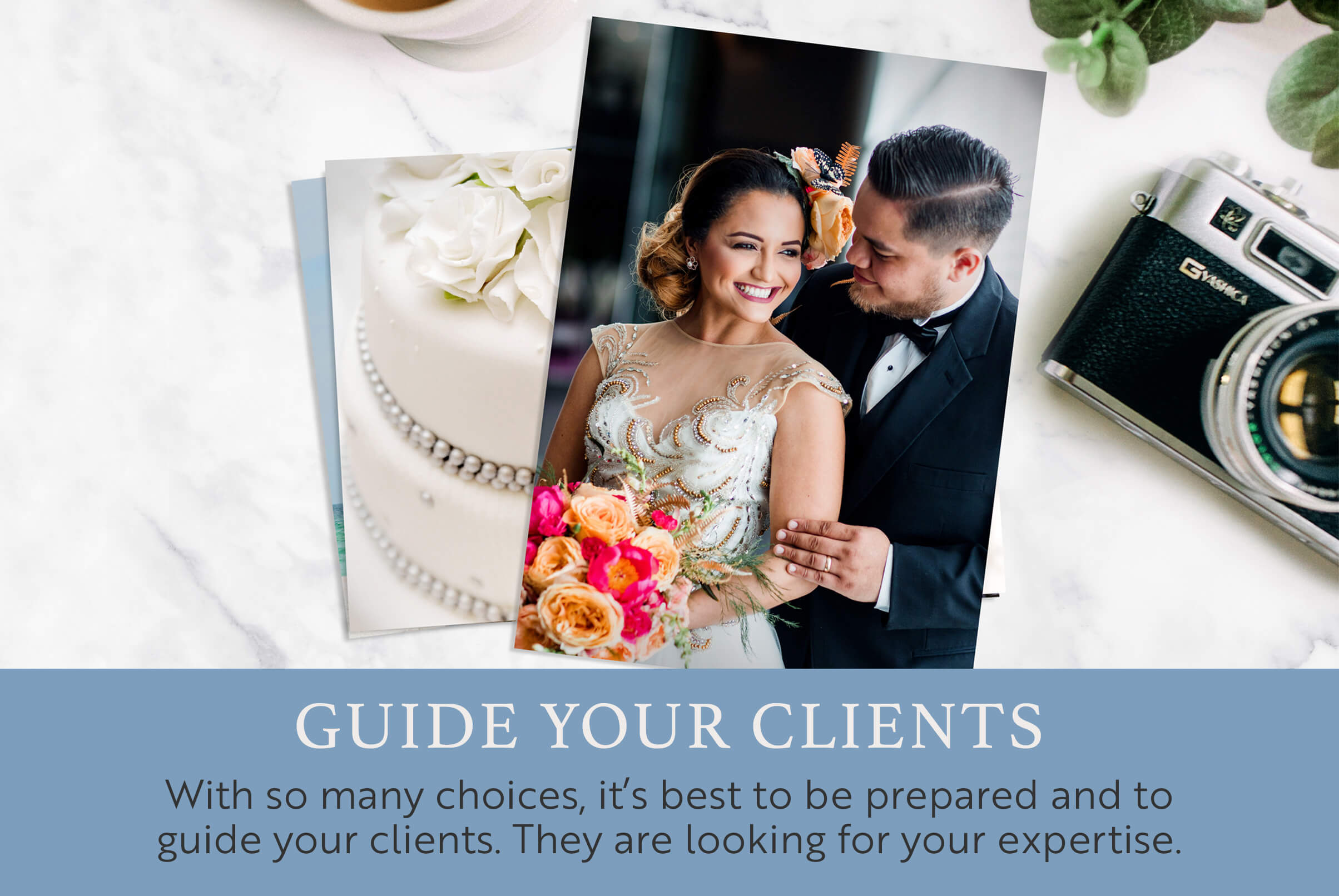 This can be approached two ways, either one larger image or a portrait wall gallery. It really depends on what the couple envisions and their space. If space is limited going with one larger wall decor piece like a metal, acrylic or canvas will make a statement in a smaller space.
If they have a lot of wall space, then check out our all new Design Wall Wizard. Request a photo of their room or some measurements from the wall they would like to hang the art work. You can then upload that photo during your sales presentation. Or you can use the six different rooms including living, dining, bedroom, etc. that are already loaded into the intuitive online program. You can also add furniture and plants for perspective.
The wall wizard is so powerful it offers up to 100 plus possible print arrangements – from 8×8 all the way to 40×60. With so many choices, it's best to be prepared and to guide your clients. They are looking for your expertise. Once everything is planned and approved, you can order right from the wall wizard site and the photos will come expertly printed by our artisans and packed professionally to arrive safely.
Thank You Cards to Wedding Guests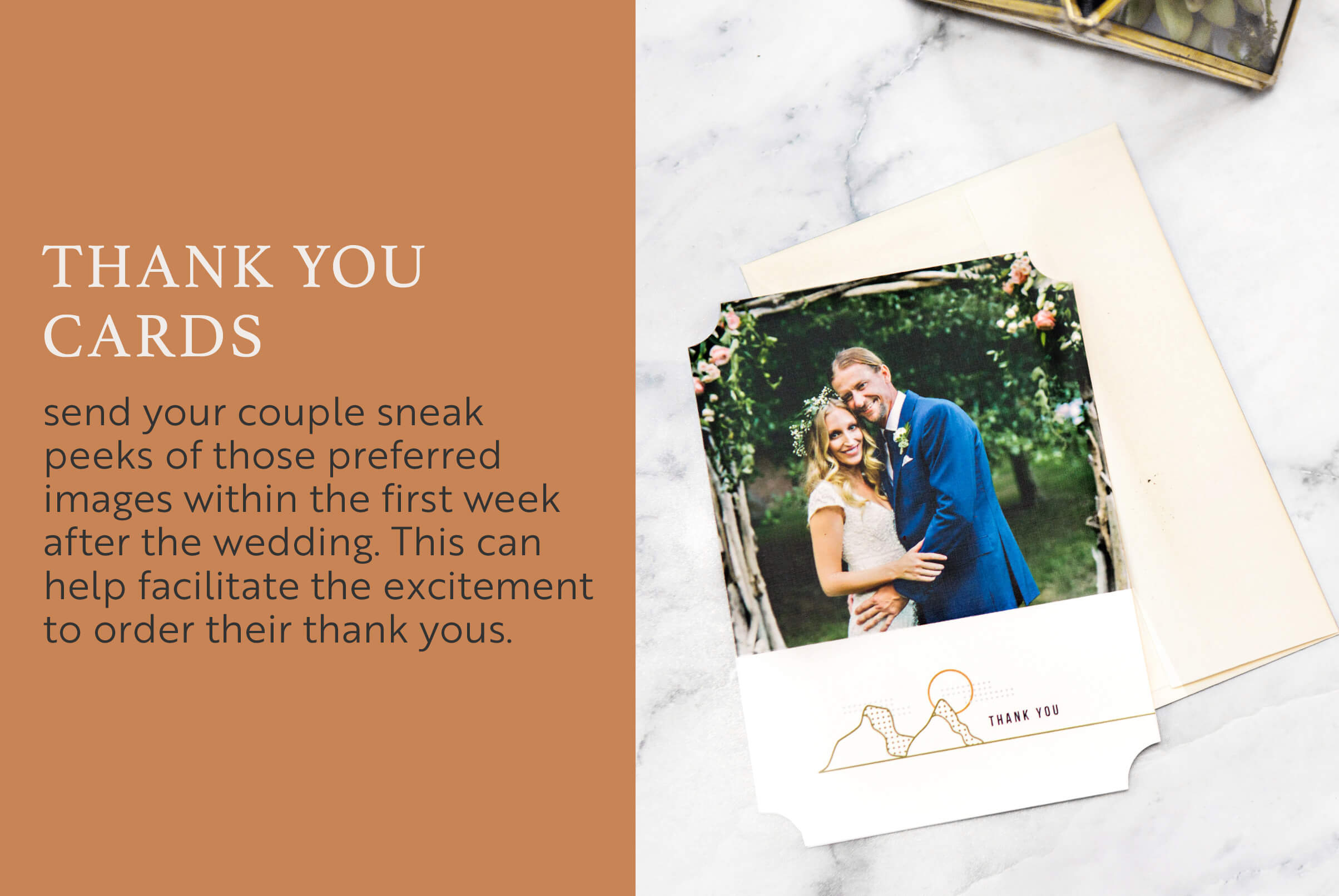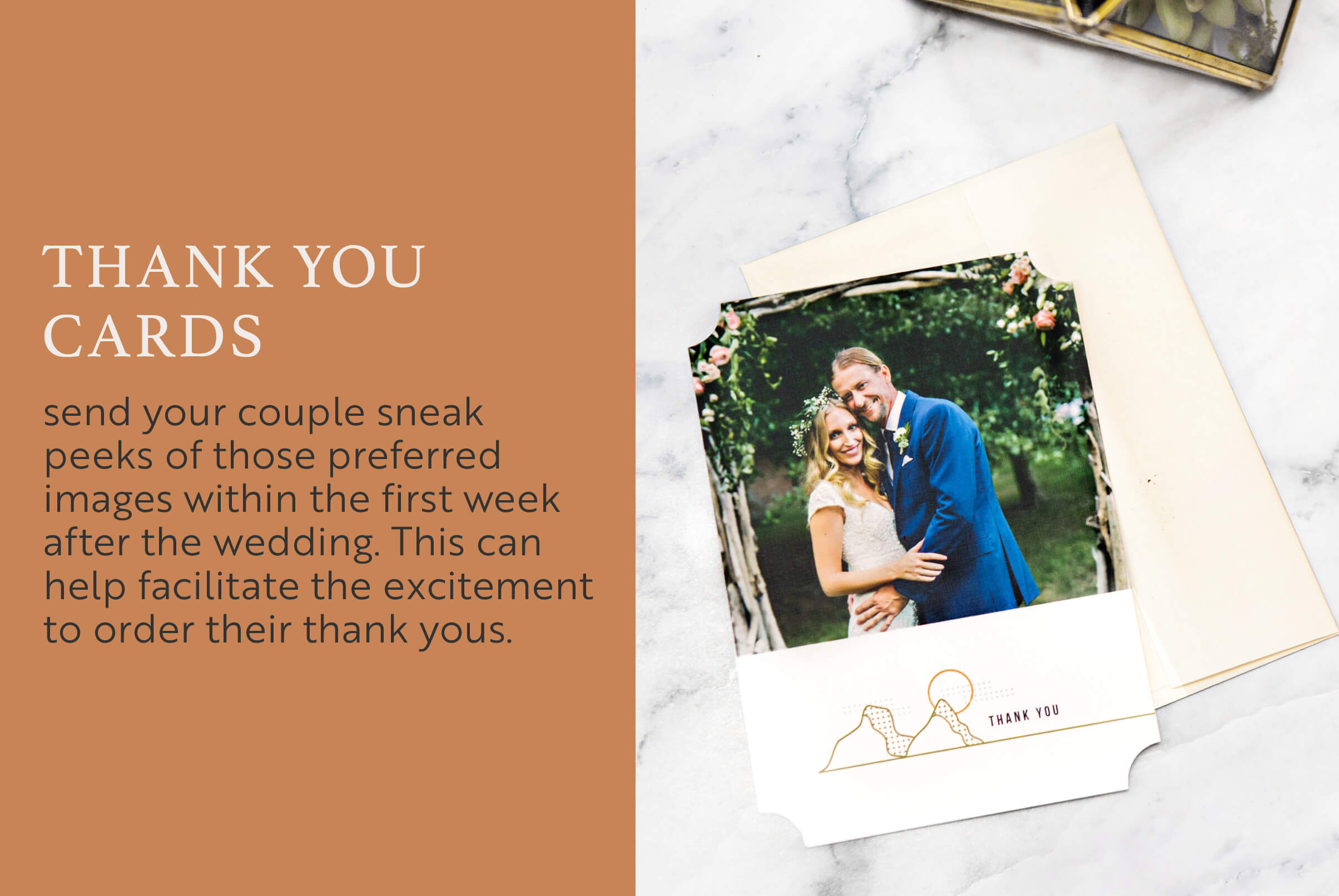 Traditionally, wedding thank you cards are sent 2-3 weeks after the wedding. Discuss with your clients what they are looking for in a thank you image. Would they like a more formal image or something more lifestyle? Then send them sneak peeks of those preferred images within the first week after the wedding. This can help facilitate the excitement to order their thank yous.
You'll have the same paper choices as the save the dates and invitations: matte,felt, linen, and pearl. Most photographers and couples will stick with the same type of paper as their save the dates and wedding invitations for consistency. All of our greeting cards come with free envelopes.
Desktop Minis Bring Wedding Memories to the Office
Most couples work and this an opportunity to present smaller office friendly wedding items to adorn their desks. One of our favorites are the all new 2×2 acrylic photo cubes. They are petite and modern and although small, they make a big statement.
If you're looking for something a little larger the 4×6 and 5×7 acrylic 1 ½" photo prints are perfect. No need for special stands, as they are thick enough to stand upright.
Calendar as a Thank You to Wedding Guests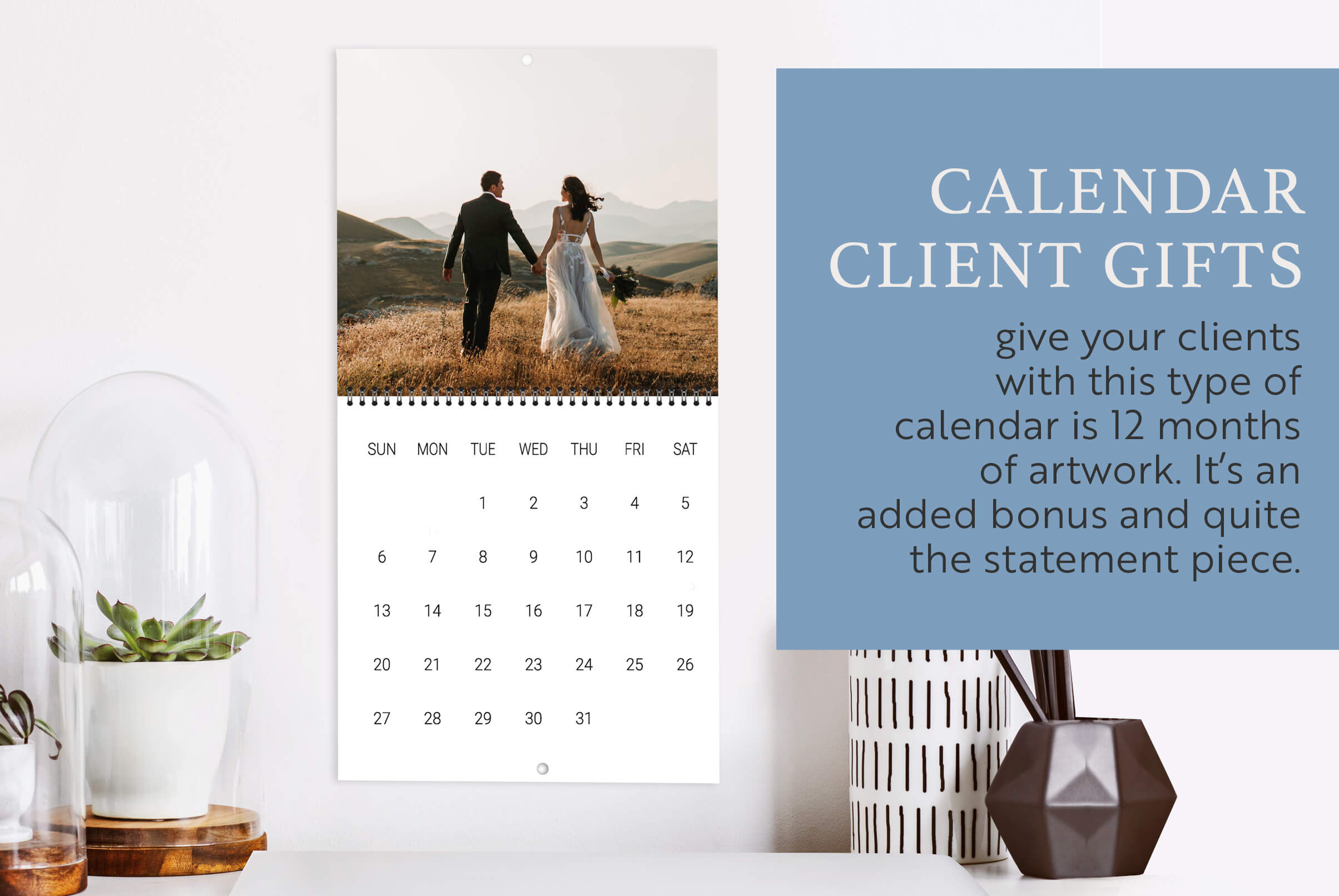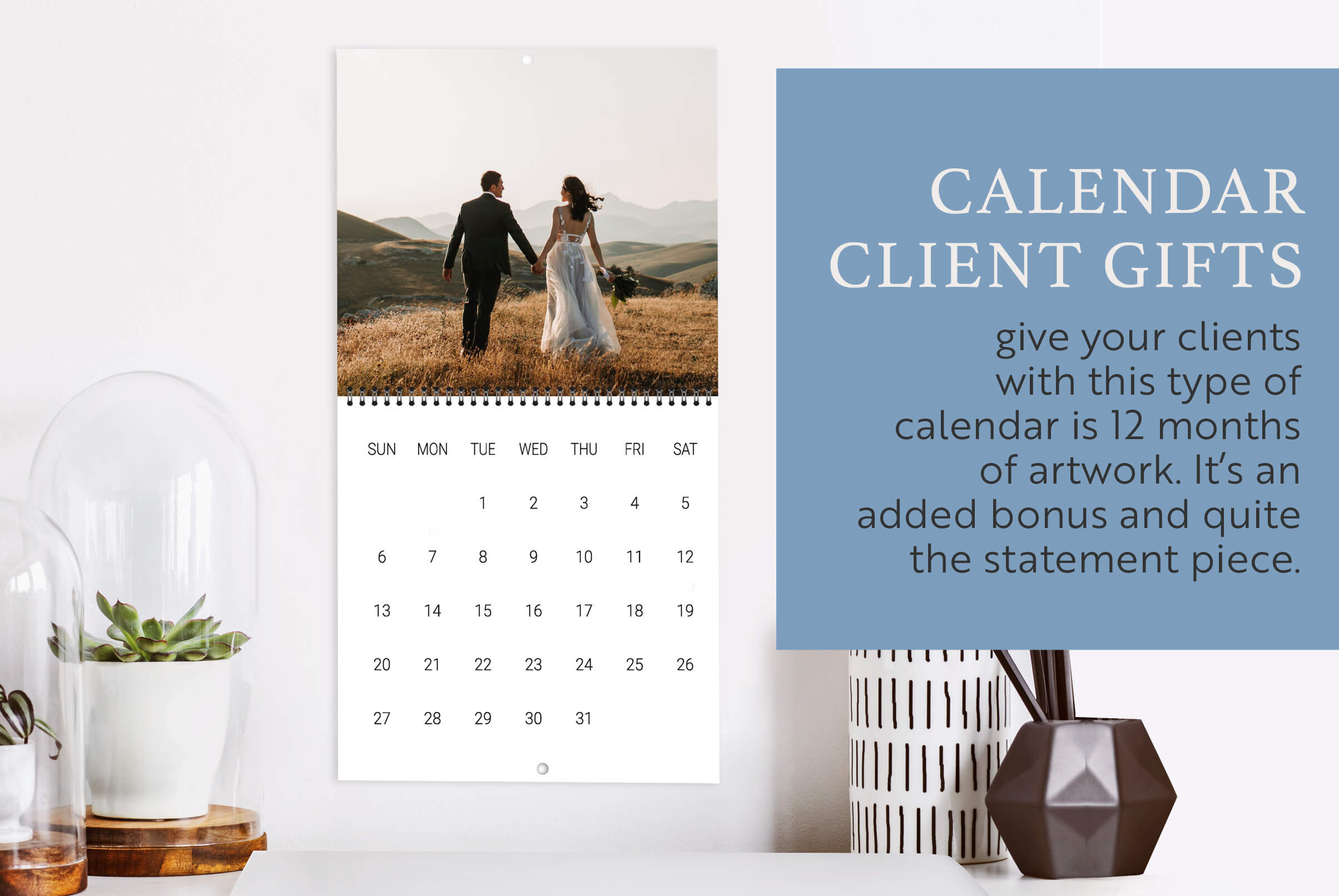 Did you know the traditional one year anniversary gift theme is paper? Why not surprise your clients a full year of wedding celebration with our calendars? Choose 12 of their favorite images and give it as a thank you. It's a low-cost way to stay top of mind throughout the year and it's something they will share and display. Word of mouth is a powerful marketing tool for professional photographers. If you over deliver and under promise, the pay off will be even bigger.
So what are your choices? Choose from desktop, centerfold and top-hanging. While the desktop and centerfold are more traditional, the top-hanging calendar has the "wow" factor. They are 12×18" and come in either a luster or a glossy photo paper showcasing vibrant colors. What you're actually giving your clients with this type of calendar is 12 months of artwork. It's an added bonus and quite the statement piece.
These 10 ideas are just a guide to help photographers maximize not only their hard work but their time invested into one wedding. Weddings are personal and the more personal print items photographers can offer their couples, the more special the day becomes.
If you need assistance choosing the right products, don't hesitate to contact us at service@printique.com
Looking for more wedding photography tips? You might enjoy these articles as well.
How to Get Wedding Photography Clients: 5 Marketing Tips
15 Modern Must-Have Wedding Poses for Brides and Grooms