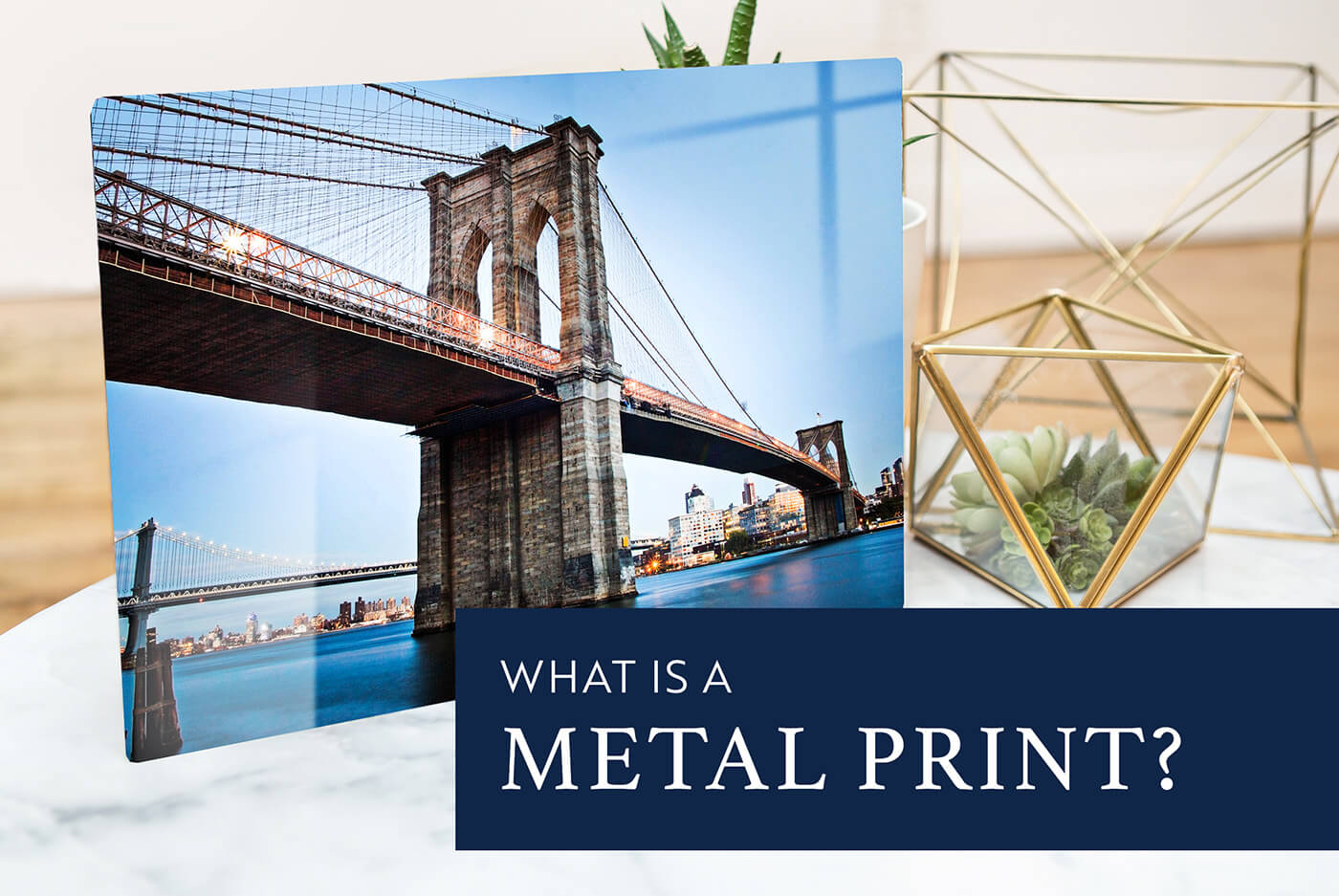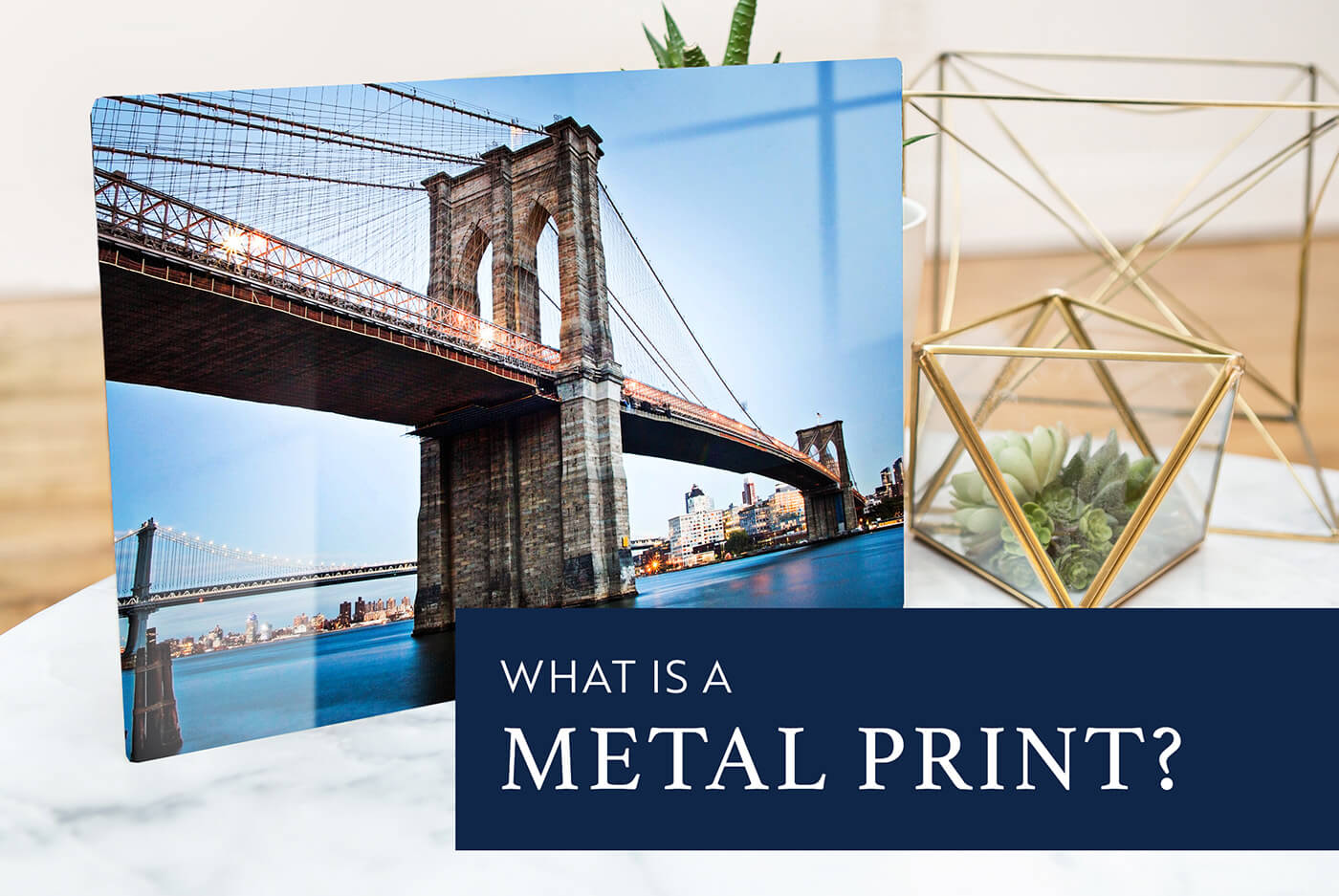 Photo printing has come a long way since the days of a darkroom and film. With modern technologies, we can print on a variety of surfaces, from wood and acrylic to metal.
Metal prints are a novel way to put your most treasured memories or your prized photography on display. Instead of printing a layer of ink onto a surface, metal art involves a printing process called dye sublimation that infuses the ink into the surface of the metal. This process gets applied to a sheet of aluminum, and then heat sealed to create a durable finish.
Metal prints offer a uniquely modern look while enhancing your image and displaying it in stunning high quality, brilliance and shine. They are durable and archival, ensuring your artwork lasts. You don't have to worry about a piece fading in the sunlight or getting water damage while cleaning it. You also don't need to use a frame when you choose to print on metal, and a variety of mounting options are available to suit any style.
Ready to explore how a metal print can bring your photos to life? Keep reading.
The Uniqueness of Metal Art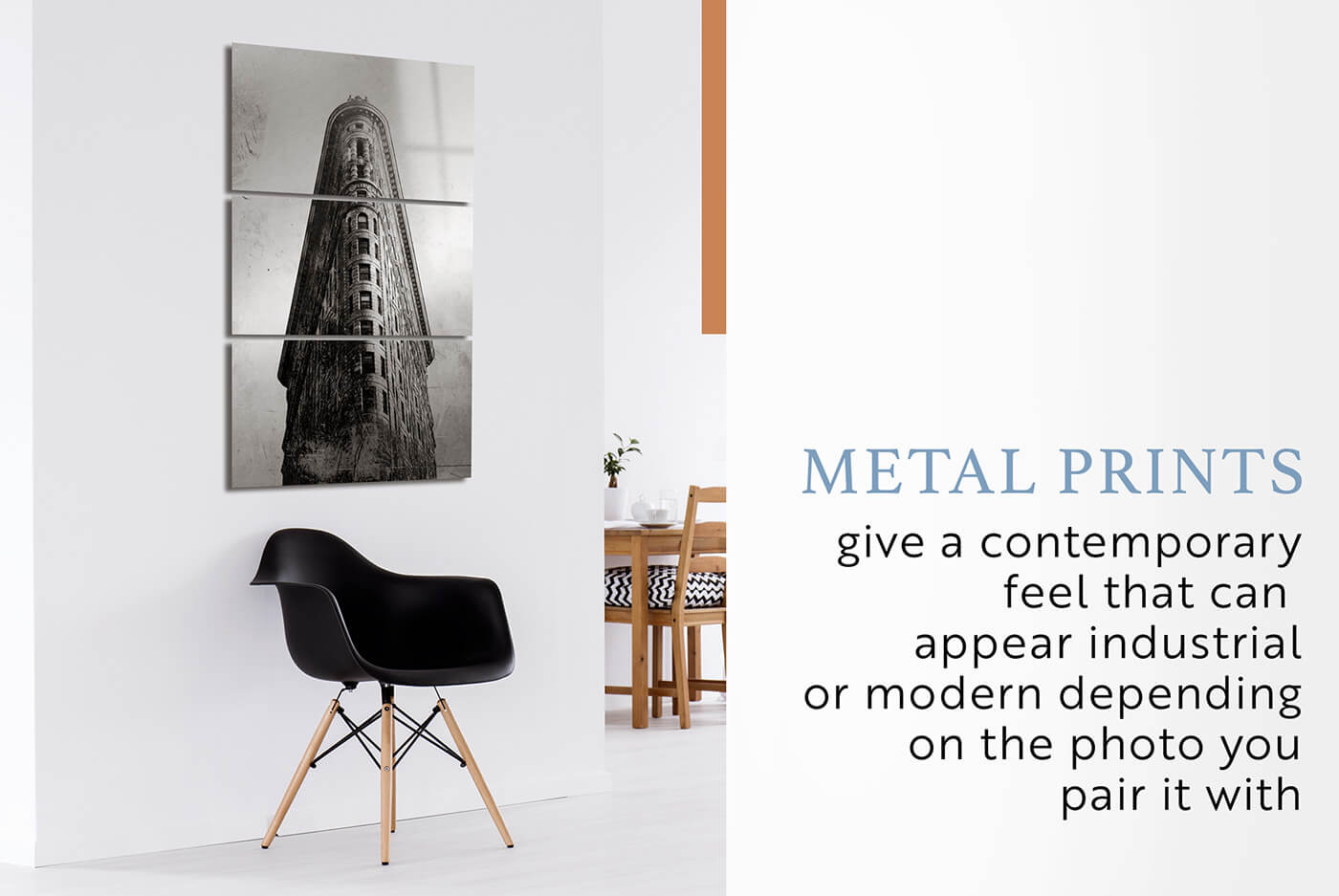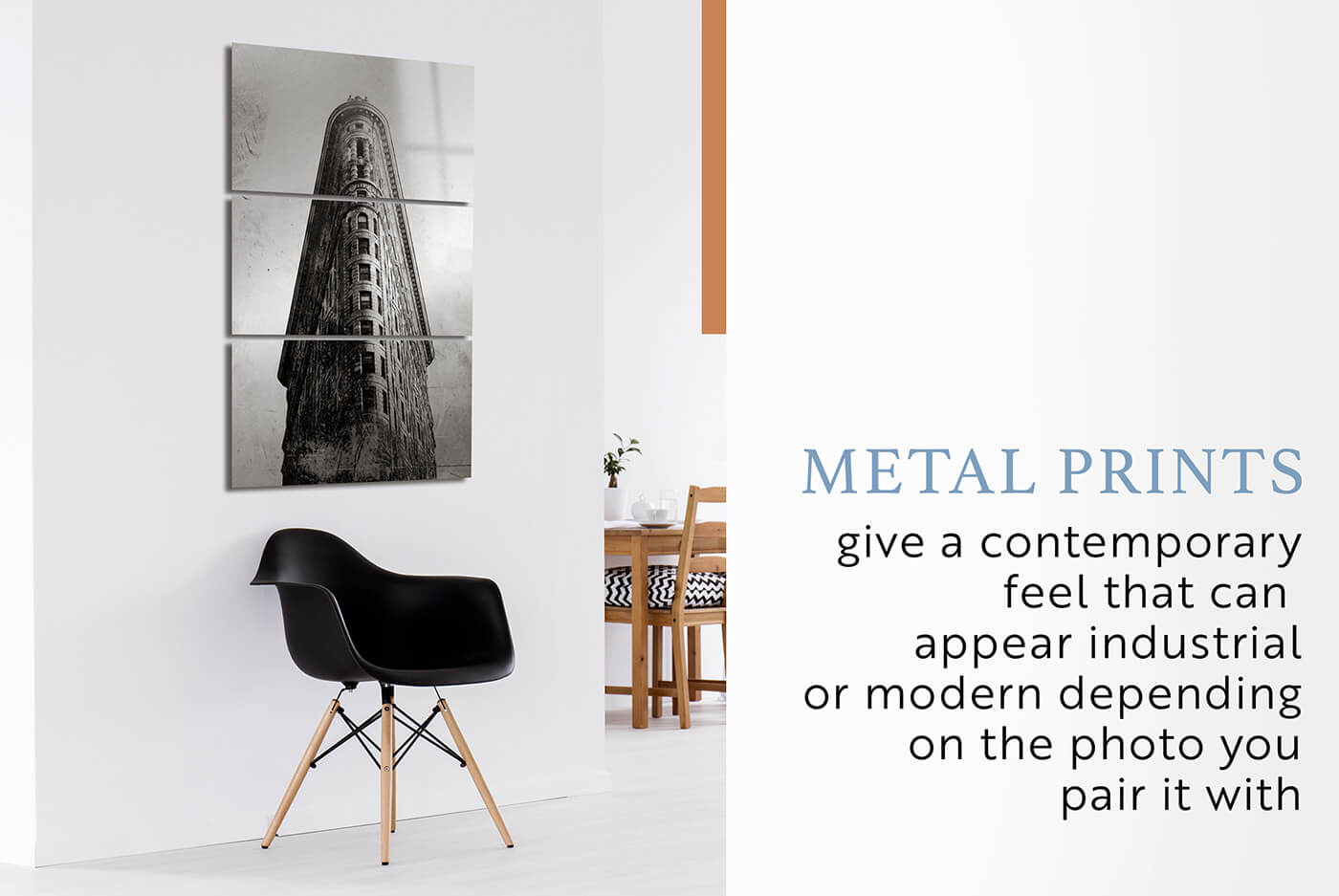 One of the biggest draws to metal printing is its uniqueness. Some finishes allow the metal to show through the white colors in a photograph, providing a special look you can't get with other surfaces. A metal print gives off a contemporary feel that can appear modern, industrial or rustic, depending on the photo you pair with it. It is up to you to decide what kind of impression your print will have.
Whether your print is going in a professional art gallery or above your living room couch, it will undoubtedly stand out among other photos. In an art gallery filled with competing prints, every bit of eye-catching material can be a helpful asset to draw people into your work. A unique metal print with excellent color quality is a great way to make your art pop.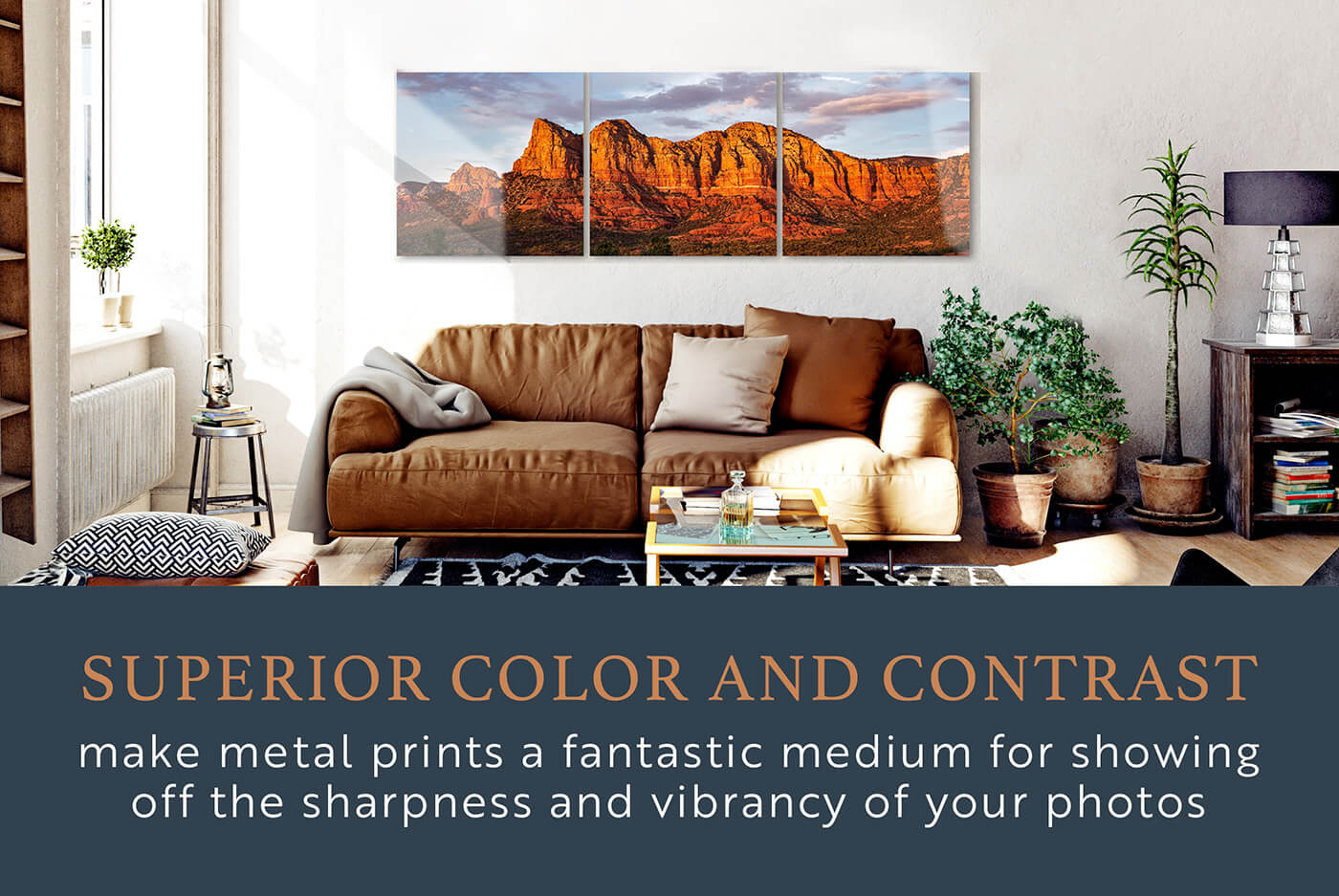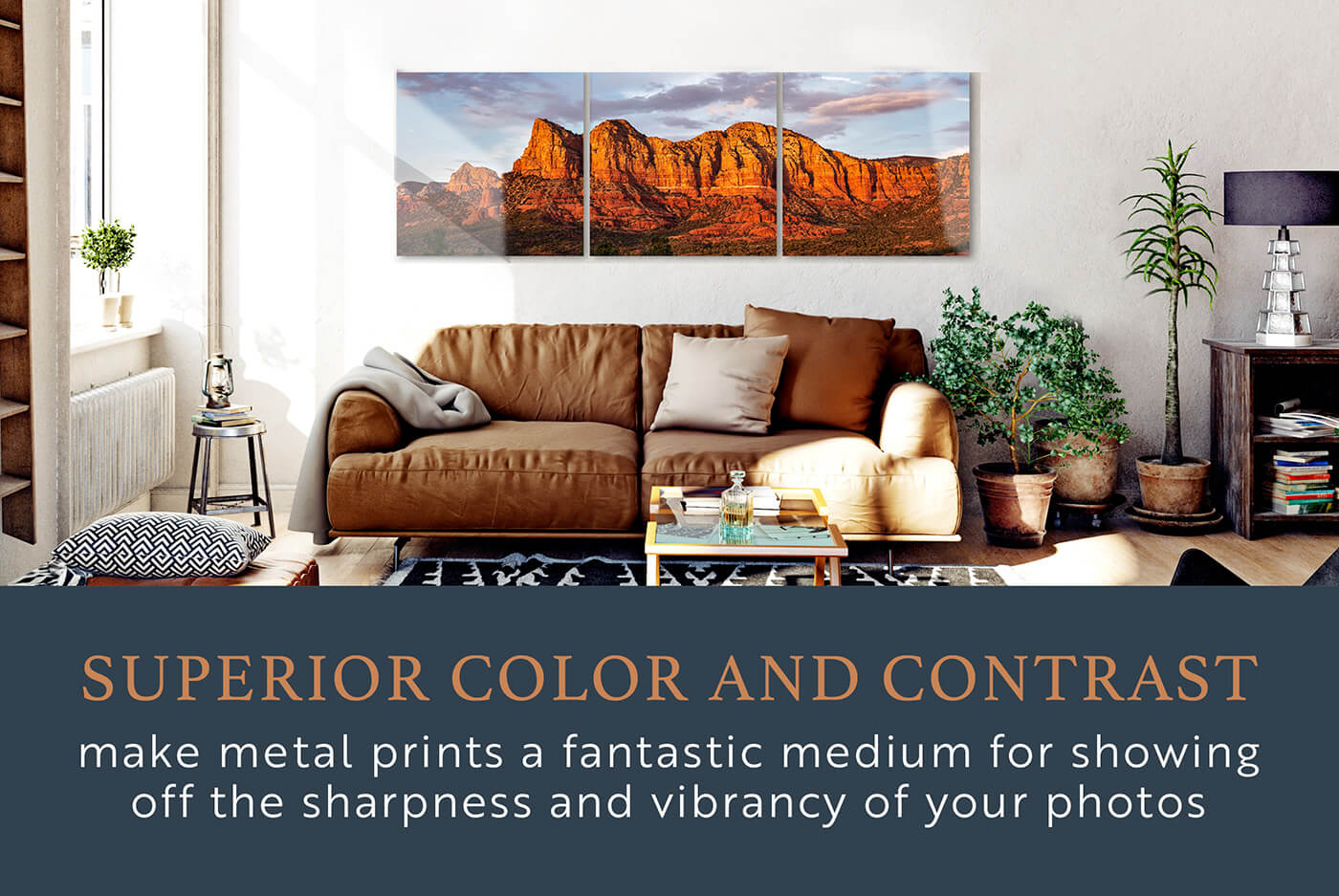 And as for the walls? Well, every room in a home needs a focal point. According to a 2016 survey by Furniture Today, 58% of people owned prints of photos they had taken. If you're in this 58%, the sharp colors and vibrant display of a metal print can help you highlight specific pictures that deserve a little more attention. These can include an artistic centerpiece photo hanging above your mantel or a few smaller family photos leading up your staircase. It works well for creative photos, such as plant life and architecture, or pictures of people. Photos of the kids from your last vacation will work just as well as a photo of your favorite flowers from the garden.
Part of the reason you can use a wide variety of photos in a metal print is because of the high picture quality inherent in metal art. The dye-sublimation process it undergoes gives it higher contrast and color brightness than traditional prints. Coupled with a manual review process like Printique has, your photos retain their crisp definition and take on bold, bright colors. This color quality helps bring a whole new degree of depth to your art. It is also one of the reasons many professional photographers have turned to printing their photos on metal.
How many old printed photos do you have with torn edges or water damage? Paper-printed photos can degrade quickly, and if those are the only physical versions of a photo, they can easily get lost to the elements. When it's time for future generations to look back through your collections of photos, a metal print will last much longer than a paper one. These prints are durable, scratch-resistant and can't tear. Because the ink of the image infuses with the metal, they also can't fade quickly. Our materials can last at least 50 years.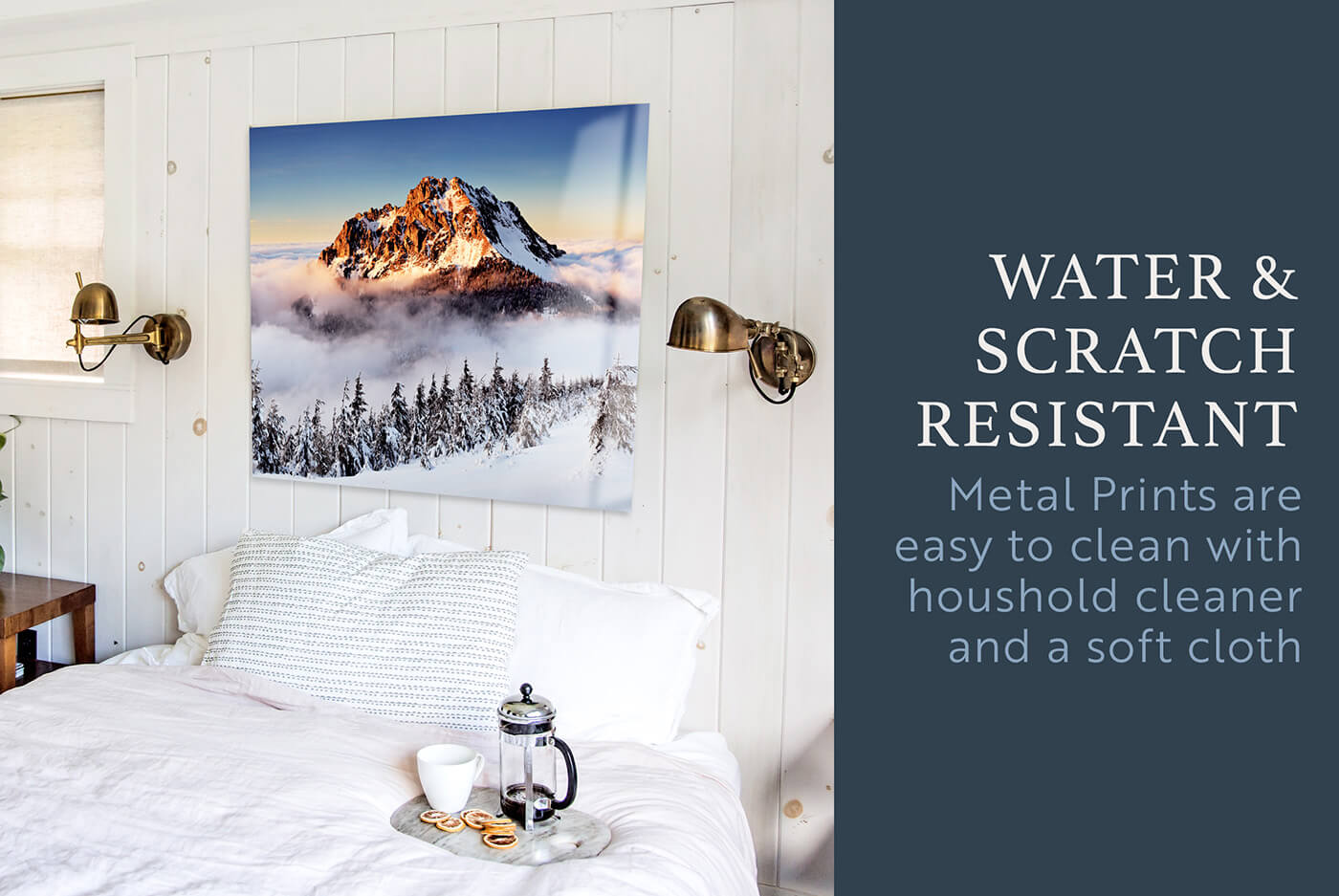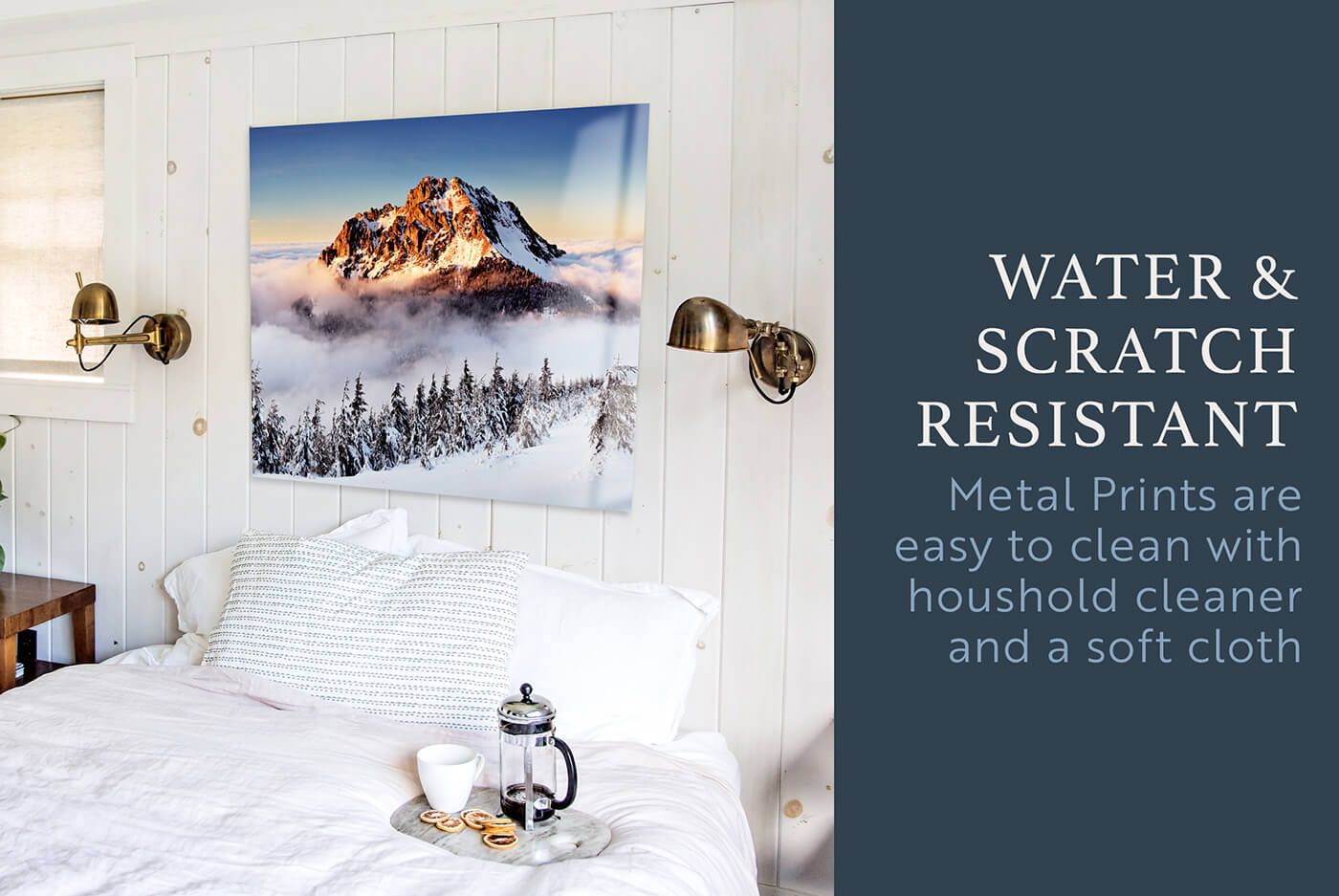 A metal print is also water-resistant and washable with any household cleaner — no water damage or weird stains to worry about. You can display them outside, though it is best to keep them out of direct sunlight. And, instead of having your kids color on the walls, you can give them a few markers and a piece of art, because these prints are even dry-erasable.
You can put a metal print on a variety of shapes. We offer standard rectangles and squares, hearts, circles, panoramas, ovals, hexagons and more. These shapes can work well in kids' rooms or an area where you want to add a whimsical element. Another exciting way to hang these is in image clusters, which essentially splits your image up into multiple prints spaced evenly apart.
A variety of mounting options are available, including a magnetic backing, a metal easel stand, an acrylic display stand and a floating wall mount. You can also choose a finish for your metal print that gives a gloss or satin look. We'll discuss both of these aspects in more detail later on.
How Are Metal Prints Made?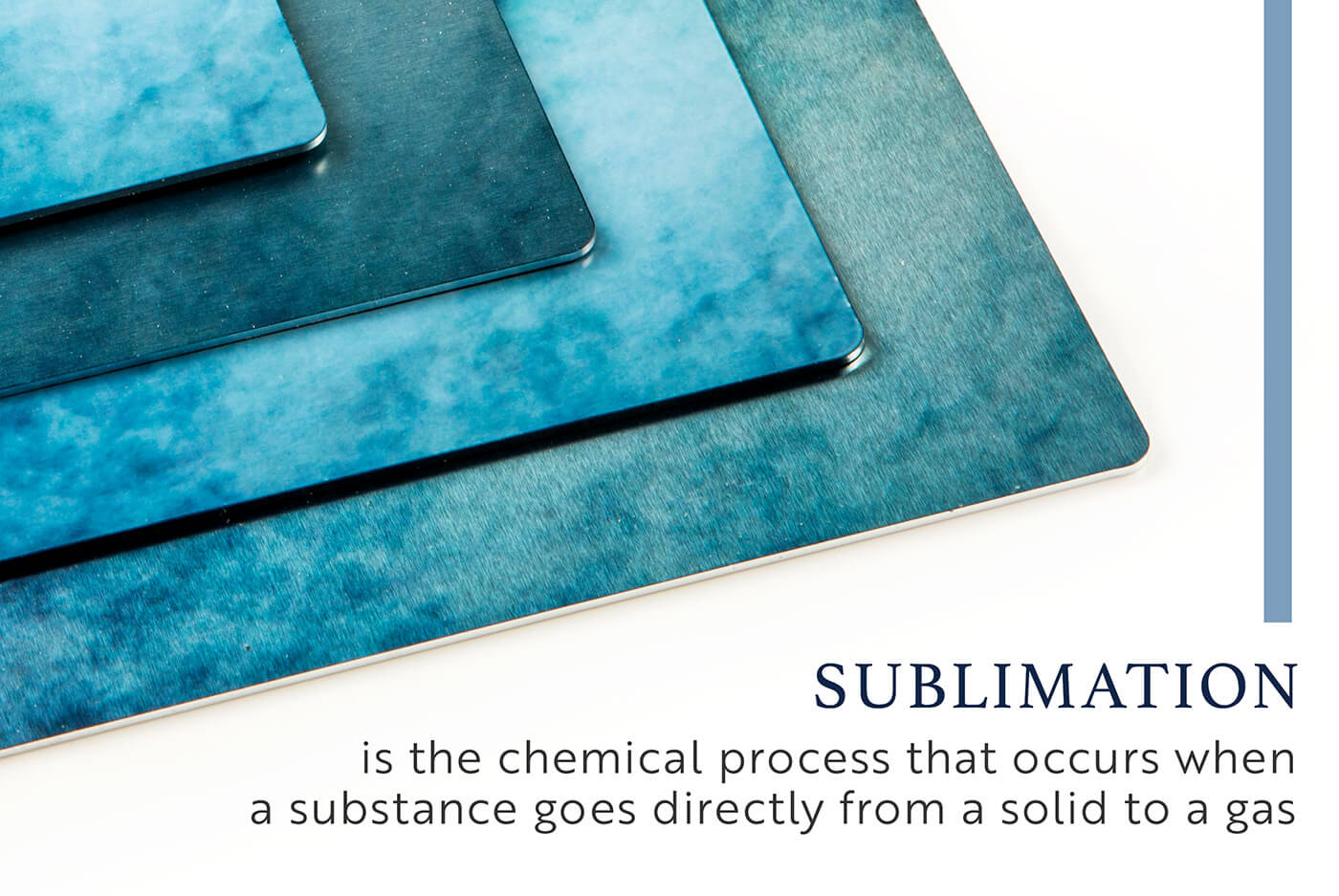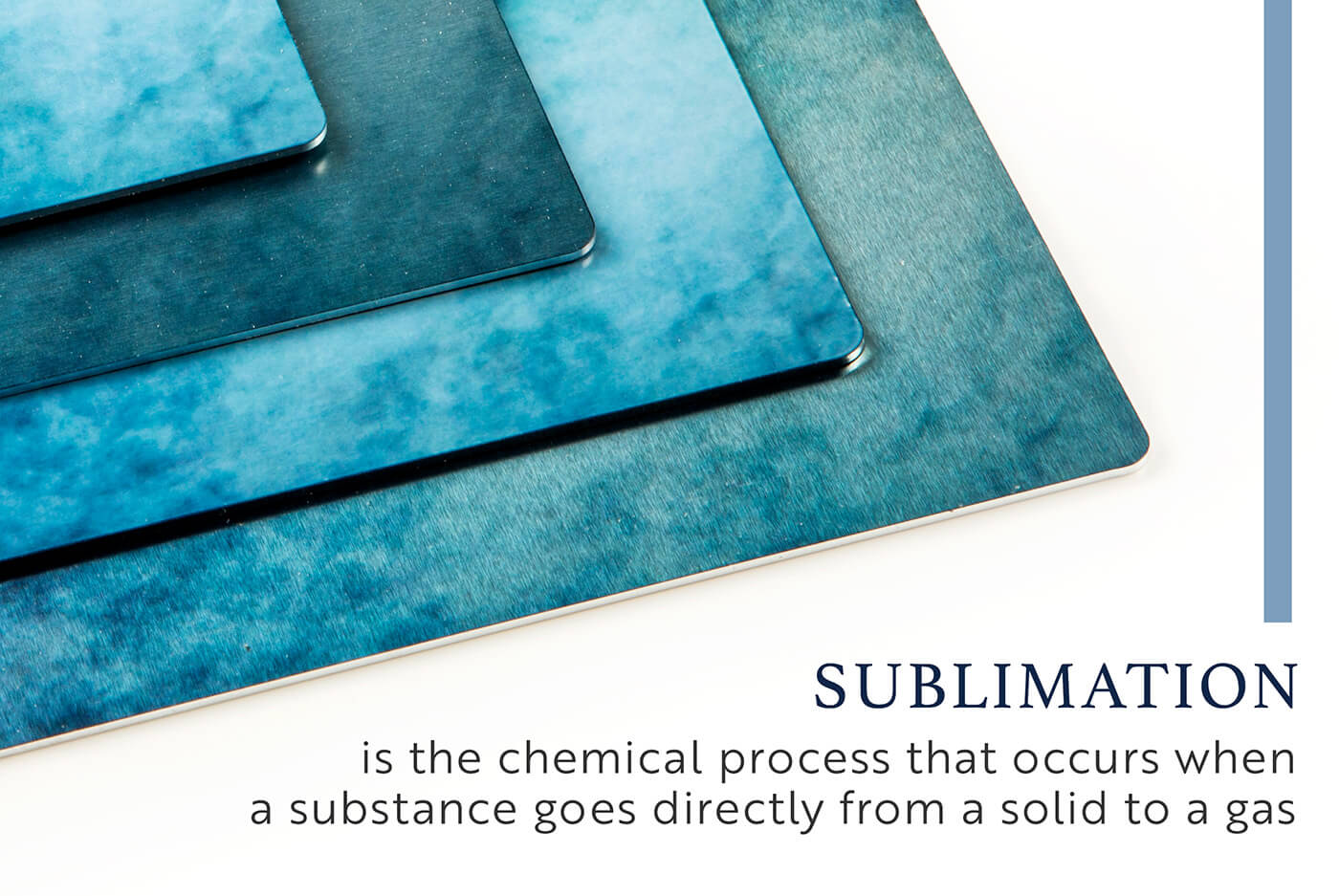 Photo printing began in the mid-1800s, when the chemical processes and technologies evolved rapidly. These processes used selective bleaching, copper sheeting and even gelatine and egg whites to develop the images. Photography methods have come a long way since then, and thankfully, the eggs can stay in the fridge. Now, services like Printique use a heat transfer method called dye sublimation for printing photographs on metal. Craig Miller of Big Picture calls it "simply the best" for printing on rigid surfaces.
Sublimation is the chemical process that occurs when a substance goes directly from a solid to a gas, skipping the liquid phase that usually happens in between. In dye-sublimation printing, this process happens to the ink. It turns the ink into a gas, then back into a solid. Before it returns to a solid form, it gets pushed into the aluminum, infusing the dye with the metal.
Aluminum is the metal of choice for a variety of reasons. It is very lightweight and, when made into an alloy, can even be stronger than steel, even though it is a third of the weight. These qualities make it easy to hang and mount on your walls and tough to damage or fade. It is durable, non-toxic and allows for a variety of different finishes. Aluminum's low cost and high quality also enable us to offer you beautiful, long-lasting prints at an affordable price.
The transfer paper used in the dye-sublimation process can move colors from one surface to another while retaining high color quality. These high-quality dye-sublimation inks work specifically with this type of printing process.
First, the image gets printed in reverse on the transfer paper, with special inks and careful attention to the color profiles used. If no one reviews the color profiles, the colors might be off on the final print, which could lead to dull or inaccurate image quality. Printique uses manual color-correcting, which means trained technicians conduct this process, reviewing the artwork for accurate color and quality before sending it to print. Once approved, the now-inked transfer paper gets pressed onto a pre-cut sheet of aluminum.
One crucial part of this step is the treatment of the aluminum sheet. Depending on the finish you select, the aluminum gets treated with a layer of polymer gel to help absorption. This gel can also affect the final color, depending on which finish you've chosen. For example, a silver finish allows the white in your photo to reveal the metal finish underneath.
Then, the technician places them both in a heat press. During this period, the dyes sublimate into gas and are pressed into the aluminum before they can solidify. When they do turn back into a solid, they are already infused in the metal, giving it a vibrant, permanent color. Technicians can also use the dye-sublimation technique on materials like wood, glass and acrylic.
In comparison, most paper photo printing deposits a layer of ink onto a piece of paper. The ink and the paper stack on top of each other, which means there are several ways for the photo to degrade. The ink can fade and lose its pigmentation from sun exposure. It can bleed or blend during the printing process, and other materials can scratch it or stain it a different color. The paper can also see damage by getting torn, cut or disintegrated.
By using dye sublimation, you protect your photo in myriad ways, mostly because of the permanent infusion with the metal surface. Your artwork takes on the qualities of the surface it is on. The ink doesn't scratch off or peel, and the prints are easy to care for. They are water-resistant and easy to clean — a regular household window cleaner will do. The permanent nature of the color retains the durability of the metal and gives exceptional color quality. The colors take much longer to fade and are more vibrant than they were even in the ink stage. Your metal print also isn't vulnerable to damage like a paper photograph. Nicks and tears are nearly impossible to cause.
Metal Prints Finish Options
Finishes for a metal print can vary. You can let your artwork shine and go high-gloss, or stay more muted with a soft satin finish. Regardless of what finish you go with, metal prints provide less glare than framed artwork, since there is no glass involved.
There are two parts to a metal print — the finish and the shine. The finish you choose, white or silver, will determine the color tones of your piece. Meanwhile, the shine, satin or glossy, determines how reflective your image will be.
Remember, silver finishes will remove the whites in your image, allowing the brushed metal to show through in these areas. These can add a profoundly unique quality to your photo. If you'd like to show this off, you may want to choose a photo with white space, to bring out the brushed metal. However, you should choose a white finish for portraits of people. This finish has a white underlay and will display the white finish in all white areas of your and ensures skin tones stay intact. Skintones can start to look odd and discolored if you use them with a silver finish.
As for satin and glossy, satin is more matte and offers a softer tone. You might prefer these in more subdued applications or in places where your piece will see a lot of glare. Glossy is highly reflective and shiny, great for bold colors and catching the eye of passersby.
Printique offers the following four finishes.
– Glossy white gives you bright colors with high saturation, vibrant whites and a shiny high-gloss finish
-White satin is more matte, with lifelike colors. It shows great detail and offers a soft, glare-free result.
-Glossy silver provides shimmery metal highlights through a high-gloss finish.
-Silver satin offers softer tones and brushed silver highlights.
In addition to choosing the finish of your print, you'll also need to consider how you'll mount your artwork. We have three different mounting options — or you could ditch the mount if you prefer, and use a frame that works with your decor.
-Magnet: A simple strip of magnetic material on the back of your piece makes it easy to hang on the fridge.
-Metal easel: For smaller metal prints, choose an easel to easily display on a desk, shelf, or table.
-Wall float: With this versatile, straightforward way to hang up your print, an aluminum wall float offsets your piece from the wall with a 3/4 inch raised bumper.
-Acrylic pedestal: This acrylic stand is a beautifully clear base that holds your print upright on a table or shelf.
Another thing to think about when displaying your print is how it will look in the space you have in mind. Be sure to measure your space and select a size that fits well. Printique prints can reach up to 40″ x 60″ in size. Metal photo prints can go in almost any space: the living room, the kitchen, the office, the garage, even an art gallery. They can take on the tone of whatever area you need them to, whether that is modern, industrial, professional or artistic, among many others. You'll want to think about your intended space carefully.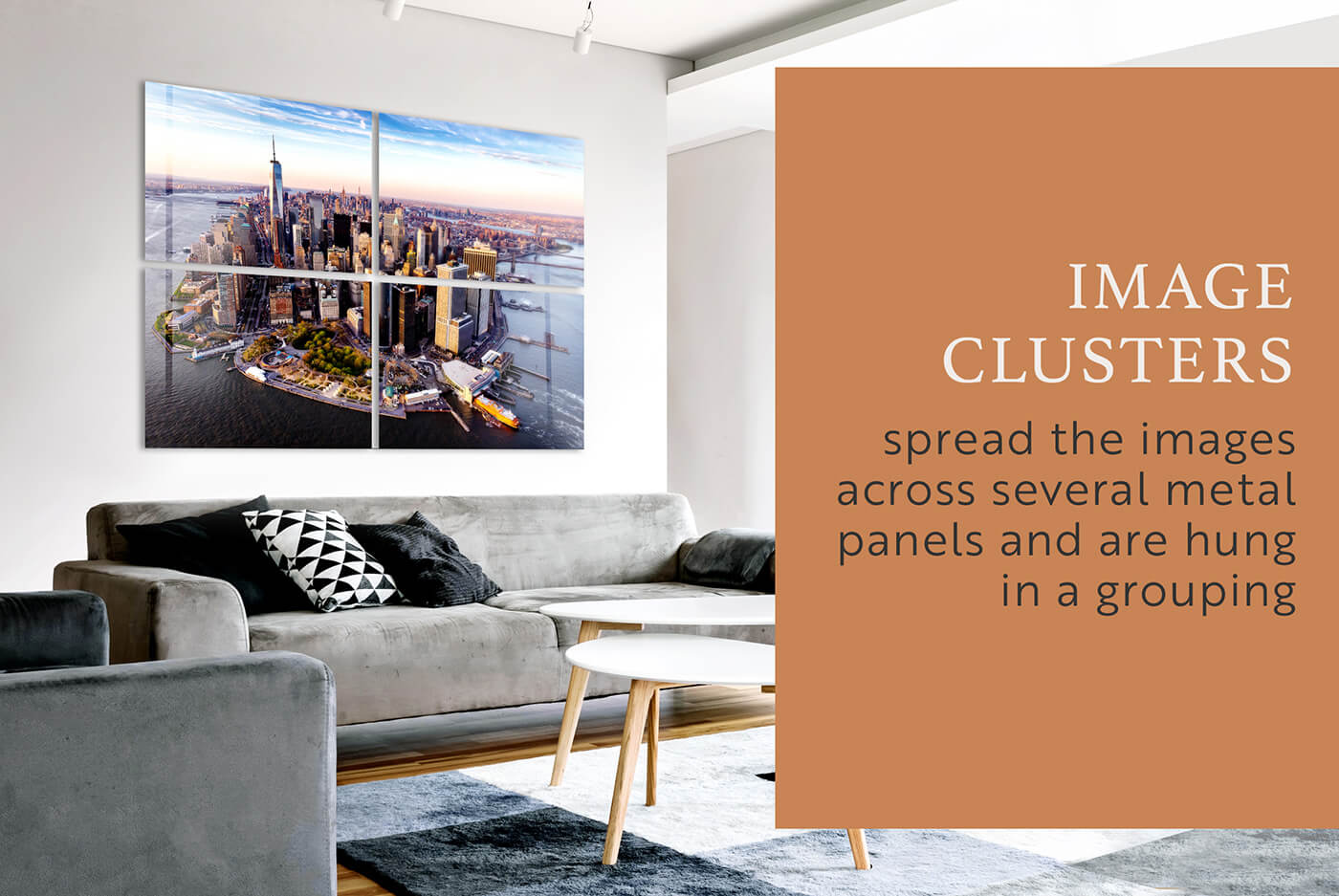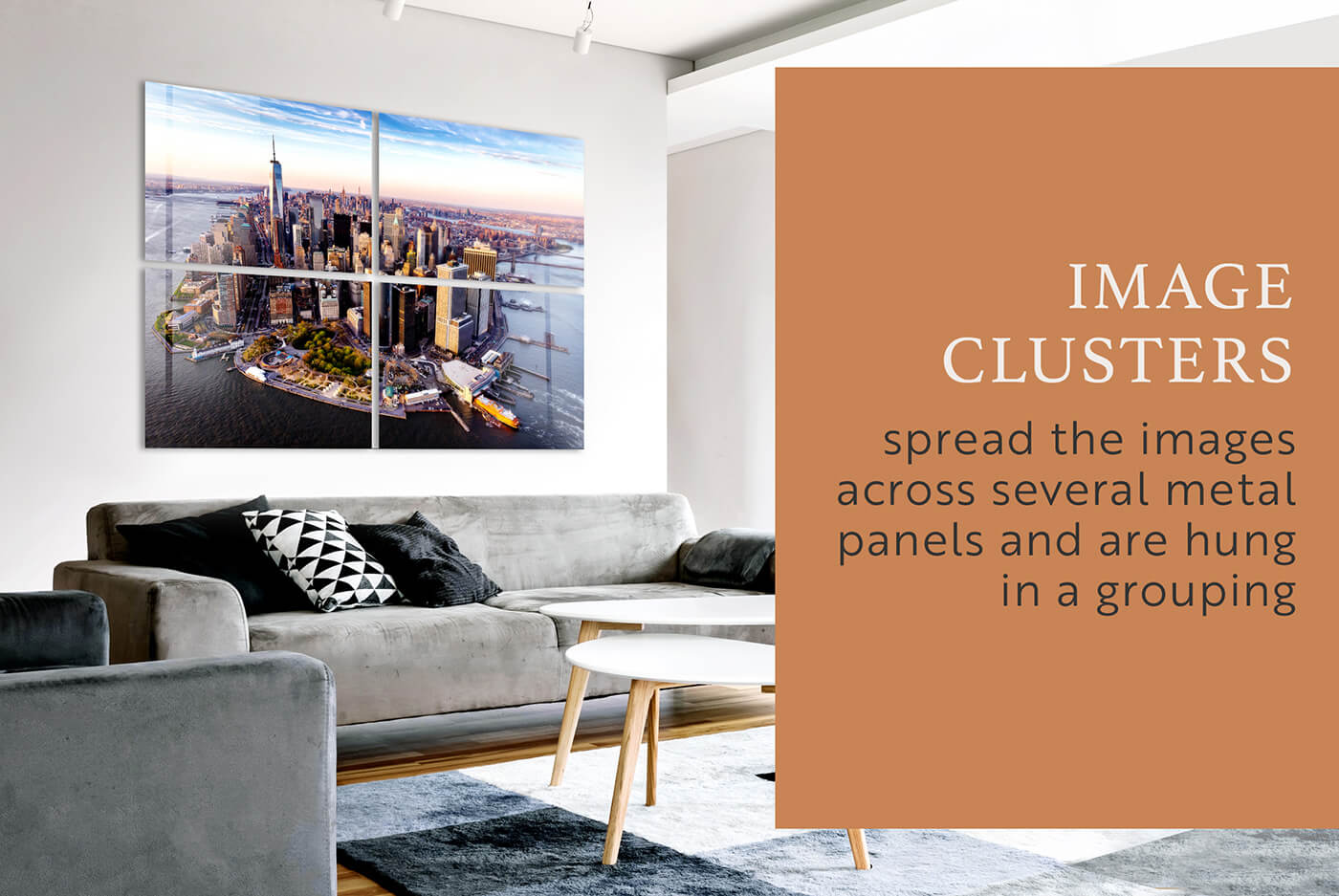 You may even find a metal image cluster works better for your piece. A cluster spreads one image out across several metal panels hung evenly apart. This method can give you that large-scale "wow" factor and add some artistic flair. They work well with nature photos and cityscapes. Be careful if you choose to use images of people here, as the areas where the image splits can divide the photo up in some awkward places.
Image clusters can be in rectangular or square triptychs — three equally sized images beside each other — or a 3′ x 3′ grid. We offer a rectangular triptych in three sizes: 17″ x 33″, 18″ x 36″ or 30″ x 60″. The square triptych can be 8″ x 24″, 12″ x 36″ and 20″ x 60″. Finally, the 3′ x 3′ grid runs in 24″ x 24″, 30″ x 30″ and 36″ x 36″. All sizes come with a wall float backing and can have any of our finishes applied to them.
What to Look for in Metal Prints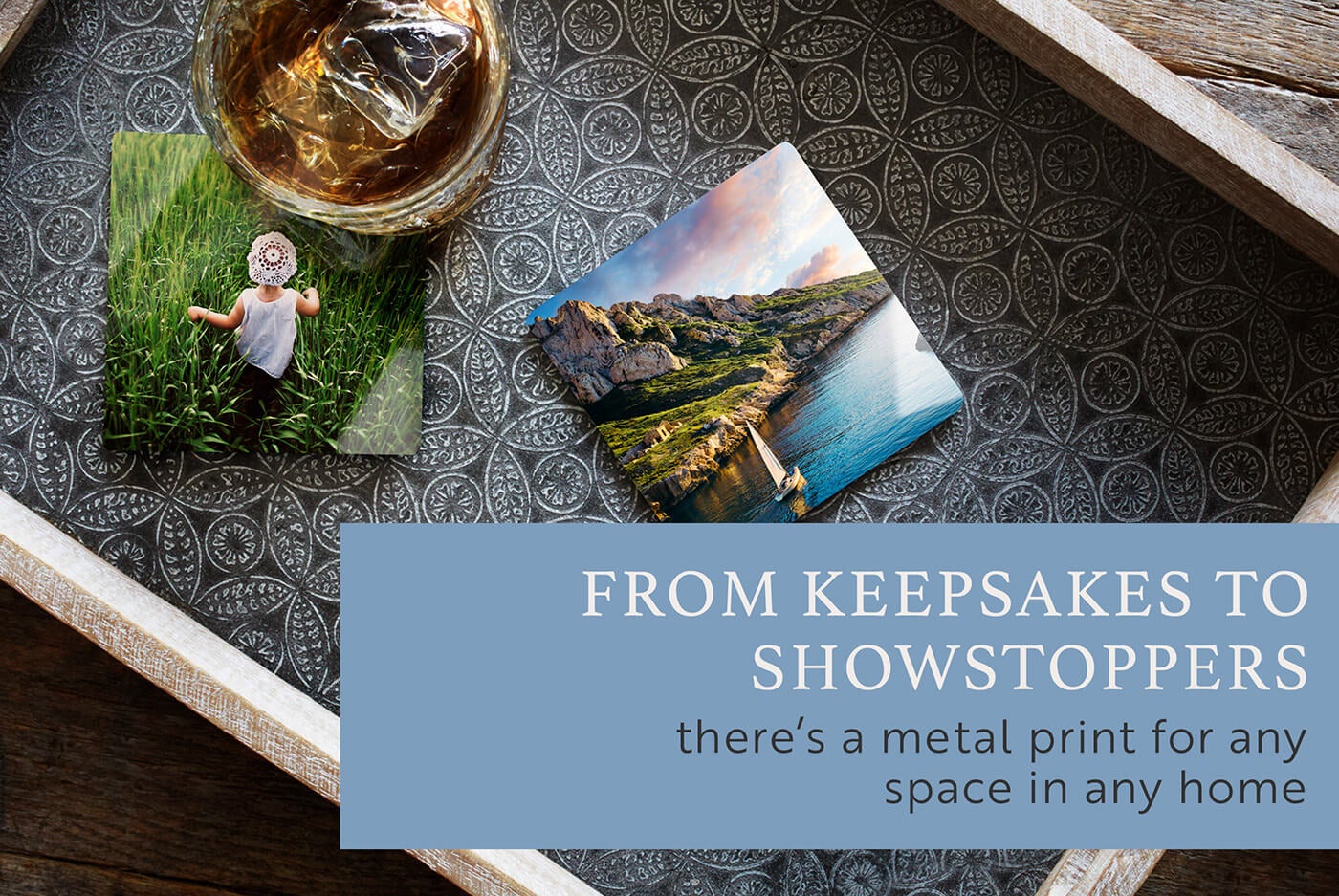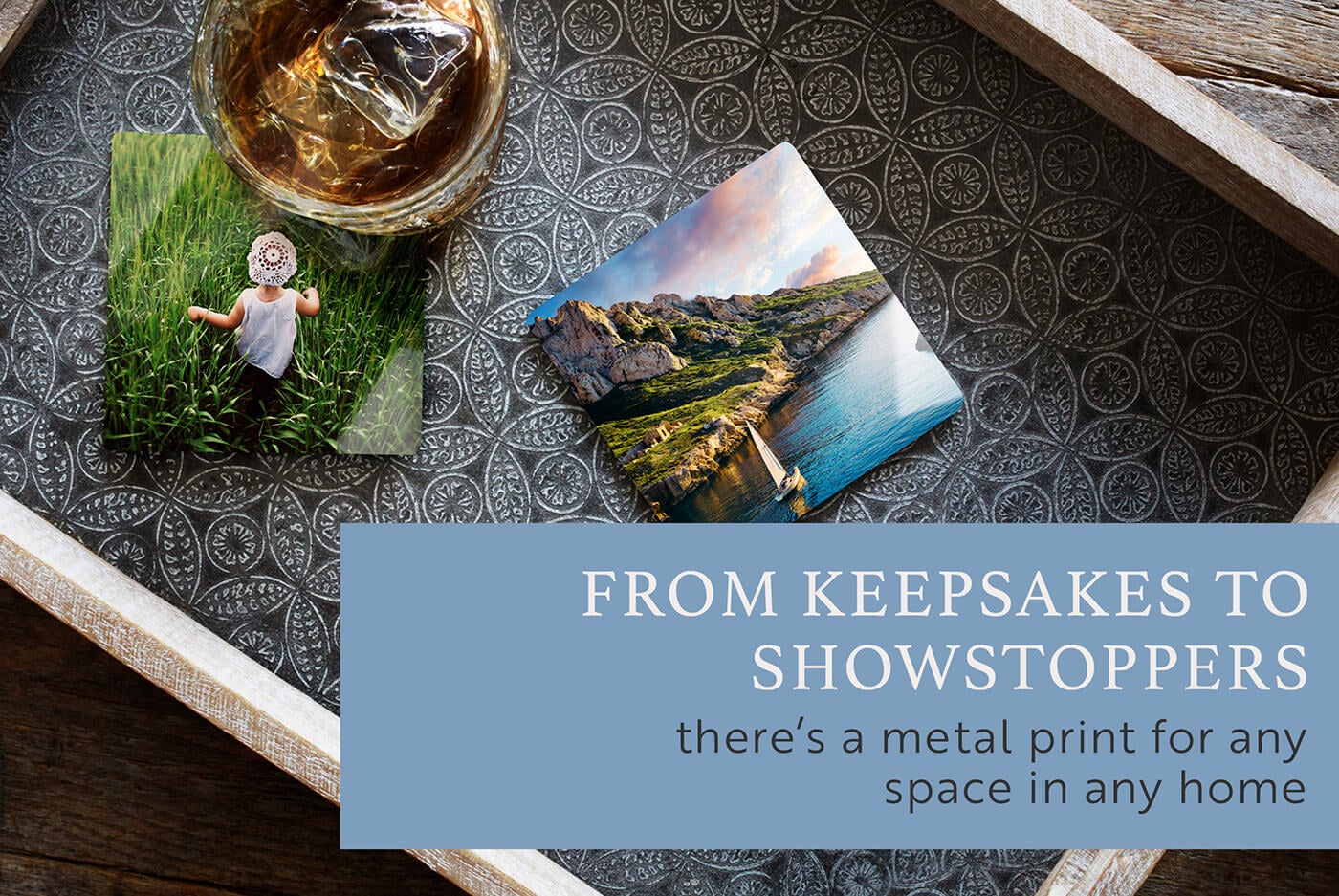 As with any form of printing, you should only trust a printer that uses high-quality supplies. The metal doesn't have to be particularly thick, but it should be a sturdy material that won't bend or dent too easily. Again, we like aluminum because of its weight and strength. Sublimation inks are also something a printer can't skimp on. The inks determine your color quality and how defined your image looks. If a printer uses the wrong kind or low-quality inks, you lose the beautiful, high-definition photo that is part of what makes metal printing so unique.
You'll want a printer with a reputation for high-quality work. Printique has been printing photos for over a decade and has a repertoire of satisfied customers. We also work hard to ensure you are satisfied with every purchase. If you aren't, we will do everything we can to make it right.
One way we offer consistently successful work is through our manual photo review process. That means when you send in your image, our technicians review it for any imperfections or color issues. They'll correct it for the metal print, so it comes out just like your copy, retaining the clarity and color tone you sent it to us with. Some printers might leave this up to a computer, which can result in discoloration or using low-quality photos. The larger your print is, the more noticeable these can be.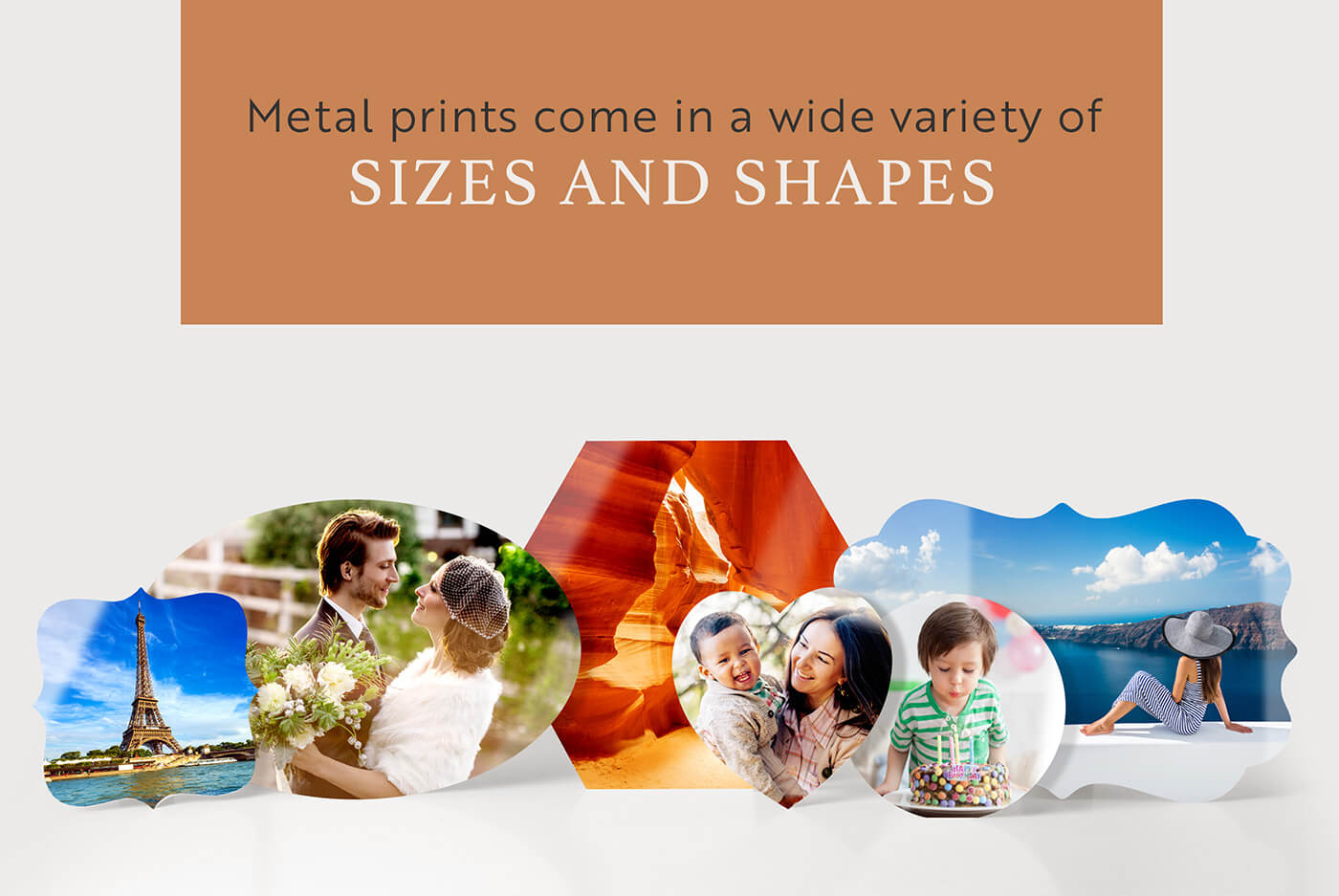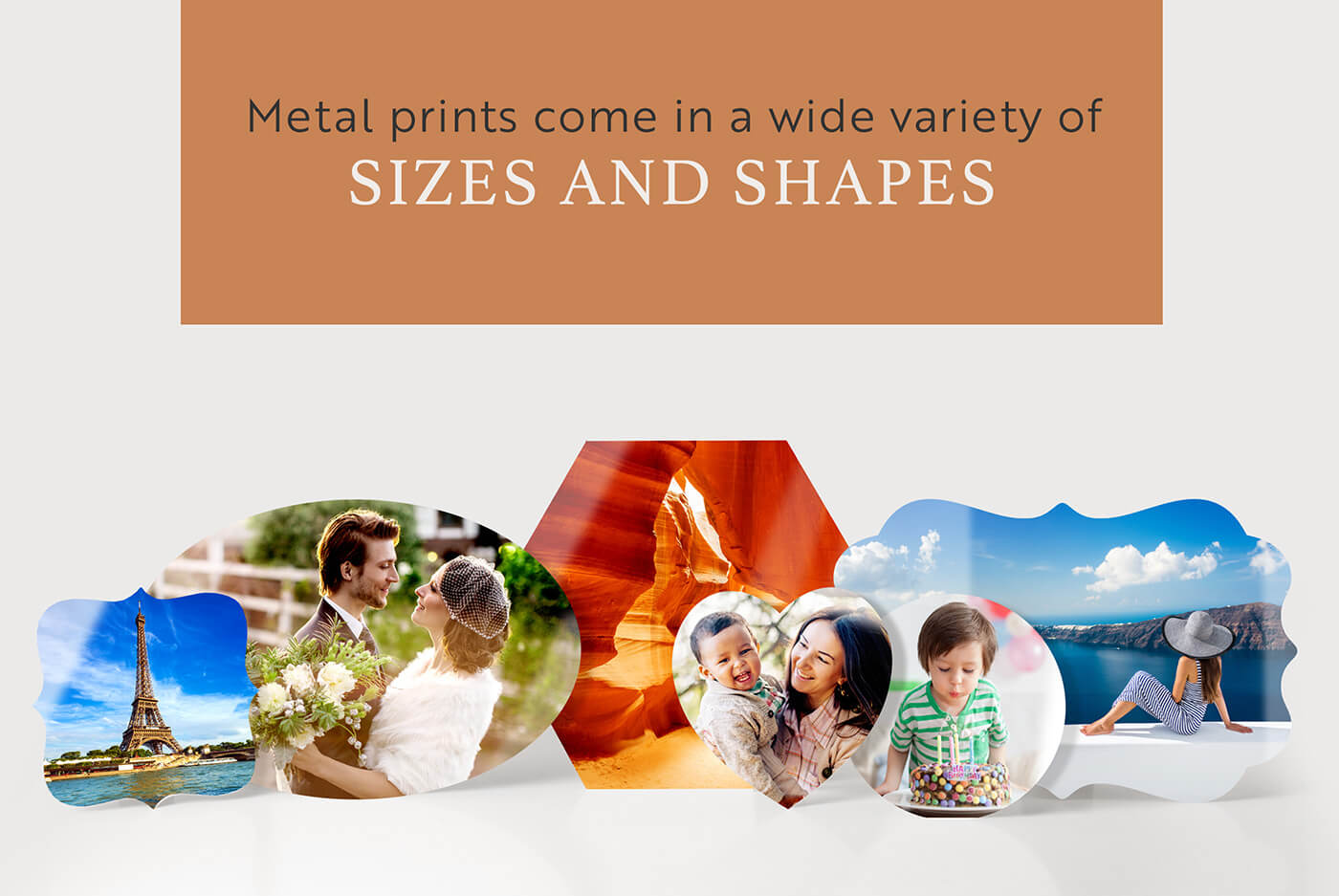 Depending on what you plan to print, you might find it valuable to have a variety of shapes and sizes to print on. We offer rectangular prints from 5″ x 7″ inches to 40″ x 60″, as well as many other shapes. We also have metal clusters, which will spread your favorite photos out over multiple prints. You can create breathtaking displays that fill your wall with this kind of design.
Having multiple mounting options is another aspect you may want to consider. While a metal print looks great on its own, you can place it in a frame for a different look, maybe one that ties it into your existing design scheme. You'll also want to consider alternative mounting options, like a magnetic backing, acrylic base, easel or wall float, all of which Printique offers. These can provide more variety in where you can place your artwork.
Your choice of photo can also bring out the natural beauty of this kind of artwork. Metal prints are an excellent selection for modern-looking images, particularly those with architecture or nature. You may not want to choose a photo that is primarily one color, because you want to see the metal shine through underneath and celebrate that unique look. Selecting a sharp, high-quality photo is a must because of how the surface can highlight these qualities. A crisp image can bring the sharpness of your print to a new level.
Similarly, the high contrast of a metal print causes colors like blue and black to appear much deeper, making them pop. While vibrant colors work great in a metal print, so do black and white. If you do opt for bright colors, landscapes work particularly well. The high contrast makes leaves and waterways look sharp and stunning. They can have excellent color quality, which can be especially valuable in summer or fall photos.
Create Your Metal Prints With Printique Today
Many people are opting for metal prints over canvas or traditional photo paper prints. Superior color quality and contrast make them a fantastic medium for showing off the sharpness and detail of your photo. They look sleek and professional in almost any environment, whether that is in an art gallery, an office or on your living room wall. Add an extra level of uniqueness to your art and show it off with your choice of finishes and mounting options.
The breathtaking beauty of this artwork can be tough to envision, so try it out today to see what an affordable and gorgeous metal print can do to your photos.
Printique has been printing photos onto metal for seven years and understands what each print requires to be truly stunning. Our technicians know how to color correct for the printing process, and we only use high-quality materials. With a variety of options and superior quality, Printique can help you bring your photos to life through custom metal prints. Visit our product page today to get started!
Looking for more information on specialty prints? Check these out. 
–When You Should Go with an Acrylic Photo Print
-Introducing Wall Gallery Designer