It is the perfect time to show the world some love, and there's no better way than by offering Valentine's day mini photo sessions. Learn why they're the perfect for re-engaging with your clients and how to get them up-and-running this month to boost your business.
1. They're a reason to reach out to your entire client list.
The year-end holidays are traditionally the high season for photographers which often leaves them with not much to talk about in the New Year. Mini sessions offering a specific price inclusive of an adorable product make it easy for them to say yes. Make sure you ask who else the child loves: Valentine's are more casual and stress is lower, this is a great time to include a favorite toy, blanket or if you're up to it, maybe they can bring along a furry friend as well.
Pro Tip: When you reach out and call your clients re: Valentine's day portraits, be ready to offer a Spring session as well. You could easily start to fill your March and April calendars with this campaign.
2. You can offer an exclusive product.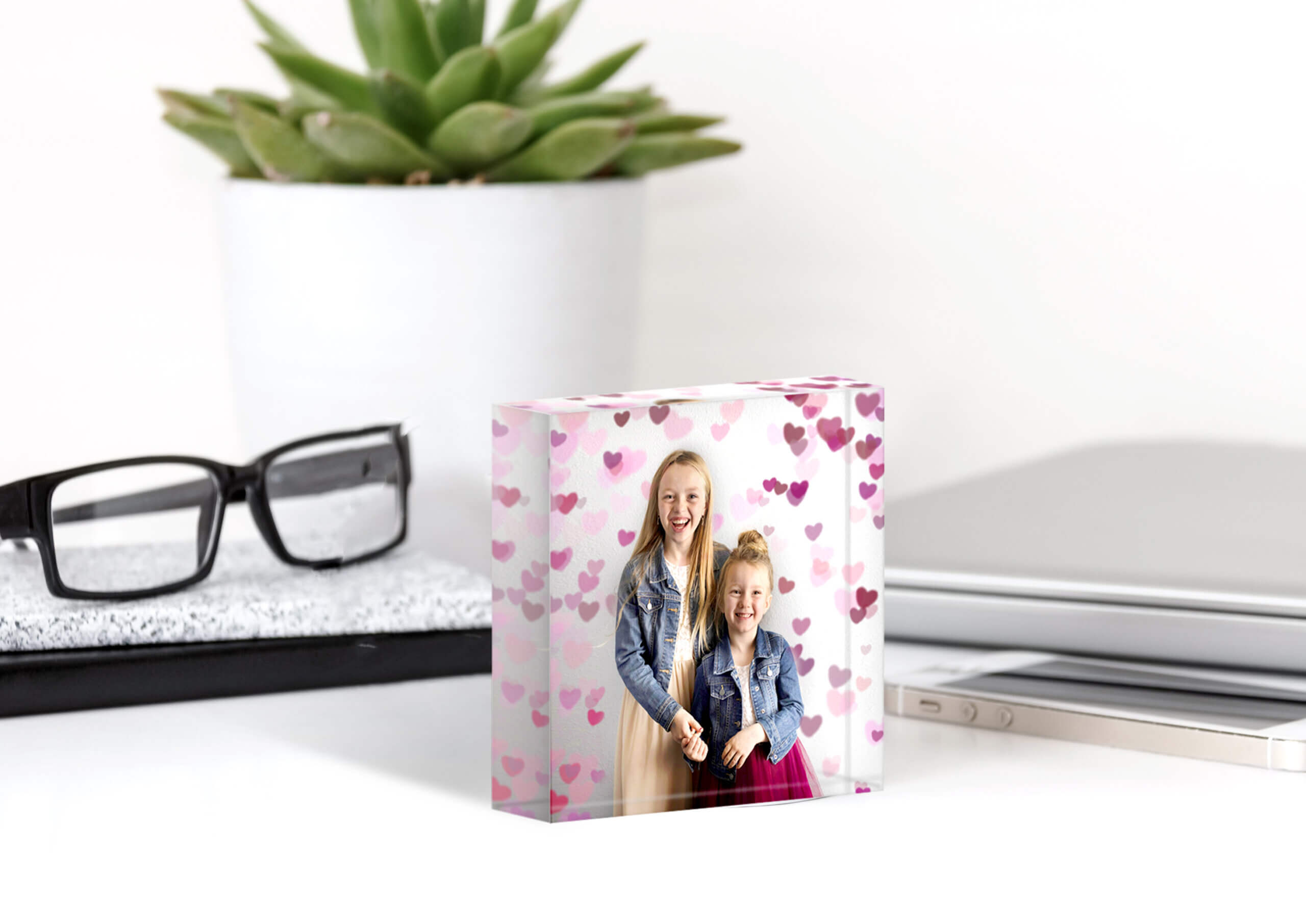 Attract your customers with a great offer for the sitting inclusive of an exclusive product. We like to have a plan of what we intend to sell to each client so we can photograph with products in mind. When one is already included, it sets the stage psychologically that we're going to leave with some amazing art. Printique's adorable (and new!) 3×3 acrylic prints are ideal for a desk or a set of 25 4X6s standard prints makes for the perfect Valentines to send out far and wide.
3. You'll have fresh social media content.
This is the perfect time to give your feed a refresh from the holiday with cute expressions and unexpected moments of #sharingthelove in the weeks leading up to your event and afterward. Hashtag all your posts and don't be afraid to splash the news of your Valentine's Day photography everywhere you're active.
Pro tip: If someone left something on the table at the sales session, load that image with a cool crop and your watermark and post it… when parents see everyone gush over an image they really wanted but didn't buy… your phone will ring with a request of "Can we add one more?"
4. They're perfect for an upsell.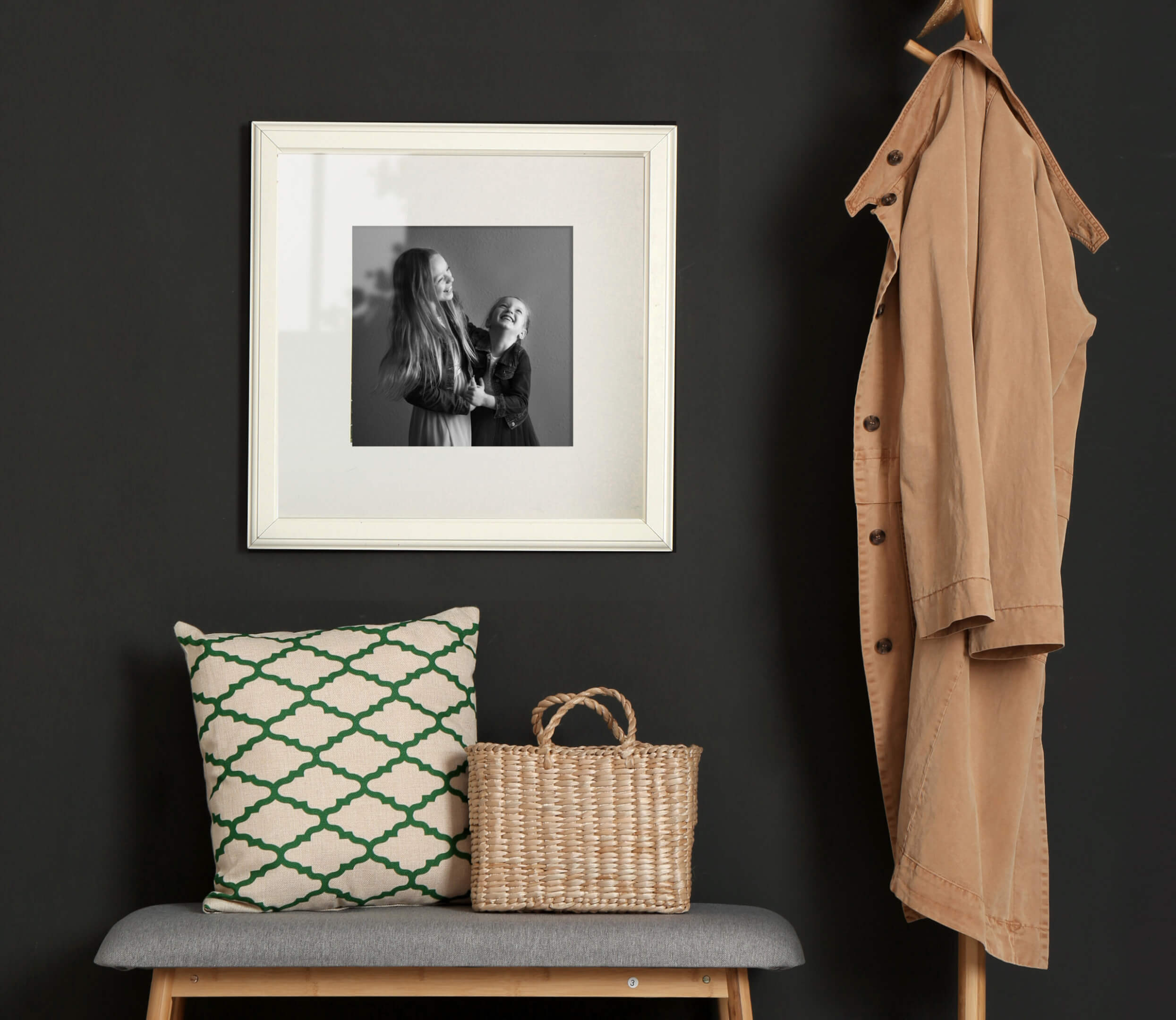 Offer every session a gorgeous upsell—My favorite is to go from a cute and colorful, playful shot to a black and white print in a sleek, matte metal frame. Mini sessions should be quick but be sure to offer variety in your posing that will allow you to showcase a variety of images in both color and black and white.
Pro Tip: If you're worried about photoshopping props and decor out from a Valentine's Day photo background, you can add hearts in post-production, which leaves lots of options open for your original files.
5. They're COVID-friendly.
Typically Valentine's sessions have fewer people and are safer than large groups. Offer COVID-safe sessions: masked with a longer lens at a distance, focusing on individual portraits. (Or if you're in a warmer climate, you can offer outdoor Valentine's mini sessions.) It's the perfect excuse to get some great snuggling poses and real laughter.
Remember to keep them short and sweet, they are mini sessions after all… and you want to leave them wanting more.
You might also like:
Investing In Your Business: Updating Your Marketing Materials
How To Use Wall Displays To Sell More