It's the most wonderful (and the most hectic) time of the year…. and what a year it has been!
Between the hustle and bustle, the last-minute photo sessions, the swirl of editing and ordering, it is also a great time to re-evaluate your business and set yourself up for better success in the new year. It is important to take stock of where you are, and where you want to be, and full take advantage of tax write-offs by investing in new displays for your studio.
Wall portrait displays in your studio and in your social media are not just one of the best ways to help make more money for your business, but they are also the best way to show your work. Here are a few pointers for choosing wall decor displays for your studio.
Why are wall portrait displays important?
There is a common thread in many successful portrait studios that in order to sell photo products, you must SHOW those products!
Many photographers believe that the sales appointment is the time when customer's make buying decisions, but the truth is that the mindset of purchasing printed photographs comes much sooner that when your client's first see the images from their session.
Your job is much more than simply being a photographer, it's also to prepare your clients for their purchases throughout their entire experience with your studio. From the first phone call, first glimpse at your website, or first mailed price list, you should be discussing how your clients will be decorating with printed portraits. Creating art from your client's session should be the message at every touch point.
So too, when your clients walk into your studio, they should be able to see displays of the product lines you offer. Adorn the walls of your studio with all the finishes and products you want to sell to inspire your clients. Often this is the first time your customers will have seen or touched the printed products that are available to them.
What are the best ways to display wall portraits?
Your goal is to sell your client's large wall portraits, or even better, a gallery wall display of all their favorite images from their session. A great way to do that is to photograph all your sessions with that goal in mind. Take shots of not just the full family, but also images of the kids together, mom and dad together and other combinations. You can also photograph multiple locations or outfits, so that you have a variety of images.
Creating wall displays in your space that show a full session as a wall gallery is a great way to showcase the different relationships within family units, all the personalities of a high school senior, or the full beauty of a wedding day. By showing multiple images from the same session, you can show clients how a gallery wall tells the story of the session.
Heidi and Troy Eiffert of StudioU in Iowa, recently chose to showcase one of their favorite family sessions as a new wall gallery in Acrylic. They displayed their images prominently over their customer seating area. The Acrylics will beautifully show off the color of this family session and allow them to display the different hanging features of the acrylic prints to inspire future customers to do a similar wall. Take a look at the installation of Heidi and Troy's new wall display!
Another great way to encourage the sale of larger prints is to print the same images in all of the sizes you offer, from 8×10 to 30×40. When these sizes are compared against each other, most clients will decide to print their images larger than what they were originally intending.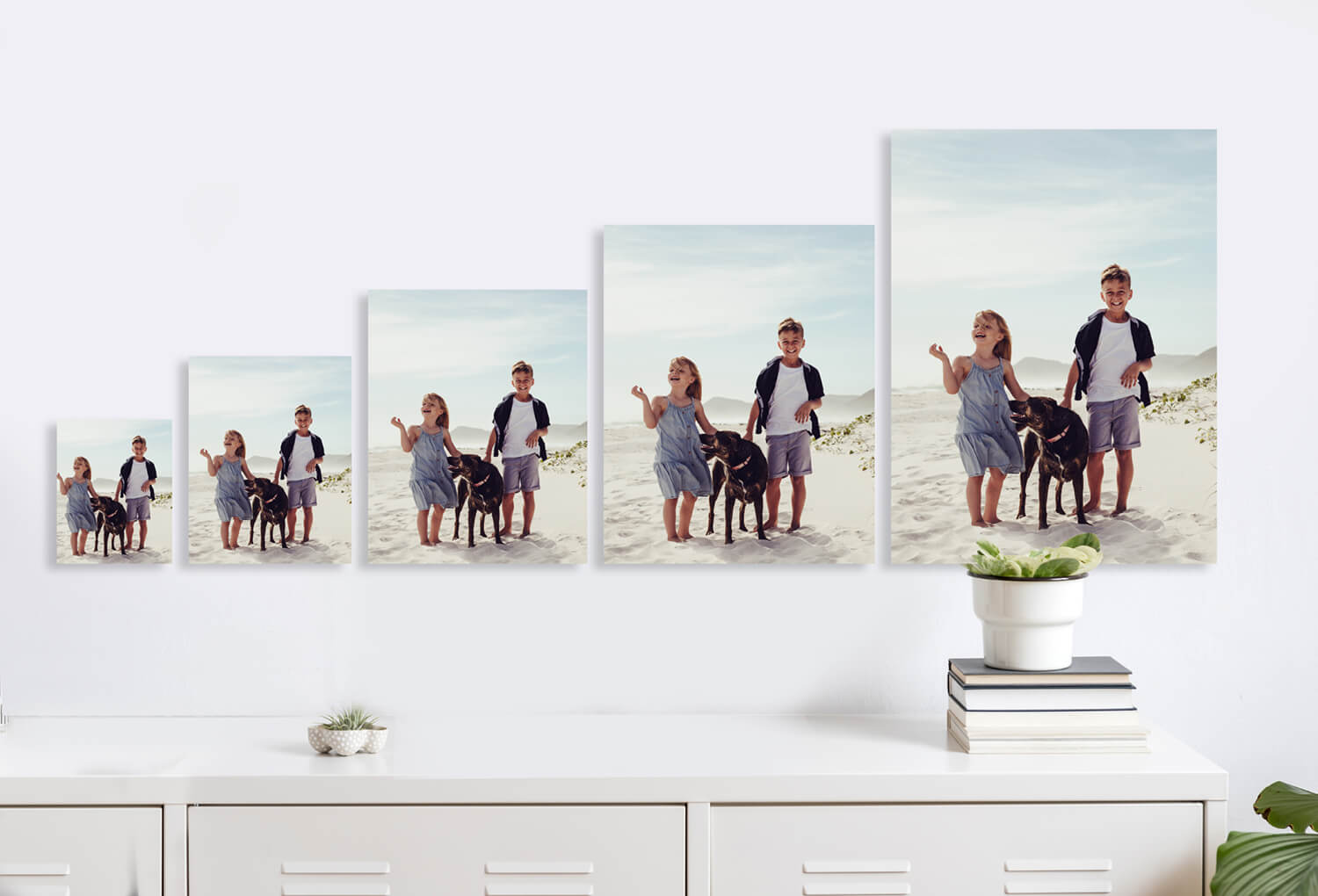 For all your displays, make sure to show the optimal finishes and products you'd like to sell. If your work is colorful and modern, you may want to sell metal prints. If you are a more traditional photographer, you may want to focus on Canvas prints. Either way, your clients will be drawn to the products you have chosen to display.
Let your client's sessions shine.
Once your customers have invested in Wall Portraits for their home, encourage them to photograph their displays in their home and ask if you can feature their displays in your social media.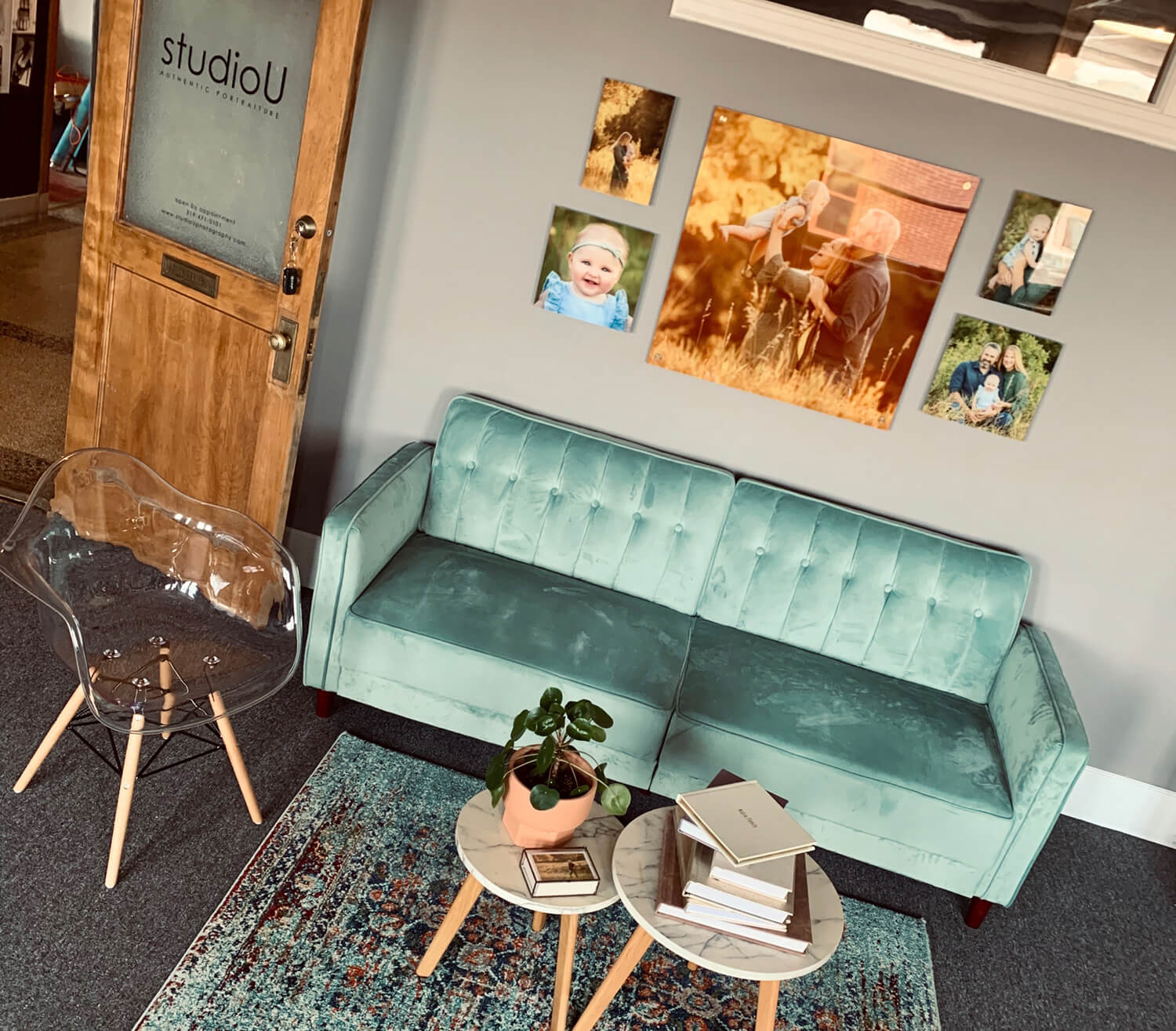 Highlighting your client's not only makes them feel valued, but it also will show future client's what they can do with their own portrait sessions as well as encourage them to buy Wall art to display. It is all about showing what you are selling. In order to curate a clientele that is prone to purchasing prints, they need to be able to visualize it.
Show your work in other places.
It's a good idea to think beyond your own spaces too! If you have venders that you work with for referrals, where you may share events or market to each other's clients, it is a great idea to set up a beautiful wall decor display in their space and let your work sell itself. Remember to leave business cards, or brochures so those potential customers can easily find you.
Some great places to co-market for portrait photographers are dental offices, hair salons, wedding dress shops, wedding venues, clothing boutiques, furniture stores, and home builders. Make sure that any relationship with other venders is mutually beneficial and that you can both appeal to a client that values both businesses quality and service levels.
Get going on YOUR studio samples.
Before the new year is a great time to redesign your studio space and order new displays. You can also get sample packs of paper choices, metal finishes, and album covers right from the Printique website to help you make the best decisions for your product lines.