We love when our customers have time to make their creative ideas a reality, so we're here to put our favorite one-of-a-kind photo gift ideas on your radar while there's still more than enough time to make them happen before the holiday season!
Ready to get the holiday ball rolling in more ways than one? Check out our guide to taking the perfect holiday card photo as well!
Perfect Prints for Your Special Someone
Looking to take the sentimental approach to this year's holiday gift for your significant other? Lucky for you, our print products are the perfect way to do it!
When it comes to romantic photo gift ideas, photo books or albums are hard to beat. Not only do they allow you to showcase your love in a way that perfectly captures your story, but they also allow for the sweetness of heartfelt notes! You can either add notes with text boxes before you print your photo book, or add handwritten notes to your book once it arrives!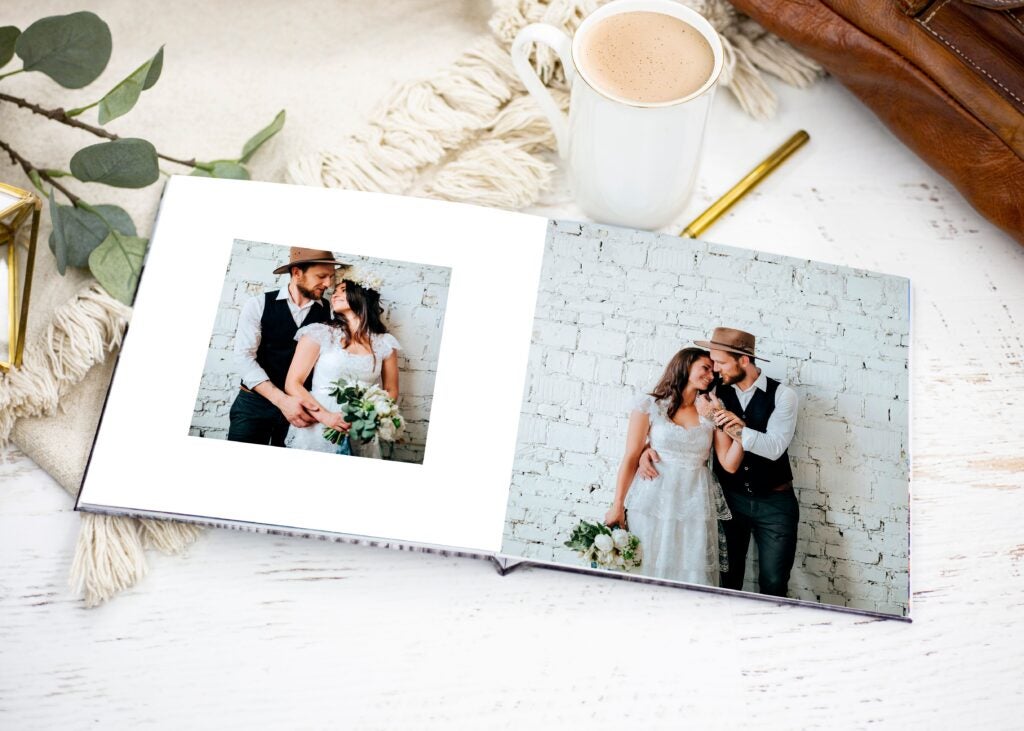 Want to remind yourself and your loved one of your happiest times every time you walk down the hallway or into the kitchen? Creating a wall gallery is a thoughtful and uplifting way to add aesthetic décor to any room. Include pictures of you and your significant other with family, friends, and pets to really capture the life you share together! Print all your photos in black and white for an extra timeless and sentimental look and feel.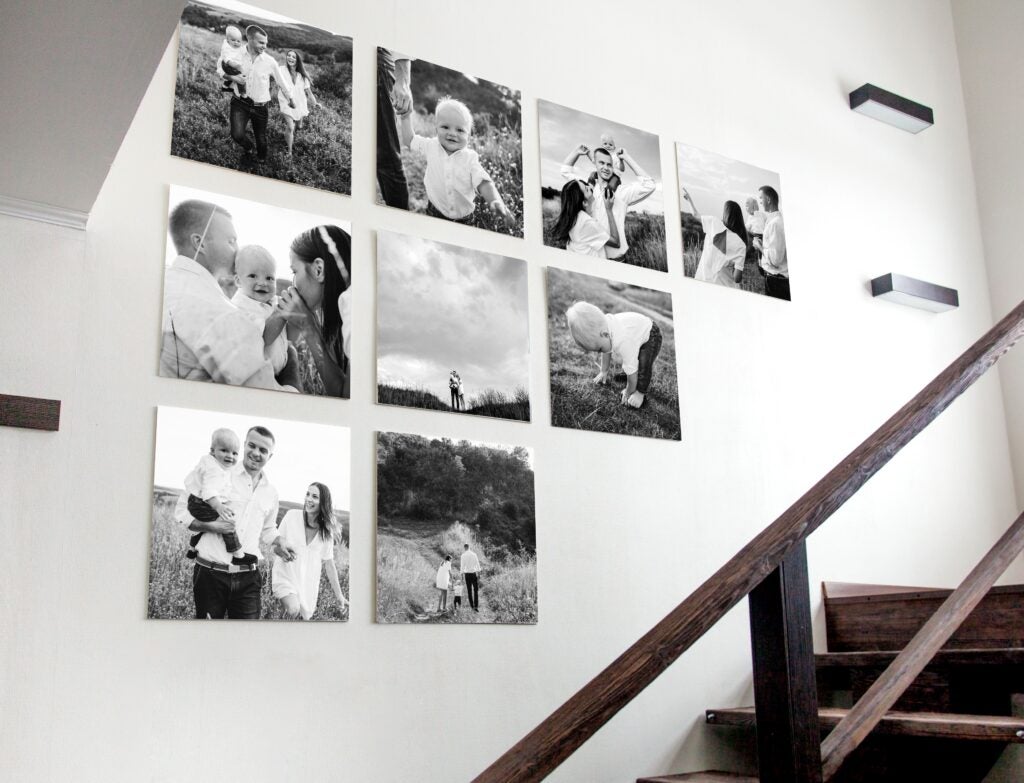 Pack big love into small prints.
It's true that sometimes the best things come in small packages, and our acrylic photo blocks, mini photo books, and classic prints prove it! Give your partner the gift of remembering your love wherever they go; Order a collection of classic prints they can keep in their wallet, the car, or their work bag; Print your favorite couple photos on 2×2 acrylic photo blocks they can keep at their desk; Put some of your sweetest memories in one of our mini photo books that can accompany them on long trips – think "travel sized"!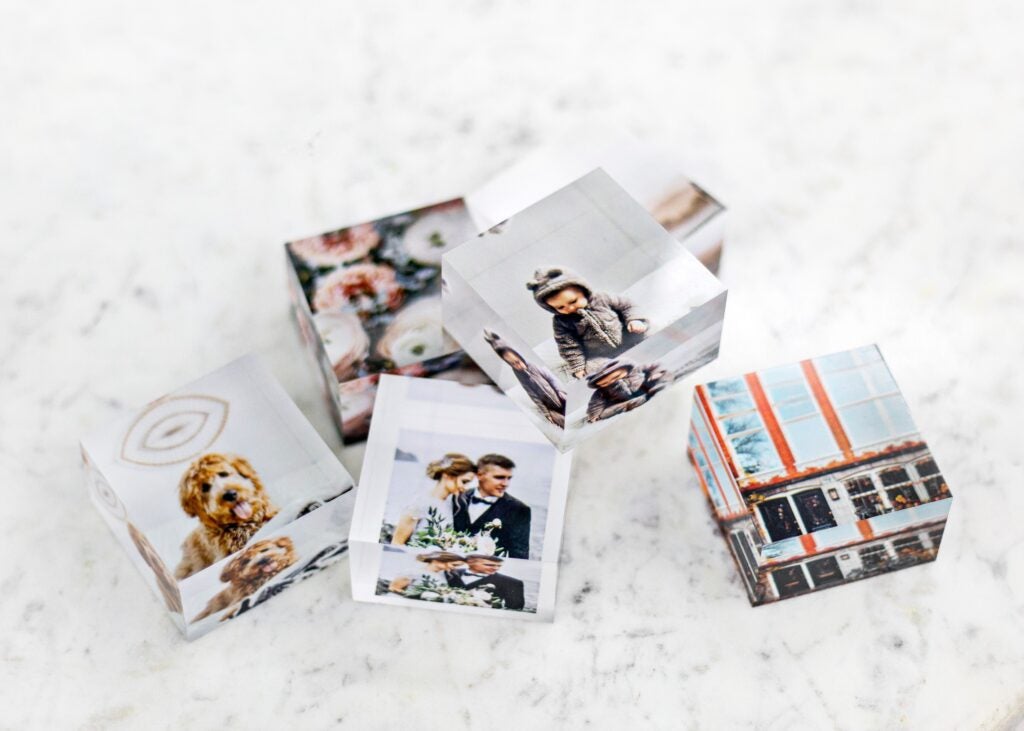 Printed Gift Ideas for Moms and Dads
It's not always easy to find the perfect gift for a parent – that's why photo gifts are a lifesaver come the holiday season. There's no better way to gift your parents with what they love the most: family!
Create a year-in-review photo book of the entire family.
A photo book of everything the family's been up to over the last year will be a gift your parents treasure for years to come! Make it a team effort by collecting pictures from the whole family, and add an extra sentimental touch by including little notes and funny stories from each family member as well.
Scan and print old developed photos.
If your parents have boxes of old developed photos in their house, this double whammy gift is perfect for them! Scan old photos into digital files and print them in a photo album that showcases your parents' favorite memories from over the years. Not only is this a perfect display and reminder of the life your parents have spent together, but it creates backup copies of their priceless photographs at the same time.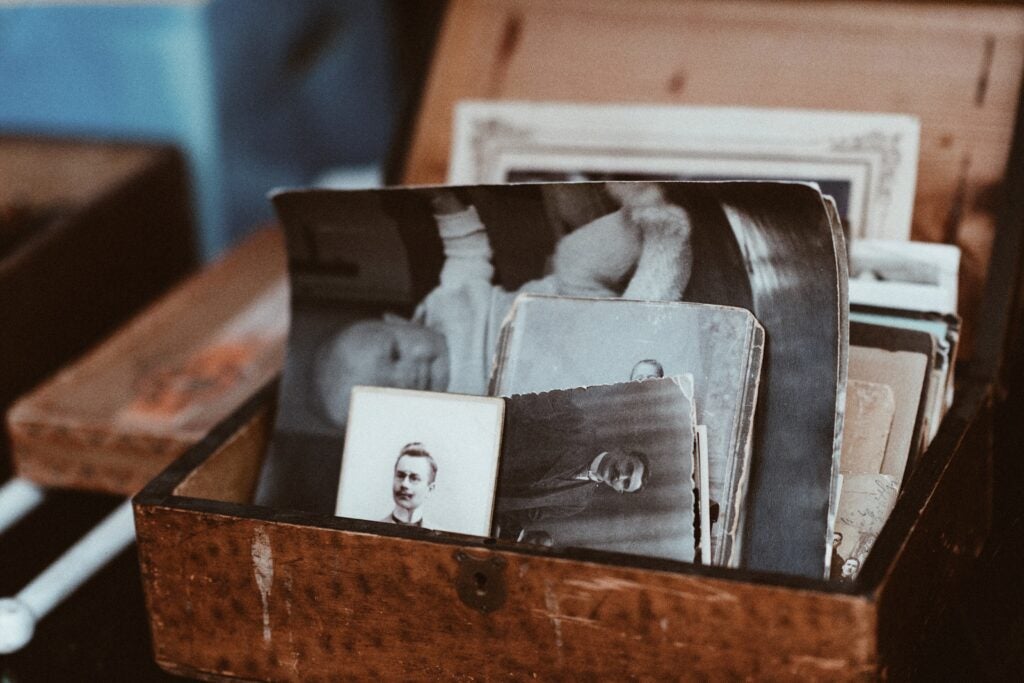 Re-enact your childhood photos in a photobook.
This is the perfect gift for parents, especially recent empty-nesters! Not only will your parents love getting to reminisce on sweet memories, but they'll love seeing how much you've grown. They'll have a major proud parent moment as they flip through the pages, remembering old friends, pets, and accomplishments.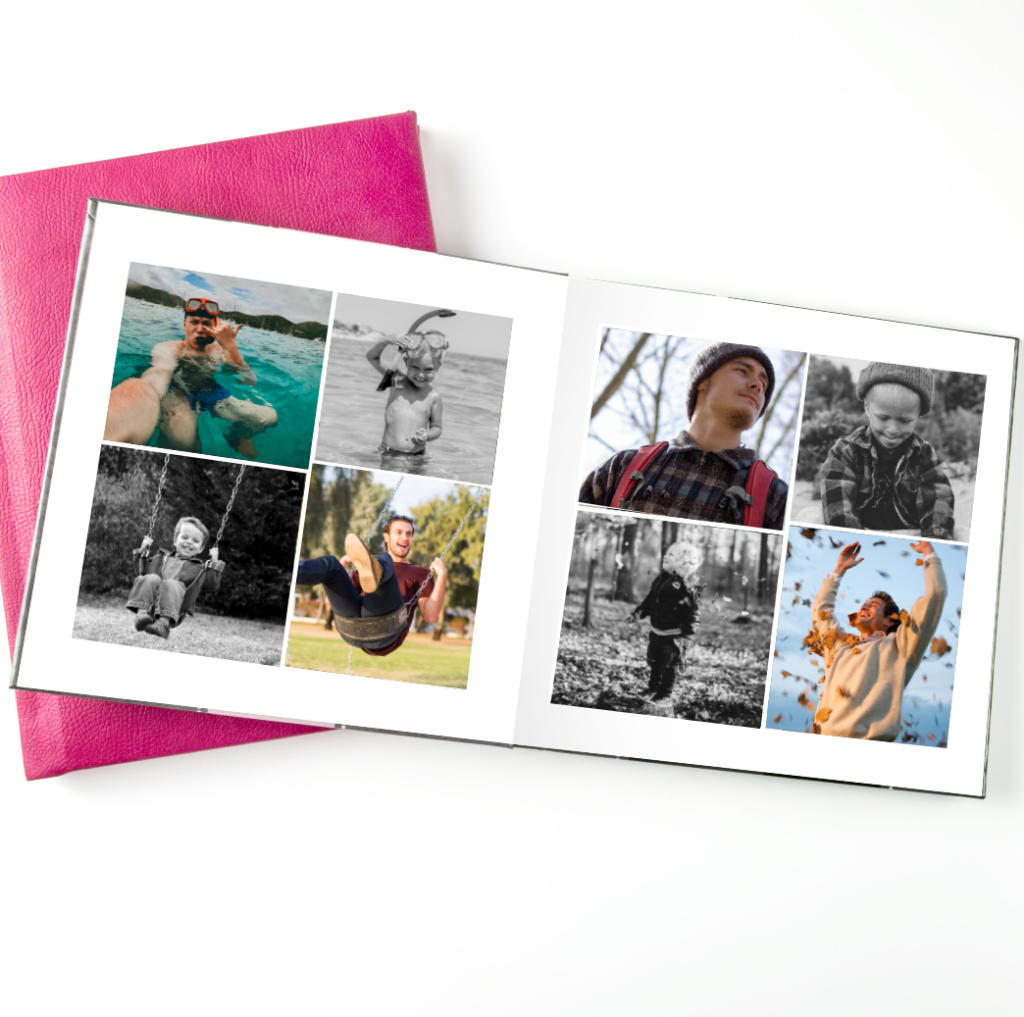 Photo Gift Ideas for Your Favorite Sports Fan
Whether you're hoping to knock it out of the park with a first time gift or are looking for a fresh take after years of sports-related gifts, photo prints are the answer you're looking for.
Decorate their walls with iconic shots.
If your loved one has a favorite team or player, print a big moment in that team or person's history. From Super Bowl wins to game-winning three-point shots, there are any number of emblematic sports moments your sports fan will love showcasing on their wall.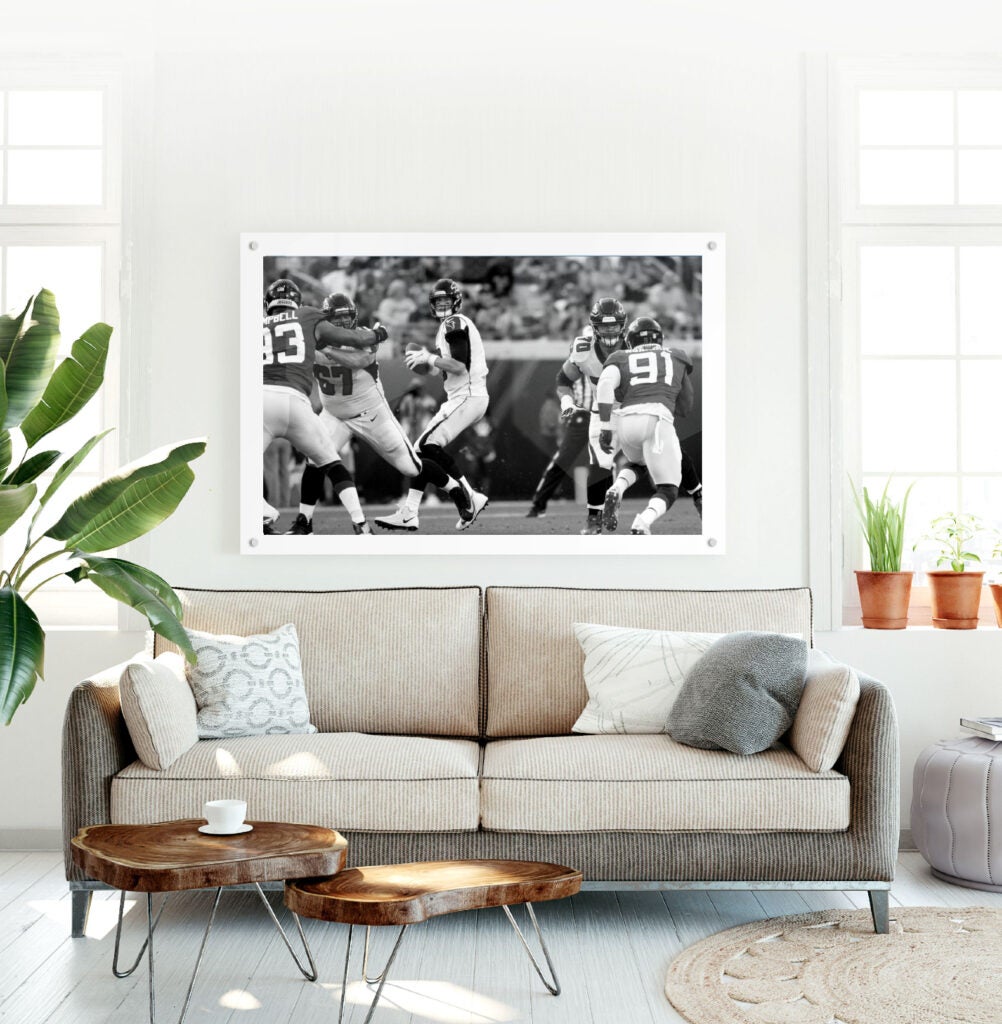 Print their favorite team photos.
Is the sports fan in your life a player as well? If so, they'll love the surprise of having their team photos printed for them! Whether they played through college and into adulthood or finished up their career in elementary school, photos of them playing the sport they loved or standing alongside their teammates are sure to put a smile on their face.
Create a photo book Hall of Fame:
It may take a little research, but creating a photo book "Hall of Fame" of your loved one's favorite teams and players is an awesome, thoughtful and exciting gift any sports fanatic would love! For an added level of fun and authenticity, include inside jokes, memes, and references by featuring screenshots from Twitter or Instagram accounts dedicated to the sport.
Photo Gift Ideas for the Animal Lover in Your Life
Animal lovers, like sports fans, can sometimes be the easiest people to gift shop for. But after years of gift shopping, or when trying to compete with the dozens of other animal-themed gifts you know this person will receive, it helps to get a little creative!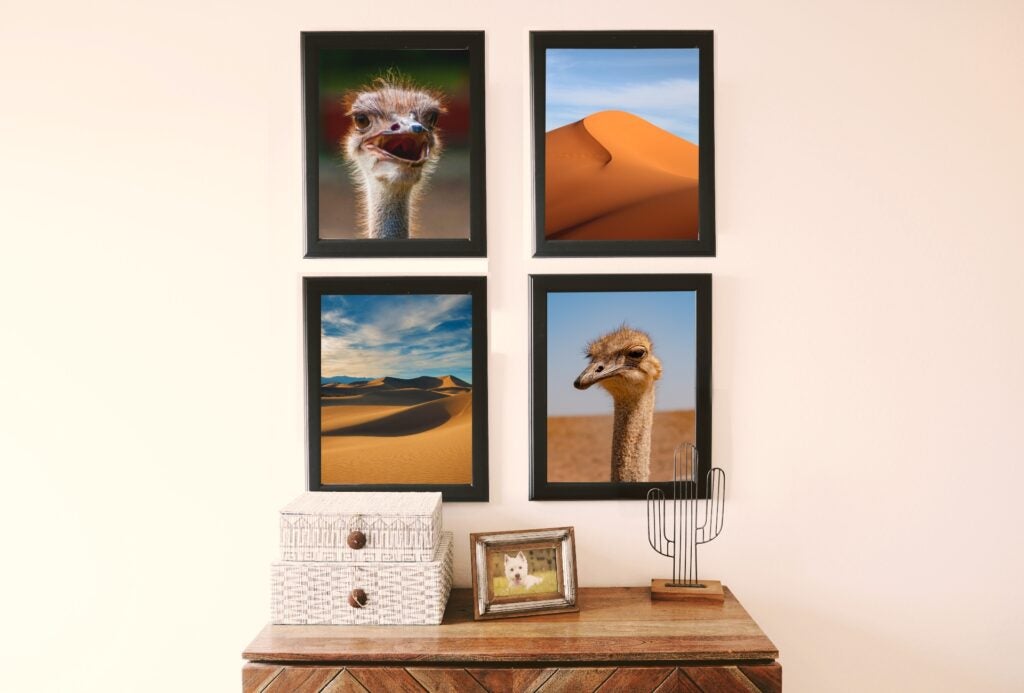 Make an animal encyclopedia.
Do you have a nephew who is totally obsessed with Florida wildlife or an animal-loving sister heading to a completely different climate next month? Then it's time to create a custom animal encyclopedia! Not only does this let you cater the content directly to your loved one's interests while making the gift 100% unique, but it also gives you the opportunity to include funny and personalized information categories, from the relative who would be most shocked by a photo of each animal to fun facts that you know they'll actually find, well, fun!
Print a custom-made animal bucket list.
Another great way to cater directly to your gift recipient is to make a custom animal bucket list. Include animals you know they've always wanted to see, animals that can be found in their area, and animals from an area you know they've always wanted to visit. We recommend designing the bucket list in a columned list format with little thumbnail images of the animals alongside each animal name, and with small boxes that can be checked off once that animal is seen! This is a super fun project if you're looking to exercise the creative side of your brain, we promise!
Order poster prints of their favorite animals.
Keep it simple: order poster prints of their favorite animal! This gift idea is especially useful if the gift receiver's favorite animal is a bit on the eccentric side. Maybe they love ostriches or pygmy marmosets, but struggle to find them featured in décor while shopping – as expected! Your gifted poster print will mean that much more to them knowing you had to go out of your way to create it!
This gift idea is also great if your recipient's favorite animal is their pet. Level up a pet print by having it framed and wrapped. Your friend or family member will be so surprised when they unwrap your gift and uncover their favorite fluffy face, ready to be hung on the wall or displayed.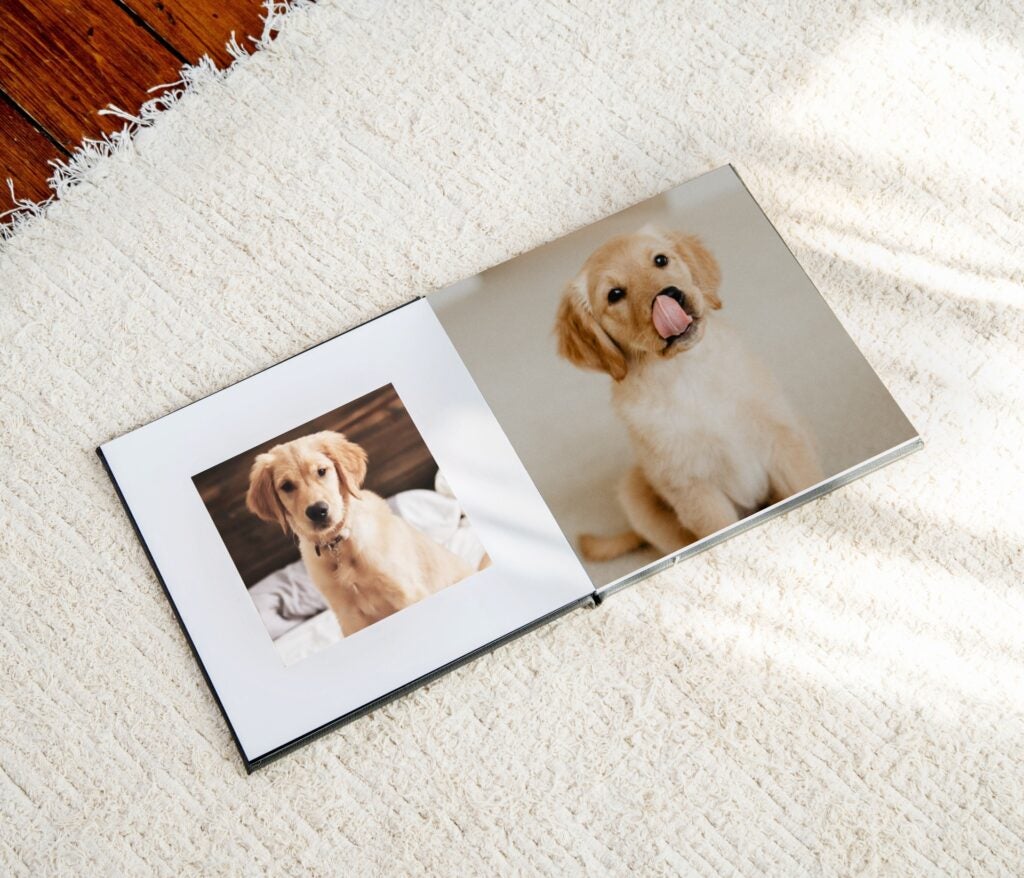 Photo Gifts to Help New Home Owners Decorate
Home decoration can be a very personal reflection of one's style, so nailing that home décor gift isn't easy! But with a splash of sentimentality, our photo prints are sure to do the trick.
We couldn't love circle prints any more than we already do! Their unique style and aesthetic make them a thoughtful and one-of-a-kind gift. If the new home owner in your life is a creative thinker with a love for chic art, they'll absolutely love being gifted a circle print to decorate with. See our guide for what types of photos look best on circle cuts!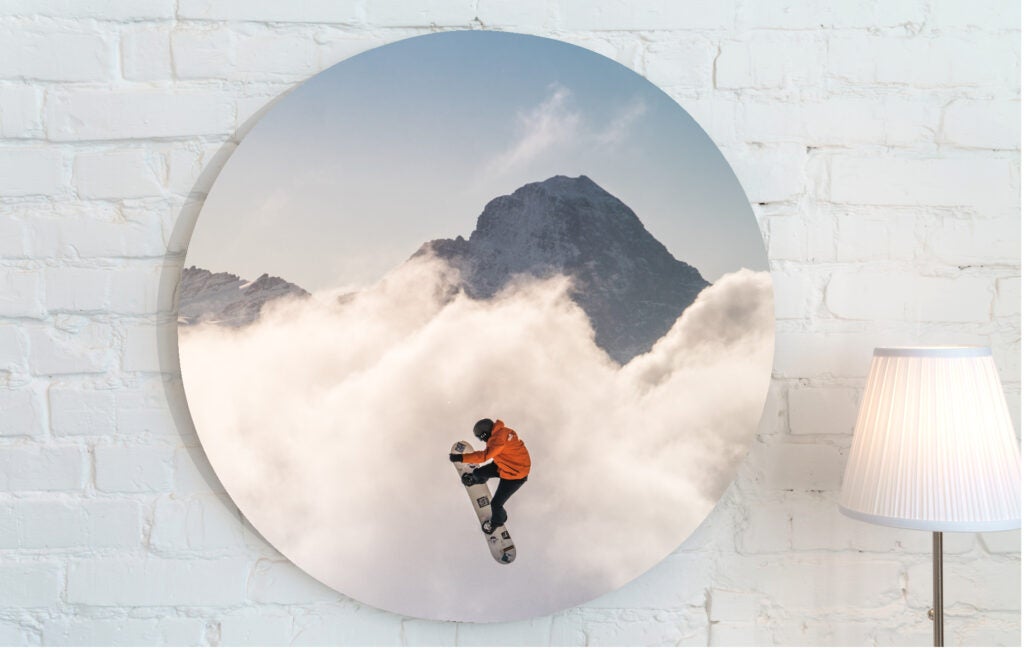 Our acrylic photo blocks' ability to stand on their own make them a perfect gift for new home owners. Gifting your friends pictures of fun memories will help their new house feel like home in no time.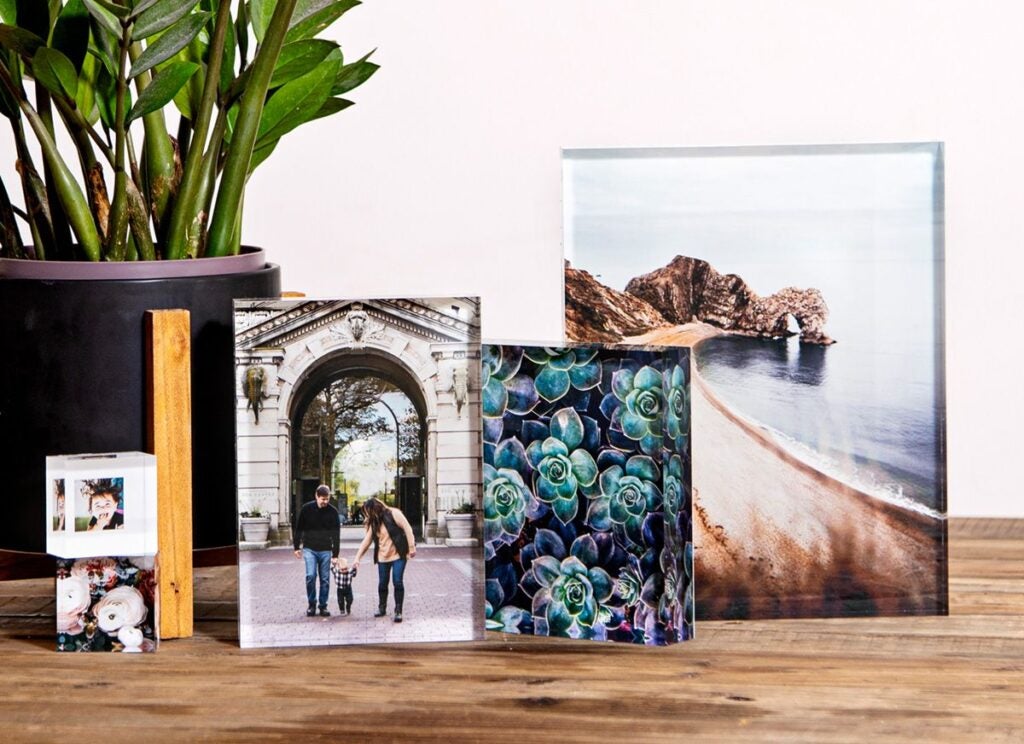 Find colorful prints for bathroom transformations.
With so much to handle as a new home owner, bathrooms are often the last place to get some much needed TLC. But as a room we'll spend about two years of our lives in, it's more than worthwhile to make it pretty! Make sprucing up the bathroom easier than ever by gifting the new home owners some beautiful and vibrant prints! Check out websites like Unsplash that are stocked with photos free to use as long as you're not selling them. You'll find a vast selection of professional and stunning photographs!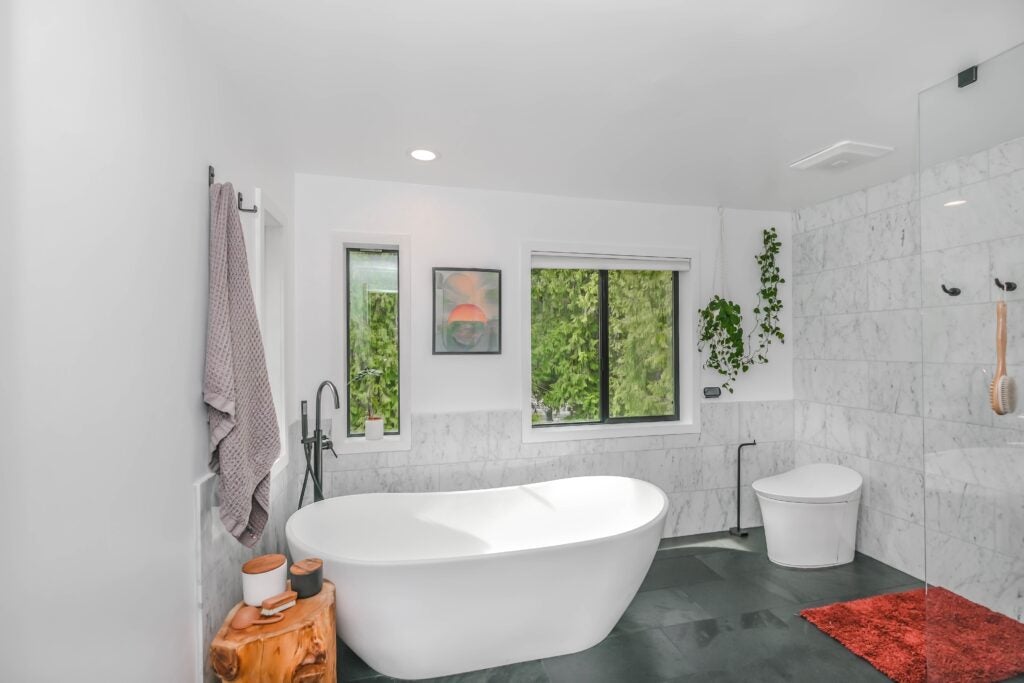 Photo Gifts for Work
We're surely all familiar with the moment it's announced that the office will be taking part in a "Secret Santa" – or some variation of it – during the holiday season. While it's a great way to add fun to the work day, it can also be a daunting task for those who don't know their co-workers well. Use these photo ideas to breeze through office gift giving and win over your coworkers while doing it.
Give a gift to the entire space.
Maybe you don't know the likes and dislikes of the coworker you're gift shopping for, but you know that there's a lot of dull, empty wall space in their area of the office. A gorgeous wall display, regardless of the content, is sure to be well received by any coworker. Mention that you thought it would brighten up their area of the office – everyone who works in that space will be touched by your thoughtfulness!
Don't get the go ahead to hang art on the wall? Acrylic photo blocks can add a colorful touch without needing to be hung up! Check out our guide to creating stunningly decorative botanical photo blocks here!
Create a custom work calendar.
Put photos from work events to good use by including them in a custom calendar. Functional and decorative! That's a gift-giving win.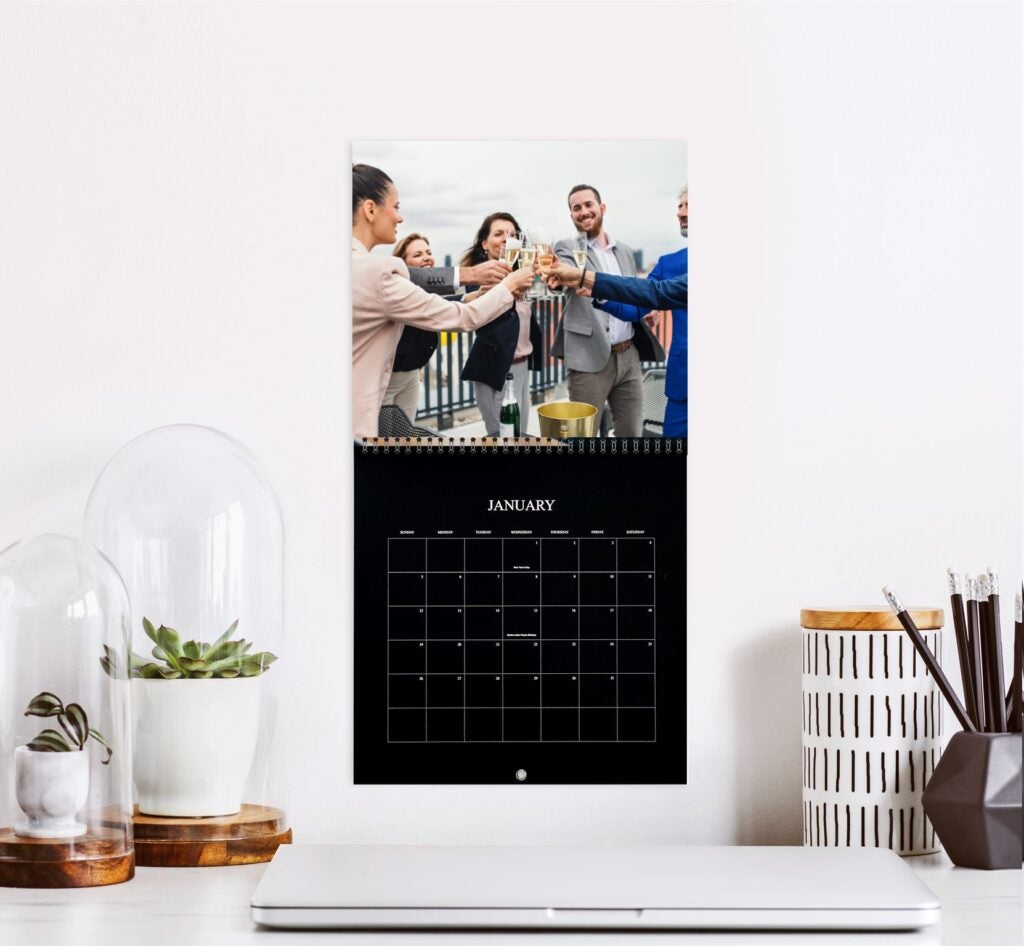 Make your own 'employee handbook' with our photo book templates.
If your work environment is highly serious, you may want to pass on this one. But for those whose work place is notoriously light hearted, make your creativity the talk of the office by creating a custom 'employee handbook'. Include little hacks and tutorials for the day-to-day experience of employees at your office, such as the dos-and-don'ts of getting take out in the area, the secret trick for getting the copier to work, and a ranking of the best snacks and coffee flavors in the break room. Include pictures from around the office and feature staff if they're on board! Keep it positive and have fun with it.
Photo Gift Ideas for Your Foodie Friend
Do you love your foodie friend as much as they love food? Are you hoping to cook up a gorgeous gift for them this holiday season? Photo prints unlock a world of creative, beautiful, and original food-inspired gifts!
Browse for and print vibrant food pictures.
Search online for stunning free-to-print pictures of food and you're sure to find something wall décor worthy – like this vibrant, modern photograph of orange slices below! Check out our guide to turning food photography into art for more ideas!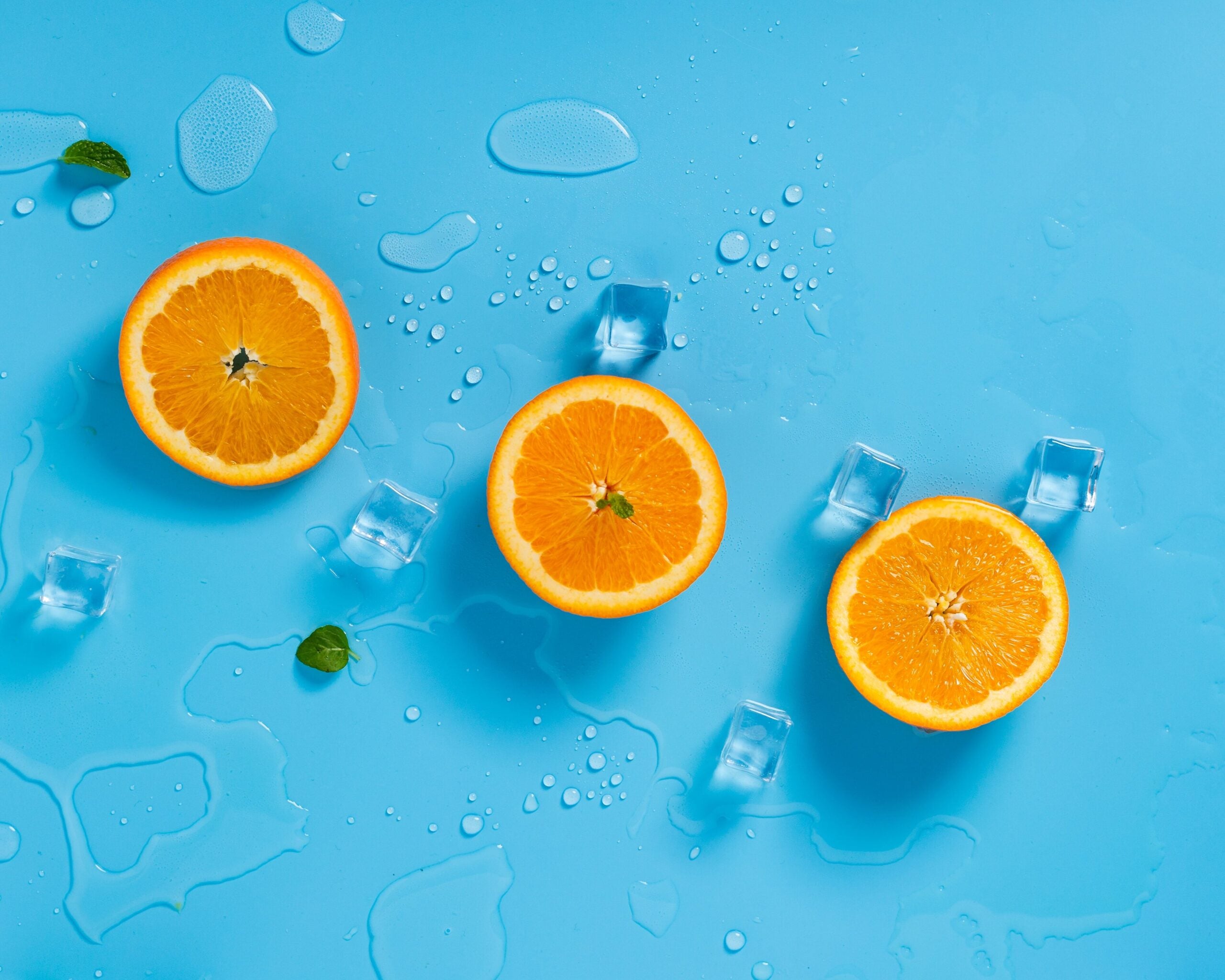 Create a recipes bucket list in a photo book.
Make a list of all different types of recipes, from breakfasts, to lunches, dinners, snacks and desserts. Source free-to-print photos of these culinary creations and compile them into a custom-made recipe bucket list!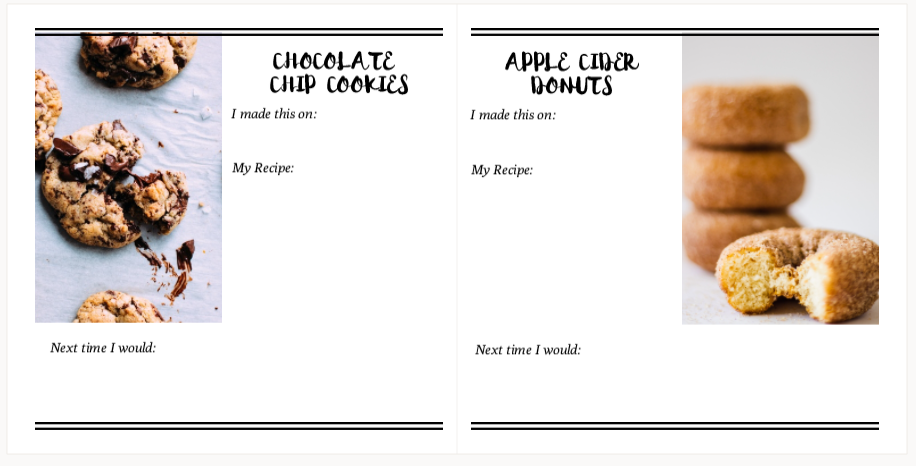 With kitchen wall space often at a premium, anything you display should be fabulous, functional, or better yet: both. Help your foodie friend hack the cooking experience with cheat sheets that keep their kitchen looking chic. See our guide to functional kitchen art here!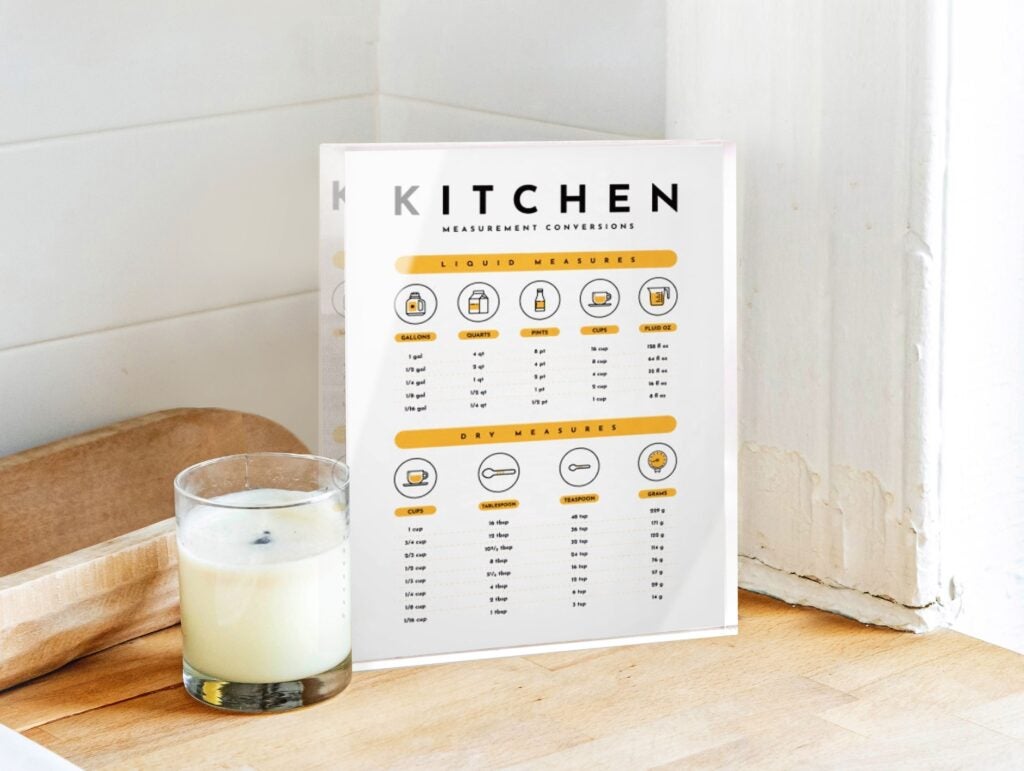 Photo Print Gifts for Newly Weds
Create a journaling memories book.
While we love wedding albums, they're definitely something better left to the discretion of the bride and groom. But that doesn't mean a photo book can't be a great gift for your newly wed pals this holiday season. Explore our photo book templates to create a custom newly weds journaling book. Include prompts like "The MVP wedding guest was" or "6 months into marriage what's surprised us the most about it is…" to give your friends tons to document and look back on!
You can also include bucket list pages with empty boxes the couple can check off as they complete items to make the book extra fun! And of course, include pictures!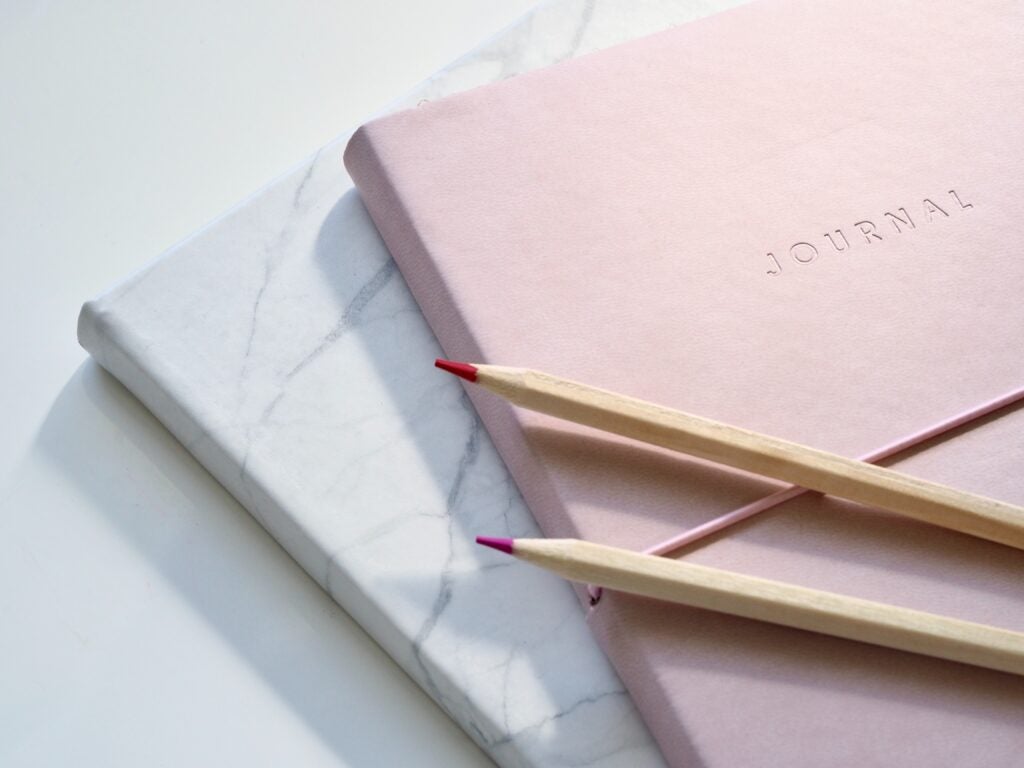 Get your favorite of their wedding photos printed on acrylic.
While the wedding album is left in the hands of the bride and groom, that doesn't mean they wouldn't love seeing their photos printed on acrylic! Either print one of your own photos, download a photo taken by the hired wedding photographer, or grab a photo shared by another guest on social media! You can also print one of your favorite photos of the couples from years before for a nostalgic "how it started" verse "how it's going" effect they're sure to love.
Print a wedding-themed calendar.
What better way to embrace that first year of marriage than with a calendar that sparks loving memories with the flip of every page?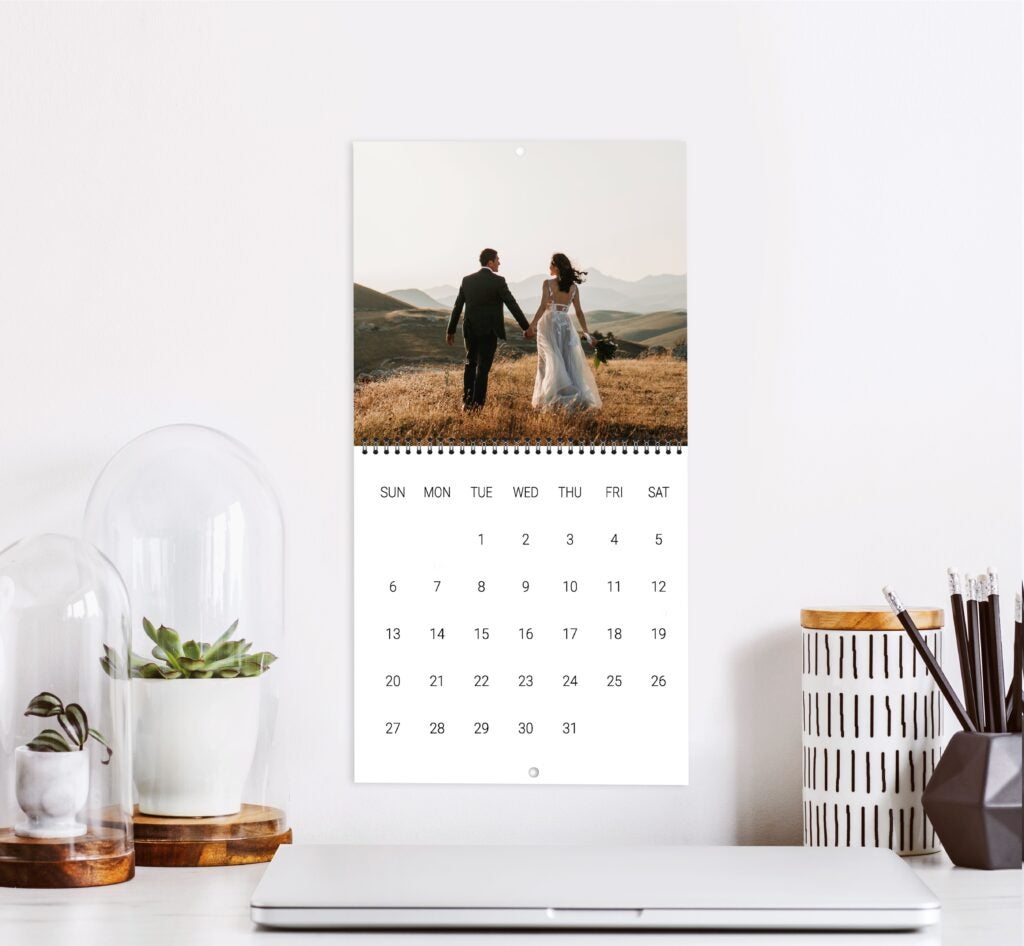 Other Photo Gift Ideas
Inspire your friends with a sample portfolio.
If you have friends in – or better yet, aspiring to be in – a field that requires a portfolio, printing them a sample portfolio is a great way to inspire their work! Simply pull photos from their website, client pages, or events of theirs you've attended and compile them into a photo book. This photo gift idea works great for graphic designers, photographers, real estate agents, interior decorators, party planners and more! No matter their professional level, seeing their work through the eyes of someone who loves them will give them the nudge they need to chase their goals relentlessly into the new year!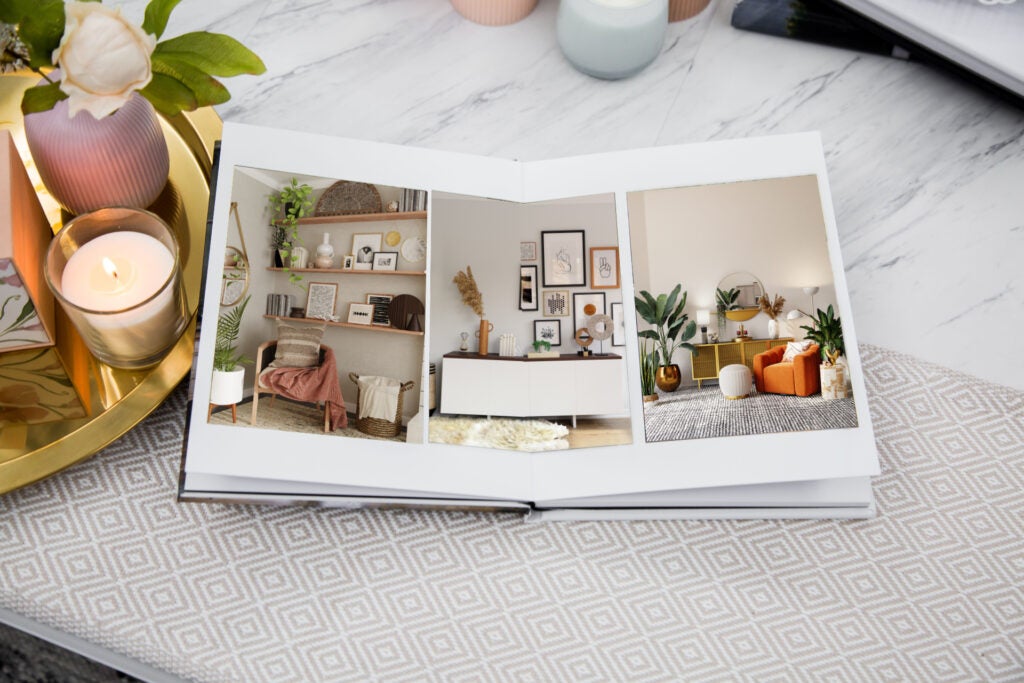 Surprise an old friend with a printed #throwback.
Have you found a great picture recently that you hadn't seen in a while? The holidays are the perfect time to pass it along to whoever else is in the shot – especially if the two of you have lost touch over the years! Whether you want to print a few old shots on classic photo prints and slip them in an envelope, or compile pictures from a particular school year or summer camp in a photo book, the recipients will be so happy to know they crossed your mind. They'll absolutely love getting to relive fond memories with you! What better gift is there than that?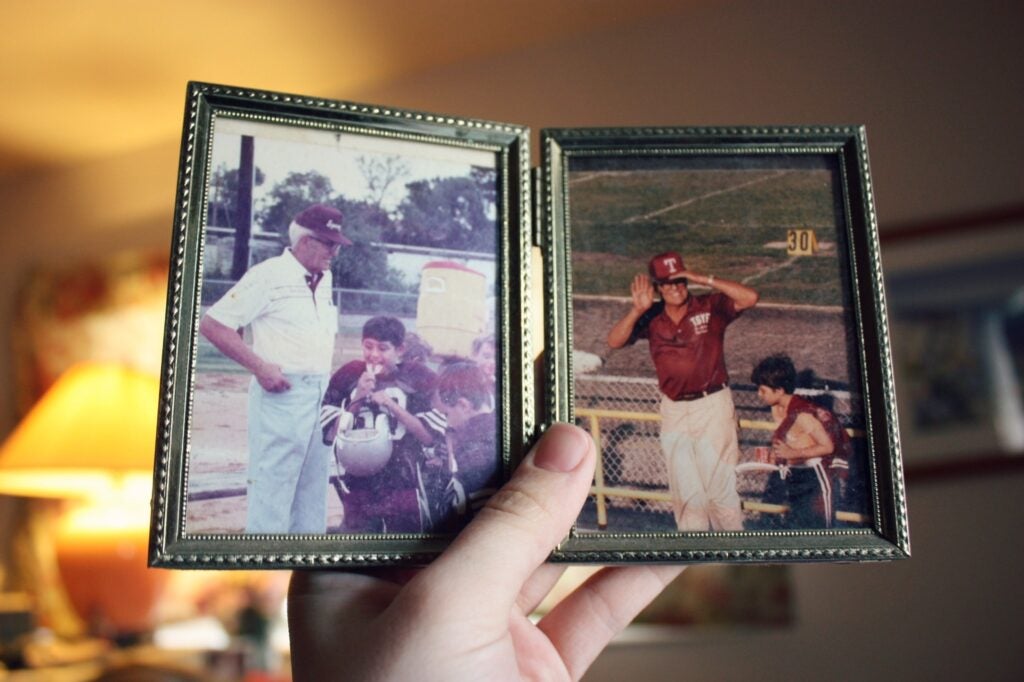 Turn their favorite movie into a work of art!
What's better than copyrighted movie posters? Custom made posters inspired by the content of the movie! For example, if your recipient's favorite movie is Wedding Crashers, create a poster outlining the wedding crasher "rules" that the characters reference throughout the film. Jurassic Park fanatic? Create a detailed map of the park using the scenes of the movie for reference! Shopping for someone who's totally Game of Thrones obsessed? Create a cheat sheet of Dothraki letters and translations. Whatever their favorite movie or show may be, custom posters are an awesome photo gift idea that can bring movies to life with a tangible artifact!
Start creating!
You've got the ideas and you've got the time – all that's left to do is create the perfect photo gift and leave it to us to bring it to life! Most of these ideas will take a decent amount of time to create from scratch. So if you're feeling inspired, we recommend getting the jump on perfect gifts as early as right now!