Gallery walls are one of the most personal touches you can add to your space. Whether you include family photos or your appreciation for graphic artists, it's a place to create a completely customizable collection of your favorites.
But picture walls are like puzzles: Once you finally get it right, you don't want to mess with it. We all need a little refresh now and then, though. (Do you really want to stare at those same dozen pieces forever?) If you plan it out correctly, you can swap out key pieces a few times a year. So the next time you see art or photos that speak to you, you can work it in easily.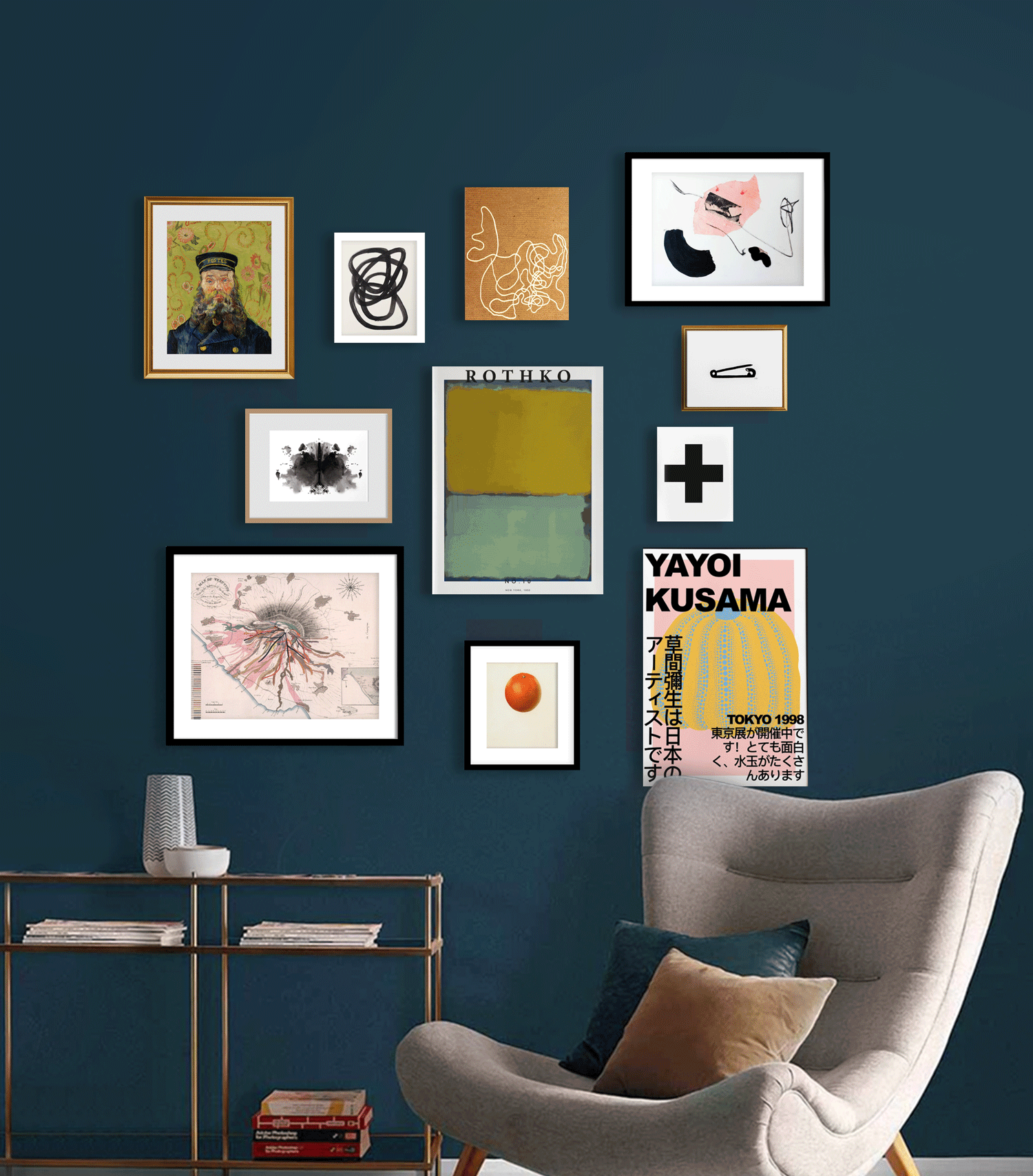 The trick to making gallery or photo wall swaps is to make sure the ones you plan to update are placed in standard size frames or formats, so your new wall art will fit right in (literally). As you can see here, we updated the 11×14, 18×24, and two 8x10s.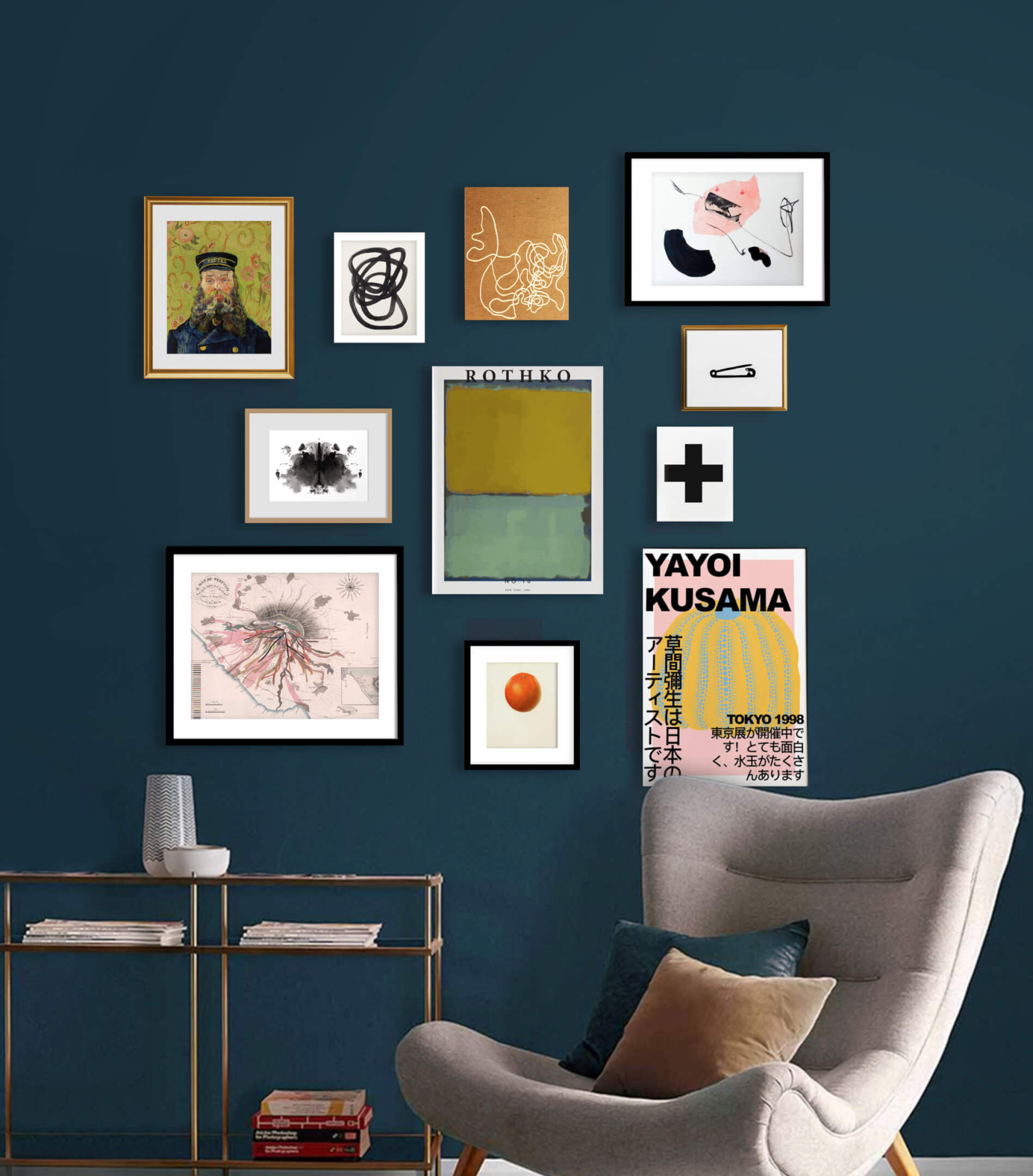 We started with 11 pieces, making sure the anchors are standard size.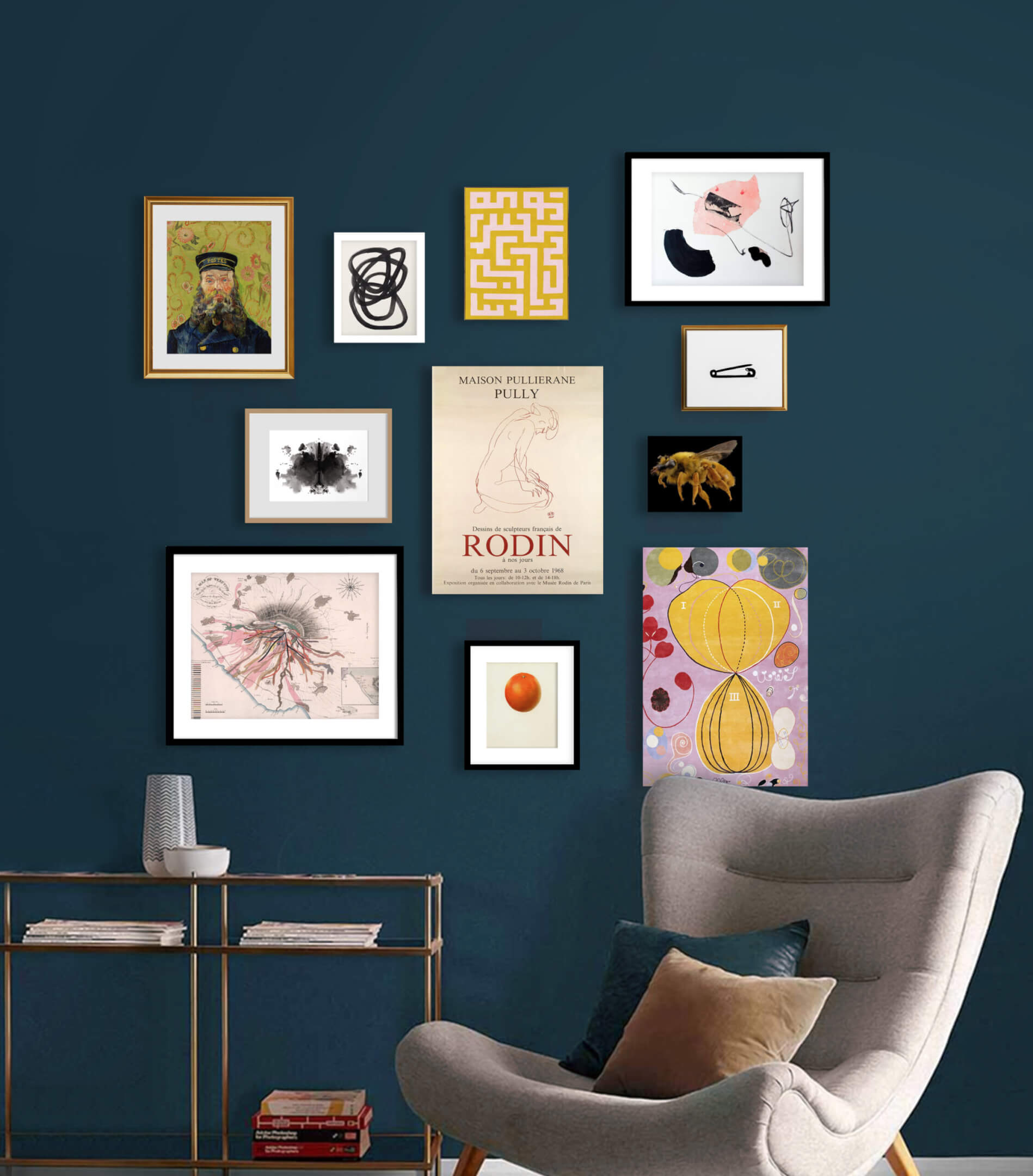 Then we swapped out 4 of those standard pieces with new low-cost or free downloadable art.
Gallery Wall Ideas
All art above has been sourced as a downloadable file, some of which are free of charge, so you can spend your budget on high-quality framing and wall-decor materials (hint, hint). From left to right:
The Postman, Vincent VanGogh; $5
Rorschach test 4 Art Print, $22
Map of Vesuvius Volcano Eruptions, $16
Mid Century Modern Black & White Spiral Circles, $22
Abstract Line Art, $8
Swap with:
Scandinavian Modern Boho Eclectic Art Print, $8
Mark Rothko Exhibition Poster, $3
Swap with:
RODIN Vintage Exhibition Poster, $24
Citrus sinensis: Valencia Print, Free
L'insostenibile leggerezza dell'essere, $190 (our one splurge! we're printing on canvas to show off the texture)
Hugo Guinness Safety Pin, $190 (ok, maybe one more splurge…)
Scandinavian Cross, Free
Swap with:
Chilean Bee, Free
Yayoi Kusama Exhibition Poster, $8
Swap with:
Hilma Af Klint No 7, $17
A note on downloadable art: It works with all wall decor materials, so experiment to see which one suits your new piece best. Choose from canvas, metal, or acrylic, or traditional framed prints – or a mixed media wall. All offer a preview so you can see your art before you add it to your cart. Or use our Wall Design Wizard to work on composition and placement.
So research your favorite art, purchase the downloads, find the perfect wall decor material for each, and let us handle the rest!
A few more ideas
How To Create a Mindful Space
Picture Frame Trends for the New Year
This Is How To Set Up an Ancestor Gallery Wall