Home is…everything. "Home has become a place to not only live but to work, eat, exercise and find time for ourselves," says Kim Matheson Shedrick, senior vice president of WTS and founder/owner of My Spa Shop. As a result, it's more important than ever to carve out a calming room or space that allows us to slow down, relax, and revitalize.
Susan Petrie, a New York-based interior designer, reports that clients are requesting "me time" spaces, but also "places that are a true reflection of who they are and what is characteristic of their lifestyles." Here are their tips for carving out a mindfulness room, a place for your meditation, yoga or journaling practice or to just chill out.
Figure out what you're going to do in the space.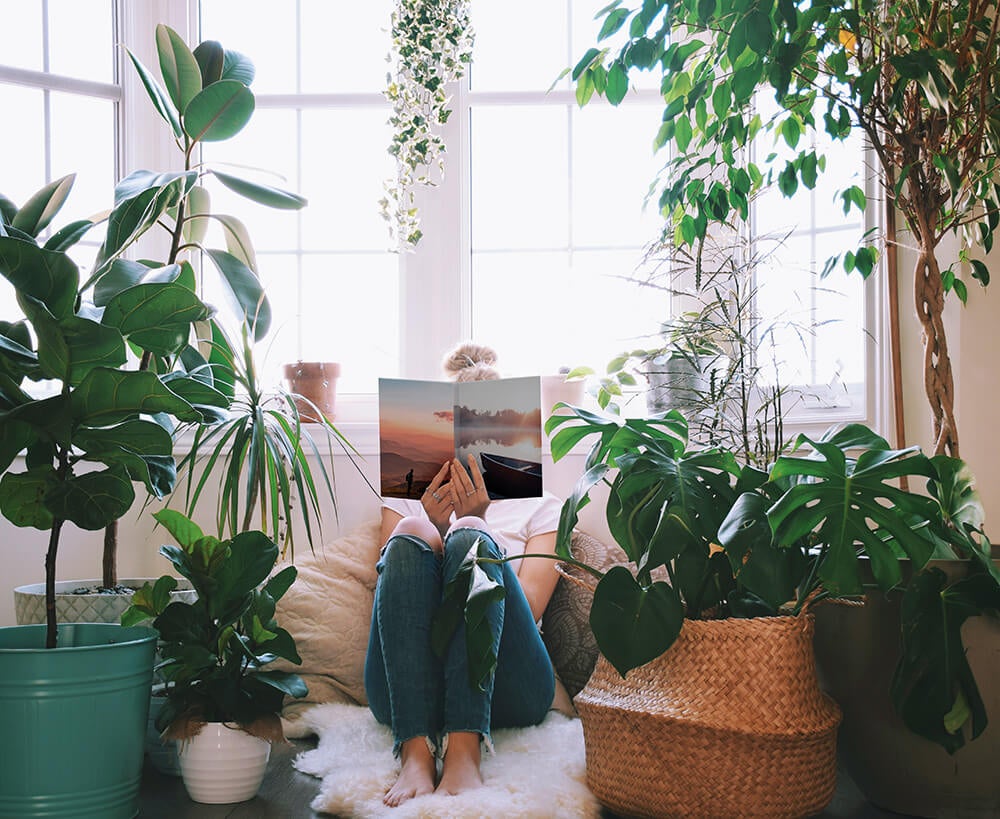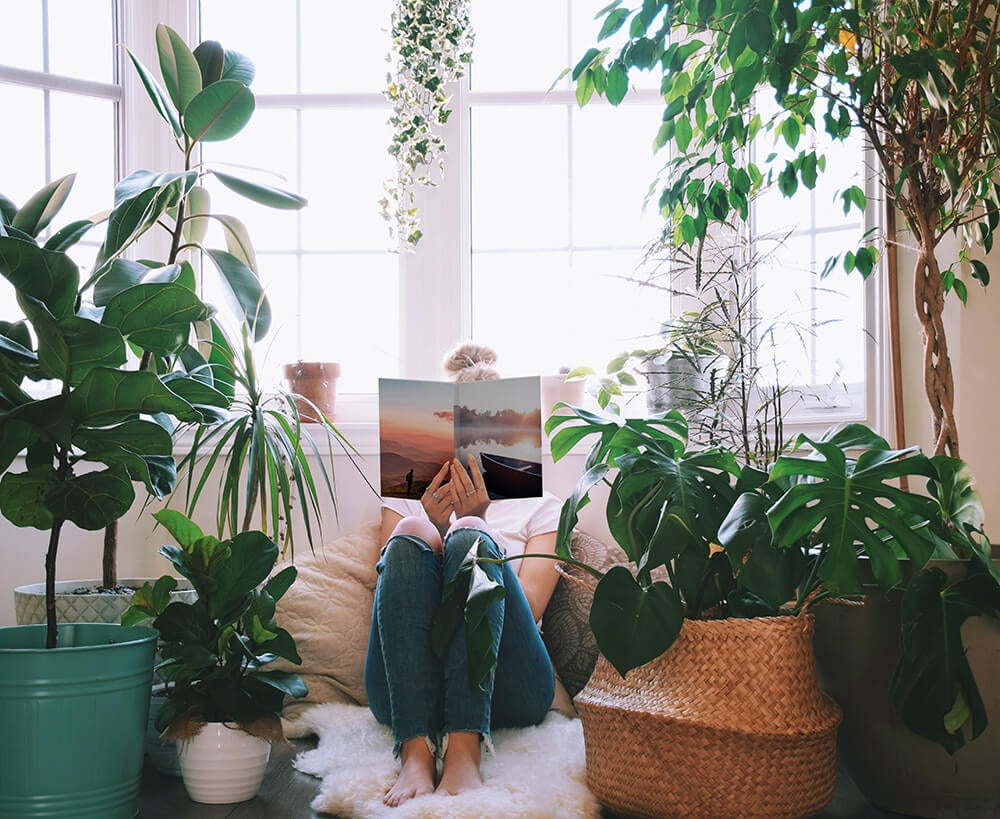 Are you a yoga fan? Or do you want somewhere quiet to journal, or do you just want a place to read after eight hours on work Zoom calls? Does the room need to be multipurpose; for example, is it a combination home office, schoolroom, family living room and your yoga room? Matheson Shedrick, who has designed more than 100 spas, including many for luxury hotels like the Four Seasons, Mandarin Oriental, and Ritz-Carlton, suggests that when rooms have to be multifunctional, you should start by rearranging the furniture so you don't have to move the coffee table and half the chairs out of the way every time you want to do yoga.
Declutter and add storage.
"Clear out what isn't needed," says Matheson Shedrick. Eliminating the clutter removes potential distractions as well as reasons to feel guilty, she says. Add storage containers, like bins, baskets or shelving for what's left. "Bring in the things you need to help achieve your goals," she says. You'll have a dedicated place to stash your yoga mat and meditation cushion, as well as any other equipment you use in your mindfulness practice, like your journal, foam rollers, balance boards, elastic resistance bands, and so on.
We like: Open Spaces storage bins and containers
Include natural elements.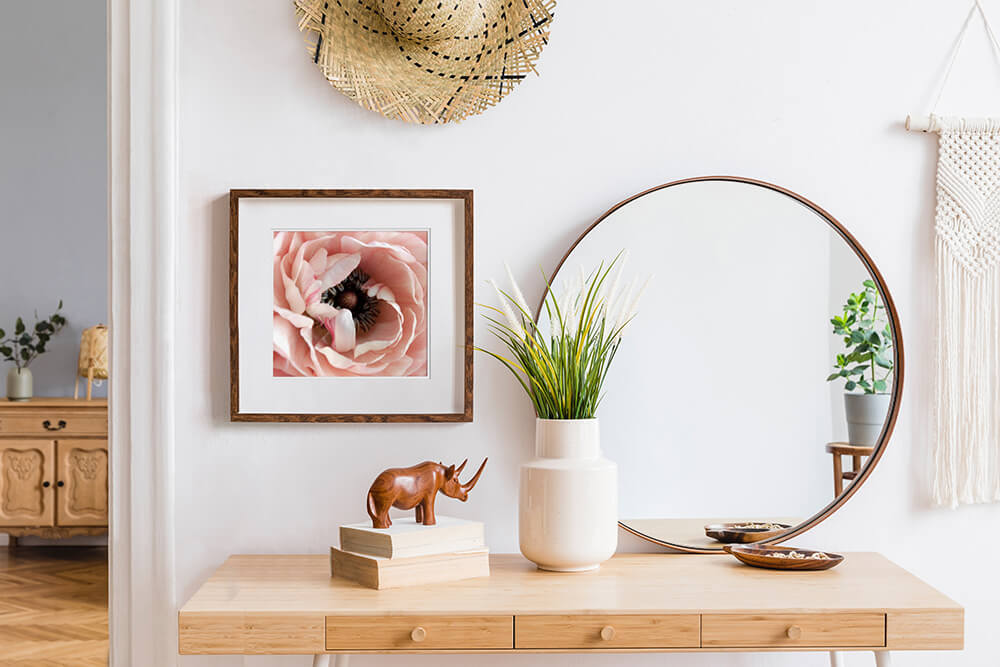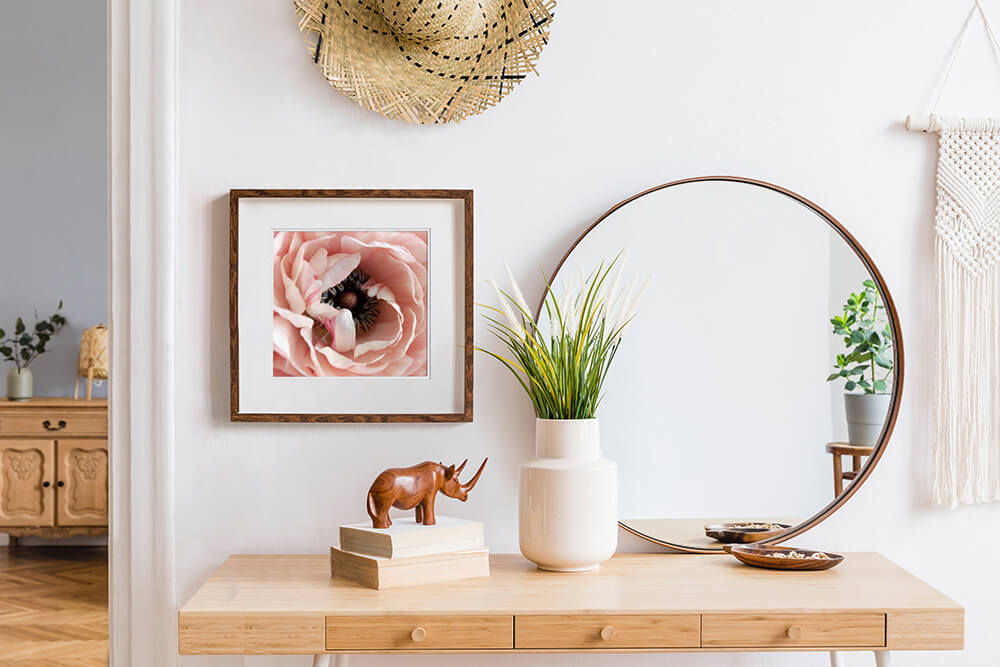 Ideally you'll want to incorporate the principles of biophilia, the innate human desire to connect with nature. Bring in plants for a serene decor if you have good light.
We like: The Sill Parlor Palm
Connecting with nature also includes a good view of it. If you're staring at a brick wall, you have to add those elements in creative ways. Hang framed illustrations or frame photos of individual flowers or plants, woods or jungles, beaches or other water scenes, sunrises or sunsets, birds or animals allow you to bring a bit of nature indoors with a traditional frame or a crisp, clear acrylic print.
We like: Louis van Houtte Vintage Horticulture Print 
A bowl of seashells, a stack of stones or crystals are also good options. Or a Himalayan salt feature does double duty: It's beautiful and also release negative ions, which help clean the air of toxins.
We like: Nature's Artifacts Fire Bowl Salt Lamp
Make the space appeal to the five senses.
"Take a sensorial approach to your space," says Matheson Shedrick. "Think about scent: Do I have a candle lit, do I have incense burning, do I have fresh air? What about taste? Do you have a nice glass of water with mint or lime, depending on the season, like you see at a spa? Are you listening to the sounds of nature or are you playing music?
We like: Brooklyn Candle Fern + Moss Minimalist Candle and Sugahara Water Carafe from Mociun 
"As for the visual, there's the view itself," she notes. Ideally it's a view of nature or serene wall art, she says. "Choose what makes you think, what makes you smile, what brings you happiness," says Petrie.
Make room to reflect.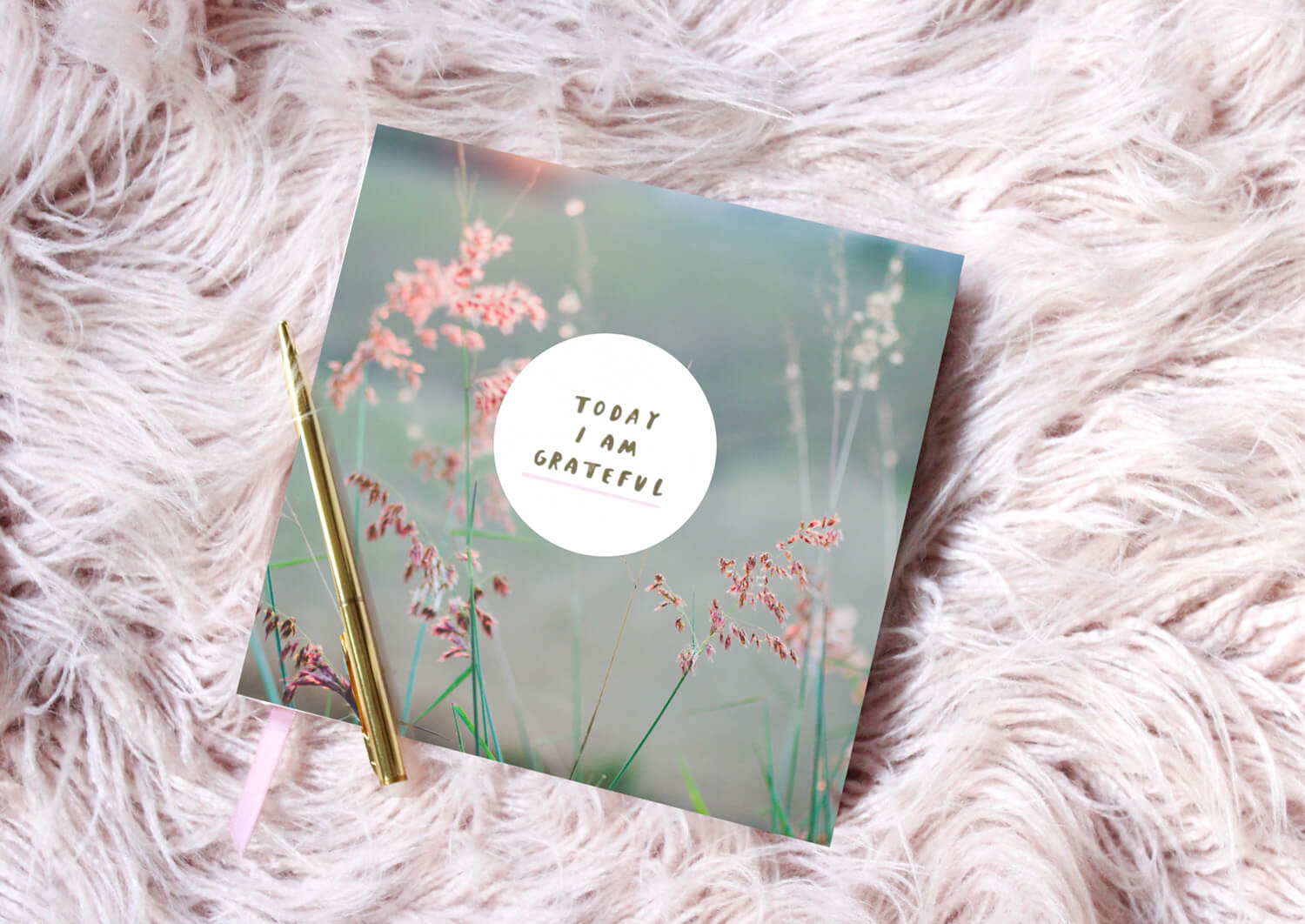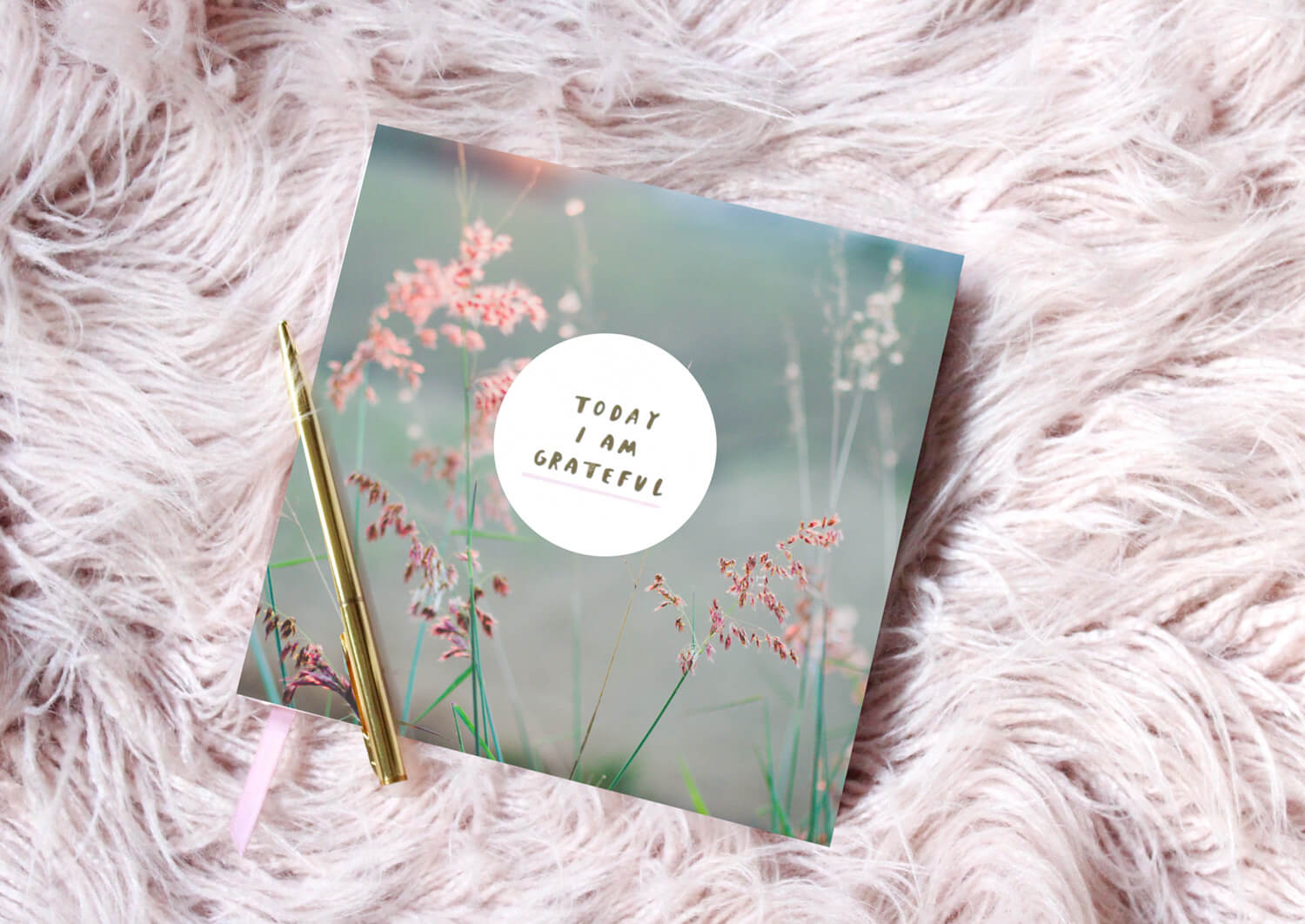 However you design your space, leave multiple prompts to think and reflect. Rather than a single, catch-all journal, consider creating a set based on your needs: a gratitude journal, a dream journal, a reading journal, or however else your thoughts are best captured.
Create your journal now with our easy to use template or learn how to create your own custom design.
A few more ideas
How To Create a Personalized Journal
Photo Book Gift Ideas for Kids
Top Interior Design Trends for 2021