Goodbye 2018. Hello 2019.  Before we fade to black and roll the credits on 2018, let's cherish the memories that gave us all the feels!  Here are three ways you can make a year in review and hold onto the memories.
It's time to make a real page-turner of 2k18. From family vacations to being snowed-in, there are moments in the every day that make life beautiful.  If you are like most, your memories may be scattered on phones, IPads, laptops, etc. Take an afternoon and transfer all of your images onto one computer. Set up folders for each month and then mark your favorites.
It's too Much! (Under an hour)
Feeling overwhelmed and can't pick just a few?  Upload those images and use the Printique quick build. It will fill the template within minutes then you can print it as is, or begin to customize it. It's the easiest solution and won't take up too much of your time.

12 Months a Year (2-3 Hours)
Time to get a little creative with text. Pick a theme or build your own that allows for anywhere from 4-8 images per spread and add text for each month.
I Got Carried Away (3-5 Hours)
You want to publish it all and that's ok too. Let the images tell a story and unfold throughout the book. Sort the photos by life events, vacations, birthdays, milestones, etc. Choose templates that allow for multiple images on spreads. Add titles and photo captions. Feel free to even add a list of contents at the beginning of the book. Although this is a bit more time intensive, it will also yield some incredible results.
If you want your 2k18 memories to shine, go for the metal. Under the collages category, there are many options. Keep it minimal with an image from each month, or use them all. Just remember to go bigger the more images you add.
What better way to usher in 2k19 than keeping 2k18 at your fingertips with a calendar? Whether it's desktop or wall hanging, calendars are an easy way to print your year in review. Keep the images seasonal and pick the best image for each month.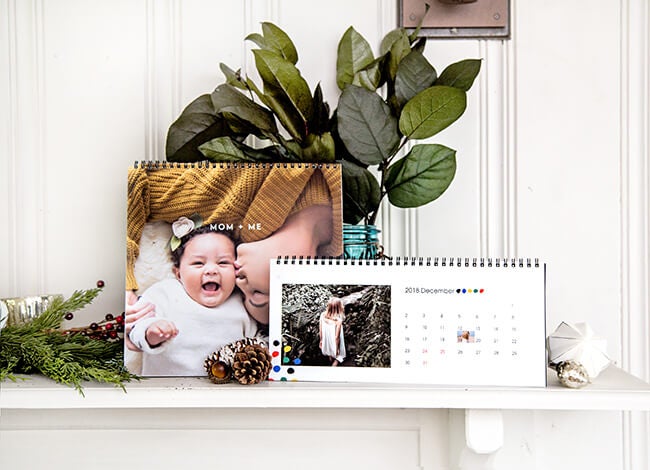 No matter which route you take, the destination is the same – printing, loving and sharing your memories. Let's get started, click HERE to start your journey.