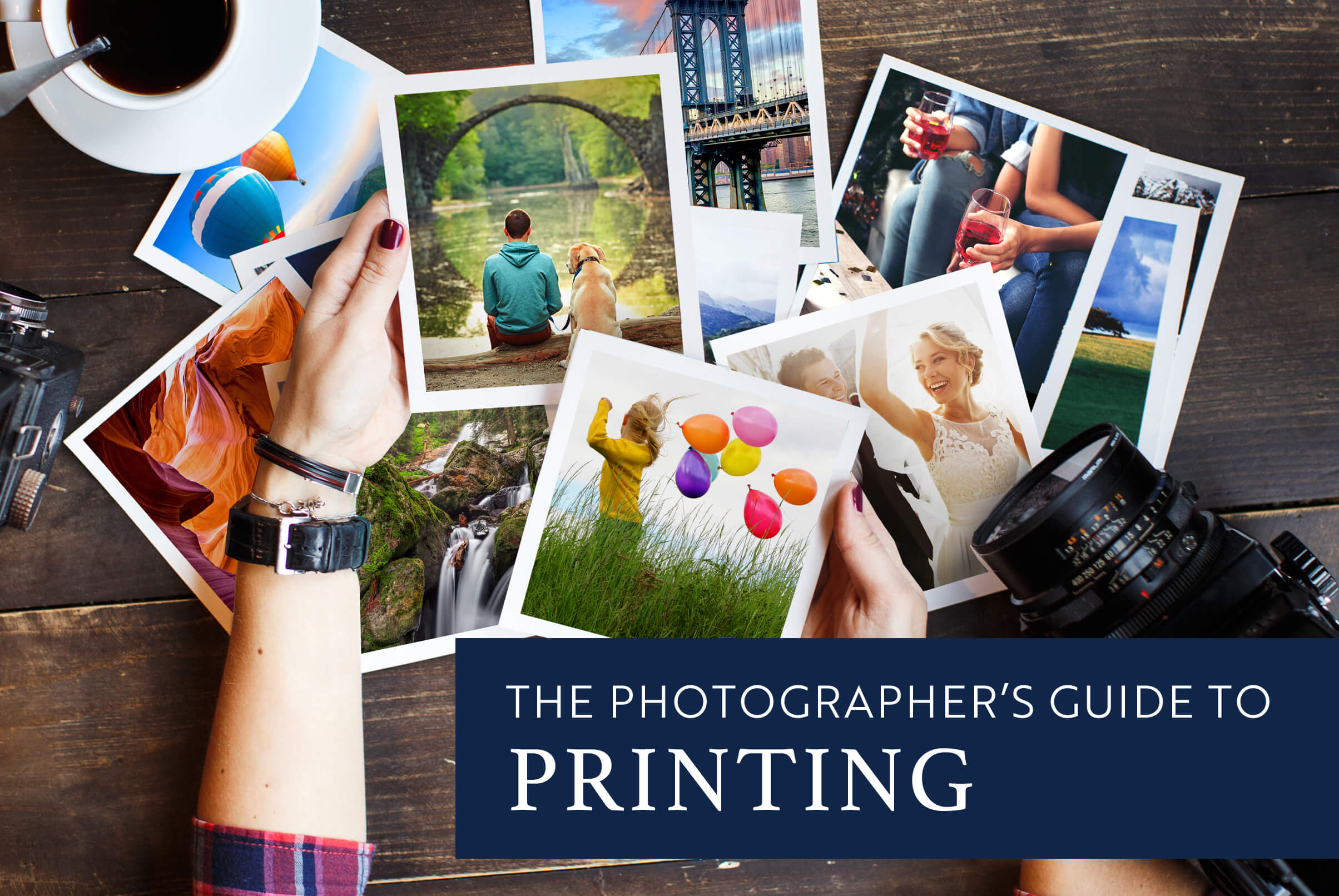 In our digital age, we experience images mainly on screens. Sharing family memories on Instagram and scrolling through online exhibitions or punchy photography listicles, we can be quick to forget the value, beauty, and significance printing photos. It's something tangible.

For the serious photographer, printing is an art that transcends daily snapshots. Printing photos large scale, framing and exhibiting them helps viewers, curators, collectors and nearly anyone viewing them experience their maximum potential.
Today, while all of these options still exist in different forms, Printique's online printing has made craftsman quality available for all photographers. This guide provides you with the fundamental process for printing photos, including the paper and texture options, as well as tips for editing and displaying your photo prints.  
Since photography's early days, printing has been important to how we value, appreciate and experience photos. Before we get started on modern methods, let's take a quick look at the history of photographic printing. 
A Brief History of photographic printing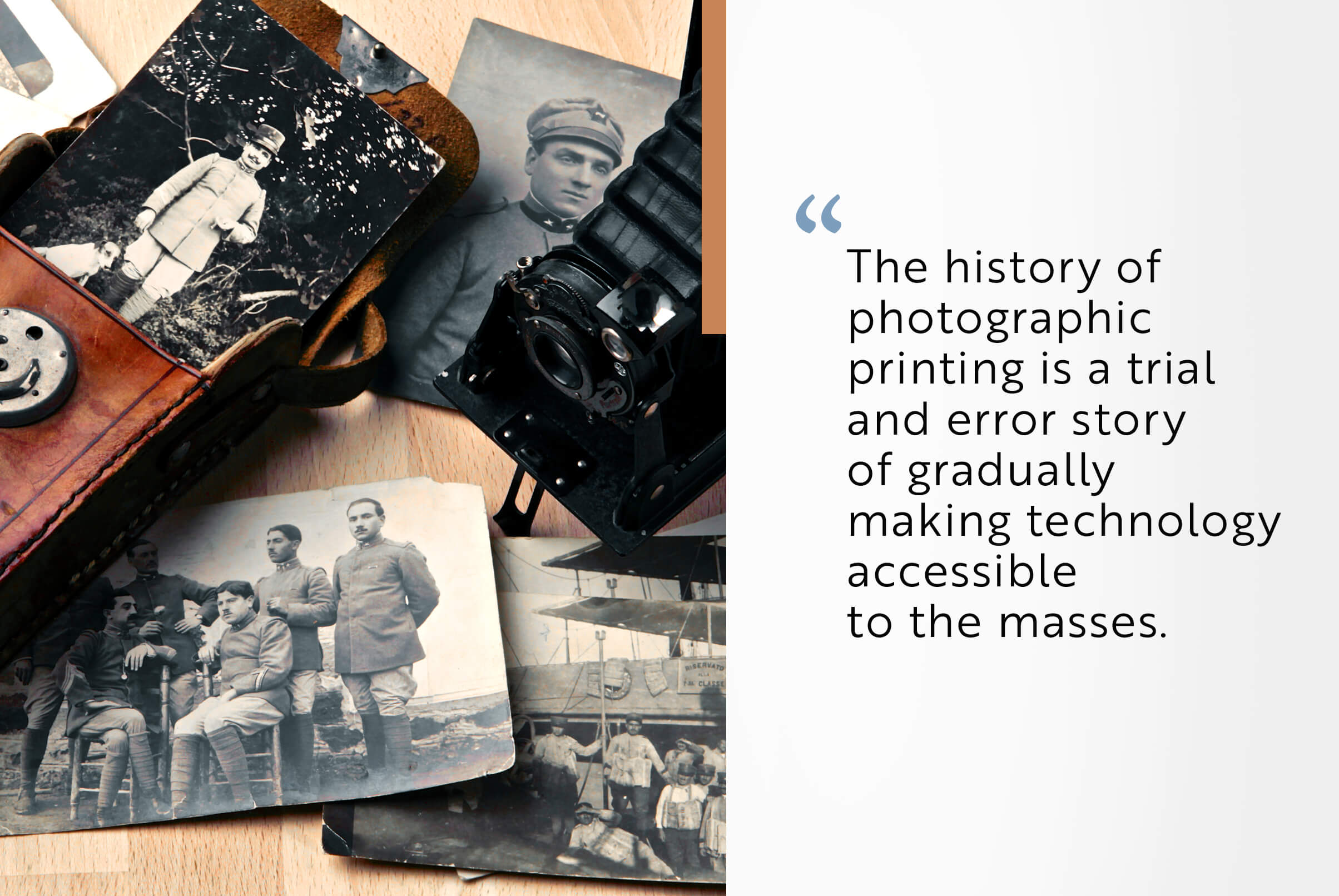 The history of photographic printing is a trial and error story of gradually making technology accessible to the masses. In the early days, it was a bit of a science experiment. Photographers like Louis Daguerre and Henry Fox Talbot devoted themselves to capturing and transmitting the world onto a surface using chemistry and light-sensitive metals. Daguerre, whose process became known as the Daguerreotype, printed photographs directly onto metal plates.
Since negatives had not yet been created, these could only be reproduced if you rephotographed them. Shortly after, Henry Fox Talbot developed the paper negative, making images widely reproducible for the first time. John Herschel and Janez Puhar also developed their own versions of a glass plate negative – the collodion process – which became the main stay until the gelatin silver process was developed in the 1880s. We like to think of them as photography's first wizards. 
In the early 1900's Kodak developed the Brownie Camera which used roll film that could be mailed back to Kodak who would process it, reload your camera and send you prints (and a freshly loaded camera!) in return. As roll film became more readily available, it allowed anyone – not just the professionals – to shoot and print their photos. 
While the first color photograph was developed in 1861 by photographer and inventor Thomas Sutton and had an interesting trajectory of experimentation for nearly a century and had some commercial application in the early to mid twentieth century, it did not become the mainstay until it was popularized and "legitimized" in the 1970s by photographers like Hellen Levitt, William Eggleston and Stephen Shore.  
Why is printing photos important?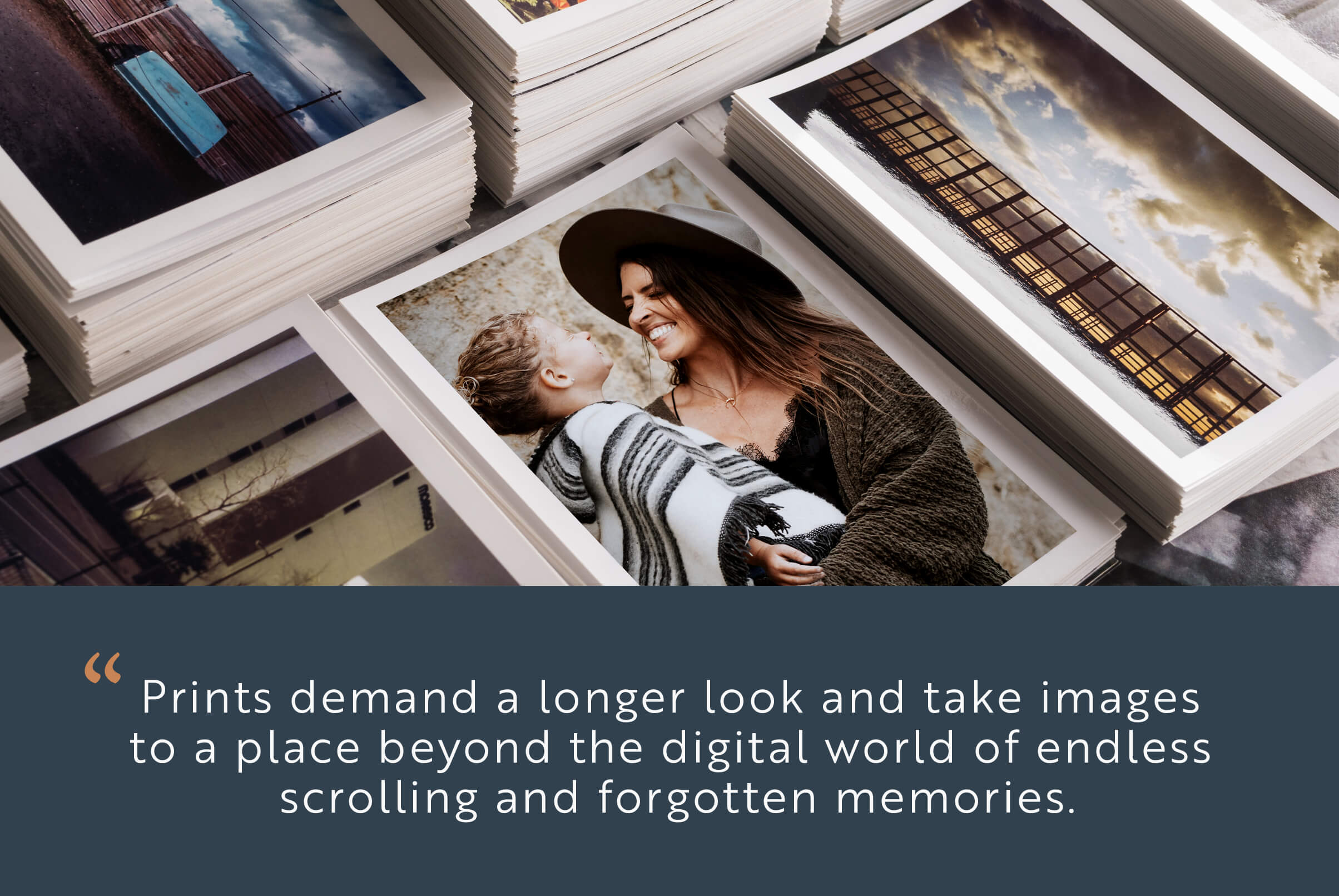 In an age where millions of photos are taken every day, it can feel like most of those images quickly vanish into a digital void, never to be experienced again. This often raises the existential  question: does a photograph exist if it's not printed? While we'll leave that one to the philosophers, we firmly believe in the power of printed photographs and the value they bring to our lives. 
Prints demand a longer look and take images to a place beyond the digital world of endless scrolling and forgotten memories. For professional photographers, whether it's creating print products for your customers, creating a slick portfolio or exhibiting in art show, producing a quality print is essential for getting your work the respect it deserves. 
Which photos should you print?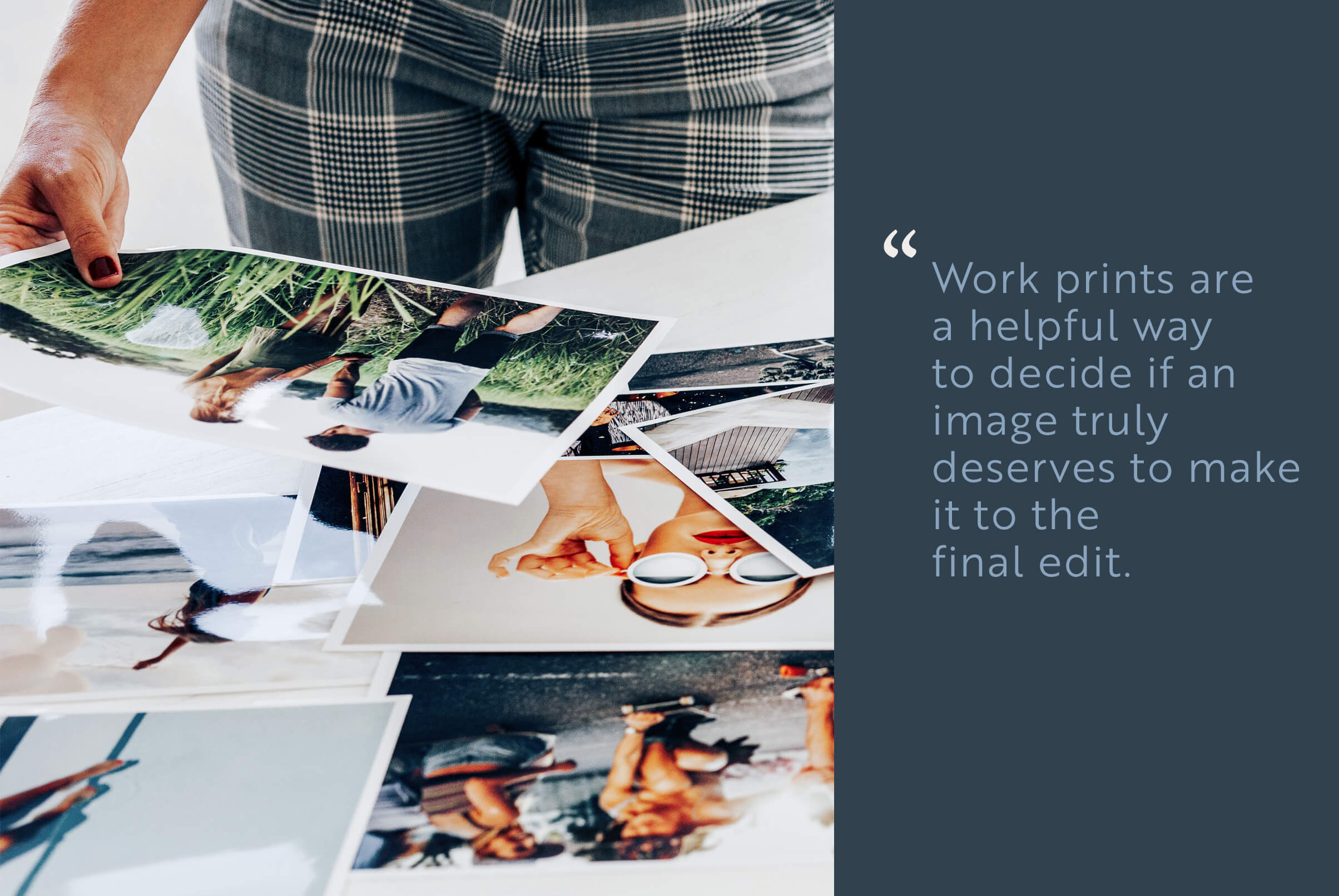 Amidst the thousands of photos you might make each year, how do you decide which photos to print? No matter if you're working on a long term project, portfolio or client job, developing an editing workflow is the essential first step in the printing process.
Work prints are a helpful way to decide if an image truly deserves to make it to the final edit. While these aren't necessarily something you will "throw away," they're prints you make for the sake of seeing something bigger, getting it off the screen and into real life and determining how well the image holds up. You can print a bunch, lay them on a table or tack them to a wall without worrying about damaging a final product. It's also helpful to print them at various sizes to test how large you want to go.
Three Tips for Editing Photos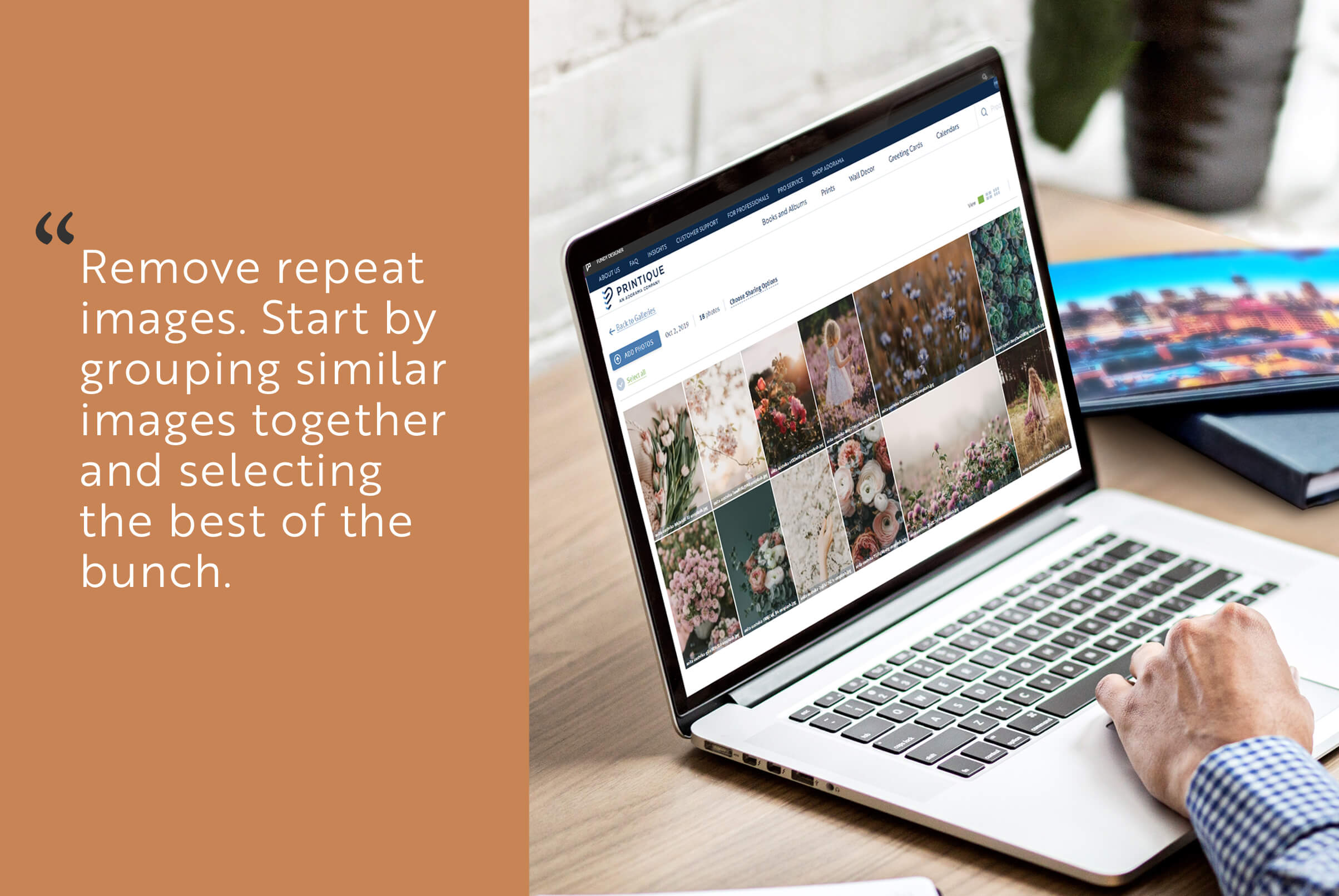 After you've made a stack of work prints, it's time to get that edit down. Depending on the project, there are a number of devices you can use to help your editing process. Here are a few of our favorites: 
Indoor/ outdoor: This may sound rudimentary and it won't work for every project, but it's a great way of developing a pace and telling a story within a series. Using work prints, start with an image taken outside and let the work gradually meander to scenes that are shot indoors, and then back again. It creates a nice pace and flow, and can help build a story.
Remove redundant images. Unless you're working on a project of photographic typologies – like our photo-history favorites Bernd and Hilla Becher – start by grouping similar images together and selecting the best of the bunch. Continue and repeat until you have a tightly refined edit.
Make a "small," "medium" and "large" edit. While successful photographic series can feel "complete" at anywhere from 10 to 100+ images,  a helpful editing and sequencing technique can be creating three versions of a project. Imagine you have 100 images to choose from: try making groupings of 10, 18, 30, and 50 images. These exact frequencies aren't set in stone (try 100, especially if you're thinking about making a book), but can be a guide for thinking about  a project in unique ways.  
Color Management and File Preparation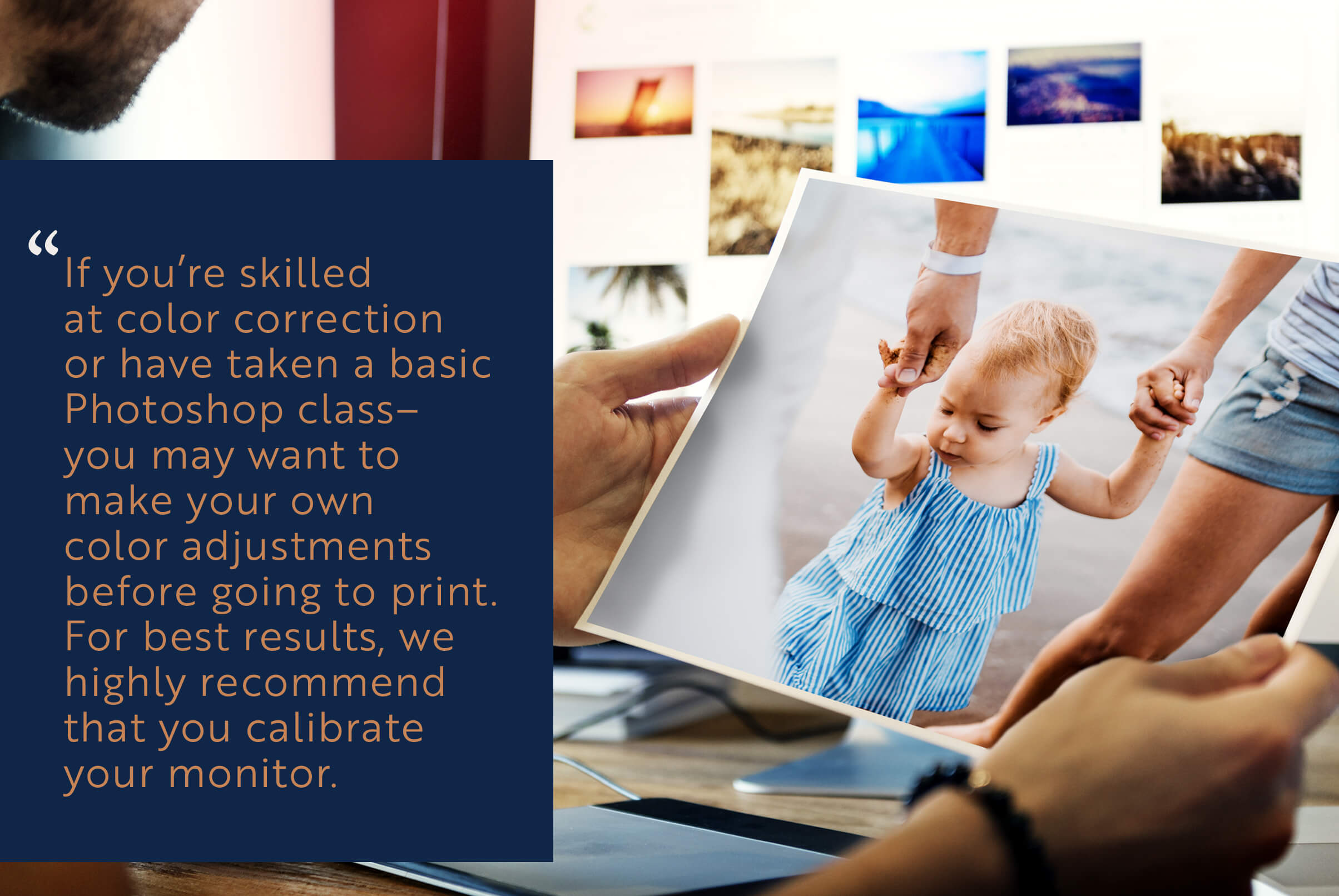 If you're shooting digital, we recommend using the largest available file size your camera allows, and shooting raw if you have that option. For best results, and to avoid image degradation, convert your raw files to TIFS and work from those. JPEGS at level 12 compression are also fine. If you're shooting film, make sure you're using a decent scanner, check your files at 100% magnification for noise, and spot any dust or scratches. 
If you're making prints that are larger than the camera's native file size, up-ressing in 5-10% increments is a surefire way to avoid noise or pixilation. Printique's experts will flag any images for quality issues if they appear. Here are some other techniques that might help increase the resolution with limited file degradation. 
Best practices for color correction  
If you're skilled at color correction – or have taken a basic Photoshop class– you may want to make your own color adjustments before going to print. For best results, we highly recommend that you calibrate your monitor.  But rest assured, our skilled technicians have years of experience printing commercial and fine art jobs and will do a great job making sure your prints are color corrected if you prefer to take that route.
Silver Halide Printing from Printique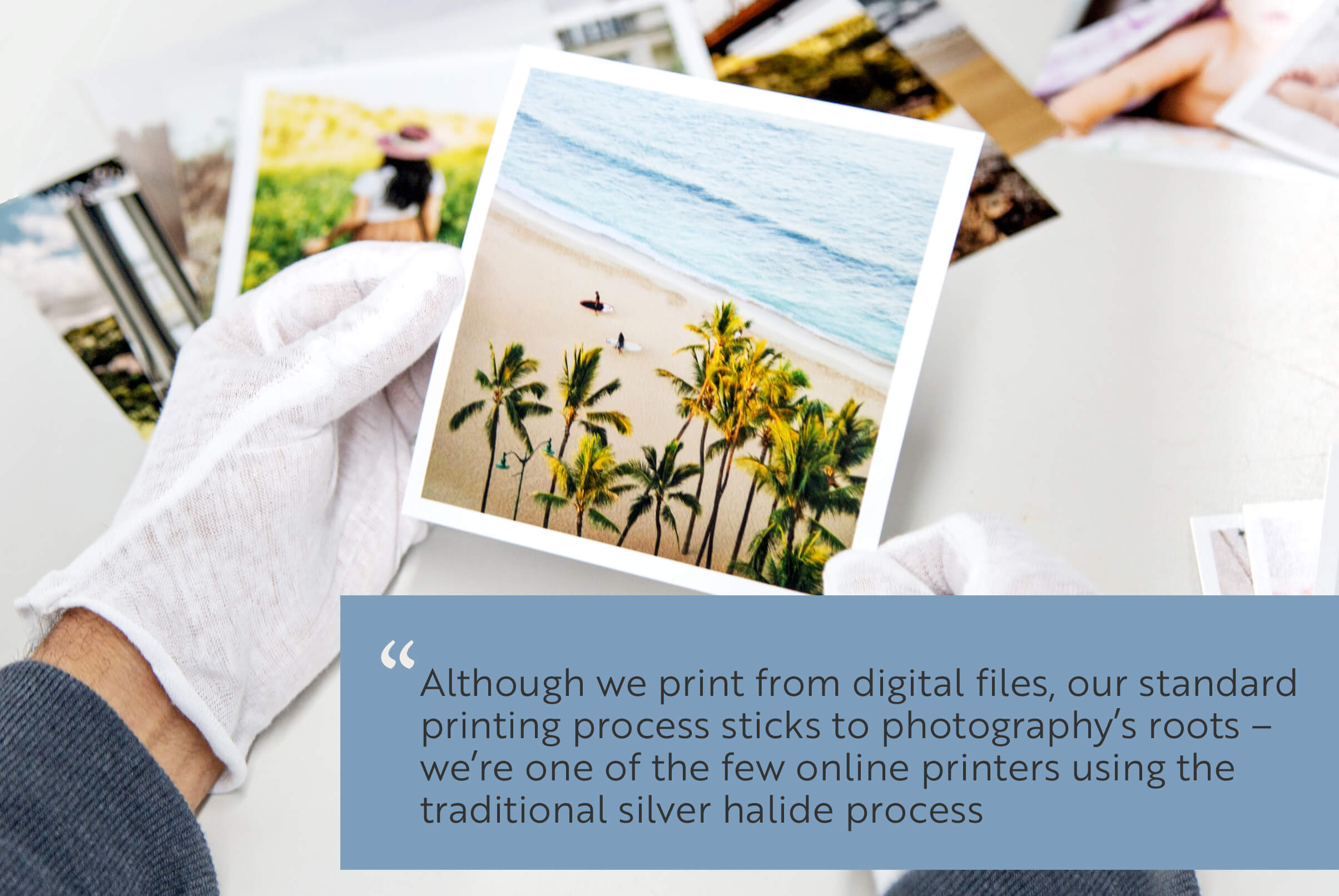 Although we print from digital files, our standard printing process sticks to photography's roots with the traditional silver halide process. Similar to what you might remember from your high school or college darkroom, we project your images onto light-sensitive paper and silver-based chemistry. The prints are sharper and the colors and tones are more vibrant. If you're partial to ink, many of our specialty papers use that process without sacrificing quality – we include those options later in this feature. 
Choosing the Best Paper and Surface for Your Photography Prints 
When you're finished editing and ready to make your final round of exhibition, portfolio or client prints, choosing the right paper type can help give your work an extra edge, and can often add more meaning. From our standard papers to elaborate options like metal and acrylic, each have different characteristics with a different impact. Here's a breakdown to help guide your decision. 
Standard Professional Prints
Lustre: It's our most popular paper, the happy medium between glossy and matte, perfect for a range of uses, from weddings, portraits and commercial prints to fine art. It's subtly reflective with a hint of sheen without being too shiny and its rich blacks and pure whites pull you in. 
Glossy: Smooth, polished and slick, glossy is perfect when you just need that extra shine. Whites are extra bright and colors pop most on glossy paper, with the widest range of tones. It's slightly more delicate than our other papers and is vulnerable to fingerprints, so make sure to handle exhibition prints with some white gloves. Like Lustre, Glossy is great for portfolio prints, and also for landscapes, street photography and – because of its high tonal range – is perfect for small prints. 
Matte: For the refined printer, matte paper has excellent color reproduction with no glare, and a silky smooth texture. It has a subtle color range and is best for large portraits, still life and images without dense shadows or dark blacks.
Silk: One of our newest additions to our standard printing options, Silk offers the refined textures of our other papers, with a vintage flare, a thicker weight and soft reflection similar to vinyl and works best for weddings, family photos and portraits.It's one step closer to our specialty prints. 
Specialty Photo Prints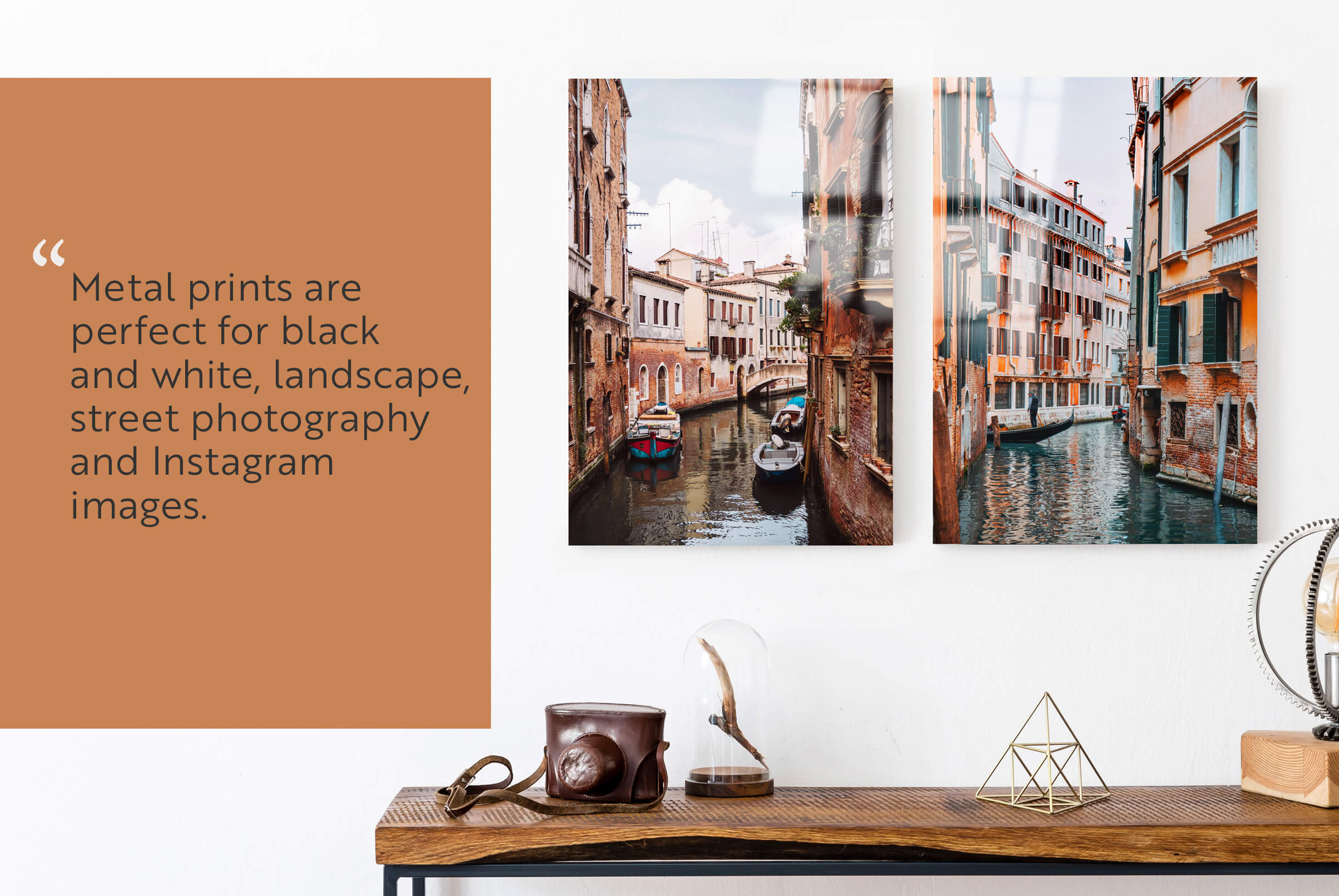 Specialty prints offer some extra flare and can help certain images or series go a step beyond our standard paper types. New technology enables us to print on a variety of surfaces, from metal, acrylic, wood and canvas.
Metal prints add sparkle and shine – it's our most dramatic option available. It's smooth and reflective like our glossy paper, with extra punch that helps colors jump out and black and white tones shimmer. Metal prints are perfect for balck and white, landscape, street photography and Instagram images. 
What's unique about metal prints is that we use a printing process called dye sublimation that infuses ink into the surface of the metal. It's then applied to a sheet of aluminum and heat sealed for extra durability. This type of print is durable and easy to keep clean. True art objects in their own right, metal prints also look great mounted without a frame. 
Acrylic prints are printed directly on the sheet. Acrylic is more durable and has a longer life than traditional printing methods. These sleek high definition prints and blocks display sharp vibrant colors, printed on polished high grade acrylic, and its high gloss effect makes it perfect for images with high tonal range. They're great for the home, studios and galleries. One inch desk prints make for modern, high quality gifts.  
Wood prints can add a new dimension to your work and catch viewers by surprise. Like our other non-traditional surfaces, it's best to approach wood from a highly selective process – it's not ideal for every photograph, but when it works, it works wonders. Wood prints work best with landscapes and nature which blend seamlessly into the wood's surface. Wood can also be great for black and white, but, like nature and landscapes, keep in mind that warmer tones and heavy grain will shine through turning black and white tones into rustic, brown tones.
Canvas prints give your photos a gallery-worthy treatment. Printed on high-quality, heavy weight canvas stretched onto a sturdy, 1½ inch, pine wood frame, these specialty prints come alive for formal family portraits, and photos that have a painterly quality to them, like floral still lives and bucolic nature scenes.
Giclee Fine Art Printing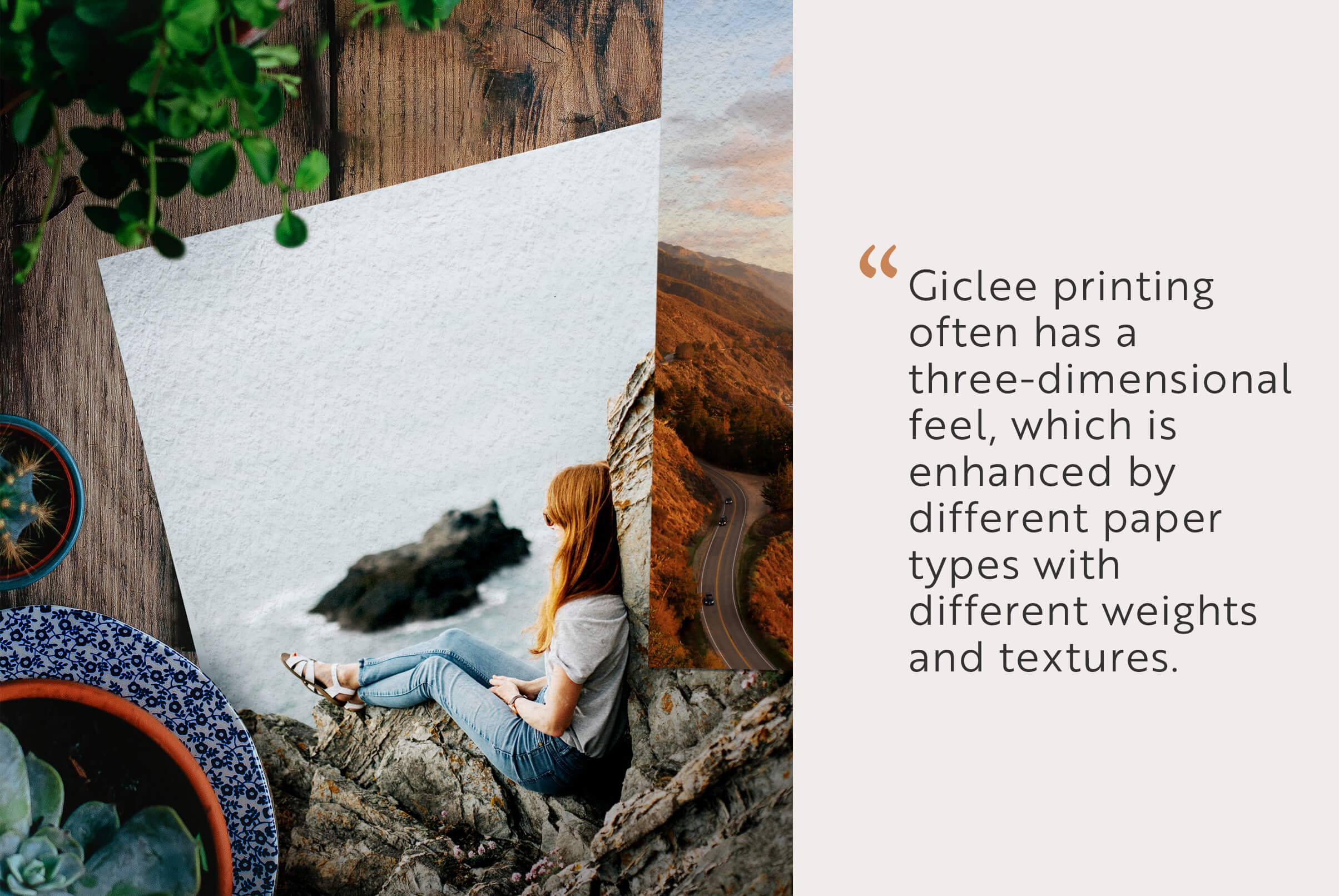 Our Giclee prints are for professional photographers who prefer thicker, more textured inkjet printing. 
Using high resolution, large format printers, archival inks and a variety of paper types, Giclee printing often has a three-dimensional feel, which is enhanced by different paper types with different weights and textures. Here's a quick breakdown of the different papers and when to use them. 
Low Texture – Bamboo 290: Matt FineArt – Smooth. 290 Gsm, 90% Bamboo Fiber, 10% Cotton, Natural White
This super smooth paper is best for warm toned and monochrome prints. While its archival quality is ideal fine art, digital art, limited edition and exhibition prints – these will last a lifetime – it's also suitable for albums and greeting cards. 
Medium Texture – Albrecht Durer 210: Matt FineArt – Textured. 210 Gsm, 50% Cotton, 50% A-Cellulose, White, Mold-Made
This paper, with more texture than Bamboo 290, is a traditional watercolor paper that heightens the artistic quality of any image. Like the Bamboo 290, it's ideal for a range of image types, from fine art with high archival standards to albums and greeting cards. 
HEAVY TEXTURE – German Etching 310: Matt FineArt – Textured. 310 Gsm, 100% Cotton, White, Mold-Made
The most coarse giclee option, this paper adds highly textured surface to your images. Like the medium and light papers, it's ideal for a range of uses – it all depends on how much grain you like. What's also cool about this paper is that it comes from Hahnemuhle, a company which has been around since 1584, centuries before photography was even an idea. 
Displaying Printed Photographs 
Now that you've upped your printing game, it's time to think about display and framing options. Like the printing process, framing your work used to be a toss up between breaking the bank on custom frames or getting cheap, particle-board standard frames. Like our custom printing, Printique offers a variety of affordable professional quality custom framing options to help your work shine – whether it's displayed above your couch or in a gallery. 
Once you're through the editing, printing and framing process, the next step is determining how you are going to display your work. 
If you're exhibiting your work in a group show, the gallery is likely working with a curator who has their own vision for how to display your work alongside other talented photographers. 
However, if you're preparing for a solo exhibition, are producing your own exhibition, or are trying to organize your work in your home, Printique's Wall Design Wizard can save you a lot of trouble – and math! The best part about our Design Wizard is that it's free. It's also a great way to virtually sell multiple prints to collectors by showing them different ways the work might look on a wall or even in their own homes. Check out the tutorial below to get started.
How to preserve and care for your prints 
Printique prints may be archival, but we highly recommend the following easy steps to preserve and care for them. If you're framing using Printique frames, you won't need to do much as we use all archival materials and UV coated glass to protect your images from fading. If you're storing them in a portfolio book or box, we recommend using acid free materials. Make sure to keep them in a dry (30-40% relative humidity), cool (room temperature or below, but not too cold!), clean, and stable environment. For best results, avoid attics, basements, and other locations with potential leaks and environmental extremes. 
After you make your prints, it's time to start thinking about making a photo book. We've got you covered in our epic guide 'How to Make a Photo Book.'