Valentine's Day is a chance to show your partner how much you care, and what better way to do that than with a celebration of the memories and time you've spent together? Whether you've been a couple for decades, years or months, photos are an incredibly versatile medium that you can use to make a truly one-of-a-kind gift for that special someone.
This gift is an important one that many people struggle with, and we get it. With all the choices and the pressure, it can be daunting! To help ease the process, we've put together a Valentine's Day Gift Guide.
Choosing the Photos
One of the most difficult — but fun — parts of a photo gift is looking through all of your pictures. Carve out some time to walk down memory lane and narrow down your favorites.
Look for photos that:
-Show the two of you in a romantic and fun light. 
-Are high-quality enough for the gift you'll be using. For instance, large-size canvas prints likely require an image that's higher in quality than a small wallet-sized print would. If the image is too low in quality, it can come out blurry or pixelated. Many of our editing tools will alert you if this is the case.
-Show things that are special to you both. If you have an inside joke or a vacation destination that means a lot to you, think about using an artistic shot in your gift.
And what do you do if you can't decide on one? Consider an option that includes multiple photos, like a photo book or calendar. Then you don't have to choose!
Gift Ideas for Your Significant Other on Valentine's Day
Once you've got the hard part done and narrowed down your photo ideas, it's time to look at what you want to print your photo on. Here are some ideas that are perfect for showing your love on Valentine's Day.
1. Photo Books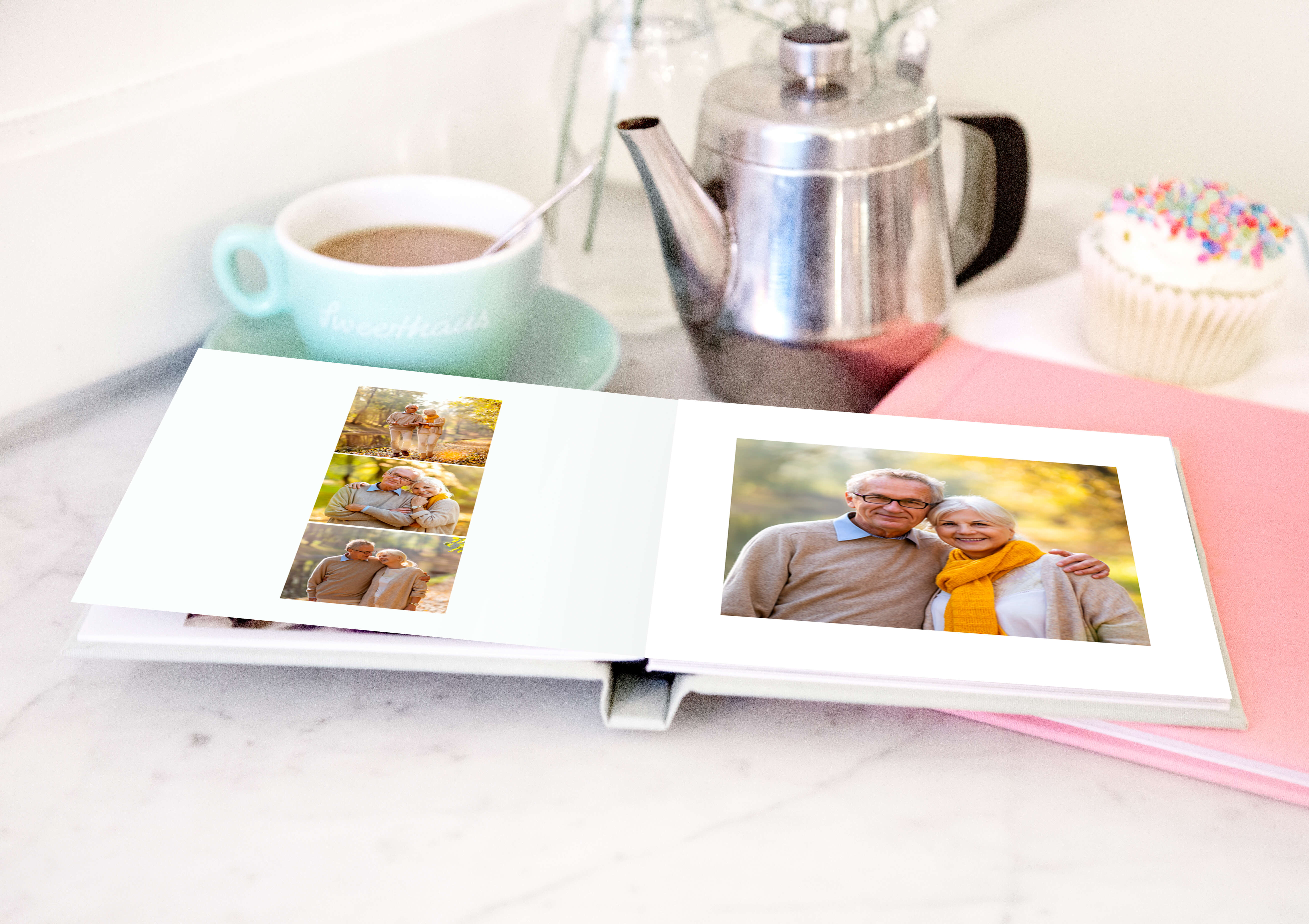 Photo books are a classy but simple way to put all your memories together. Document your relationship's journey over the years or show off your best pics together. You could also put together a gallery of wedding photos or pictures from an anniversary party. However you do it, photo books are a professional, well-loved option that you can enjoy and reminisce over for years to come.
Our photo books use sturdy, high-quality paper and covers and come with a variety of customization options, like:
Size: Sizes range from 6-by-4.5 inches to 12-by-15 inches.
Finish: Choose from high-gloss, silk and matte finishes, as well as textured options like linen and pebble.
Paper: We have six different kinds of paper to choose from.
With elegant cover options and a lay-flat design, these will also look great on your coffee table or bookshelf.
2. Photo Albums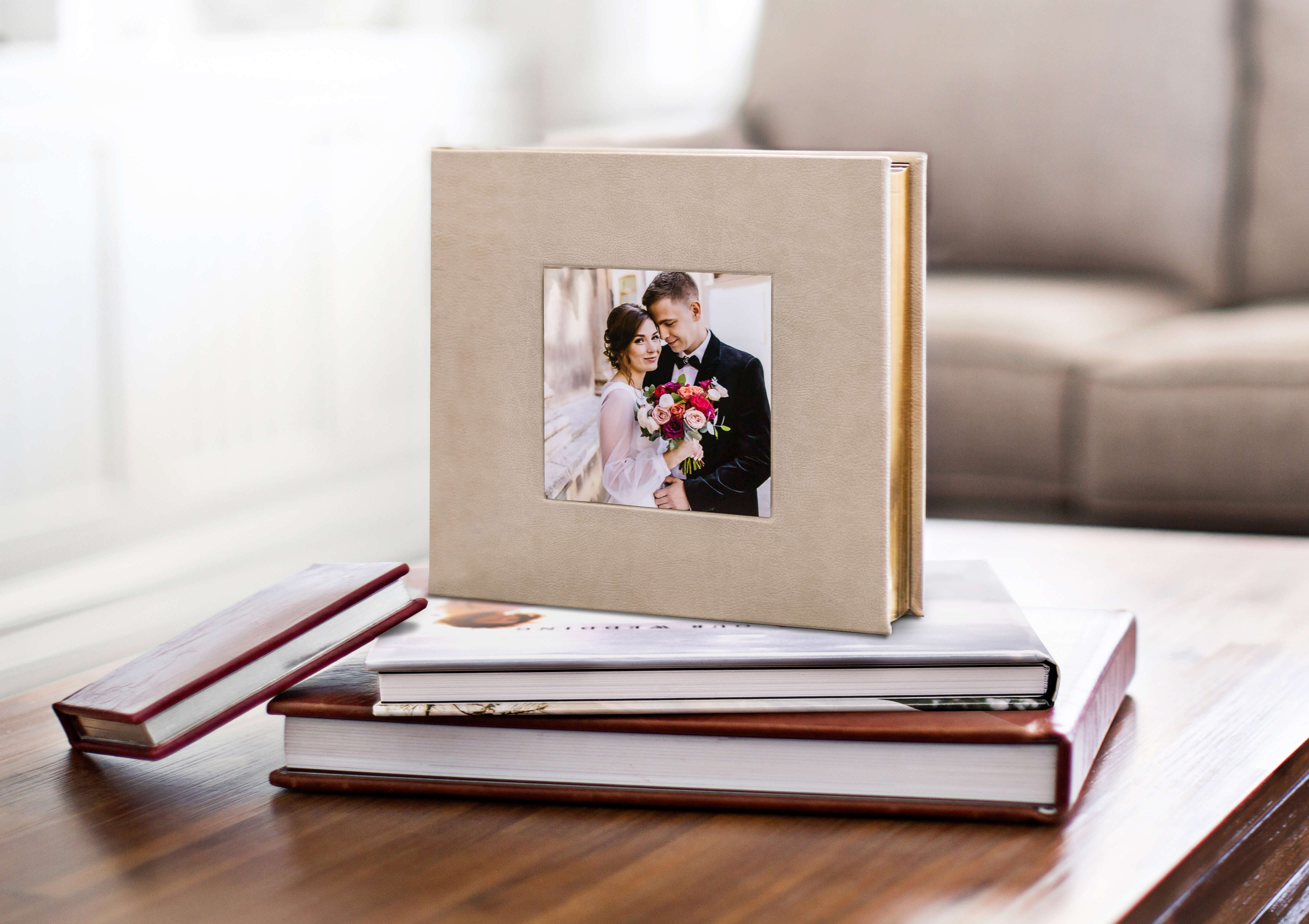 For an extra-elegant touch, a photo album offers exquisite details and features to add some charm to your finished product. Use it to show your loved one how much you value the memories you've shared.
Photo albums use thicker pages, so they don't bend or curl, and can have gilded edges for a decorative touch. Add on a genuine leather cover with debossed text, and you've got an album with dimension and class. Debossed text is a wonderful way to add a professional but personal feel. Consider using your names or add the year you were married for a wedding album.
3. Calendars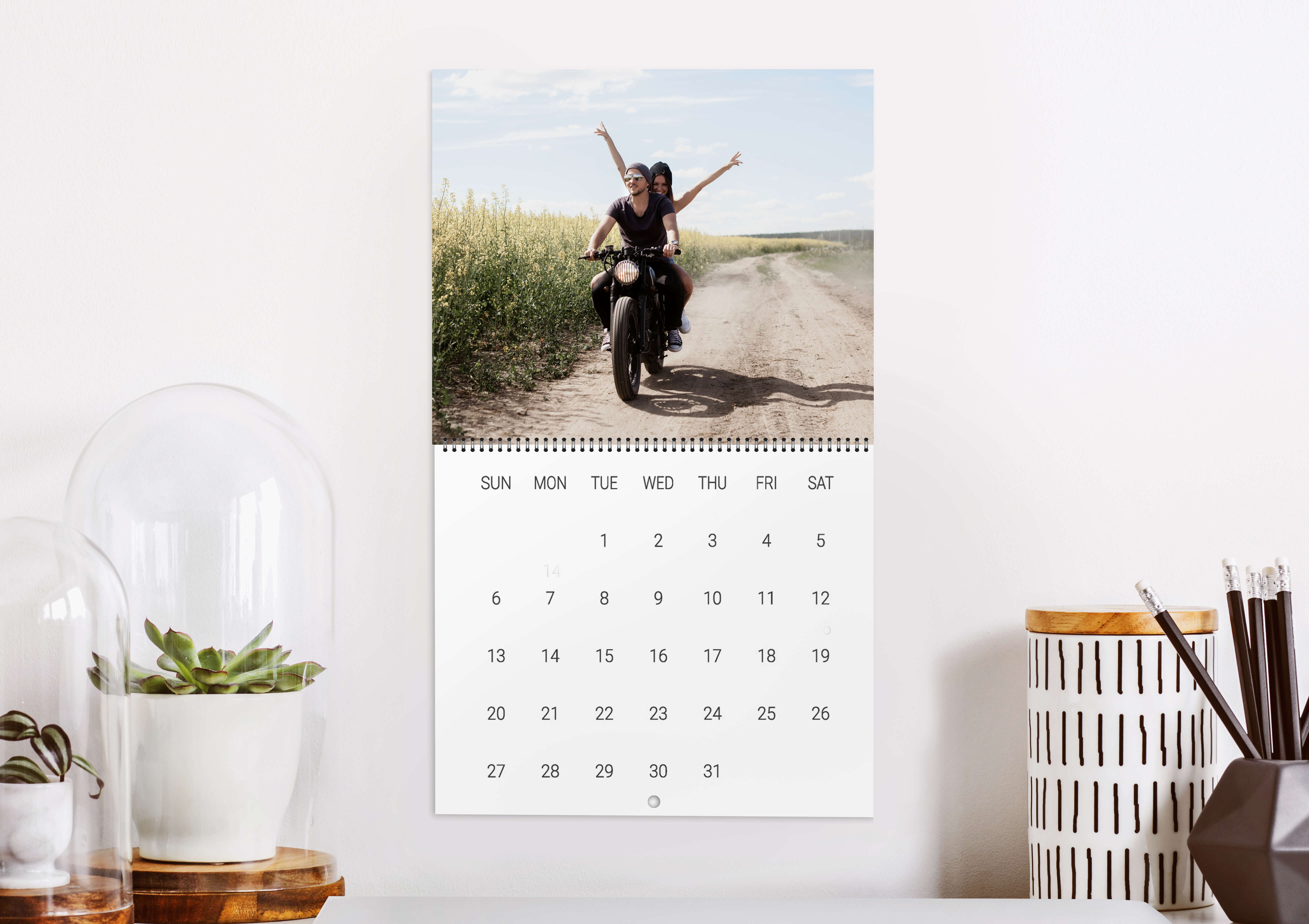 Keep the love going all year round with a new photo every month. Each time your partner turns the page on a custom photo calendar, they'll be greeted with another memory of you two. You can include traditional photos of you together or opt for more subtle images, like a picture of the place you first met or a close-up of your wedding rings from that special day.
Calendar layouts include top-hanging, centerfold and desktop options. Choose different time lengths, finishes and sizes for the perfect look. And, since you're already past January, you can customize the start date of the calendar for February or March to get the most out of it.
4. Canvas Prints
This classic print option puts your favorite memories on display with a thick edge between the surface and the wall that extends your image. With heavyweight canvas and a sturdy frame, a canvas print can elevate your photos, making them look as welcome in your home as in an art gallery.
5. Metal, Acrylic or Wood Prints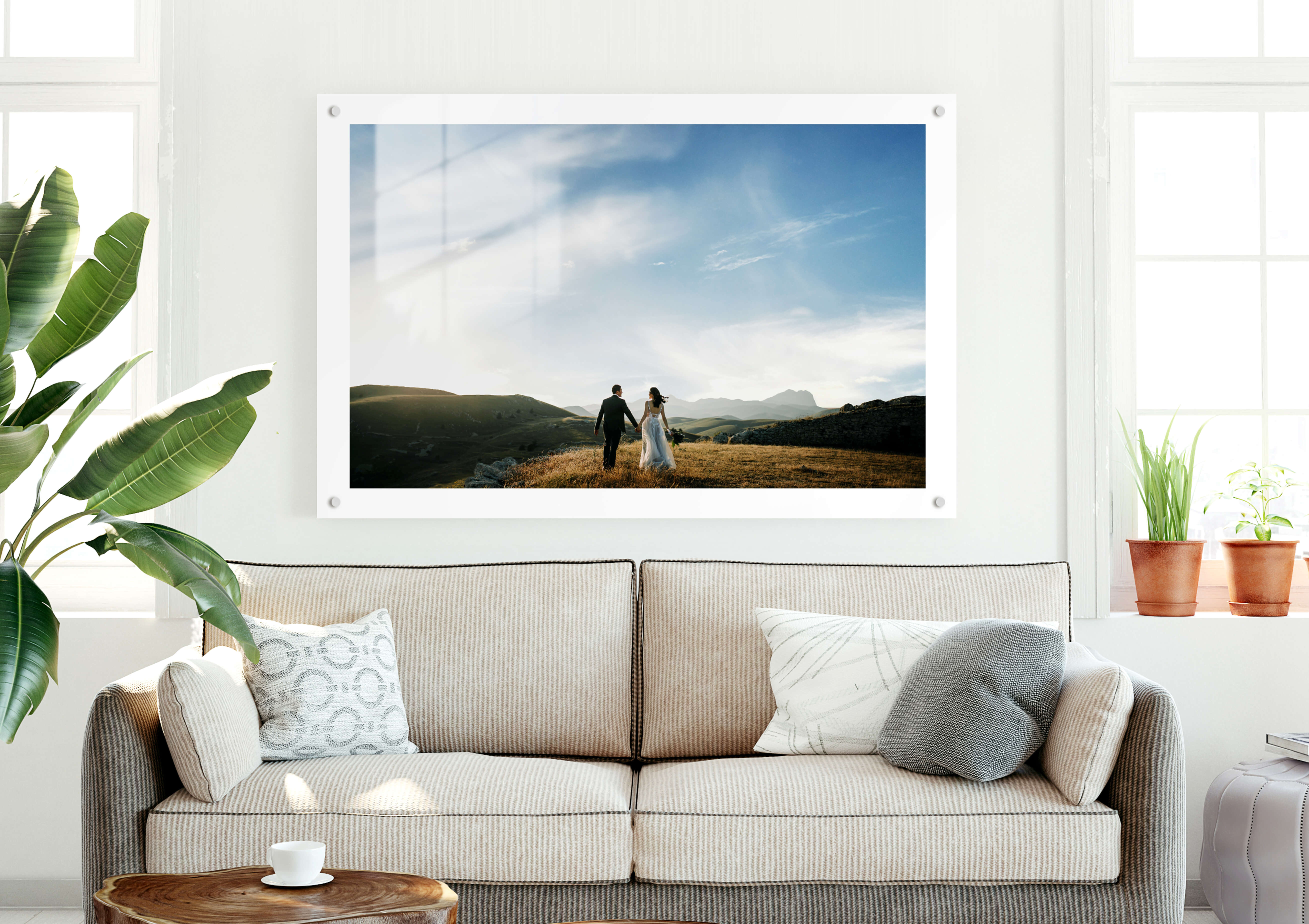 While traditional prints are stunning in their own right, a photo on an alternative material can really pop and is sure to grab the attention of all of your guests. Each material offers unique characteristics and affects your photo differently.
Acrylic: Printing a photo on an acrylic block gives you a vibrant sheen, professional mounting options and a dimensional quality due to its thickness. These prints look stunning wherever you place them, whether that's floating on the wall or sitting at your partner's desk at work.
Metal: For a beautifully modern appeal, try printing your photo on metal. These metal sheets have a unique sheen and color quality that transforms your image. They are also durable and can stand up to water and sunlight without affecting your photo since the image is fused with the metal. Learn more about the unique process in our guide to metal prints.
Wood: Wood prints offer a beautiful, soft matte finish that can add a romantic feel to your image. They show the natural grain of the wood and can add an organic tone to indoor images or accentuate the natural feel of an outdoor photo.
6. Photo Prints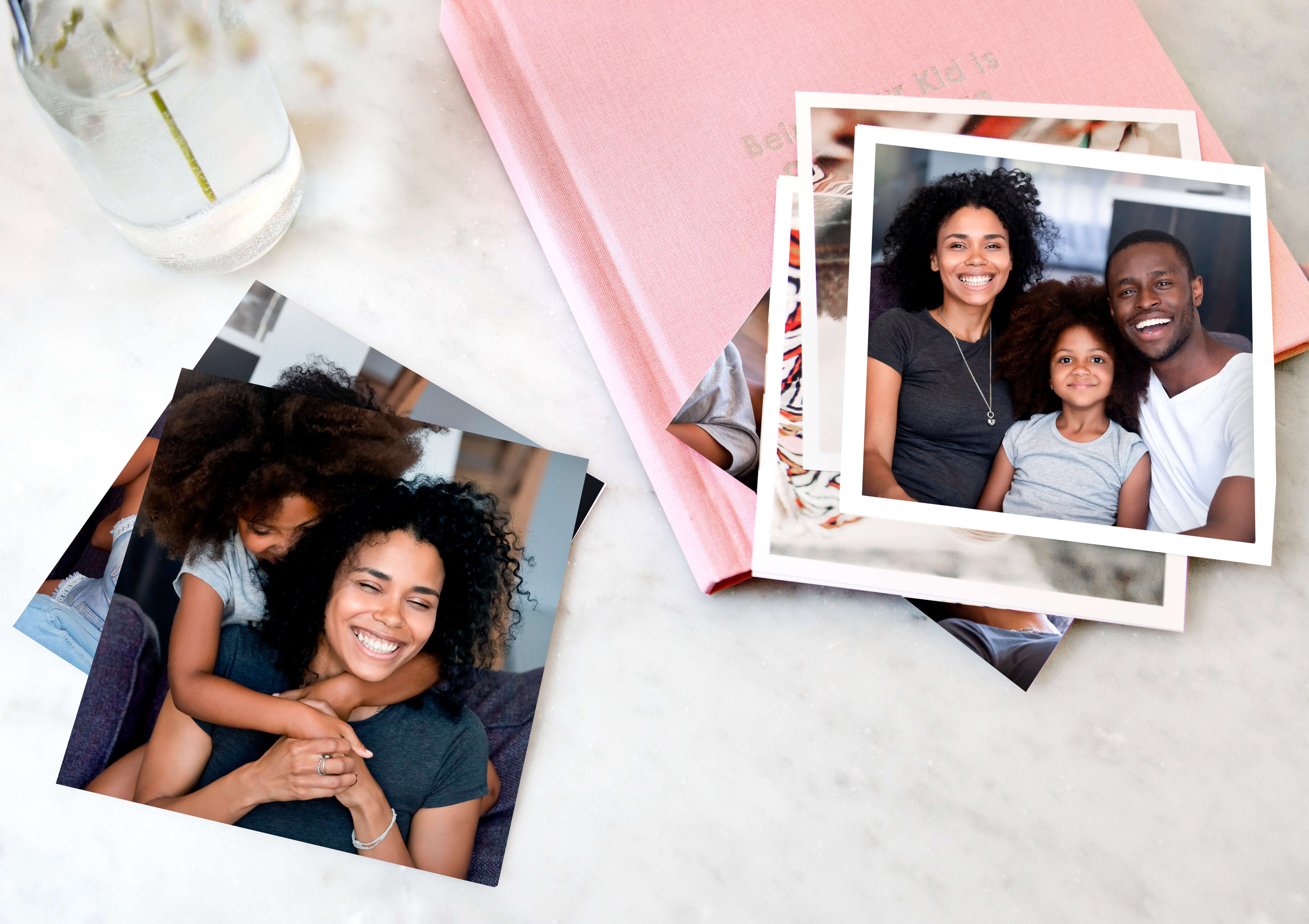 And finally, an understated but just-as-meaningful approach: the traditional printed photo. With a heartfelt, intimate present like this, your partner can see exactly where your love lies. Gift a picture of the two of you in wallet size so that you can be with each other all the time. Or, give them a large framed print to display on the wall. You can also create a collage of your favorite pictures to bring everything together. However you want to display your prints, you have plenty of options.
Romantic Custom Photo Gifts From Printique
There's truly something for everyone when it comes to putting your precious memories on display. Whether you want to shout your love from the rooftops with a large-format print or keep things simple and romantic with a meaningful book, we can help. We offer a wide array of custom photo printing options, all with high-quality results and exceptional customer care.
At Printique, we've been printing for over 20 years, which has given us plenty of time to perfect our processes and offer you beautiful photos in many formats. With excellent and authentic customer ratings and the Printique Promise, you can be confident that we're treating your Valentine's Day gift with all the care and quality that your partner deserves. Browse our product offerings today to find the perfect gift for them this year.