When it comes to creating custom photo gifts, the endless possibilities can seem daunting.
Should you create something decorative or something sentimental? How much time can you invest in your custom creation? Will your recipient like the photos you selected? What photo materials will make your image look best?
With the perfect amount of time between now and the holiday season, we've put together a guide to help you make the most of our favorite Printique gifting items. With a quick read of the guide below, you'll be ready to start crafting the greatest gift of the year – with no doubt in your mind!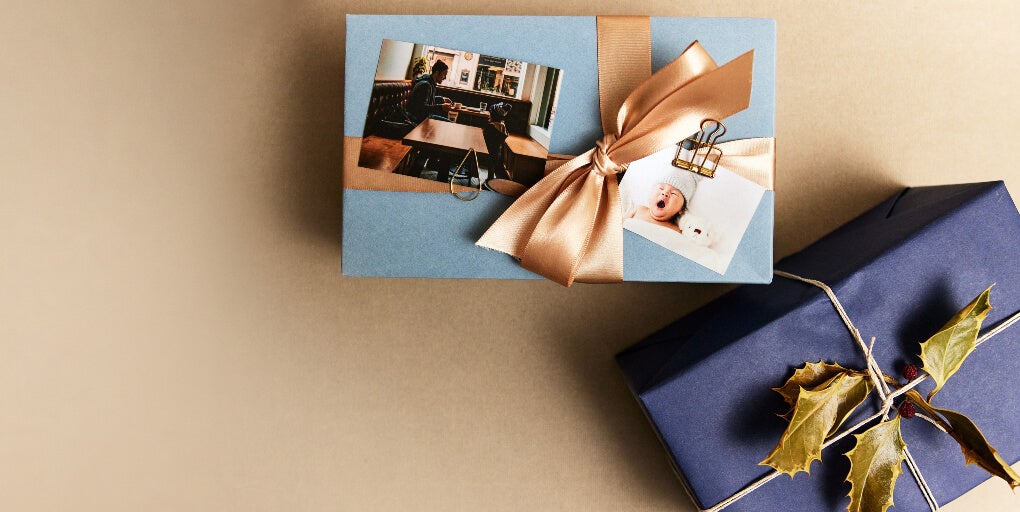 We'll walk you through why we love each of our most popular gifting options; Plus we'll share exactly how we recommend bringing them to life!
Find a gift that suits the message you want to send this year and get crafting! The sooner you start, the sooner you get to experience that magical gift-giving moment.
Happy holidays!
---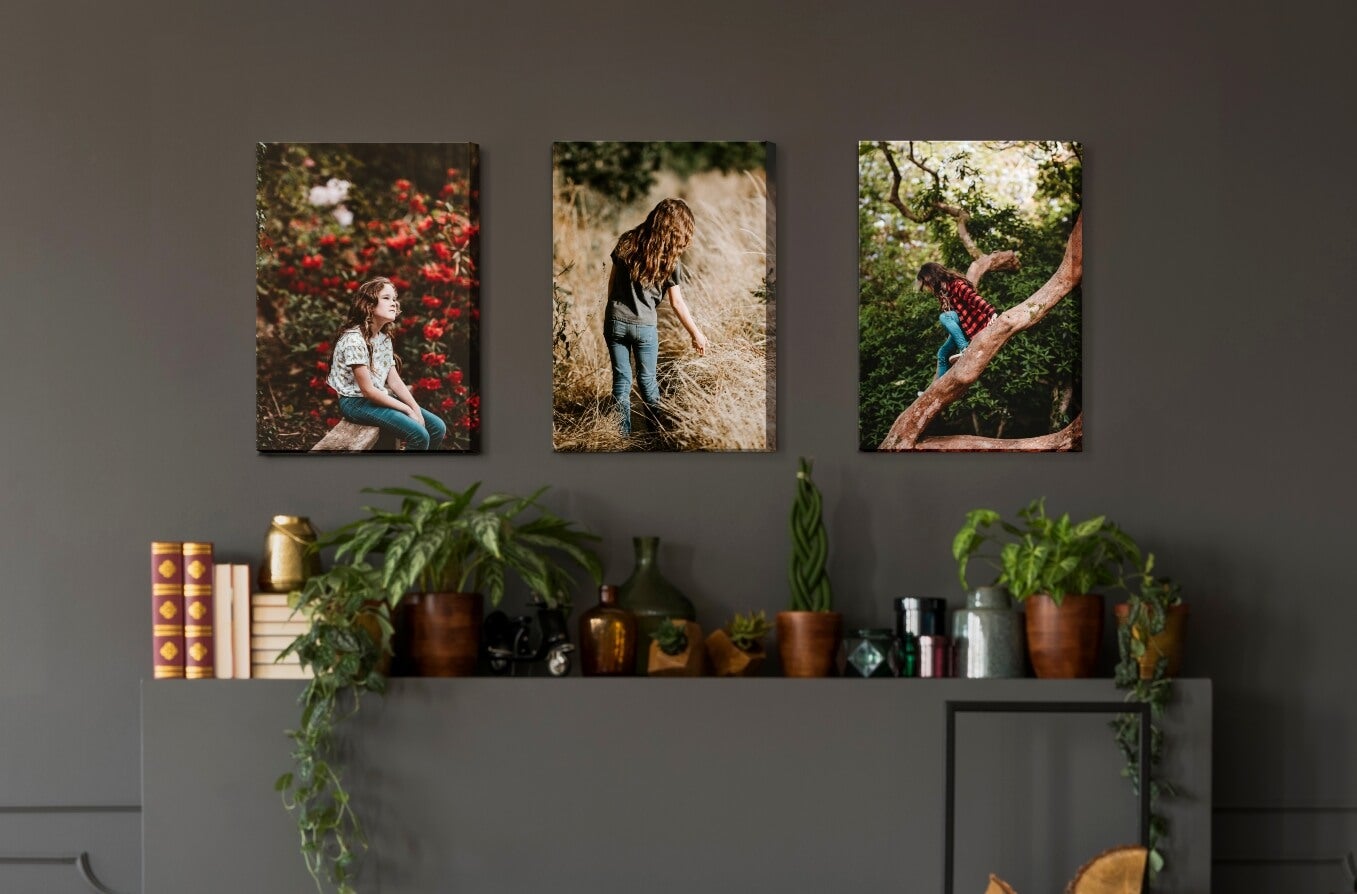 What is a canvas print?
Printique canvas prints are created by hand-stretching gallery-quality, heavyweight canvas over a sturdy 1.25inch pine frame.
Why do we love canvas prints?
The timeless, artistic, and sentimental display of canvas prints make them a can't-go-wrong gifting option. Canvas has the power to elevate even your simplest photos into an awe-inspiring display – so dig through the archives for that perfect little memory!
Canvas is also a simple gifting option, as it only takes one image to create a stunning gift. You can start and finish your canvas creation in less than 10 minutes!
How can you take canvas prints to the next level?
We've seen our customers use a number of awesome tricks to take our gallery-quality canvas to the next level.
One option is to add words to your canvas print. You can overlay words on your favorite images using photo editing apps such as Canva. The opportunities are endless when you begin blending written language with your photographs; add sentimental quotes, write a heartfelt love letter, or feature significant dates. This simple touch opens the door to new levels of thoughtfulness and personalization. Your recipient will know just how much time and care you put into creating the perfect gift.
You can also elevate your canvas gift by turning your favorite photos into black and white images. A set of black and white canvas images will pack a powerful amount of emotion, nostalgia, and artistry – making it a gift anyone would be thrilled to receive!
---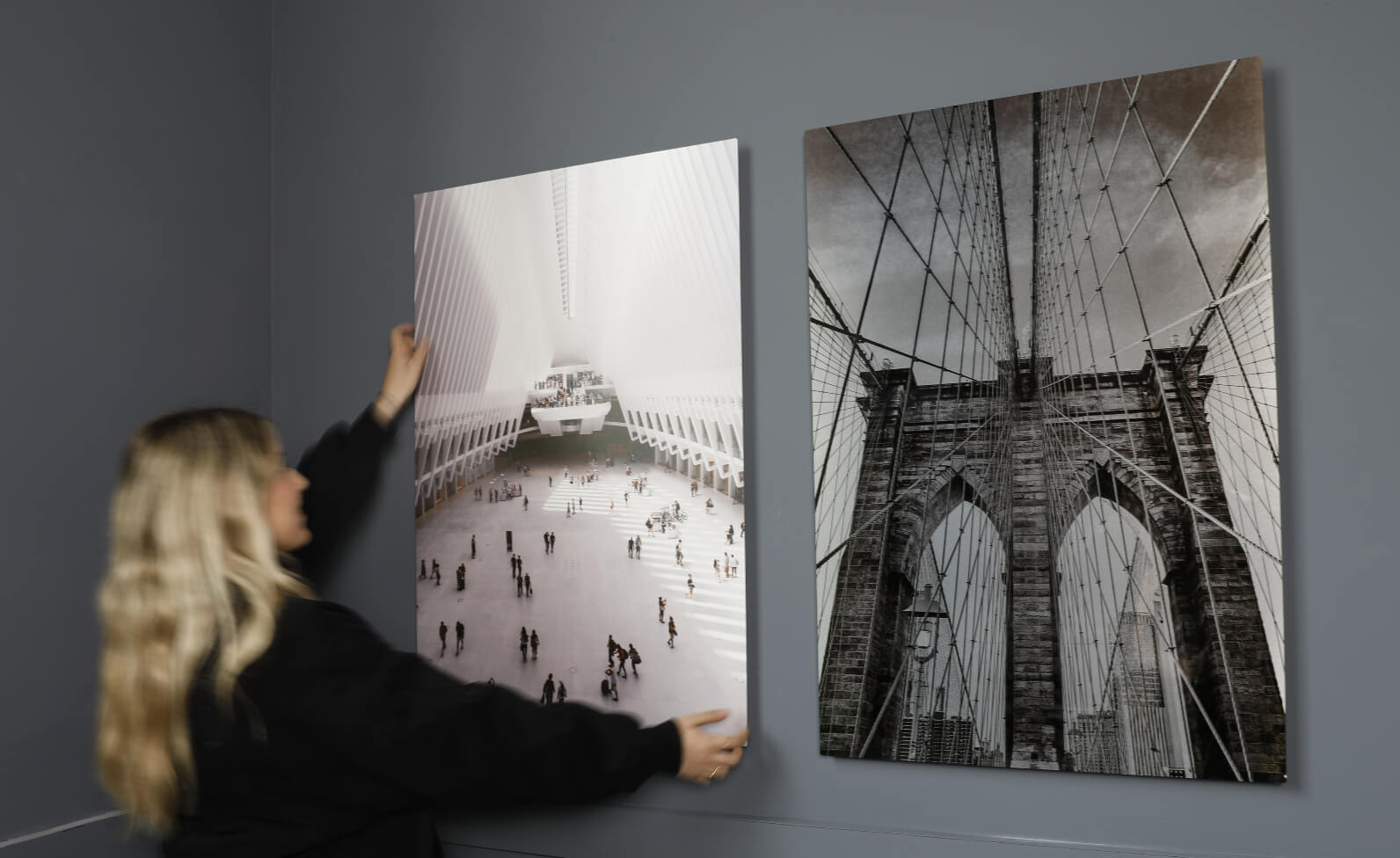 A metal photo print is a specialty print in which images are infused onto sheets of aluminum. What results is a sharp, crisp, and vibrant image of quality far superior to what inkjet printers are capable of.
Metal prints are known for their luxurious, sleek texture. They blend seamlessly into modern and industrial interiors. Printed to either stand or hang, metal prints do not require frames. The moment your metal gift arrives, it is ready to be put on display!
We love metal prints for their one-of-a-kind appearance and break from the norm. Plus, metal prints are durable enough to use as outdoor décor. If your recipient has a patio, pool area, or outdoor bar area, metal prints are a thoughtful way to help your loved one take their decor beyond their doors!
One simple way to take your metal prints to the next level is to select the best finish for your phoo!
We offer four unique finishes for our metal prints: glossy white, white satin, glossy silver, and silver satin.
A glossy white finish on your metal print will create a bright, saturated final image. The white satin option will give your photo on metal even-toned, lifelike colors with a soft, glare-free finish. Select the glossy silver finish and your metal print will arrive with silvery metal highlights shining through its glossy finish, giving your image a luminescent beauty. Achieve a softer metallic finish with our silver satin option, which will give your metal print softer tones and soft, silver highlights that create a dreamy luminescent aesthetic.
The photo above captures the beautiful appearance your metal prints can have when complemented with the right finish!
Looking for a simple metal gifting option? Turn your favorite mobile photos into 4×4 metal prints; Just like that, you'll have an adorable custom coaster set!
---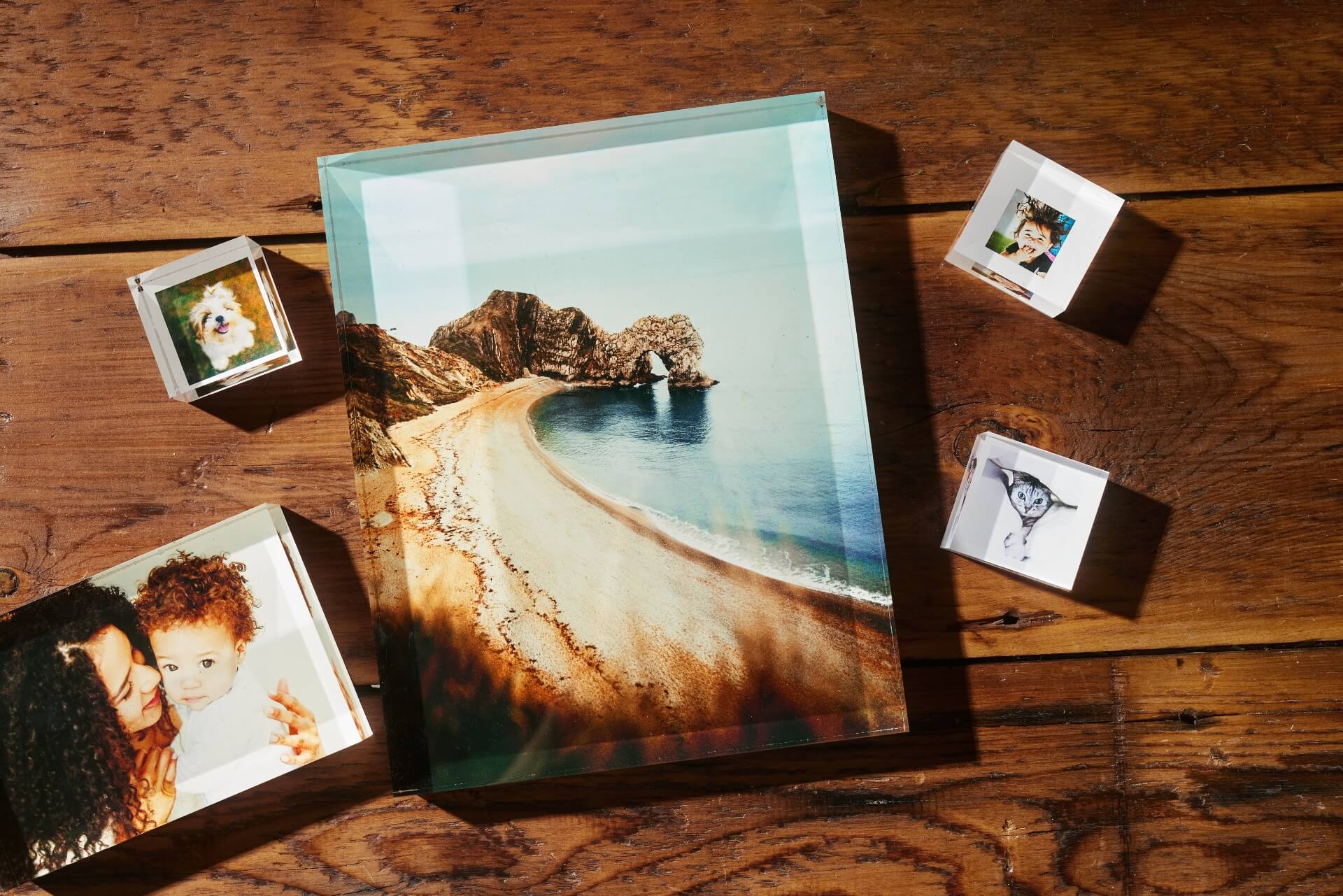 What is an acrylic block?
In the simplest terms, an acrylic print is one of two things: it is a photo printed directly onto a sheet of acrylic, or a photo printed on premium, archival paper, then mounted to a sheet of acrylic. In both styles, what results is a vibrant and crystal clear presentation of your photograph, now experienced with added depth, richness, and vivacity.
Why do we love acrylic blocks?
Acrylic photo blocks are the diamond of the photo printing world. They turn memories, big or small, into heirloom-quality gems. They give dimension to your photos, allowing you and your loved ones to relive your memories with the depth and warmth of the moment itself.
How can you take acrylic blocks to the next level?
One way to take your custom acrylic gift to the next level is by creating something functional! A functional acrylic block might include printing a cooking cheat sheet, a measurement conversion chart, or a bed time checklist (for friends with young kids). The durability of an acrylic block makes it the perfect piece to display in a busy, occasionally messy bathroom or kitchen, so make your gift an aesthetic one that also keeps giving!
Another way to make the most of acrylic prints is to think small – you read that right! Our acrylic blocks are available in cubes as small as 2x2in. These small blocks give you the opportunity to bring multiple memories to life without breaking the bank.
Sprinkle these small but powerful gems around your home in the days leading up to holiday celebrations. You'll fill the house with love while getting the entire family in the holiday spirit. What's better than that?
Learn everything you need to know about acrylic photo blocks here!
---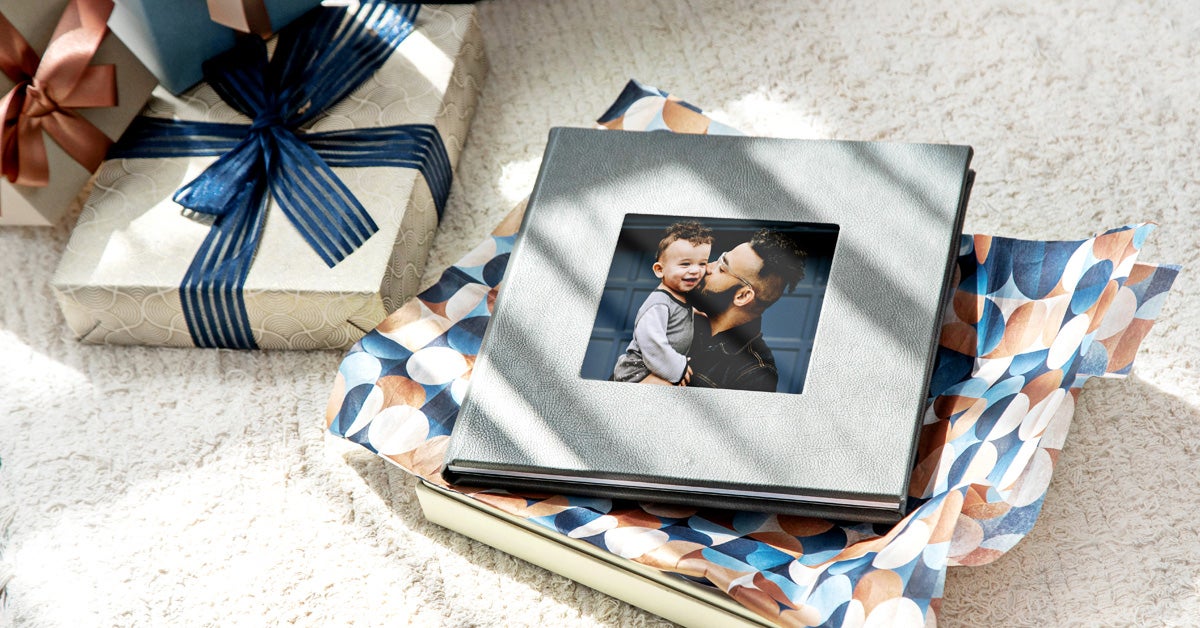 What is a lay-flat photo book?
A lay-flat photo book is exactly what it sounds like; it's a photo book that lays completely flat when opened, meaning none of your precious photos will be lost in the valley of pages. At Printique, we print every single one of our photo books using binding designed for lay-flat display. Enjoy all of your carefully designed pages in all their glory!
Why do we love Printique photo books?
The reasons to love a Printique photo book are endless.
We love the range of colors, textures, and styles offered for our photo books. From fabric die-cut covers to vegan leather wrapping, you'll be able to find the perfect style for every occasion. The photo book experience begins the moment your photo book reaches your hands, so we encourage our creators to design their photo book from cover to cover, putting just as much care into the outside of their photo book as they put into the inside.
Our photo books are also specially designed to stand the test of time – no matter what that time has in store. Photo books are meant to be held, explored, and passed from one loved one to another. From the eager, fumbling hands of your curious toddler to the nostalgic, patient hands of your grandparents, our pages will hold your memories intact for all to enjoy.
See more reasons we love our photo books here, and learn 6 tips to create your best photo book ever.
How can you take a Printique photo book to the next level?
A photo book gift gives you all the room in the world for letting your creativity soar! Lucky for you, we spend a lot of time brainstorming creative ways to use photo books as well.
The best way to level up your gift is by deciding on a meaningful theme before you start crafting. This theme might be Reasons I Love You, Our Greatest Memories, Our Cook Book Bucket List, or anything in between. Not only will a meaningful theme help during your image-selection and design process, but it will make your book all the more meaningful when it reaches your loved one's hands.
---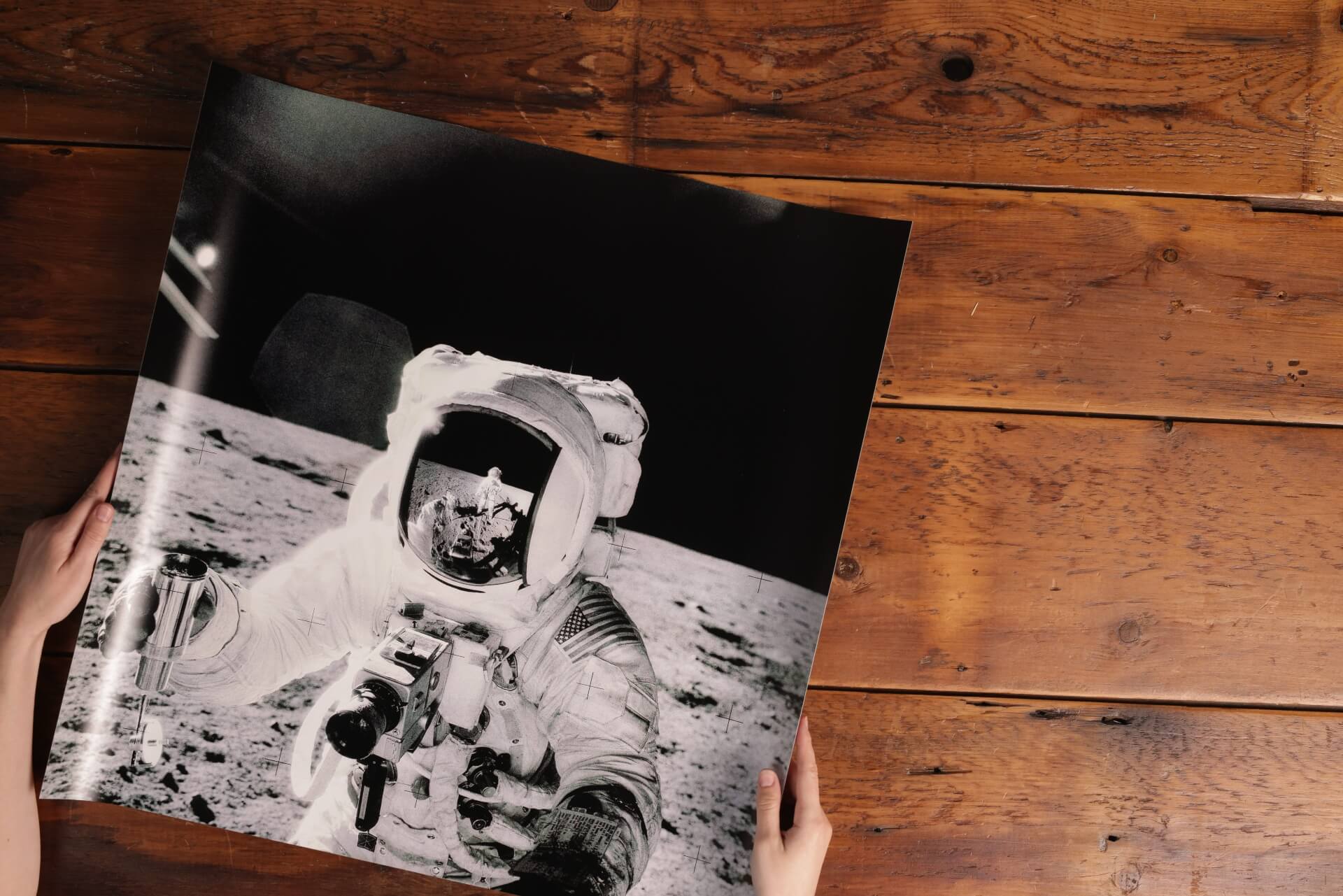 What is a poster print?
A poster print is a large format photo print, perfect for decorating walls with character and ease!
Poster prints are a fun, easy, artistic, and inexpensive way to add your own style to any room – check, check, check! They're available in either a luster, glossy, matte, or metallic finish, allowing you to enhance your image with the style of your print.
Our favorite thing about posters, though, is their power to make anyone feel like a professional artist. Many of us grew up with posters from record stores or magazines hanging on our walls. Seeing your own photograph or work of art turned into a poster has an undeniable sense of professionalism. In short: it's just so cool.
How can you take a poster print to the next level?
By putting a little extra thought into the interests and passions of your recipient, you can create a poster print that absolutely wows them.
Do you have strong photoshop skills? Edit your loved one in to a scene or promo image of their favorite movie!
Do you know their favorite songs? Mix relevant lyrics and your favorite photos to create the ultimate poster collage.
Do you have a knack for building upon fictional worlds? Use a poster print to create an artifact from a fictional world they love. Maybe it's a map of Westeros or the official rules of wedding crashing – let your mind run wild!
---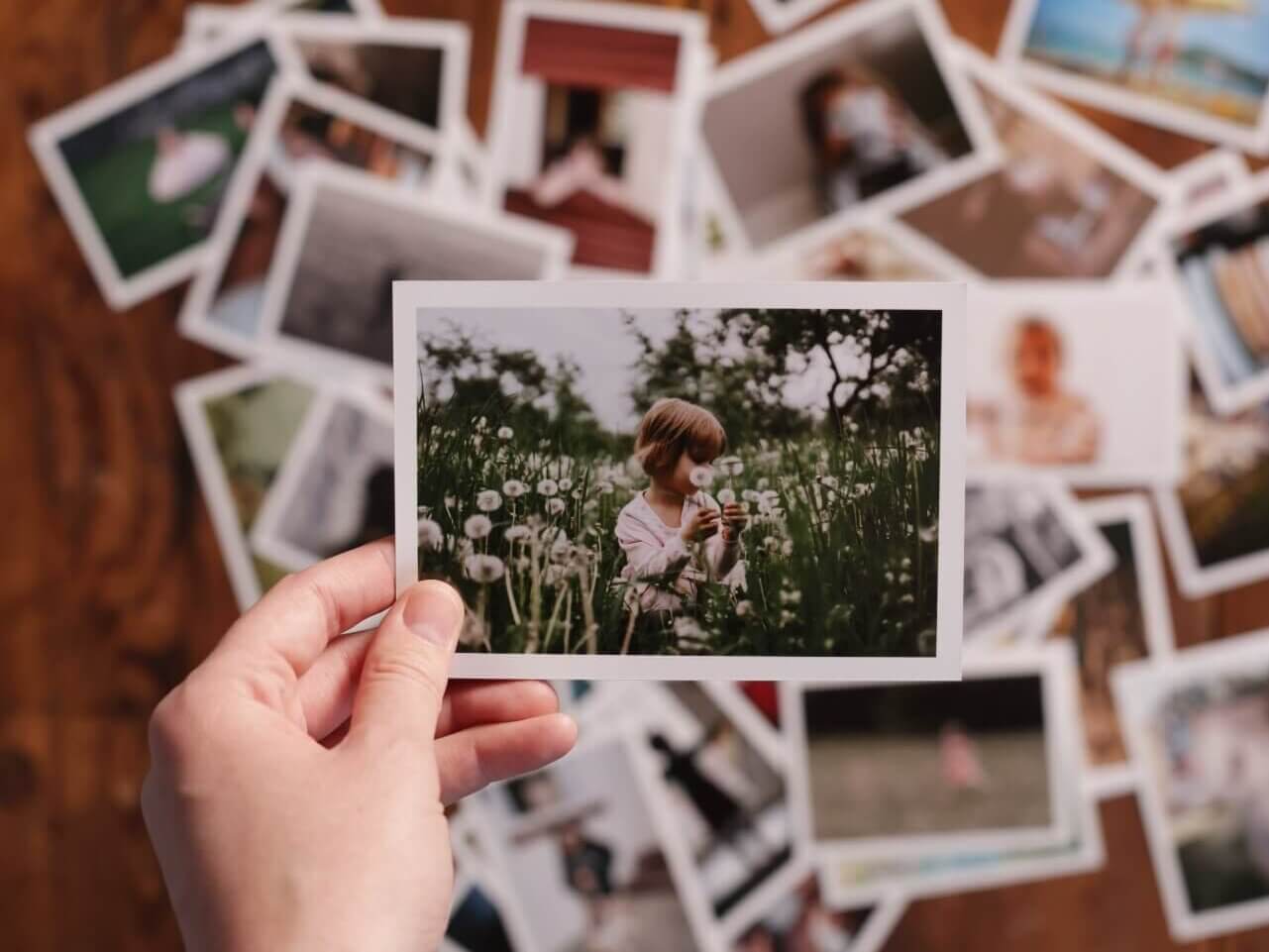 What are classic prints?
Classic photo prints are what likely come to mind when you hear the words "photo prints." They range in size from 3.5x5in to 12x36in. Any larger than that, and they fall under the category of poster print.
Why do we love classic prints?
There is so much to love about classic prints; after all, the classics are classics for a reason.
Classic photo prints cost less than $0.50, meaning you don't have to be quite as picky when it comes to deciding what to print. The light weight and small size of classic prints makes them perfect for decorating hard-to-decorate spaces. They can be added to bedroom or closet doors, used along the border of mirrors, or hung on the fridge with magnets.
Best of all? The low price and light weight of classic photo prints doesn't inhibit their quality. Printique offers professional, state-of-the-art printing services to all of our clients – professionals and non-professionals alike!
How can you take classic prints to the next level?
When turning classic prints into the gift of the year, don't forget to embrace their simplicity. In the same way that a handwritten letter can be more powerful than a typed one, classic photo prints can carry impressive amounts of sentimentality and nostalgia.
To take your classic print gift to the next level, we recommend adding heartfelt, handwritten notes to the back of each image. Be creative and fill your gift with a year's worth of happy words: share little anecdotes, challenges for the upcoming year, motivational quotes, and stories of times you've shared together. It's a gift that requires care, thought, and time commitment – three things that communicate to your recipient just how much you love them.
---