Acrylic photo prints are among the most unique styles of photo printing – if not the most unique style. But their breathtaking, high-end qualities are overlooked by many – professionals, hobbyists, and casual photo takers alike. This is likely due to the lingering question many people are left with after stumbling across the option in a Google search result or on a photo printer's website: "What are acrylic photo prints?" Without knowing what an acrylic print is, it's impossible to know just how incredible they are when it comes to displaying your favorite photos!
If you've printed your photos on multiple occasions but have yet to experiment with the luxury of acrylic photo prints, do yourself a favor: stick around to the end of this article! We're going to walk you through what acrylic photo prints are, how they're made, how they can be displayed in your space, and what image you should select for your first ever acrylic photo print!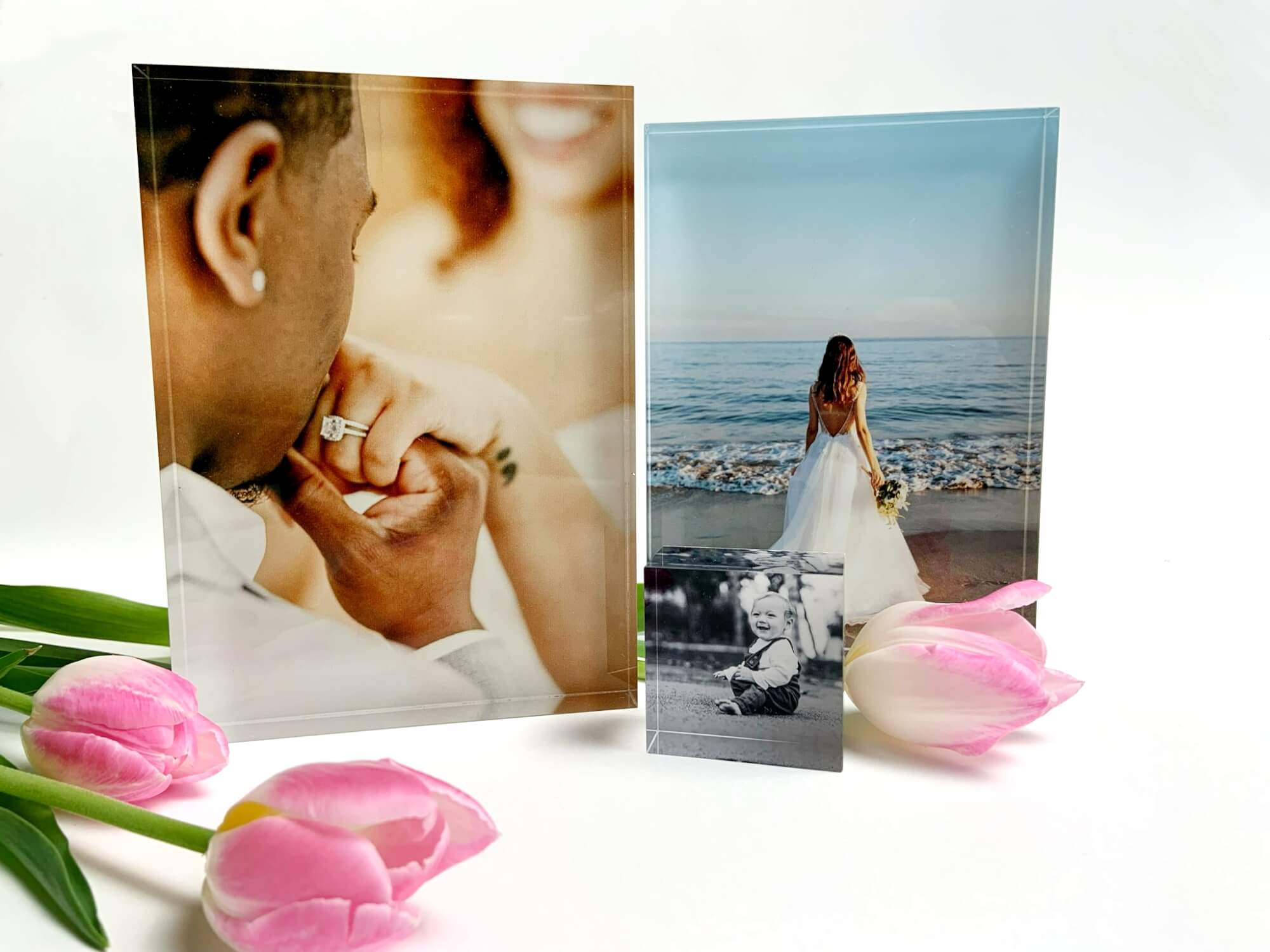 What are acrylic photo prints?
In the simplest terms, an acrylic print is one of two things: it is a photo printed directly onto a sheet of acrylic, or a photo printed on premium, archival paper, then mounted to a sheet of acrylic. In both styles, what results is a vibrant and crystal clear presentation of your photograph, now experienced with added depth, richness, and vivacity.
This décor style is particularly flattering when used in modern-style homes. While the chic, smooth exterior of an acrylic photo print may seem out of place in a quaint or rustic setting, it will enhance a modern interior with its perfect blend of personal and high-end.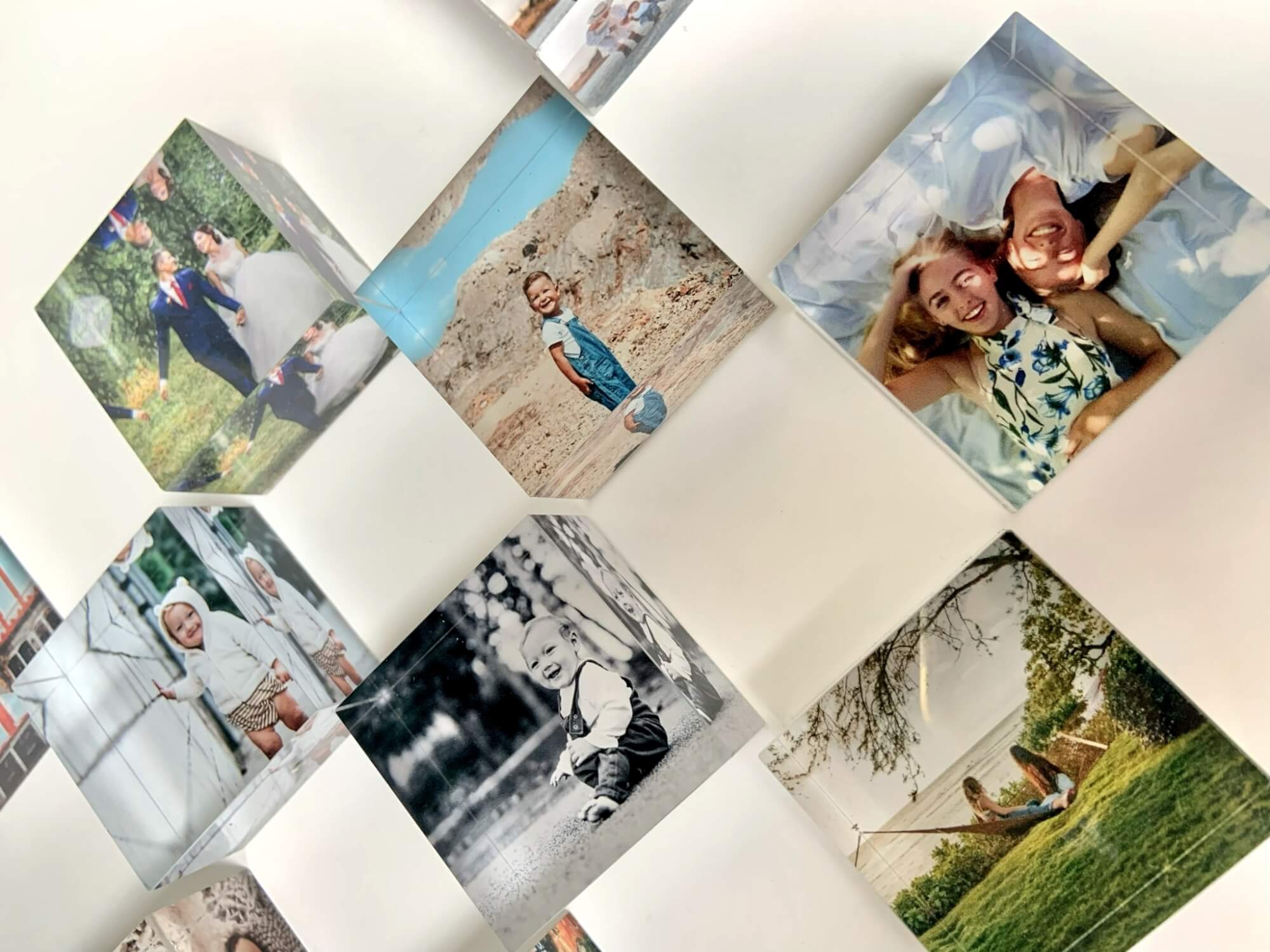 How are acrylic photo prints made?
To understand how acrylic photo prints are made, we have to look back to the creation of the acrylic itself. Acrylic is produced through the synthesis of methyl methacrylate; To synthesize methyl methacrylate, it is mixed with a catalyst and poured into a mold, where it can be heated and sealed. Once the acrylic sheets have been formed, they are then cured for dozens of hours, until they reach a required level of quality. The good news? You don't have to know or understand any of this to enjoy the splendor of an acrylic photo print! All you have to do is upload a photo you love – we take care of everything else!
When you order an acrylic photo print with one-inch thickness, we load our state-of-the-art acrylic print processor with the acrylic sheets we have in house. Our Swiss-engineered inkjet printing technology prints your image directly to the acrylic block. What results is a high-resolution photo print with fascinating depth.
When you place an acrylic photo print order on our quarter-inch acrylic sheets, your image is printed on archival paper before being mounted to the acrylic. It is then backed with a sheet of aluminum to ensure maximum durability and eternal preservation of your image.
What makes an acrylic photo print so special?
There are a number of qualities that make acrylic such a desirable photo printing material. One of these properties includes acrylic's impact resistance, which is 17x that of glass. This makes acrylic durable against bumps and drops that may occur in your everyday life, from children bumping into the furniture where your acrylic is displayed to the chaos of moving from home to home. Acrylic also has greater clarity than glass, with 92% light transmittance ratings in all thicknesses. This means the colors of your acrylic photo print will not be subdued or diluted by light's inability to reach and reflect your image! Acrylic is durable against scratches and dents, available in a range of sizes and thickness, and luxurious in appearance. There's nothing we love more than seeing someone discover the wonder of an acrylic photo print for the first time!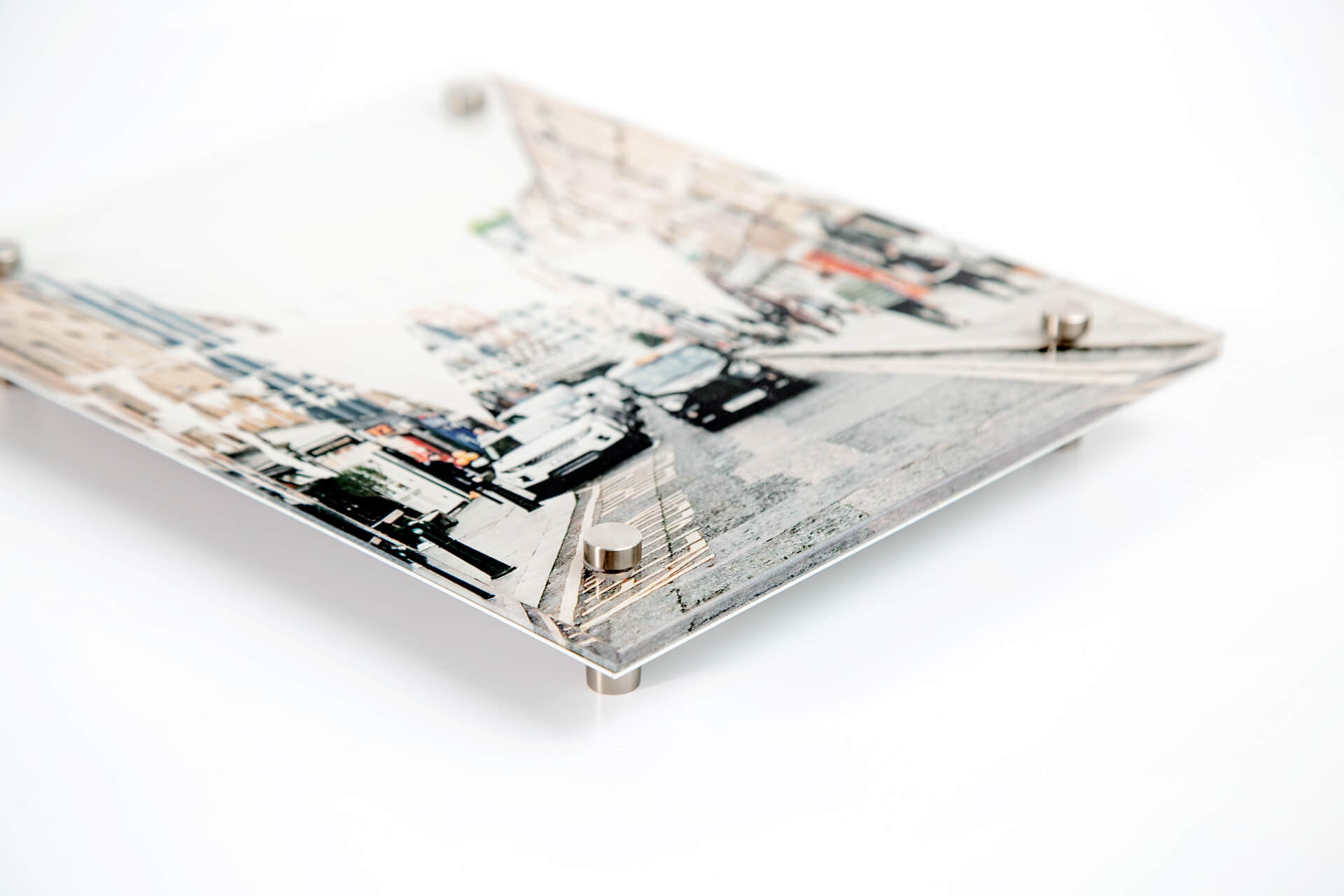 How do you display an acrylic photo print?
Contrary to popular belief, the process of displaying an acrylic photo print can be extremely simple.
The acrylic print style most difficult to display is a quarter-inch acrylic print made for wall mounting. Despite its more involved hanging process, we recommend utilizing this style if you are creating a wall gallery or display that will remain for the long term. A wall-mounted acrylic photo print can become an admired feature of your home. It will never lose its vibrancy or become crooked from bumps or motion in the house.
A wall-mounted acrylic is, literally, mounted to the wall. This is done by inserting the acrylic's mounts into four holes. You will have to manually measure and drill these holes into the wall where you wish to hang your acrylic. The photo is then screwed into place by replacing the caps that lock the mounts to the photo. These caps will prevent your print from sliding off of its pegs, keeping it tightly secured to the wall.
Other than acrylic wall mounts, it couldn't be easier to display an acrylic photo print. Our one-inch thick acrylic photo blocks can stand on their own, meaning they can be used to decorate shelving, night stands, coffee tables, kitchen counters, bathroom ledges – the list goes on and on! While we adore the museum-quality display of a large acrylic wall mount, we can't resist the simple pleasure of a made-for-display acrylic photo block.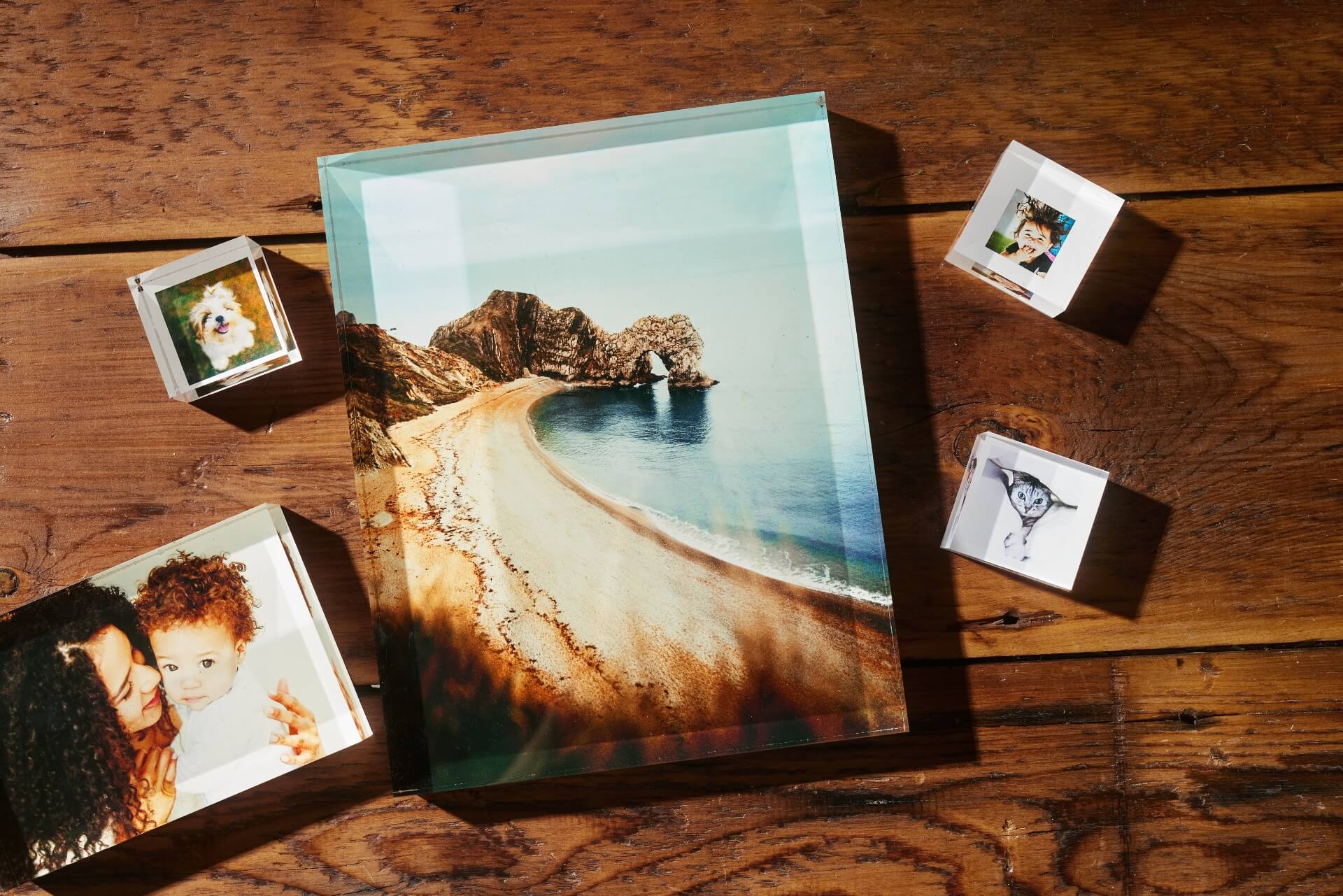 What image should I select for my acrylic photo print?
Now that you know what an acrylic photo print is, it's time for the fun part: selecting the image you're going to print! We have two schools of thought when it comes to selecting the perfect acrylic-worthy image. One option is to select an image with a wow factor; Vibrant, colorful images will experience magnificent transformations when printed on acrylic. Their features will achieve new levels of depth, vibrancy, and richness. Colorful sunsets and luscious landscapes are two photo styles that display wonderfully on acrylic.
The other option is to select a photo you hold close to your heart. Since acrylic is made the last lifetimes, the picture you bring to life with your acrylic photo print will become a tangible treasure you'll have by your side for generations. Baby photos, wedding photos, and family photos are all great options when it comes to printing a photo that means a lot to you.
You're ready to order!
It's time to experience the power of acrylic photo prints first hand! Head to our website, upload your image of choice, and sit back and relax while we craft the most incredible piece of custom art you've ever created.
---