A lot of work goes into creating the perfect photo. Shouldn't the same be said of the material you print it on? Don't risk ruining the impact of your image by choosing the wrong display medium. Professional photographers and casual home decorators alike enjoy the effect that canvas prints offer their photos.
Putting your digital prints on canvas allows them to pop off the wall and take on an elegant but casual texture. These prints are affordable and versatile, making them an excellent option for a wide array of purposes. Despite their popularity, many people still have questions about what a stretched canvas print is. In this guide, we'll demystify canvas prints and show you how they can be an excellent choice for displaying your photos.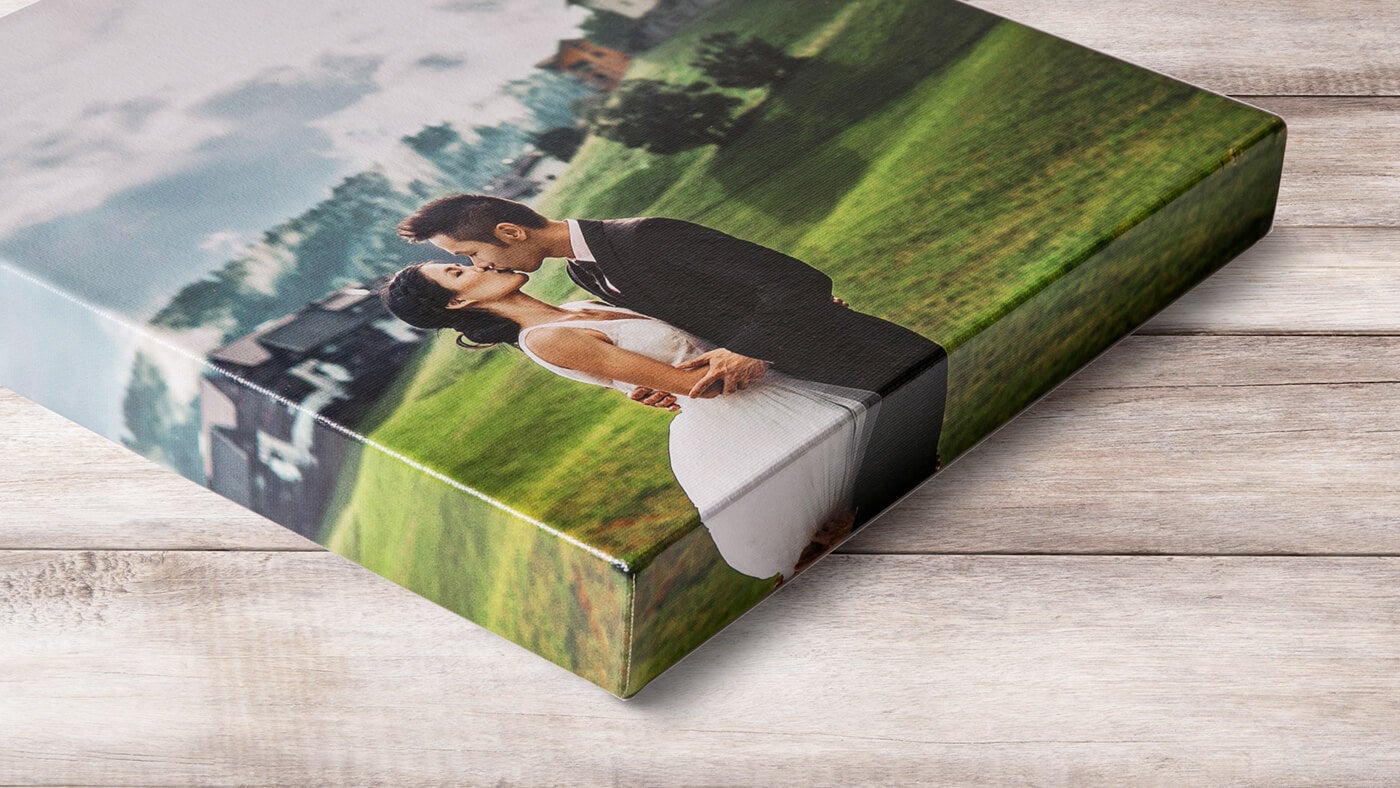 What Are Canvas Prints?
A canvas print is a beautiful way to display your photos, raise them off the walls and give them a unique texture. To make canvas art, your image is printed onto a sheet of canvas in sharp detail and vibrant colors. Next, the canvas is stretched over a wooden frame, so it stays taut. Then, your photo is ready to display.
So, should you frame a canvas painting? Canvas prints look great as they are, but many people like the look of a framed image, too. You still get the depth of a stand-alone canvas, since it leaves a slick floating edge between the frame and the fabric. The question of whether you should frame a canvas painting comes down to preference. Frames can offer versatility and a more polished look. You can also opt for canvases with deeper edges for a gallery-style effect.
You can find canvases made of a few different fabrics. Originally, canvas was made of hemp. Today, the two most popular materials are cotton and polyester, but you can also find blends:
Cotton: Printing on cotton is generally considered the best option. While cotton is not as vibrant as polyester, it will still offer sufficiently bold colors. The most significant benefit is that cotton lasts much longer because the inks penetrate into the fabric, giving you a more high-quality finish.
Polyester: Polyester is more affordable than cotton and will provide more vivid colors, but it typically results in a shorter lifespan — this is because the inks tend to settle on the surface of the polyester rather than soak into fibers. Therefore, polyester is more prone to wear but offers brighter colors.
While the inks used can include dye-based aqueous inks, solvent inks, toner and ultraviolet (UV) curable inks, Latex-based inks are the best option for color quality and vibrancy.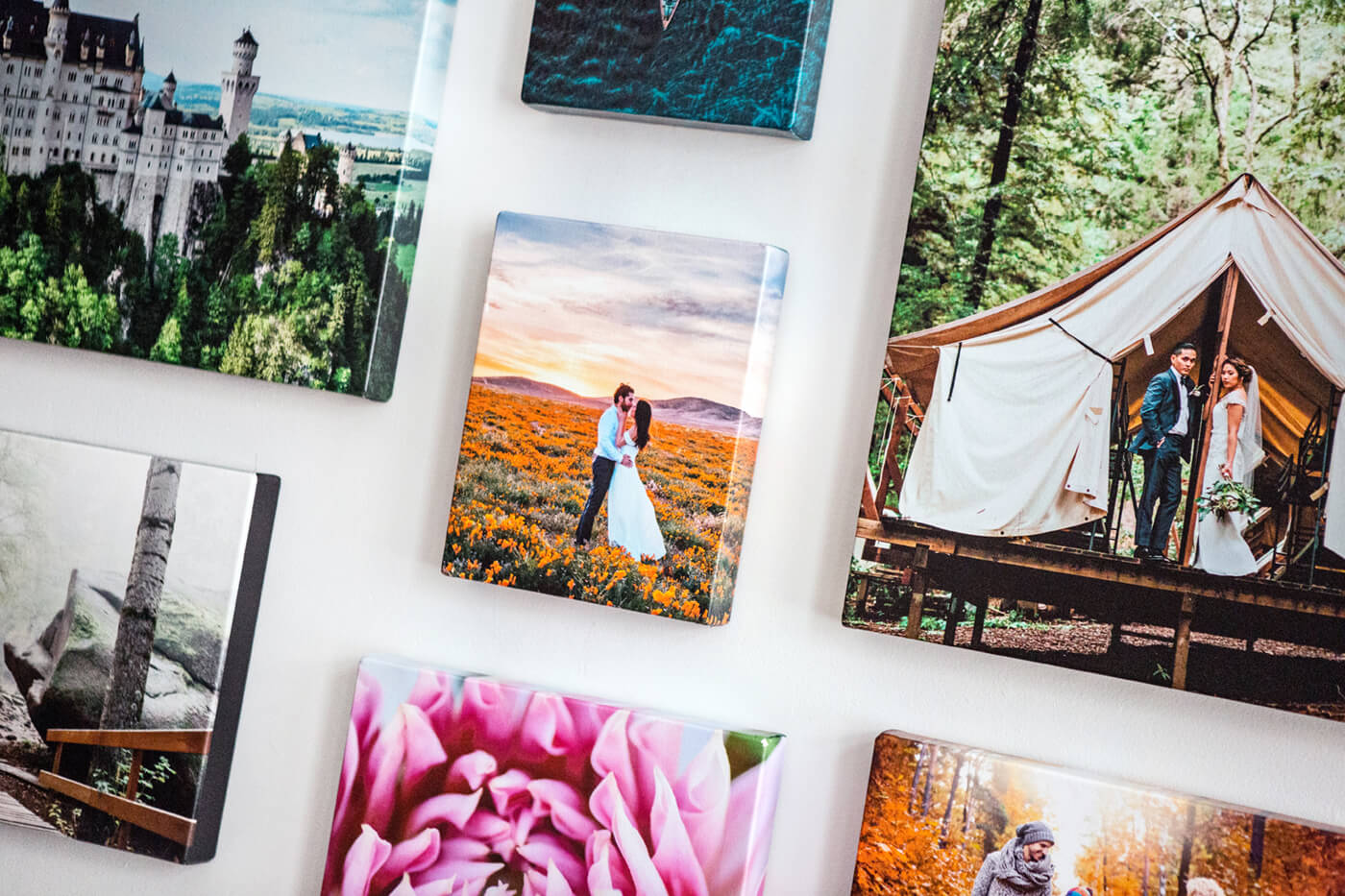 Why Are Canvas Prints Popular?
Canvas prints have surged in popularity as digital printing capabilities have expanded in the last few decades. You can find them in a wide variety of settings and sporting different types of subject matter.
Here are a few of the reasons that people have grown to love canvas art:
It has a unique texture. Most printing methods don't offer texture like that of a canvas. Canvases are soft fabrics, so you can see each thread's crisscrossing pattern behind your image. It is consistent and visually compelling.
You can get it in large sizes. Standard photo prints can be limited in size. If you want to print in a large format, you'll need an incredibly high-resolution image. The nature of canvas, on the other hand, allows you to blow up the image to a larger size before pixelation or distortion occurs. Large-format prints are much easier to come by.
It offers excellent color quality. Canvases have a handy ability to reproduce colors more accurately than other print methods. Paired with quality inks and fabrics, a digital print on canvas can give you excellent, vibrant colors to bolster your image.
It is affordable. As gorgeous as they are, canvases are actually pretty straightforward. They're much more affordable than some other specialty print methods. If you're looking to create large-format work or fill a gallery with a high quantity of canvas art, this aspect can be significant.
It works with many interior design styles. Part of the beauty of canvas is that it goes with almost any style of interior design. Whether you're going for something modern, industrial, nautical, chic or anything in between, canvas prints are an excellent way to support that look. They don't maintain elements of any particular style, and their simplicity makes them perfect for an array of options. Plus, they are lightweight and free of glass, making them easy to move or store. The more pressing question for décor involves your subject matter, but almost every subject looks good on canvas.
It is easy to clean. Dusty artwork happens to the best of us. Thankfully, canvas prints are very easy to clean, thanks to the protective coating that comes on each one. It defends the painting from UV rays and fingerprints and provides a water-resistant base, so you can wipe down the surface with a simple damp cloth.
It is well-suited for digital printing. With its ability to recreate bright colors and adjust to lower-resolution photos, canvas is perfect for digital printing. While canvas was originally used for paintings, it turned out to be an excellent option for photo prints as well.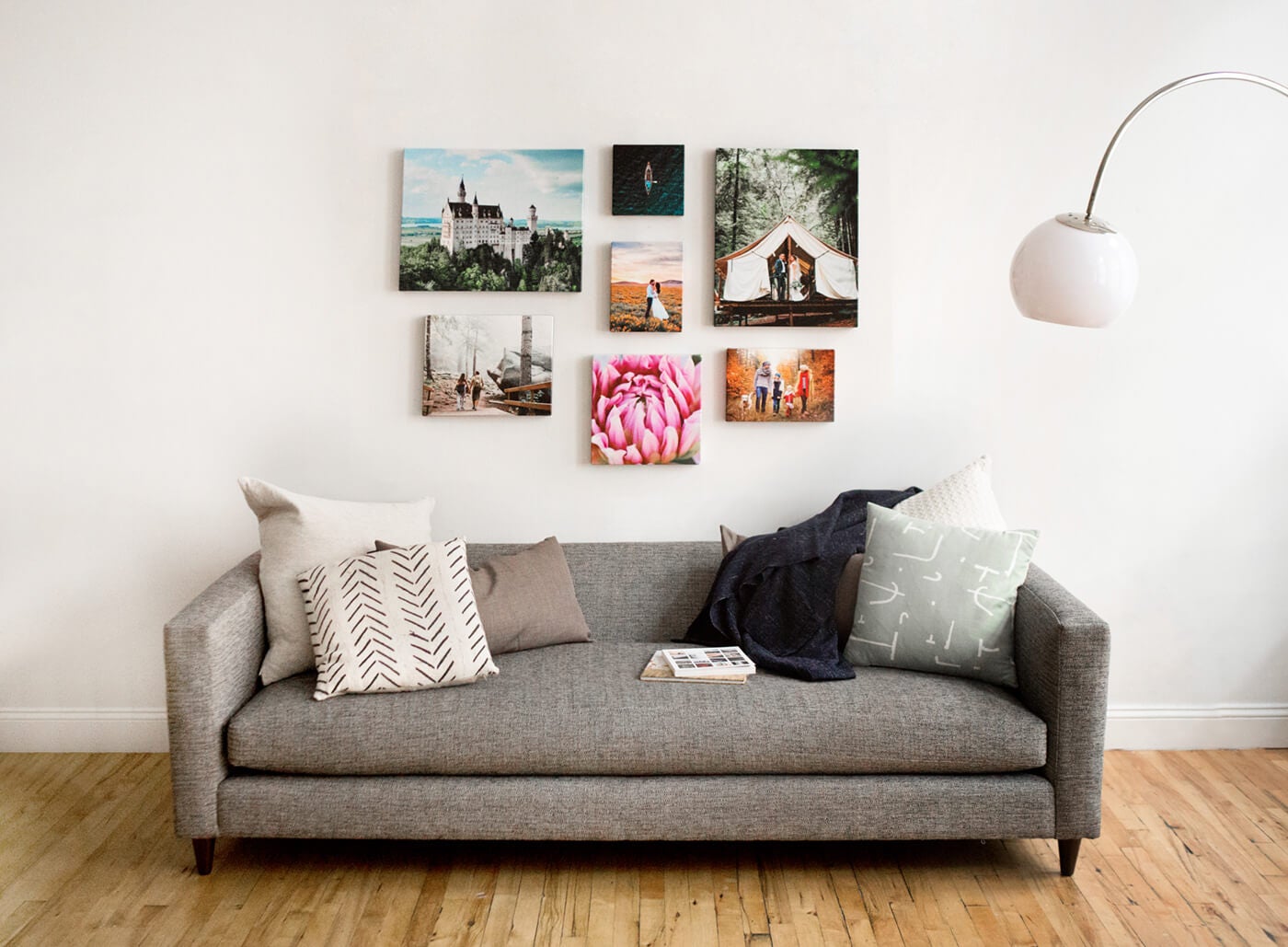 Uses of Canvas Prints
Whether you're a professional photographer or someone who wants to spruce up their surroundings, canvas art is the perfect medium. It can be as casual, high-end or unique as you want it to be.
Some customer favorites when it comes to canvas prints include:
1. Home and Office Décor
Home décor is nothing new to the world of canvases. The casual yet sophisticated look of a canvas print makes it excellent for melding with all kinds of décor. It offers a step up from your run-of-the-mill framed photos. You can print custom canvases that show off the people or things you love the most in a stand-out format.
Corporate décor is also a great place for canvas art. You can create large-format images to deck out your building walls or keep it simple with sleek and sophisticated artwork. Images of marketing materials, traditional art and an all-staff photo can work beautifully for business décor.
2. Framing Artwork
If you're an artist or photographer, canvases can help you create a unique home for your pieces. If the gallery-wrap isn't for you, printing a photo or painting on canvas allows you to use frames in a new way. They'll leave a small gap between the image and the frame, adding depth and dimension to the piece. And of course, you can swap out frames however you like. You can make it fit the tone of your image or match your décor.
3. Gifts
Canvas art is an incredibly popular choice for gifts. Since canvases are so versatile, you typically don't need to worry about it not matching someone's style or looking bad with the image. They're an excellent medium for photos of people to create a heartfelt gift they'll be proud to hang on the walls.
4. Exhibitions
In photo exhibitions, you want to make your image stand out. What better way than by having them literally pop off the walls? Canvas prints are affordable, so they're more viable to purchase in large quantities, and they're lightweight, so you can easily move them from gallery to gallery. Most importantly, they offer excellent image quality and color, so you can be confident your photo will look as good on the canvas as it does on your computer.
Another way that professional artists can use canvas to their advantage is by adding texture — more than the texture of the fibers. If you print painting on canvas, you can go in and add swipes of paint in some areas where you want to add dimension for a truly custom look.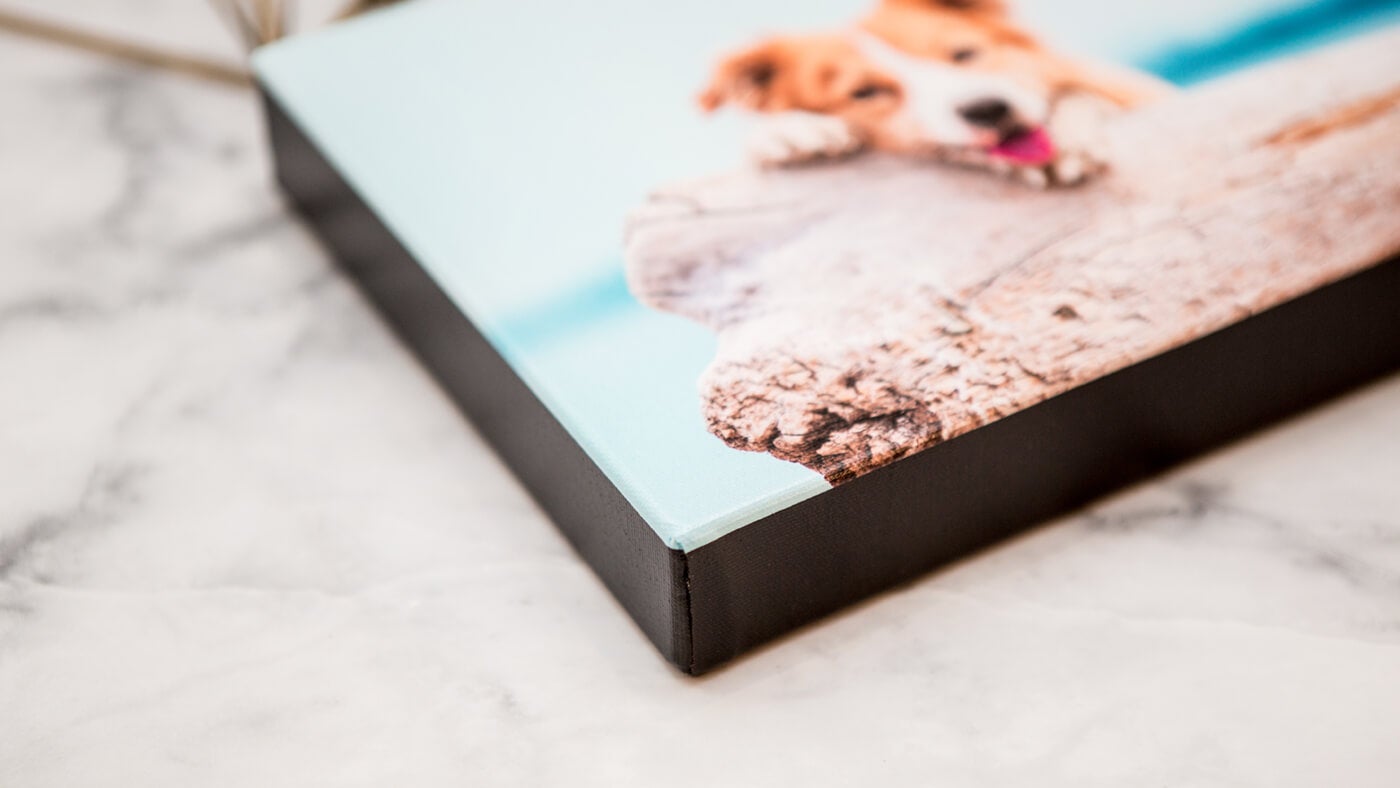 Things to Consider When Choosing a Canvas Print
If you think a canvas print is for you, there are a few factors you'll need to consider first:
1. Image Quality
Though canvases are more accepting of low image quality than other mediums, you'll still need to have sufficient resolution. Finding a high-enough resolution will depend on the size of your image, the number of pixels in it and how large of a print you are looking to make.
Fortunately, digital photography has come a long way, and you don't always need a fancy digital single-lens reflex (DLSR) camera to get pictures large enough to print. Modern smartphones can often provide photos with high-enough quality for small canvas sizes. While you won't be able to get the biggest prints, it will still work for many small and medium ones. More professional cameras, of course, will allow you more range with higher resolution options.
Our photo wizard will alert you if your selected image is too small, but there are also ways to boost the quality of your image. If you're unsure if your image will work for the size you'd like, reach out and we'd be glad to help.
2. Subject Matter and Composition
Different print methods often look better with certain types of photos. Thankfully, canvas is one of those all-encompassing materials that looks good with almost any type of picture. Close-ups, portraits and nature photography tend to look especially great on canvases. Still, you'll want to make sure the photo you're printing is one worthy of the print, especially if you're going big. Maybe leave the selfies on your camera roll and print off your professionally shot family photo instead.
Composition-wise, make sure your photo matches the canvas you're printing on. If you go from a rectangular image to a square canvas, you're going to have to crop out certain parts. Make sure your image composition works with your canvas.
3. Canvas Print Style
You aren't limited to the classic rectangular canvas print — there are loads of options available. You can print square images, collages and even create multi-panel arrangements.
Here are some of the different styles you can do with your canvas:
Collage: Can't choose just one photo? Collages are an excellent way to combine your images into one canvas. It also lets you add visuals to fit the tone, such as shapes or text. Our photo wizard can help you put these designs together and mix and match your photos until you find the perfect arrangement.
Square and custom dimensions: For a less-conventional crop, try a square-shaped canvas. These look great with portraits of kids and contrast with the round face shape. Alternatively, you can enter your own dimensions and get a print for odd-shaped images. Landscapes often work well with narrower canvases.
Wall design: If you want to set up a gallery wall full of images, our wall designer tool can help. It works great with canvases and allows you to create a comprehensive photo display.
4. Canvas Printing Methods
Consider how the printer will transfer the ink onto the fabric. Some methods offer better results than others. Here are the two most common approaches to making canvas prints:
Dye-sublimation: In dye-sublimation, the printer uses special inks that infuse themselves into the material with a chemical process. The print is as durable as the surface being printed on and can feature striking combinations. For example, we use this process with our metal and wood prints.
Inkjet printing: Inkjet printing works similarly to the kind of printer you may have at home. It deposits a layer of ink onto the surface of the canvas. Inkjet printing can have wide-reaching results that vary, depending on the technician's skill at preparing the image, the inks chosen and the quality of the printer itself.
Here at Printique, we use inkjet printing with high-quality materials for our canvas prints.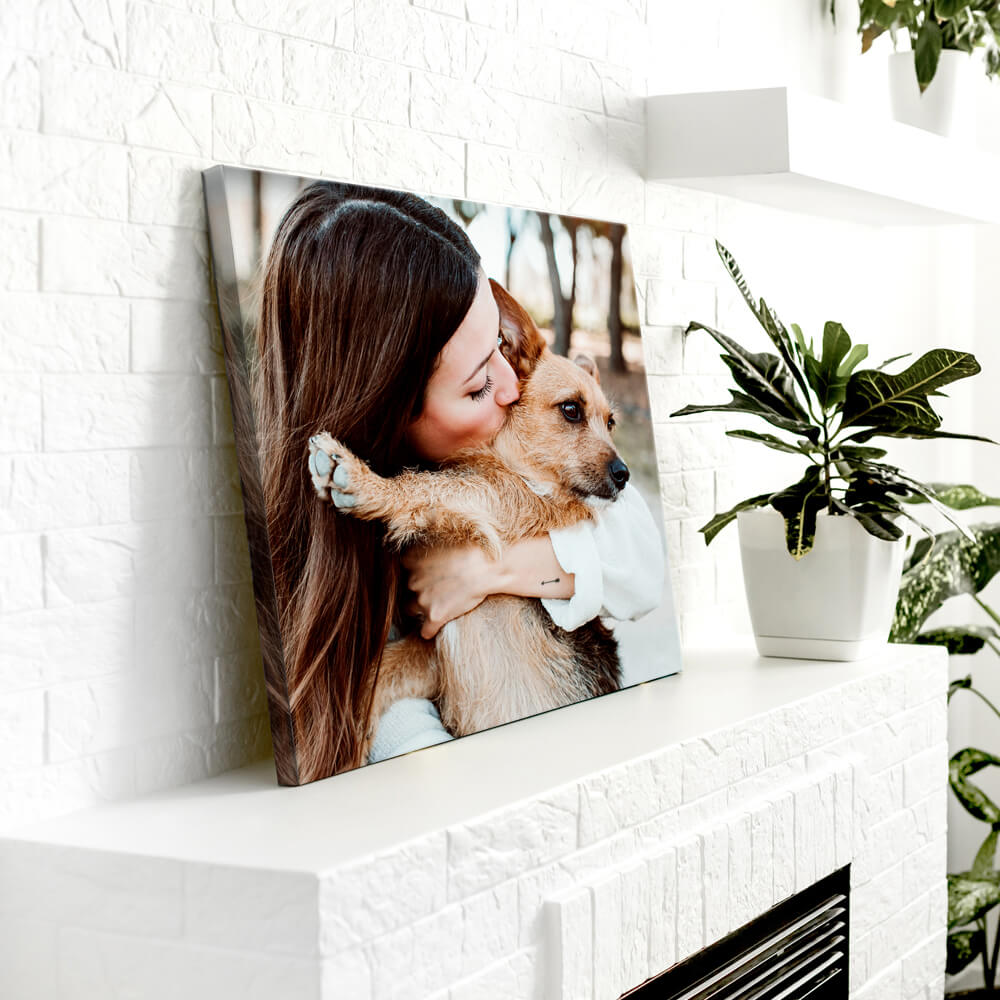 Canvas Prints vs. Other Types of Prints
Canvas is a unique kind of print, comparable with other specialty options like metal, acrylic and fine art prints. Here's how they stack up:
Canvas prints vs. paper prints: Paper prints are the classic option. They're simple and will work in a variety of frames and settings. They don't have depth or archival materials but are easily the most affordable option.
Canvas print vs. mounted prints: In a mounted print, there is no fabric to speak of. A mounted print places a printed photo onto a rigid board. You still get the off-the-wall effect but without the texture of a canvas. You also don't get the option to stretch your image around the edges.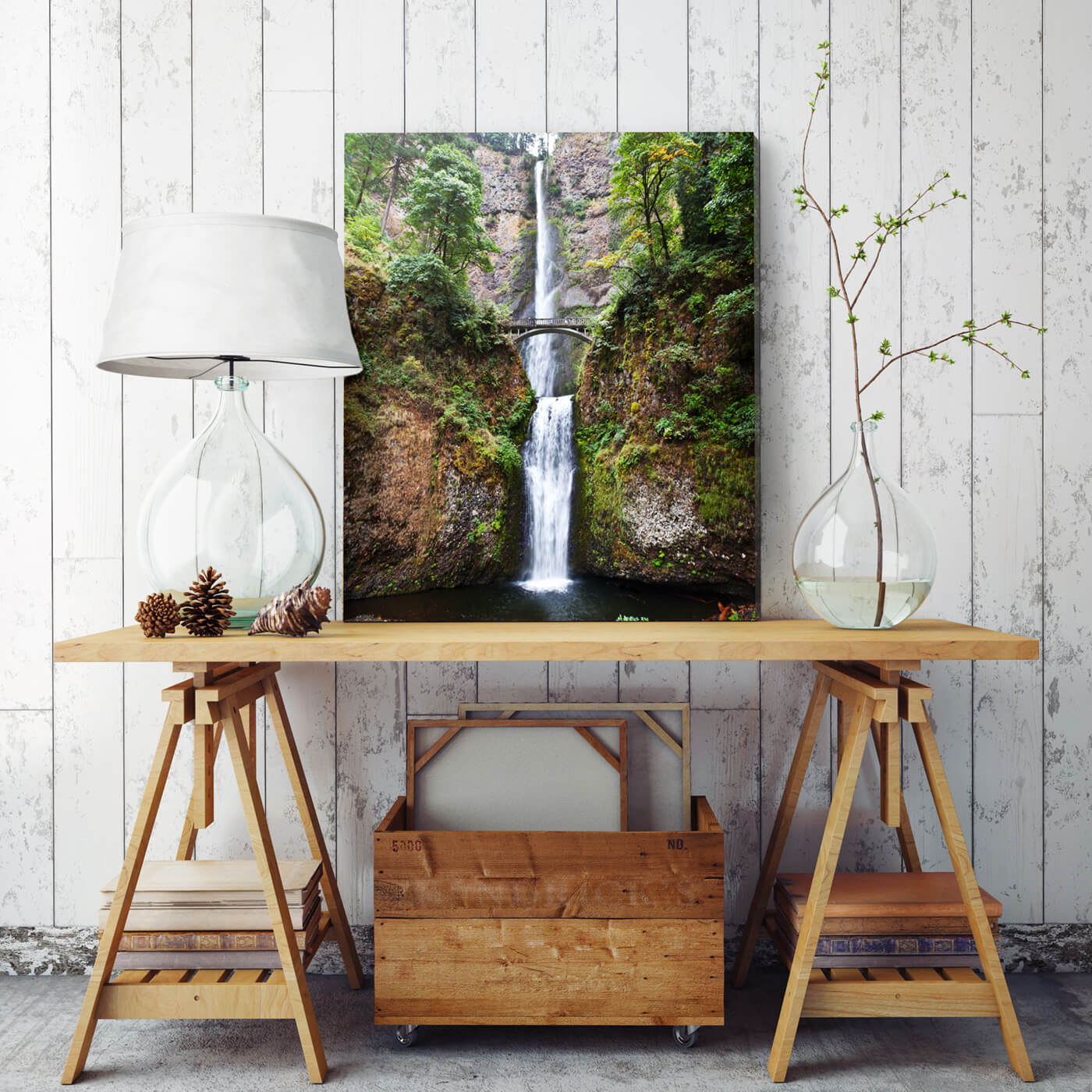 FAQs About Canvas Prints
Despite the popularity of canvas prints, many people still have questions about the details of this medium. Here are some of the more common questions:
How Much Is a Canvas Print?
The price of a canvas print can vary significantly based on the quality of the materials, the process used to assemble it and the size of the canvas you wish to print. They can range from $20 to over $200.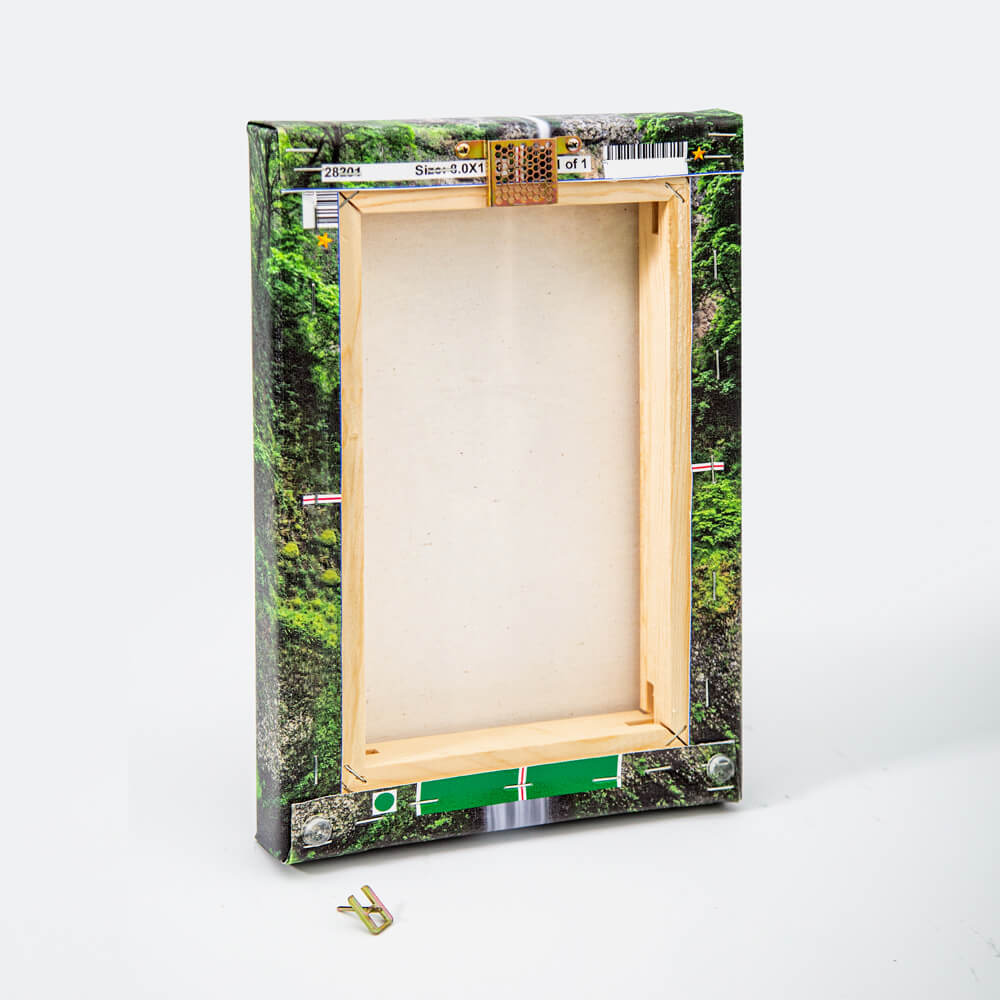 How Difficult Is It to Hang a Canvas Print?
Not difficult at all. You can often hang a canvas as-is out of the box, since the wood frame provides a space to hang on a nail. Other hanging options include sawtooth brackets, eye hooks and adhesive strips. Of course, if your print is framed, you'll have to use the frame's hanging mechanism, though those are quite varied as well.
How Durable Is Canvas?
Canvas is long-lasting and archival. We use a coating designed to protect canvases from moisture and sunlight, but there are still steps you can take that will ensure a longer-lasting product. One of the most important is to avoid hanging it in direct sunlight, which can cause premature fading. You can also put it behind a glass frame with stronger UV resistance.
What Size Canvas Should I Get?
Canvas size generally depends on image placement and content. The more detail in your image, the larger you may want to go. If you want to transform a room with a large accent piece, look for some of the biggest sizes available. Alternatively, simple wall decorations usually run in the 8×10 to 16×20 range.
How Do I Order a Custom Canvas Print?
At Printique, we walk you step-by-step through the ordering process when you start up the designer.
Start by selecting your desired size on the page for canvas prints or framed canvas prints and click "Create Your Prints."
Choose your edge preference.
Upload your photo from your computer, Printique's collection of stock images, Google Photos, Flickr, Facebook, Instagram or Dropbox.
Make your edits for color, orientation and crop, so the preview looks like what you want on your print.
Click "Add to Cart" and check out.
How Do I Identify a High-Quality Canvas?
Not every seller you find online is going to offer high-quality products. Instead, you may get cheaply made prints that fade in the sun and print your image in a fuzzy, low-quality manner. There are a few key factors you should look for in a seller, like:
Type of canvas: Remember that different printers may use alternative types of canvas. Cotton is always the highest-quality option.
Thickness: Generally, the thicker the canvas, the higher the quality. A thick canvas is harder to tear and can hold up better to inks and damage.
Stretcher bars: You might think the stretcher bars aren't all that important. After all, you won't see them, right? The stretcher bars are actually a significant part of the structure of the canvas. They support the whole image and are a big indicator of quality. The ideal bars are kiln-dried to provide sturdiness and eliminate warping.

Canvas Prints From Printique
Whether you want a simple print to make your family photos stand out or something to support professional photography, canvas is an excellent choice. Canvas prints are beautiful, economical and versatile, perfect for personal use or to offer to clients. These prints provide a high-quality method for displaying artwork without the expense of other types of prints. You can enjoy a gorgeous visual experience from the comfort of home or in a professional gallery.
Here at Printique, we've been creating stunning canvas prints for years, so we know how to deliver the best possible print quality. See your photos come to life in a new way with Printique. Explore canvas print options today.