Our newest photo-a-day challenge is here!
This month, get ready to bring a fresh light to old techniques! You'll be embracing the colors of fall, switching up your camera settings, and celebrating all things spooky as you make your way through October.
By the end of the month you'll have a stunning collection of images – and quite possibly your favorite photograph yet!
Ready to see what October has in store? Click the image below to download your own copy!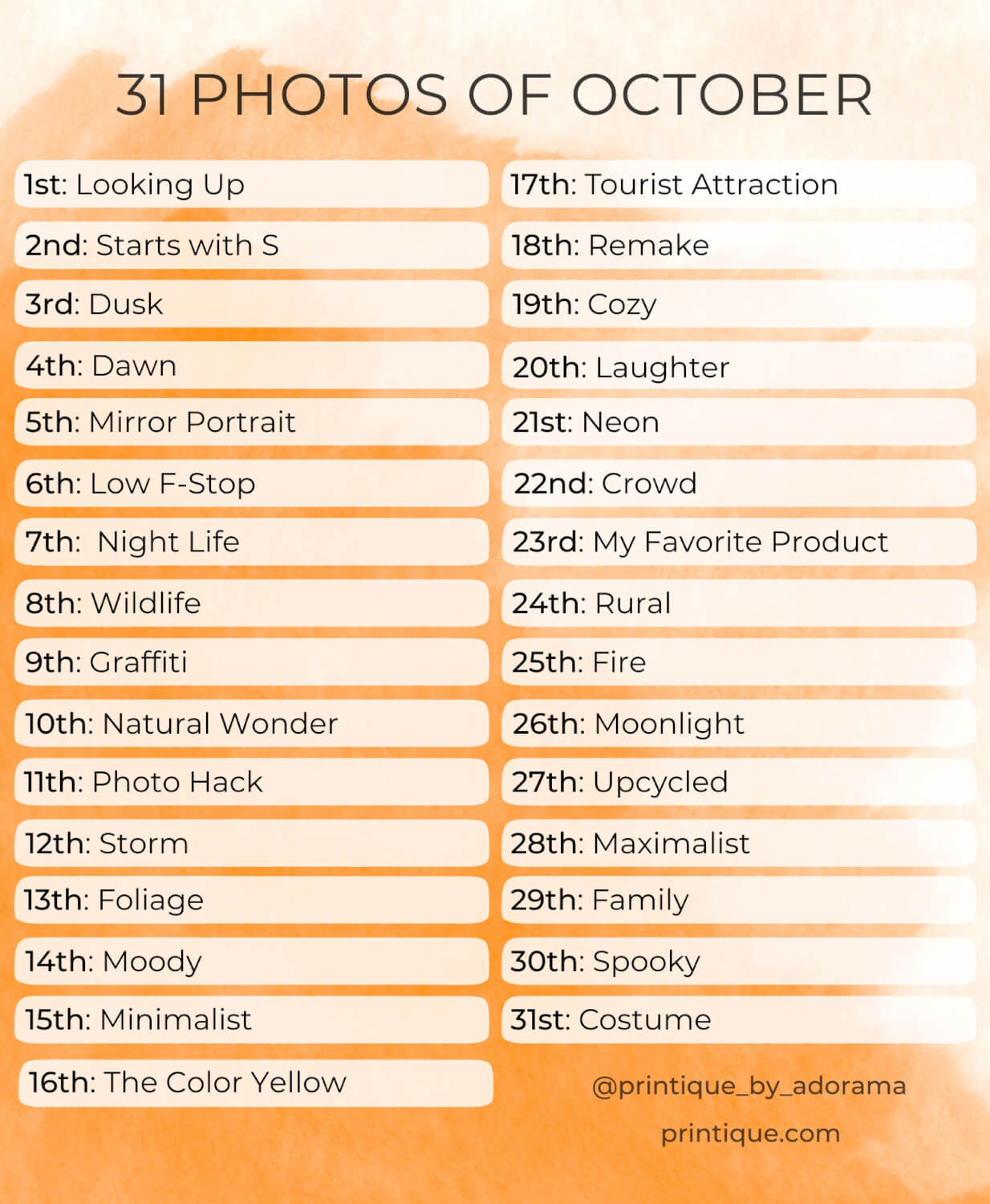 ---
October 1st: Looking Up
Point your camera up and snap away to kick off October!
October 2nd: Starts with S
Photograph something that starts with S. Sunrise, sunset, strawberries, small towns – get creative!
October 3rd: Dusk
Find magic in the dim blueness of dusk today!
October 4th: Dawn
Capture the golden glow of dawn today!
October 5th: Mirror Portrait
Take a self-portrait with the help of a mirror.
October 6th: Low F-Stop
Play with your depth of field by lowering your F-Stop for today's photograph.
October 7th: Night Life
Capture the hustle of night life today.
October 8th: Wildlife
Lay low and capture the perfect autumnal wildlife photograph!
October 9th: Graffiti
Find an interesting piece of graffiti and build your photograph around it.
October 10th: Natural Wonder
Photograph one of the many natural wonders that surround us.
October 11th: Photo Hack
Take a photograph using one of our $5 photo hacks!
October 12th: Storm
Capture a storm as it rolls by.
October 13th: Foliage
Photograph the beauty of fall foliage!
October 14th: Moody
Use fall's dramatic color scheme to your advantage; capture a moody photograph today!
October 15th: Minimalist
Take a minimalist photograph.
October 16th: The Color Yellow
Photograph something yellow.
October 17th: Tourist Attraction
Be a tourist in your own city today! Photograph a local tourist attraction.
October 18th: Remake
Take a look at an old photograph – whether it was taken by you, a loved one, or an artistic role model – and let it inspire a remake!
October 19th: Cozy
Capture the feeling of fall coziness.
October 20th: Laughter
Freeze laughter in a frame.
October 21st: Neon
Photograph something neon, whether it be a sign, an outfit, a car, or a hairstyle!
October 22nd: Crowd
Take a photograph of a crowd.
October 23rd: My Favorite Product
Try your hand at product photography with the help of your own favorite products.
October 24th: Rural
Photograph the details or the landscape of a rural town today.
October 25th: Fire
Let sparks fly today! Photograph a fire.
October 26th: Moonlight
Make moonlight a part of today's photograph – whether it lights your subject or is your subject!
October 27th: Upcycled
Turn an old item into a new treasure by transforming it into the perfect photo prop. Old bicycles, vintage luggage, or painted glass bottles are just a few examples!
October 28th: Maximalist
Go overboard for today's photograph and capture something wonderfully maximal!
October 29th: Family
Take time today to shoot a family photo.
October 30th: Spooky
Darkness, shadows and spiders – oh my! Add a splash of terror to today's photograph.
October 31st: Costume
It's the spookiest day of the year! Make costumes part of today's photograph.
---