The holidays only come once a year, giving us the perfect opportunity to show the people in our lives just how much they mean to us.  While we're all for grand gestures and over-the-top gifts, we also appreciate the value of a sentimental gift that lets us stay within a reasonable budget. To help you work your way through your list with amazing – and budget-friendly! – gifts this holiday season, we've put together this gift-giving cheat sheet – where you'll be able to find 50 unique gift ideas, each for less than $50!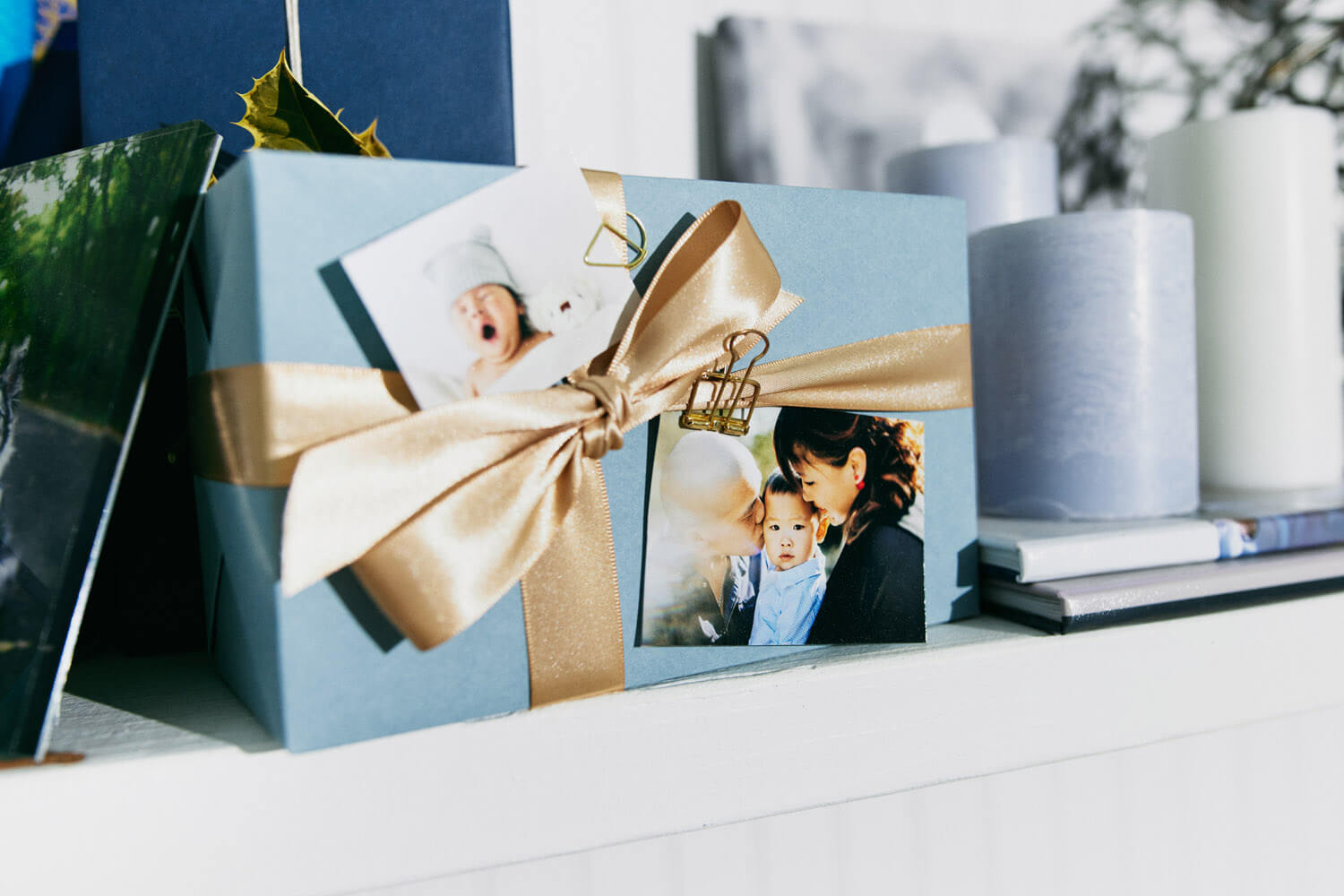 ---
Create a 2023 Adventure Bucket List
If you're feeling crafty this season, creating a customized adventure bucket list is the way to put it to use! Begin with a list of challenges you know your recipient will appreciate – whether that's visiting certain locations or trying new things – and then arrange your selected objectives alongside check boxes. We recommend using Canva for its simple and free design interface!
Bring your 20x30in poster to life today!
Design A Personalized Project Tracker
Our photo book builder makes it simple to create books that have purpose – meaning you can craft a project journal for your loved one with ease! Start from scratch or select one of our journal templates. Then just build your book around whatever project your recipient is tackling at the moment, or wants to tackle in this upcoming year – whether that be training for a marathon or remodeling part of the house.
You can create a 6x6in 20-page hardcover journal for $38.99!
Create A Set of Coasters
As the new year rolls around, we all have a lot to cheers to! Add memories to every celebratory moment with the gift of custom coaster prints.
You can print 4 unique photo coasters for $24.99.
Customize A Stainless-Steel Thermos
If you're shopping for someone with a strong sense of adventure, a stainless-steel thermos is the perfect way to stay by their side on every excursion. Take this gift to the next level by pairing it with a surprise camping trip!
You can customize a stainless-steel thermos for $49.99.
Compile Old Prints Into A Book
If you're shopping for a close family member, don't miss the chance to turn old photographs into a gorgeous book. Begin by digging your favorite photos out of the archives – whether that be old, sleeved photo albums or long-lost boxes in the attic. Then, scan your selections onto a computer and arrange them in a Printique photo book.
You can create a 6×6 20-page hardcover memory book for $38.99!
Print Their Favorite Artworks
Are you gift shopping for an art fanatic? You can bring your loved one's favorite art to life for an amazingly low cost by finding their favorite artwork in the public domain. You can browse some of our featured printables here, and find more information on uncovering gems in the public domain here!
Print Photos Of Their Four-Legged Friends
Does your recipient have a pet they hold close to their heart? Turn their favorite photos with their four-legged friend into a gift they'll never let go of. Photos with their best pal are sure to warm the heart of anyone on your list. Add flare to your gift (while keeping it under $50) by selecting one of our specialty printing options.
Add Notes to Little Memories
Don't overlook the power of a small gesture! Printing a few dozen photographs as classic prints and writing heartfelt notes on the backs of them is an incredible way to communicate your love to whoever you're shopping for this holiday season. Simply upload your favorite pictures with them – or photos from adventures you shared together – to a Printique gallery and print!
You can bring 50 photo prints to life for less than $20!
Create An 'Open Me When' Set
If you're shopping for a sentimentalist, they will absolutely adore a thoughtful "Open me when" set of letters. Write titles like "Open me when you're feeling homesick," "Open me when you're feeling uninspired," or "Open me when you need a laugh" on the front of envelopes. Then, fill these envelopes with letters relating to each title! Include photo prints from meaningful memories to make this gift all the more powerful.
Help Them Redesign A Meaningful Space
Does your loved one have a room or area they've been meaning to organize or decorate for a while? Help him get the ball rolling as a fresh year begins! We recommend this gift for someone you live with, whether that be a friend, a significant other, a parent, or a sibling. Dedicate time to cleaning and rearranging the space in an intentional way, and add a handful of custom decor pieces as the finishing touch.
Invest In Their Business
If you're gift shopping for an aspiring photographer, investing in their business is one of the best gifts you can give them this holiday season. A Printique Pro Service membership costs only $14.95 a month, which means you can gift up to three months of Pro Service for less than $45. This will give them access to free priority processing, free white labeling, a free digital gallery store, and 10% off on every order.
Create A Book of Letters From Their Friends
Collecting letters from your loved one's friends is an awesome way to surprise them during your gift exchange. Either have their friends send letters over as PDF's that you can directly upload to printique.com, or scan handwritten letters into your computer. Once made digital, you can easily drag and drop these letters into a customized photo book.
Turn A Map Into Meaningful Decor
If your recipient has a particular location that they hold close to their heart, the holidays are the perfect opportunity to turn that place into an invaluable memento. Turn a vintage map of a meaningful location into a stunning wood print that they will treasure forever.
You can create an 8×12 wood print for $36.99.
Create A DIY Movie Poster
Is your recipient a massive fan of a particular movie franchise? Add a splash of photoshop to a picture of them and you'll be able to create a customized movie poster – starring your recipient themself! It's the type of gift that they'll brag about to all their friends – and they'll be right to do so!
Create a 20x30in poster print for $35.
Turn Little Moments into Mini Acrylic Blocks
If your loved one's camera roll is filled with sweet but small moments, the year's end is the perfect opportunity to bring them to life on mini acrylic blocks.
Our 2x2in acrylic blocks cost just $11.99, meaning you can create four unique photo blocks within your $50 budget.
Send Letters From The Future
We've mentioned a handful of ways to make your holiday gift last over time, but this one has to be our favorite!
Write a handful of heartfelt notes to your recipient, addressing them 1 year from now, 5 years from now, 10 years from now, and so on. Accompany each letter with photo prints that relate to what is written inside. Then, head into a local post office and request that your letters be sent on particular dates 1 year, 5 years, and 10 years from now. Not every post office will do it, but you should be able to find one that will!
When you finish giving gifts this year, let your loved one know that there's more to come – for a very long time!
Print Their Favorite Quotes On Wood
Does your loved one have a go-to saying or mantra? Bring it to life on an artisanal wood print this gifting season. Not only will this show them how well you listen to their words of wisdom, but it will keep their most inspiring lines in sight day in and day out. What's a better gift than that?
Compile Children's Artwork Into A Book
If you're creating a gift for a friend or loved one with young children, don't miss the opportunity to make their children's one-of-a-kind artistic creations part of the gift. Give the kids different prompts, like "Draw your favorite memory with Mom and Dad," or "Draw your parents as superheroes," and scan the drawings into a custom photo book!
Customize A Calendar (And Fill It With Surprises!)
Customizing a calendar for someone may seem like a pretty boring and straightforward gift, but we have the perfect trick for taking it to the next level. When your calendar arrives, go through each month and fill in special occasions. Block off weekends for surprise trips or draw stars on days where you've planned a special date night. Not only will the person you're shopping for be greeted with a meaningful photo every month, but they'll begin each month full of excited anticipation for what's in store.
Create A Movie Bucket List
If the adventure bucket list idea we mentioned above didn't feel quite right, consider a movie bucket list instead! List our all the movies you think should be on your recipient's list of must-sees, and arrange them along side check boxes. Get creative by adding unique icons related to each movie you listed.
Once your list is complete, have your poster printed and let your giftee check off each movie as they makes their way down the list!
Write A Custom Book Of Quotes – Spoken by Them
Is your giftee the attributed speaker of a number of hilarious lines? Indulge in their sense of humor with a custom book of their greatest lines. Go through your text messages and chats with this person to find some hidden gems, and even feature some screenshots and personality photos in your book.
Entertain Their Problem Solving Side
If your giftee has a soft spot for a good puzzle, look no further than a custom photo puzzle! Your recipient will love getting to solve a puzzle that they can't get anywhere else, and they'll be rewarded with a gorgeous display of a photo they hold close to their very own heart.
You can create a 520-piece custom puzzle for $39.99.
Create a Scrapbook of Their Life
Highlight every moment of their life in a custom scrapbook. We especially love this gift for older generations who can most benefit from your help in locating little mementos. This is an excellent gift to create with your children and deliver to your parents – sent with love from the grandkids! From handwritten letters to plane tickets, photo prints, receipts and newspaper clippings, this is a gift that will show your parents that all the sacrifices they made are seen and appreciated, while helping them remember forgotten moments at the same time.
Create a Mini Book of Lessons
If you're shopping for someone who played a mentor role in your life – whether that be a parent, grandparent, teacher, or close family friend – showcase all of the lessons you've learned from them in one book. Begin by listing all of the things they have taught you over the years; Then, find pictures from your time together that relate to each lesson – either directly or loosely. Arrange the lesson and the photo on the pages opposite each other. It's a visual and meaningful way to truly show your mentor figure how they have shaped your life for the better.
You can create a 20-page softcover photo book for $29.99.
Create A Sentimental Piece Of Pet Art
While prints of pet photos make for an incredible gifts, there are even more sentimental ways to give a pet gift this season. One of our favorite ways to create sentimental pet art is by taking a paw print of your pet with (safe to use) ink. Once the ink has dried, scan this print onto your computer. Upload it to Printique.com and print it as a 5×7 acrylic photo block. This will leave you with a dimensional, stunning, and everlasting display of your pet's paw print.
You can create this gift for just $47.99.
Create a Mini Book of Things You Love
Similar to a book of lessons, a mini book of things you love prompts you to list out all the things you love about the person you're shopping for. You can either write this directly to your recipient or create one as a gift from your whole family to your parents or grandparents; Or make one of each!
No matter how you choose to approach a mini book of things you love, it's sure to warm the heart of whoever you're shopping for with every word.
You can create two mini books for $30.
Print their Favorite Moments Of History
If you're shopping for a total history buff, turn their favorite historical moments into art work this holiday season! Spend an afternoon browsing the public domain for the perfect historical photograph. Then, bring ten of your best finds to life on 8x10in prints.
You can create this ten-piece set for just $26.50!
Create A Custom Mystery Game
If you're looking to really challenge your creative skills, this gift idea is for you. Order sets of prints to distribute to your family for a custom-made murder mystery game that the whole family will never forget! From handprints to crime scene photos and surveillance pictures taken by private investigators, there's nothing you can't do when using prints to give your players clues!
This gift is best given a bit earlier than your usual gift giving celebration to ensure the whole family has time to play.
Help Them Keep in Touch with Loved Ones
Making it easy for someone to keep in touch with their loved ones is truly a gift that keeps giving, and you can do just that with a set of custom greeting cards.
You can create 24 custom greeting cards for $41.98.  Design them like postcards to make it as easy as possible for your recipient to add their own anecdotes and messages to each card.
Bring their Poetry to Life
If someone on your list loves to write poetry or partakes in other creative forms of writing, printing their work in a professional quality book is a meaningful way to celebrate – and reinforce – their talents. Pair their poems with photographs that capture the essence of each individual piece to make this gift extra special.
You can create an 6x6in hardcover poetry book for $38.99.
Turn their Culinary Creations Into A Book
Turn your loved one's passion for cooking into a gift that can be passed through generations! Combine their favorite recipes with recipes they've been meaning to try.
Create Something Mailable
Sometimes your loved one can't be by your side during the holidays, which makes mailable photo gifts all the more meaningful. Save a larger gift for when the whole family can be together; Fill your mailable gift with words of love and printed memories.
Customize a Set of Mugs
Mugs are a foolproof gift, no matter who you're shopping for. Creating a set of matching mugs for those you gift in pairs – couples, friend duos, coworkers – is an adorable way to make sure your recipients starts every morning with cheer.
Build Their First Ever Photography Book
Help your loved one see their visual art through a new light with a professional quality photography book. Showcase his most impressive captures (and a few of your personal favorites) to show him how magnificent his photography and artwork truly is.
Hide Little Memories Everywhere
Stretch your holiday celebration out over a handful of days by scattering printed memories all around the house. Slip them in coat pockets, book bags, cabinets, and clothing drawers. They will serve as sweet and never-ending reminders of how important this person is in your life.
Compile A Little Book Of Cocktails
The best gifts are full of fun, and this one certainly is! Group cocktail recipes by alcohol type – Gin, Vodka, Tequila, Rum, etc. – to create a cute and perfectly organized set of cocktail books.
You can create three mini cocktail recipe books for less than $45.
Create A Family Yearbook
Celebrate another amazing year in a personalized family yearbook. Feature portraits, candids, and milestone moments, and have each of your family members sign the yearbook. It's a sentimental gift that you'll all look back on fondly for years to come!
We highly recommend this gift if you're looking for a sentimental new tradition!
Customize A "World's Best" Mug
If you're still looking for a cute way to customize a mug, look no further than a "World's Best" mug. Whether you're shopping for your mom, your dad, your grandparents, your coworker, or your significant other, this mug can be curated by just adding their roll in your life after "World's Best."  With just a simple text design and either a custom doodle or photograph, you'll be able to create a precious mug that will remind your recipient just how great they really are.
Create Art Around Their Favorite National Parks
Who doesn't love the beauty of our National Parks? Lucky for all of us, you can find free-to-print National Park posters in the Library of Congress's travel posters collection.  Bring your favorite posters to life and you'll have a gift that adds character to any room – while inspiring your recipient to tackle their travel bucket list!
Create A Functional Kitchen Art Piece
With kitchen space often at a premium, any kitchen décor you gift should be fabulous, functional, or better yet: both. Think of what the most helpful information for your recipient would be – whether that be the ingredients of their favorite recipe, a measurement conversion chart, or a collection of QR codes to the blogs of their favorite cooking personalities – then print it on a sleek and gorgeous acrylic block!
You can create a 4x6in acrylic block for $47.99.
Create A Custom Niche Fan Poster
Take your giftee's love for movies to the next level with a custom niche fan poster. This might mean filling in the blanks on the rules of wedding crashing (Wedding Crashers) or creating a detailed map of Jurassic Park (Jurassic Park). It's sure to be a gift that will awaken their inner fanatic and keep him enthralled for days to come!
DIY A Deck Of Cards
If your recipient loves a good card game, don't limit your gift to just any old deck of cards! From unique takes on games like Old Maid to creative renditions of truth or dare, there's no limit to what you can create using custom 3.5x5in prints.
You can create a 50-piece deck of custom prints for just $17.50!
Create A Personalized Journal
A custom journal is a wonderful way to help your loved one reach their personal, professional, and financial goals. Our One Line Everyday template supplies you with the perfect baseline for building your very own personalized journal. Include intentional prompts, questions, and outlines curated specifically for the goals you know your loved one is trying to reach!
You can create a 20-page softcover journal for $29.99.
Create A Spotify Music Wall
A Spotify music wall is a unique and functional way to make music a bigger part of your recipient's life. See a complete how-to guide on creating scan-to-play Spotify prints here!
Get Them Started on a Scrapbook
If your recipient has long been talking about building a personalized scrapbook, they'll be more than thrilled for you to help them get started! Small steps – such as buying the perfect base book or printing the first dozen photos – can remove any roadblocks standing between your giftee and the scrapbook of their dreams.
Get them started with their first 100 prints for just $35.00!
Create Their Gallery Anchor Pieces
Does your giftee's passion project revolve around a gallery wall rather than a scrapbook? Helping them kick off their gallery with two strong anchor pieces can serve as all the inspiration they needs to continue crafting the perfect gallery.
Create two 16x24in posters for just $48.
Print Free-To-Use Vintage Art
If you're shopping for a fan of vintage art, a set of vintage art prints will make for the perfect gift. You can find dozens of incredible free-to-print vintage art in the public domain; Whether they love sports, space, nature, art, automobiles, natural history, or anything in between, you'll be able to find vintage art they'll adore.
Create ten 8x10in vintage prints for $26.50!
Turn Sweet Family Moments Into Art
The best gifts don't have to be complicated, creative, large, or unique. Sometimes all a great gift has to do is showcase a moment that means something to the person you're shopping for; Sweet family moments mean just that to your loved ones. Display your favorite family memories on museum-quality canvas prints and surprise your family member with a gallery piece they'll never want to look away from.
You can create an 11x14in canvas print for $49.99.
Print Commissioned Art
Commissioning artwork for your giftee is a fun and awesome way to create a one-of-a-kind gift; Take commissioned artwork to the next level by having it printed! Depending on the style of artwork, you may prefer to have it printed as a poster, a metal print, an acrylic, or a giclee fine-art print.
Let Them Choose Their Favorite Memories
If you're shopping for someone who prefers to call the shots, a Printique gift card is the best way to give the gift of memories this holiday season. With a Printique gift card, your giftee can choose which memories they wants to bring to life – and exactly how they want to do so!
You can schedule a $50 Printique gift card to arrive right on gifting day.