If you're a music fanatic, we have the perfect photo project for you.  It will allow you to showcase your favorite songs in a meaningful way while sharing them more seamlessly than ever with all of your house guests. Ready to complete a project that's truly like no other?  Follow the 6 steps below, and you'll have the gallery of your dreams in no time at all. Read to the end to see what makes this project so special!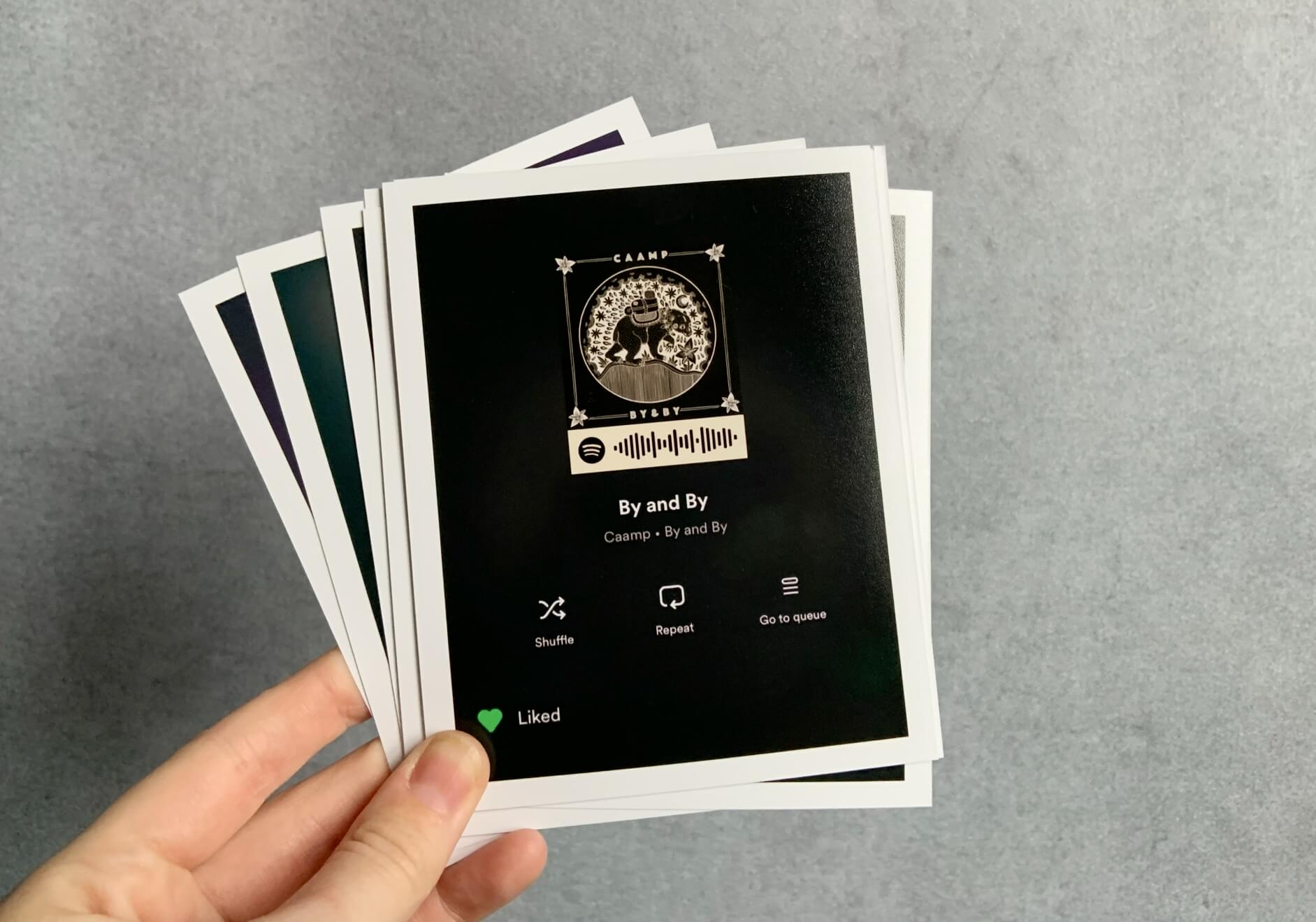 Note: The instructions below are intended for creating and printing this gallery from a mobile device.  If you are printing from a desktop, follow the same steps but visit Canva.com and Printique.com instead of the Canva app and Printique Photos app!
---
A full video tutorial of these steps can be found at the bottom of this page!
---
Open the Spotify app.
The first thing you're going to want to do is head to the Spotify app on your mobile device. You don't need the paid version of Spotify to do this; If you don't have the app yet, download it for free.
Search a song you love.
Head to the search bar and type in the name of a song you want to feature in your gallery – or head to a playlist of your favorite songs! Once you see a song you want to include, tap the three dots next to its name. This will bring up the song's information screen. You will notice a barcode beneath its album cover art.
Take a screenshot!
Take a screenshot of this page.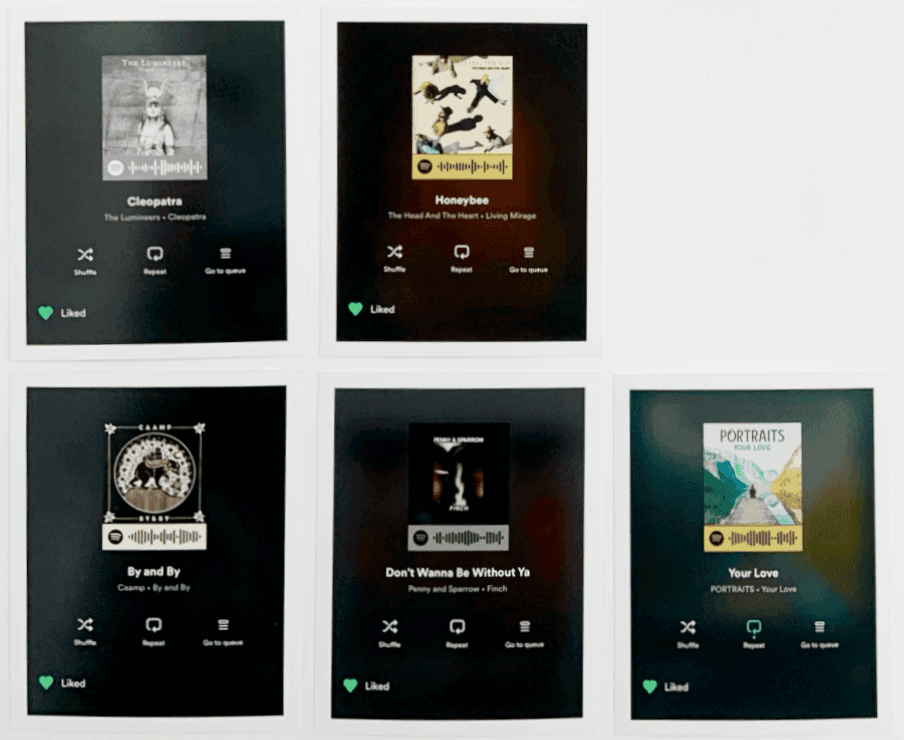 Open the Canva app.
This step is optional, but it's recommended if you want your prints to have neat crop lines. Head to the app store and download the free app called Canva, if you don't already have it on your phone. Once downloaded, open the app and create a custom-sized design of 800x1000px. This will ensure your images crop perfectly when printed as 4×5 prints!
Upload your images.
Once you've created a blank design, upload your images to your Canva library. Then drag and drop your images onto the page; Each image will get their own dedicated page! The easiest way to do this on the mobile app is to tap the blank design and click "Replace" in the bottom left of your screen. Then you can upload your image as the background of your design. This will make it much easier to neatly slide your image later.
Adjust your image.
Once your images have each been given their own page, adjust them to fit their pages identically. To do this, double tap your image and slide it up or down so that the border of your design lands just above the option below 'Like.' This might be the option to remove the song from a playlist or add the song to a playlist. Whatever the option is, you'll be cropping just above it. Repeat this on each image.
Download your images as JPG files.
Once you've adjusted each of your images to have proper cropping, it's time to download your images!  To upload your images to a Printique gallery, they will have to be JPG files, so we recommend downloading your files from Canva as JPGs.
Open Printique Photos.
Now that you have your images ready to print on your phone, open the free Printique Photos app. Once you sign into your Printique account, you will be able to upload each of your Spotify images to a new gallery.  Open that gallery, select each of your images, and click the 'Order' button at the top right of your screen.  Select 'Photo Prints' when prompted!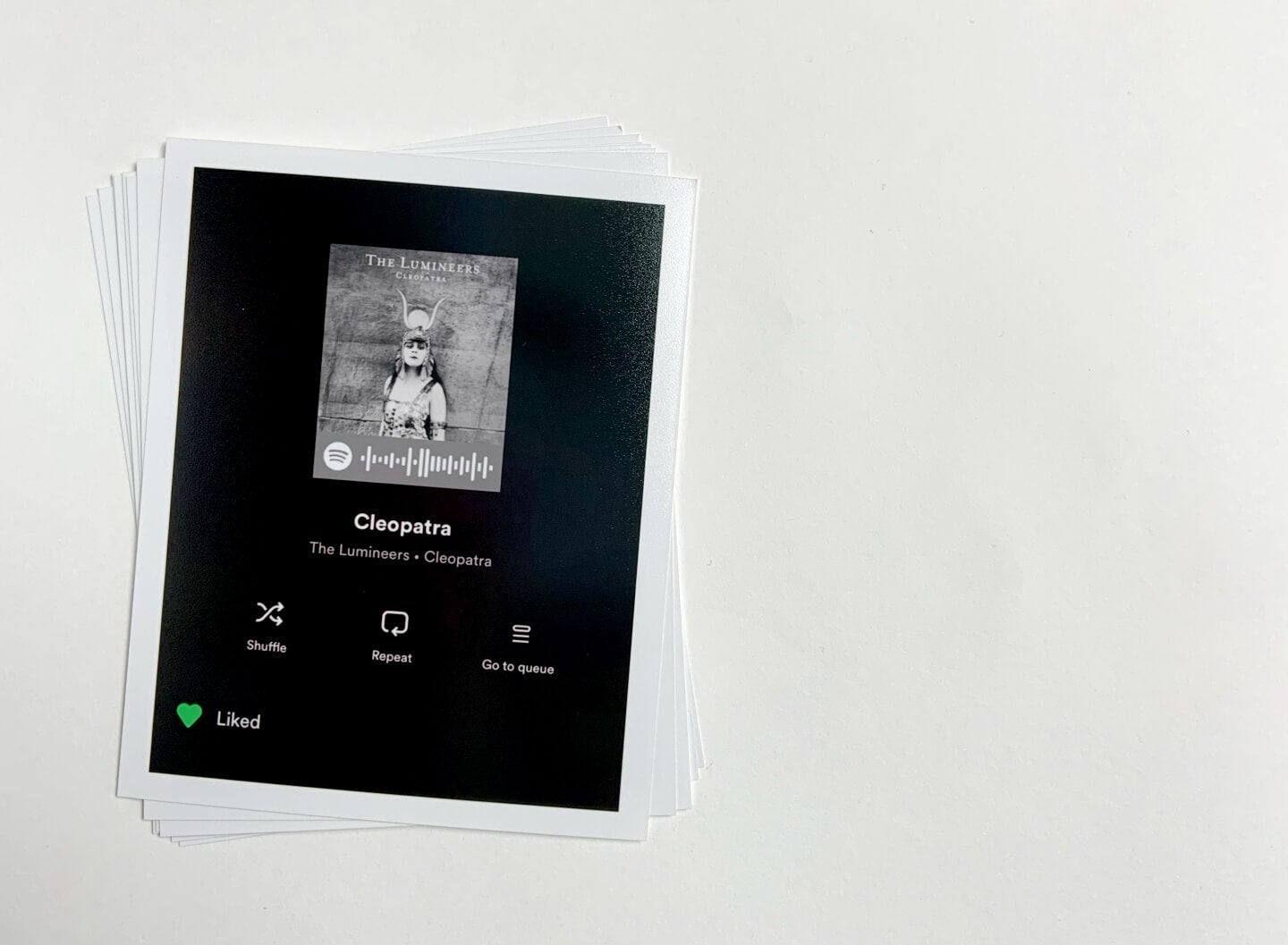 Order your photos as 4x5in classic photo prints.
Now you'll find yourself on the ordering page of classic photo prints.  Select 4x5in from the sizes drop down menu.  On the Spotify prints we created, we added a ¼" white border.  If you like the look of this, select the 'white border' option on this page as well!
Then just click order!
Scan your prints!
The best part of this entire project will only be revealed once your photo prints arrive. Remember the barcode we mentioned earlier? When this barcode is scanned through the Spotify app's search camera, Spotify will begin playing the song connected to this bar code!
When you hang these prints on your wall, you can easily have friends and other guests scan your images to play your favorite songs.  Not only is it an awesome way to put your favorite artists on display, but it's a way to directly share the music you love the most!
Click the video below to see exactly how to do it!