Adding a little metal to your home life is easy and affordable with Adoramapix's metal prints. Printique infuses your image right into a sheet of aluminum. The end result is an amazing, work of art that is vibrant and durable. Let's take a look at how you can put the pedal to the metal and infuse metal prints into your home decor.
Living Room
The living room is the heart of the home. It's where you kick up your feet, relax and laugh with loved ones. It's also the perfect spot to showcase the art. Whether you are going to do one epic shot of the family, a multi-panel display or an amazing panoramic, you'll want to do your homework. First, measure the space where you want to hang the metal print. Next, watch that spot in your home for a day and see how the light hits that particular spot. If there is harsh light on that spot during the day, you might consider going with the satin finish as this is not as reflective as the glossy. Also, if you are printing portraits of people, always choose the white finish. This will keep the skin tones life like.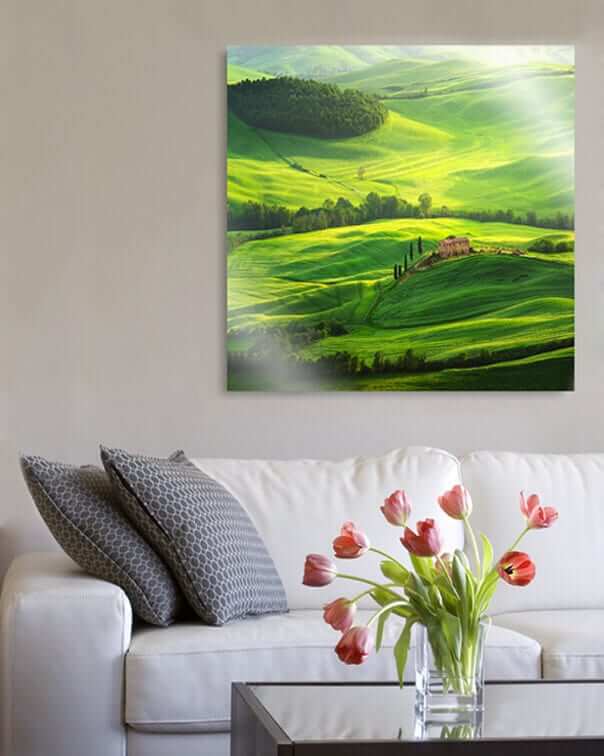 Kid's Room
Let's get fancy! You can get a little whimsical in a child's room with metal prints. Printique offers round, oval, heart and designer shapes with fancy edge work.
I actually worked with my son to design his metal print for his room. He is an avid LEGO collector. At first, I wanted to photograph only one of his favorite LEGO characters. But, asking a 9-year-old boy to choose his favorite was quite daunting, so instead, we chose to do a collage.   I set up the background and he would pose each figure for me. He was meticulous on how the cape should hang and the direction of the light. It turned out to be a fun project and he is proud to show it to his friends when they come over for a play date.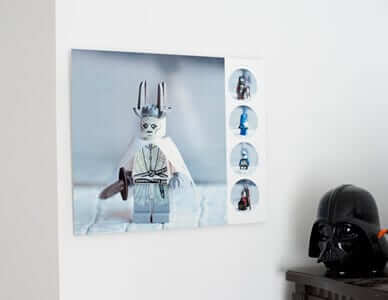 The other metal print in my son's room was a collaboration project from an Printique member. Eric Arnold of Eric Arnold Photography photographs the amazing neon letters in Vegas. He helped put together my son's name on an 8×12 metal print. It turned out perfect and colorful.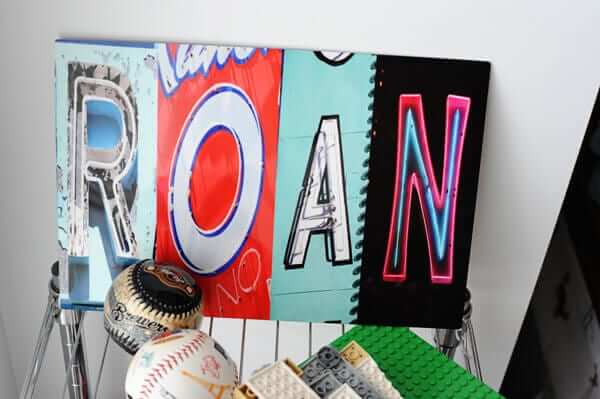 Outside
What? Put a metal outside? Yes, yes you can.  Metal is durable enough to stand up to some of the toughest weather conditions and it's waterproof. Although your metal prints will get dirty outside, you can easily clean them a damp, soft rag. Avoid any type of sponge or rag that has texture to it and could leave behind scratch marks. Also, like any sort of fine piece of art, you'll want to keep it out of direct sunlight – so a covered porch would be perfect for a metal print.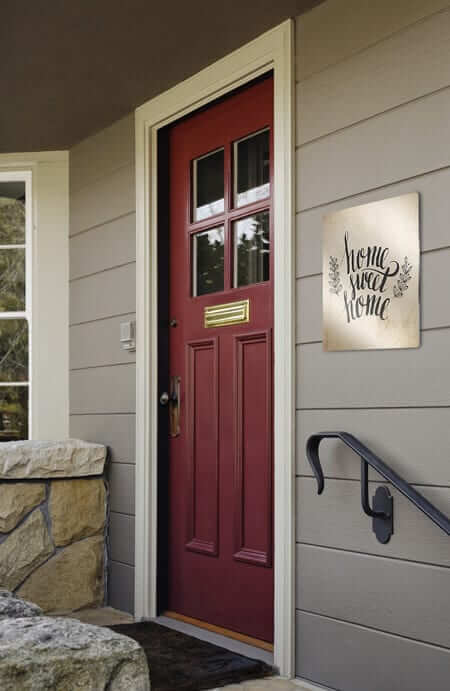 So here is a cheat sheet on what you need to know when it comes to metal prints and designing with Printique.
1. Choose the White Finish when printing portraits of people. You can watch our video on our YouTube channel to see the difference.
2. To clean the metal print, use a damp soft rag.
3. The Silver Finish will replace any whites you have in your image, for example, white clouds with a silver finish will allow the brushed surface of the metal to come through the image.
4. There are two finishes – satin and glossy. Glossy is more reflective than the satin.
5. Handle the surface with care to avoid scratches.
6. We offer you the choice mounts that include a fold-out easel, a floating mount that suspends your image ½" away from the surface of the wall with bumpers, or an elegant acrylic pedestal.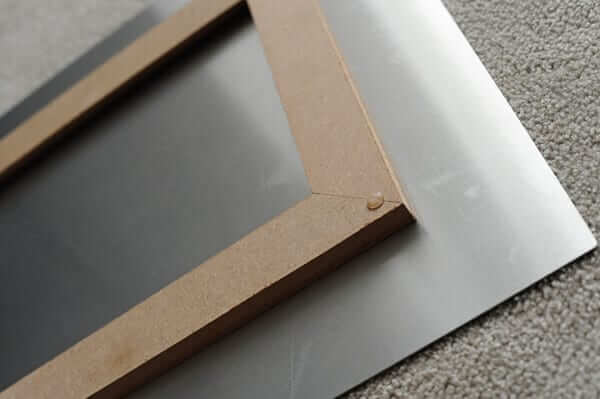 7. There are eight different shapes to choose from – measure your space first and see which shape will work best in the designated spot.
8. Like any piece of fine art, keep it out of direct sunlight.
The great thing about metal prints is that you can do things with metal that you wouldn't necessarily be able to do with a paper print. Also, it's quite affordable since no framing or glass is needed. The durability of the metal print against UV light, moisture, and ozone elements make it the perfect way to preserve your images.