What is a Wood Print?
As printing technology has evolved throughout the years, people have found ways to transfer their images to nearly any surface, including canvas, metal and acrylic. However, one of the most versatile and unique surfaces to print on is wood.
Printing on wooden blocks creates a unique, organic photo that stands the test of time and gives your image a special effect. With this process, your image fuses with the wood, and you see the grain through the ink. No two prints are alike due to the revealed grain. Whether you want to make your image stand out in a gallery full of other photos, give a one-of-a-kind gift to someone or simply display an eye-catching picture on your wall, wood prints are an excellent way to do it.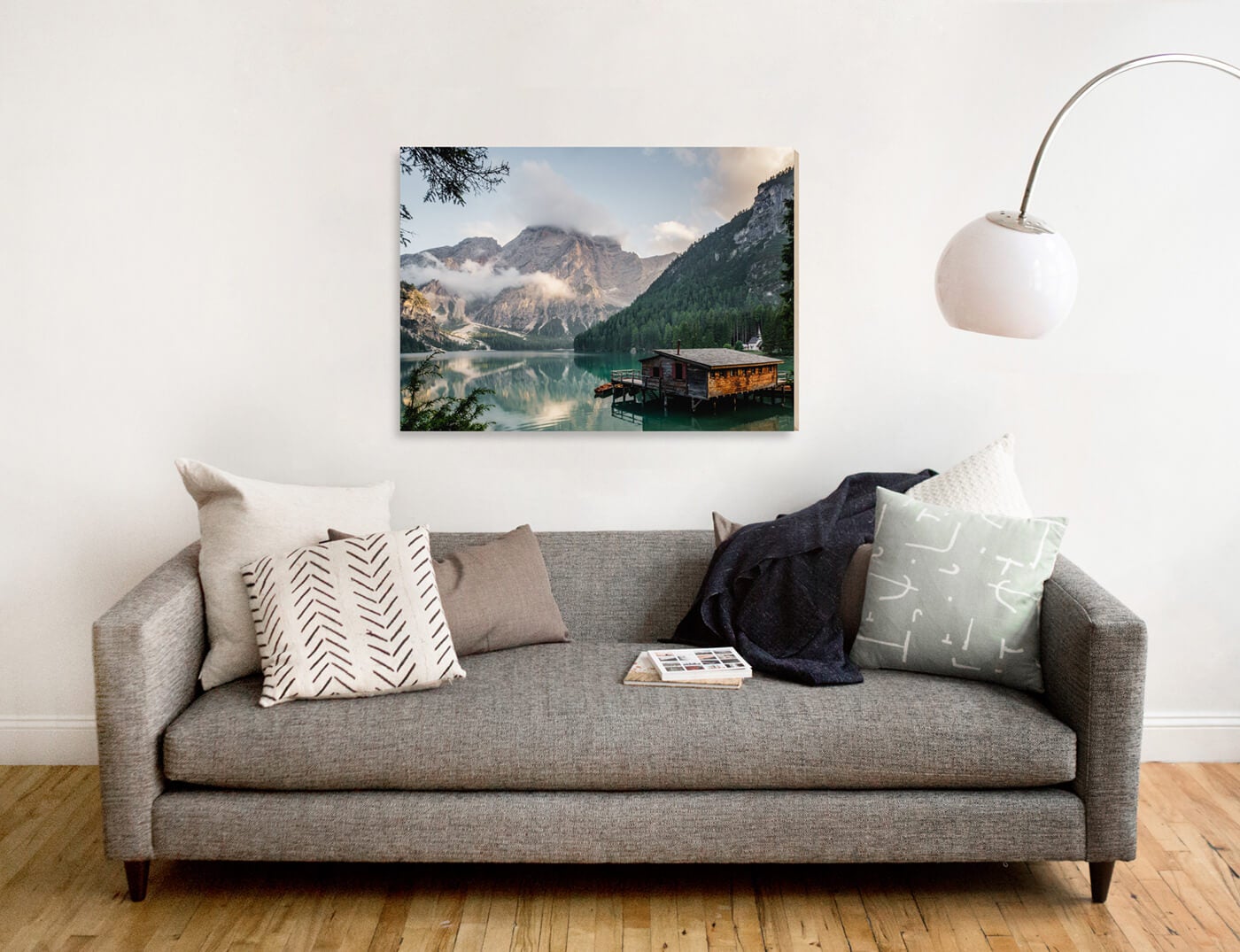 What Sets a Wood Print Apart?
When you put your photo on a wood print, you're printing on a piece of nature. It's something that will catch your viewers' eyes and make them look twice. They might be drawn in by the swirls of the grain or the warm hue of the wood itself. It accentuates specific details of your photo and takes it to another level, with an earthy, rustic feel. Pair the print with the right picture, and you've got a stunning piece of décor on your hands.
There are many distinguishing features of wood prints, but many choose to utilize them because they are:
– Unique: One of the first things your guests will notice about a wood photo display is the grain. When you print on natural materials, you can see the organic swirls within each block of wood. Of course, that means each one is different. No two prints — even of the exact same photo — will be the same. This aspect makes it a great choice for gifts when you want to show off the one-of-a-kind nature of your relationship with someone. It's also excellent for collages and wall displays, so you can differentiate the display type from other photos while maintaining a connecting thread. The grain is one of the most noticeable and beloved aspects of a wood photo print.
– Warm: Another critical component of wood prints is the hue. Pictures printed on wood planks tend to take on a somewhat yellowish tint. It isn't overly present to the point where it is unappealing, but it does slightly affect the color of your print. Don't worry, though — this is part of the charm. For the most part, this color difference behaves like a sepia tone. It makes your image feel like part of the wood and adds a warm tinge. Color variations in the wood also add some uniqueness to your print. Each piece of wood can have a subtly different color due to differences in trees, making your work more original. For the most part, the wood at Printique is very light-colored — we use a pale birch for these prints.
– Easy to work with: People also like to have pictures printed on wooden blocks because they are easy to work with. They are water and heat-resistant, so your print can stand up to the elements, even in a home with kids or pets. They can be placed outside, in a hot garage or indoors like any other photo.
– Easy to clean: Wood photo displays are also easy to clean with a sponge and soapy water — you can remove any smudges and fingerprints easily and wipe off any spills.
– Versatile: Wood prints also offer an array of display options — you can hang them on a wall, place them in a frame or prop them up on a stand.
– Durable: Wood prints are also incredibly durable and resilient — you won't have to worry about a fragile glass frame or avoid putting up pictures in the kids' playroom. This décor is robust.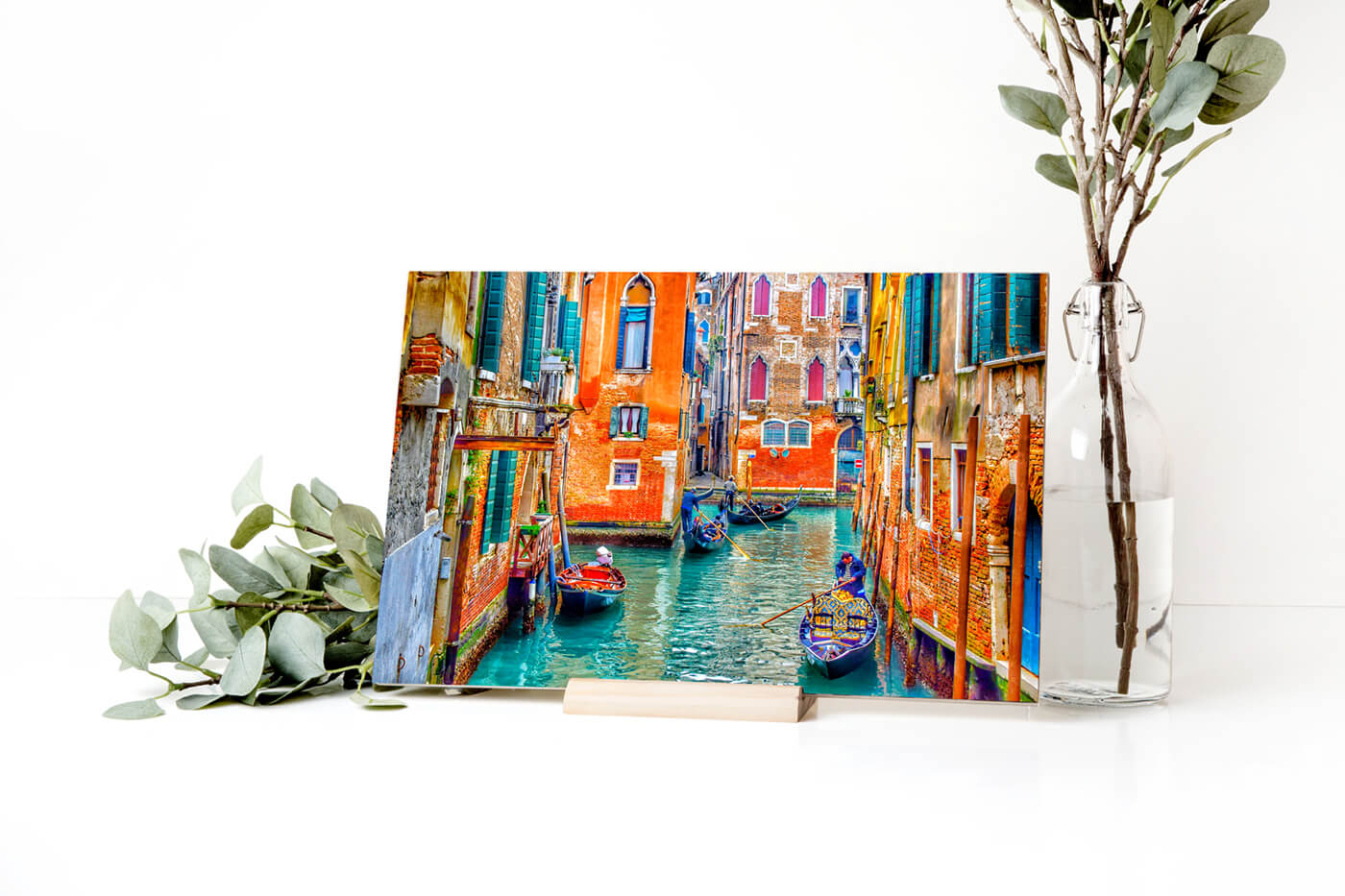 How Is a Wood Print Made?
Creating wood prints requires a printing method called dye sublimation — it uses chemical processes to infuse the dyes directly into the surface. That's what "sublimation" refers to — the chemical process that occurs when a substance skips the liquid phase and goes straight from a solid to a gas. That state change occurs to the specialized ink and helps it infuse with the wood.
With dye sublimation, the printer turns the liquid ink into a gas, pushes it into the surface — in this case, wood — and then turns the ink back into a solid. When the ink particles turn back into a solid, they are stuck within the surface. The color is now permanently infused with the wood.
To make our wood prints at Printique, we follow a straightforward process:
1. We print your image in its reverse onto transfer paper using sublimation dyes. Our trained technicians pay special attention to the color profile of your image, so everything stays true. Without this manual review step, sublimation dyes can be inaccurate. They are a bit harder to match than regular dyes, so you always want to work with a printing company that manually reviews your photos.
2. Next, we line up the transfer paper on top of the plank of wood and send it through a heat press. In the heat press, the dyes sublimate to their gas state.
3. The press then pushes these gaseous dye particles into the wood before they can become solid. This movement ensures that the solidification process occurs within the wood's surface, making them a permanent part of the material. These colors are now part of the wood.
Dye sublimation is an excellent technique that offers crisp colors, permanently infused with the surface. You can use it on a wide variety of surfaces, too, like metal, glass and acrylic.
Wood Print Options
Every custom print from Printique has a variety of options, including the size and mounting method of your photo. Due to the nature of the material, wood prints all receive a beautiful matte finish, which will make it easy for your print to resist glare. You can place it anywhere in your room, and it won't be too difficult to see on a sunny day. It does, however, mean you can't have a high-gloss or satin finish.
We offer wood prints in sizes from four by six inches to 20 by 20 inches. Whether you want a large display to be the focal point of a wall or a small accent for your desk, these options open up a variety of applications. Plus, you can use square or rectangular prints to make use of the best crop for your image.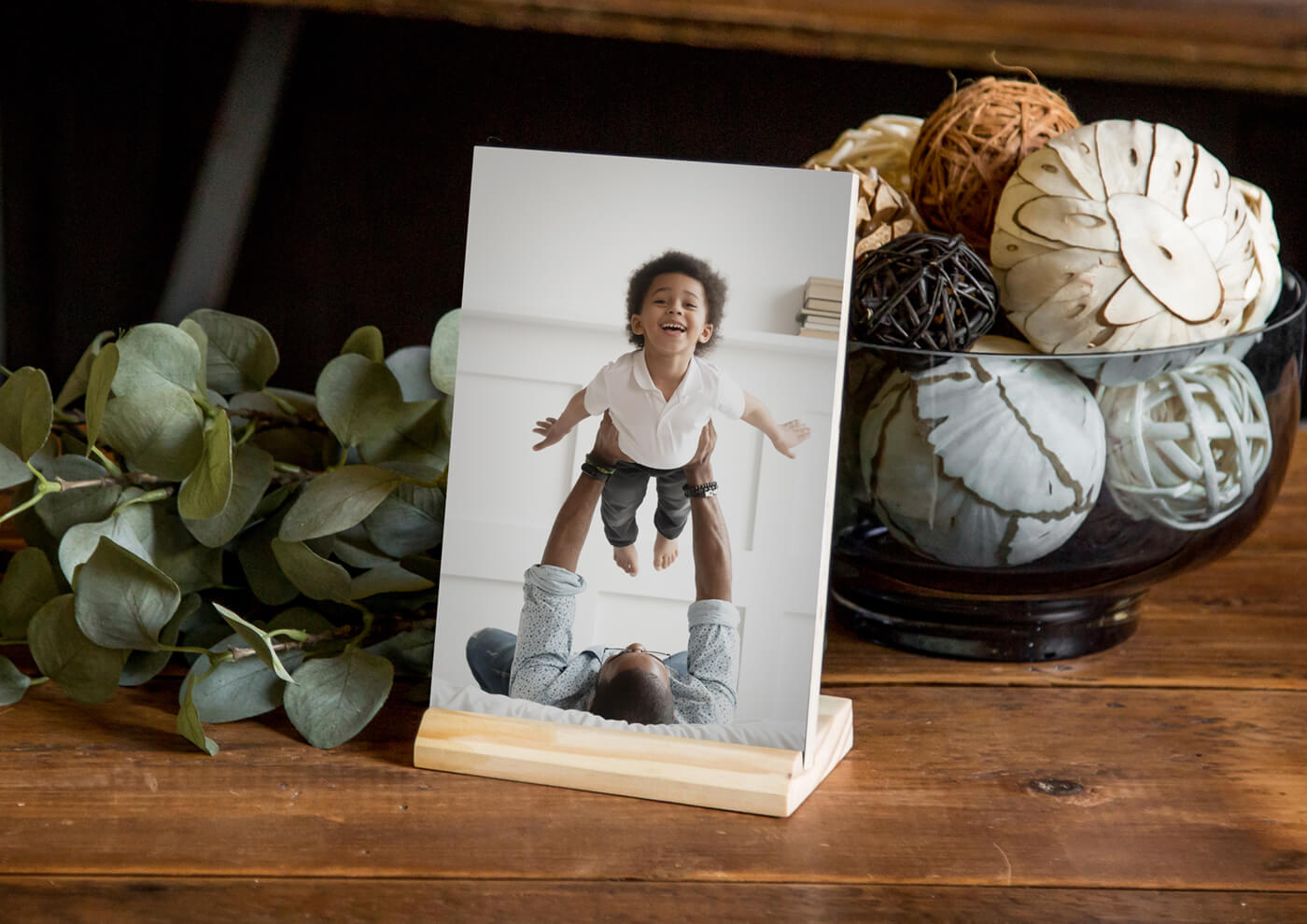 To accommodate that variety, we have several mounting options, including:
– Stand:  For the smaller wood prints, you can order a display stand. It is made of the same high-quality wood as your photo print and cradles it from the bottom. Putting your photo in the stand allows you to prop it up on a flat surface like a table or desk. These rustic displays are excellent additions to a nightstand or a kitchen counter. They can also be helpful at art shows, so you can set them up on a booth to attract buyers and maximize your tabletop space.
– Keyhole cutouts: All wood prints come with keyhole cutouts in the back. With these keyholes, you can hang them easily on your walls. Create a collage display or hang one as a statement piece. You'll find the cutouts on both the vertical and horizontal edges of the print, so you can orient it appropriately. However you want to hang it, the keyhole cutouts make it easy.
– Frames: All of our wood prints are three-quarters of an inch thick with sanded edges, so you can frame them for easy display. Whether you want to pair it with a sleek, modern frame or something more earthy and rustic to go with the wood grain, a wooden photo print works well with frames as well as on their own.
When you're ready to display your custom wood print, Printique makes it easy. The stand and cutouts are included with your print. If you change your mind after propping it up on your end table for a year, you can easily hang the photo on the wall, since the cutouts are built-in. Versatility is one of our specialties.
What to Look for in a Wood Print
If you're looking at getting a wood print, you can't work with just anyone willing to print on a wood plank. Picture printing on wood is special and requires careful attention to specific details. Your printer must pay attention to aspects like quality, the review process, options and support. If your printer stands up to high standards, you're much more likely to receive a beautiful print that is durable and meets your expectations and needs for customization.
When choosing a printer for your wood prints, be sure they:
– Use quality materials: Quality is incredibly important, especially when working with wood. Dye-sublimation printing means the grain and the wood are completely visible in your image. Using a wood plank that is rotted or discolored will be painfully apparent and ruin your whole image. If the inks aren't up to par, they may fade or not sublimate properly. Your image may come out fuzzy or with inaccurate colors. Inferior materials can also cause your print to be sharp and splintery or make your mounting hardware fit incorrectly. You should look for a printer that commits to using high-quality supplies.
– Work sustainably: Another important thing to keep an eye out for is the sustainability of materials. Make sure the wood is ethically sourced. Our prints use birch wood that is certified by the Forest Stewardship Council and sourced from sustainable forests.
– Have experience: Of course, printing on the best materials doesn't do much if it isn't done correctly. At Printique, we maintain a thorough review process and employ trained technicians to ensure your final image is as intended. We go over your image after submission, so we can confirm that it has a high enough resolution, and we review the color profile before it goes into the heat press. If needed, the technicians can fix any issues and correct them for the wooden print.
– Maintain quality control: Our team knows quality and won't send your print to you if it is anything less. Other printers might use automatic color review, meaning a computer does the job. While print technology has come a long way, computers can't pick up everything. The human touch of an expert is a vital part of maintaining excellent color profiles and clarity.
– Offer a variety of options: You'll want to work with a printer that offers variety. You may only need one photo now, but what if you decide to expand your gallery later? If you can order from the same supplier, it will show. Your pictures will maintain the same color quality, edge shape and more, creating a cohesive wall display. By working with a printer that has lots of options, you ensure that you can later find the right sizes and mounting hardware you need.
How do you tell if a printer abides by high-quality materials and practices? Check their reviews. Look for a long-standing, reputable history that shows you how their customers in the past have liked their products and service. At Printique, we've been printing for over a decade and have built up a robust assortment of satisfied clients. You can always read through their reviews yourself for more details. Your satisfaction is our priority, and if your print doesn't meet that standard, we'll do everything we can to make it right.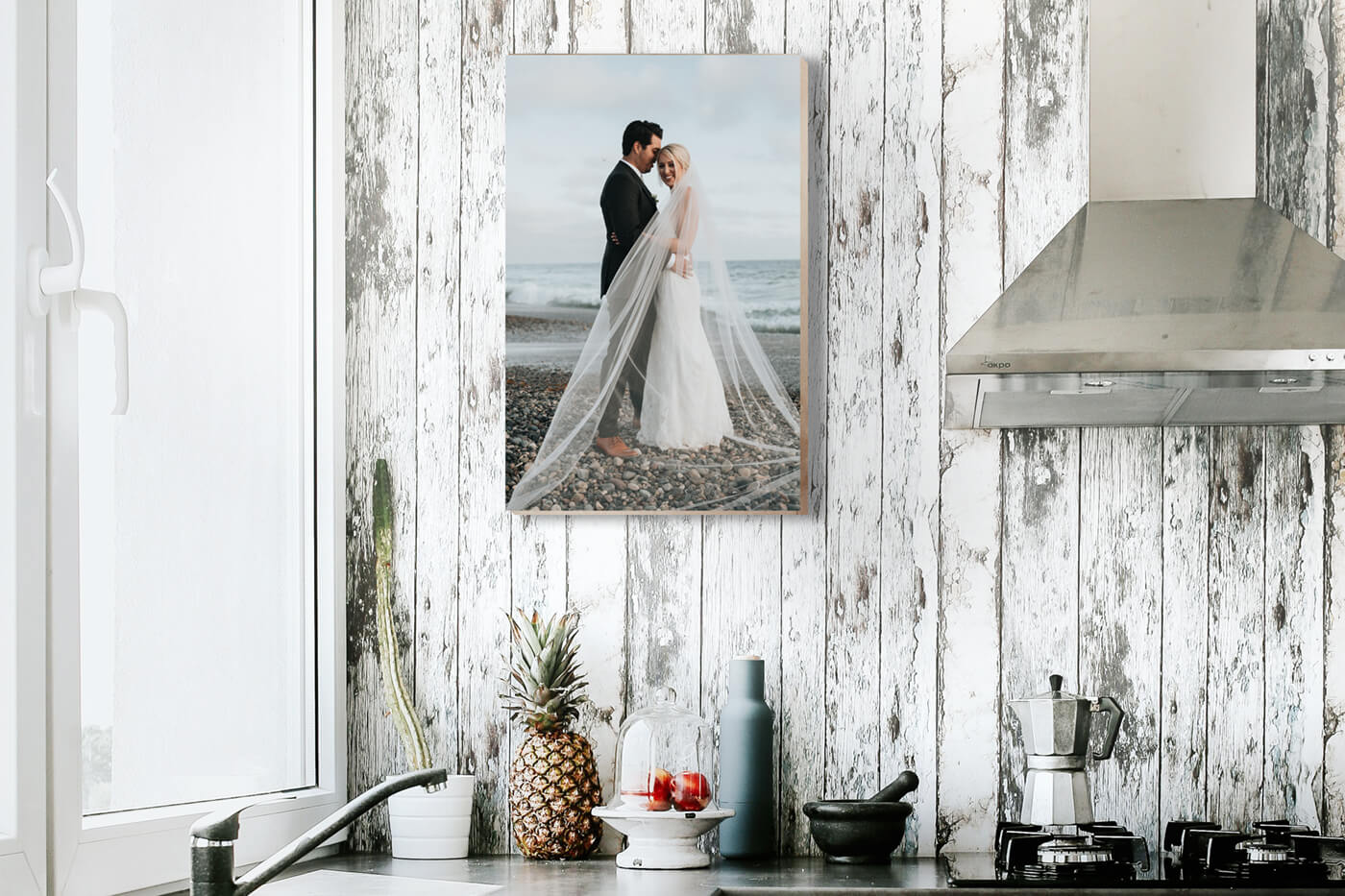 Best Photos for Wood Prints
With all of these unique characteristics in play, it makes sense that not every image lends itself to custom prints on wood. While most pictures will look good as a wood photo print, some will look exceptional and downright stunning. The photos that accomplish this lean into the features that give wood prints their charm. They tend to utilize white space and light colors and work with warmer tones.
Light colors work best with wood prints because of the way they are printed. Like many forms of printing, dye sublimation doesn't actually print out the color white. Instead, it blends the inks to utilize the base color. On standard paper, this process is more straightforward. The white simply shows through as white.
When you print on another material, that surface will show through instead of white. So on a wood panel, that's what makes the grain show through. This concept also applies to light colors, not just pure white areas.
With that concept in mind, certain images will look better on a wood print:
To make sure you show the wood grain, avoid using images with too many dark colors. These dark inks will cover up the wood. Instead, try printing with a majority of light colors or a good mix of highlights, mid-tones and shadows. These colors will add definition to your image while still revealing the beautiful wood grain.
If you want to lean into the sepia tone of a wood print, avoid using too many bright colors. Use lots of light to make your image look more vintage.
Use warm tones if you want something that blends well with the wood. Remember that printing on wood isn't like printing on paper. Warm tones pair well with that yellowish hue. The colors receive more emphasis and are harder to discolor in printing.
To match the natural feel of a wood photo display, consider images that are more rustic and organic. Nature photos and landscapes work well, as do portraits.
As with any print, your image should have a high-enough resolution for the print size. Our photo wizard will alert you if your image is too low in quality.
If you know your way around Photoshop, you can simulate the look of a wood print by layering an image of a pale wood texture underneath your image. Then, change the image layer to "multiply," and you should get an idea of how the image will look after printing. Doing this can help you get a better idea of how the colors and grain will interact with your subject.
To really utilize the unique grain of a wood photo print, consider the following tricks:
1. Try photographing your subject on a white background. When printed, the background won't show up, so you'll have a perfect cutout of your subject on a wood block.
2. Put illustrations on the wood. Wood is a great way to print these, as it offers a texture you can't get with paper, and it can look like it's been carved into the panel.
3. Run strips of pure white across the edges of your image. You can use different patterns to create "frames" that show through the natural grain. Recreate an old-fashioned polaroid print or add sleek borders to the picture.
Whichever images you choose, wood prints are excellent for everything from statement pieces to groupings and gallery collages. They add a unique, eye-catching design to every photo and are sure to turn heads.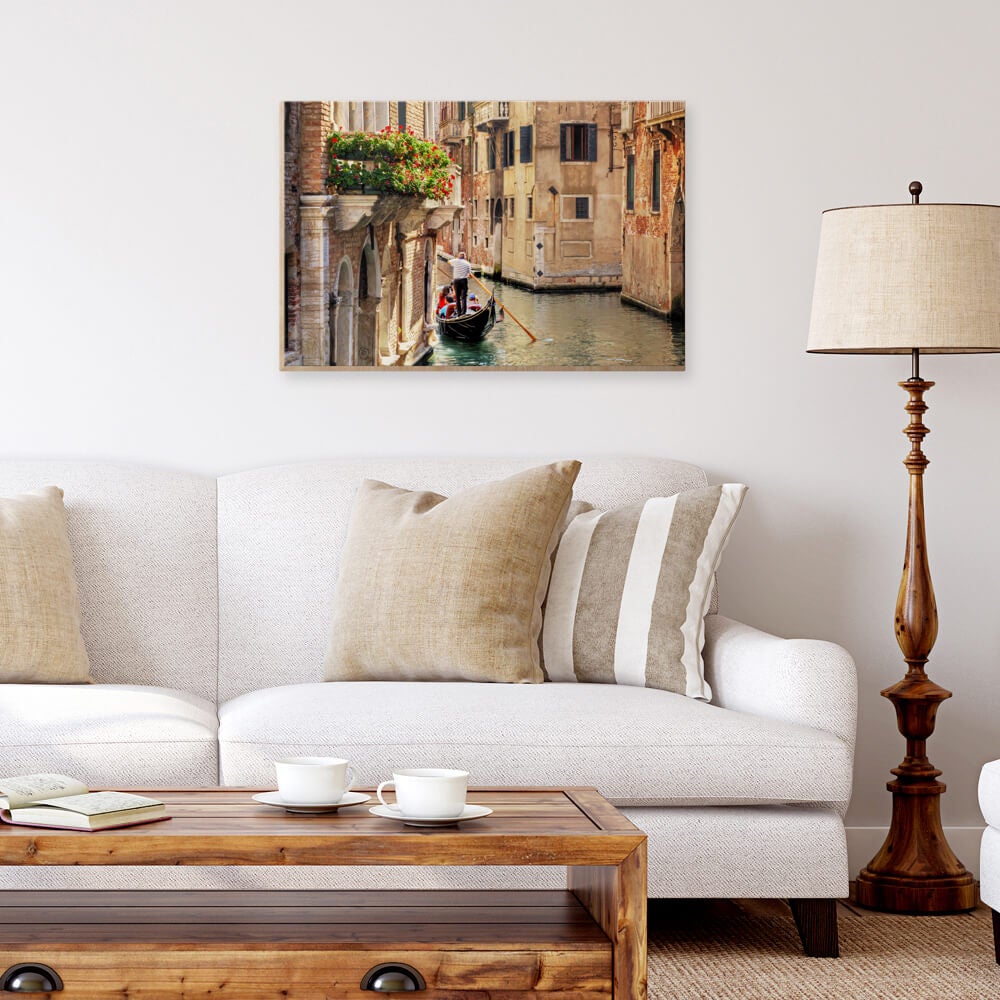 Create Custom Photos Printed on Wood With Printique
Now that you're armed with everything you need to know about wood prints, you can add a new style to your arsenal. These natural, original photo displays are durable and breathtaking. They are sure to make your photos stand out, whether it's from other artists or the rest of the pictures on your wall. They also make excellent gifts because of their originality. A photo print on wood offers protection from water, heat and time, with exceptional durability and archival quality.
For a print that has all these characteristics and more, photographers turn to Printique. We take quality very seriously, which is why we have our technicians look over every piece that goes out of our Brooklyn studio. Our manual quality assurance process allows our experts to correct for issues in color and quality, so the print you get back meets or exceeds your expectations. If it doesn't, reach out to us. Our customer service is second to none, and the Printique Promise is a commitment we uphold to resolve any issues with your product.
For more information about our wood prints or to place an order, check out our product page today!