There's no better excuse for redecorating your home than the spring season. With no major gifting holidays in sight, spring is the season of self-gifting. You can decorate for your own taste, shamelessly splurge on can't-live-without-it pieces, and embrace vibrancy, color, and brightness to their full extent.  With the kitchen being the heart of the home, it's the perfect place to begin working some spring magic.
For this week's Sunday swap project, we'll be walking you through simple print projects you can start and finish in one day that will help you transform your space with ease as the seasons change. Ready to hit the refresh button?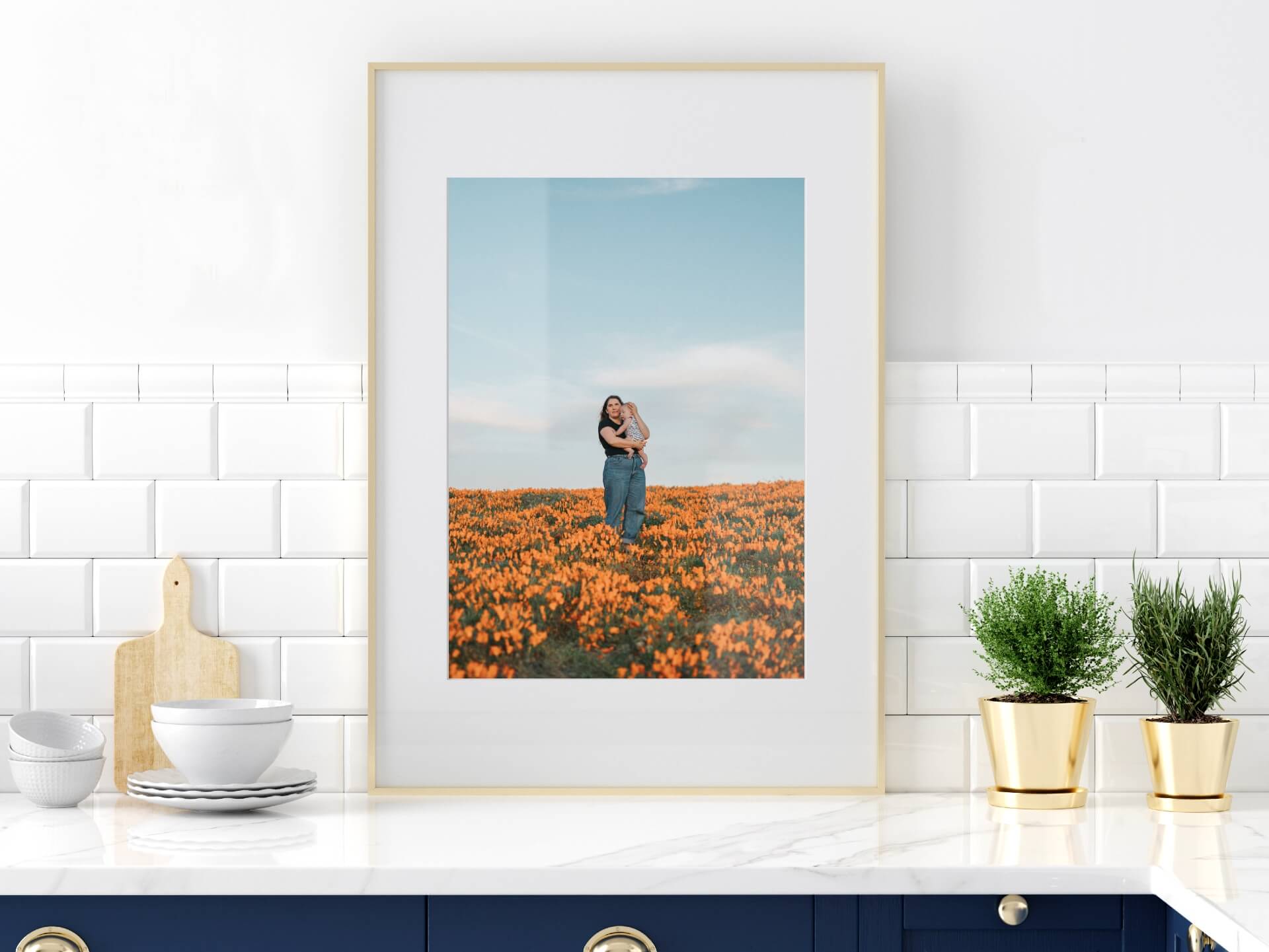 ---
Swap the photo prints hanging on your fridge.
To kick off our kitchen Sunday swaps, we have the easiest swap of all time: swapping out the photos on your fridge. If your fridge is currently decorated by restaurant menus, holiday cards, and an assortment of photo prints, take the change of seasons as an opportunity to optimize the space. With a set of magnets and an order of small photo prints, you can neatly arrange an adorable collage of sweet moments on your fridge.
We love seeing photo prints accompanied by white board fridge attachments. Hanging a small white board on your fridge makes it easy for your family to leave little notes to each other, with relevant pictures alongside them. It's a practice that will guarantee everyone's day gets started on the right foot!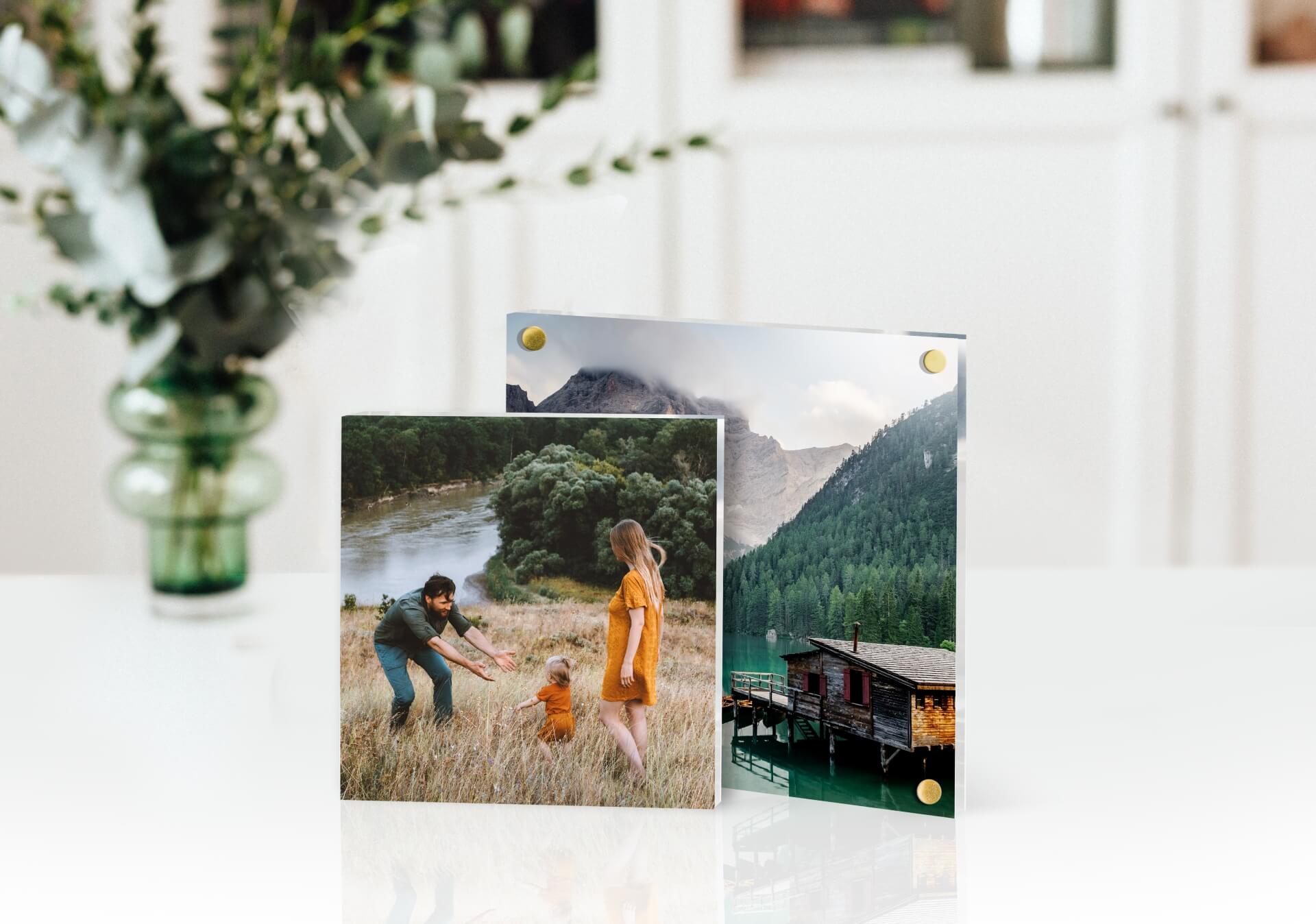 Swap clunky décor for sleek, functional art.
We love thick frames and rustic counter décor for creating a cozy space during the winter months, but the same décor can have a much more overwhelming presence on humid, sunny days, when crisp and cool is all the rage.
We recommend substituting bulky frames with sleeker frames complemented by thick matting.  A thick matting will elevate even your simplest of springtime photos, letting them speak for themselves in a professional quality display.
Do you have kickstand frames claiming excess real estate on your kitchen counterspace? Swap them out with functional acrylic pieces.  Acrylic blocks have a high-end, chic aesthetic, allowing them to elevate any space they're added to.  Our 1-inch-thick acrylic blocks can stand on their own, making their presence on your counter all the more clean and uncluttered.
Here's what we recommend filling your frames with!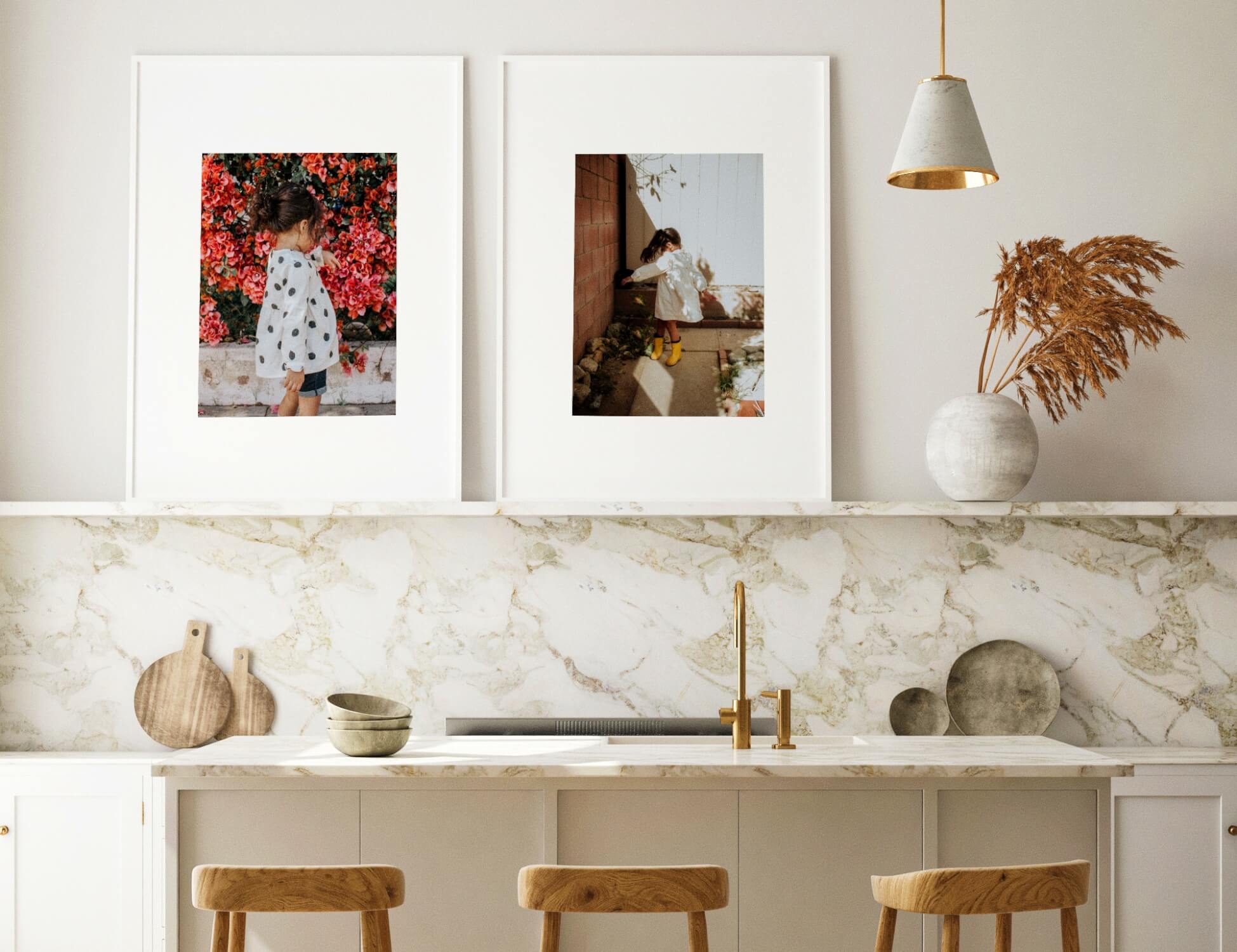 Revisit last year's spring moments.
Revisiting last years memories is a great way to remember happy moments while creating meaningful décor.  We especially recommend this idea if your frames are currently filled with happy memories; Keep the tradition going!  Browse through your camera roll, your social media posts, and the photos shared by friends to find photos that capture exactly why you're eager for spring to return again.
Print your favorite spring recipes.
One of the things we love to see printed on functional kitchen acrylics is recipes! If there's a popular dish you make during the spring, turn its recipe into an aesthetic, sentimental, and conversation-starting piece of art.  We especially love seeing this done with colorful cocktails!  Accompany your recipe with a colorful photo of the dish or drink and you'll have yourself an incredible set.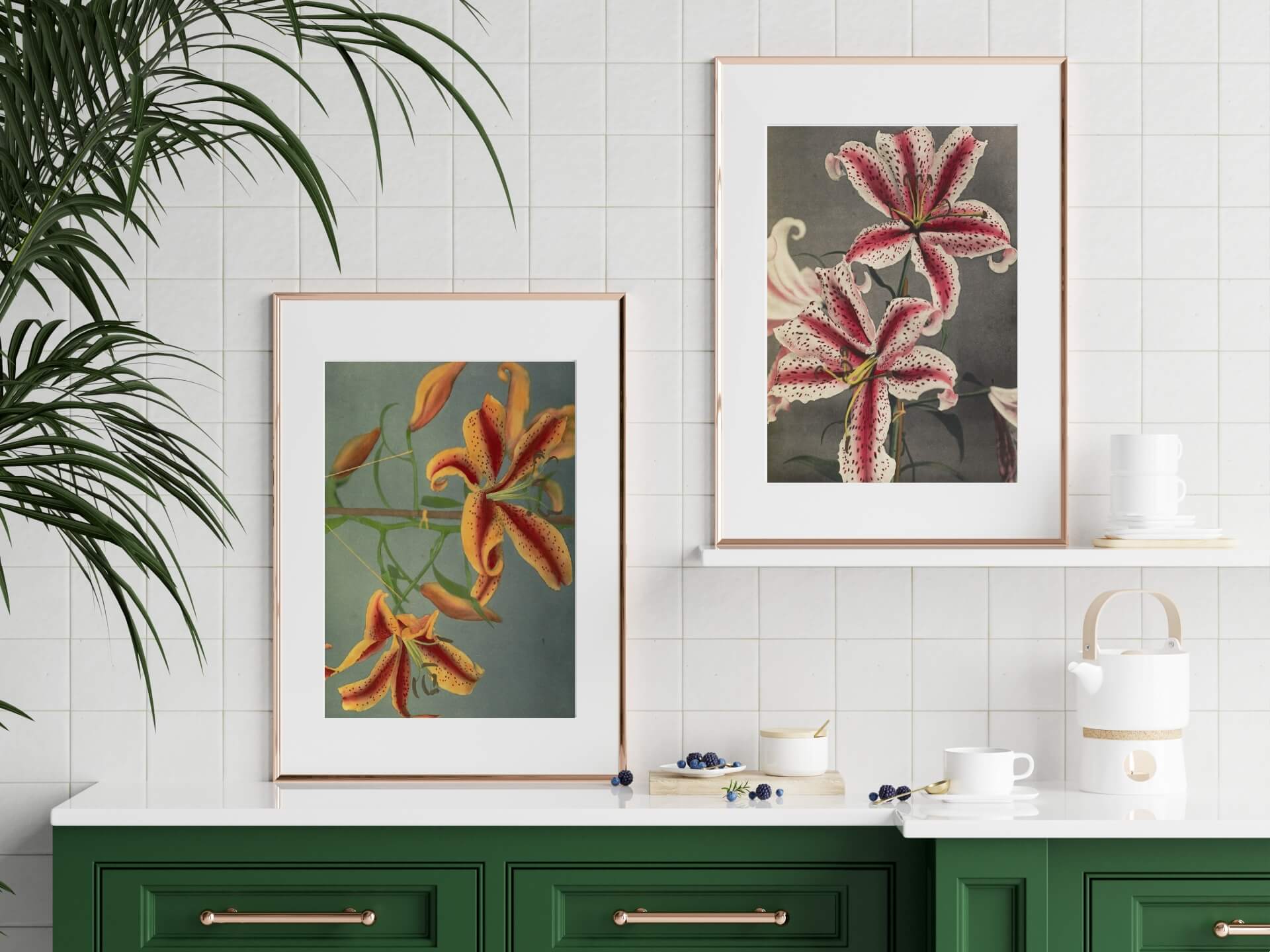 Decorate with flowers that last forever.
You can't go wrong with beautiful floral prints. There are two ways to do this that we equally love: you can print photographs of flowers that you've either taken yourself, purchased, or sourced from free to use photography platforms like Unsplash; Or you can print floral illustrations that were either self-created, bought from an artist, or found in the public domain! Whether you print photographs or illustrations, floral art is a can't-miss for springtime kitchen art.
See our guide for creating floral acrylic photo blocks here!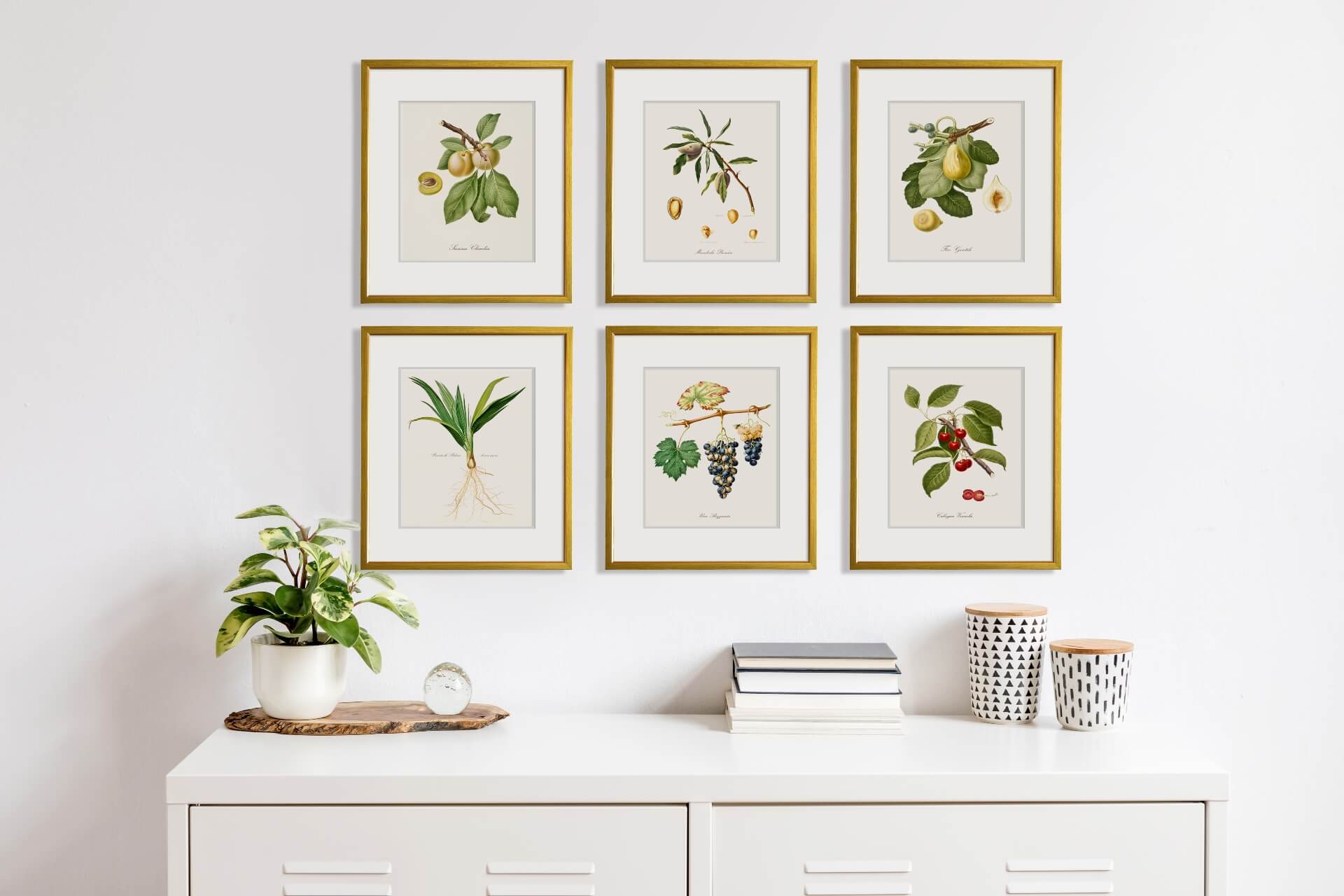 Create a gallery of fruits and vegetables.
A fruits and veggies gallery wall is a great way to swap out miscellaneous galleries or stand-alone filler prints. In fact, there are endless reasons to love this project! Fruit and veggie galleries add an artistic yet clean feel to any wall, they add color without clashing, and they inspire healthy dishes as you head into spring!
Pro tip: The public domain is filled with vintage fruit and vegetable watercolor art that can be downloaded and printed for free!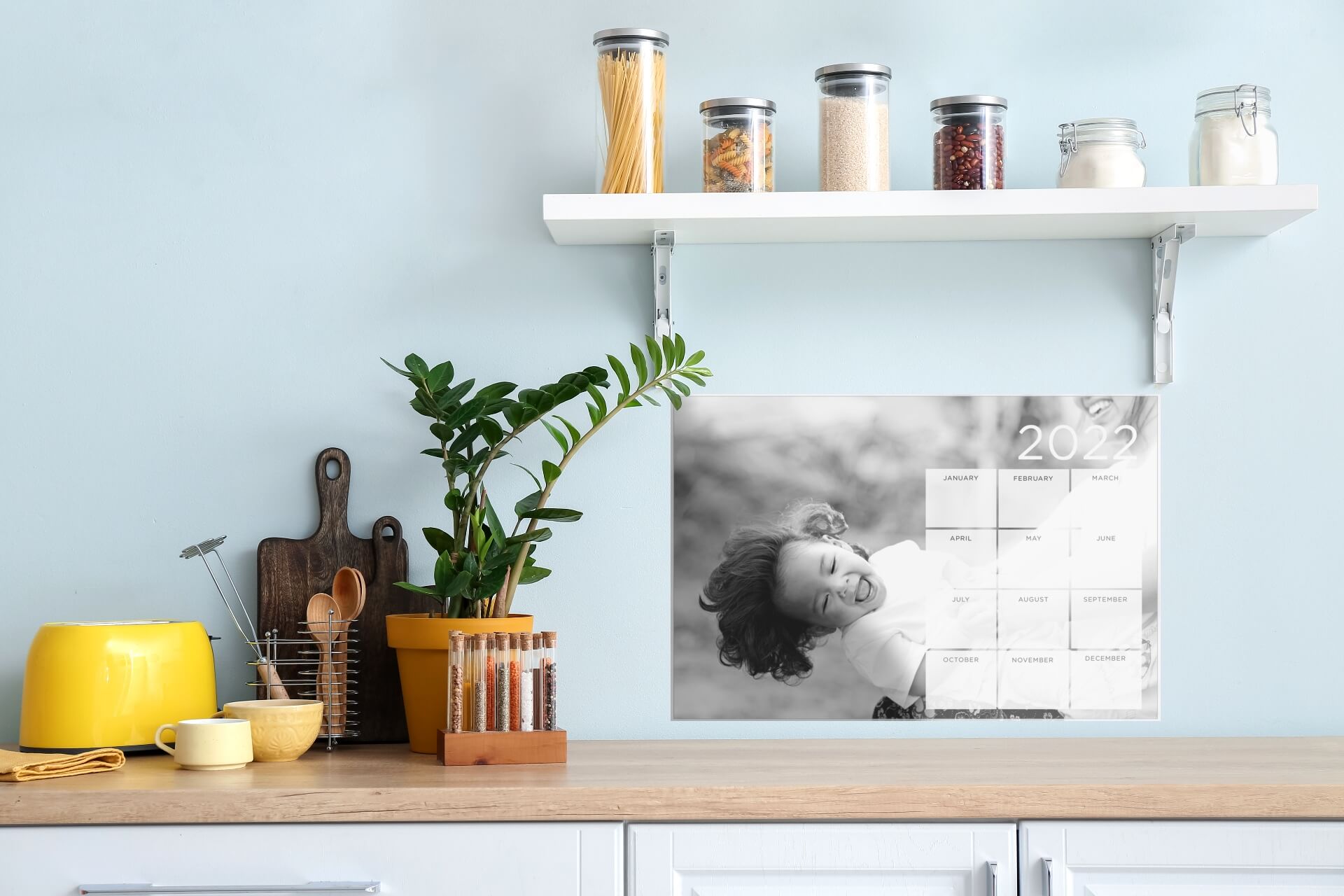 Refresh busy hanging calendars with a crisp and elegant poster calendar.
The central location of kitchens makes them a popular place to display family calendars. While calendars with writing space are an essential part of an organized life, they can also add clutter and chaos to the spaces they're in. Not to mention that they often reflect personal information like doctor visits and private events. That's why we recommend making the swap to a poster calendar display!
Our poster calendars make it simple to keep track of dates and big events, while keeping your space sleek and clean.  Keep your busiest calendar in an office space or drawer for easy access, and let an elegantly designed poster calendar be the front facing time keeper!
---