My family and I are spending a lot more time at home lately, as most people are during these times, and it's given us some time to do some redecorating, planning, and photographing our new modern family portrait.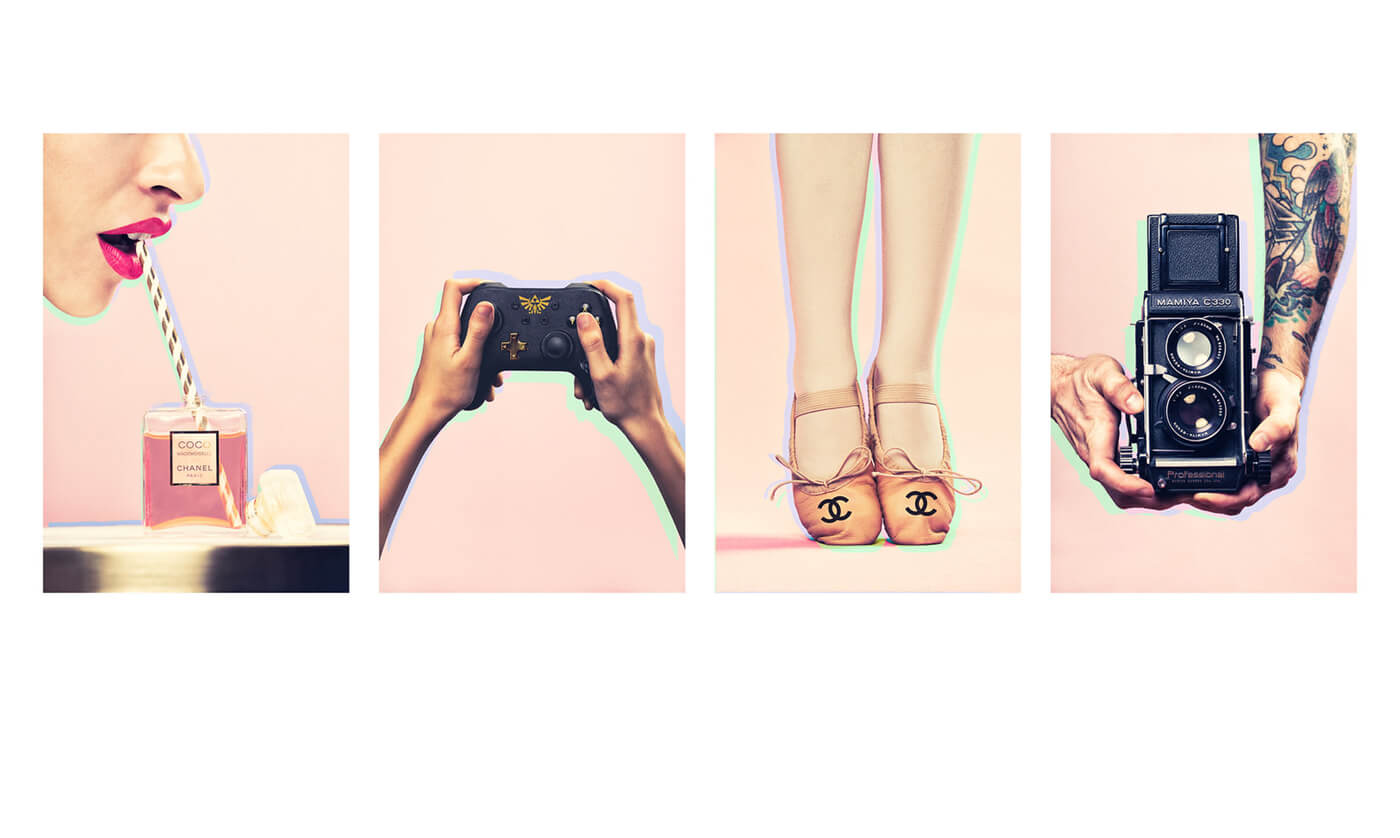 We did some painting, got some new furniture and I really wanted to change up what we had on our walls. Specifically, we have this one wall in our house that is pretty big and we never know what to do with it. It originally painted a grey color and we've had several versions or collage walls on it over the years but none of them ever were what I totally wanted to do with it. When we recently painted it white I looked at the wall and knew right away that I wanted to try to make it look like a gallery wall in a museum or art studio, which meant going big.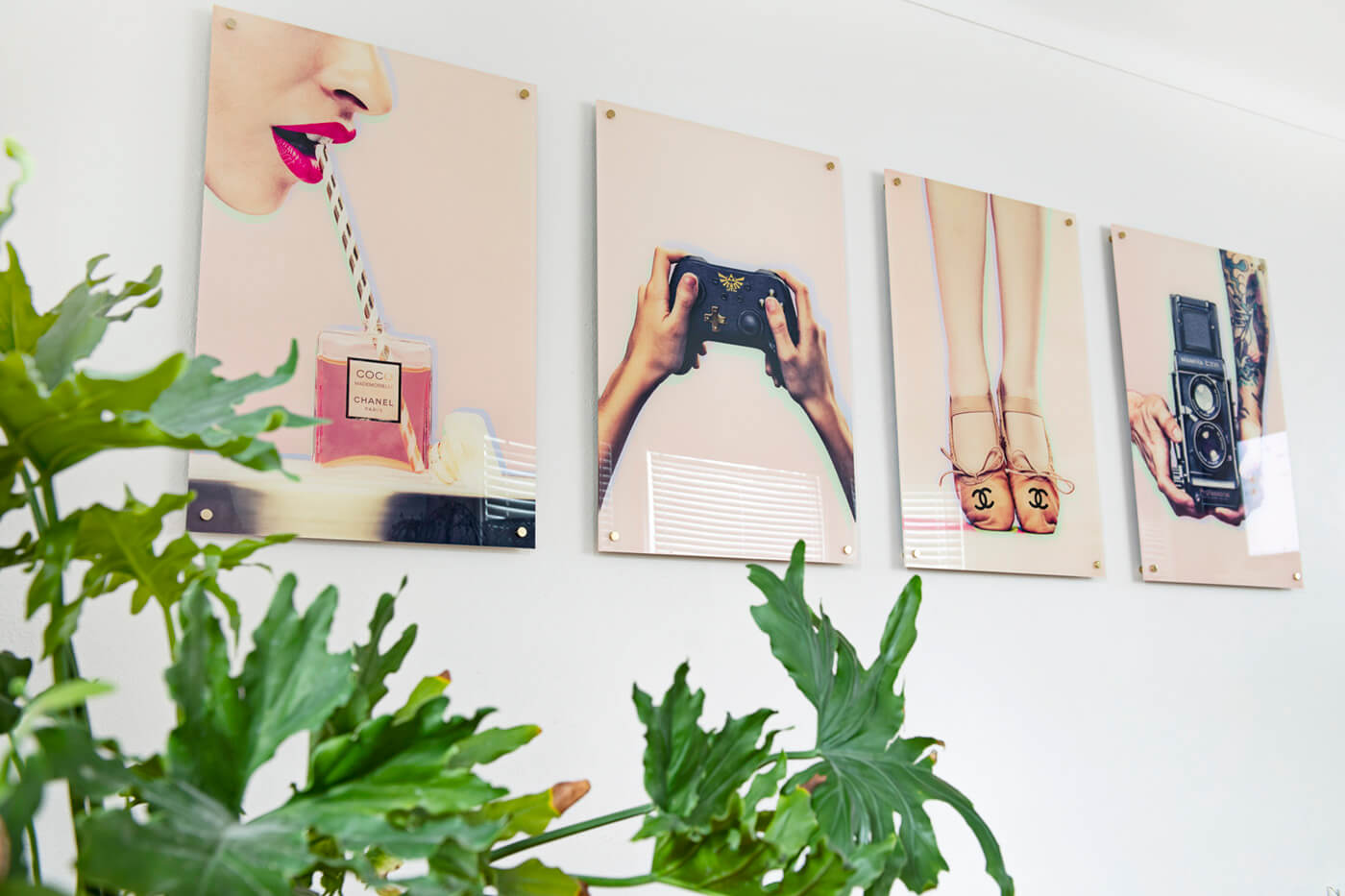 The problem I found with going big was that it's a big commitment too. On our old collage wall we had a lot of 8×10's and the occasional 11×14, and it was easy to swap out prints pretty regularly. Going with bigger prints is a bit more of a commitment, but I knew that's what I wanted. I really wanted that art gallery wall feel. 
I'm a big fan of taking pictures of my family and since this is for our family living space I knew it had to be of all of us. So I tried several photos of each of us and mocked up the gallery wall on my computer but couldn't commit to one. Whether it was a staged portrait or a candid shot nothing felt right or like it was a piece of art. I wanted it to be us, but I wanted to make art that could go on anyone's wall (at least in theory).
We ultimately decided to try to go with a pop-art feel and I went back and forth on what I wanted and how to do it.
A photographer I'm a big fan of, Tyler Shields who did a photo of a girl drinking out of a Chanel bottle, and I remembered seeing that several years ago and thinking, "this would be the perfect shot for my wife." She loves all things fashion and beauty and together we run a fashion blog The Weekender Fashion. So I knew that would be a good one for her but what about the rest of us? I was pretty simple, I've had lots of hobbies and interests over the years but photography has been with me for most of my life so I knew I wanted a camera in my shot.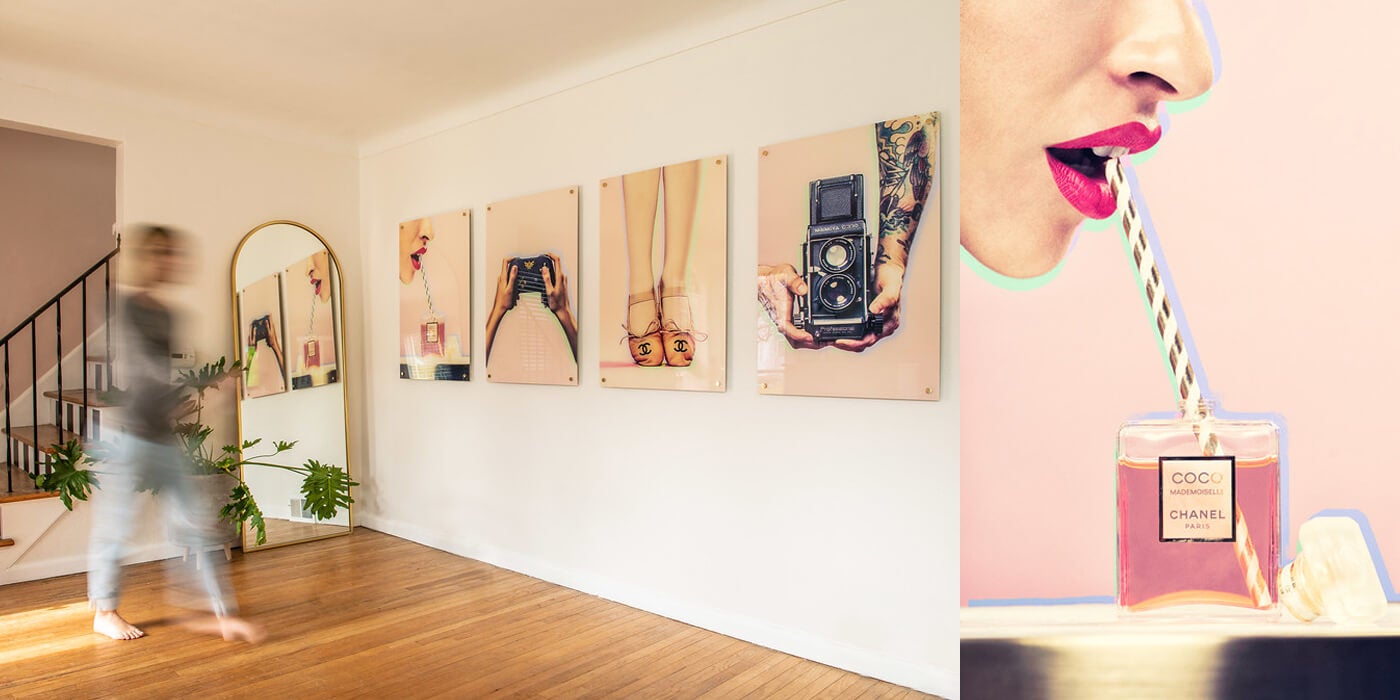 The kids were a little more challenging. When you are young you have so many interests and they change on a monthly, sometimes weekly basis. I knew I wanted them to represent what the kids love and will last a while. My wife bought the video game controller for our son, we threw around different ideas like legos or soccer but ultimately I knew he's a gamer and that's what would best represent his personality.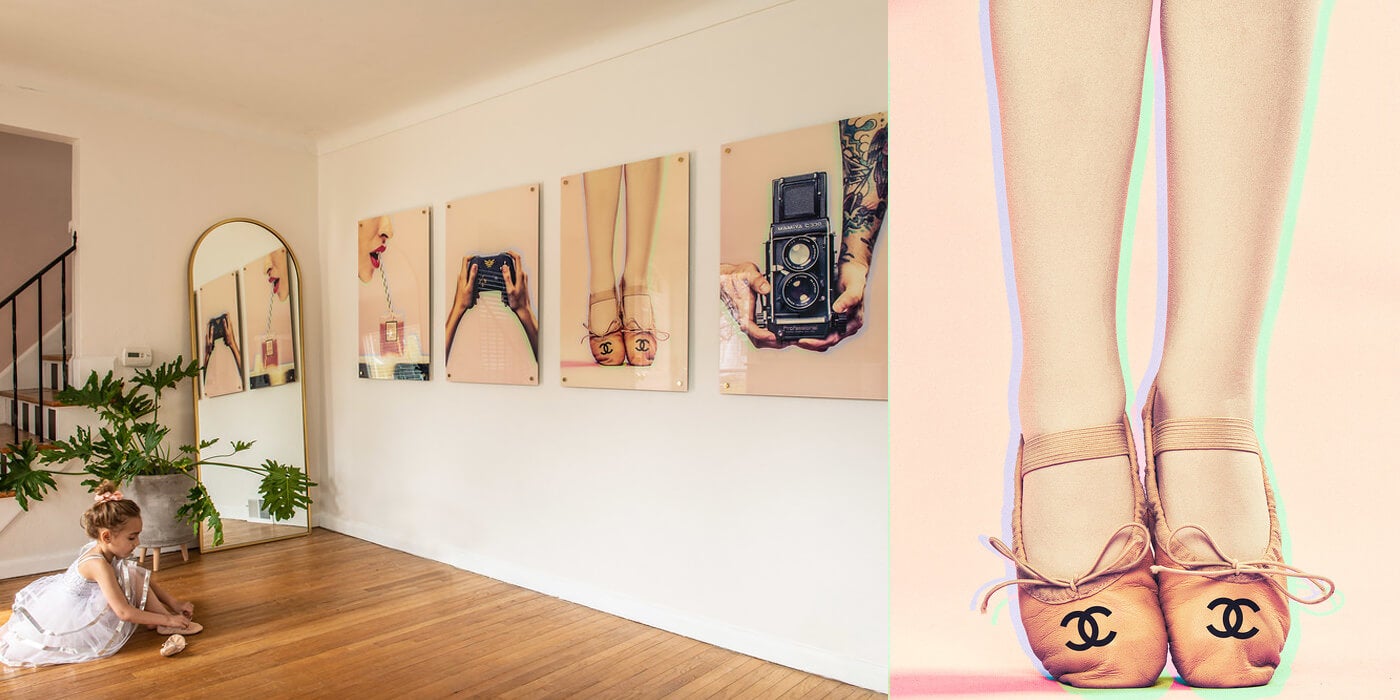 For our daughter, we quickly decided on the ballet flats with the Chanel logo since her Name is Coco and it tied it back to Jess's Chanel photo since she's basically a mini-me to my wife and she loves to dance and perform.
Shooting these was the easy part. We did this all in the same room they are currently hanging. It was three lights and a light pink background. I used one strobe with a big parabolic umbrella overhead, a strobe with a diffusion panel camera right, and the last strobe straight on from above the camera with a beauty dish.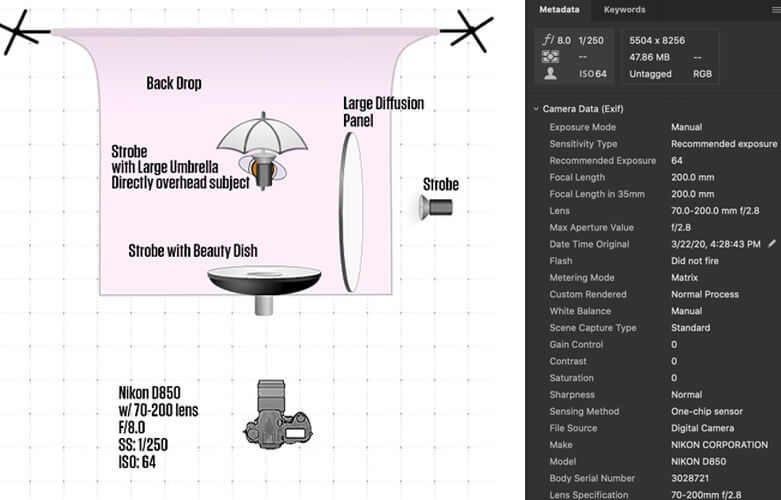 The main lighting comes from the overhead and sidelight and the beauty dish was set really low to just fill in the shadows. I knew I wanted everything to be tack sharp so I put the camera on a tripod and was at f/8.0. I tend to add grain to most of my photos, but I knew for editing I wanted them as clean as possible. I also knew I wanted the photos to fill the image as much as possible so to minimize any distortion I went with my longer lens and shot the whole series on my 70-200. The focal ranges are all different, but they all fell between 100mm and 200mm. In the end, I only ended up firing around 20-30 frames per person before I felt like I got it.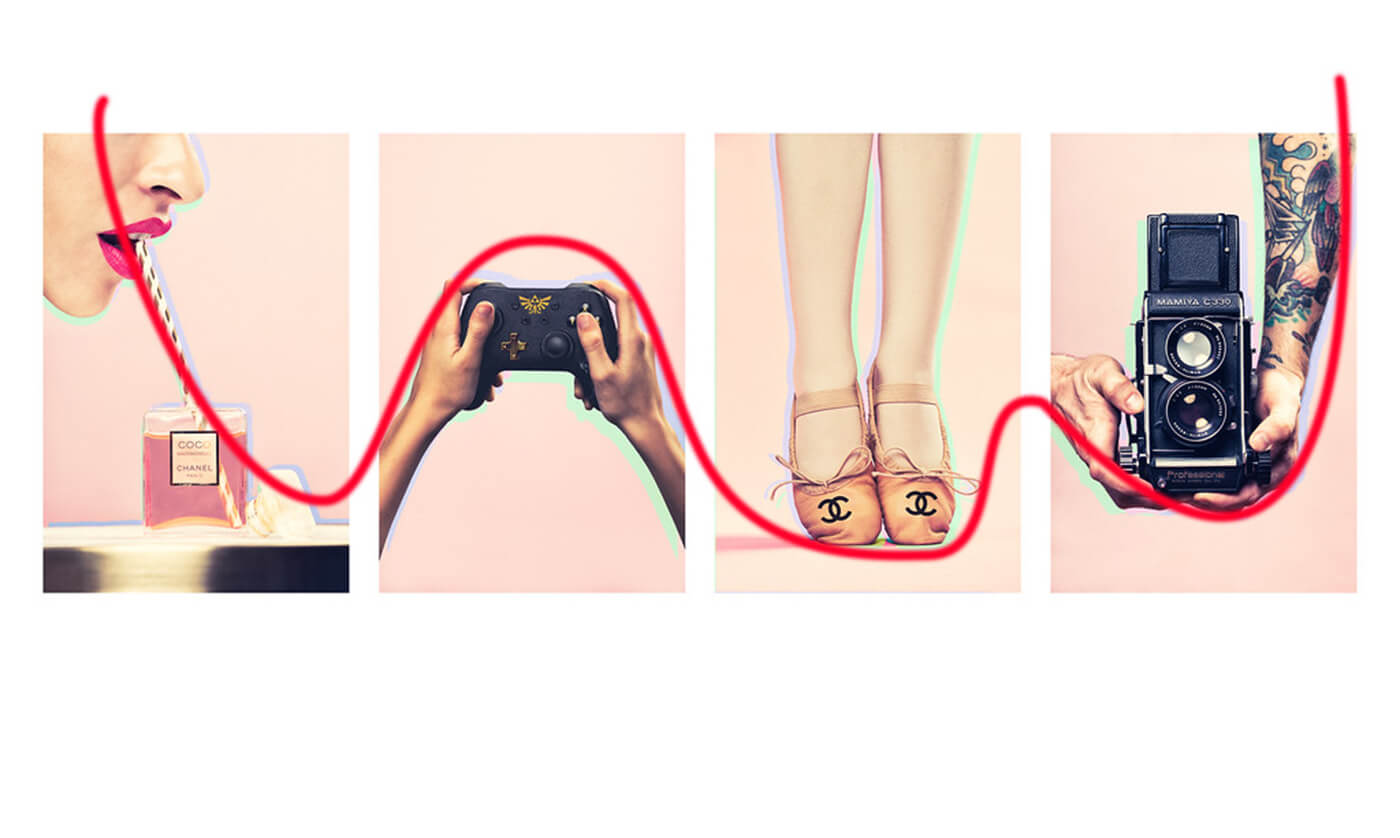 Photoshop was relatively simple on these as well. The lighting is what gave them most of the look. But playing with color and dodging a burning really made them pop. After basic clean up/retouching, I spent a lot of time on dodging and burning, zooming in to each little detail and dodging all the highlights to make them pop. After that it was a matter of playing with color. I love the soft pastel colors and with our new house decor I knew that would be the way to go. So after I played with the color balance tool a little bit I used one of my favorite plug-ins that I've had for years. The NIK Color Effect Pro and used their cross processing filter and then tweaked the opacity to lessen the effect to fit my taste. 
Once they were all edited came time to print them. I had originally thought I would do framed prints. I knew I wanted them big to fill the wall so I started searching the Printique website for their various frame options. They had a lot that would have probably looked really nice, but I just kept thinking to myself that I wanted this to look like a modern family portrait art gallery So I looked around the site at different options. First I saw the metal prints and thought that could be cool but as soon as I came across the acrylic prints I knew right away that's what I needed to have. I love how they float on the wall and the gold mounting posts just look so nice and make the prints extra special. They truly look like works of art on our wall.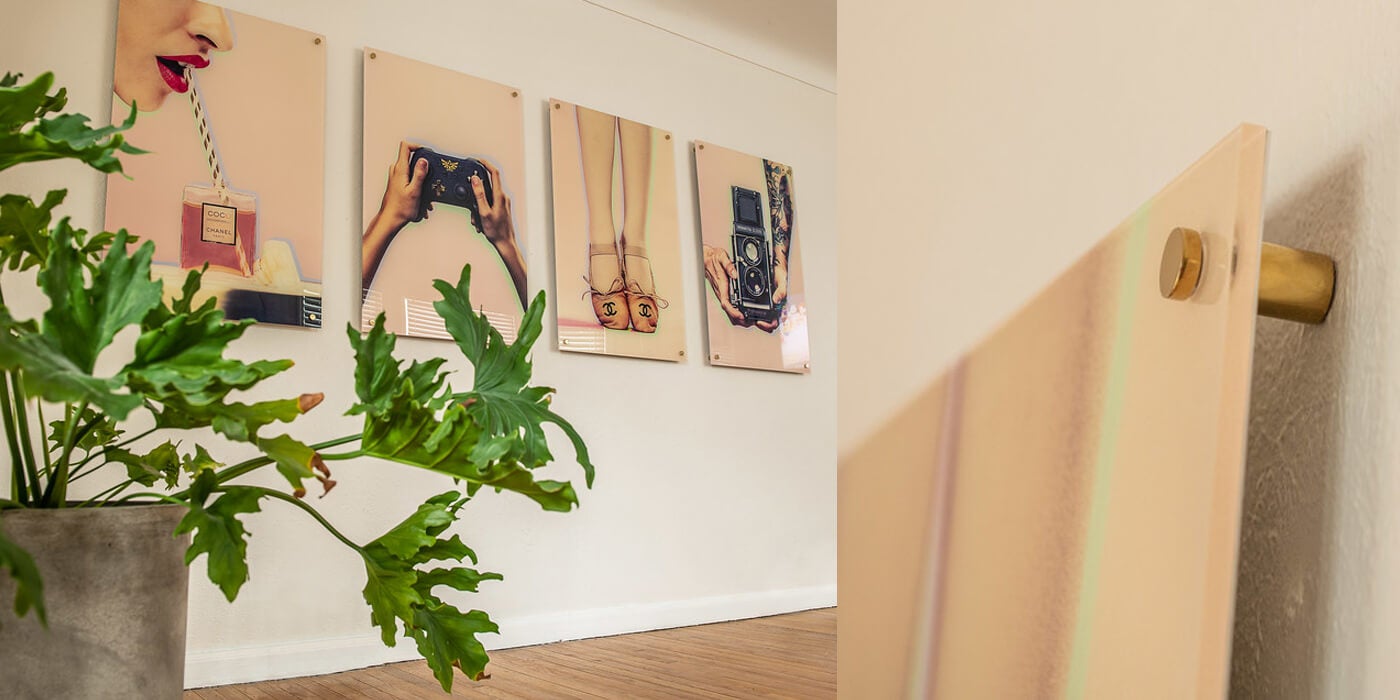 From the time I ordered them online to being hung on my wall was about a week which seemed crazy fast to me. They were shipped within 3 days of ordering and arrived a couple of days after that in 2 boxes.  The physical hanging process was super easy. The hard part was measuring and planning for the hanging. Once we decided on the right height it went smooth. We ended up getting the 24×36 inch prints which I recommend is a two-person job, but if I had smaller acrylic prints I'm confident I could have done it by myself. 
Since it comes with holes for the mounting posts you basically just hold the print on the wall where you want it, level it, and mark the holes and then drill. Simple as that. Having multiples and on a large scale makes it a bit slower because you have to measure everything so they line up perfectly. But it's just a matter of taking your time.
We love the way these turned out in our house and are so excited to show them off to our friends and family when they come to visit. They elevate the look of our house and truly transport you to a high-end art gallery. I finally got the gallery wall of my dreams all thanks to Printique. And am excited about enjoying it for years to come and hope to pass them along to the kids as they grow up to keep as family heirlooms. 
Robert Wagner is a Commercial Photographer and Videographer, based out of Toledo, Ohio. He specializes in creative portraiture and stylized retouching.