Metal prints are a truly one-of-a-kind way to bring your favorite images to life; So how can you make the most of this luxurious style, and guarantee that nothing short of the best metal print arrives at your doorstep? To help you out, we've compiled five tips that will steer you clear of the most common metal printing mistakes.
Ready to create metal prints that you'll treasure for a lifetime?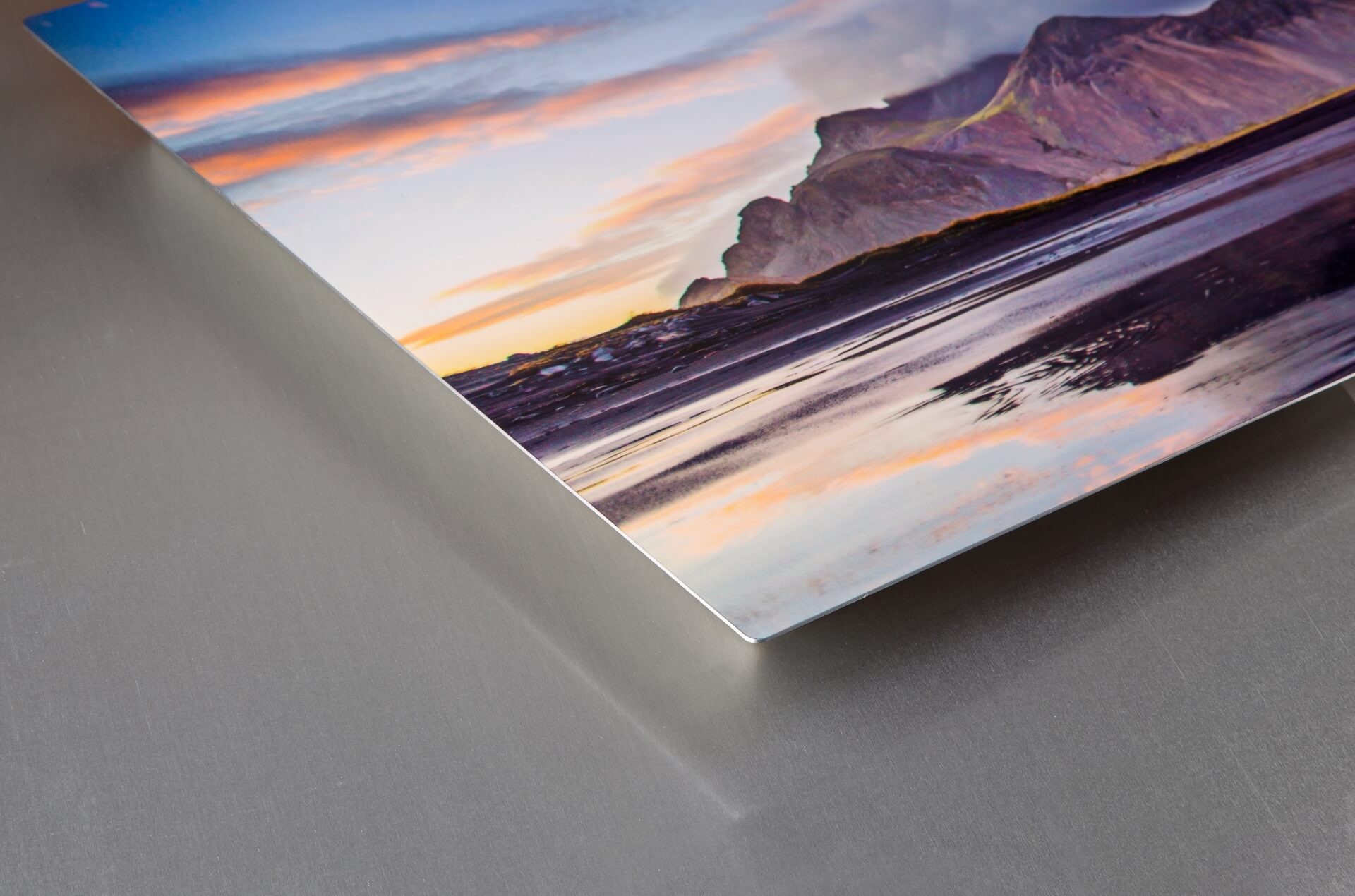 The best metal print will display your favorite photo.
This might seem obvious, but it's our first tip for a reason. While we love (and highly recommend) experimenting with standard photo prints and what you print on them, the photos you print on metal should be carefully selected.
As your image is transformed into a metal print, it will be cooked into an aluminum sheet at high temperatures. This creates a permanent bond between your image and its metal base; In short: metal prints are made to last a lifetime. You won't be able to swap your image out like you can with framed prints, or order and store hundreds of metal prints at a time like you can with standard prints.
Because of this, we recommend selecting your absolute favorite photos when creating a metal print – the ones that came to mind straight away when we said "favorite photos"!  Print the photos you can't help but send to friends and family on a regular basis. Print the photos you revisit on your camera roll or computer multiple times a week. These are the photos that will make every day better by simply existing in your home.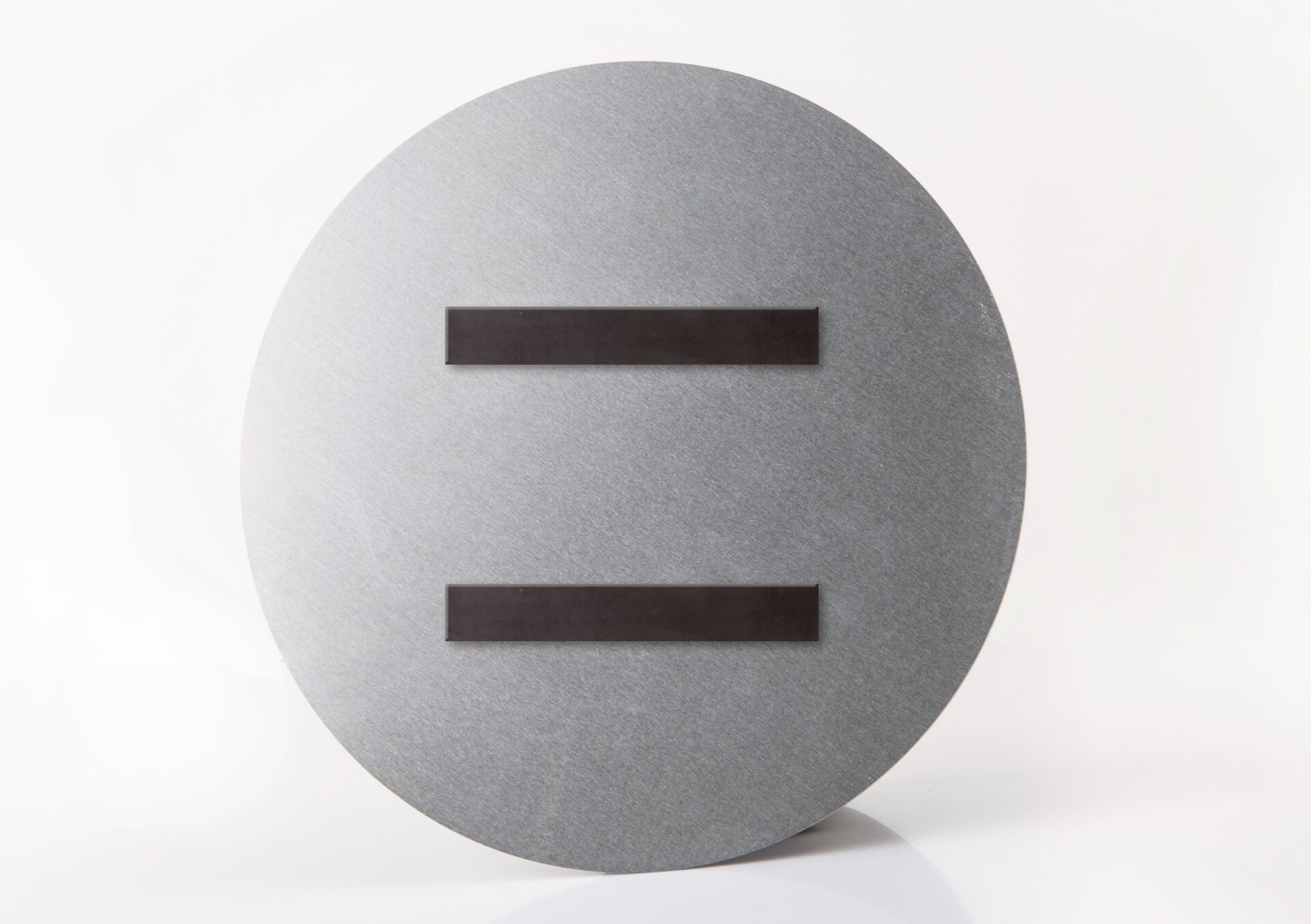 The best metal print will utilize the proper mounting.
Printique offers a number of unique mounting options for our metal prints. When ordering a metal print, you'll be able to select the mounting you would like it to ship with. Depending on the size of your print, you'll be able to choose between a magnetic mount, an acrylic pedestal, an easel stand, a wall float mount, or no fixture at all.
This step is easy to fly past when eager and excited to get your order placed, but taking the time to consider where and how you will display your metal prints will save you trouble later on. The ability to elegantly display your prints as soon as they arrive is what separates great metal prints from the best metal prints; Selecting the perfect metal mount during checkout will ensure your Printique order arrives with everything you need to bring the décor of your dreams to life, exactly as you imagined it.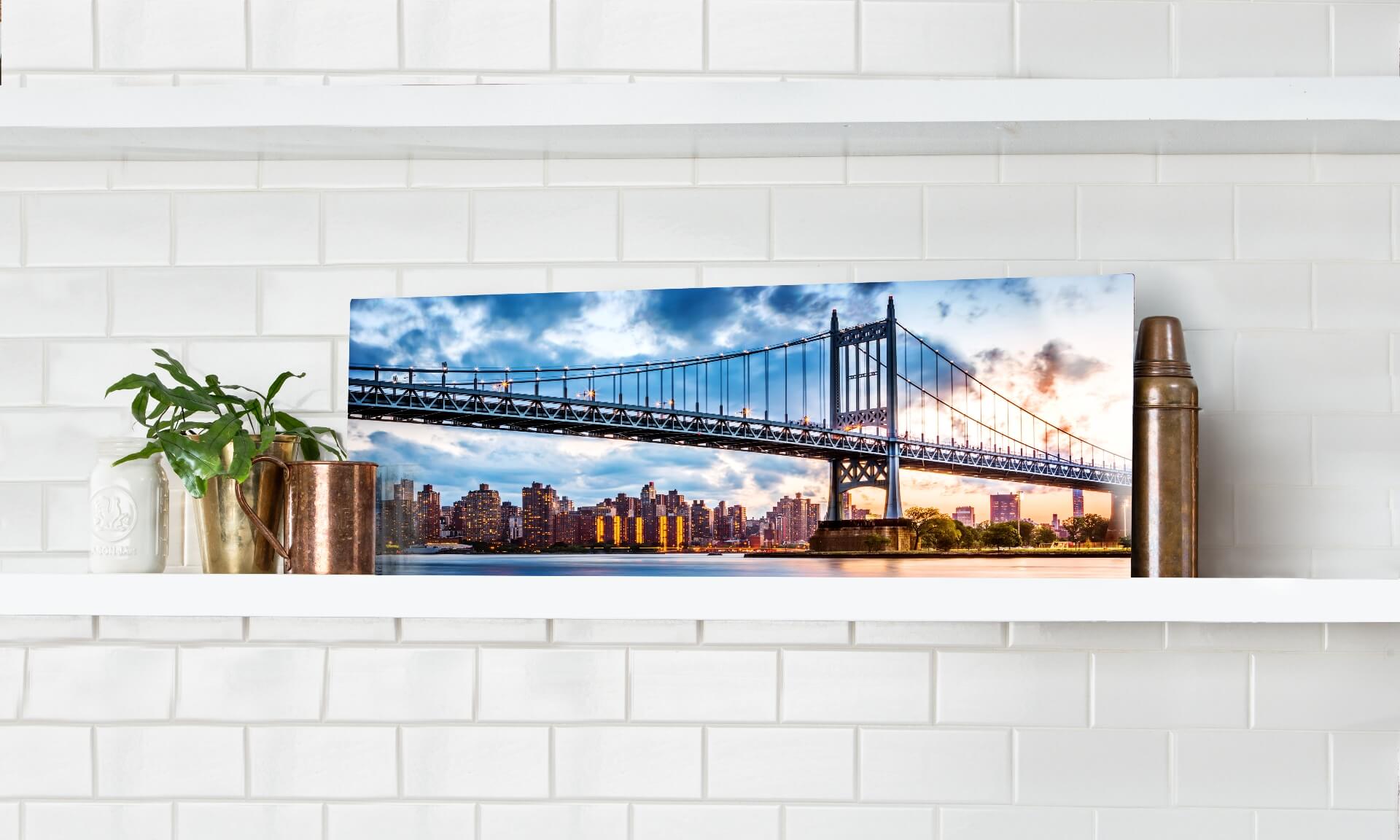 Complement your photo with the proper metal shape.
With over two dozen metal sizes and shapes to choose from, you're sure to find one that elevates your photo of choice to new levels of luxury. We offer our metal prints in heart shapes, circles, split displays, panoramas, hexagons, squares, and standard rectangles. The shape we recommend will depend entirely on the photo you're printing!
For example, if you're printing a wide landscape or panoramic view, select a panoramic cut. This will ensure that your entire photo is captured while maximizing its effect. If you are printing a portrait or group photo, however, chances are you won't want to select a panoramic cut, which may cut out critical parts of your photo.
Instead, opt for a standard square or rectangular cut, oriented to match your image (our platform will orient measurements automatically). If you're printing a macro photo of flowers or water droplets, we recommend printing your photo on a circle cut print. You can see more tips for printing circular metal prints here!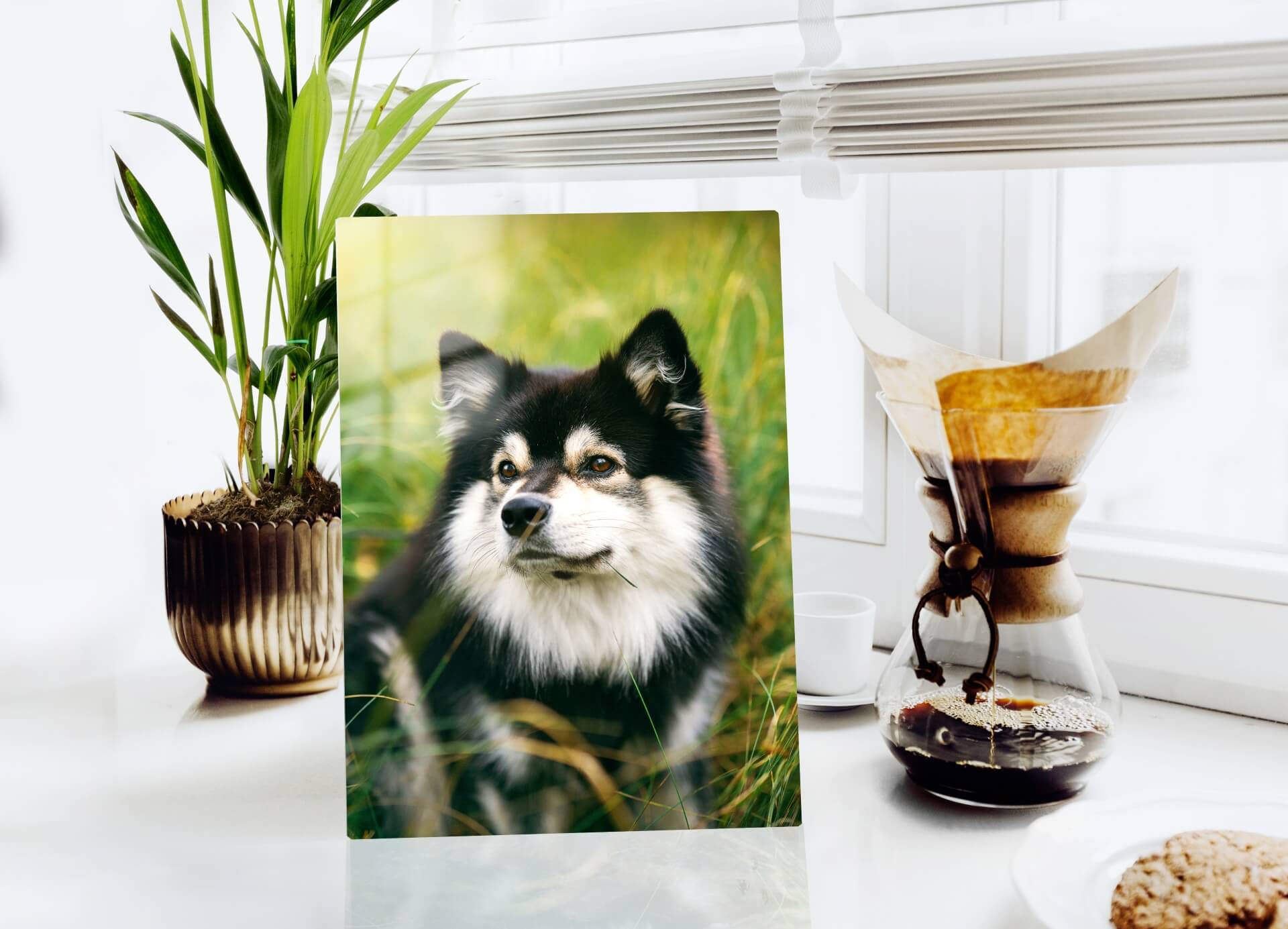 Choose the best finish for your metal print.
Did you know we offer four unique finishes for our metal prints? Our four available finishes are glossy white, white satin, glossy silver, and silver satin.
A glossy white finish on your metal print will create a bright, saturated final image. The white satin option will give your photo on metal even-toned, lifelike colors with a soft, glare-free finish. Select the glossy silver finish and your metal print will arrive with silvery metal highlights shining through its glossy finish, giving your image a luminescent beauty. Achieve a softer metallic finish with our silver satin option, which will give your metal print softer tones and soft, silver highlights that create a dreamy luminescent aesthetic.
Pro tip? Choose either of the white finishes when printing portraits of people. This finish will help keep skin tones in tact. Our silver finishes replace your image's brightest white areas with glimpses of the photo's metallic base. This means eyeballs, teeth, and the brightest skin areas can be altered if this finish is selected.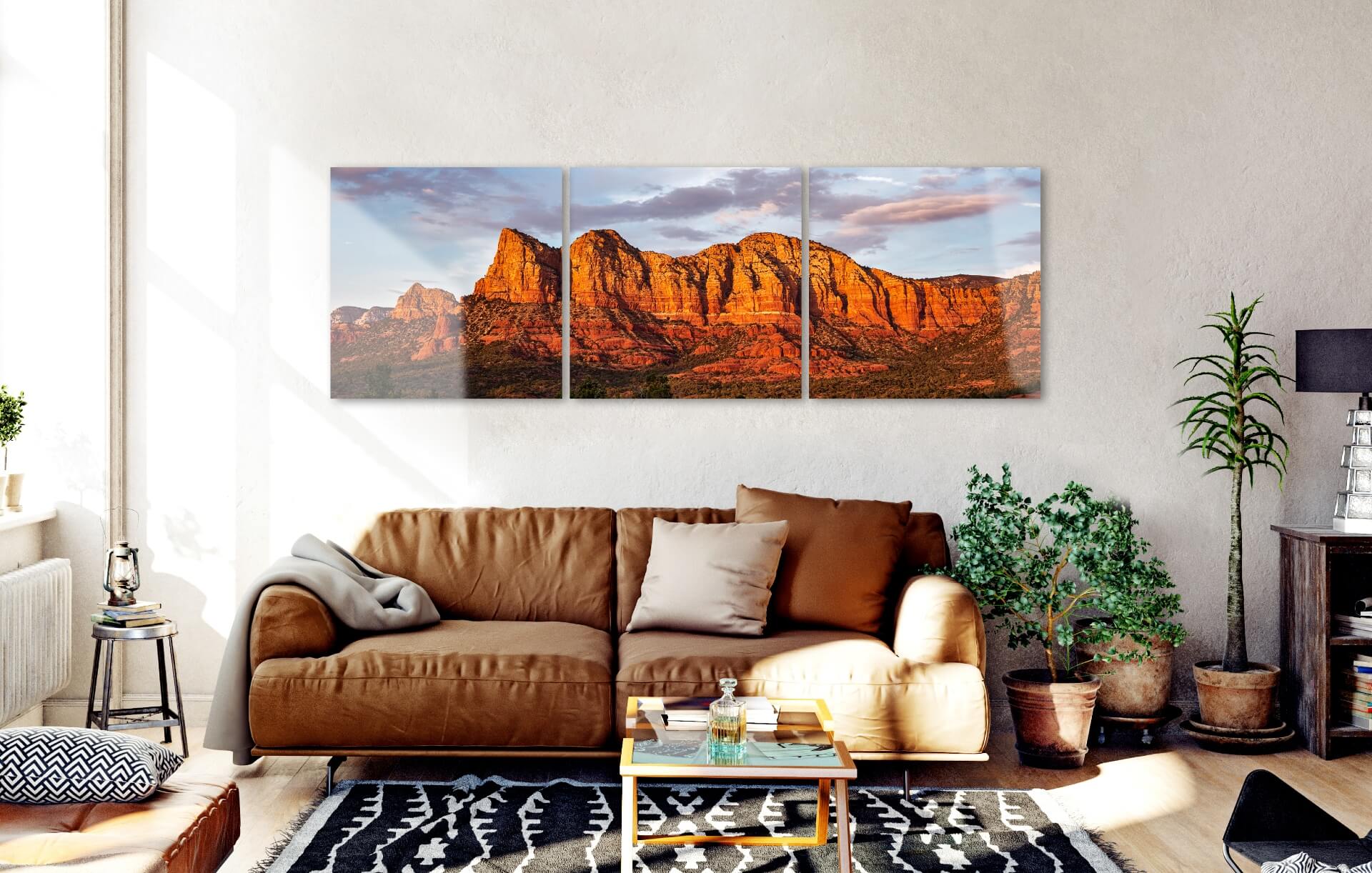 When hanging a metal print, we recommend using French cleats. A French cleat is a molding with a 30–45 degree slope used to efficiently support heavy weights. Once you decide where you want to place your hanging metal print – most museums agree that hanging art at eye level is the most pleasing – simply secure your French cleats to the wall. The mounting system on the back of the larger metal prints will fit to a French cleat. This will enable you to mount your best metal prints securely, without having to hold the full weight of the piece while securing it.
When hanging metal clusters, keep in mind that the clusters are designed to be spaced about an inch apart – this is so it keeps the piece together creating the art without any unnatural breaks. We suggest using a tape measure, a chalk line and a level to help you hang the metal clusters. The clusters come with a wall float and will stand about 1/2″ away from the wall. For best results, hang clusters with 1″ of space between each panel. This measurement ensures cohesiveness while still creating impact.
---