Your baby's first months and years of life will pass in the blink of an eye. How can you preserve these precious memories before they're gone? With a baby photo book, you can hold onto the moments that matter most.
A baby photo book is a beautiful and timeless way to blend photos and words to capture the essence of this fleeting time.  Our premium, artisan crafted photo books will display your most personal photographs with everlasting care.  Your baby will one day show their grand children the incredible book that their parents created for them.
We've simplified the meaningful process of baby photo book creation into 5 simple steps.  Follow them chronologically and you'll make your way to a life-long treasure with ease.  The countdown to your most incredible baby photo book ever starts right now!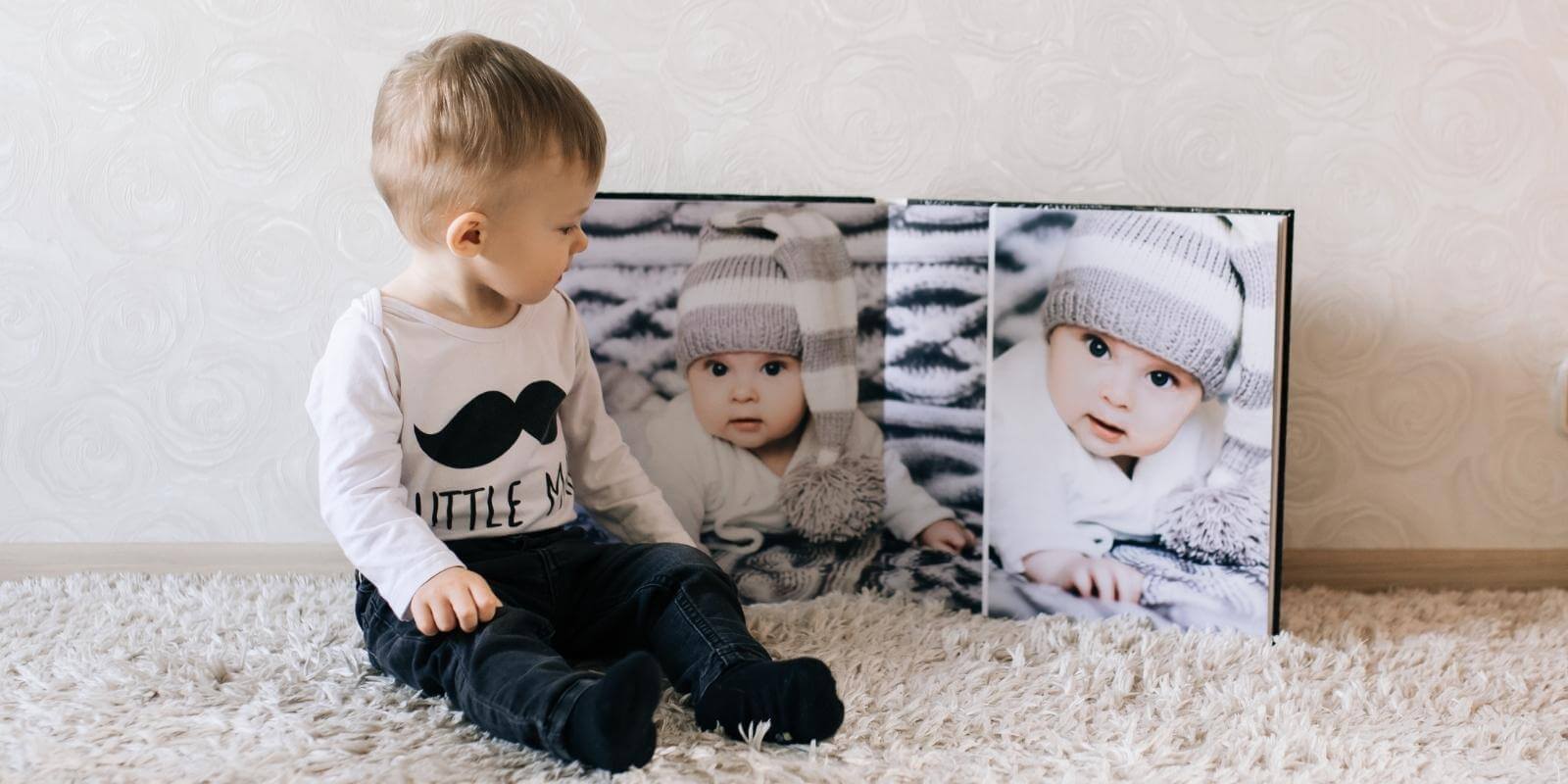 Step 1: Choose a theme for your baby photo book.
Knowing how you will structure your baby photo book will dictate what type of content you will include, so make sure it's the first aspect you decide on!
One baby book style we love is the Letters to Baby photo book; In this photo book, you are able to mix words of wisdom with family stories; Your little one will look to this book for guidance and joy for years to come.
Another way to arrange your favorite baby photos is in a milestone book.  With a milestone book, you can showcase your baby's most meaningful accomplishments.  Personalize your book by including some milestones that are particular rather than generic.  For example, include a photograph and date stamp of your baby's first time meeting your beloved family pet.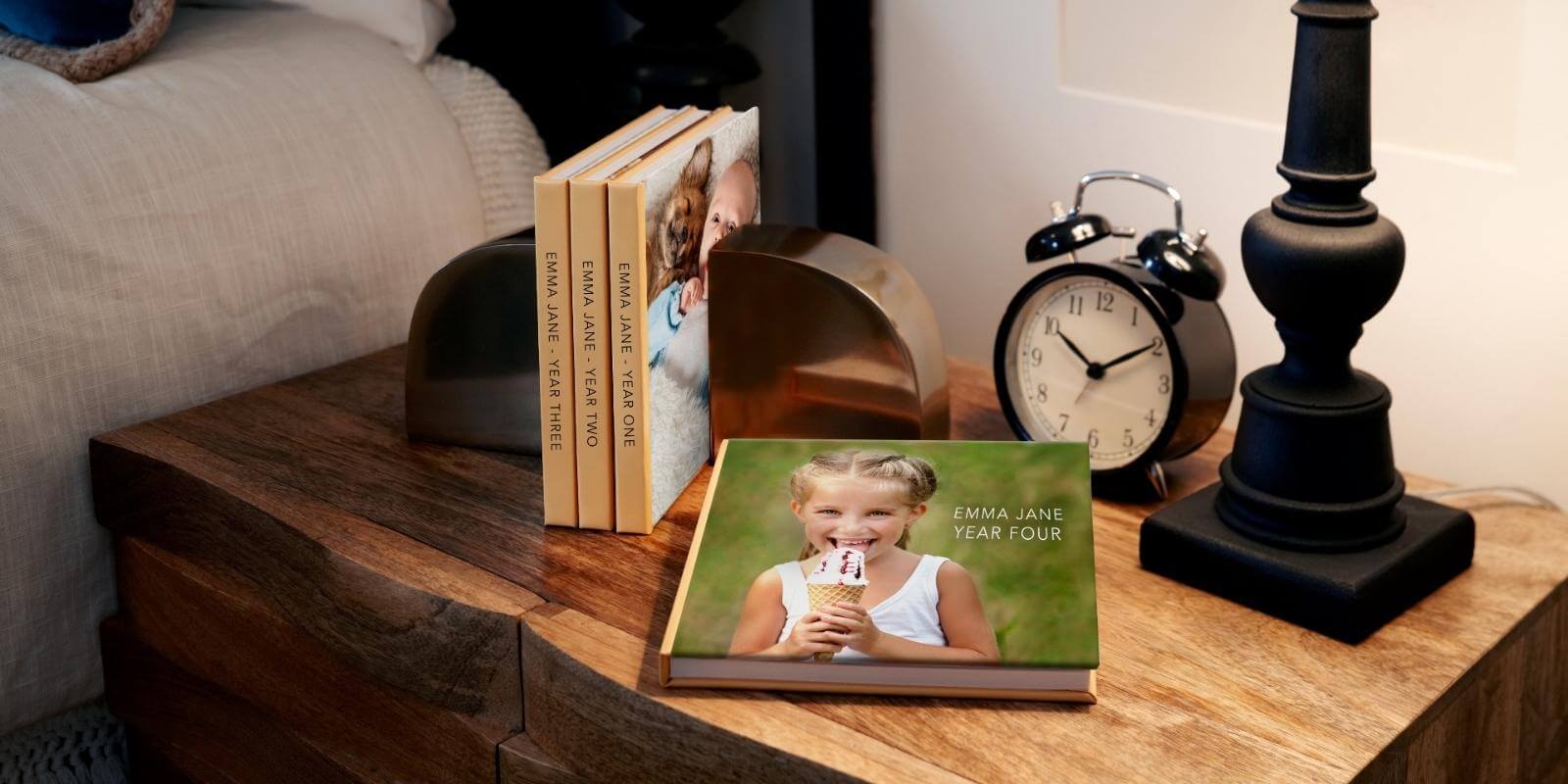 A third baby photo book style that we adore is the year-by-year arrangement.  Only the first two editions of this photo book can be considered "baby photo books," but we're including it here anyway. It's an infallible way to live in the moment and preserve memories all at once. 
Begin with a book titled [Baby's name]'s First Year. Include all the adventures, highs and lows, and new friends of that year. End the book with photographs from their first birthday. Then, do it again for year two!  This tradition will quickly become one that both you and your child hold close to their heart.  Years down the line, you'll be so grateful that you compiled your memories in such a fashion.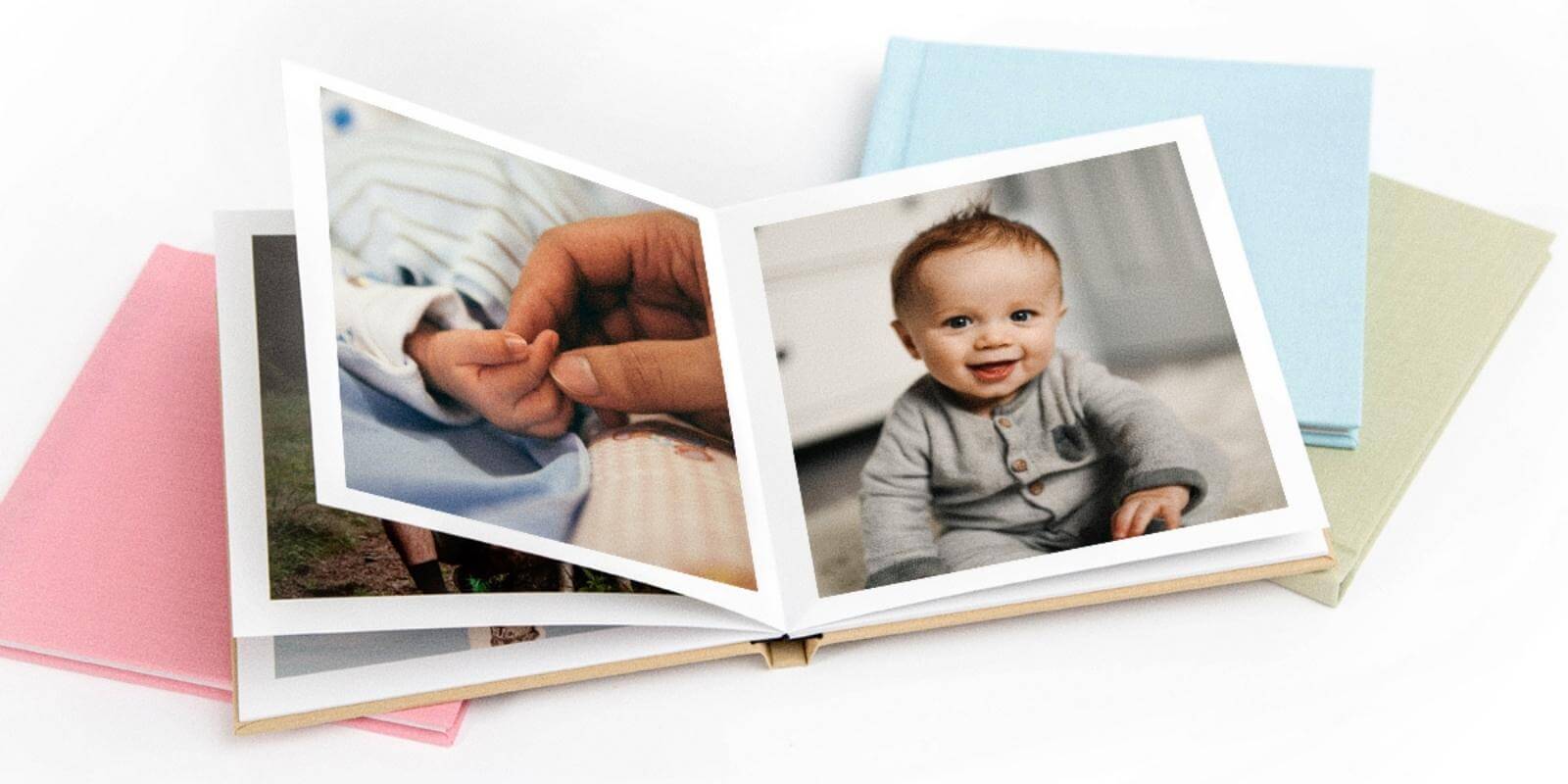 Step 2: Compile the contents of your baby photo book.
Now that you know exactly how you want to structure your baby photo book, begin compiling the contents.
If your book is going to contain open letters or words of advice, start brainstorming what you'll want to include. This can be a very fun date night activity to do with your partner. Reminisce on old memories and think of clever ways to turn them into words of wisdom.
Make a list of some key memories you want to include in your book.  This is helpful whether you're creating your book in retrospect or planning for photographs ahead of time.  In retrospect, it helps you know where and what to look for as you search the archives for the perfect photographs.  In advance, it helps you prepare for those can't-miss photo opportunities.  Knowing what you want to include in your book will help you know what to keep an eye out for.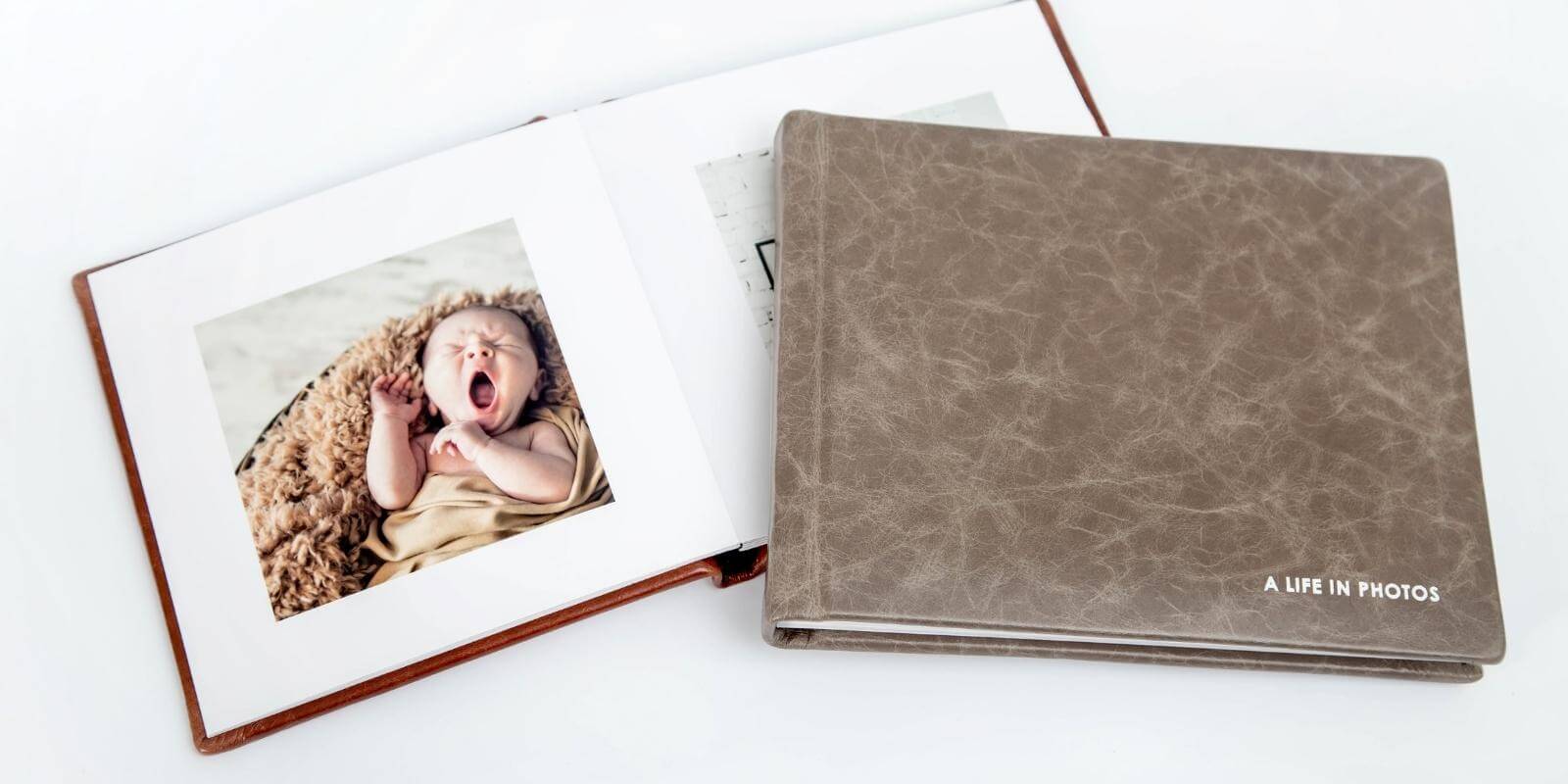 Explore your phone's camera roll.  Add photos of your baby to a designated album.  Now these photos will be easy to find and upload directly to your baby photo book project.  With the help of our free mobile app, you can upload your photos directly from your phone to your Printique galleries. This makes it easier than ever to include mobile photos in a project you're constructing on your desktop.
Locate ultrasound images, friends and family's reaction to the pregnancy news, and baby shower photographs.  Your child will love to see the way they were celebrated before they were even born. It's a lovely piece of your baby's story to include in their baby photo book.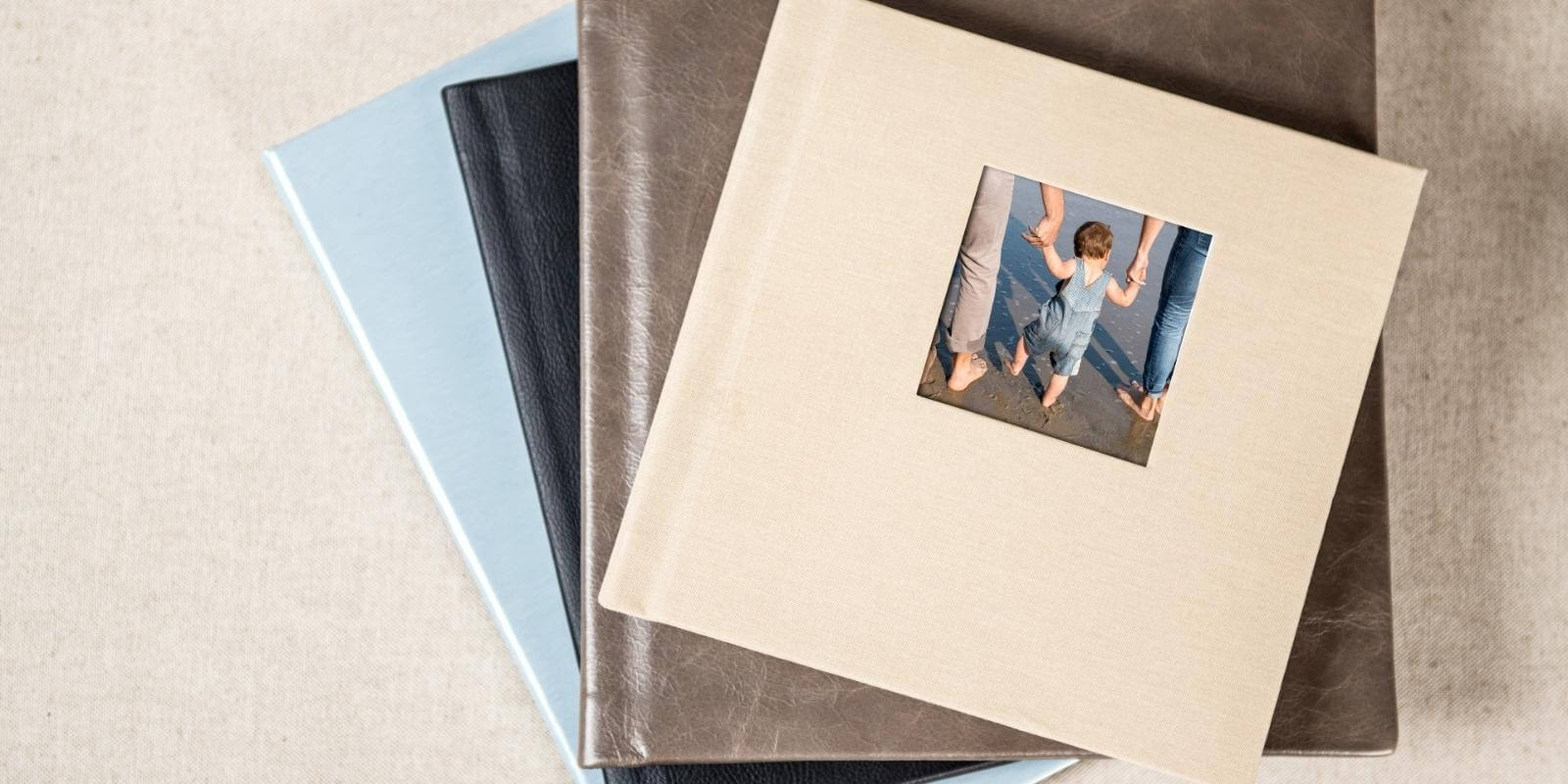 Step 3: Select the details of your printed photo book.
As you compile the contents of your book, chances are you'll start to develop a visual idea of the way you would like your baby book to look; But before you can proceed to our incredible photo book templates, you'll have to specify the tangible details of your photo book.
Do you want to print your baby photo book with a horizontal, vertical, or square orientation?
Will your book be soft cover or hard cover? Do you want your book to feature a die cut image on its cover?
Do you want your baby photo book to be wrapped in sustainable, lux leather?
Once you've selected the physical details of your baby book, you'll be able to browse the design templates we offer for that particular book style!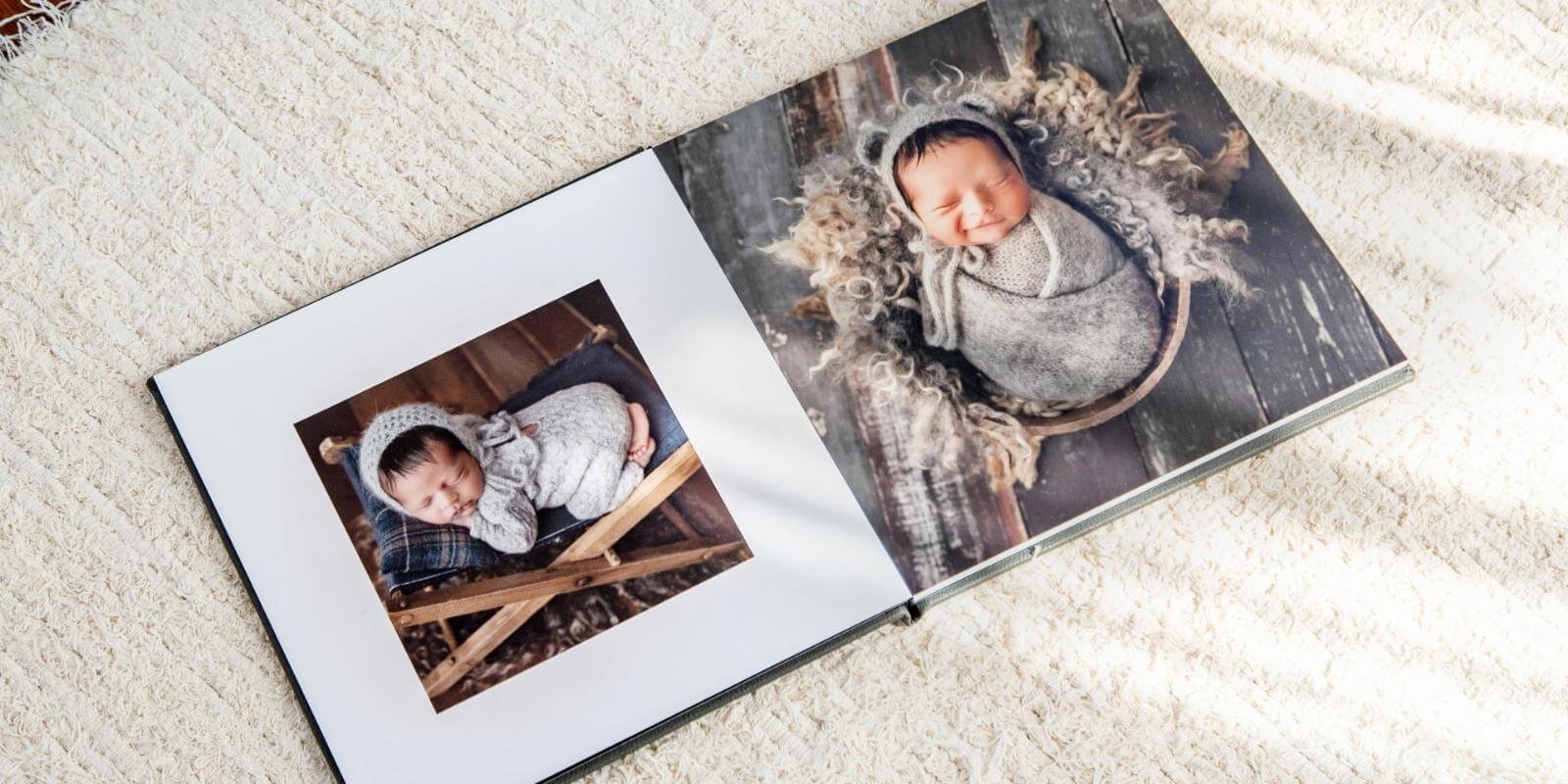 Step 4: Choose a design template for your baby book.
Now it's time to browse our customizable photo book templates for one that aligns with the baby book you have in mind!
If you've decided to create a milestone baby book, you'll love our Milestones template! The arrangement of this template makes it easy to upload your own milestones, dates, and photos.
Our Baby's Firsts template is another beautiful template that simplifies photo and word combinations. While some pages feature full bleed photo frames, others leave ample room for paragraphs of text. This balance results in an elegant and functional template for your baby book.
If the main focus of your baby photo book is photos, we recommend our Baby Collage template.  Designed to aesthetically display at least 5 photos on every spread, this template leaves no memory behind.  Afterall, it would be impossible to include too many photos of the cutest face in the world!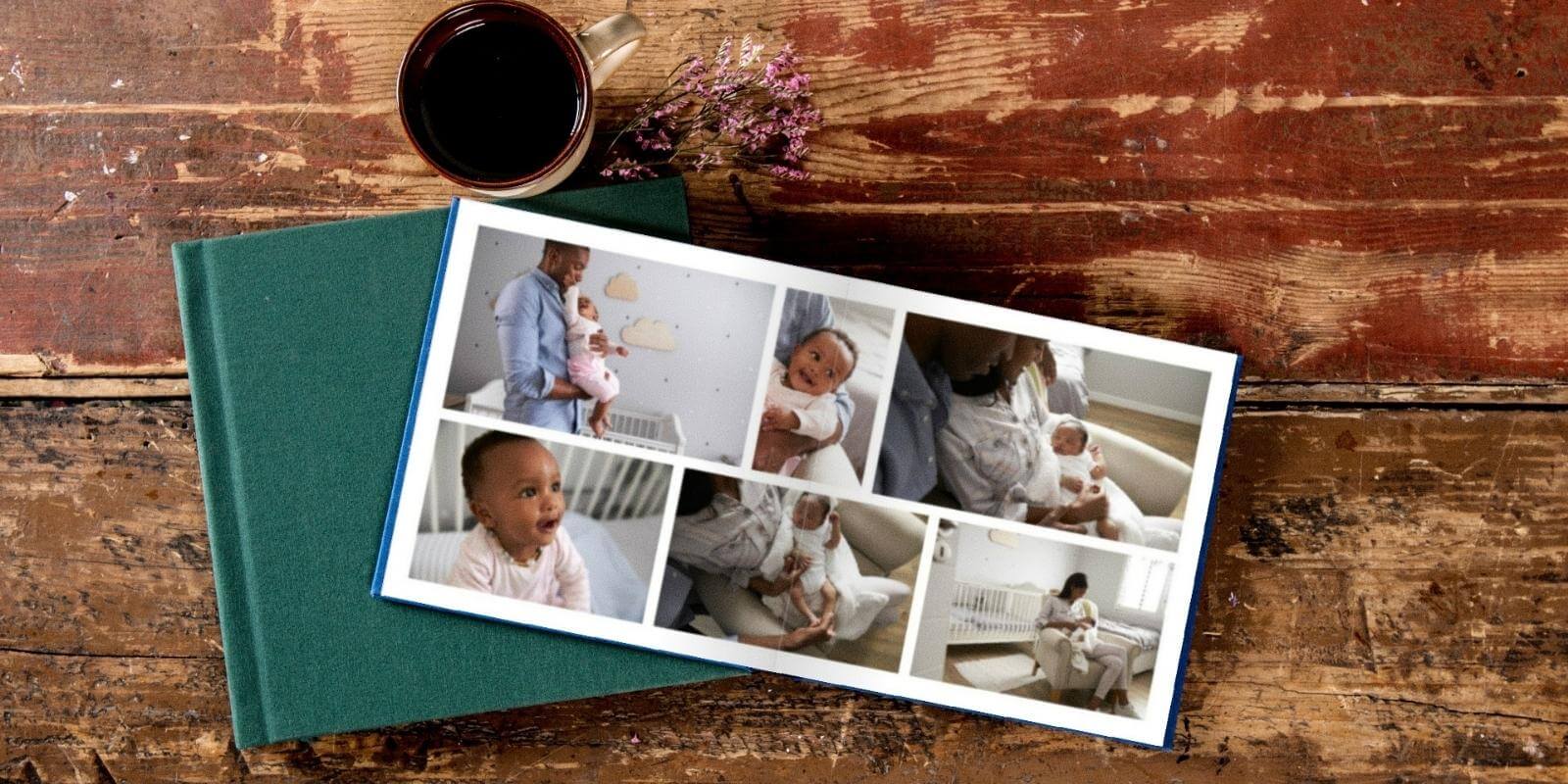 Step 5: Arrange, title, and order your book.
You have the content.
You have the template.
You have the baby photo book of your dreams pictured in your head.
And just like that, it's time to upload your photos, drop them into the template you selected, and add a title to your baby book! The thought and effort behind each of the first four steps is aimed at making this final step a breeze. 
Now all that's left to do is sit back and wait for your order to arrive… and start daydreaming about next year's book!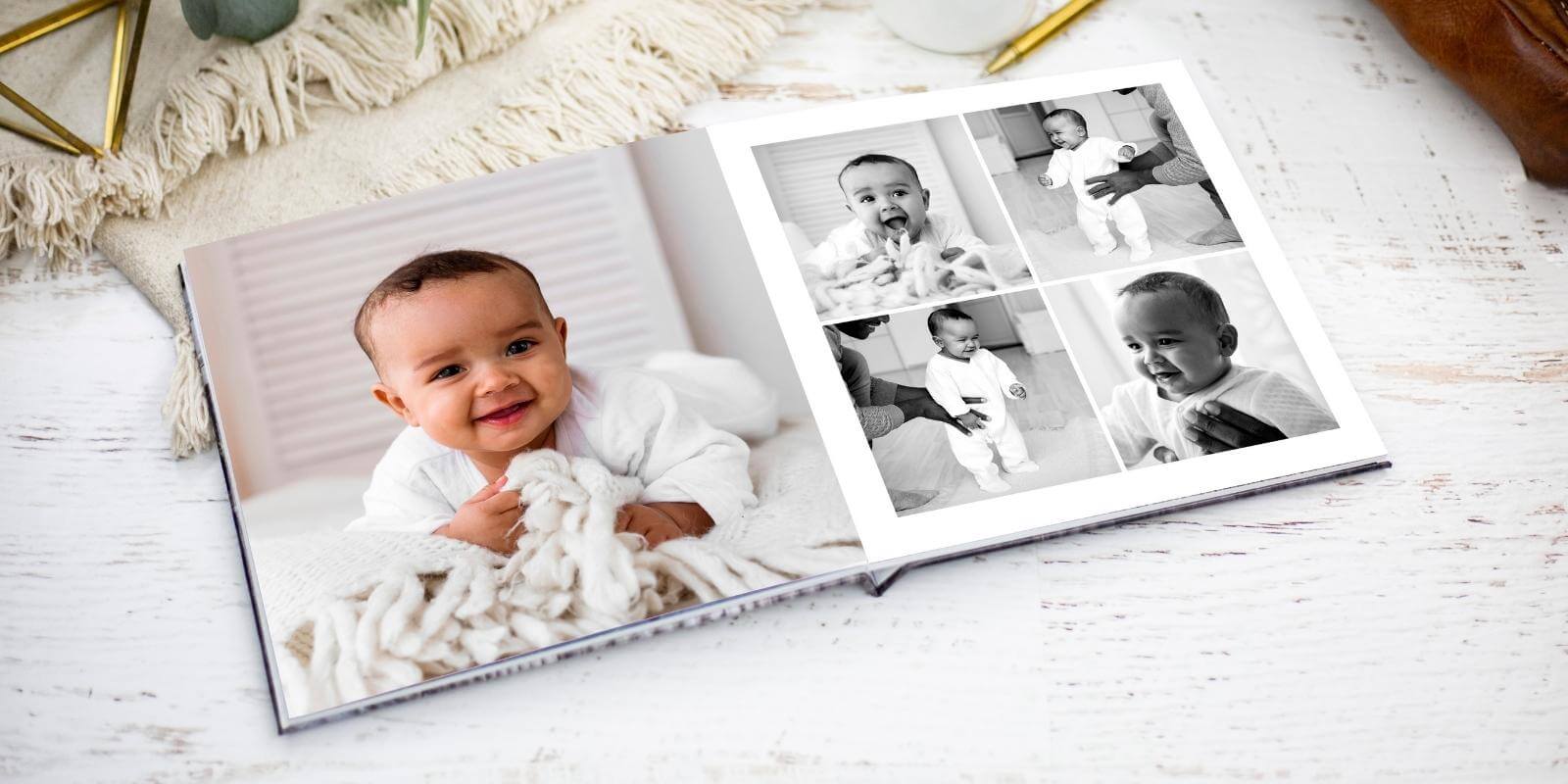 ---