We talk about how incredible our photo books are a lot – and if you've ever held one of our books in your hands you understand why. But the premium quality of our photo books doesn't mean they're reserved for big events or special occasions.
In this article, we'll walk you through the steps for creating a 20-page, $20 photo book.
We'll also provide you with tips for simplifying the photo book creation process, a list of the hottest photo book themes right now, and the reasons why we love this simple and affordable project.
Ready to create a professional quality book?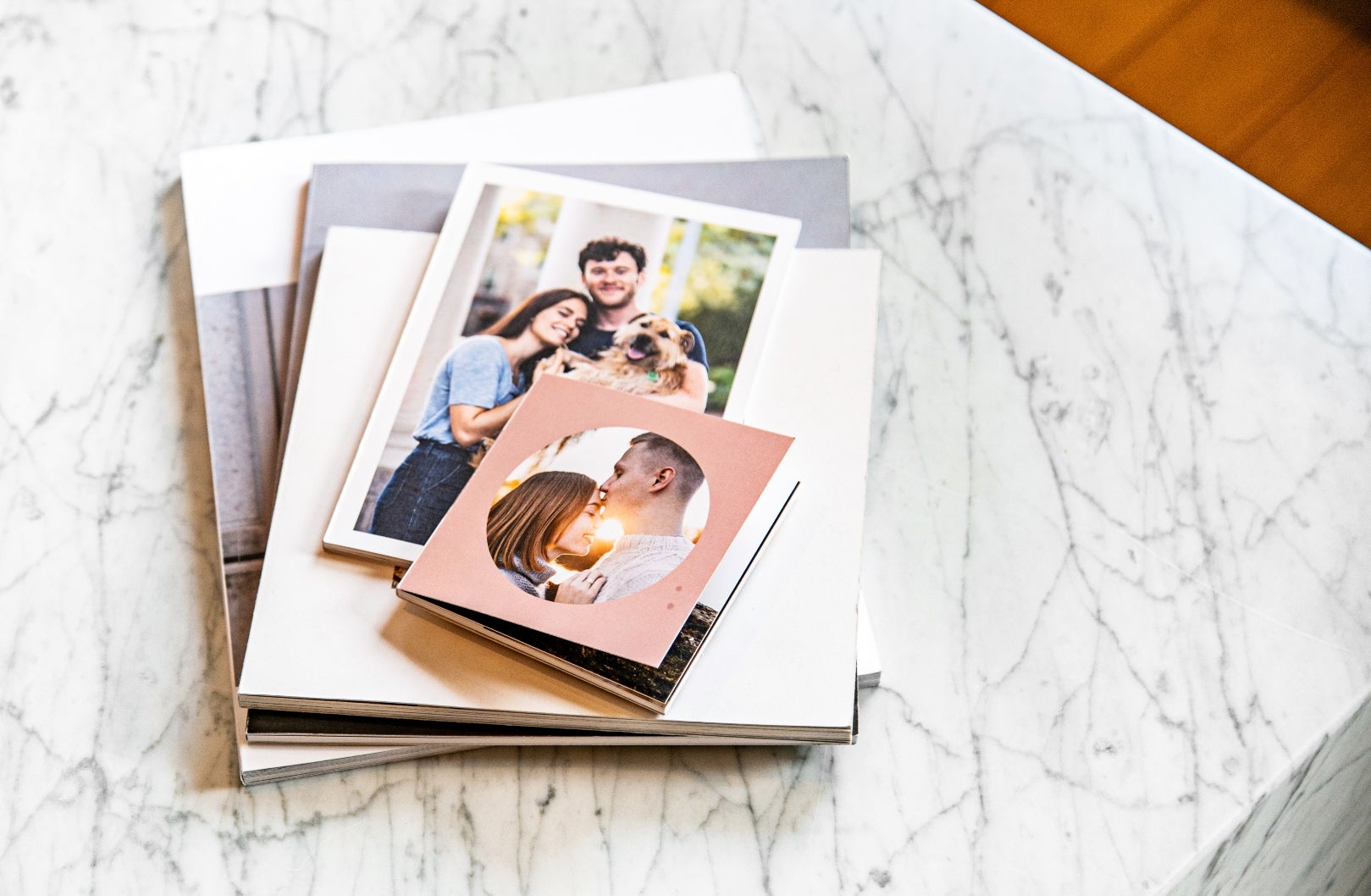 The 5-minute, 20-Page Photo Book Cheat Sheet
Before we dive in, we're going to tell you how to create and order your 20-page photo book in just 5 minutes.
Step One: Log in to Printique.com.
Step Two: Navigate to our photo books tab and select soft cover photo books.
Step Three: Proceed to "Start creating" on an 8×8 inch soft cover photo book.
Step Four: Add the photos you want to feature in your photo book to a new Printique gallery.
Step Five: Select a photo book template. For a 20-page photo book, we recommend using one of our collage templates. This will maximize the number of photos you can aesthetically fit into your book.
Step Six: If you want to include photos from your phone, sync them to your desktop in seconds by uploading them to a Printique gallery through our free mobile app.
Step Seven: Once your selected gallery has uploaded to your project, you will be prompted with the option to have our platform "auto-fill" your photo book template. Click yes!
Step Eight: Review the auto-fill. Adjust photos so that they are cropped the way you want them to be. Our auto-fill software is intelligent, but nothing knows the design you want better than you!
Step Nine: Our auto-fill software won't select a front cover, back cover, or title for your book. Choose the photos you want to use for those slots and drop them in!
Step Ten: Proceed to cart and check out!
If you already know the photos you would like to include in your book, these 10 steps should take less than 5 minutes to complete.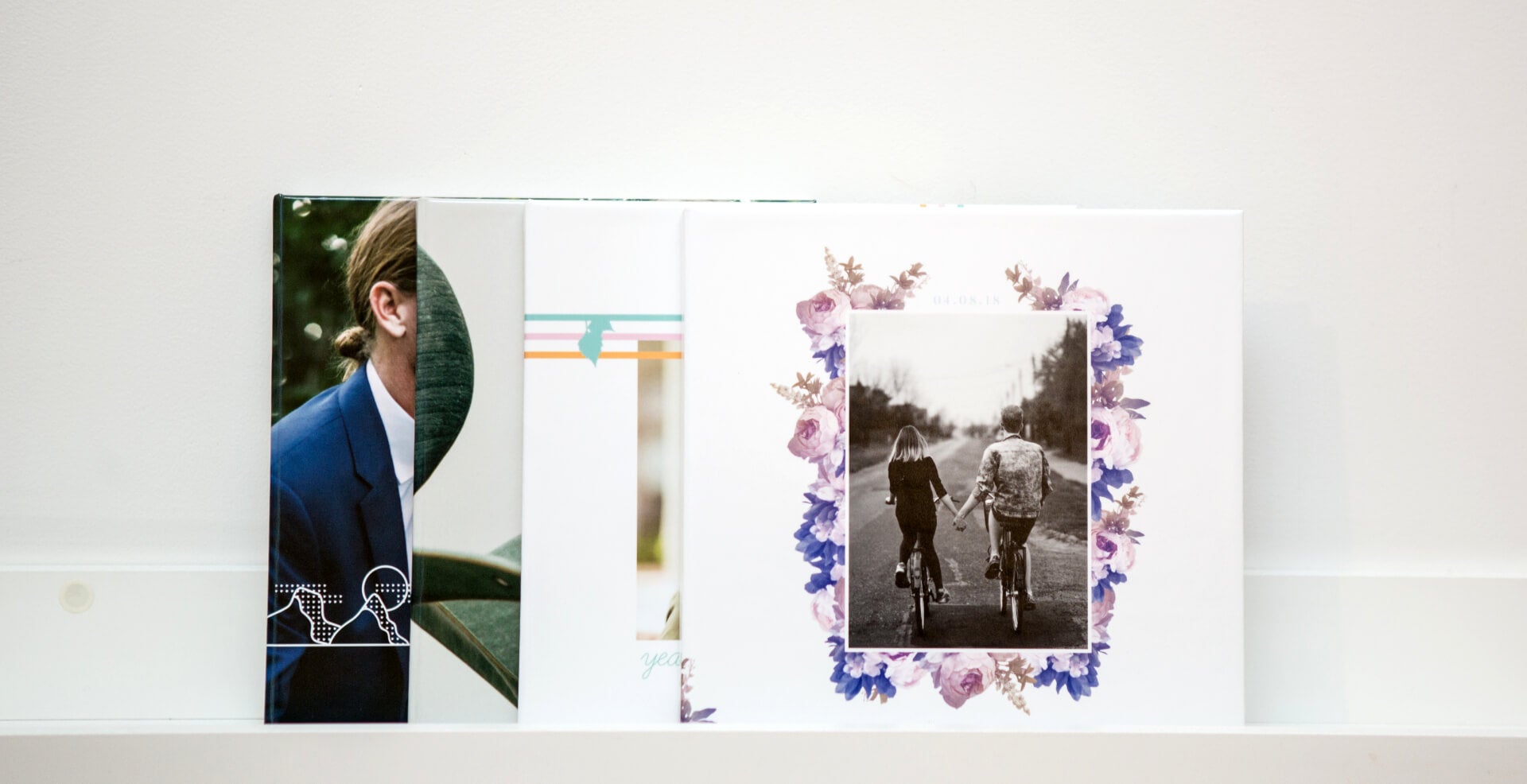 Our top tips for creating your $20 photo book.
Ready to get into the details? We outlined four tips that will help you make the most of this awesome project. For tips that apply to all photo books, click here!
Choose a soft cover 8×8 book.
We offer a range of photo book styles. You have the option of a fabric cover book, a leather-bound book, and a hard cover book. However, these features will increase the price of your book. So, for this $20 project, make sure you select the soft cover 8×8 books!
Use a collage theme.
As we mentioned in our cheat sheet, we recommend using one of our collage templates in your 20-page photo book. This will make it easy to aesthetically fit each of your most-loved photos. Many of our collage templates mix small picture frames with full page photo features – so you'll still be able to highlight your best images!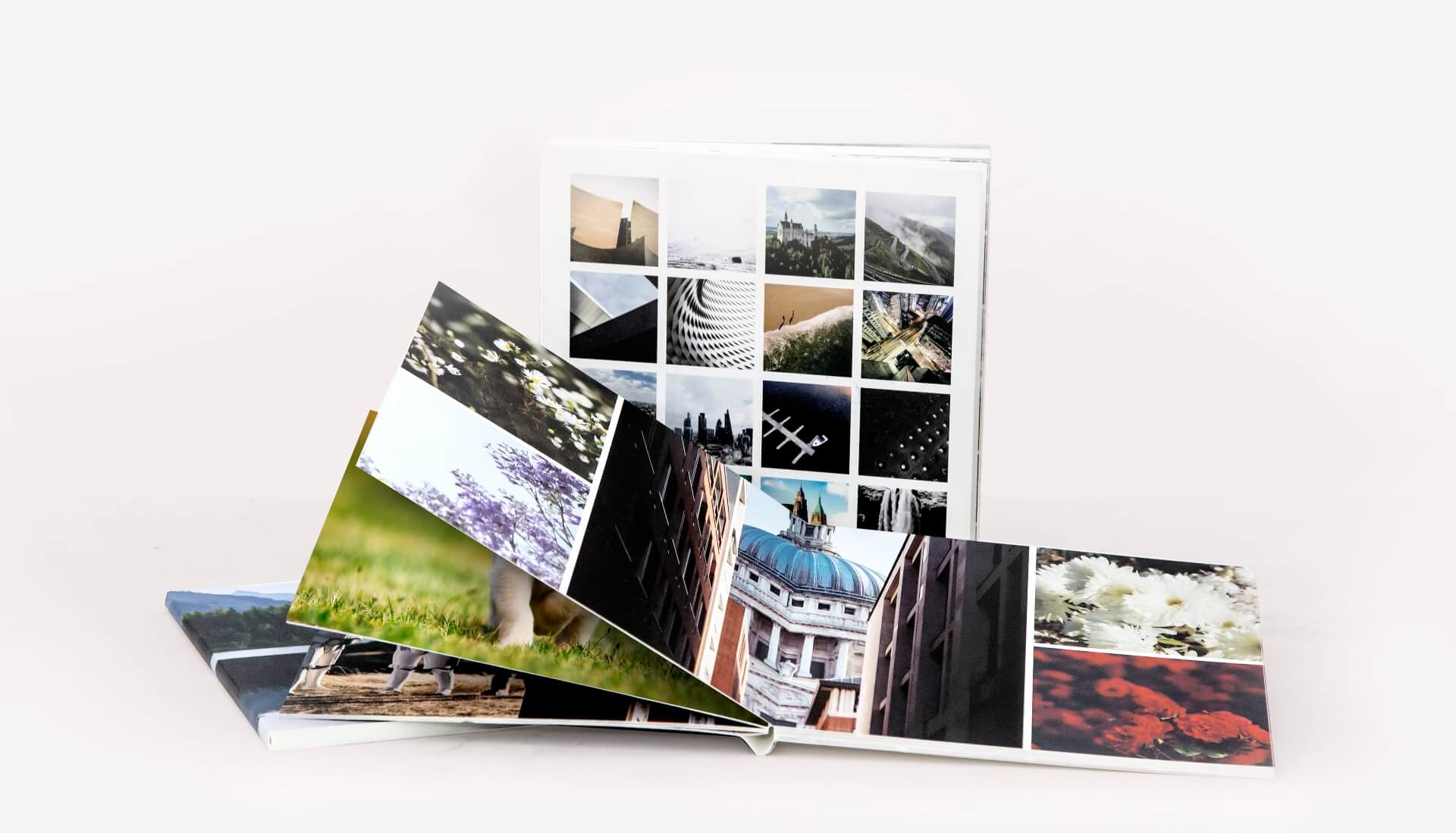 Order your book for storefront pick up.
Did you know that Printique offers store front pick up at our Brooklyn and Manhattan locations? If you live in the area, ordering your project for pick up is a great way to save on the time and cost of shipping. Plus, you'll get to enjoy the awesome local spots in our area. You can take a stroll through Prospect Park and grab lunch at our favorite café once you pick up your book!
Make the most of your mobile photos.
Our free mobile app, Printique photos, lets you upload your mobile photos directly to your account. All you have to do is log in to your Printique account from the app and upload your selected mobile photos to a Printique gallery. Those photos will now be accessible from your Printique account across all devices!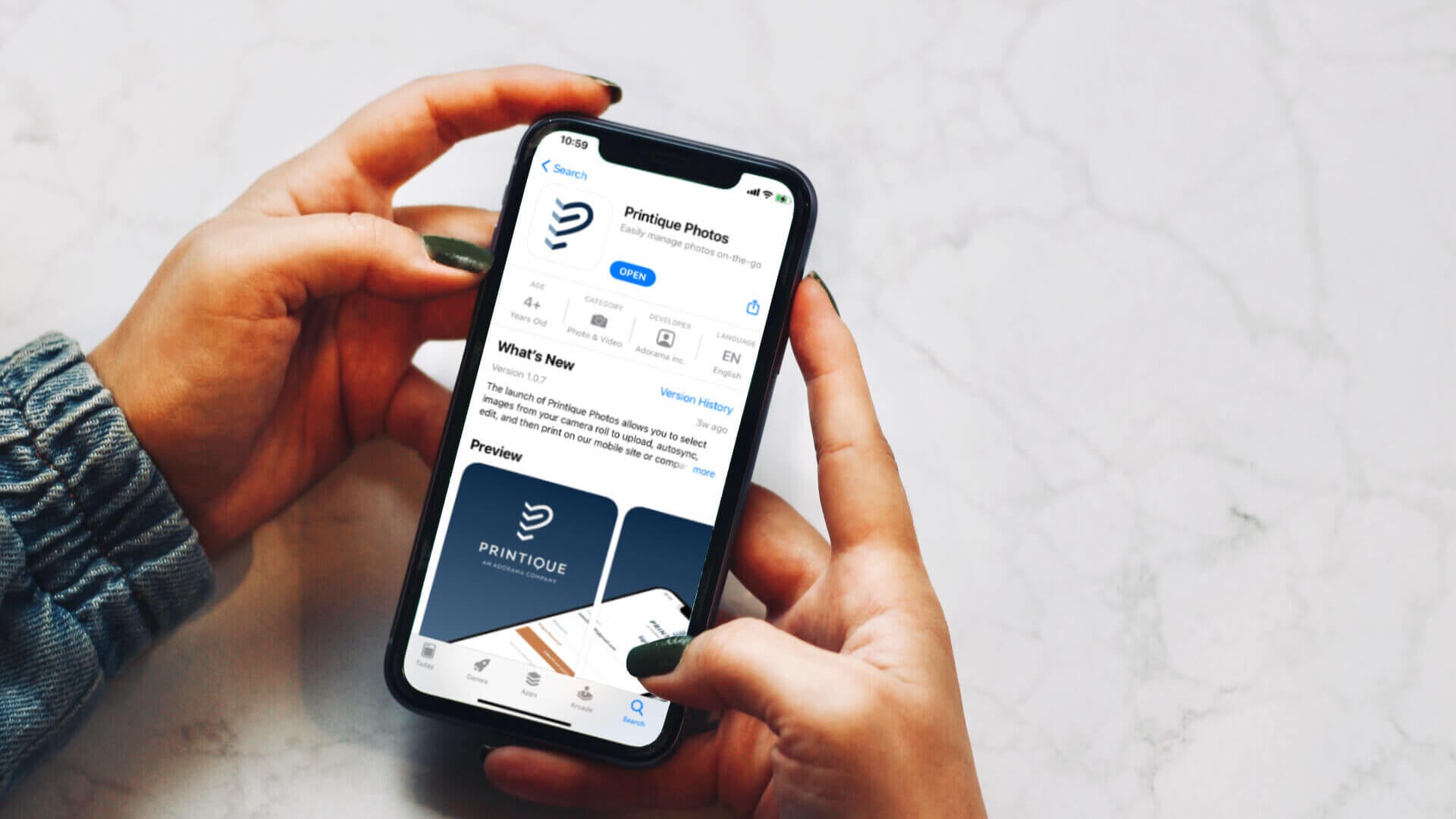 What should I create with 20 pages?
Inspired to take advantage of this affordable project, but not sure where to begin? Here are a few of our favorite photo book ideas. Check out our list of unique projects for even more inspiration!
Highlight a period of time.
Our 20-page photo books are the perfect size for highlighting a specific time period. Round up all of your photos from a season with a sports team. Create a photo book of your pictures from the Summer of 2021. Dedicate a book to a specific semester of college. Document the first few months of moving into a new house.
Using this photo book to showcase all of your photos from a specific time period is a practical, beautiful, and affordable way to organize your memories. It doesn't hurt that the possibilities are endless!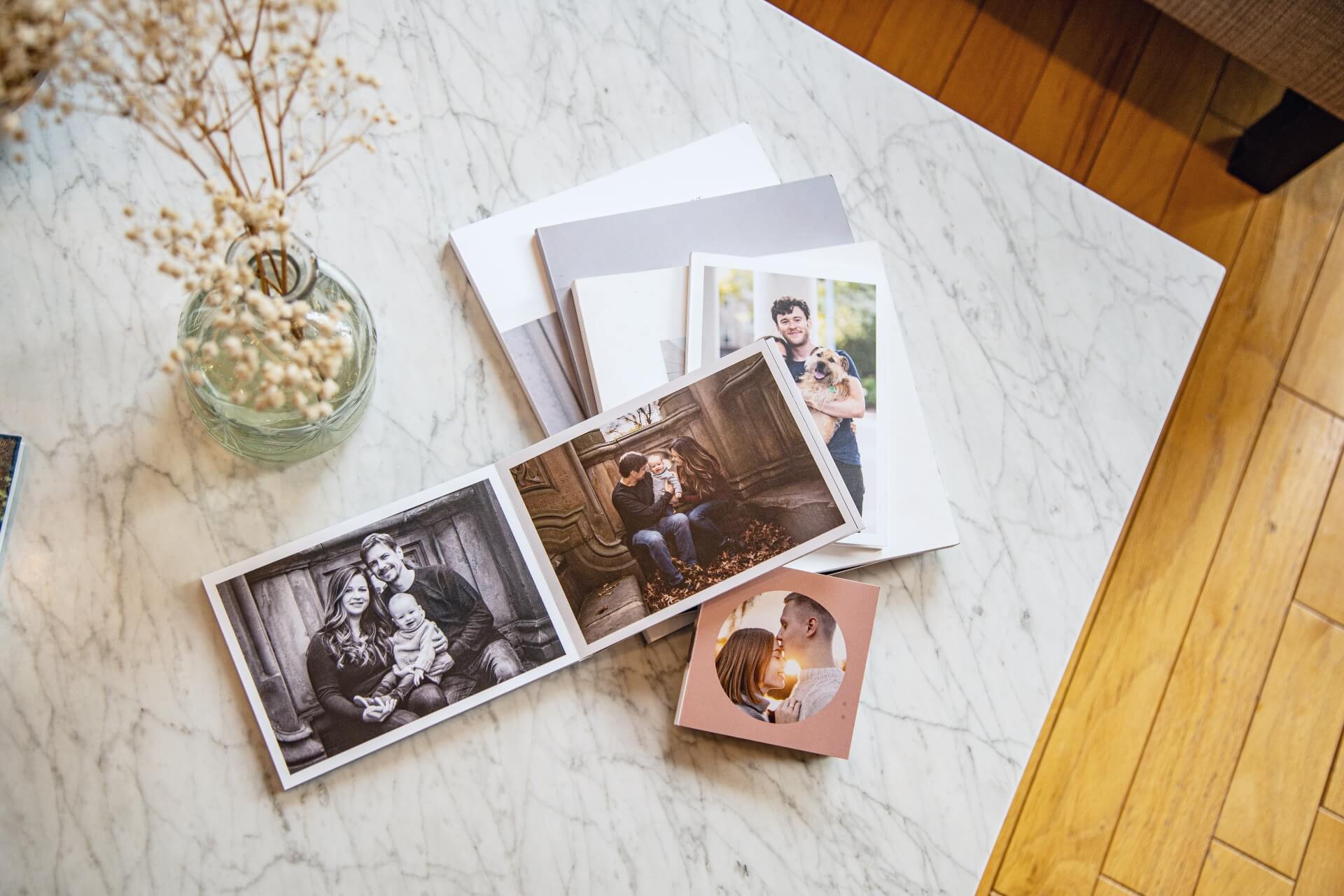 Give a 20-page photo book as a gift.
When it comes to gift giving, this project is hard to beat. You're able to reminisce on memories, show you care, and give a gift your friend will treasure for years to come. All for $20!
We love that this heartfelt gesture is secretly so easy to do; Because when life gets busy, it's hard to dedicate an amount of time to gifting that's proportionate to how much we care. When we see an opportunity to cut down on time without cutting down on quality or thoughtfulness, we consider that a win!
Pro tip? You can get a second copy of your photo book for 25% off. That makes this an even better project for gifting to a pair or group of friends! Simply select to add a second 8×8 book when prompted at check out!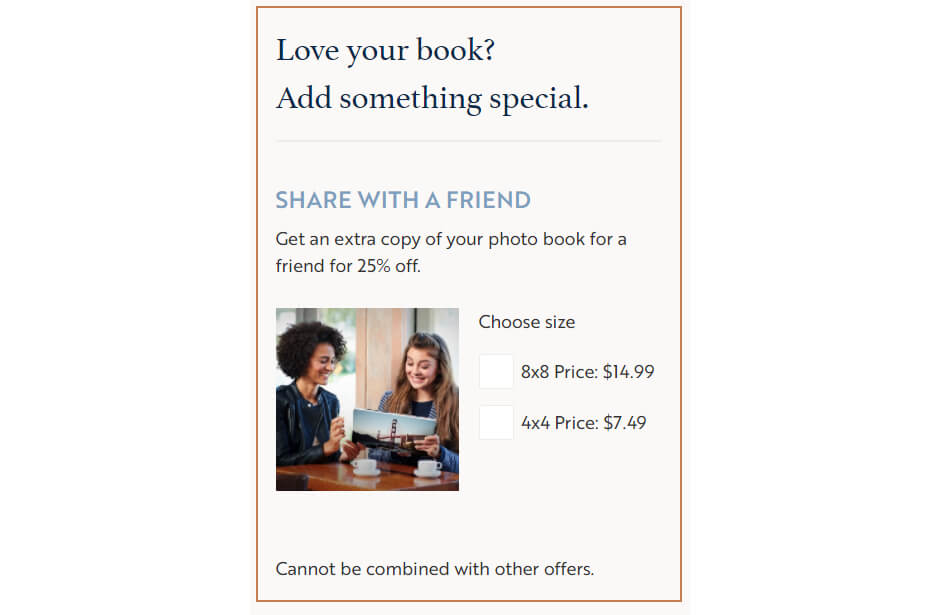 Compile your photos by color.
We love this idea for photographers who are interested in beginning to print their work. Color coded photo books are visually incredible. It's a fun, cool way to turn your miscellaneous photos into something tangible. Simply compile photos of the same general color scheme – orange, blue, red – and bring them to life in a cohesive book.
This is also a great product to offer if you host a print shop. It's decoratively enchanting and makes for a great coffee table book. Customers will love this unique and functional product offering!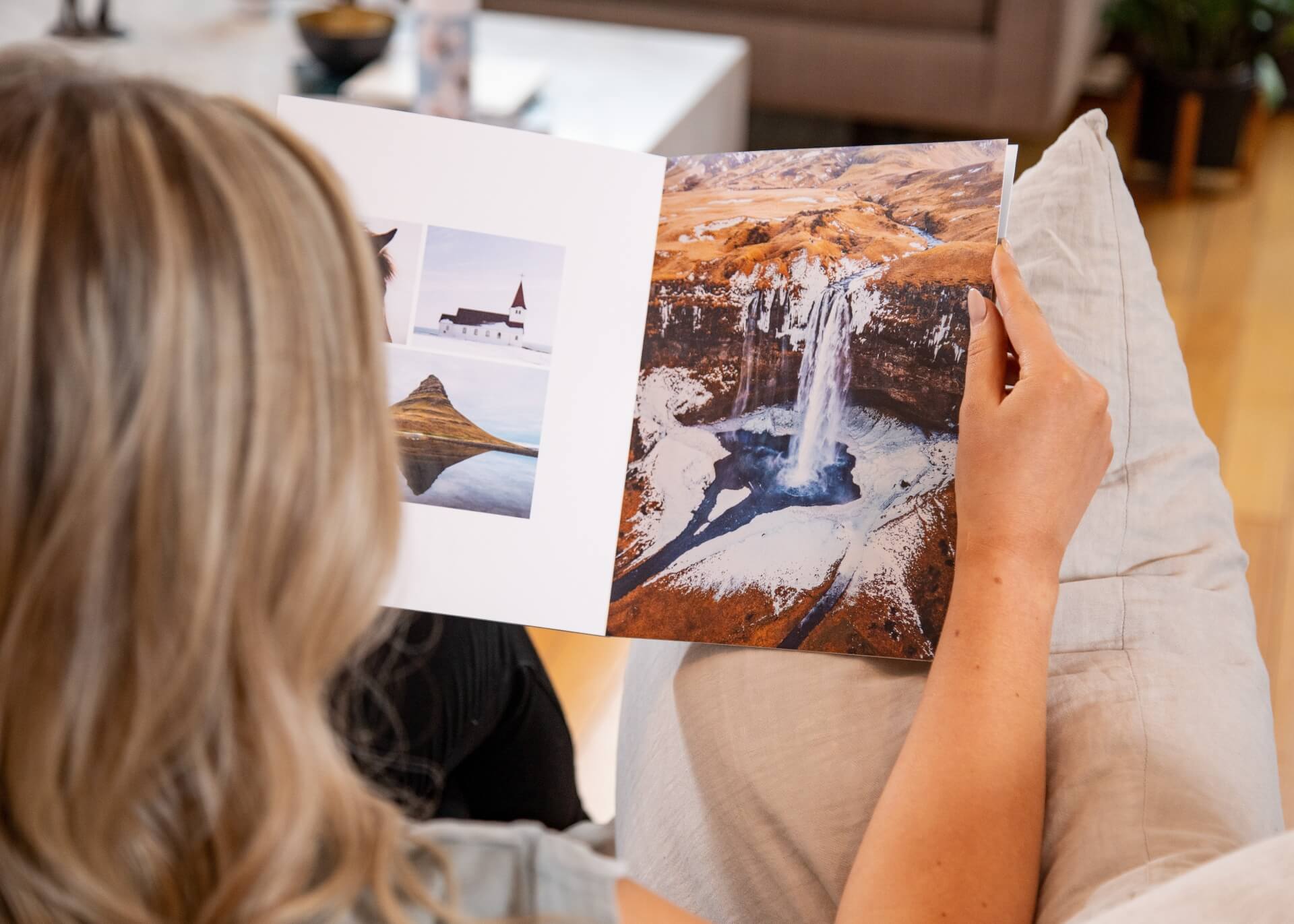 Create a travel book.
Wrap up a great trip with a personalized souvenir! Making a photo book soon after returning home from a trip is a great way to make sure those irreplaceable memories are never lost or altered.
Create a photo book with the mobile photos you take each trip and in just a few years you will have an incredible collection to look back on. Big picture thinker? A few decades from now, your grandchildren will know just how cool their grandparent is with just one glance at your bookshelf.
Dedicate your book to a pet.
Do you have hundreds of photos of your pet flooding your phone? Create an everlasting tribute to your beloved pet by making them the star of a custom photo book. Blend portraits and action shots with your pet's favorite places to visit and you'll be left with a gorgeous book that helps you feel close to them even when they're far away.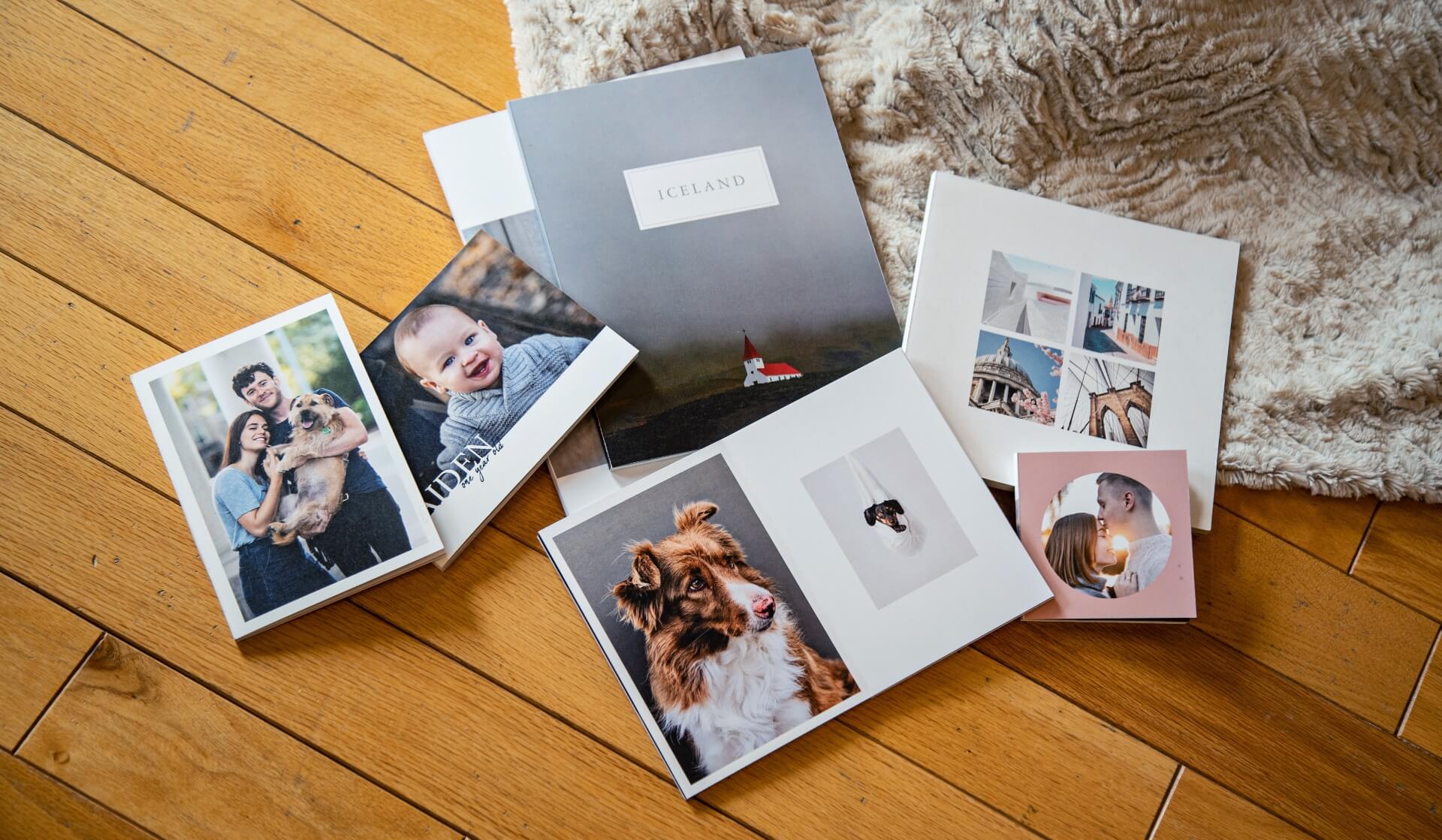 Why we love this project.
With so much to love about an affordable, personalized project, there's no wonder why we're excited to share our 20-page photo book project with you; Here are our three favorite things about these precious little books.
They are quick to create and inexpensive.
We've said it before, but we truly can't get over how simple and inexpensive this project is. We love print products, and we love seeing others experience their magic just as much!
With the low cost of this book, it's an incredible value for so many demographics of people: college students looking to bring fun memories to life, beginner photographers not yet ready to leap into big investments, young families who want to preserve their day to day memories, but don't feel ready to lock the casual moments into a $150 album. The list goes on and on!
It's rewarding down the road.
The quick and inexpensive purchases we make on a day to day basis aren't usually part of our lives five years later; But photo books are different. We adore the fact that a $20 investment today becomes an evening of reminiscing over memories five years from now.
It inspires photographers to follow their dreams.
Seeing your photos brought to life can make all the difference when overcoming a creative rut. Experiencing your work printed vibrantly on the pages of a custom photo book will show you just how incredible your photographs really are. Creating something tangible with your art reminds you that photography is so much more than just capturing moments; It's about truly creating something that wouldn't have existed without you.
Plus, seeing your images printed in such high quality, premium formats will give you a sneak peek of all the incredible professional products you'll bring to life throughout your career!
---
Ready to bring your photos to life?
You're now fully equipped to create an everlasting, premium photo book filled with 20 pages of your favorite images!
We can't wait to see the gorgeous books you put together; No matter how many photo book ideas we think up, you always find a way to exceed them!