Our 5 Favorite National Parks in the Fall
Fall is the perfect time to get out and visit our National Parks with camera in hand. The changing leaves and brilliant colors lend themselves to picture perfect landscapes. We sit down with a few members to find out which National Parks are their favorites along with tips and tricks to get the perfect shot.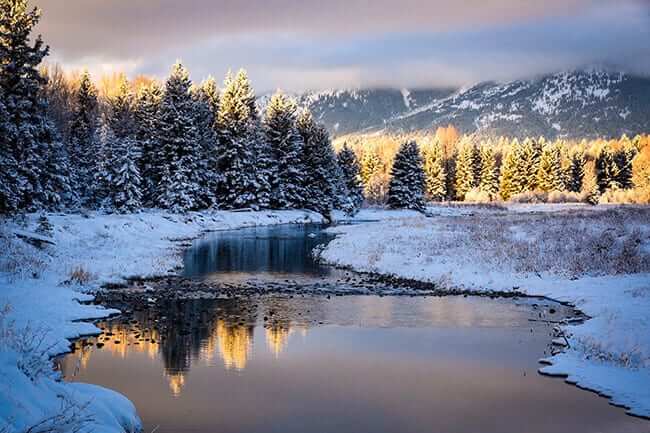 1. Grand Teton –
@j.plack
There is no better time than Fall to visit Grand Teton National Park in Wyoming.  There's a chill in the air, the winter migrations have started, and best of all – the crowds are gone.  It's easy to find yourself alone with nature in front of the Tetons after a dusting of snow.  It's easy to spot the bears, moose and elk preparing for winter.  Most of all, it's easy to find the space and solitude you need to frame and capture an amazing image.  Fall is fleeting in the Tetons, but there's no better time to go!  Dress warmly, bring your bear spray and get up early to catch a sunrise.  You can catch some of the most dramatic sunrises from Schwabacker's Landing and Mormon Row.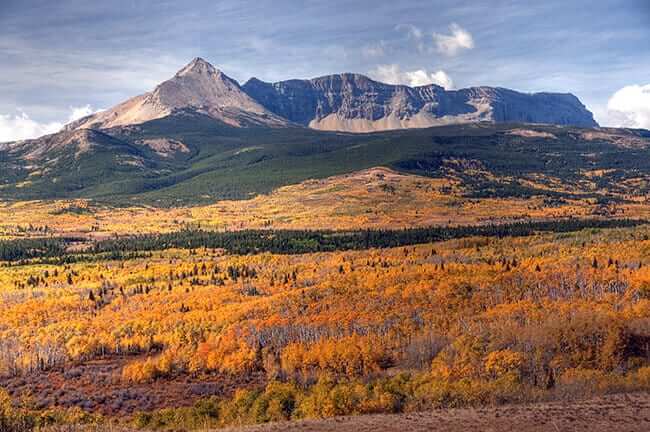 2. Glacier National Park
With over 700 miles of trails, Glacier National Park in Montana is a hiker's paradise.  A lot of folks visit during the warm summer months of July, August and September. Anytime after this, the higher elevations of the Going-to-the-Sun Road, including Logan Pass, may be blocked by snow.
You can see a great amount of wildlife including grizzly bears, black bears, bighorn sheep and mountain goats, gray wolves, elk,  and cougars. Just make sure to stay your distance from the wildlife and bring your zoom lens to capture them in their natural habitat.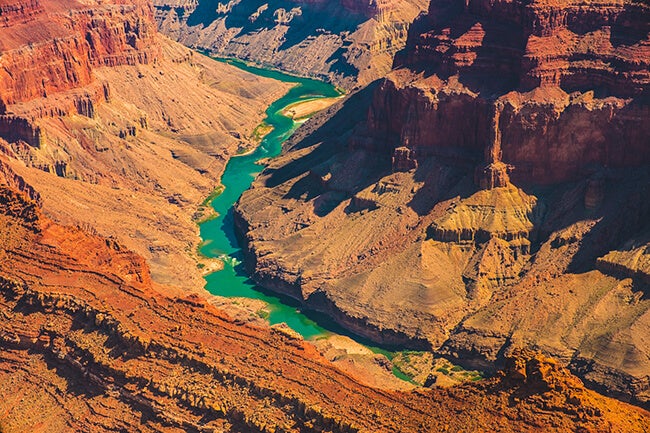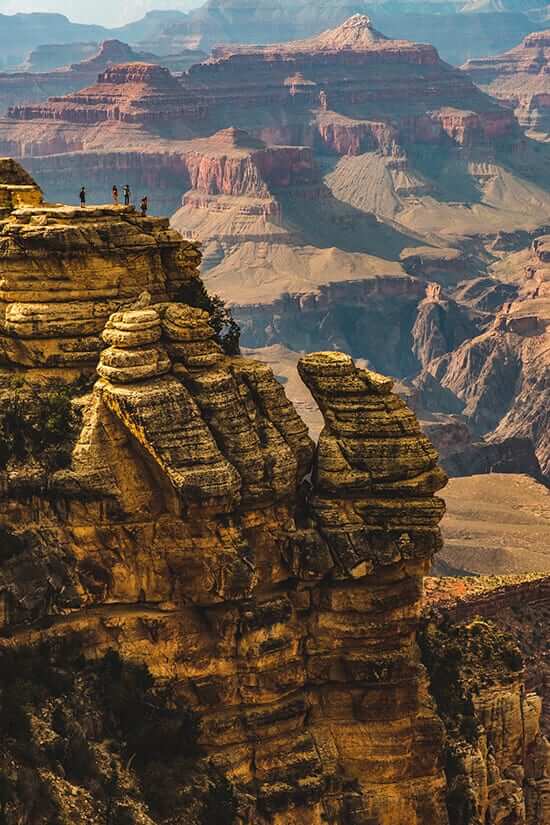 The Grand Canyon is probably the most popular National Park in the US, since it's pretty well known and it's on most traveler's bucket list of places to visit. Located in the state of Arizona, it's composed of an immense canyon carved by the famous Colorado River.
Before planning your visit, note that the park is divided in two main areas, known as The South Rim and The North Rim, and each contains different places to explore. It's best to do some research before choosing which of the two is more interesting for what you are looking for.
Photographically speaking, the Grand Canyon is magnificent on every inch, and every time you get closer to an edge feels like a different experience. For me, the most unforgettable experience was taking a helicopter tour and flying above the canyon, one that I will certainly never forget. But I know that's not for everybody and, even though I got some incredible photos from above, the one photograph that still remain as the most special is the one I took when I walked towards the edge for the very first time. It's one of those places that, no matter how many photos or videos you've seen before getting there, nothing tops seeing it in person with your own eyes! Sunset is obviously another thing you can't miss it while there. No matter where you are, South or North Rim, a map of the park should point you the most popular places to watch the sunset.
There is a small fee to get inside the park, that varies depending on how you are planning to access (by car, motorcycle or hiking), but any option is good for 7 days, which makes it even cheaper, considering you'll probably spend more than one day (at least) in the park.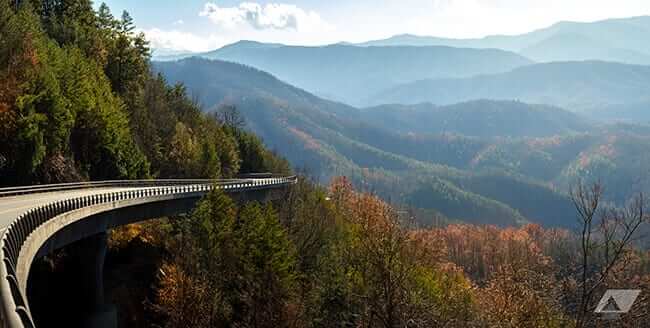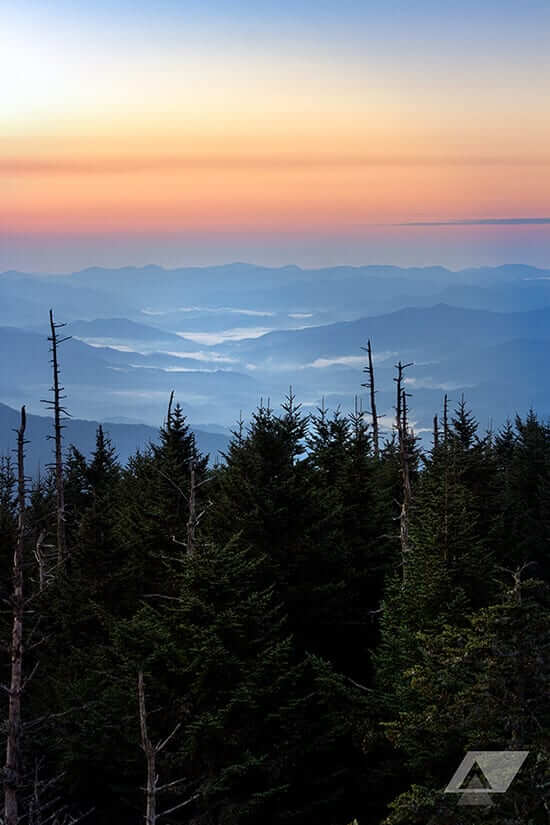 4. Great Smoky Mountains National Park –

@alyssumventures
Located in the Southern tip of the Appalachian mountain range, the Great Smoky Mountains National Park straddles the Tennessee-North Carolina border and is free to the public.The first burst of color forms along the ridge line with red sourwoods as brilliant yellows and oranges trickle down the mountain, usually peaking at the beginning of November.
A short trail at the top of the Tennessee Smokies leads you to Clingmans Dome, a great spot for sunrise or sunset overlooking seven states.If you're feeling more adventurous, my favorite day hike to see the most of the Smokies is Alum Cave trail to Mount Le Conte. Be sure to hit the trail early for the best morning light, magical fog, and to beat the crowds.If you just have time for a drive-through, the recently completed section of the Foothills Parkway lets you drive among the treetops.
Bring your tripods, filters, and camping gear for a great photography trip, but remember to Leave No Trace! Whether you're inspired by river cascades or mountaintops, elk or black bears, hiking or driving through, the Smokies have photo ops for everyone.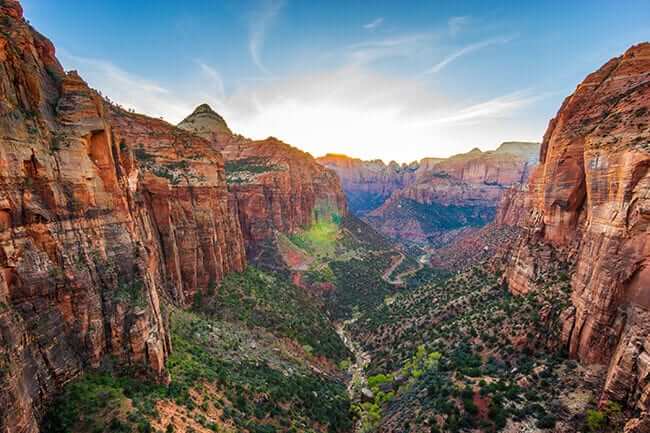 5. Zion National Park
Zion National Park is located in southwest Utah. It's known for it's steep, beautiful red cliffs. Zion Canyon Scenic Drive cuts through its main section, leading to forest trails along the Virgin River. The river flows to the Emerald Pools.
There are a number of hiking opportunities including the Canyon Overlook, Emerald Pool-Lower and the most popular hike, the Zion Narrows.
If hiking isn't your thing, that's ok. You can hop aboard the Zion Canyon Shuttle. Hop off and on as often as you like as the shuttle goes through the narrow canyon up to the cliffs.
Photo Rules
Now, for the nitty-gritty of bringing your camera and the rules. Here are some of the general rules we found while doing our research.
1. Permits are not needed if you are using basic tools (tripod, camera, and a lens) to photograph vistas that are accessible to the public.
2. Drones are not allowed
3. You need a permit to use props or sets
4. You need a permit to use a model
5. All commercial filming needs a permit
6. If you need a permit, request it early
7. Wilderness areas, have their own rules
8. Stay away from wildlife, let them remain wild
Once you're back take a look at your photos and choose your favorite. If there was ever a photo you would want to go large with, it's a landscape photo from a US National Park. Check out Craig Bill of Craig Bill Photography who went large with a
metal print.
(Photographer Craig Bill's unboxing video of his impressive metal print from AdoramaPix)
The world's first U.S. national park was declared on March 1st, 1872 – Yellowstone. Since then, thousands of national parks, national monuments, and preservation areas have been set aside for protection and enjoyment for the public. If you have photos of national parks you are proud of feel free to share them with us on Facebook, Twitter or Instagram.