It would be difficult to find a person who has never heard of Vincent van Gogh; After exploring his dozens of paintings, full of enchanting whimsy and colorful swirls, it's not hard to see how the expressionist painter became such a prominent figure in the world of art. What many don't know, however, is that Van Gogh's most famous paintings belong to the public domain. This means they can be downloaded, printed and shared however you so wish!
We've showcased a few of our favorite public domain Van Gogh paintings below. We would love to see these paintings brought to life on a large canvas print, or framed with thick white matting. Pick your own favorites and let the incredible colors of a Van Gogh painting come to life on your walls!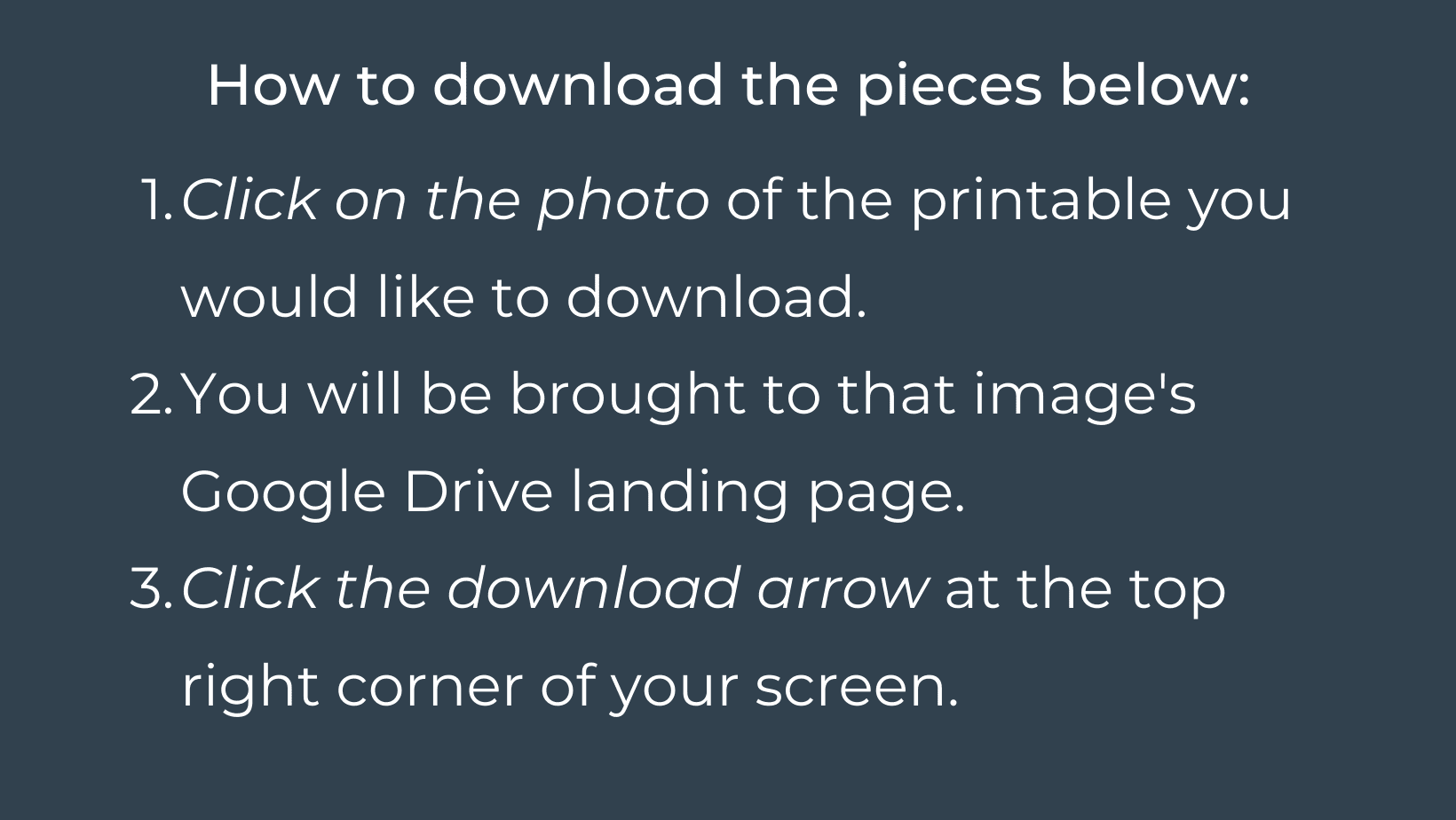 ---
Café Terrace at Night (1888)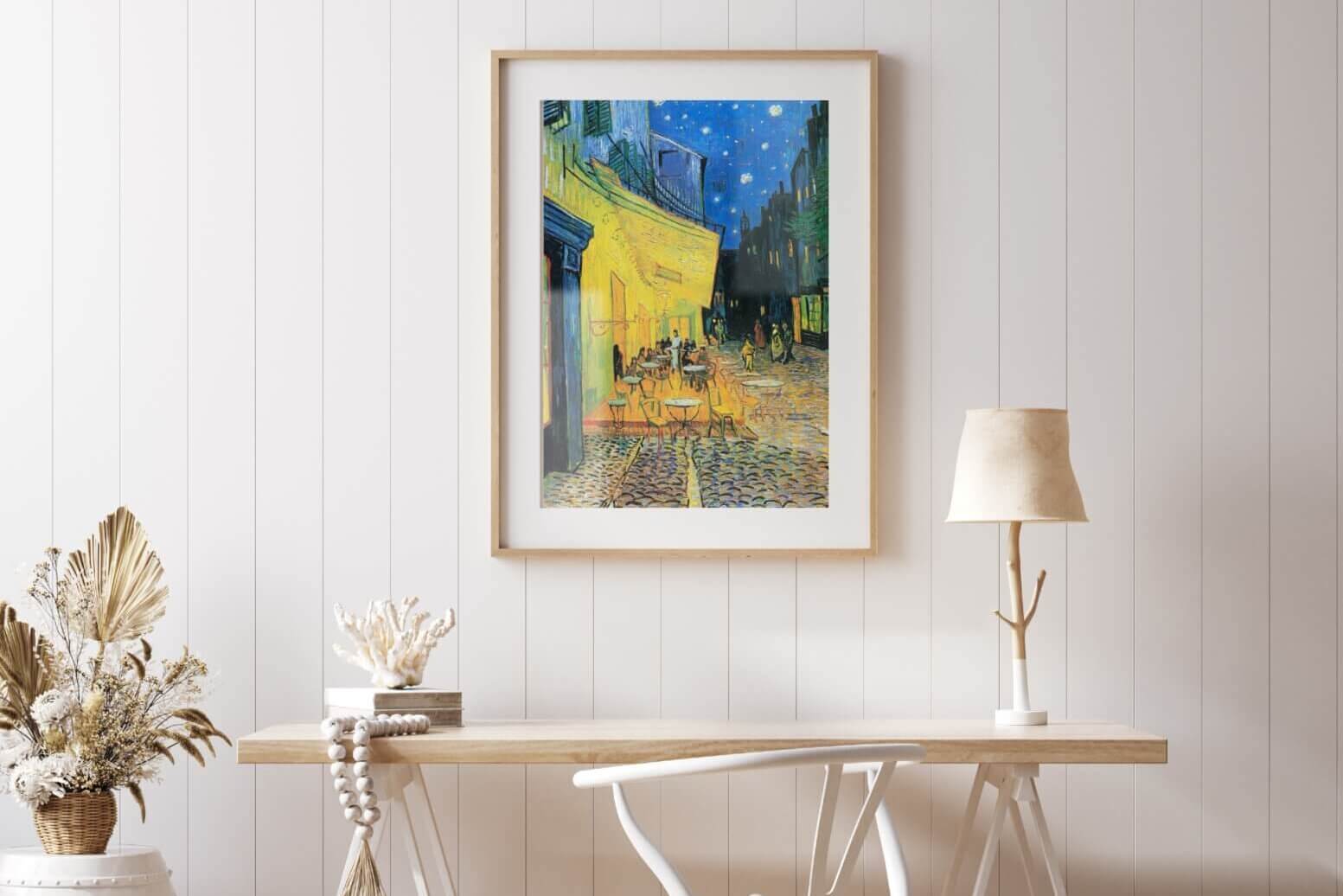 Van Gogh captures something so undeniably romantic in his painting of a café terrace at night. His signature starry sky is accompanied by the inviting glow of a café patio. We can't tell what it makes us want more: a printed copy on a large, hand-stretched canvas, or a plane ticket to France, where we can visit the exact location where this masterpiece was painted.
---
Road with Cypress and Star (1890)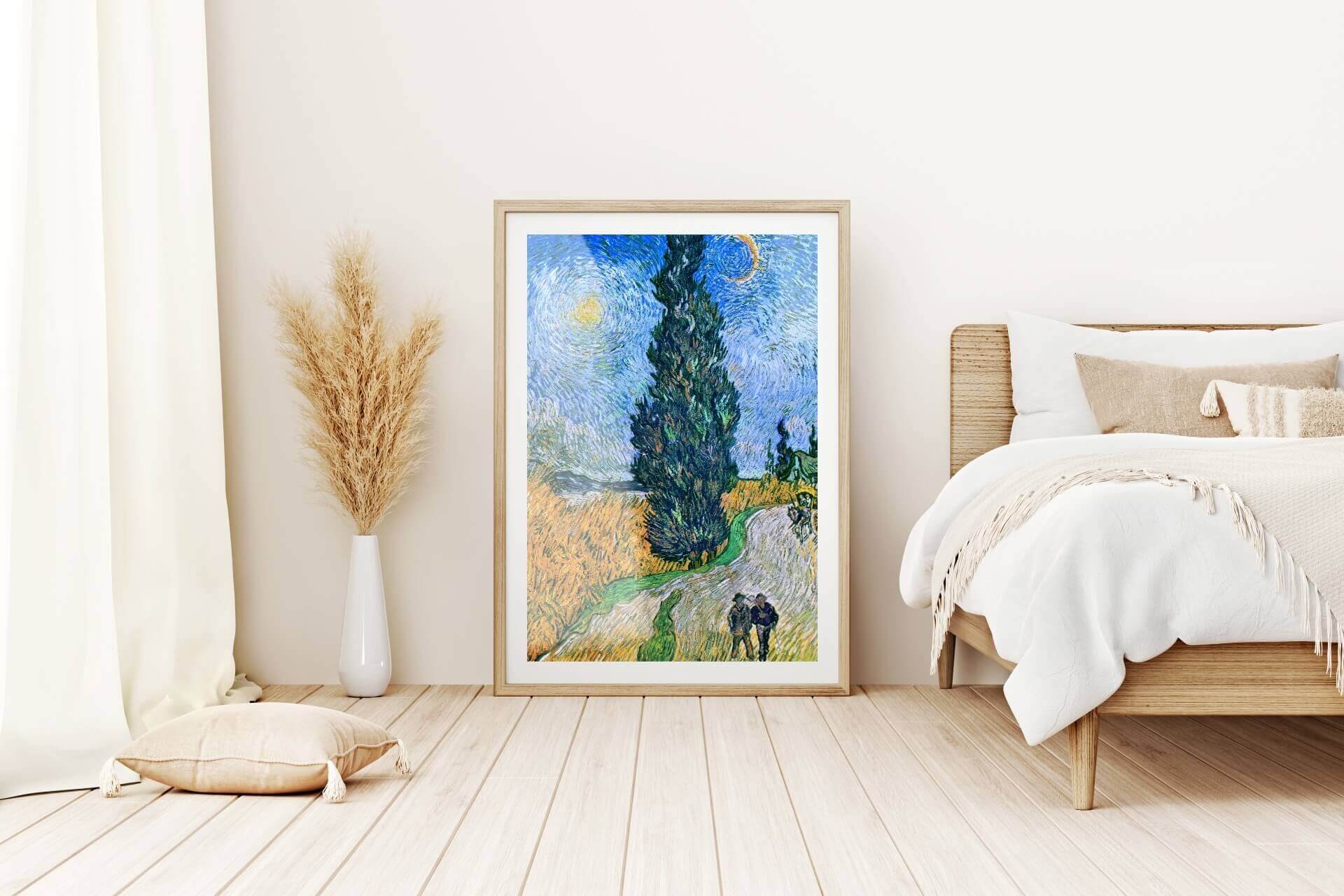 Van Gogh is a master of capturing the magic of moonlight, and Road with Cypress and Star is a testament to that skill. We've found that the best paintings make you wish you could jump right into the world that's been created on the page, and this painting does exactly that.
---
River Bank in Springtime (1887)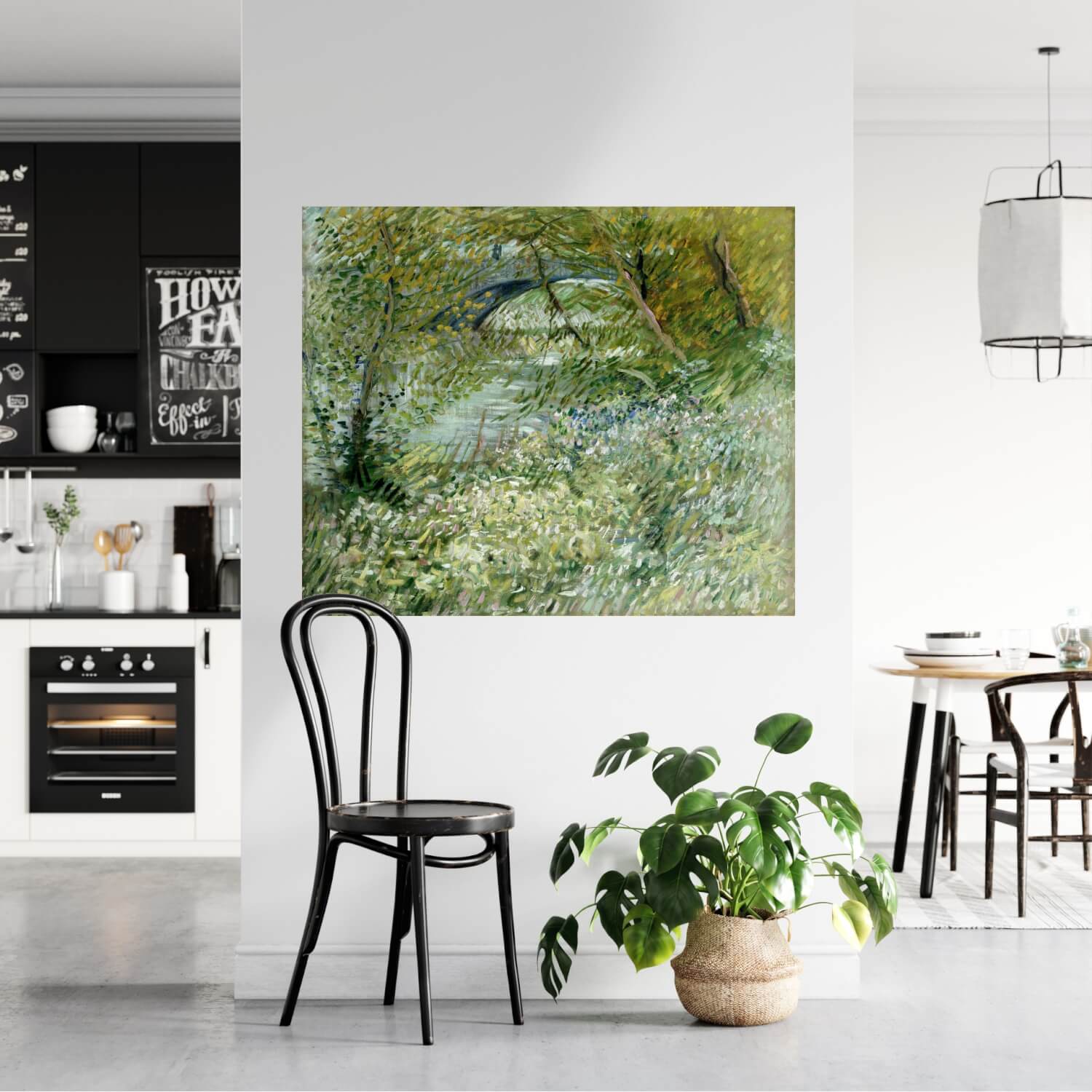 We can't resist a bit of springtime effervescence. River Bank in Springtime is the perfect piece for adding a touch of elegant yet inviting color to otherwise bland spaces. It captures the soft poeticism of springtime and invites a sense of freedom and nature into the home.
---
Vase with Three Sunflowers (1888)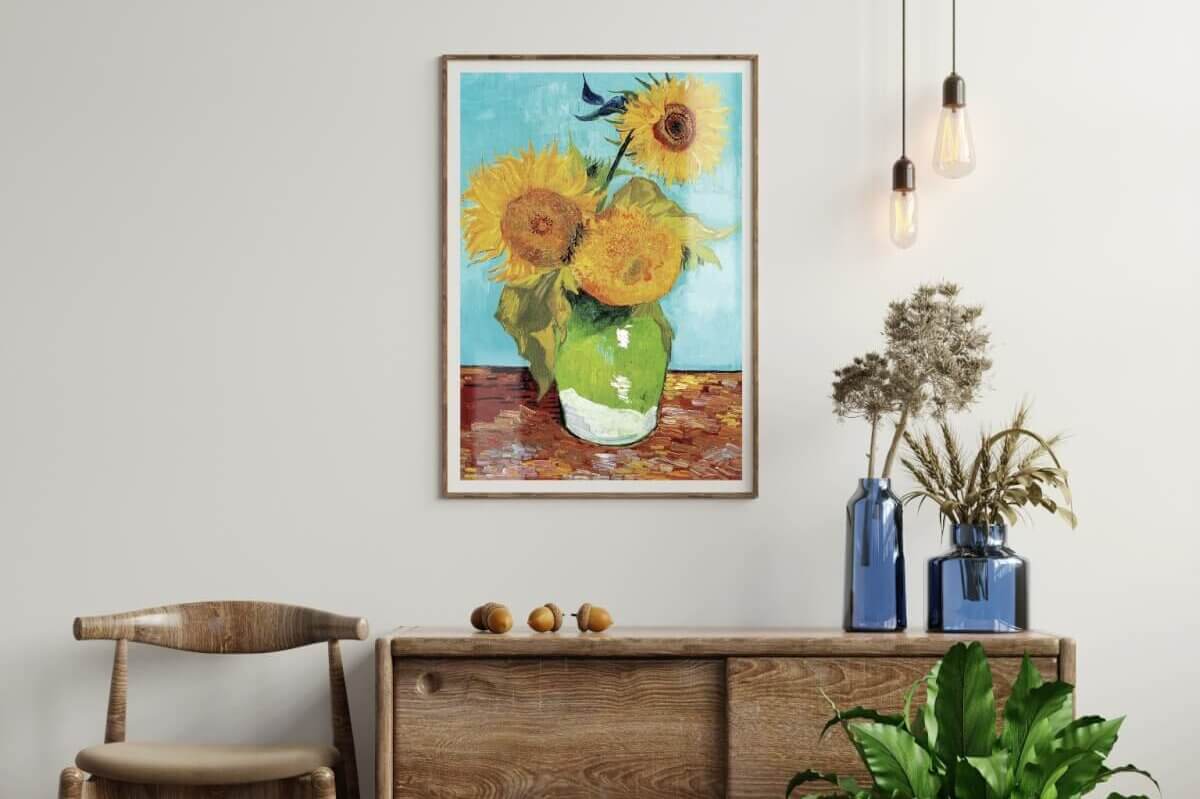 If you love sunflowers and what they symbolize, Van Gogh is the artist for you. With a number of sunflower still life paintings in his name, Van Gogh makes it easy to add decorative sunflower elements to your space; But if we had to pick one, it would be this vase with three sunflowers!
---
Starry Night Over the Rhone (1888)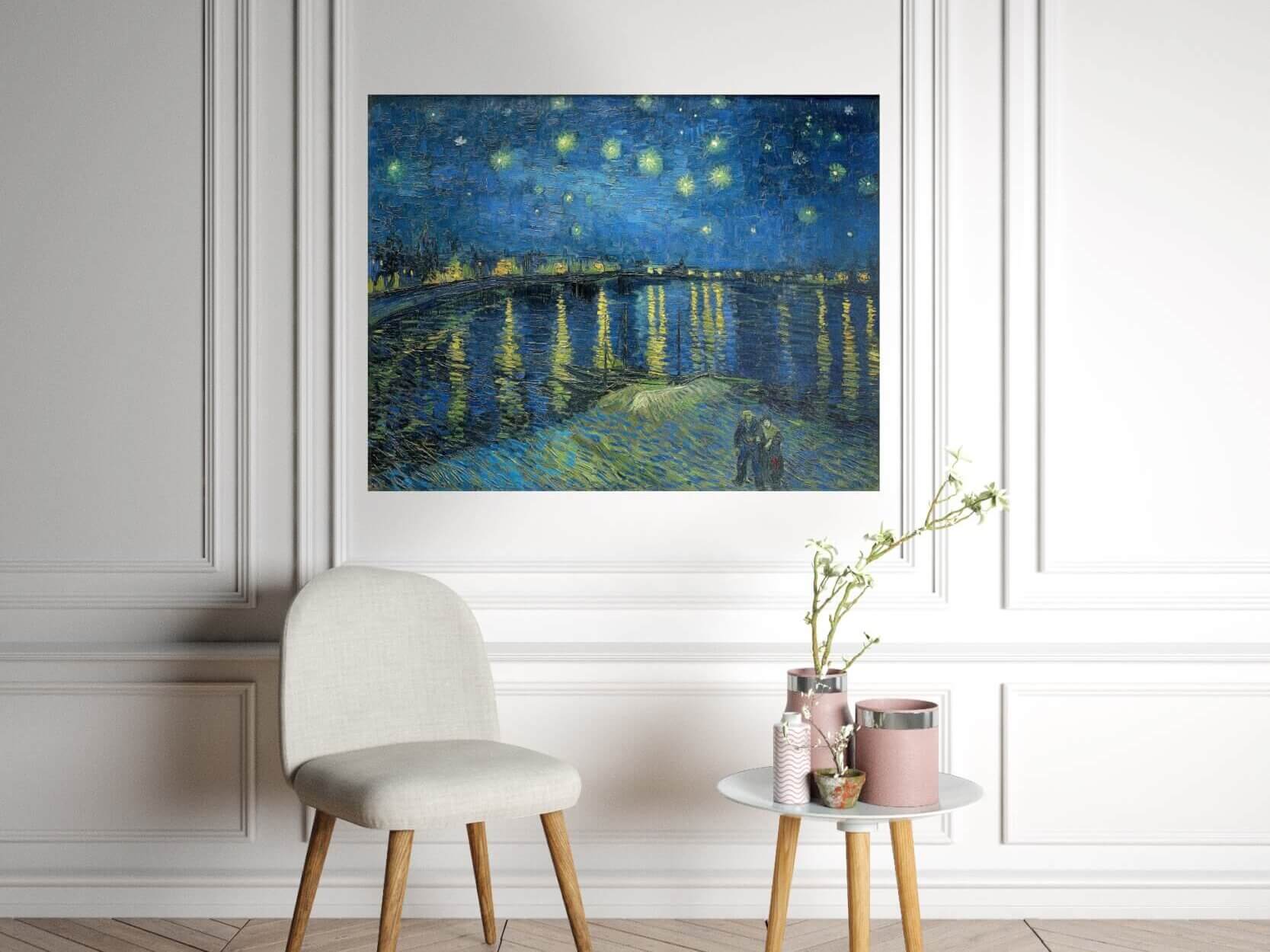 Much like Road with Cypress and Star, Starry Night Over the Rhone had us wishing we could leap right into the painting. With its illuminated skies and royal blue features, it's the perfect painting for all who love art with richness and zest.
---
Landscape (1925–1928)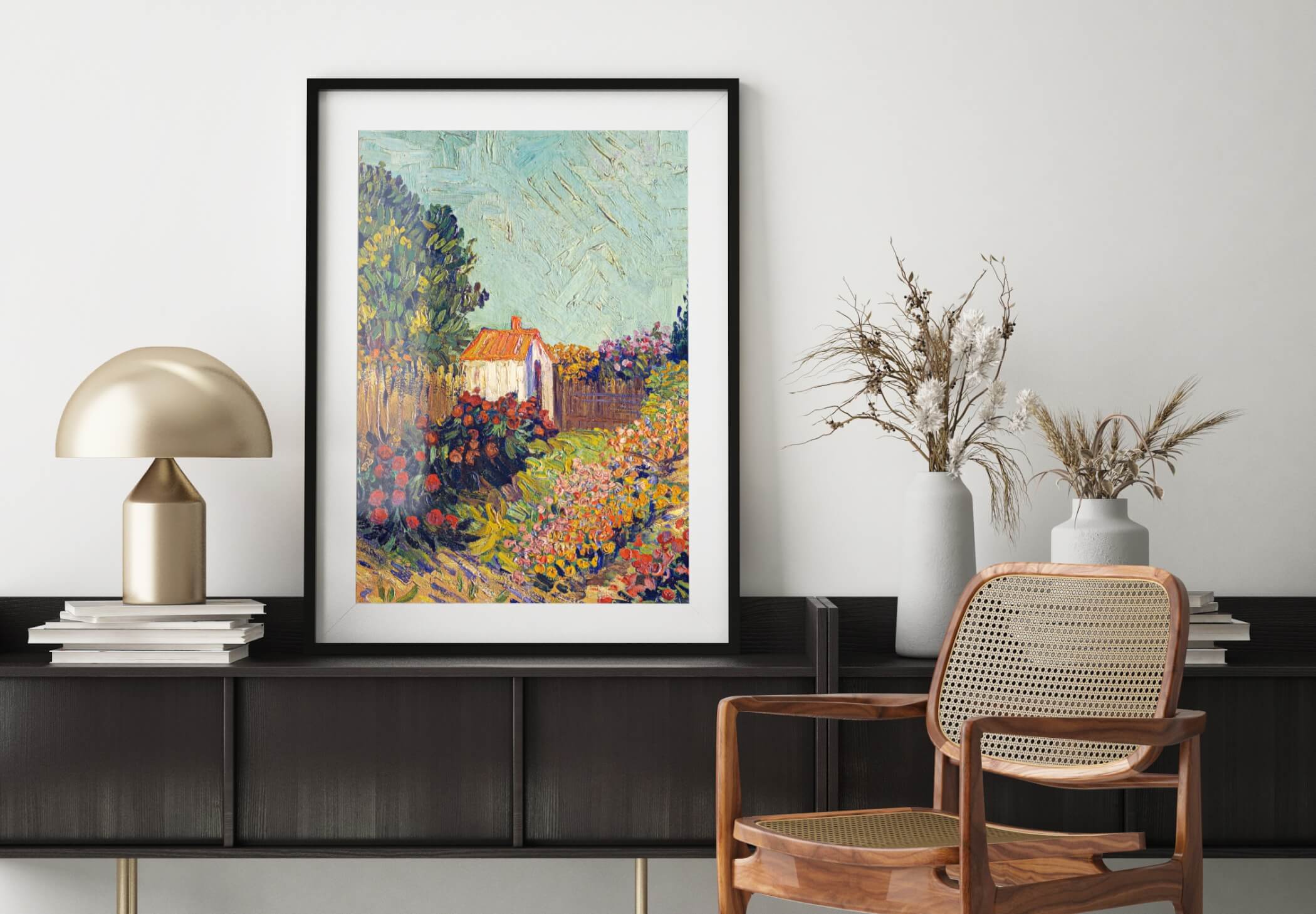 Satisfy your inner desire to live in a tiny cabin surrounded by rose bushes with this enchanting little painting. It veers from Van Gogh's common use of vibrant blues and instead utilizes a softer, quainter palette. With its little splashes of red, it's a beautiful way to add a sense of calm and reverie to a frequented space.
---
Wheat Field with Cypresses (1889)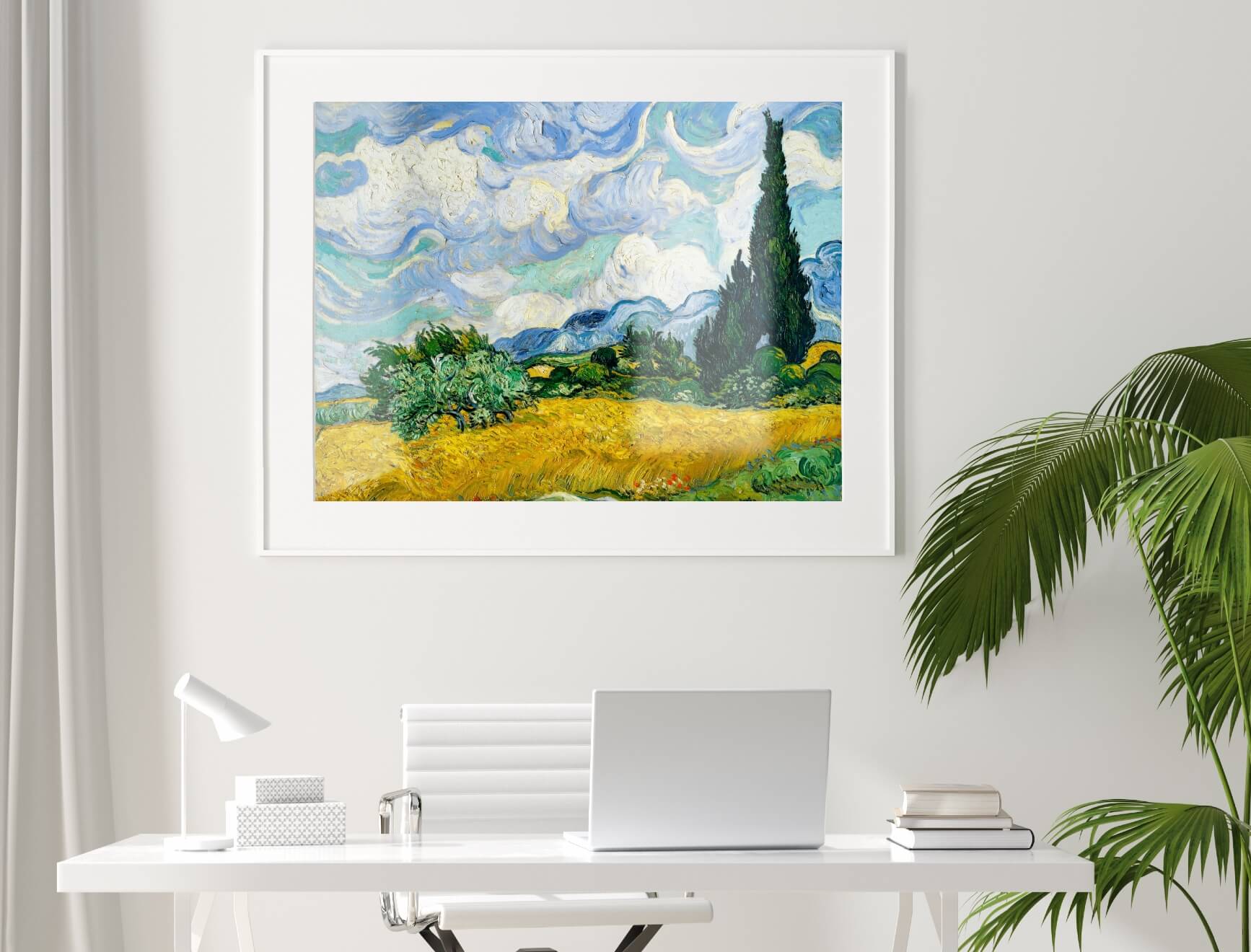 The swirl of pale blue skies in this abstract impressionist painting would be enough to win us over on its own, but the touch of golden grass and forest greens make us love it even more. It's a sophisticated yet colorful way to decorate your walls, and the perfect way to spice up your video call backgrounds!
---
The Starry Night (1889)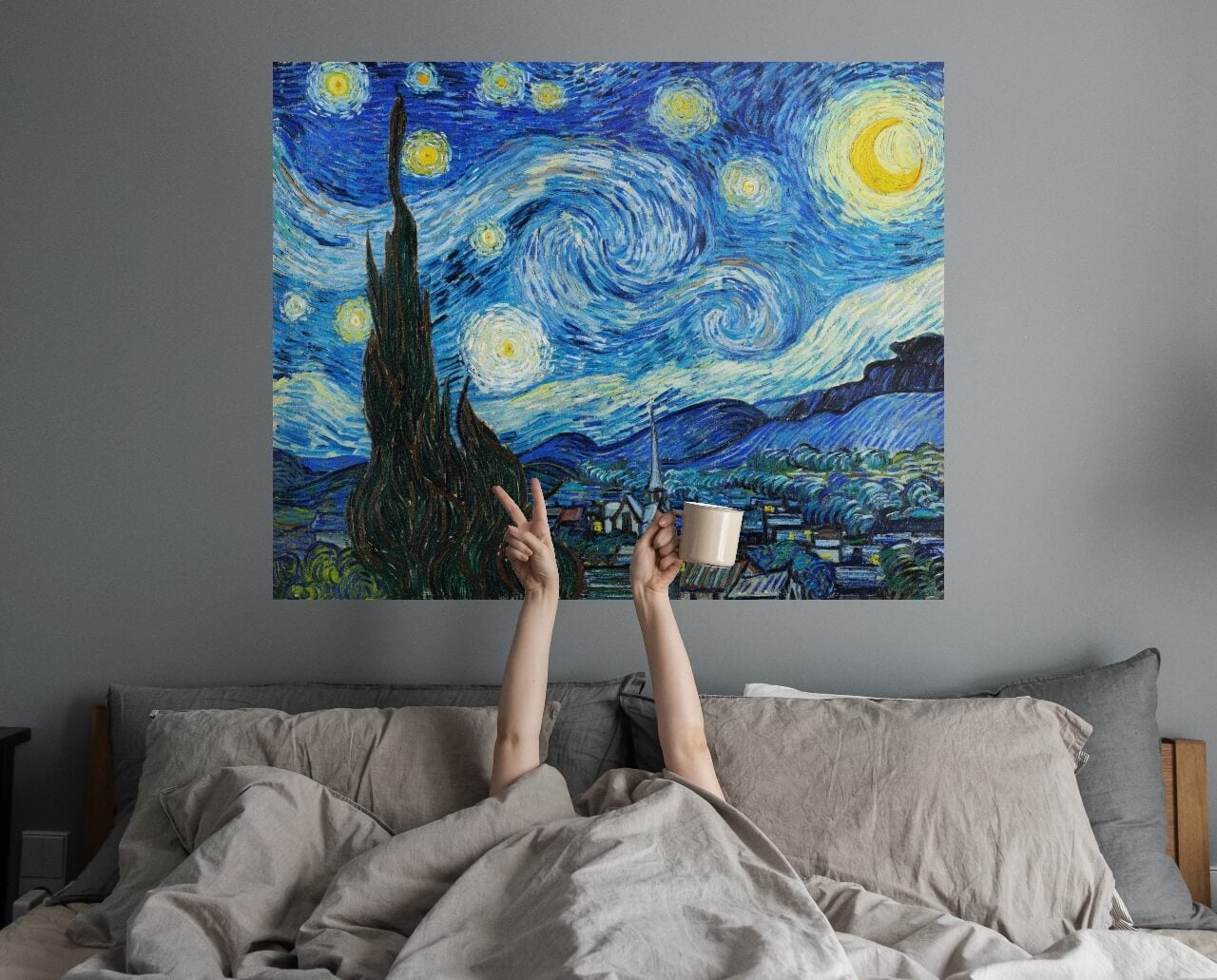 Alas! Here we have what is perhaps Van Gogh's most famous painting: Starry Night. With its shadowy foregrounds and stars erupting with swirls of light, it's the type of painting you could stare at all day – and no one would blame you!
---
Two Poplars at Saint-Rémy (1889)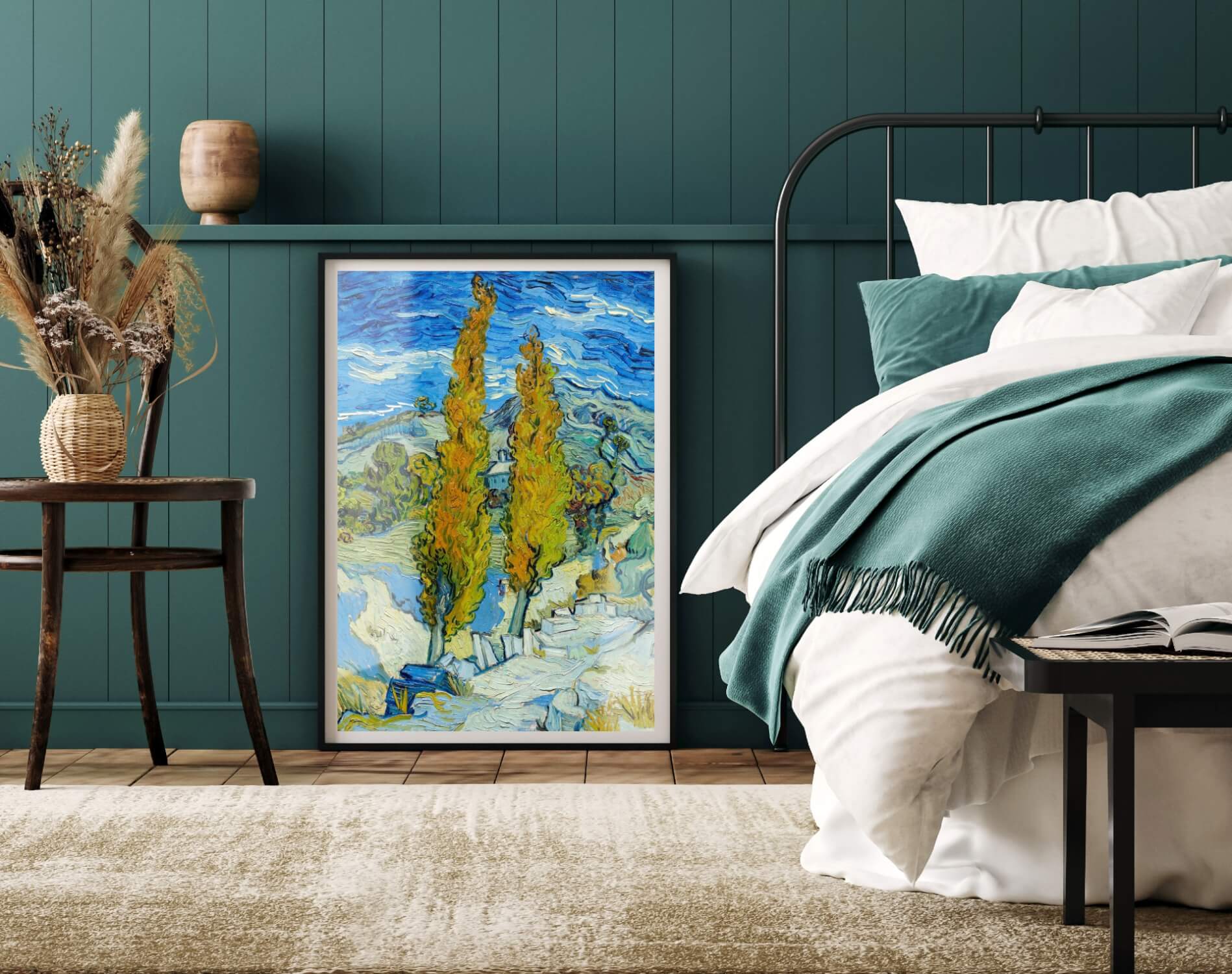 Tipping slightly more abstract than impressionist, Van Gogh painted this gorgeous visual of poplar trees on the hills of Saint-Remy, France. If this painting feels especially reminiscent of another one of Van Gogh's works – Road with Cypress and Star – that's because it was created around the same time and location, while Van Gogh resided at a mental hospital in the area.
This textured and boldly colored painting would be an elegant addition to a bedroom, living room, office, kitchen or bathroom; In other words, there's truly no where we wouldn't love to see it displayed!
---
Fishing in Spring, the Pont de Clichy (Asnières) (1887)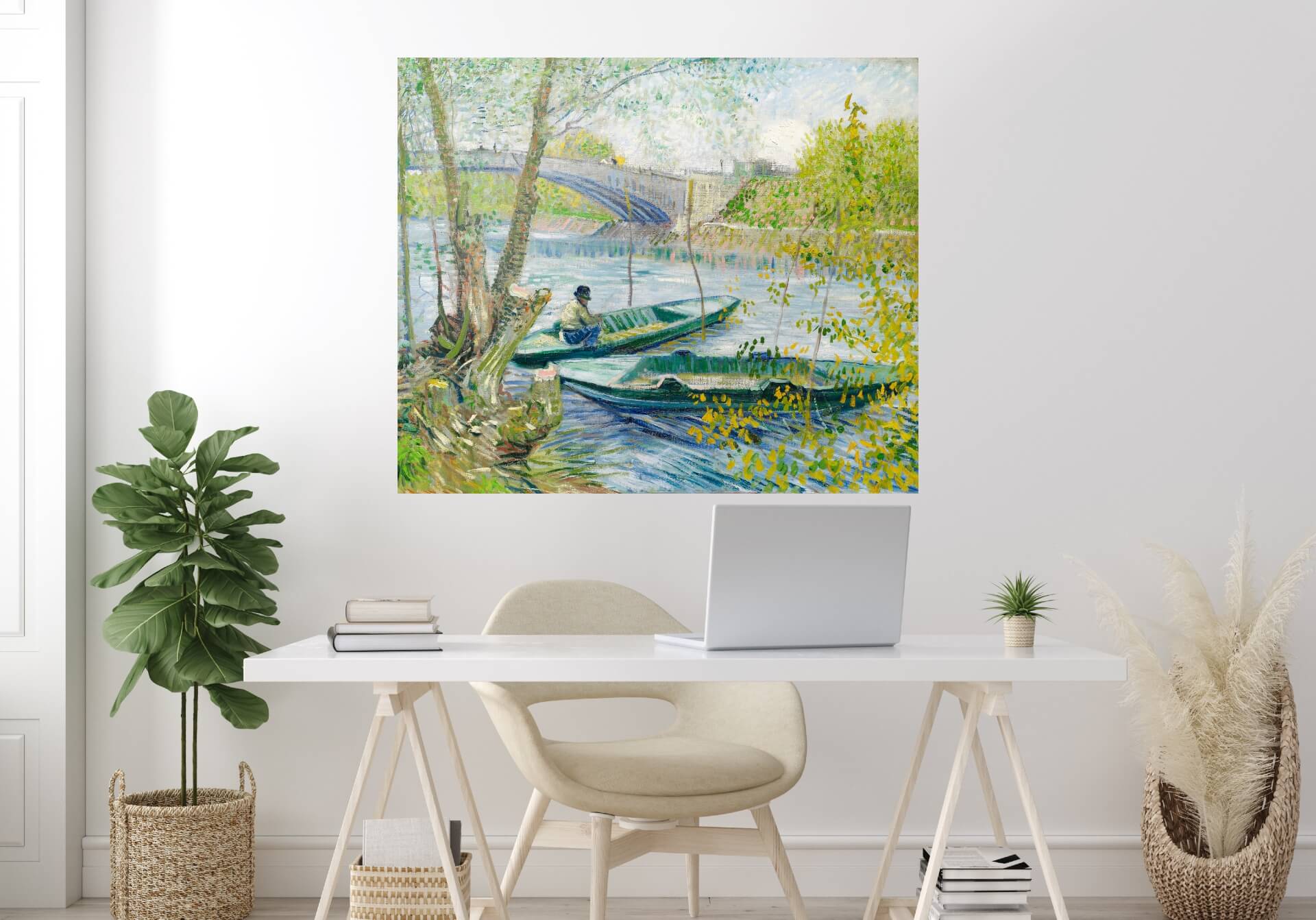 If River Bank in Springtime was your favorite décor piece thus far, we have one final treat for you! With the same mesmerizing springtime greens and the addition of gentle springtime blues, this beautiful painting is the perfect way to add whimsy and airiness to empty walls.
---