With temperatures rising and the first day of summer quickly approaching, there's one thing we can't get enough of: the beauty of a waterfront view.  While we can't transfer the feeling of a sea breeze through a computer screen, we can supply you with ocean front art that comes pretty close to capturing it visually!
See a painting you like? Simply click the image to be taken to the item's download page.  Once downloaded, feel free to print, share, or alter the image however you wish – they all belong to the public domain!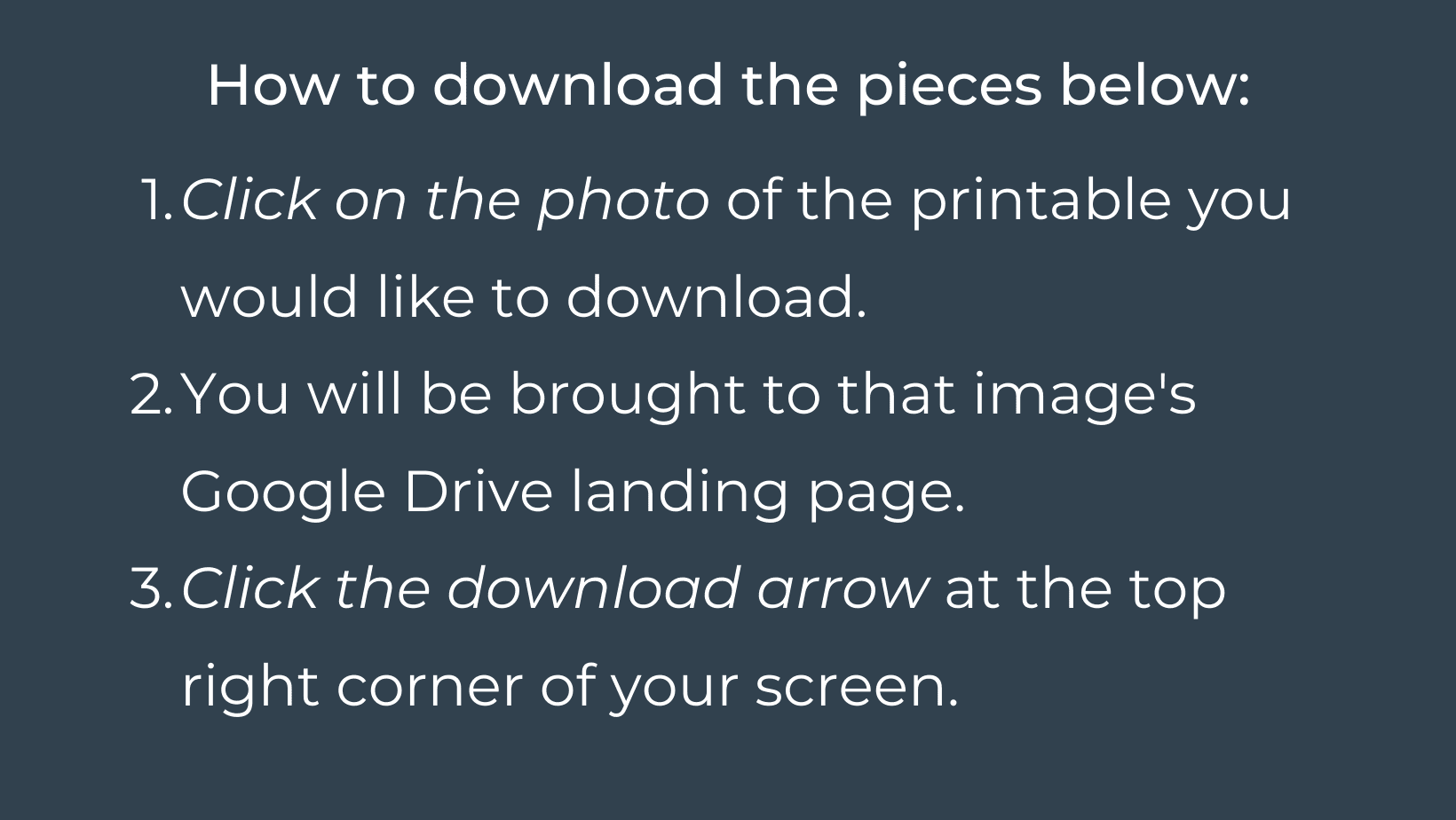 Ready to dive into some free printable art? Let's go!
---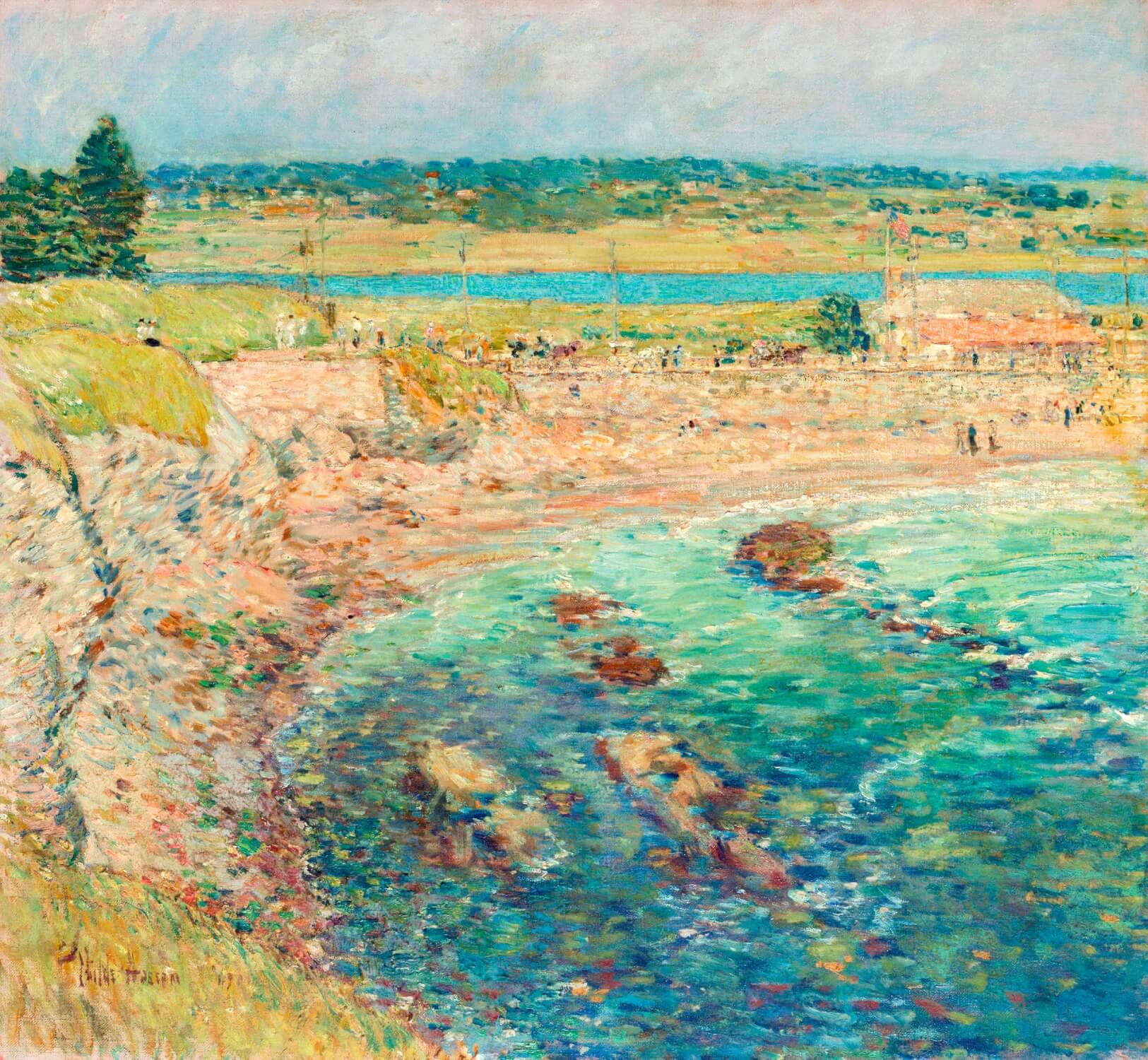 Bailey's Beach, Newport, R.I. (1901) by Frederick Childe Hassam
The colorful shoreline in this painting by Frederick Childe Hassam completely stole our heart. It flawlessly captures the feeling of a sunshine-filled day at the beach, while sparking our desire to make our way along the coast this summer. Find the energy for endless beach-bound road trips by hanging this painting in a busy area of your home.
---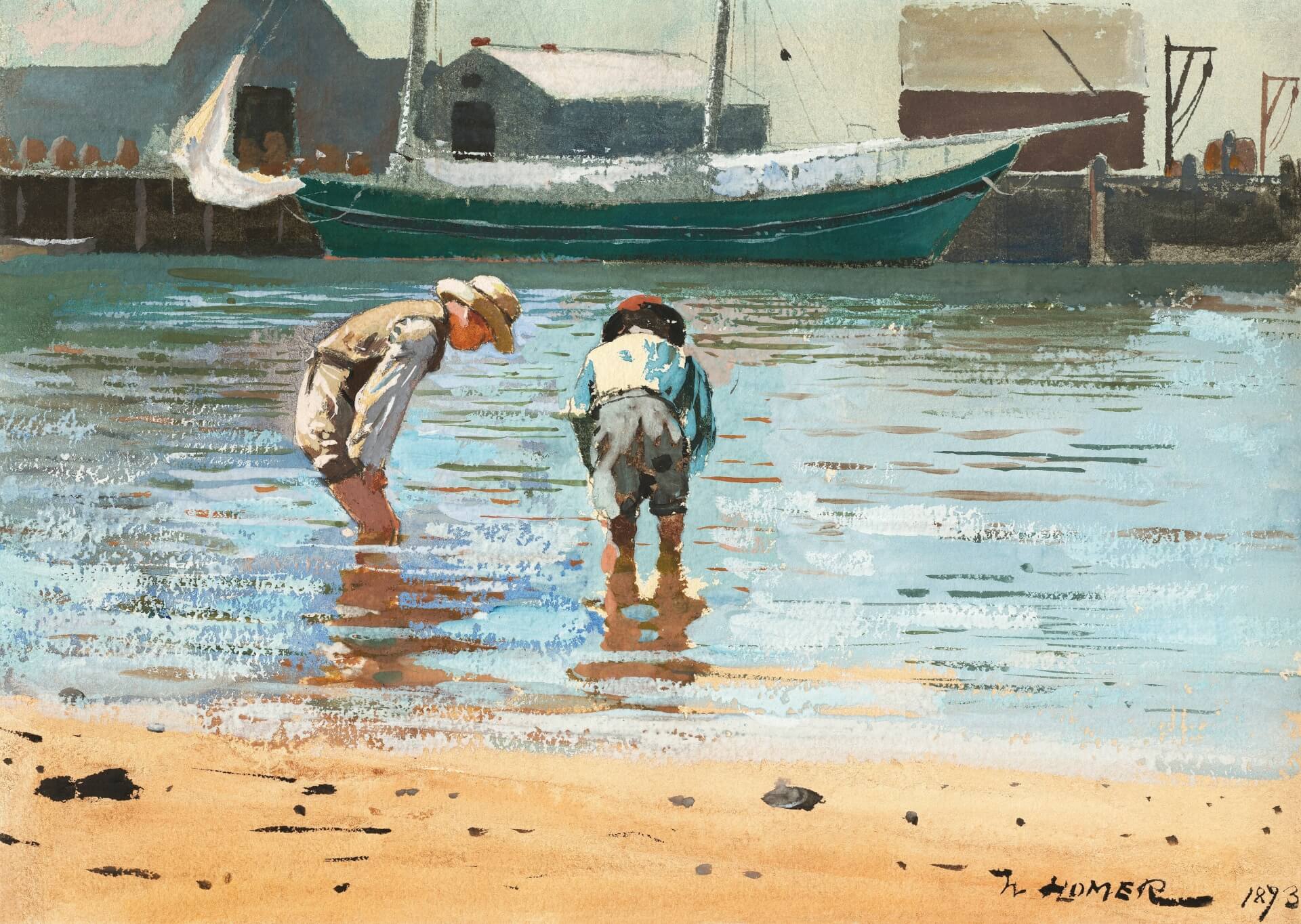 Boys Wading (1873) by Winslow Homer
New England based painter Winslow Homer is known for dozens of enchanting waterfront paintings. We adore the painting above for its graceful depiction of a small yet relatable childhood moment. It transports us back to the wonderment we felt at all of life's details in our younger years. This sweet visual makes for a beautiful piece of decor and a reminder of life's joys, all in one!
We recommend printing it on an 11×14 canvas with mirror-wrapping, or framing it with thick white matting!
---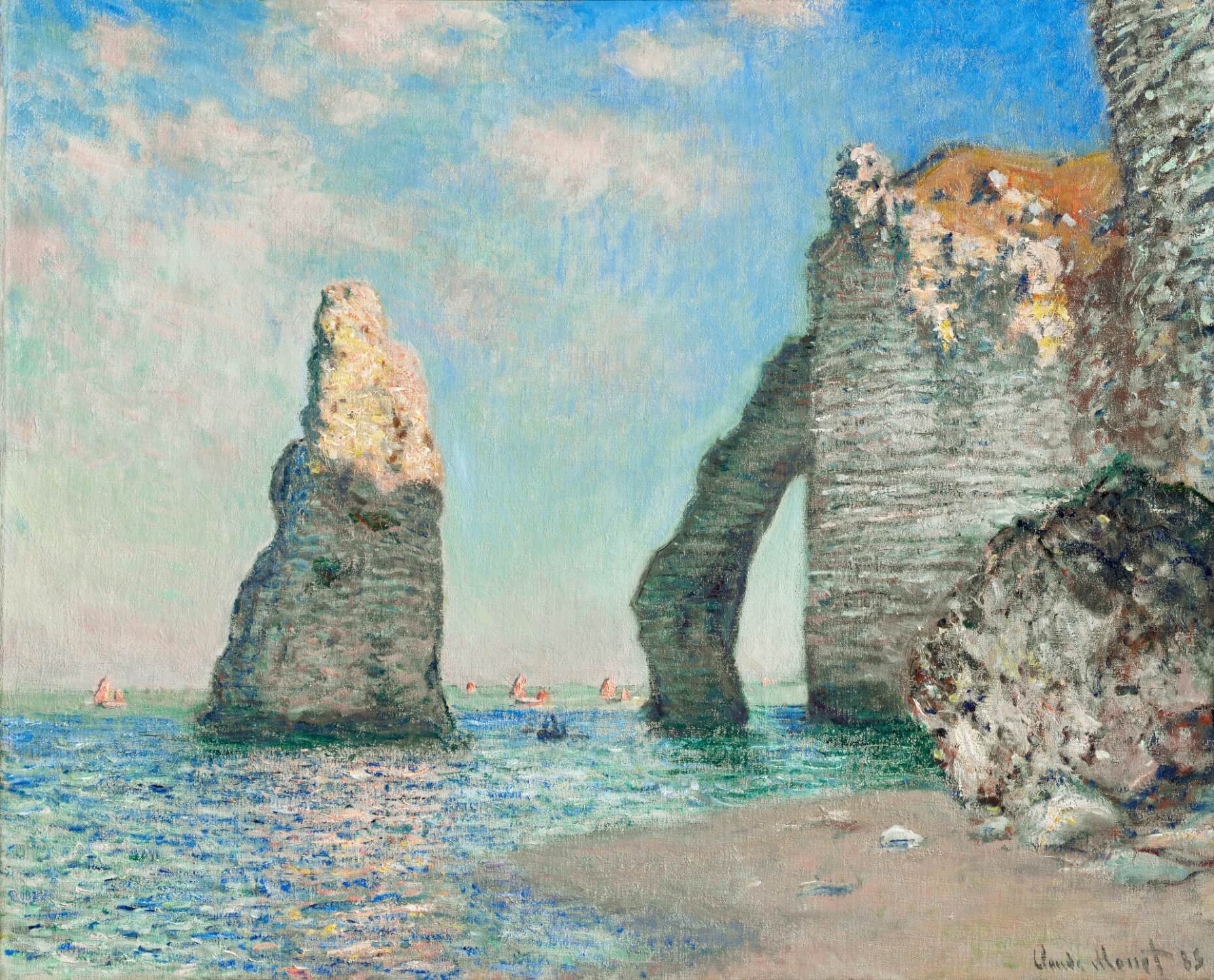 The Cliffs at Étretat (1885) by Oscar Claude Monet
We highlighted the incredible artwork of Claude Monet a few weeks ago, but his collection of mesmerizing paintings seems to never run out! In The Cliffs at Étretat, Monet captured a dynamic stretch of the Normandy coast from a private location, only accessible by a steep path. This unique perspective makes this already impressive painting all the more special.
We would love to see it displayed on a 16x20in mirror-wrapped canvas print.
---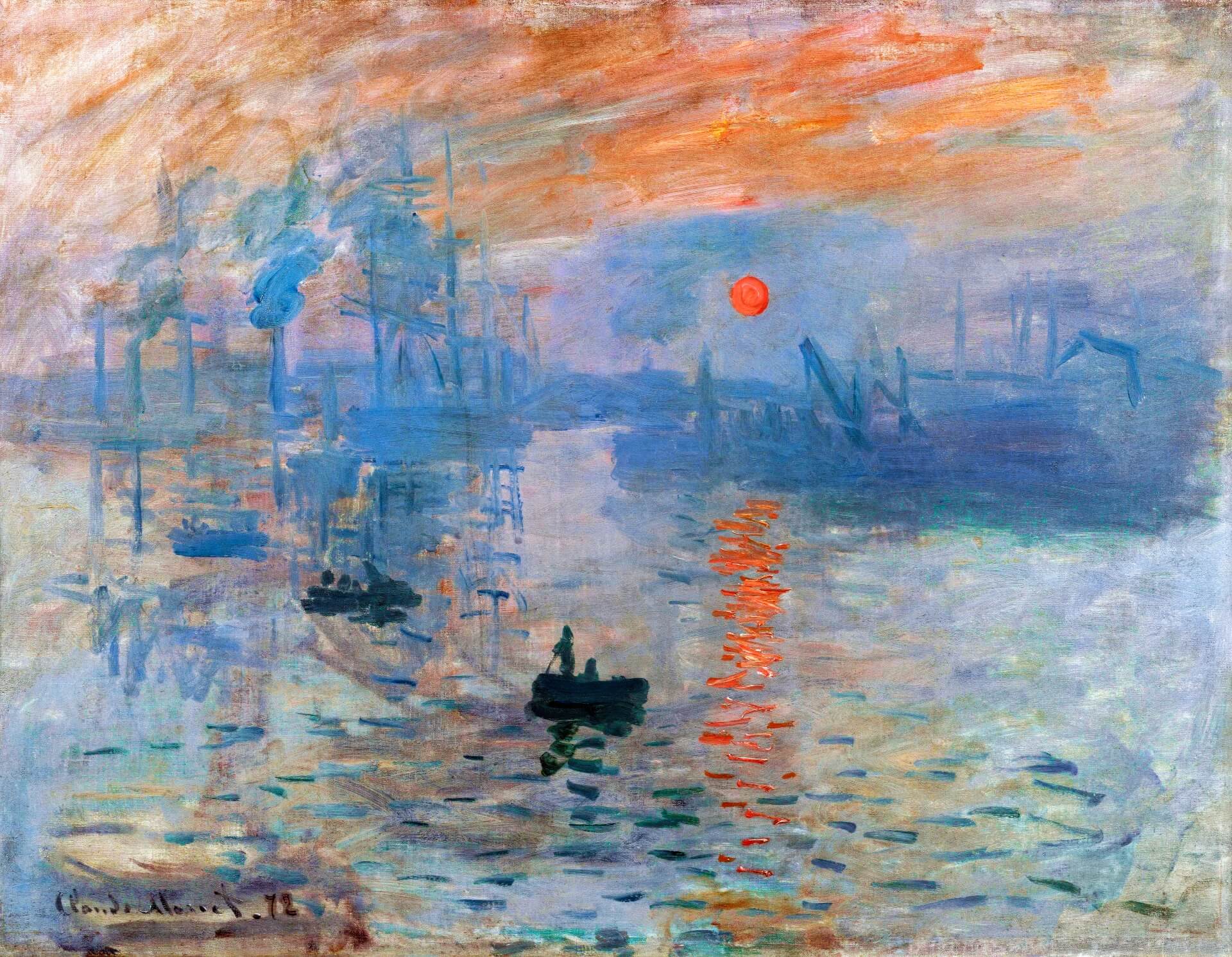 Impressionist Sunrise (1872) by Claude Monet
Claude Monet took an impressionist approach to yet another incredible waterfront painting – and we're so glad he did! Our favorite details about this gorgeous artwork are the darkness of the boater shadows and the orange reflection of the rising sun. If this painting reflects your personal artistic taste, we can't recommend it enough!
---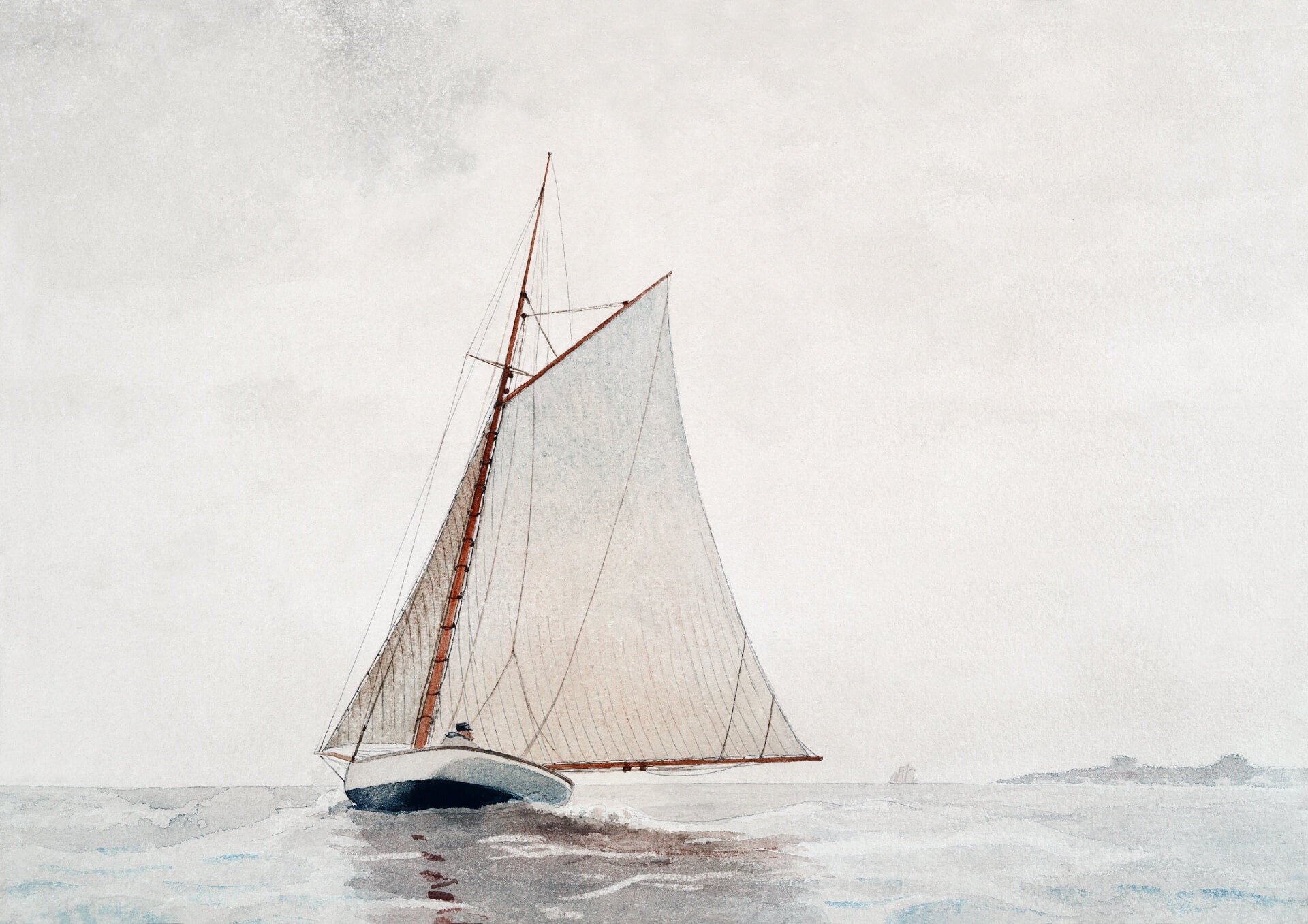 Sailing off Gloucester (1880) by Winslow Homer
While it's not the most summery of scenes, we couldn't help but feel a sense of admiration for this charming painting. It captures the feeling of being out on the open ocean, making it the perfect decor piece for a bedroom or home office. A splash of adventure on your walls will help you tackle each day with excitement – and even help you plan a few trips!
We would love to see this painting displayed in a dark wooden frame.
---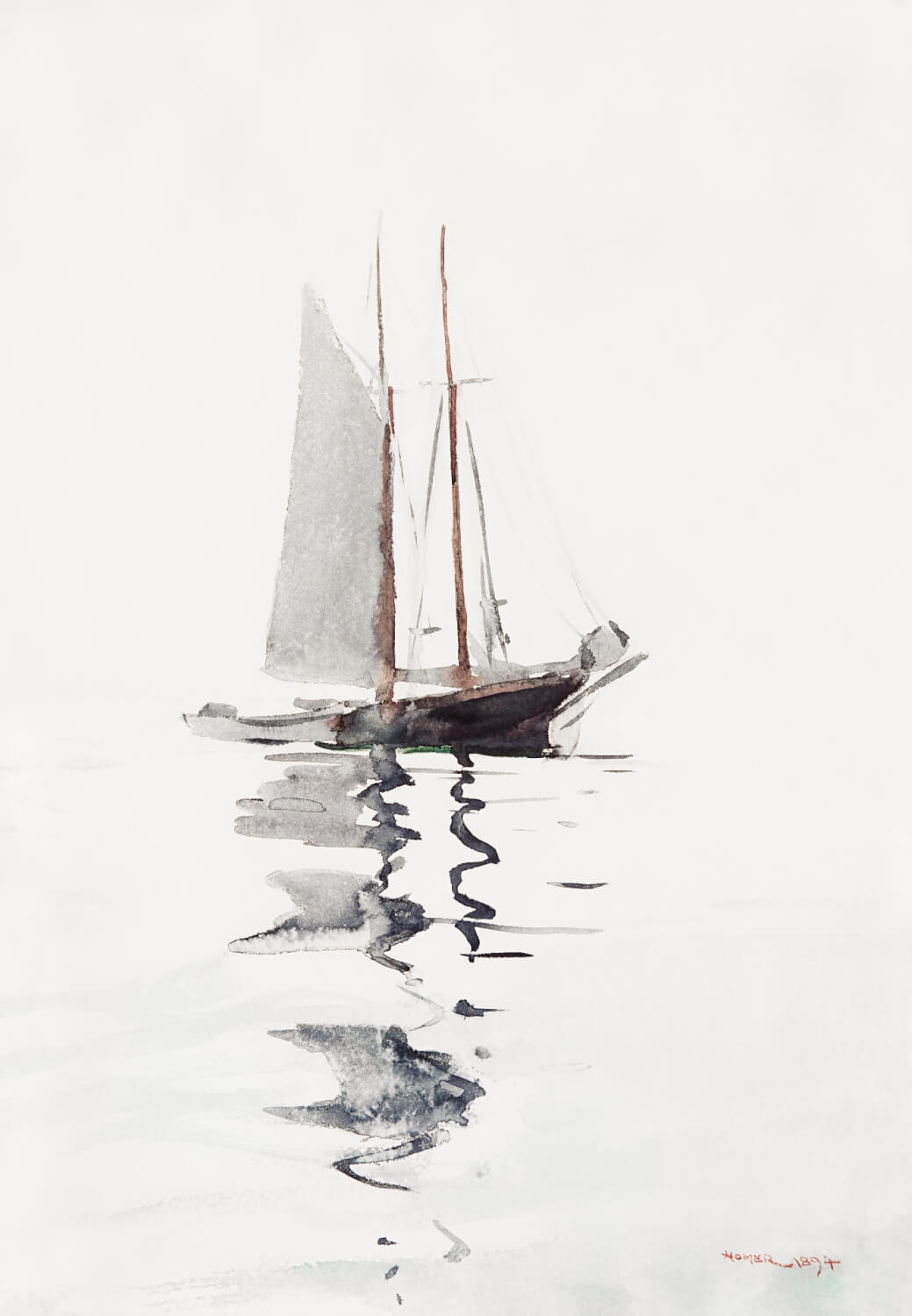 Two–masted Schooner with Dory (1894) by Winslow Homer
Love the previous print, but prefer a vertical-oriented art piece? Lucky for you, Winslow didn't halt his aptitude for sailboat illustrations at one painting alone! This simple yet enchanting painting would make for a stunning, elegant piece in a monotoned bathroom or kitchen. Print it on an acrylic block for a chic and glistening piece of decor.
---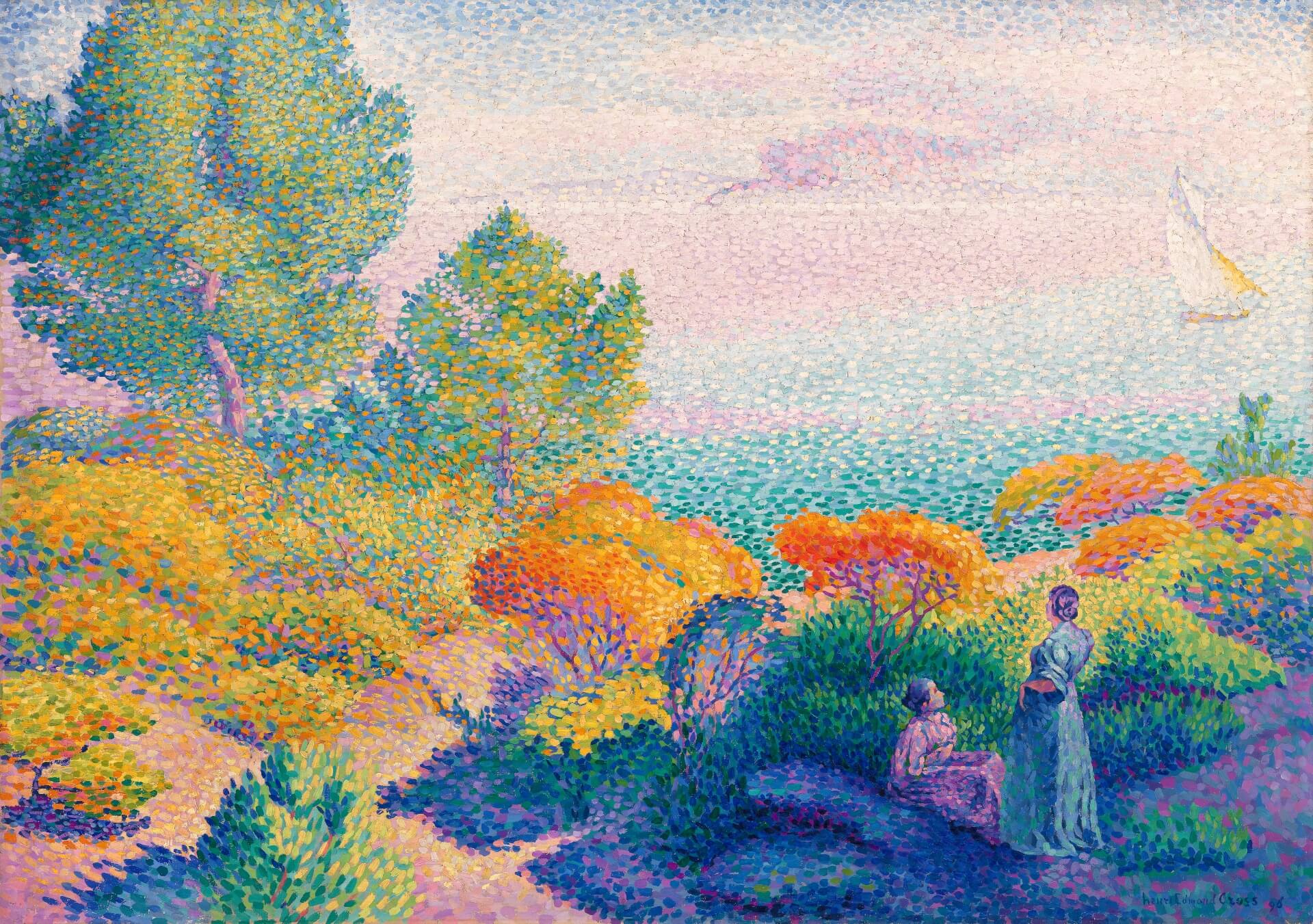 Two Women by the Mediterranean Shore (1896) by Henri-Edmond Cross
If you prefer your seaside views with an extra touch of color, this dotted painting by Henri-Edmond Cross is the piece for you. The oranges, greens, blues, yellows, and subtle pinks make this fantastical painting the perfect way to bring character and vivacity to any room.
With so much brilliance packed in every dot, it's impossible to say a medium that this artwork wouldn't wow us in; Try it on metal or acrylic for added pop, and canvas for an authentic painted appearance.
---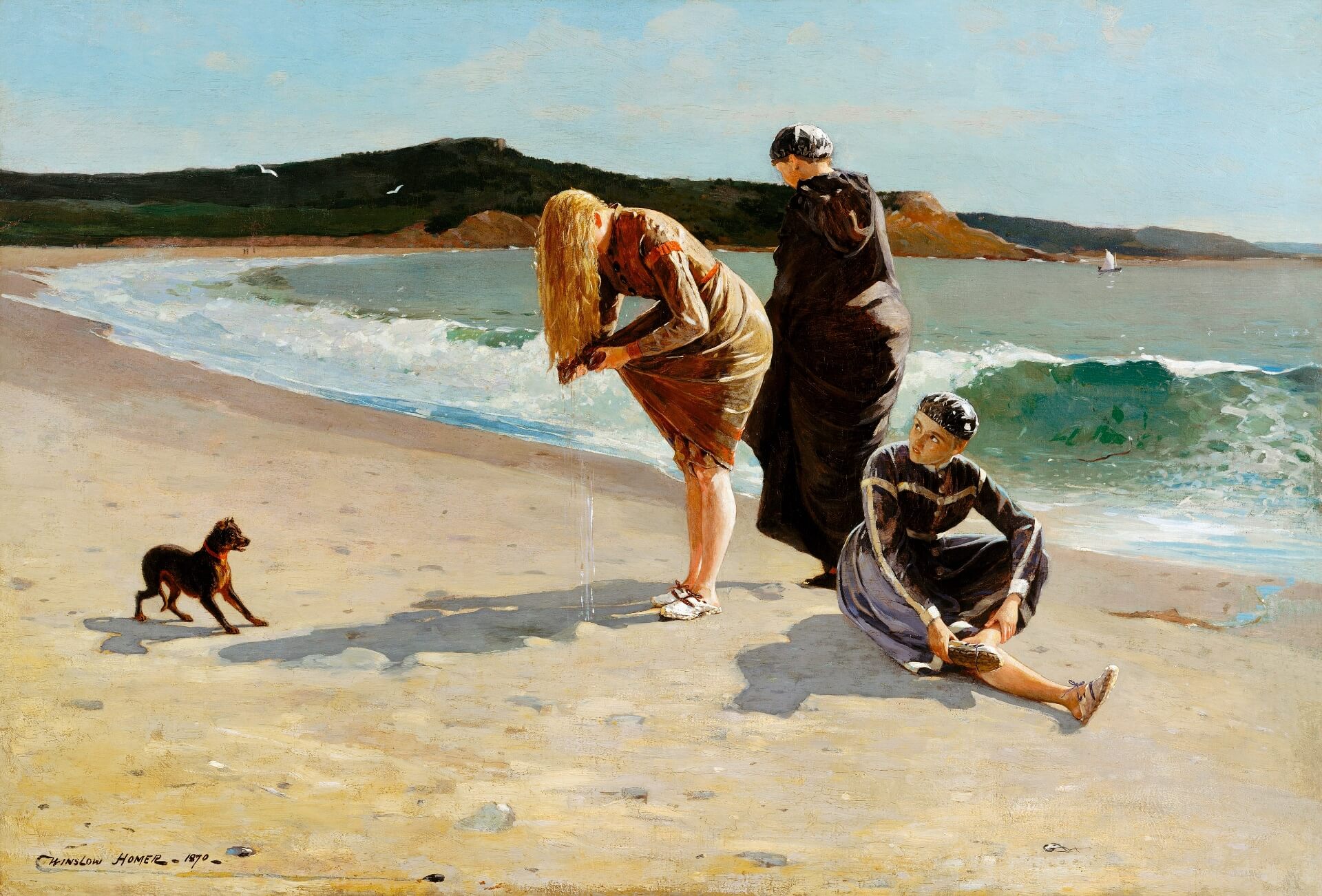 Eagle Head, Manchester, Massachusetts (High Tide) (1870) by Winslow Homer
Winslow Homer captures another small yet quintessential beach side moment in his painting Eagle Head, Manchester. A group of young women is seen drying their floor length dresses following a stroll along the shore, while a dog spectates in wonder. It's the perfect way to add a touch of summer exploration to any room in your home – and we can't recommend it enough if you're decorating a home in Massachusetts itself!
---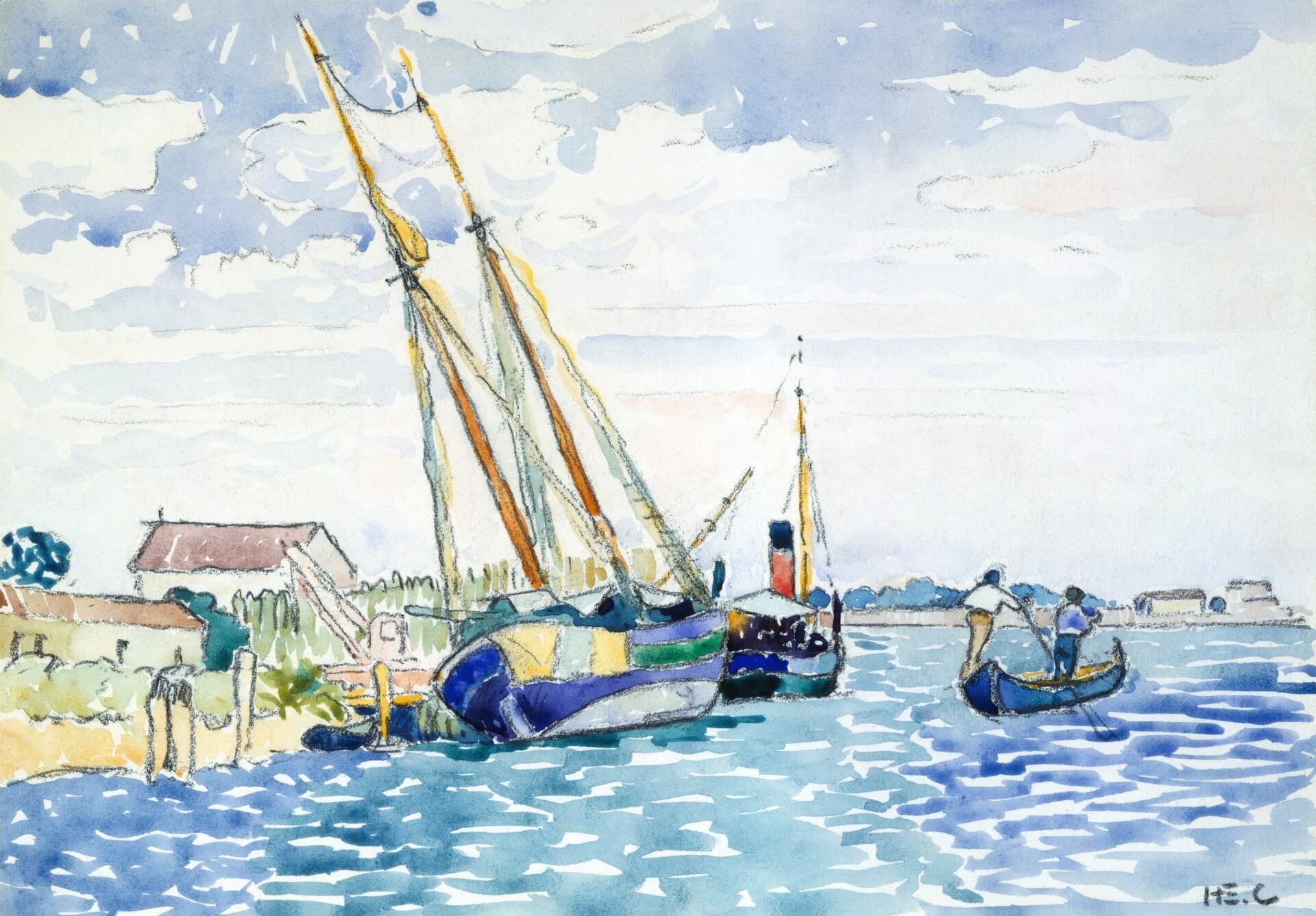 Boats near Venice by Henri-Edmond Cross
Calling all watercolor-lovers! This Henri-Edmond Cross painting captures everything we love about the artform. We would absolutely love to see this scenic painting printed on a large, wall-mounted acrylic. With the added vibrancy and depth of acrylic, this painting is sure to charm all who pass it by.
Browse our acrylic sizes here.
---