Fall is family portrait season when families gather together to capture their annual photograph in anticipation of holiday cards and gifts.  We've collected a few tips on how to make your fall family portraits a success.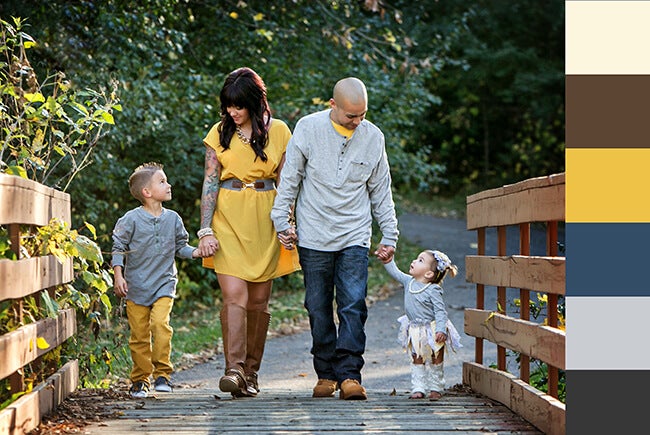 1.Coordinate Your Clothing (but don't match!)
Nothing dates a photo more than everyone in wearing the same shirt.  These days, a more modern look is to coordinate the color of your clothing palette. Your best bet for choosing colors that create serene and comfortable designs use different tones of the same colors (dark, light, and medium), or natural earth tones (grays, tan, browns, blacks). For a bit of drama, use complementary colors (the colors opposite each other on the color wheel such as blue and orange) or Analogous colors (colors next to each other such and red and orange.)
Layering clothing is also a good way to create texture in your photos and create more flattering silhouettes.  They say "the camera adds 10 pounds" so often adding a nice cardigan sweater does wonders for creating a flattering shape.  Layered clothing also looks cozy in the fall colors and enables you to add or remove articles of clothing to create different looks in the session.
Some families also choose to coordinate their clothing to the color tones in their home, knowing they will be hanging family portrait art on their walls to commemorate their family in their home.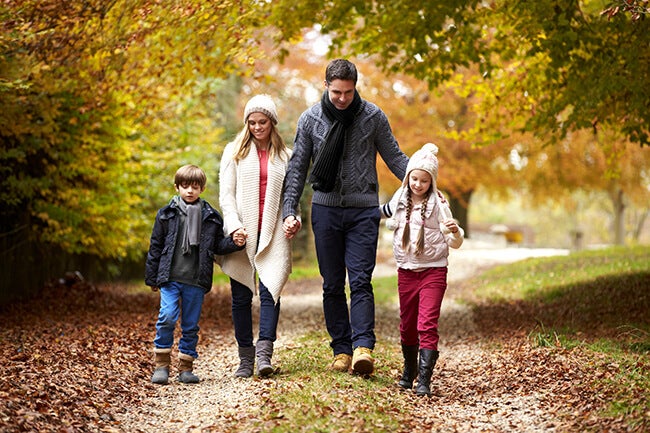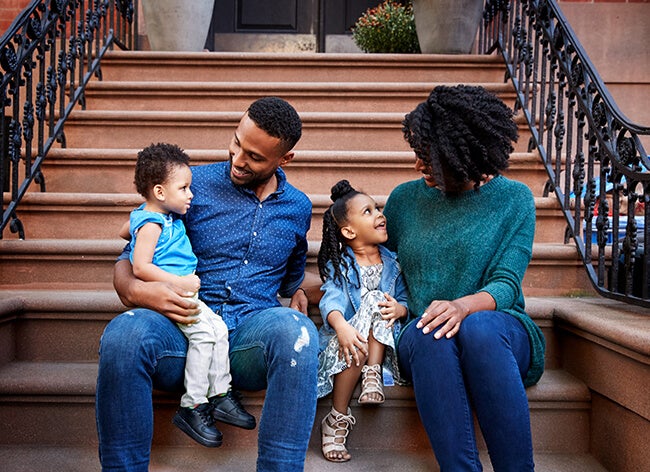 2. Choose a Great Location
When it comes to family portraits, it's all about location. Fall colors are a beautiful choice for a scenic family photo, but doing your session in a location that means something special to your family is also a great choice.  Maybe it's a favorite vacation spot, maybe it is your favorite park, maybe it is just in the comfort of your home.
Try to choose a location that has good light, such as a nice shady spot, so that your families expressions will be comfortable and not squinty and that there is a nice even light on your faces.  You may want to also opt for a location background that is a bit darker so that your family is the subject that pops.
Whichever location you choose, it is a good idea to choose a location that compliments your clothing colors and/or the colors of your home, so that your final results will look great as wall art.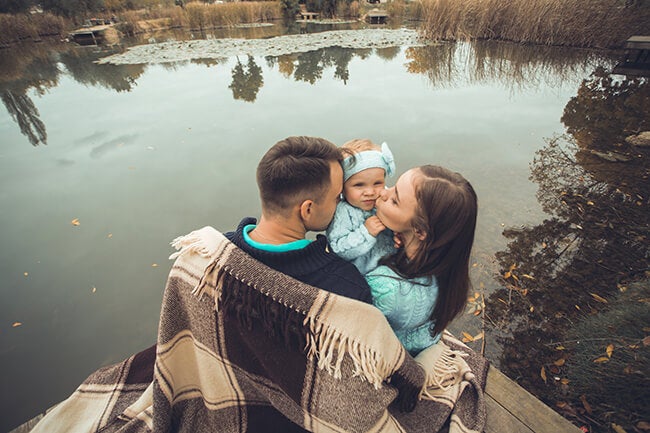 3. Bring Few Props
While some props in photos can be cliche and dated, bringing along a few items to help set the stage or assist in posing can be a good idea.  For instance, bringing along a blanket to keep everyone clean and try on an outdoor session, or bringing a crate or chair to build a base for posing can be a great help.
Sometimes including props to activities you like to do as a family can also be a great addition.  For instance, maybe one of your hobbies is to go on long bike rides.  Including that activity and using bikes as props can help you celebrate something you love as a family!  Maybe you always read books to your children, why not photograph that time together?  Maybe you go fishing with your dad each summer.  You would cherish photographs of those fishing excursions for years to come.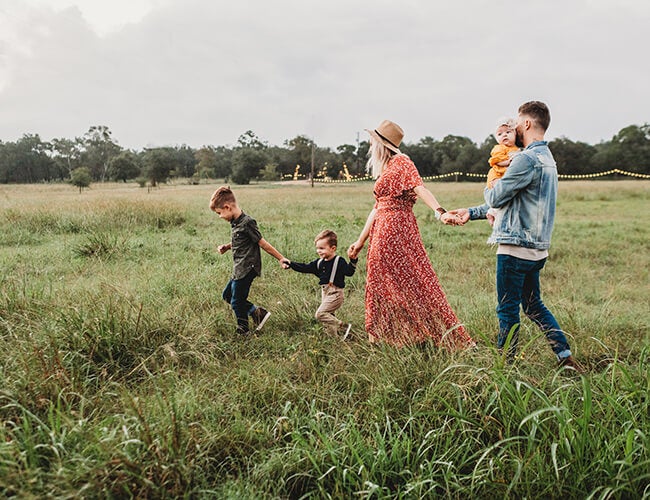 4. Get Real
Just like using props can help you express your hobbies and activities your family enjoys, it's also nice to capture real lifestyle moments in your photographs.  Photos of your family laughing, walking, cuddling up and just interacting will highlight the unique relationships within your family.  It makes the images much more emotional, connected and timeless than simply only photographing smiling images looking at the camera.  While pose photos are great, lifestyle shots will most likely show everyone's individual personalities and lend themselves to be your favorite shots of your group.

5. Include Your Best Friends in Your Fall Family Portraits
If you are a pet owner, adding Fido to the family photo is a great idea.  After all, they are part of the family too.  Make sure that your pet is groomed so they look just as great as the rest of your family in the photo.  It may be a good idea to take the dog to the dog park or for a walk before the photo session to run off some extra energy, but make sure they aren't too tired so they will be bright eyed and alert in the photos.  It may also be a good idea to bring treats or their favorite toy, and possibly another person to help get the pet's attention and then handle the pet for the photos that do not include them.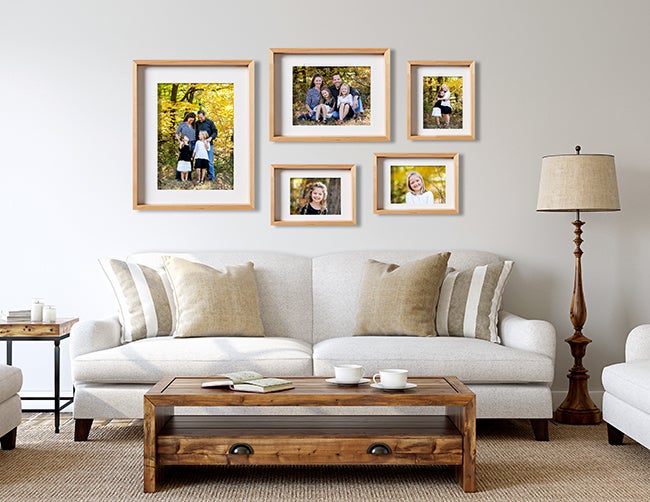 6. Photograph for the Portrait Wall, not the Wall Portrait
While it is important to get that ONE great shot of the whole family, you should also take lots of combinations of photographs to celebrate other relationships and individuals within the family.  For example, photographing the children individually, mom with the kids, Dad with the kids, mom, and dad together. All of these relationships are important and should be celebrated.
Photographing all these groups also lets you then create photo gallery wall displays or possibly put together books and albums to showcase your best expressions and important connections.  It will allow dad to have a photo of mom and the kids in his office and give the children a sense of importance to have their own photograph taken.
For more ideas on what to do with your beautiful portraits after the shoot, visit the Family Collection by Printique.