Our newest photo-a-day challenge is here!
This month, get ready to uncover iconic moments in your day-to-day! You'll be turning your morning commute into a piece of art, experimenting with different mediums, and harnessing the power of light as you make your way through September.
By the end of the month you'll have a stunning collection of images – and quite possibly your favorite photograph yet!
Ready to see what September has in store? Click the image below to download your own copy!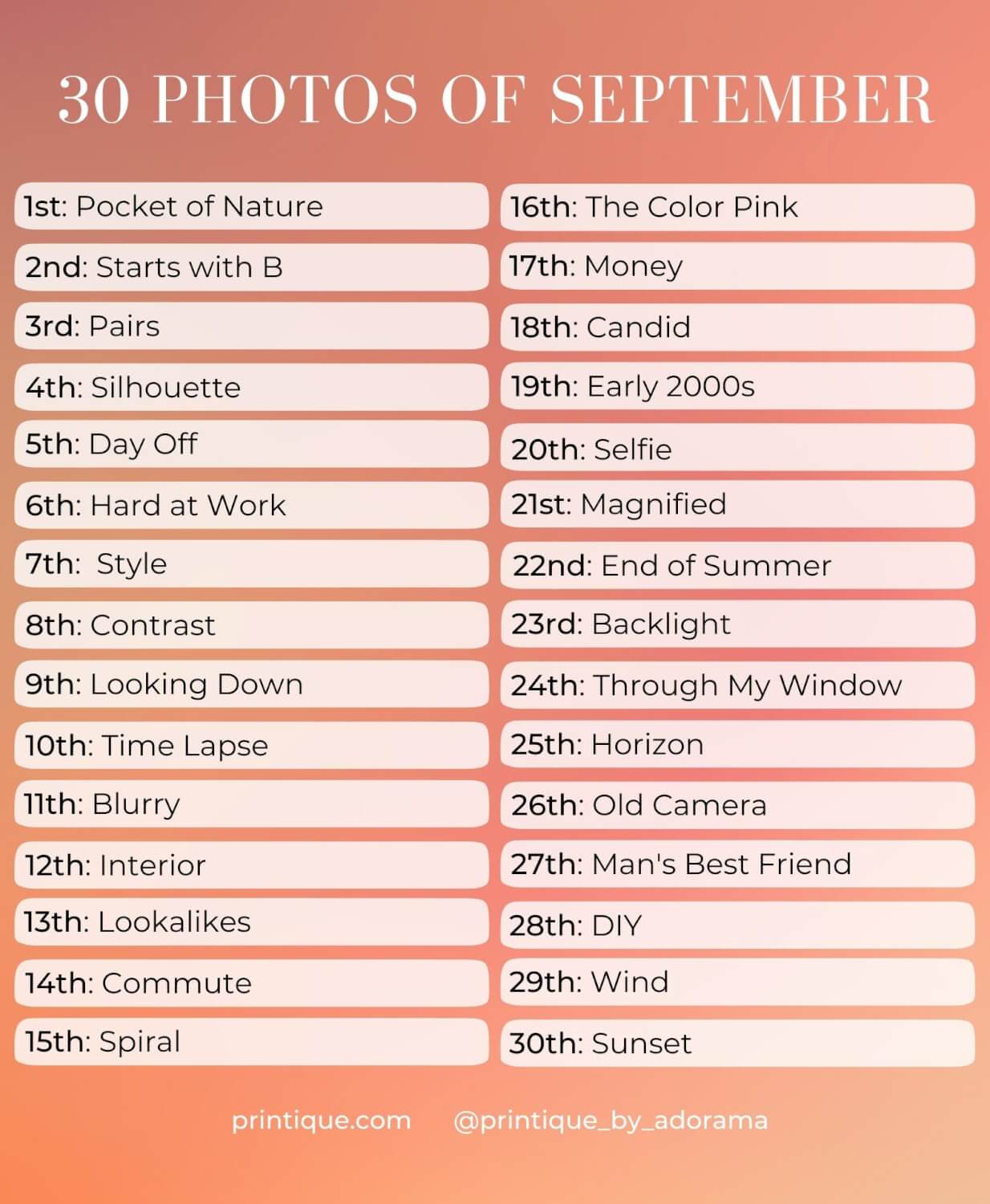 ---
September 1: Pocket of Nature
Find a little slice of nature – whether it's a hidden park, a window box, or a bird's nest – and photograph it!
September 2: Starts with B
Photograph something that starts with the letter B. Bumblebees, boats, baked goods… we'll let you take it from here!
September 3rd: Pairs
Find pairs in the world around you: a couple, a pair of shoes, two birds on a wire.
September 4th: Silhouette
Capture the beauty of a silhouette today.
September 5th: Day Off
Happy Labor Day! Photograph how you celebrate a day off.
September 6th: Hard at Work
Snap a photograph that captures what a hard day's work means to you. Is it the chaos of your desk? Is it the palms of your hands? Is it a shirt covered in paint? Embrace the power of symbolism for this challenge!
September 7th: Style
Look for style in the world around you today!
September 8th: Contrast
Capture the artistry of contrast in today's photograph.
September 9th: Looking Down
Take a photo looking down.
September 10th: Time Lapse
Experiment with time lapse photography today!
September 11th: Blurry
We've all had a photo ruined by blur in the past; Today, use blur to your advantage!
September 12th: Interior
Photograph a beautiful interior.
September 13th: Lookalikes
No two things are alike… until today! Photograph a pair of lookalikes.
September 14th: Commute
Take a photograph during your commute.
September 15th: Spiral
A spiral is a surprisingly common shape in nature and design. Photograph the spirals you see around you today!
September 16th: The Color Pink
Take a photograph of something pink.
September 17th: Money
Incorporate money into today's photograph.
September 18th: Candid
Take a candid photograph!
September 19th: Early 2000s
Take a trip to the year 2000 with today's snapshot.
September 20th: Selfie
Get creative today and turn the notorious "selfie" into a work of art.
September 21st: Magnified
Break out the magnifying glass for today's photograph and create a truly dynamic visual!
September 22nd: End of Summer
Say goodbye to summer with one last epic photograph.
September 23rd: Backlight
Photograph a backlit subject today.
September 24th: Through My Window
Take a photograph through your favorite window – whatever window that may be!
September 25th: Horizon
Photograph a horizon.
September 26th: Old Camera
Dig out an old camera and shoot some new photographs. This might mean dusting off last year's Canon camera or charging your digital pocket camera from 2008!
September 27th: Man's Best Friend
We didn't forget about our beloved four-legged friends! Take a photograph with or of your pets today.
September 28th: DIY
Make DIY crafts a part of today's photograph; Model a dress you made yourself, utilize a backdrop you hand painted, or use props you crafted from scratch.
September 29th: Wind
Photograph the power of wind today.
September 30th: Sunset
Capture one more magnificent moment with a photograph of September's final sunset.
---