Our newest photo-a-day challenge is here!
This month, get ready to celebrate all of the brilliance of spring! You'll be experimenting with different camera angles, saying goodbye to the winter chill, and embracing the growth the new season will bring. 
By March 31st, you'll have a stunning collection of images – and quite possibly your favorite photograph yet!
Ready to see what March has in store? Click the image below to download your own copy!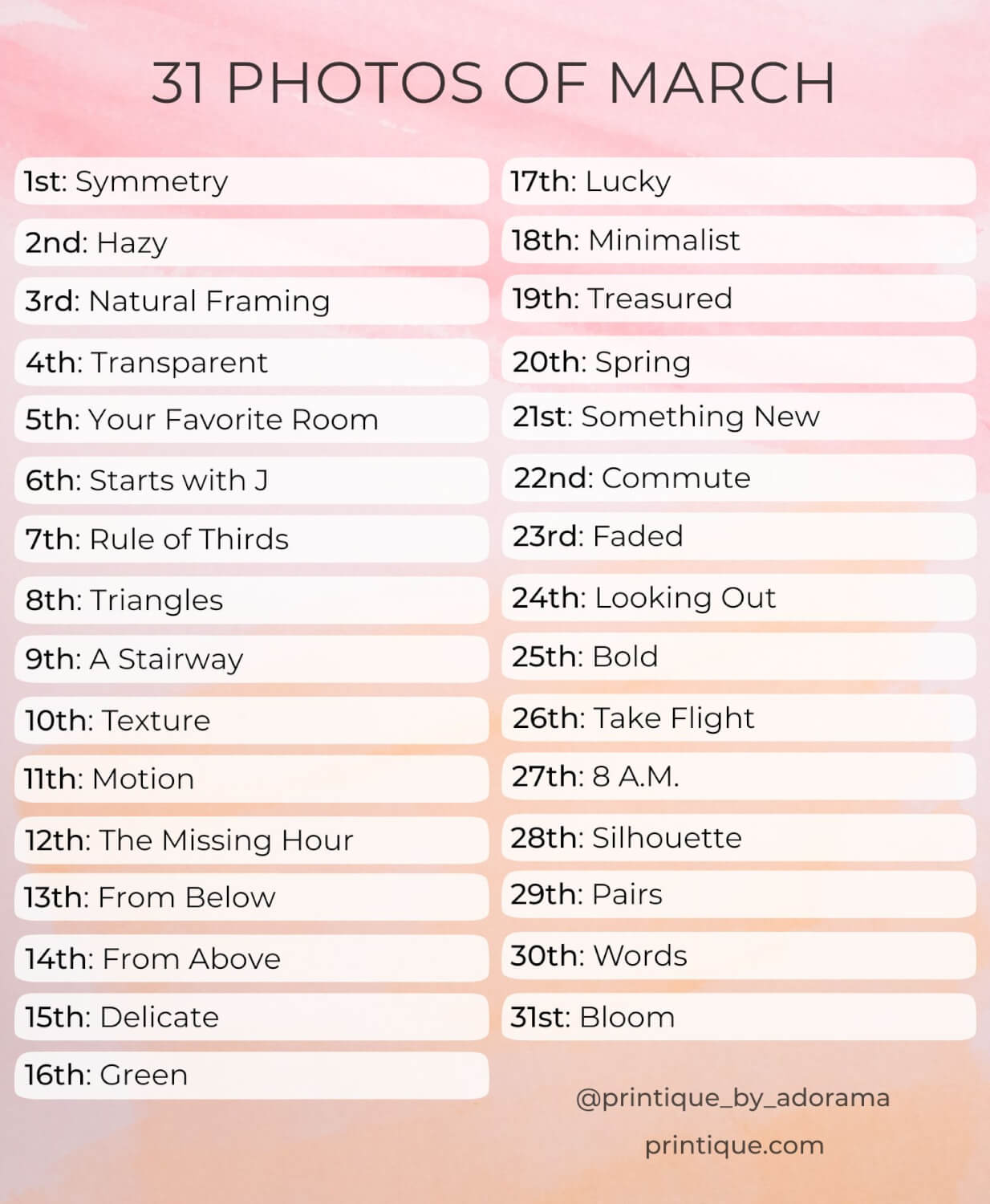 ---
March 1st: Symmetry
Experiment with balanced photography and capture a perfectly symmetrical shot.
March 2nd: Hazy
Get a photo of a hazy sky – while you still have the chance during the remainder of winter!
March 3rd: Natural Framing
Elevate the composition of your photo by finding objects that naturally frame your focal point, such as trees or a window.
March 4th: Transparent
Take a picture of something see-through for today's capture.
March 5th: Your favorite room
Celebrate a room that is special to you; this could be a room where you are the most artistic, where you feel safest, or where you have the best memories.
March 6th: Starts with J
Jewelry, jukebox and jars – photograph something that starts with the letter J.
March 7th: Rule of Thirds
Practice your Rule of Thirds composition for today's photo.
March 8th: Triangles
Use a triangle to take a one-of-a-kind photography today.
March 9th: A stairway
Take a photo of a stairway.
March 10th: Texture
Use texture to elevate today's capture.
March 11th: Motion
A moving train, a child running, snow falling – take a picture of something that is in motion!
March 12th: The Missing Hour
As we turn our clocks forward, take a picture of today's missing hour – whatever that means to you.
March 13th: From Below
Take a photo from far below.
March 14th: From Above
Take a photo from high above.
March 15th: Delicate 
Capture something that is delicate.
March 16th: Green
Photograph something green!
March 17th: Lucky
Take a picture of something lucky.
March 18th: Minimalist
Embrace the beauty of simplicity in today's photo.
March 19th: Treasured
A childhood momento, a lucky charm, someone you love – take a picture of something you treasure.
March 20th: Spring 
Happy Spring! Take a picture of something that reflects the new season.
March 21st: Something new
Showoff something new today!
March 22nd: Commute
Snap a photo of your commute.
March 23rd: Faded
Photograph something that is faded.
March 24th: Looking Out
Take a photo from inside looking out.
March 25th: Bright
Experiment with exposure or embrace the bold colors of spring – take a snap of something bright.
March 26th: Take Flight
Maybe it's a bird or a plane – capture something taking flight.
March 27th: 8 A.M.
Take a picture at 8 A.M. to photograph the essence of the day beginning.
March 28th: Silhouette
Play with lighting and shadows today.
March 29th: Pairs
Find pairs in the world around you – a couple, a pair of eyes, two birds on a wire.
March 30th: Words
Make words a part of today's photo – a hand-written letter, a street sign, your favorite poem.
March 31st: Bloom
Celebrate spring and capture the world around you blooming!