Our newest photo-a-day challenge is here!
This month, get ready to take your photography skills to new heights. You'll be photographing the joys of summer, finding beauty in life's details, and venturing down memory lane, camera in hand!
By the end of the month you'll have a stunning collection of images – and quite possibly your favorite photograph yet!
Ready to see what July has in store? Click the image below to download your own copy!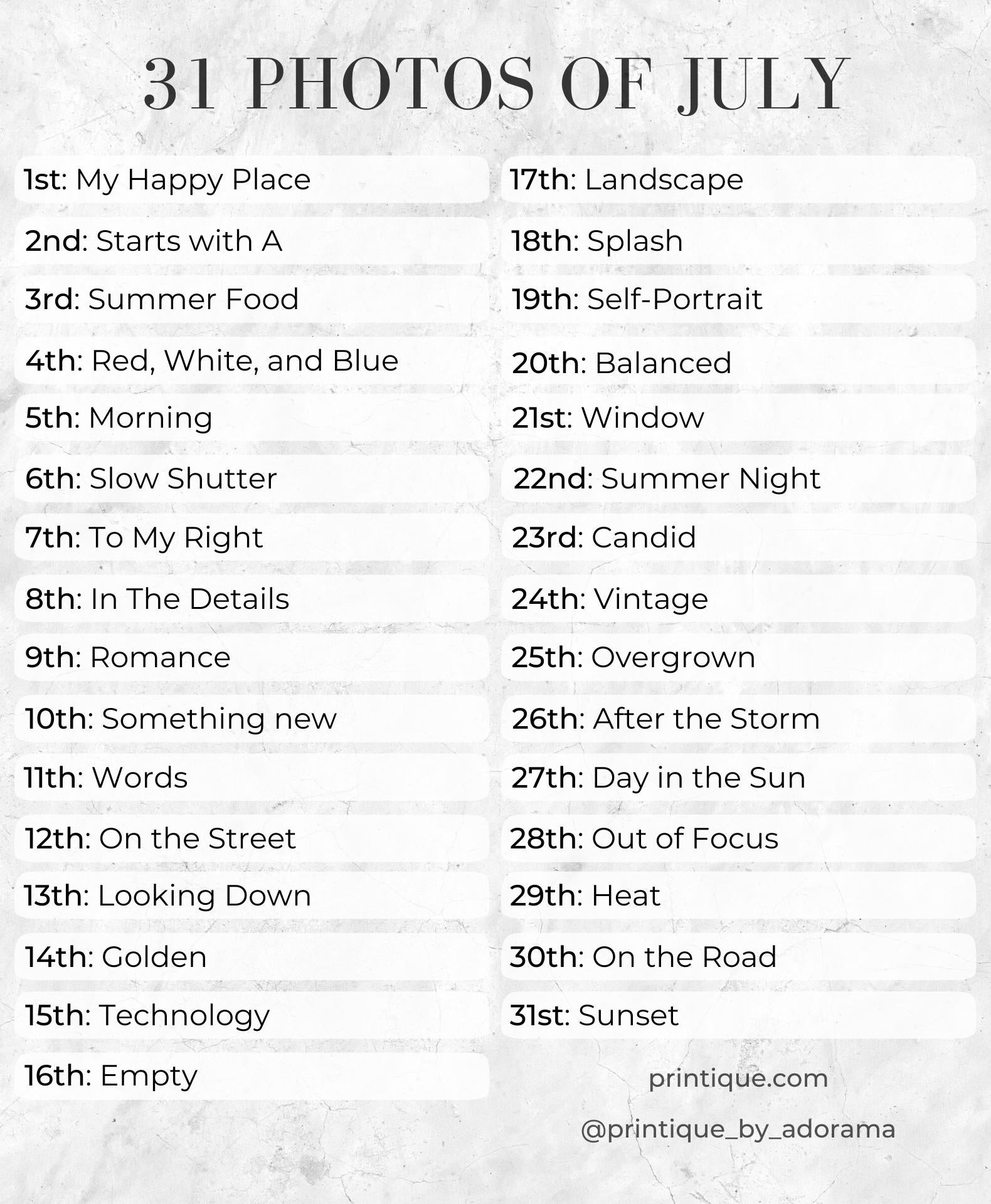 ---
July 1: My Happy Place
Photograph a place where you feel particularly at peace.
July 2nd: Starts with A
Photograph something that starts with an A: Apple, Animals, Architecture…
July 3rd: Summer Food
Here's your excuse to make something delicious! Photograph your favorite summertime food today.
July 4th: Red, White and Blue
Happy Fourth of July! Take a picture that contains the colors red, white, and blue.
July 5th: Morning
Photograph your surroundings this morning.
July 6th: Slow Shutter
Slow your shutter speed down and snap away!
July 7th: To My Right
Look to your right throughout the day and photograph the coolest things you see.
July 8th: In The Details
Get up close with life's most beautiful details today!
July 9th: Romance
Photograph a moment of romance.
July 10th: Something New
Take a picture of something new.
July 11th: Words
Incorporate words into your photograph today.
July 12th: On the Street
Take a picture of something you see on the street: A funky mailbox, an interesting person, a cool car…
July 13th: Looking Down
Point your camera down and shoot!
July 14th: Golden
Make the color gold part of your photography today.
July 15th: Technology
Use technology to take a particularly cool photograph.
July 16th: Empty
Photograph the presence of emptiness.
July 17th: Landscape
Photograph a beautiful landscape.
July 18th: Splash
Make a splash today – and don't forget to photograph it!
July 19th: Self-Portrait
Today, be on both sides of the camera. Take a one-of-a-kind self-portrait.
July 20th: Balance
Take a photograph with balance in mind – look for symmetry and parallels.
July 21st: Window
Naturally frame your photograph with a window.
July 22nd: Summer Night
Capture the feeling of a summer night.
July 23rd: Candid
Dedicate today to snapping candid photographs.
July 24th: Vintage
Photograph something vintage, or give your photo a vintage feel!
July 25th: Overgrown
Photograph something overgrown.
July 26th: After the Storm
Take a photograph in the wake of a storm.
July 27th: Day in the Sun
Photograph happy faces during a day in the sun.
July 28th: Out of Focus
Use blur to your advantage; Photograph something out of focus.
July 29th: Heat
Capture the feeling of heat.
July 30th: On The Road
Hit the road and photograph the views you see along the way!
July 31st: Sunset
End the month with a photograph of the last July sunset.
---