Our newest photo-a-day challenge is here!
This month, get ready to capture the magic of the new year! You'll be experimenting with new perspectives, playing with flash, and making the most of wonderful winter weather as you venture through the first month of 2023.
By January 31st, you'll have a stunning collection of images – and quite possibly your favorite photograph yet!
Ready to see what January has in store? Click the image below to download your own copy!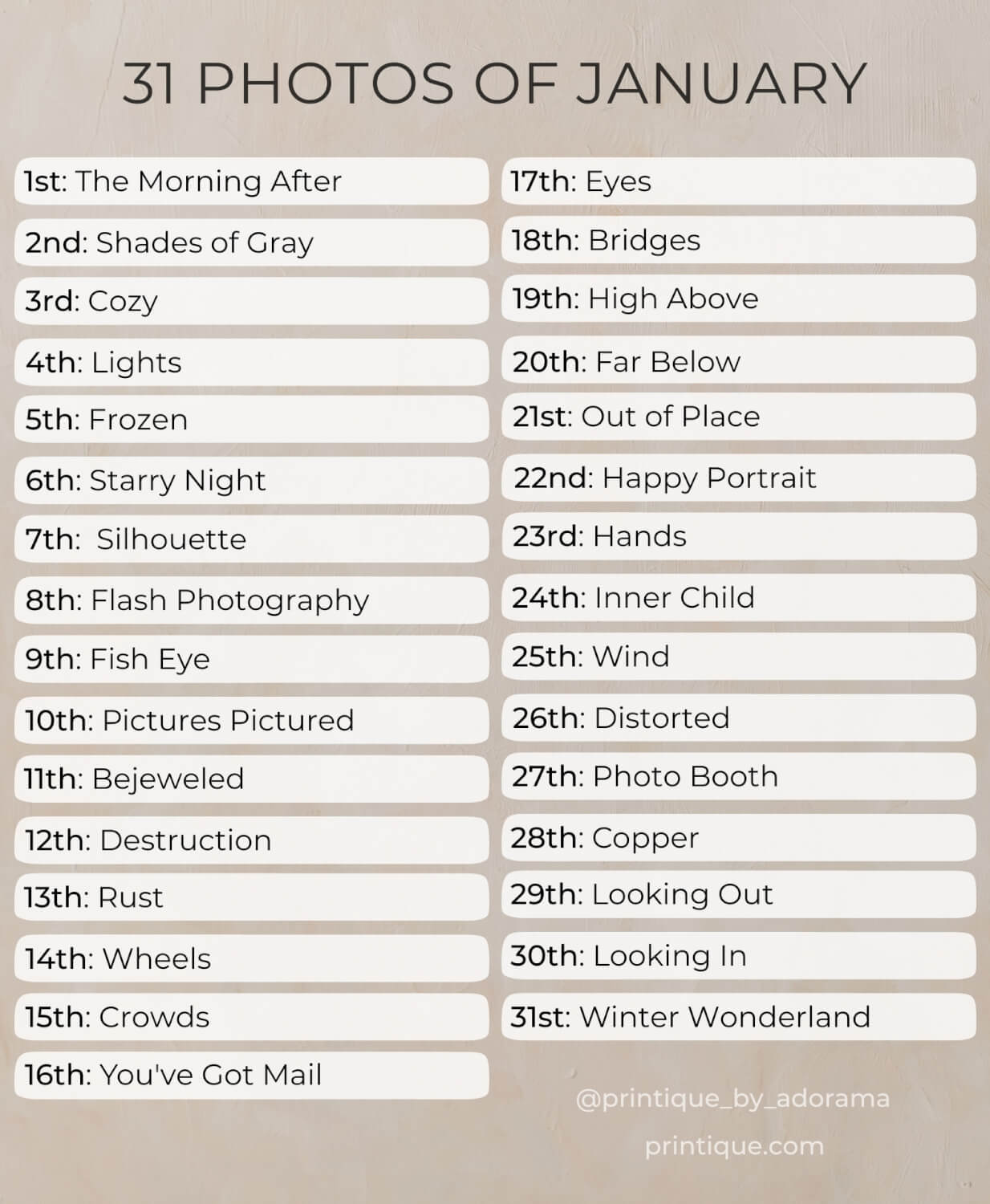 ---
January 1st: The Morning After
From glitter on the floor to empty glasses, capture the aftermath of New Year's Eve celebrations.
January 2nd: Shades of Gray
Play with colorless shades of gray in today's photograph.
January 3rd: Cozy
That's right: an excuse to get cozy! Capture coziness in today's photo.
January 4th: Lights
Photograph to beauty of winter lights today, whether that be string lights, street lamps, candles, or anything in between.
January 5th: Frozen
Photograph something frozen.
January 6th: Starry Night
Point your camera up and photograph the stars today.
January 7th: Silhouette
Make the beauty of silhouettes part of today's photograph.
January 8th: Flash Photography
Turn on flash for today's photograph.
January 9th: Fish Eye
Take a photograph using a fish eye lens.
January 10th: Pictures Pictured
Take a picture of a picture, whether it's printed out or on a screen.
January 11th: Bejeweled
Decorate your subject for a perfectly bejeweled photograph today.
January 12th: Destruction
Take a photograph that captures destruction.
January 13th: Rust
Photograph the presence of rust.
January 14th: Wheels
Take a picture of something with wheels – or wheels on their own.
January 15th: Crowds
Go where the people are for a photograph of crowds today.
January 16th: You've Got Mail
Make mail a part of today's photograph.
January 17th: Eyes
Find a pair of eyes, whether animal or human, to photograph today.
January 18th: Bridges
Photograph a bridge today; bonus points if it's covered in snow!
January 19th: High Above
Take a photograph from high above.
January 20th: Far Below
Take a photograph from far below.
January 21st: Out of Place
Photograph something that feels out of place.
January 22nd: Happy Portrait
Start the new year with a smile in today's happy portrait.
January 23rd: Hands
Make hands a part of today's photograph.
January 24th: Inner Child
Photograph a moment where your inner child comes out to play.
January 25th: Wind
Capture the motion of wind today.
January 26th: Distorted
Take a distorted photograph, whether through a DIY filter, a warped mirror, or a funky lens.
January 27th: Photo Booth
Capture the aesthetic of a photo booth shoot with today's photographs.
January 28th: Copper
Make the element of copper part of today's photograph.
January 29th: Looking Out
Take a photograph from inside looking out.
January 30th: Looking In
Take a photograph from outside looking in.
January 31st: Winter Wonderland
Freeze the beauty of a winter wonderland in your frame for the final photograph of January.
---