Our newest photo-a-day challenge is here!
This month, get ready to test both your photography and your creativity! You'll be taking photographs that tell stories, setting out on intentional adventures, and looking for love in all the right places!
By the end of the month you'll have a stunning collection of images – and quite possibly your favorite photograph yet!
Ready to see what August has in store? Click the image below to download your own copy!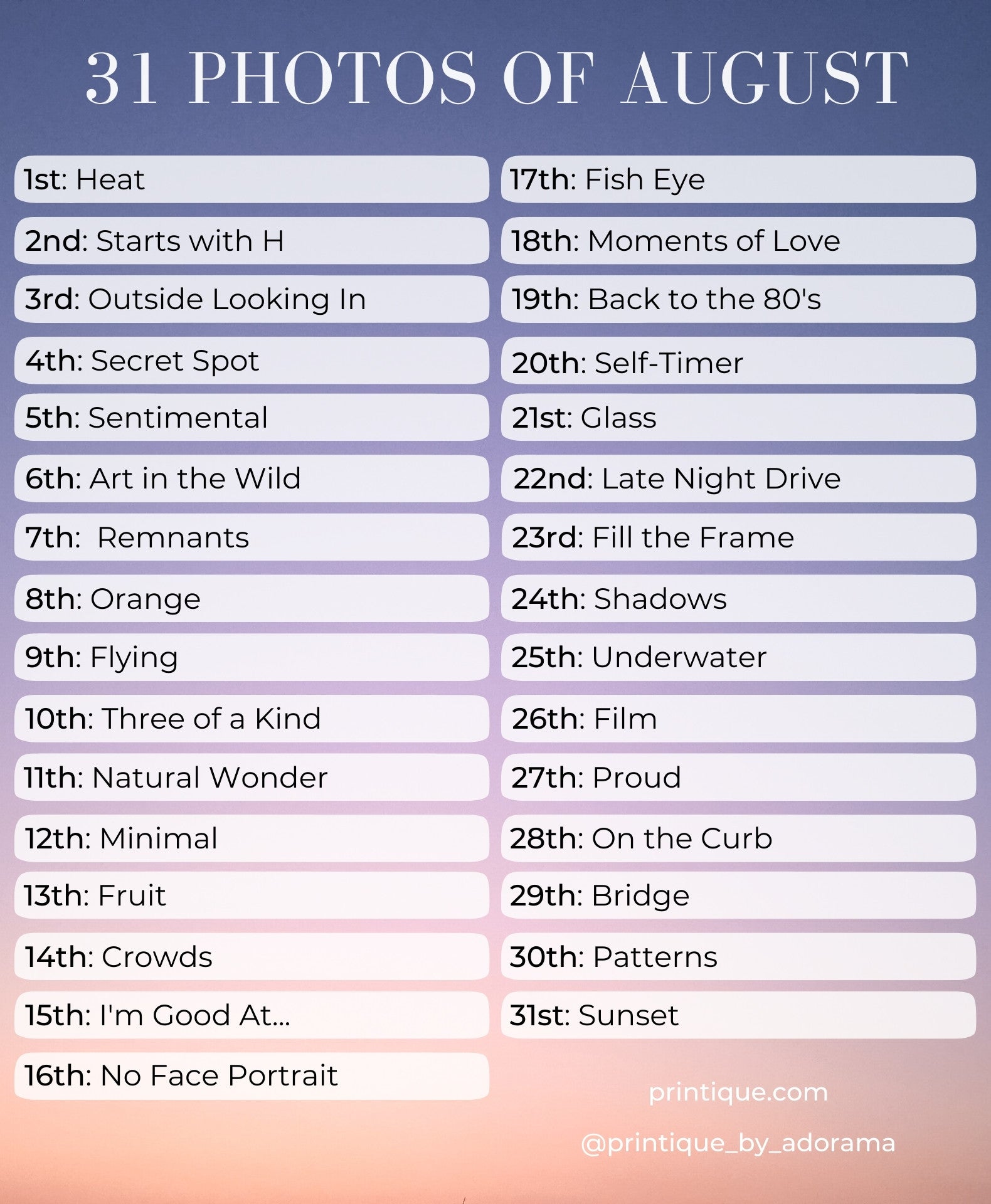 ---
August 1: Heat
Make the most of this season's blistering heat by using it to inspire an epic photograph!
August 2nd: Starts with H
Take a photograph of something that starts with H. A hike, the horizon, Hawaii, home… we believe in you!
August 3rd: Outside Looking In
Take a photograph from the outside of a place, looking in.
August 4th: Secret Spot
Photograph your favorite secret spot, whether it be a hidden lookout point, a cozy nook in the library, or an underrated deli.
August 5th: Sentimental
Photograph something that has sentimental meaning to you, even if that meaning isn't obvious to a third party onlooker.
August 6th: Art in the Wild
From graffiti to stickers and graphic tees, art has a magical way of presenting itself in our day to day. Today, photograph it!
August 7th: Remnants
Photograph the remnants of something and let your image tell the story of what lies beyond the frame; Footprints, a pile of clothes, a half eaten meal – be creative!
August 8th: Orange
Photograph something orange!
August 9th: Flying
Whether you're the one high in the sky or looking up at whatever is, snap away!
August 10th: Three of a Kind
Three people wearing purple hats, three red cars, three deer in a field – Find a set of three and take a picture!
August 11th: Natural Wonder
Take a photograph of something magical that nature made.
August 12th: Minimal
Take a photograph that demonstrates the power of minimalism.
August 13th: Fruit
Apples, oranges, and bananas – oh my! Incorporate the beautiful colors of fruit into today's photograph!
August 14th: Crowds
Photograph the motion of a crowd.
August 15th: I'm Good At…
Take a photograph of something you're good at – either from afar or as you do it!
August 16th: No Face Portrait
Take a portrait today, but find a way to creatively distort your subject's face; Have them hold a mirror infront of it, wear a mask, stand behind a bouquet of flowers – you're the director!
August 17th: Fish Eye
Use a fish eye lens to snap today's photograph!
August 18th: Moments of Love
Look for moments of love all around you; From couples holding hands to a parent teaching their child how to ride a bike, you'll be amazed how many gestures of love you discover when you stop to look for it.
August 19th: Back to the 80's
Photograph something that transports you right back to the 80's.
August 20th: Self-Timer
Make the most of self-timer today!
August 21st: Glass
Whether it's broken, shaped, or reflective, make the beauty of glass a feature of today's photograph.
August 22nd: Late Night Drive
Head out on a late night drive and watch as incredible photo opportunities cross your path.
August 23rd: Fill the Frame
Think "the opposite of negative space." Whatever you shoot today, make sure it fills your frame!
August 24th: Shadows
Incorporate shadows into today's photograph.
August 25th: Underwater
Look below the surface and snap an underwater masterpiece.
August 26th: Film
Experiment by shooting on your photographs on film today!
August 27th: Proud
Take a photograph of something that makes you feel proud, whether it's the home you own, an artwork you created, or a person you raised.
August 28th: On the Curb
Prove that one man's trash is another man's treasure by turning stuff on the curb into a meaningful photograph.
August 29th: Bridge
Photograph a bridge from all of its dynamic angles, then pick your favorite shot!
August 30th: Patterns
Find patterns in the world around you and shoot away!
August 31st: Sunset
Close out another amazing month of photography with a capture of the final sunset of August!
---