A wall gallery is a fun and dynamic way to decorate a space; thanks to our free mobile app, you can create and order your wall gallery directly from your mobile phone.
To jump start the joy of gallery building, we've compiled five easy-to-make gallery ideas that you can start and finish today.  From uniquely shaped wall areas to above the bed spaces, a classic print gallery is a perfect and mobile-friendly way to add character to any room.
Create any of these galleries directly from your phone with our free mobile app.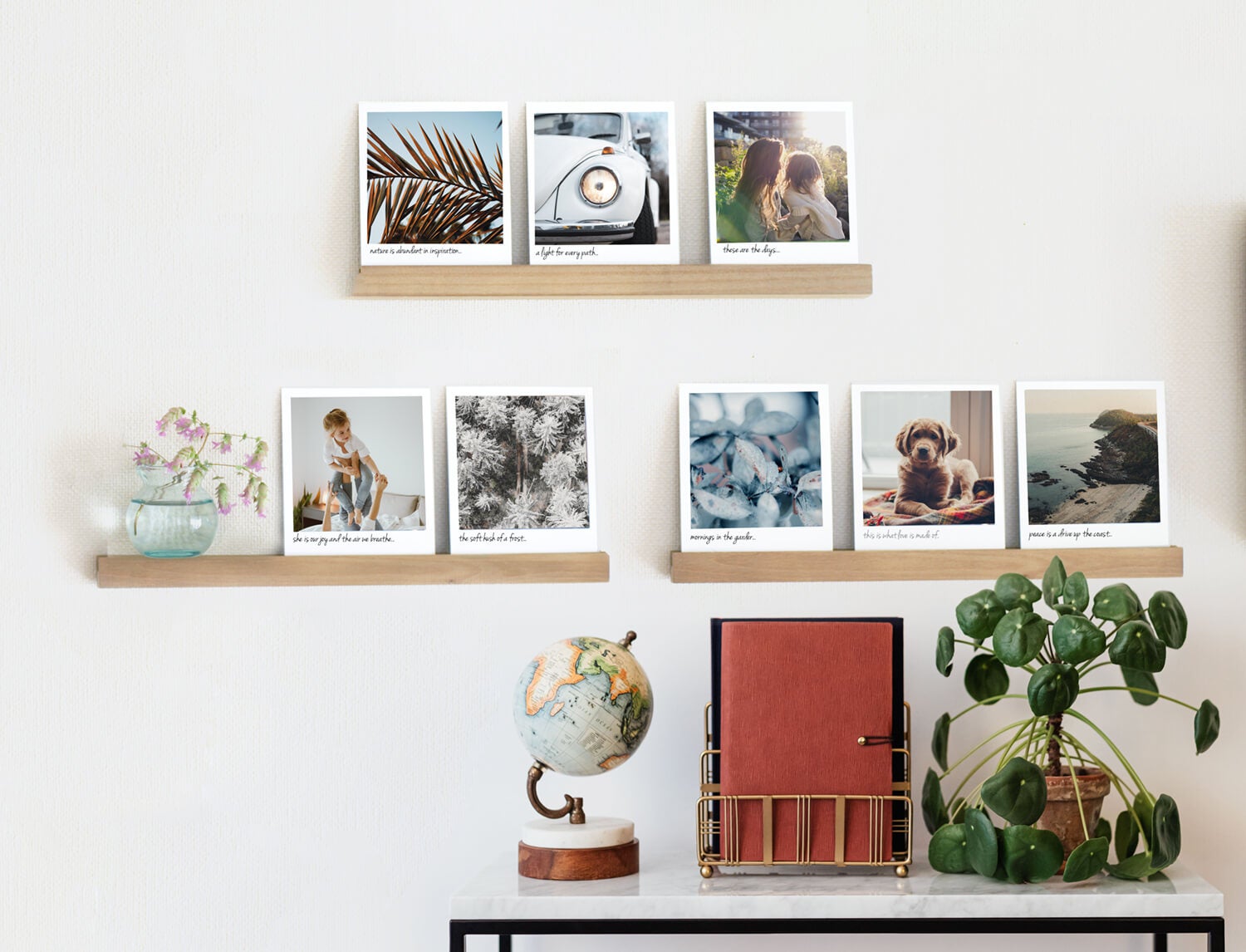 ---
The Black and White Gallery
Whether your photos are motion blurred, low resolution, or slightly out of focus, they're sure to appear aesthetically cohesive when displayed collectively in black and white.
To create a black and white gallery, add all of the images you want to include to their own photo album. Then, upload each of these photos to a simple filtering app like VSCO, Lightroom, or Snapseed. Once edited to black and white, save your photos to your camera roll.
With our free mobile app, you can upload these edits directly to a Printique gallery for seamless printing.
The Screenshot Gallery
Adding screenshot prints to a collage of memories adds a modern touch to a timeless craft. While it might seem kitsch, consider all the sentimental moments many of us now experience over text; from our first hellos with a new friend to funny stories and romantic exchanges. Text messages can serve as digital love letters, or first-hand portals into our funniest memories. Don't overlook them when constructing a photo gallery – especially when our app makes it so easy to include them in your project!
The Travel Gallery
From van living to spontaneous road trips, it's not unusual to find yourself on a beautiful stretch of road without your camera in tow. Don't let that stop you from turning your favorite views into a work of art. Your casual snapshots from your favorite adventures – big or small – are the best tools you have when it comes to immortalizing the memories that shaped you. Let your memories breathe in a breathtaking gallery that showcases journeys too good to let go of.
The best part? Watching your collection grow as you continue to explore!
The Foodie Gallery
When the food hits the table looking more like art than a meal, it's only polite to let your phone eat first – also known as snapping a few pictures before you destroy the beautiful display. If you find yourself with a camera roll full of delectable food snapshots, turn them into art for your kitchen! Not only will they inspire you to push your culinary limits, but a foodie gallery will add a unique and dynamic aesthetic to the best room in the house.
Prefer to turn your photos into something functional? Add sticky notes to your gallery to create a visual guide to the food of your town; you'll never struggle to pick the perfect dinner spot again!
The Sunset Gallery
With our phones always at the ready, it's no wonder we can't help but snap away every time we see a beautiful sunset – even when we've seen dozens just like it before! Our mobile app makes it easy to turn your favorite sunset snaps into a mesmerizing collection of prints, big or small. Whether you compile them into a simple gallery above your desk or a large colorful collage in the living room, you'll be glad you crafted your sunsets into something as beautiful and timeless as they are!
---