These easy, fresh, and inexpensive dorm decor ideas will help you take your space from blah to ta-dah in no time.
Dorm Decor Ideas That Go Beyond the Wall
1. Decorate your dorm room's ceiling Don't forget to look up when you get into your new room! Try filling that empty space with a few large prints of clouds, stars in the night sky, or whatever you might want to see first thing in the morning.  Use one large print or several smaller prints to make a collage. Whoever gets the top bunk will be glad you spruced it up.
2. Decorate with acrylic photo blocks Create fun acrylic blocks with photos of your family, friends, and pets, or anyone you might be missing. With a range of sizes available, you'll be able to choose the one that best suits your space.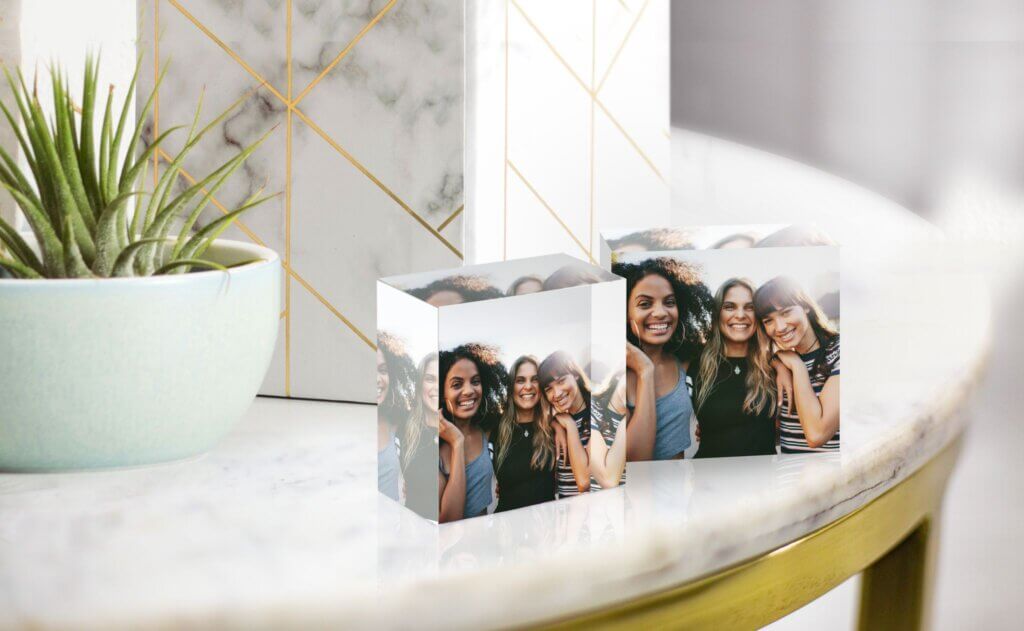 Creative Ways to Hang Your Dorm Decor
3. Clip and Hang Instead of getting your art framed, which can be expensive, try some unconventional ideas.  Wooden pant hangers and clipboards make a great and unexpected way to show off your art. You can also borrow an idea from your local diner. Use a metal food ticket display bar to display photos instead! These lend well to swapping in new pieces, which is great if you get bored easily.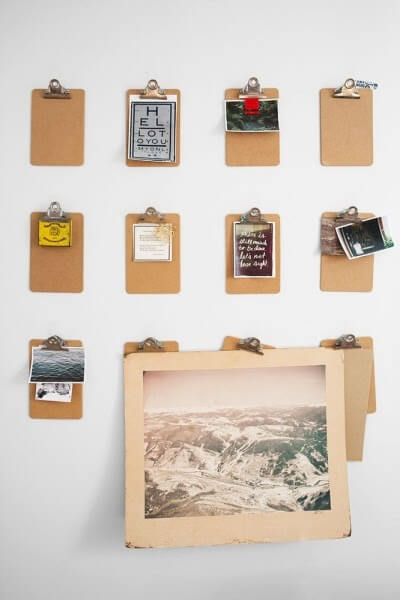 4. Grab some Washi Tape Get creative with washi tape and make decorative frames for your art and photos.  You can also use it as a colorful way to adhere prints to your wall. The best part? Washi tape comes off easily when it's time to move out for the summer, so it's perfect for avoiding wall damage.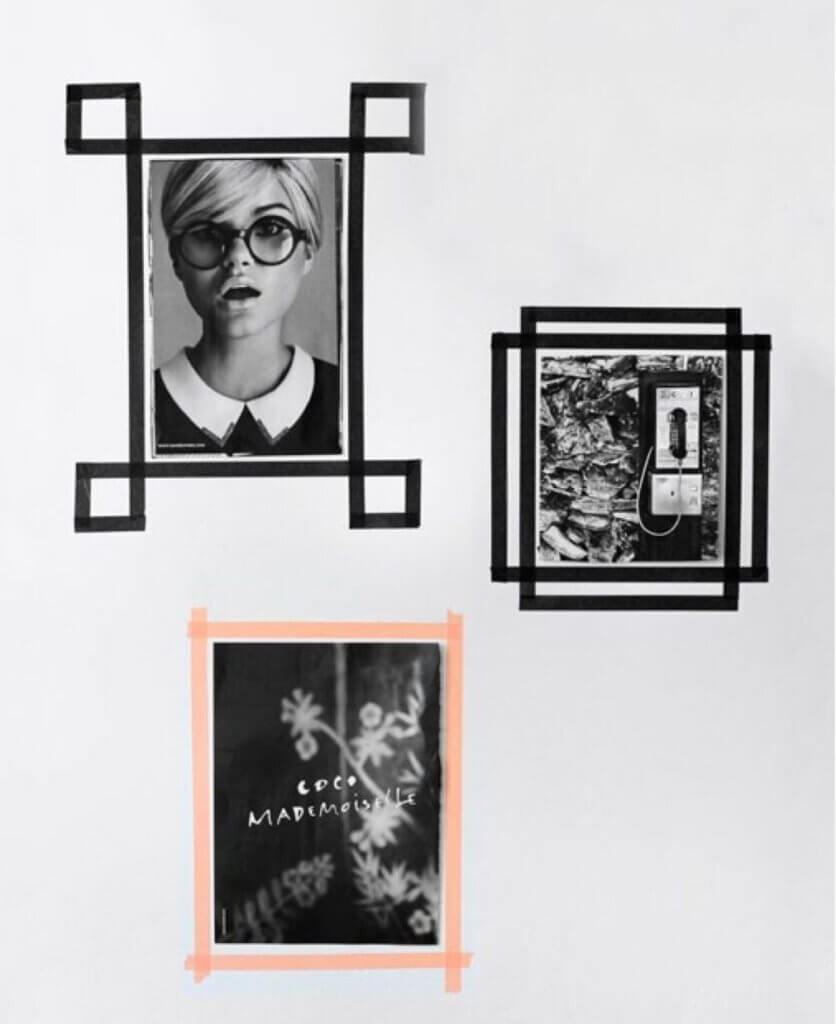 Collage Style Dorm Decor Ideas
5. Bring your Instagram to Life Use our fun collage template to load in your favorite #grammables from over the years.  Depending on how many pictures you have on Instagram, you could print a few grids and use it as wallpaper covering your entire wall, or print just your top 10 to hang above your desk.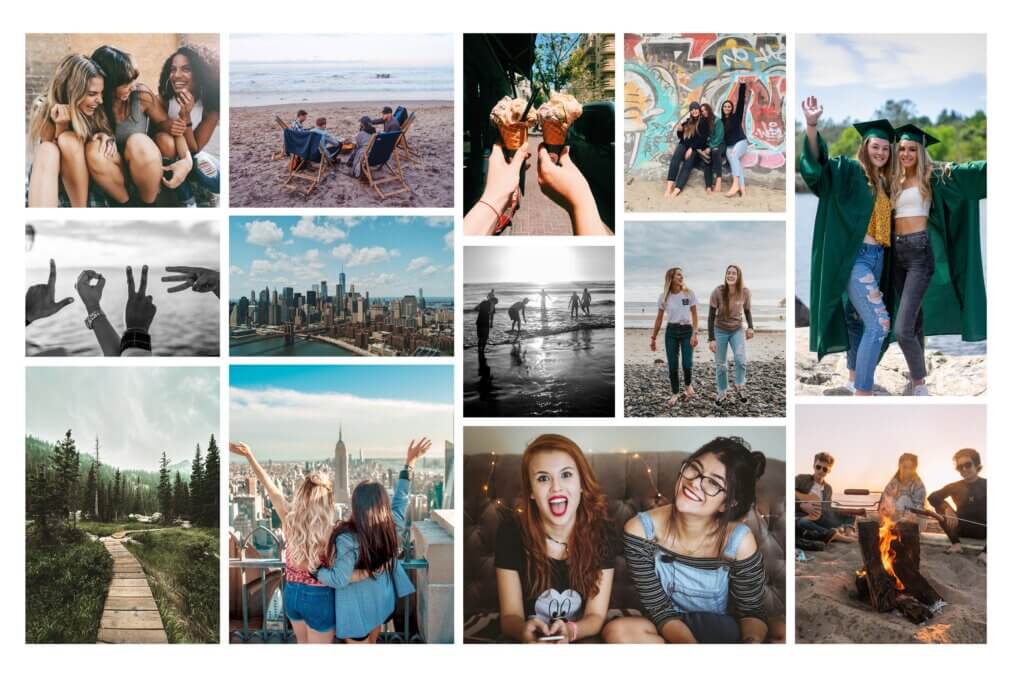 6. Create a Curated Collage Collect postcards, pictures, scraps of fabric, or anything else that catches your eye and arrange as you see fit so you can make intricate collages!  The trick is to select items of the same color scheme – or stick with classic black and white.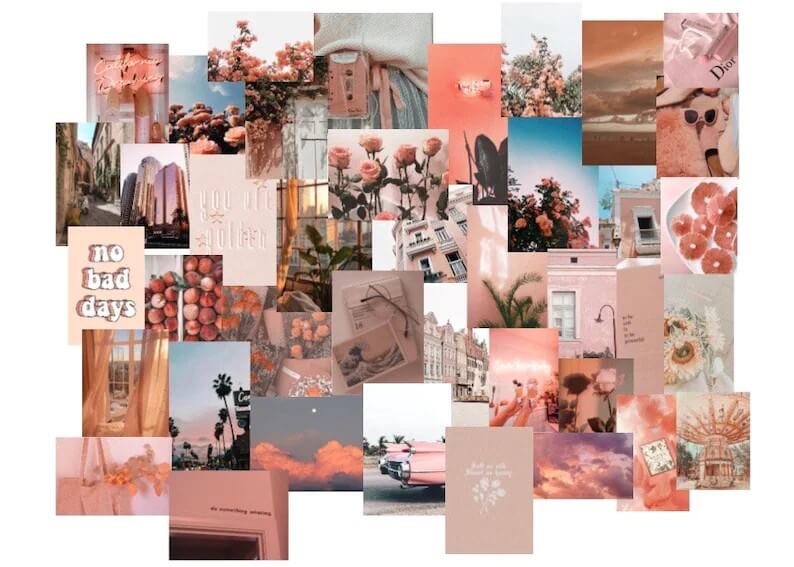 7. Hang a Collection of Prints Want to order prints that look great together? Make sure they have a few colors in common in order to keep a coherent aesthetic. Mix it up with the types of prints, from typography to flora/fauna, portraits, and graphics, or stick with one common template, such as magazine covers from different months, to create gorgeous displays.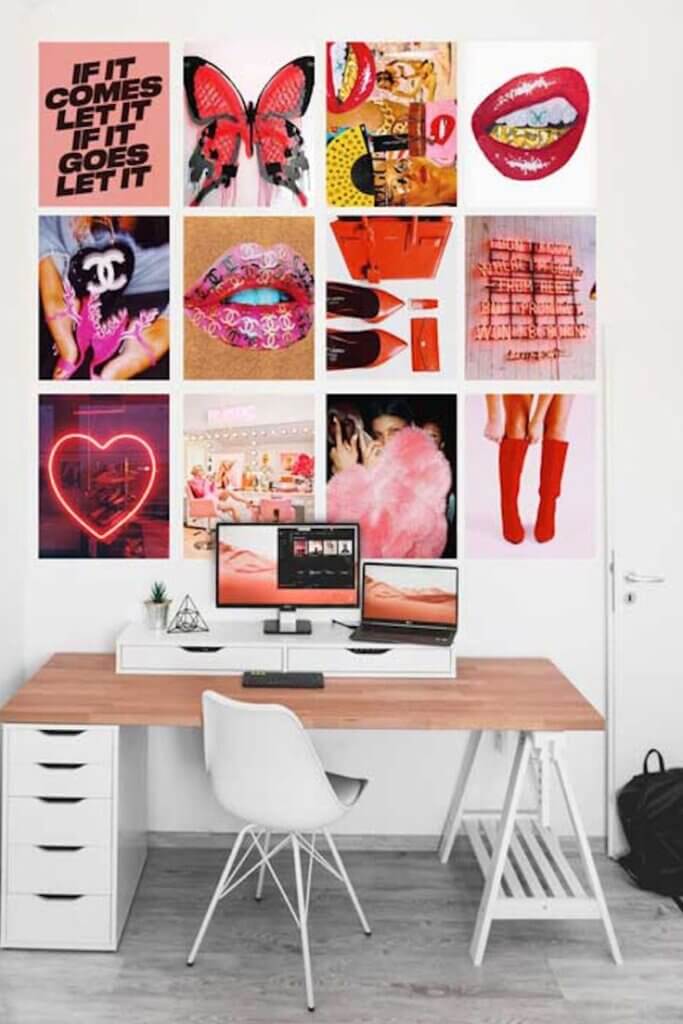 8. Decorate with Plants Maybe your dorm room doesn't have the best conditions for plant life, but that doesn't mean you can't still decorate with plants! A collage of photo prints featuring plant life is a great dorm decor idea to give your room a natural, earthy feel in no time.
Dorm Decor Ideas for Those Who Love Big Displays
9. Leave No Blank Space Nothing will pull your dorm room together quite like decorating all of the walls.  Removable wallpaper as a base makes a fantastic base for more decorations, and the polka dots, stripes, and brick wall prints look especially nice.  Next, just hang your posters, photos, and printed art as you normally would! Removable wallpaper is a dorm decor idea that will elevate your whole space to the next level while making for great photo backdrops as well!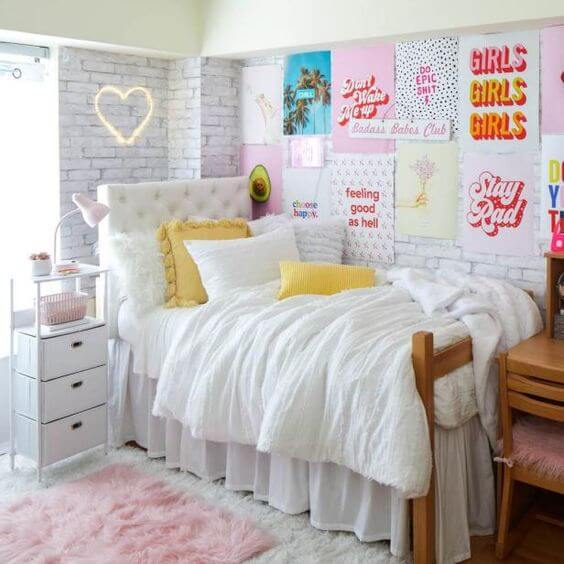 10. Go big or go home Instead of a collage or lots of smaller pieces, why not make a statement with one strong piece that takes up the whole wall?  Our poster prints go as big as 40X60, so your most memorable moments will get the grandiose display they deserve!