A memory book is a great way to showcase the memories of the past year. These personalized and timeless treasures will make it easier than ever to reminisce on your sweetest moments. We've outlined the five steps that will take you from snapping pictures to holding the perfect photo book in your hands.
---
Step 1: Make a list of your favorite moments, trips, and events from the year.
Begin your book creation with a brainstorming session to make sure none of your favorite memories get left out! Reading through text messages, asking friends to share highlights, and scrolling through your camera roll is a great way to remember small but special memories you may have otherwise forgotten. Make room for them in your book and you'll remember those little moments forever.
Note: Don't stop at the memories – make a list of all the people you want to include too! From friends you don't see often to family members with a knack for dodging photos, find a way to include everyone who's special in your life. Added effort early on will leave you with a book you're extra proud of!
Step 2: Collect pictures for the memories on your list.
Go through each of your memories and do your best to find a photo that visualizes it. Reach out to friends who were along for different trips, comb through social media photos of the people you spend time with, and contact teachers and fellow parents to see if you can discover some adorable photos of your kids!
One of the best things about creating a photo book is coming across photos that would have otherwise gotten lost in the void, from overloaded Facebook photo albums to your friends' camera cards. Get digging and uncover something wonderful!
Step 3: Create a narrative with your photos and anecdotes.
For an end of year memory book, we recommend arranging your photos in chronological order – but that doesn't mean there aren't dozens of creative ways to do it! Decide on a narrative that captures what the past year was like for you – whether you're a newly-wed who wants to construct your photo book as a love story framed pre- and post-wedding, or a new parent who wants to share the year from the perspective of your baby. A photo book narrative that centers around the most important part of your year will add richness and authenticity to your creation.
Step 4: Pick a theme you love.
Our photo book builder comes with dozens of carefully crafted themes, ranging from family styles to collages, journals, and wedding designs. Explore our templates to find a design that works for you; For example, if you're including a lot of written anecdotes in your book, choosing a template with built in text boxes will make your upload process seamless! If you have hundreds of photos you'd like to include, our collage templates will allow you to piece them together quickly and aesthetically.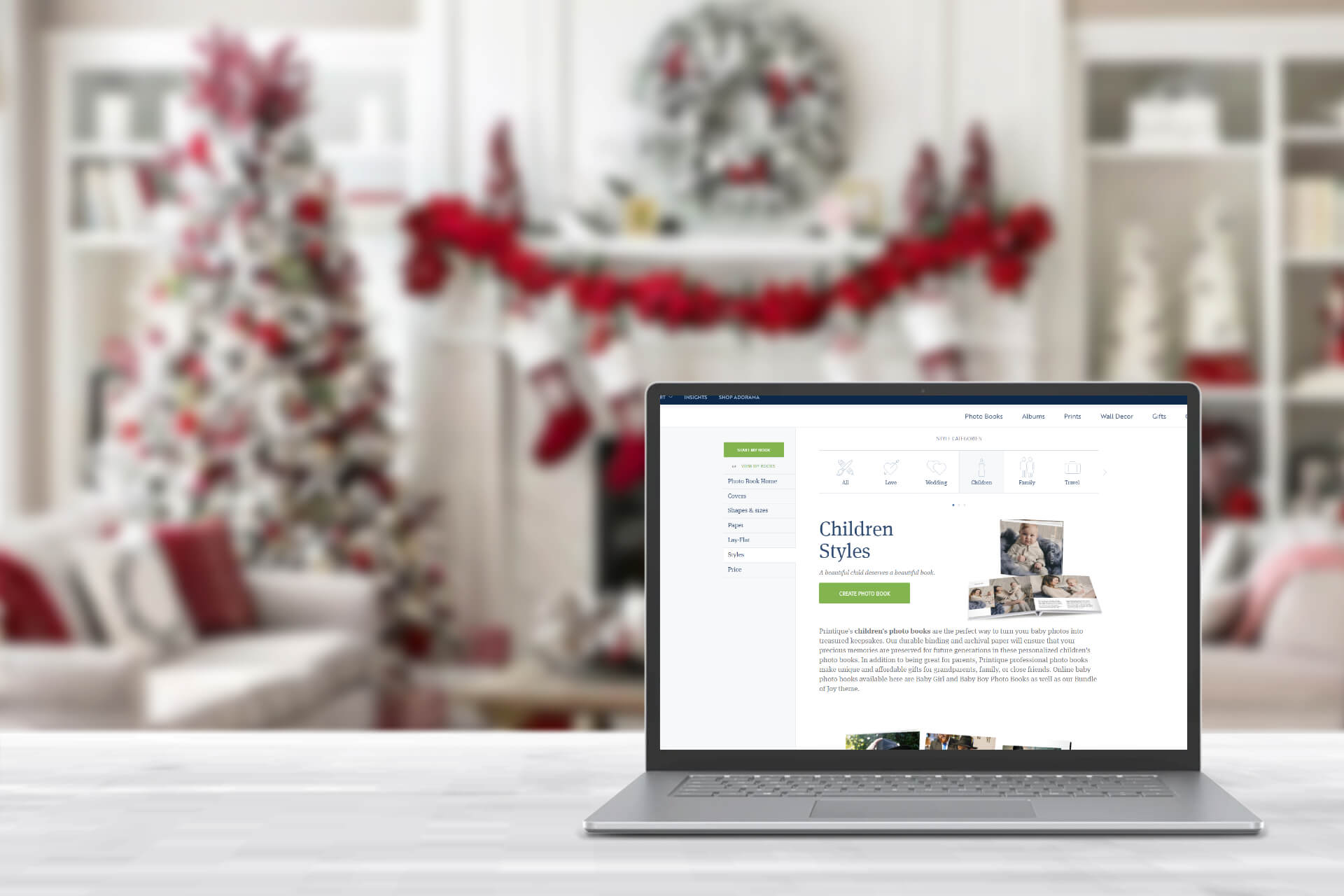 Step 5: Upload and order!
With the perfect photos, sweetest anecdotes, and most stunning templates at the ready, there's only one thing left to do: upload your photos! Drag and drop your photos into the template of your choice to turn an array of pictures into a curated masterpiece in no time.