The foundation of our premium layflat albums is based on excellence. We define excellence as a journey that takes time, hard work and a passion for perfection. From the paper to the cover, artisans handcraft our albums with pride. Let's take a look at why our albums are one of the most sought after heirlooms for both consumers and professionals.
Better Quality Premium Layflat Albums
Layflat Binding Offers Panoramic Visual Impact
Being one of the first print studios to offer premium layflat albums and books, we knew this was the future. Your photos span across a page spread with no cuts or gutters, letting them take over for full impact. Layflat binding allows the pages to lay down flat with the book is open. This is done by printing a continous piece of paper across a spread which is then folded down the center and adhered to the next page. This process has a different binding technique that allows open pages to lay completely flat, without damaging the spine of the album. We are so passionate about this that we not only do this for our albums, but our photo books as well.
Silver Halide Printing
Printique is one of the few photography labs around that still uses traditional technology to create prints and books. The process is called silver halide printing. Silver Halide photographic prints are printed using light-sensitive paper and silver-based chemistry. The paper is exposed to light, and the image is infused into the paper through a chemical process.
Printique's images with the Silver Halide process are sharper, have more vibrant colors, depth, and better flesh tone reproduction than our competitors. Our competitors offer ink printing where the ink is applied on top of the paper. The image may shift slightly causing a loss of sharpness, and the final product is much more likely to fade or be susceptible to surface damage over the years.
Translation: Printique cares about your photos and wants to ensure they will become treasured heirlooms that can be passed down for generations, not just a fading memory.
Premium Paper and Pages
The only way silver halide printing works is if you use the best photo archival paper. Printique offers eight different professional photo paper types; Luster, Glossy, Matte, Silk, Metallic, Deep Matte, Linen and Pebble. Each paper offers unique characteristics. Working on a wedding layflat album? Try our silk paper which is reminiscence of the thicker paper used in the 50's for your parents and grandparents' wedding albums. Working on your art portfolio? Our matte or deep matte paper will turn your work into fine art with its soft and subtle tones, letting the images take center stage. No matter the occasion, you can choose the paper that will best reflect your style while being reassured it is of the highest quality.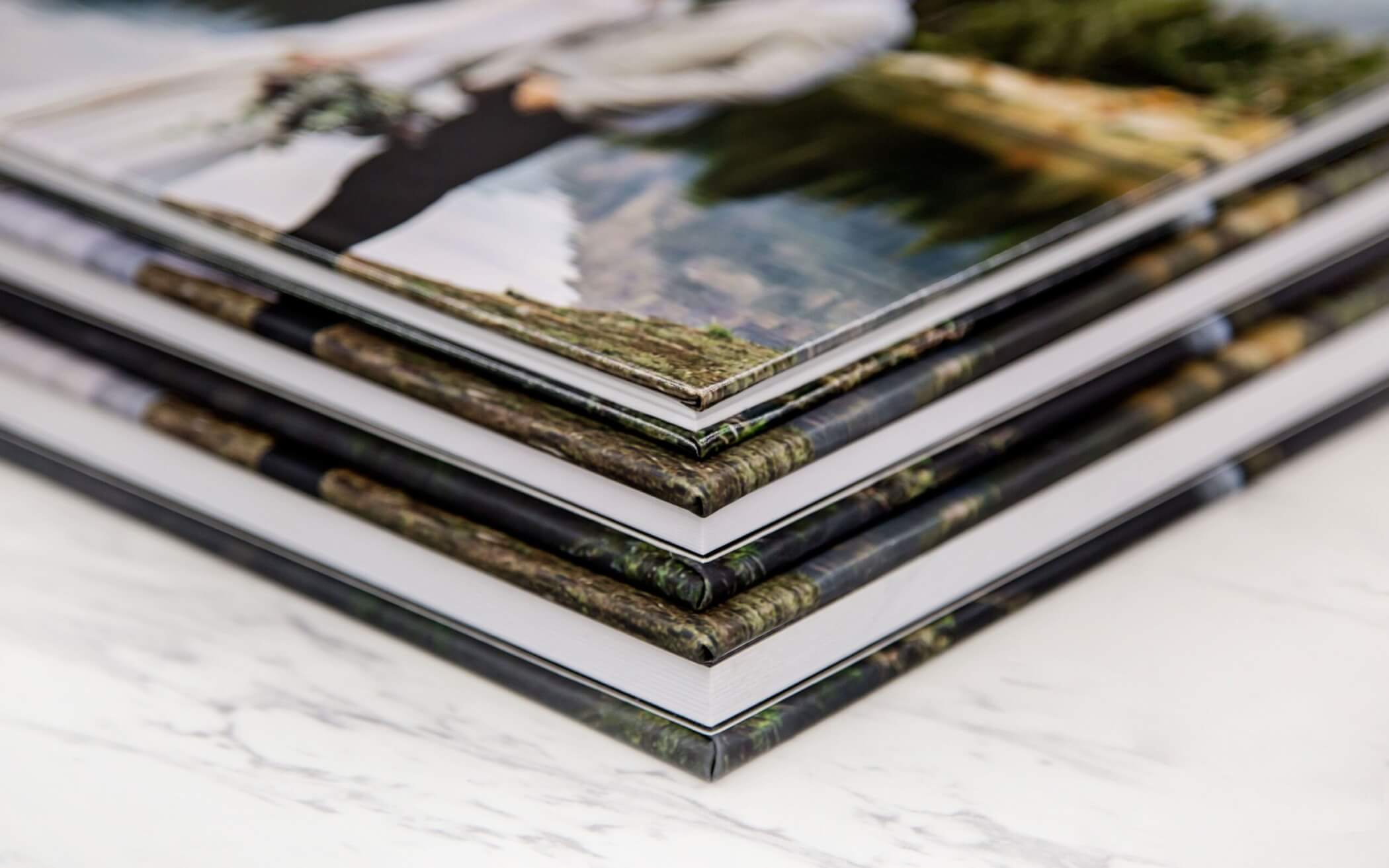 So now that you know the paper options, you can also choose your page thickness. Contemporary or classic ultra thick pages will define the thickness and weight of your layflat album.
Album Covers Set the Stage for Heirloom-Quality Construction
Your album is as unique as your memories. In light of this, we offer several options for covers. Let's starts with our traditional leather and faux leather photo album covers. Whether you're looking for an aged vintage leather or a sustainable faux leather, our custom leather photo albums offer a wide range of high-quality options for every style including metallic leather!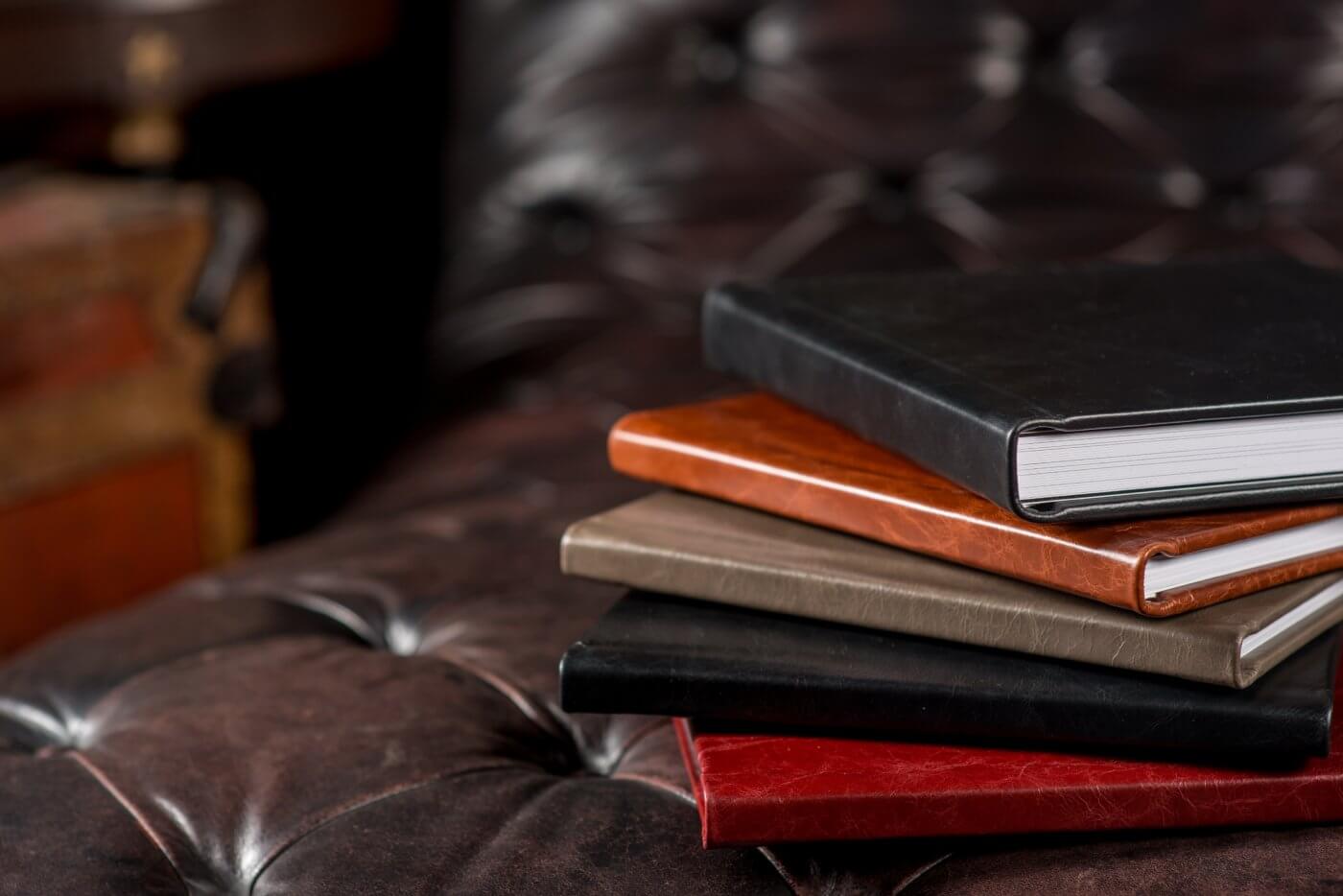 Looking for something a little more modern? Our metal cover albums hi-light your favorite image on the front. Whether it's full frame or just a window, we place a high definition metal image on the cover of your album. If you're looking for a cover with a softer tone, check out our hardcover photo album where one image wraps around both the front and back of the album. This is the perfect fit for people who love a more contemporary album.
New Introduction | Acrylic Album Elegance
But wait, there's more with our new crystal clear album cover! The new acrylic album cover offers a stylish elegant look to your album. The cover image is printed directly onto a 1/4″ thick acrylic giving it a remarkable three-dimension look with its beveled edges. Colors are vibrant, and images seem to pop right off the cover. It's a statement piece that is worthy of telling your story.
EXTRAS FOR PREMIUM LAYFLAT ALBUMS
Let's not forget all the extras, starting with our templates. We offer dozens of album templates and continue to add to our library. Whether you are modern, traditional or minimalist, your style and esthtic will be easy to design. Our intuitive drop and design editor, makes it simple for anyone to design the most amazing album. If you do need help along the way, we offer live customer service. We support album makers and you don't need to be a graphic designer to make an incredible heirloom.
Titles on the cover set the tone for the memories. Printique artisians carefully deboss (stamp) your title on the cover. You can choose from silver, gold, black or regular. That's just the beginning of customizing and strong craftsmanship. Now let's talk about the edges of the pages. Gold, silver, or plain will hi-light the edges of your album as it lays flat in its home. Whether you are more modern and want square corners or more traditional with rounded corners, the choice is yours.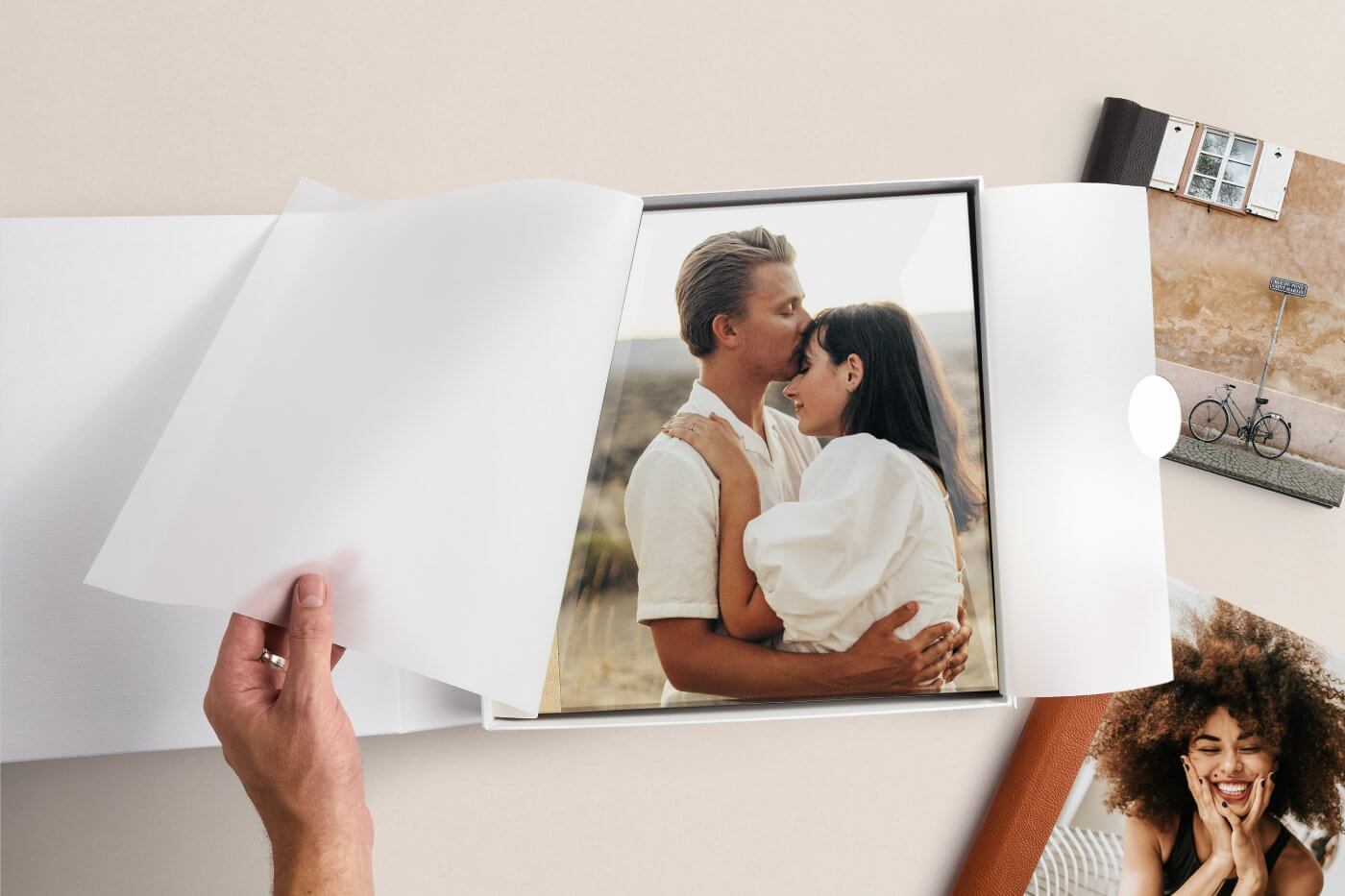 Once the premium layflat album is hand-assembled, artisians carefully place it into a stunning archival presentation box with a magnetic closure and wrapped in parchment paper. From our lab to your doorstep, quality is and always will be at top of mind.
Paper: Luster, Glossy, Silk, Matte, Metallic, Linen, Pebble, Deep Matte – Layflat
Spreads – Lay Flat – No Gutter
Available Sizes: 6×6,8×8,10×8,8×10,10×10,12×12,10×12.5,12×15
Page Thickness: Classic Heavy, Contemporary Slim
Covers: Leather, Leather Luxe, Metal, Wrap Around, Acrylic
Gilding Available for pages – Gold, Silver
Corners: Square, Round
Printing: Silver Halide
Perfect for: Weddings, Newborns, Portfolios, Seniors, Anniversaries