Let's head south for next virtual road trip! We are hitting Miami located in the sushine state of Florida! Here is our list of the top 10 places to photograph in Miami. Let us know if we missed any!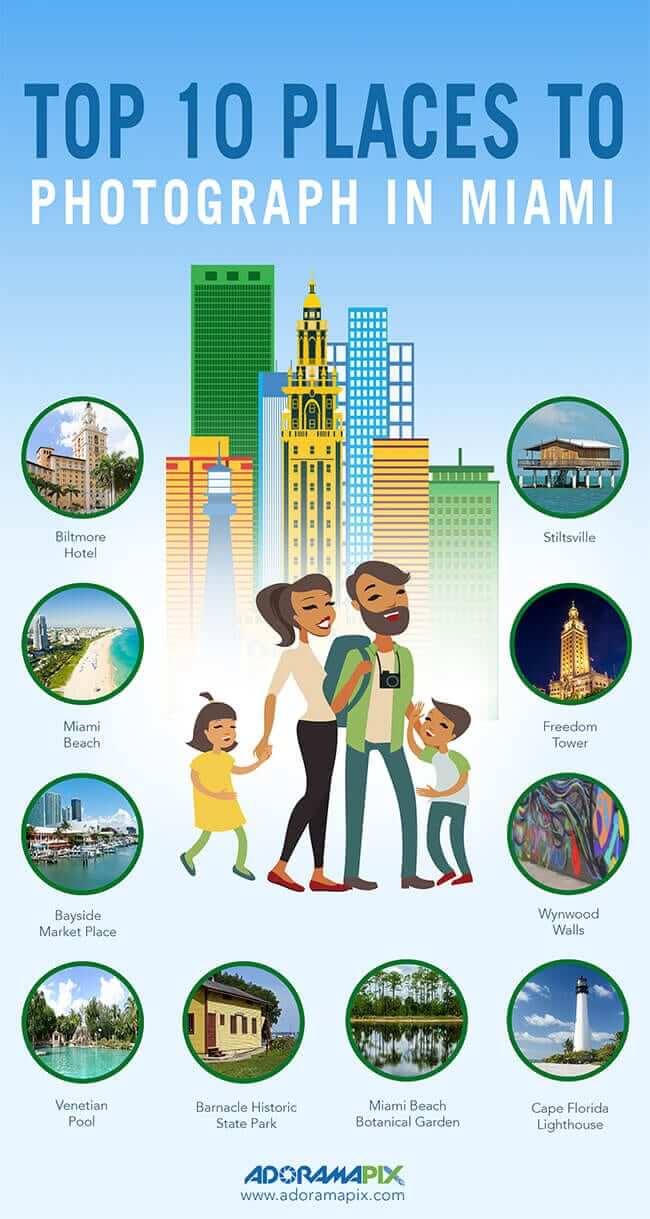 Week Six – Miami
1. Biltmore Hotel
1200 Anastasia Ave
This luxury hotel in was built in 1926. When it was completed, it was the tallest building in Florida at the time. It's built in a Mediterranean style and was used as a hospital during World War II. It was designated National Historic Landmark in 1966.* Make sure to go all around the hotel to get the best shots!
2. Miami Beach
The coastal city of Miami Beach was incorporated in 1915. It's located between the Atlantic Ocean and Biscayne Bay. The beach stretches for miles with crystal blue water lending itself to an amazing backdrop for your photos.  Plus, we could break this down into 10 more spots to photograph just in Miami Beach from the lifeguard towers to Ocean Drive you'll find this place a mecca of photo opportunities. We found this website giving the 10 best locations to shoot just at Miami Beach.
3. Bayside Market Place
401 Biscayne Blvd R106
Bayside Marketplace is a farmers marketplace in Downtown Miami. It has a lot of tourist attractions and you can even go on boat tours to get even better images of the area. There is a cost to ride the boats. You can easily spend the whole day here shopping, eating and taking pictures.
4. Venetian Pool
2701 De Soto Blvd, Coral Gables
Venetian Pool is a historic U.S. public swimming pool located in Coral Gables. It opened in 1924 and was created from an old coral rock quarry.* Hundreds of thousands of people visit every year. Be aware though, children under three are not permitted at the pool. Also, you will need to buy tickets/make reservations according to its site.
5. Barnacle Historic State Park
 3485 Main Hwy
This historic Florida State Park is located in the Coconut Grove neighborhood and spans about 5 acres. Dade County's oldest home resides on this five-acre site that overlooks the scenic Biscayne Bay. It was built by Commodore Ralph Middleton Munroe in 1891. * The Park is open from 9am-5pm and is closed on Tuesdays. You can take a tour of the house as well.
6. Miami Beach Botanical Garden
2000 Convention Center Dr, 
The Miami Beach Botanical Garden is a 2.6-acre urban green space in Miami Beach and was founded in 1962.* The Garden offers free admission and is open Tuesday through Sunday from 9 a.m. to 5 p.m. It showcases a Japanese garden, water features and so much more.
7. Cape Florida Lighthouse
1200 S Crandon Blvd, Key Biscayne
The lighthouse was originally built in 1825 and extends  few miles offshore of the Florida Keys.* The lighthouse has such a rich history, it was destroyed and rebuilt and finally was relit in 1996. It is part of the Bill Baggs Cape Florida State Park and the tower stands 95 feet tall.  Something to note –the lighthouse is open to the public, however, children 8 and under are not. There are 109 steps up the narrow spiral staircase, but once you reach the top the 360% view will take your breath away.

8. Wynwood Walls
2520 NW 2nd Ave,
This is also a huge stop for Instagrammers! This neighborhood showcases vibrant and colorful murals on the walls of many of the buildings. Get lost in the art and stay for the great restaurants and shopping.
9. Freedom Tower
600 Biscayne Blvd.
The building opened in 1925 and became a US National Historic Landmark in  2008.* It's an impressive landmark. It first started as headquarters for the newspaper Miami News. It now is a contemporary art museum. We were unable to find out if tourists are allowed to go into the cupola to get a great view of the city. If anyone knows, drop us a note and we'll update this post!
10. Stiltsville
Key Biscayne
This last one may not look like much but it's quite unique. Stiltsville is a group of wood stilt houses located a mile south of Cape Florida. The structures stand on wood and stand about 10 feet above the water. *Seven pastel huts remain. Learn about the history before you go, you'll find it was quite a social spot in the 50's and 60's.


View Miami Top 10 in a full screen map
*Information from the respected Wikipedia pages.
Ready to see even more top 10 spots? Click on the city names and we'll take you there!
Chicago!  New York City! Las Vegas!