Grab your shades as we head to sunny Los Angeles this week! This is another location that has so many places to take great shots it was hard to narrow it down to just a few. Here is our list of the top 10 places to photograph in Los Angeles.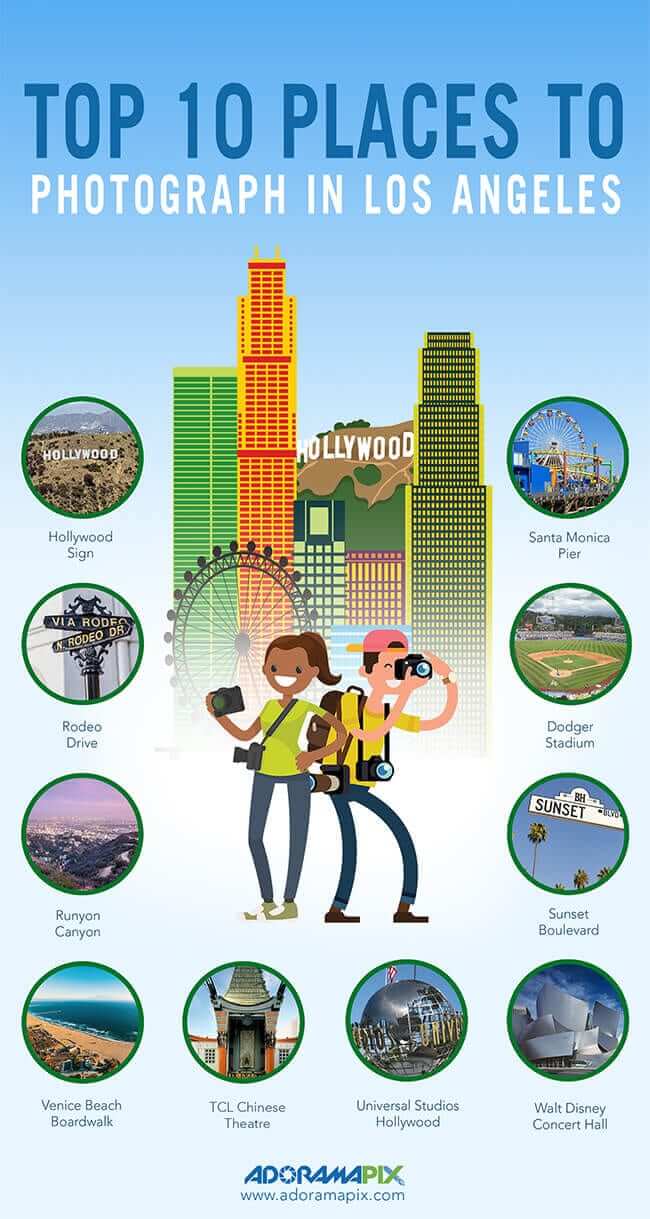 Week Seven – Los Angeles
1. Hollywood Sign
Los Angeles
Nine white letters are now an iconic part of the Los Angeles landscape.  Each letter is 45 foot tall and the letters span 350 feet. * The sign was put up in 1923. You can't actually get too close to the sign because it's illegal. It's protected by security cameras and Park Rangers as well as an LA police officer stationed there 24/7. However, you can still get a good shot but you'll need to do a little hiking. Check out this website for the closest routes to the sign and make sure to bring a zoom lens.
2. Rodeo Drive
Beverly Hills
Luxury, fashion, and entertainment define this stretch of road in Beverly Hills. The three block stretch located north of Wilshire Boulevard and south of Little Santa Monica Boulevard. It includes such famous brands as Cartier, Chanel and so much more. Although you more than likely will not be able to take pictures in a lot of the stores, you can photograph outside and make sure to get the iconic street sign.
3. Runyon Canyon
2000 N. Fuller Ave.
Runyon Canyon Park is a 160-acre park in Los Angeles, California, at the eastern end of the Santa Monica Mountains.The highest point in the park is Indian Rock at  1,320 feet. *There are a lot of hiking trails and you can get some amazing shots throughout the park. Just make sure to park a great travel bag for your gear as you'll probably do more hiking than photographing.
4. Venice Beach Boardwalk
1800 Ocean Front Walk
Get ready to spend a whole day here. Venice was founded in 1905 as a seaside resort town until 1926 when it merged with Los Angeles. *The boardwalk is one of its most famous spots to hang The two-and-a-half-mile pedestrian-only boardwalk hosts performers, artists, and vendors.  The picturesque location hosts fishing piers, beaches, canals and even an outside gym!
5. Grauman's Chinese Theatre
6925 Hollywood Blvd, 
Grauman's Chinese Theatre is now known as the TCL Chinese Theatre and is a movie palace. It sits on the historic Hollywood Walk of Fame. It was built in 1927 and it features concrete blocks in the front that showcase signatures, foot prints and hand prints of famous movie stars from the 1920s to the present.*
6. Universal Studios Hollywood
100 Universal City Plaza,
This does cost money if you want to go into the park, but the photographs you can get from inside are epic. From the spinning iconic globe that welcomes you to Wizarding World of Harry Potter, you'll want to spend all day photographing every inch. Plus, there's plenty to see and do once inside.
7. Walt Disney Concert Hall
111 S Grand Ave,
This amazing piece of architecture was built by Frank Gehry and it opened in 2003.* The beautiful stainless steel outside is truly eye-catching. You'll have fun going around the outside taking pictures with the steel giving you lots of fill light.
8. Sunset Boulevard
Los Angeles
Have your camera ready along this gorgeous drive that showcases beautiful palm trees and stretches from downtown Los Angeles to the Pacific Coast Highway. It stretches for about 22 miles and you'll see some amazing architecture through the neighborhoods including the famous Chateau Marmont.*
9. Dodger Stadium
 1000 Vin Scully Ave,
This baseball stadium was finished in 1962 and is the home to the Los Angeles Dodgers. According to its Wikipedia page, it's the third oldest stadium behind Fenway and Wrigley. Two of its best-known features include the wavy roof atop each outfield pavilion and the top of a 10-story elevator shaft bearing the Dodger logo rising directly behind home plate at the top of the uppermost seating.*
10. Santa Monica Pier
Santa Monica
The Santa Monica Pier opened in 1909 and the first picture you'll want to get is the iconic entrance sign!* You'll want to spend the whole day here photographing the Ferris wheel, the pier and all of the activities. The pier is typically open from 11 am to 11pm during the summer. They also offer free historical walking tours.


View LA Top 10 in a full screen map
*Information from the respected Wikipedia pages.
Ready to see even more top 10 spots? Click on the city names and we'll take you there!
Chicago!  New York City! Las Vegas!