Sports, seafood and rich in history, what more could you ask for in a city? We are on the east coast this week. Let's check in with the top 10 places to photograph in Boston!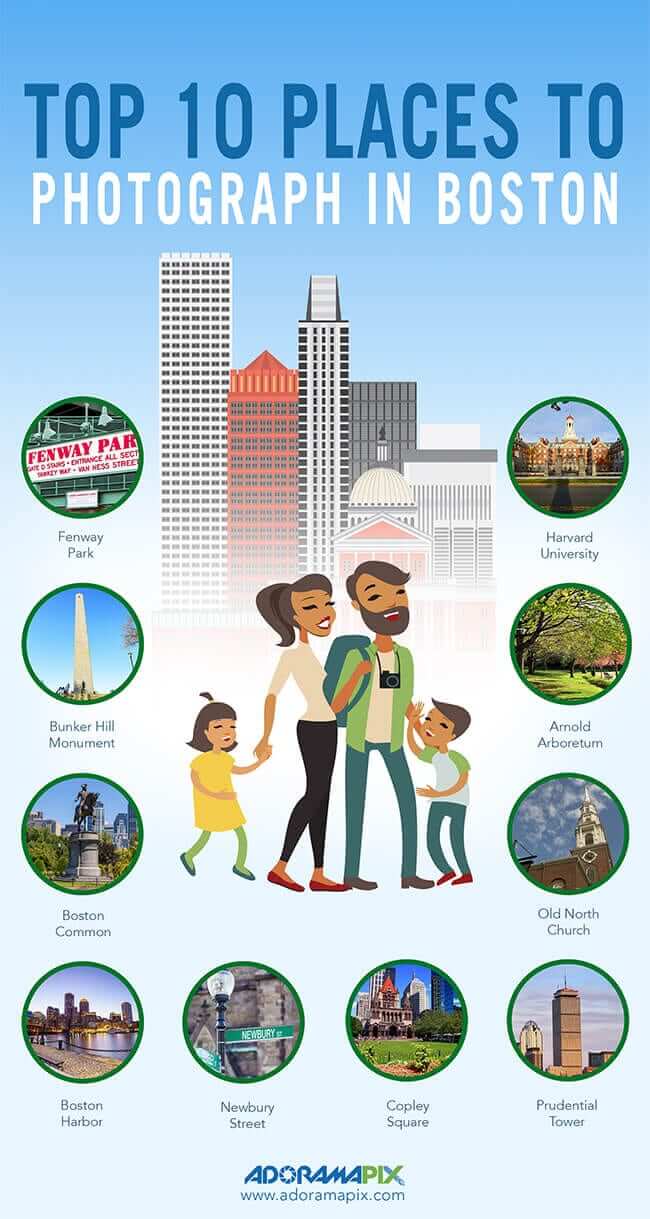 Week Seven – Boston
1. Fenway Park
4 Yawkey Way Ext
Our first stop is the home of the Boston Red Sox, Fenway Park.  The baseball park opened in 1912. It is one of the two remaining original parks still in use, the other is Wrigley Field. * You can take in a game to get your shots, or you can take a tour and get some history lessons along the way. They'll even let you sit on top of the "Green Monster."
2. Bunker Hill Monument
Monument Sq, Charlestown, MA
The granite obelisk was built between 1825 and 1843 to commemorate the Battle of Bunker Hill. It's one of the first monuments built in the United States. * You'll want to go to the top of the monument to get an amazing 360-degree view, but be aware you'll get a work out as there are 294 stairs. Admission is free, but you do have to secure a climbing pass from the Museum before going to the top.
3. Boston Common
139 Tremont St,
Kick your shoes off and relax in the largest public park in downtown Boston. It's the oldest city park in the United States. It spans about 50 acres and was built in 1634. * Some notable items to photograph here include the gardens, the lagoon bridge, and those fun swan boats.
4. Boston Harbor
How can you not stop here? It was the site of the Boston Tea Party! The natural harbor was discovered by John Smith in 1614.* You can easily spend a whole day here as Boston Harbor is home to 34 islands. You can plan your tours of the harbor and island by clicking HERE.
5. Newbury Street
Back Bay Area 
This quaint street is a mile-long and lined with historic brownstones that contain hundreds of shops, art galleries, and restaurants.It runs from the Boston Public Garen to Brookline Avenue. Want to check it out before you go? Click HERE to see everything it has to offer.
6. Copley Square
Back Bay Area
This historical focal point is a  public square that is chock full of some great architecture and history. You can see John Hancock Tower, the Boston Public Library, Old South Chuch and so much more! You can even take trolley tours through the area.
7. Prudential Tower
This skyscraper is the second tallest in Boston! It does have an observation deck located on the 50th floor. It has been called New England's best view with its 360-degree opportunity to see the city. The deck is open from 10am-10 pm and you will need to buy tickets to go to the deck.
8. Old North Church
193 Salem St,
The church was built in 1723 and is the oldest standing church in Boston.  It's famous because, in 1775, Paul Revere told some patriots to hang two lanterns in the steeple. The lanterns warned Patriots across the river of the British Army's movements.*  If you have time you can take a tour and get pictures from not only the bell ringing chamber but also the crypt which is under the church.
9. Arnold Arboretum
125 Arborway,
The Arnold Arboretum is located at Harvard University. It was founded in 1872 and stretches over 280 acres.* The grounds are open free of charge to the public from sunrise to sunset 365 days of the year.
10. Harvard University
Cambridge
Harvard is a private Ivy League university in Cambridge. It was established in 1636. It is the United States' oldest institutions of higher learning. * You can take a tour of the prestigious university. And if you want to be on the inside, take it from a college kid, here are the Top 10 Things to do When Touring Harvard.


View Boston Top 10 in a full screen map
*Information from the respected Wikipedia pages.
Ready to see even more top 10 spots? Click on the city names and we'll take you there!
Chicago!  New York City! Las Vegas!