It's the time of year when we are surrounded by colors that are bursting from the trees and hills. So with this in mind, let's talk about the photo paper that can do justice to the season and so much more. We are, of course, talking about our stunning metallic photo paper.
What is a Metallic Photo Print?
It's a photo paper print with a 3D effect. There are micro-crystals within the paper that produce the "metallic" type appearance which bring out the hi-lights in the image with a pearl-like shimmer. Highlights include: sharp details, beautifully saturated colors, rich blacks for better contrast and true-to-life skin tones.
Photos with strong contrasts benefit the most from the depth of the effect of the paper. Professionals use this silver halide paper for its broad color spectrum, which gives the photos added intensity.
Saturated Fall Colors
Luckily, this time of year supplies us with rich, deep colors for landscapes. Fall is the perfect time to take advantage of this beautiful paper. The deeper and brighter the colors, the more they will pop on metallic paper.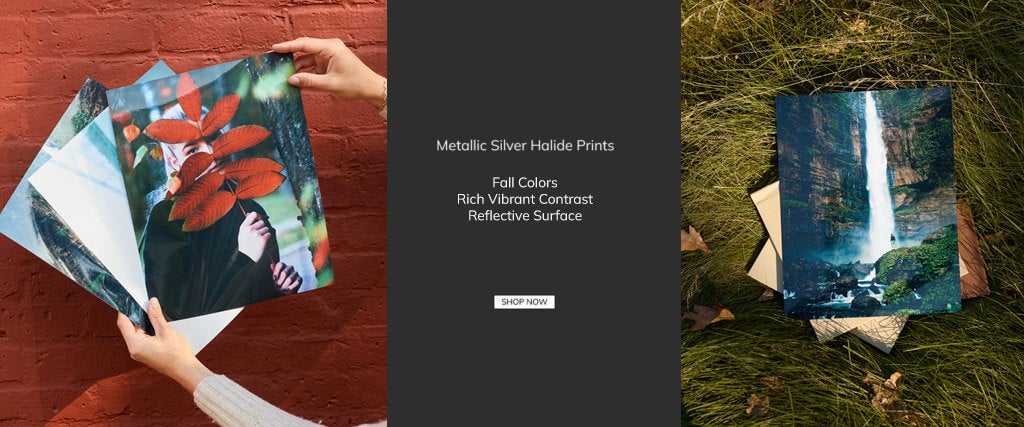 Shine Bright Wedding Whites
So what about a lack of color? Will the photo paper still work? Absolutely, think about wedding whites. From the shoes to the dress, the whites and hi-lights will sparkle with a pearl-like finish. Since weddings are a more formal occasion, metallic photo papers will bring a new dimension to the photos. Don't forget those detail shots of the rings and jewelry and candle light,will sparkle with a metallic paper.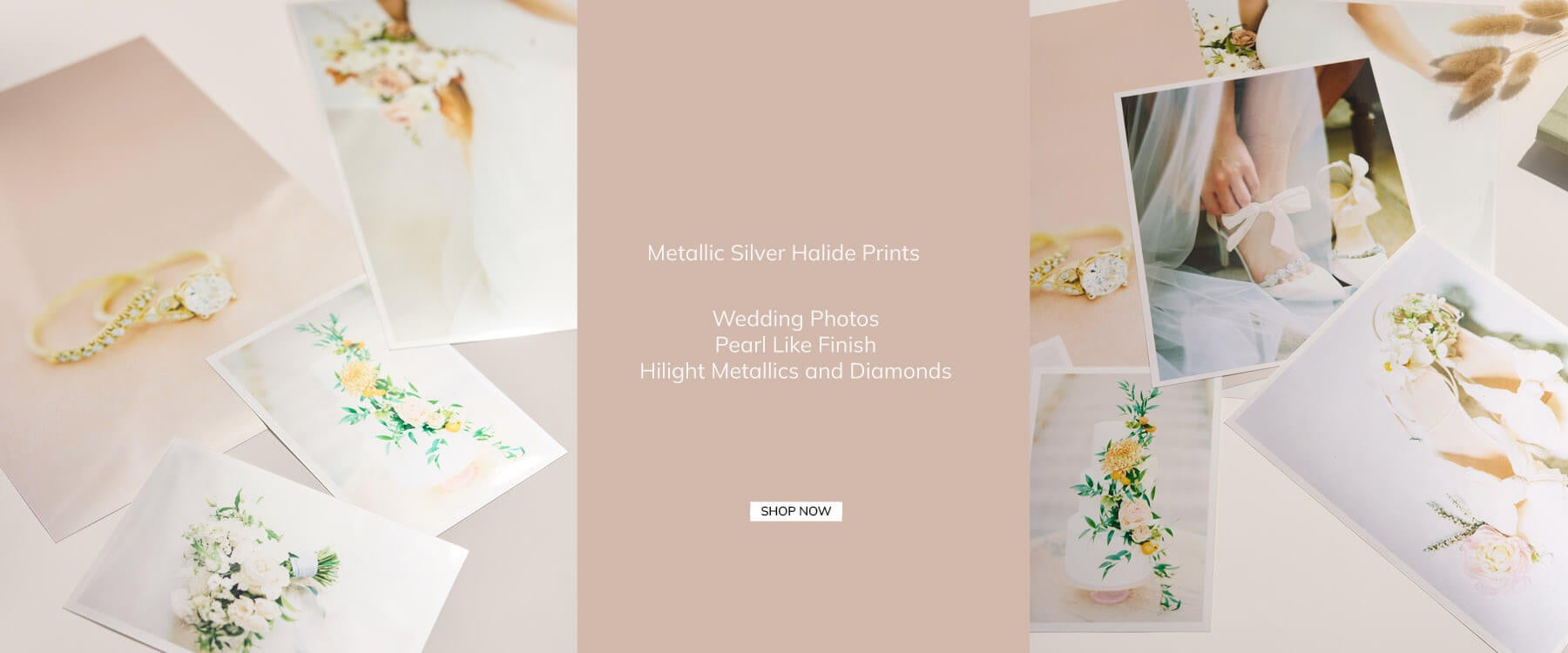 Black and Whites
Don't be afraid to experiment with black and whites. Black and whites with rich shadows and hi-lights are stunning on this photo paper. Urban shots with beautiful buildings and deep shadows are sure to make an impression. Remember, it's about the contrast that shines through.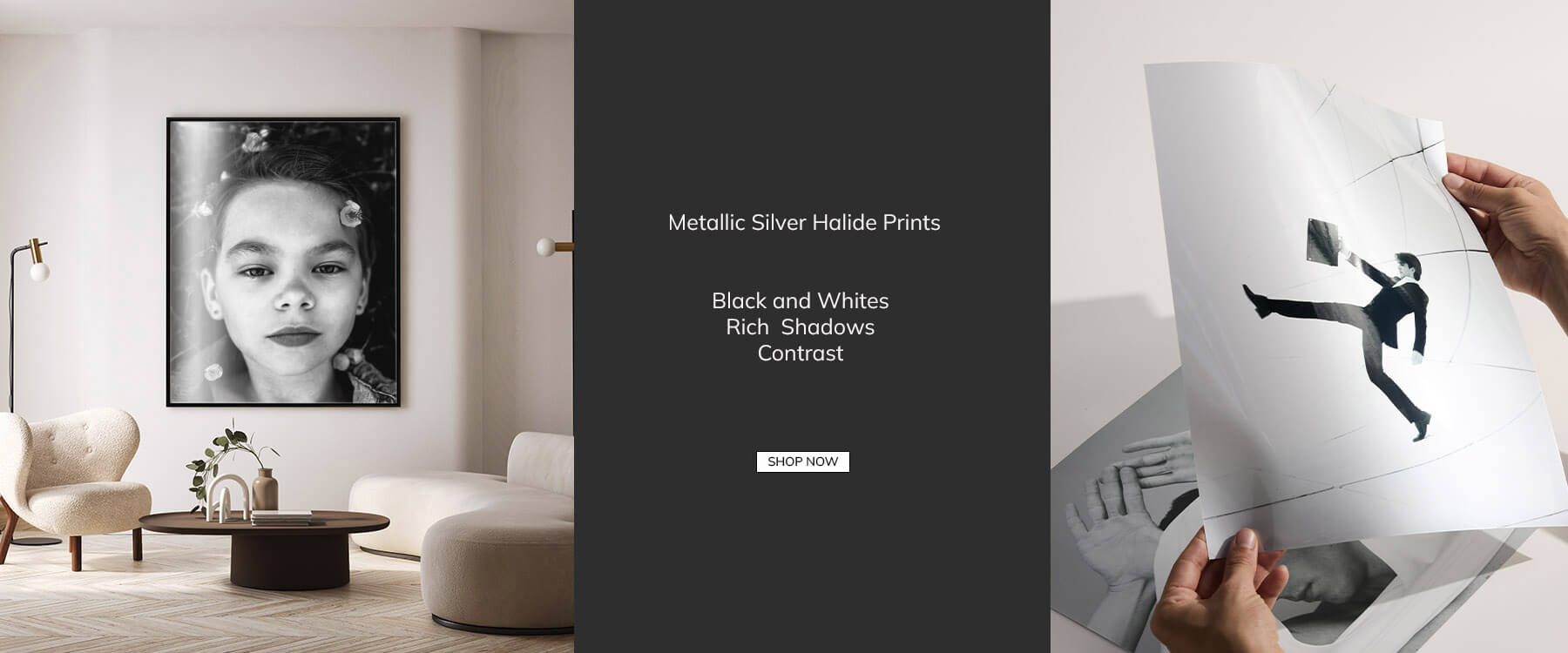 How do I order Metallic Photo Paper Prints?
Ordering metallic photo prints is easy. Go to photo prints on our website and choose your size and then metallic paper as your option. You'll be able to either upload images or import them from one of your galleries. Choose to have your image be printed edge to edge, or choose the white border option to have a nice clean, classic border around the photo.
How do I display my Metallic Photo Paper Prints?
Stage your photo prints in a handmade frame: We offer dozens of framing options in various styles, materials and colors. If you like, you can even select a photo mat for your Metallic ultraHD Photo Print on Fuji Crystal Pearl paper.
Metallic papers are quite durable. They are resistant to tearing and curling. Photos printed in a metallic finish are incredibly defined and sharp, but because the metallic paper has a slight shimmer to it, it's best framed without glass.
Ready to start your metallic photo paper project? Click HERE to get started.