Let's get one thing straight: New York City is essentially one big photo op. Whether you point up at the skyscrapers or down at the graffitied cement, it's hard to point and shoot without capturing something phenomenal here. Nevertheless, we know our photography family looks for the best of the best, and when you're only visiting New York City for a short amount of time it helps to come prepared.
But don't be fooled, local New Yorkers! We've put together a list just for you, too. Scroll down to find 16 less-popular photo spots we recommend for locals.
Get your pens at the ready! It's time to add to your New York City Photography Bucket List.
---
NYC Photo Spots for Visitors
When the big trip to New York City finally arrives, you'll want to be prepared with a list of must-see spots; And if you're visiting as a photographer, you definitely don't want to leave without all of the photos you've been dreaming of! To help you pin down the locations of the most iconic NYC photo spots, we've listed the most famous and coveted New York City photography destinations.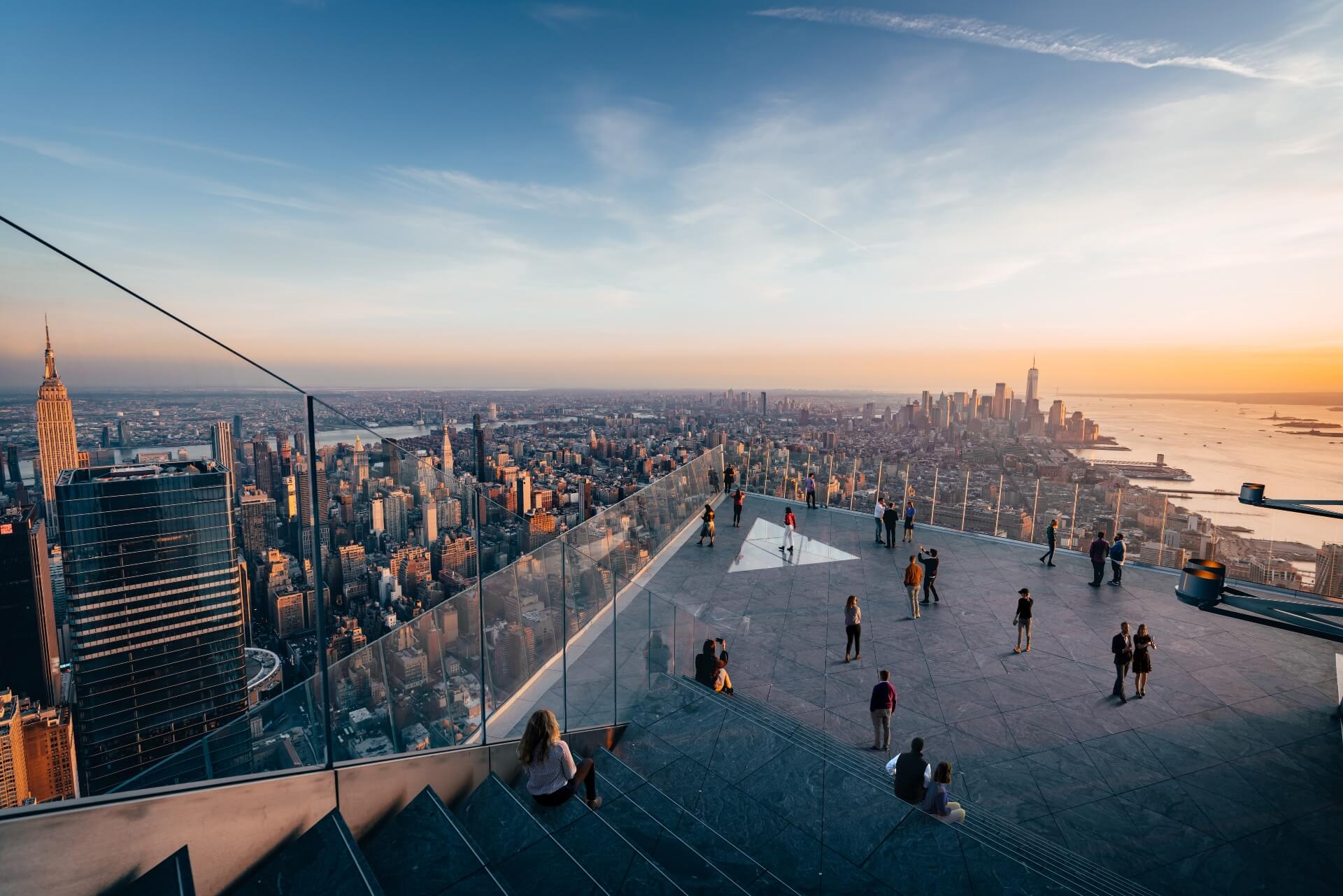 The Edge
The Edge is a 100-stories high observation deck located at 30 Hudson Yards.  Look down at Manhattan through glass flooring and enjoy 360-degree views of the entire city, courtesy of the platforms clear and advantageously angled walls. Located on the west side and facing northeast, there is truly no part of the city you won't be able to see from this innovative look-out.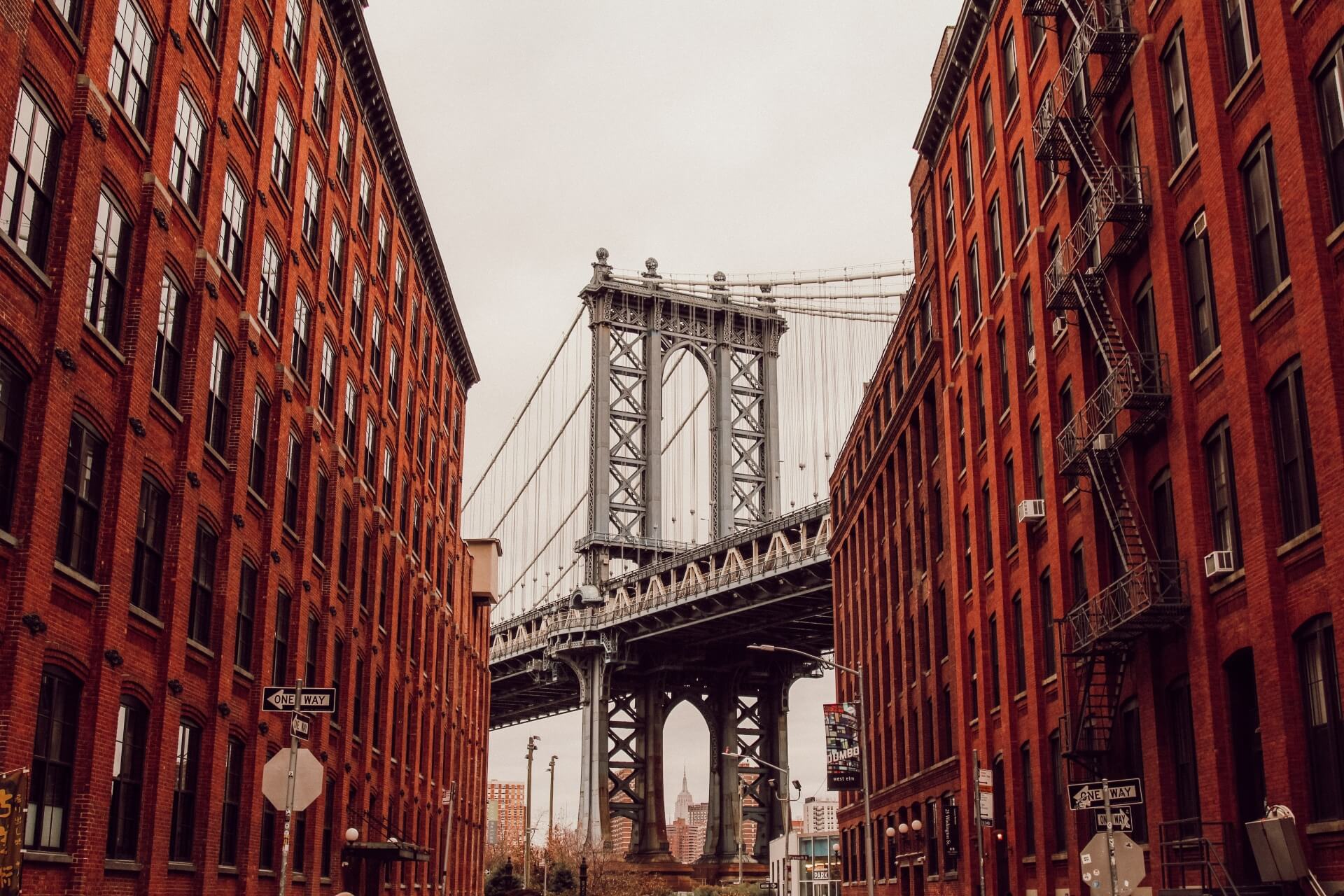 Washington Street
If you've ever scrolled through an Instagram page dedicated to New York City, chances are you've stumbled across photographs of the Manhattan bridge, framed by the architecture of downtown Brooklyn. These popular photos are taken on Washington Street in Dumbo, and there's no mistaking it once you arrive! The street is often filled with people taking photographs in the iconic spot.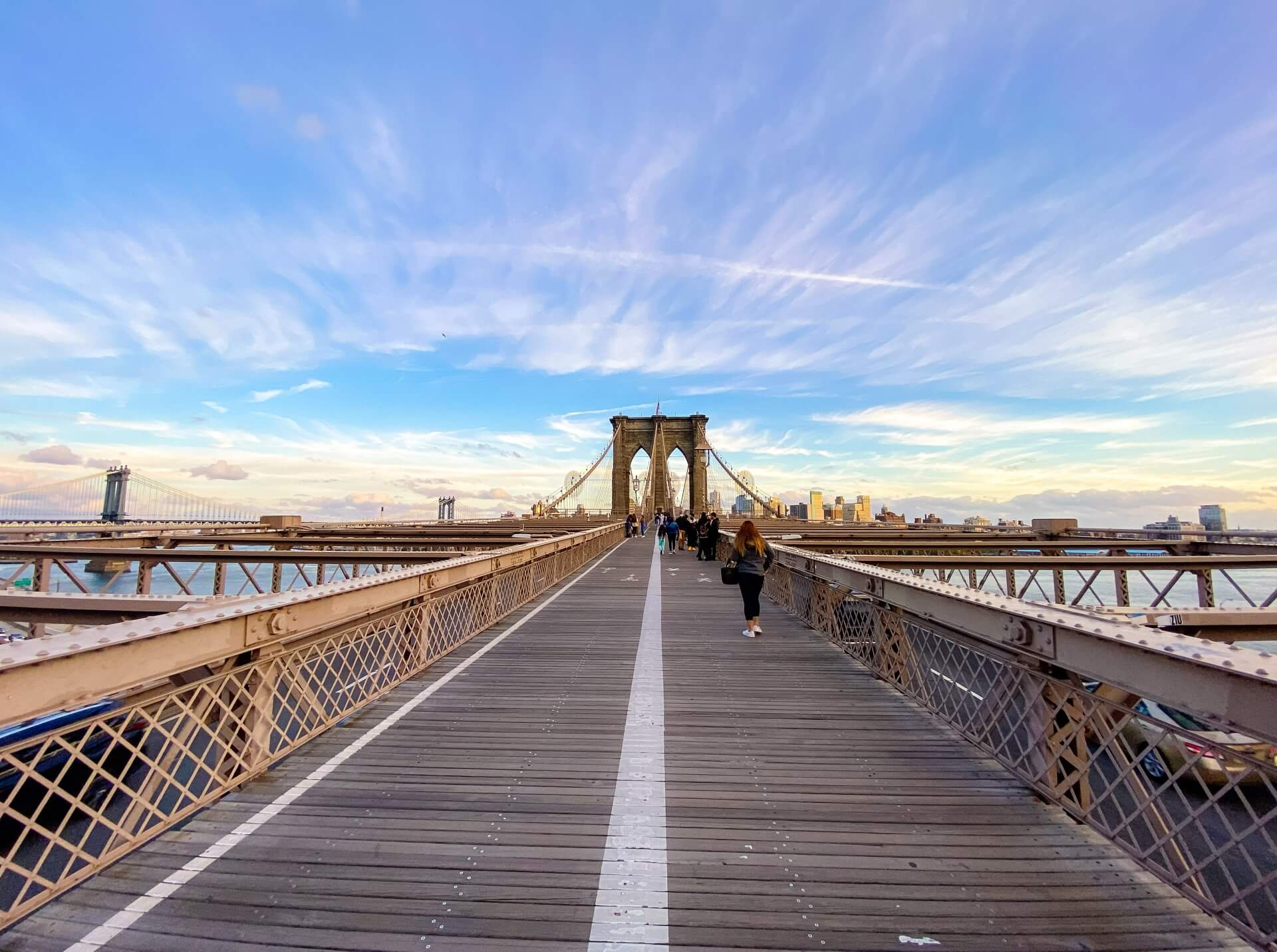 The Brooklyn Bridge
After leaving Washington Street, make the short walk to the Brooklyn Bridge. You'll not only get to enjoy taking incredible photos of the bridge itself, but you'll have a perfect view of both New York City and Brooklyn skylines. Hit the bridge at sunset for perfect portrait lighting, too! Be prepared for crowds on a nice day – the bridge won't look how it does above!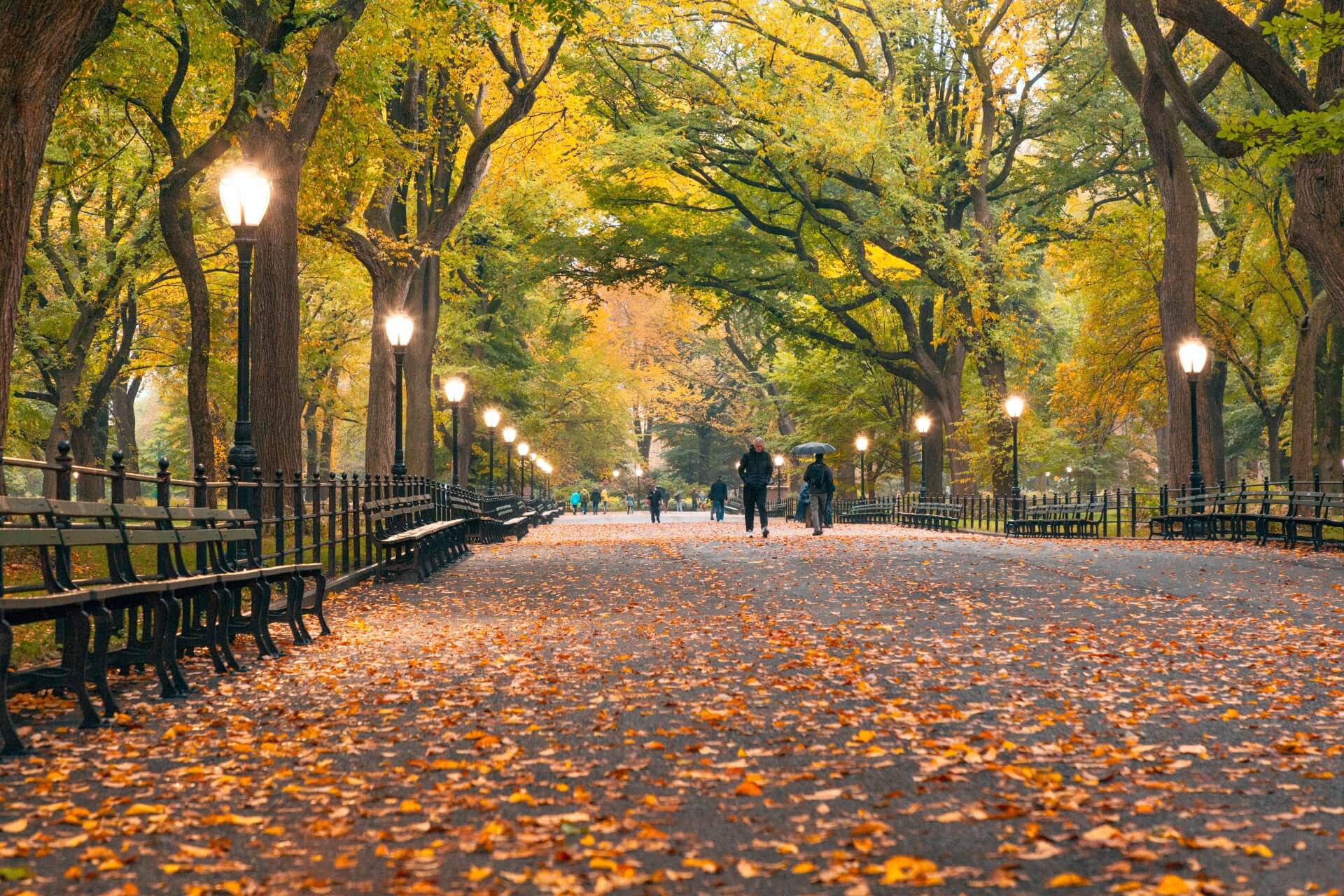 Central Park
Visiting Central Park is high on the list for many New York City visitors – and it should be! The incredible park offers a number of famous landmarks, views of the city's most iconic architecture, and a look at the shooting location of some notorious big screen moments.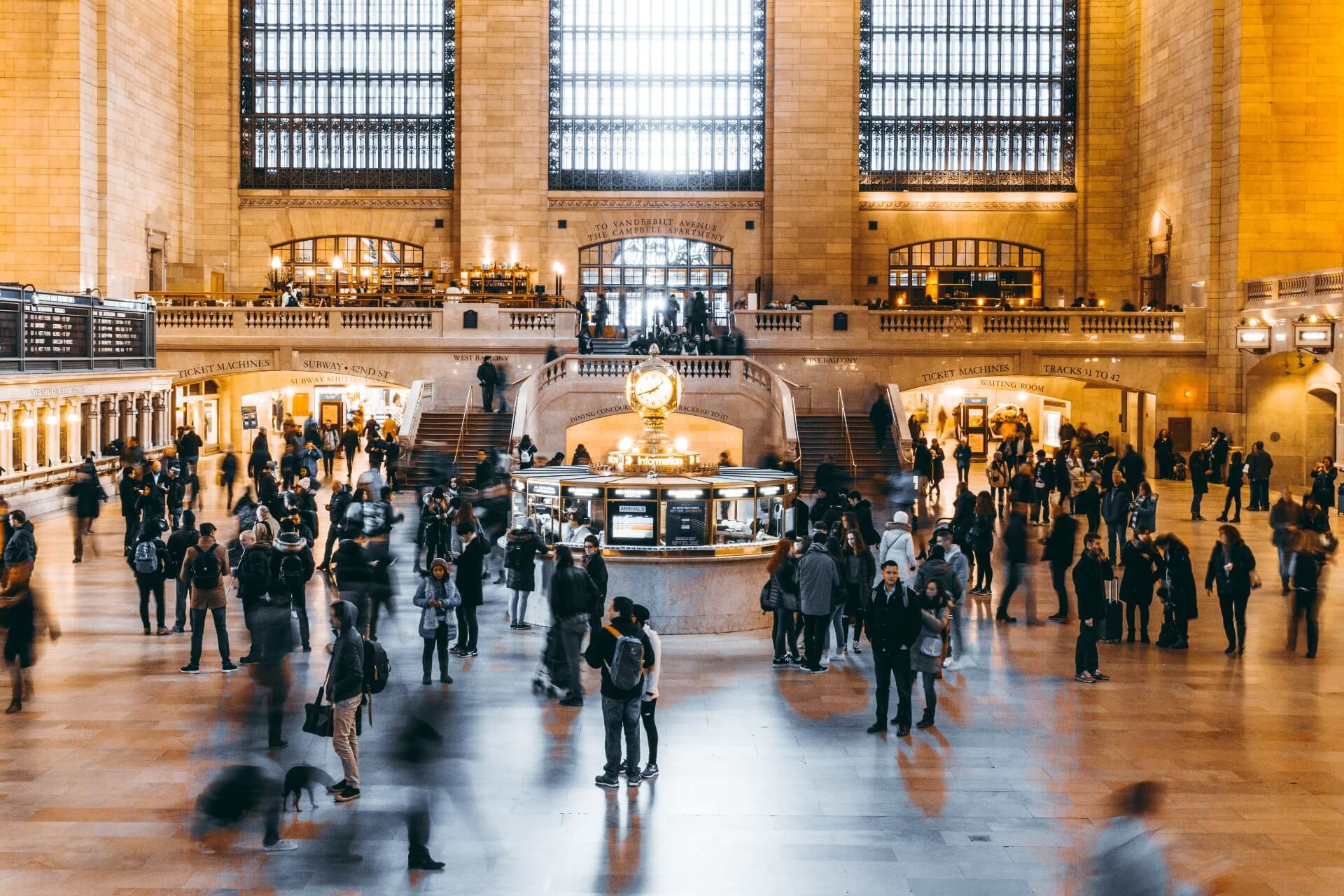 Grand Central Station
Speaking of the big screen, don't miss a visit to Grand Central Station if you're a movie buff. Featured in titles such as Armageddon, Superman, and I Am Legend, the centrally located train station is a worthwhile destination for out-of-town visitors. Plus, the station's grandiose, artistic architecture makes it a beautiful location to snap photos, even without its role in pop culture.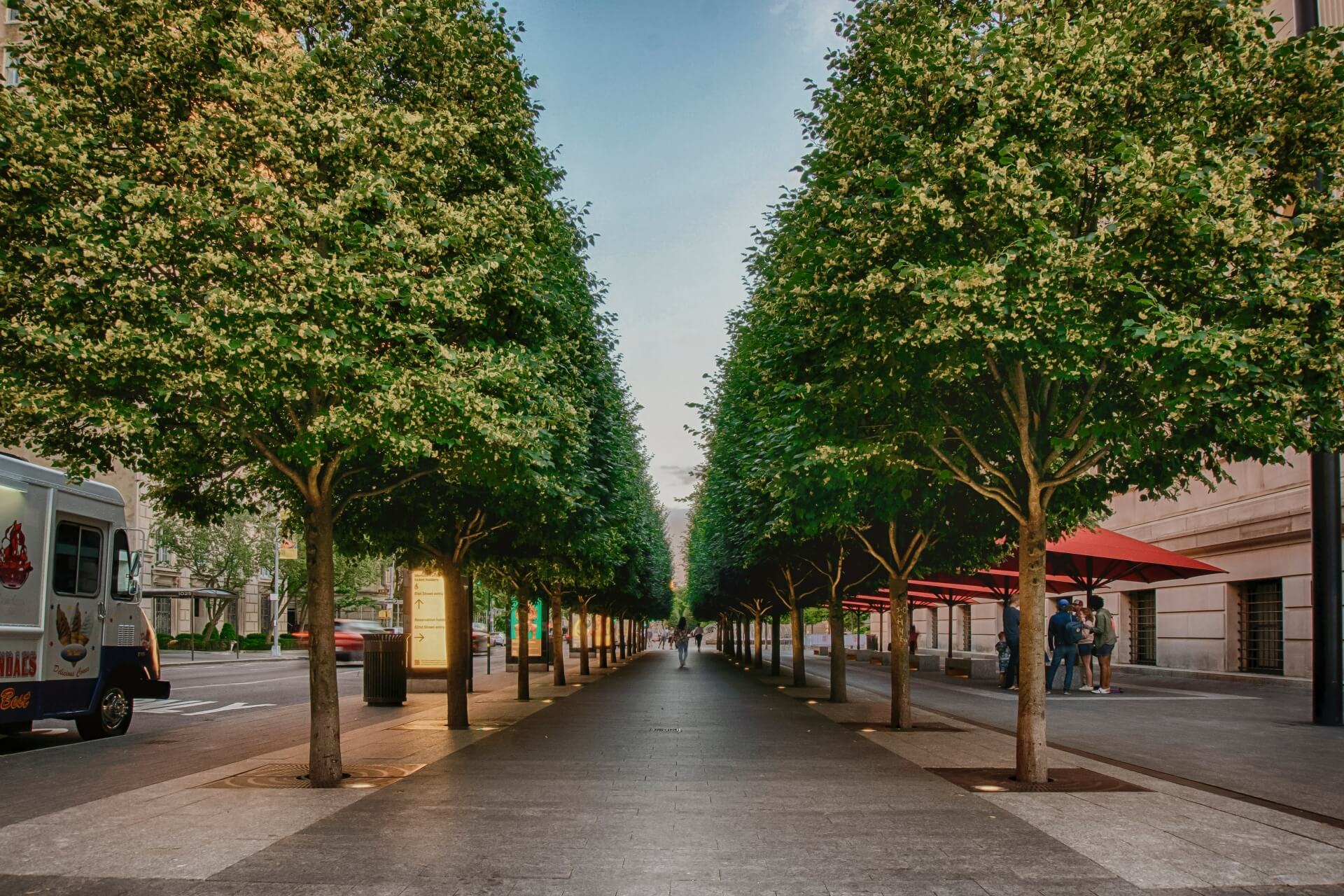 Fifth Avenue
Looking to capture the glamourous side of New York City that you've heard so much about? Head to Fifth Avenue, where you'll find the city's most expensive stores and prominent companies. Home to attractions like The Met, The Guggenheim, St. Patrick's Cathedral, Rockefeller Center, and Bryant Park, a long afternoon stroll from 21st and Fifth to 90th and Fifth is sure to help you cross some must-see's off your list.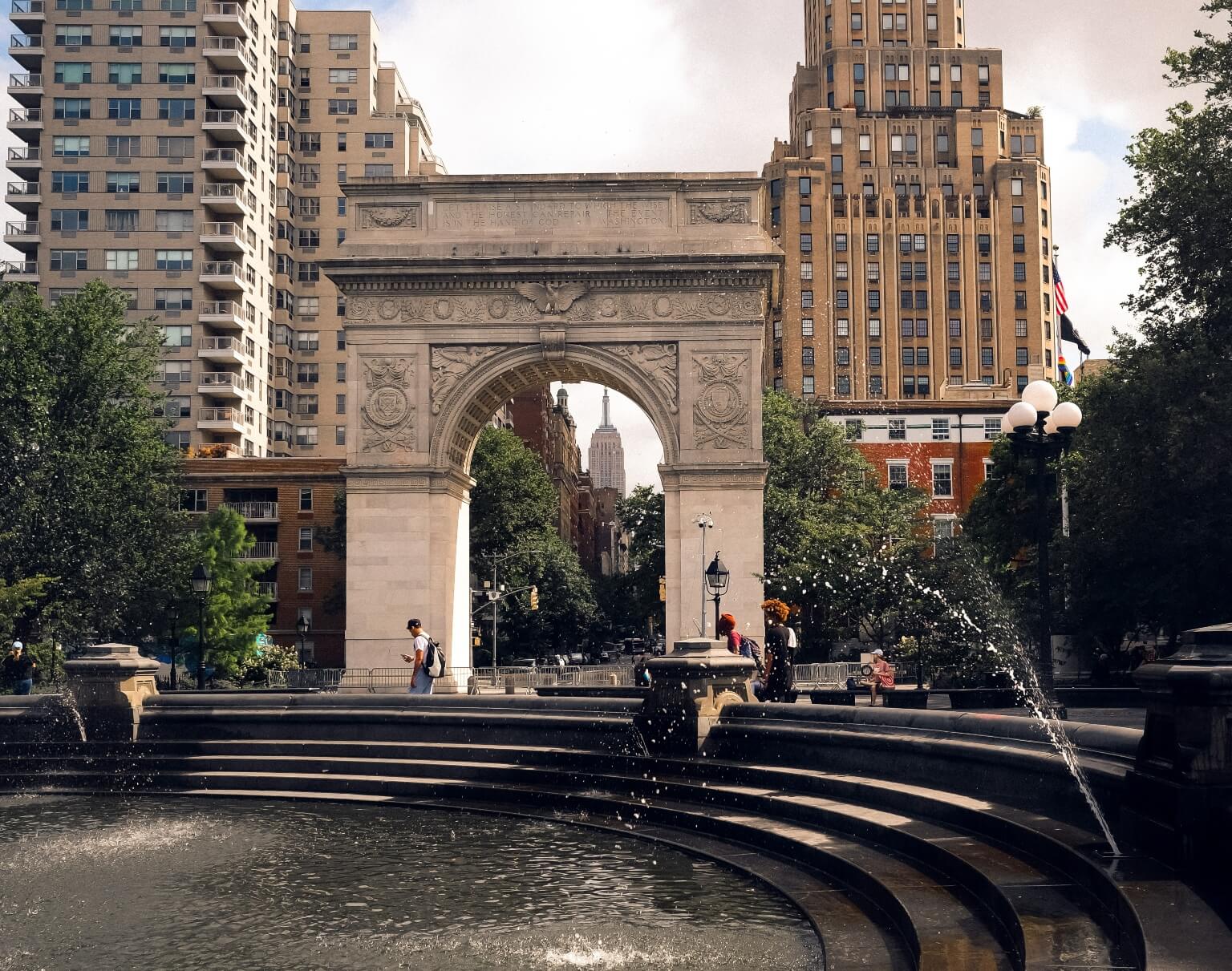 The Washington Square Arch
Another common movie feature to add to your list is the Washington Square Arch. Made of stunning white marble, this roman-style monument is a staple in the bustling oasis of Washington Square Park. Head to the park around sunset, photograph the arch in golden light, and watch as the park comes to life with music and dance in the after-dark hours.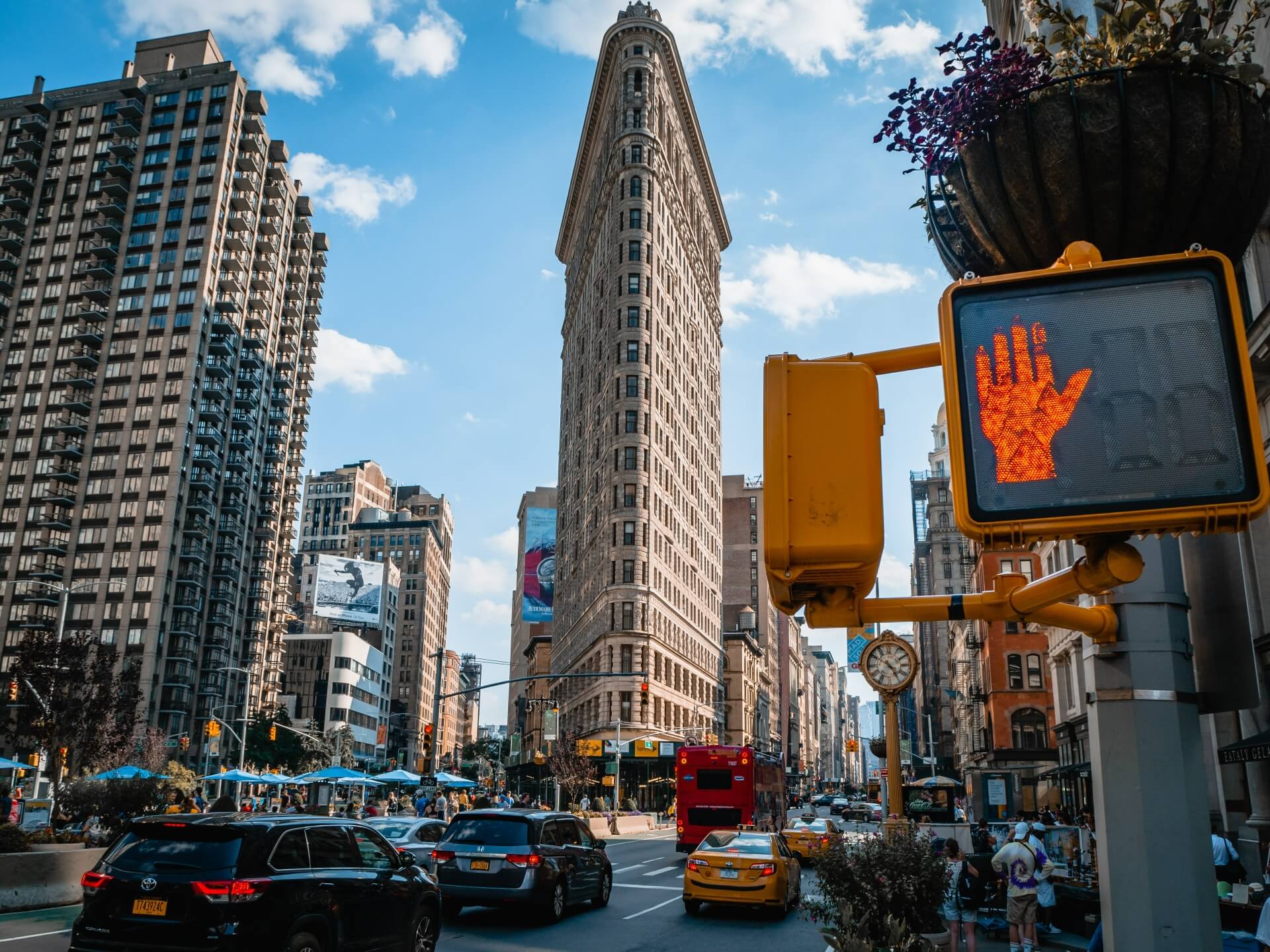 The Flatiron Building
The Flatiron Building is among the most recognizable structures in all of the city. The building is so iconic, in fact, that its entire surrounding neighborhood was named after its vicinity to the unique building: The Flatiron District. Located just south of Madison Square Park, there's nothing you won't enjoy about a journey to see this famous landmark.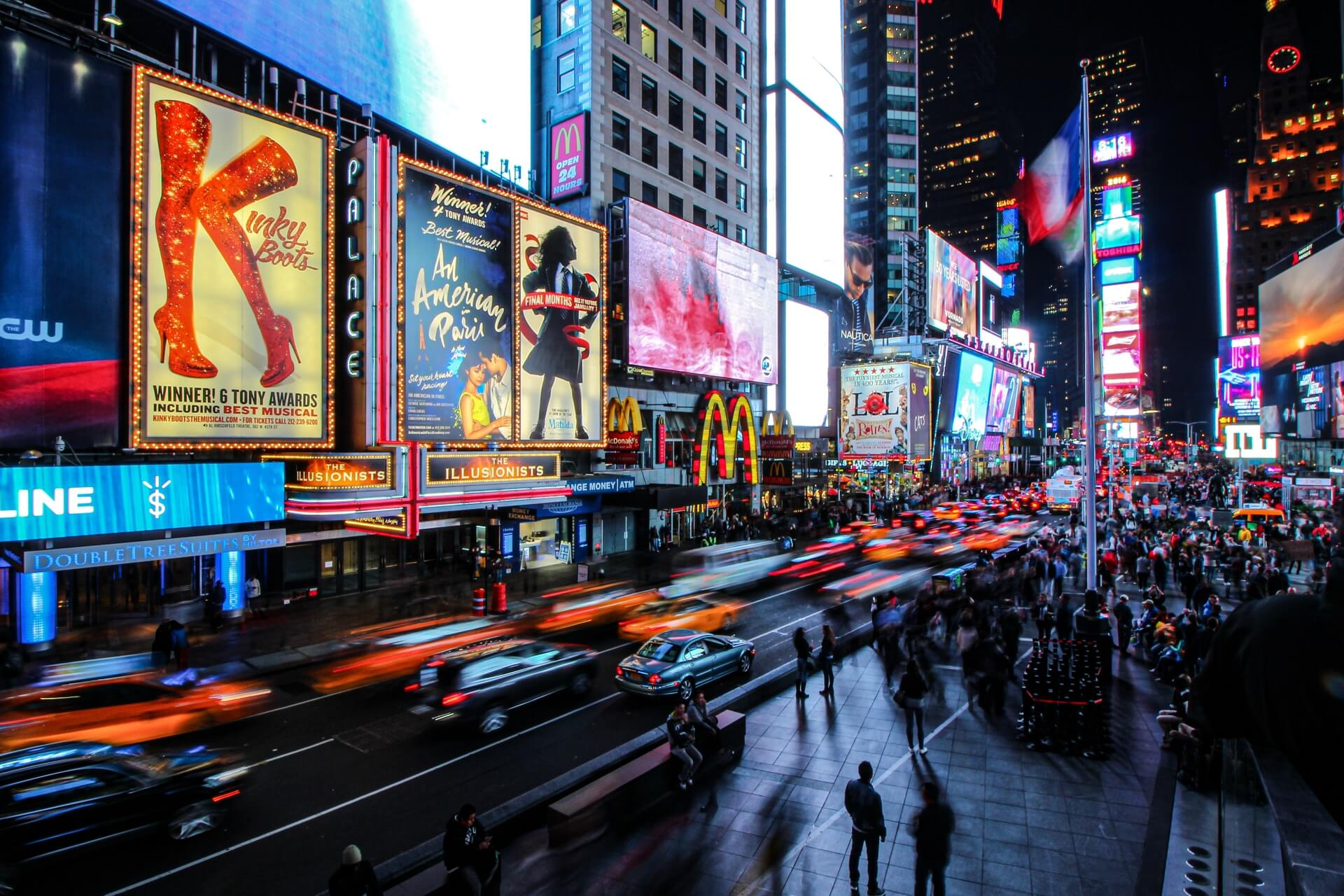 Times Square
We're sure this one was already on your list, but of course we're going to mention it anyway! One of the world's most visited tourist attractions, Times Square sits along Broadway and Seventh Avenue, between 42nd and 47th Street. It's an area so popular that many locals go out of their way to avoid it, but it's nevertheless a must-see when visiting from out-of-town! Visit the area soon after sunset to experience its illuminated billboards in all their glory.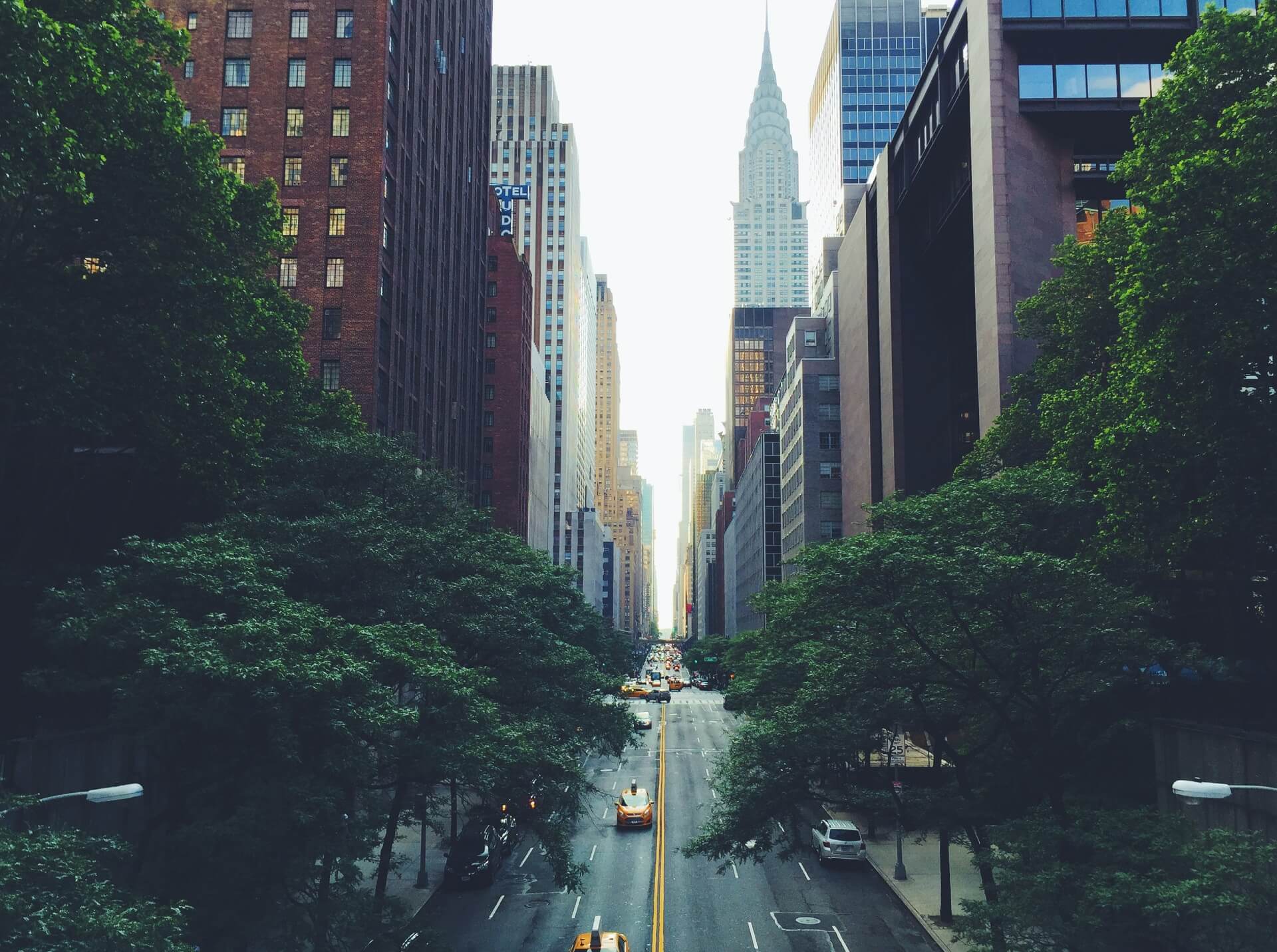 The Chrysler Building
Don't overlook the beauty of the Chrysler Building! Once the tallest building in the world (for 11 whole months!), the Chrysler Building is a beacon of artistry amongst the New York City skyline. Look north at the corner of 36th and Lexington to catch the Chrysler Building in all its glory along the eastern side of the avenue.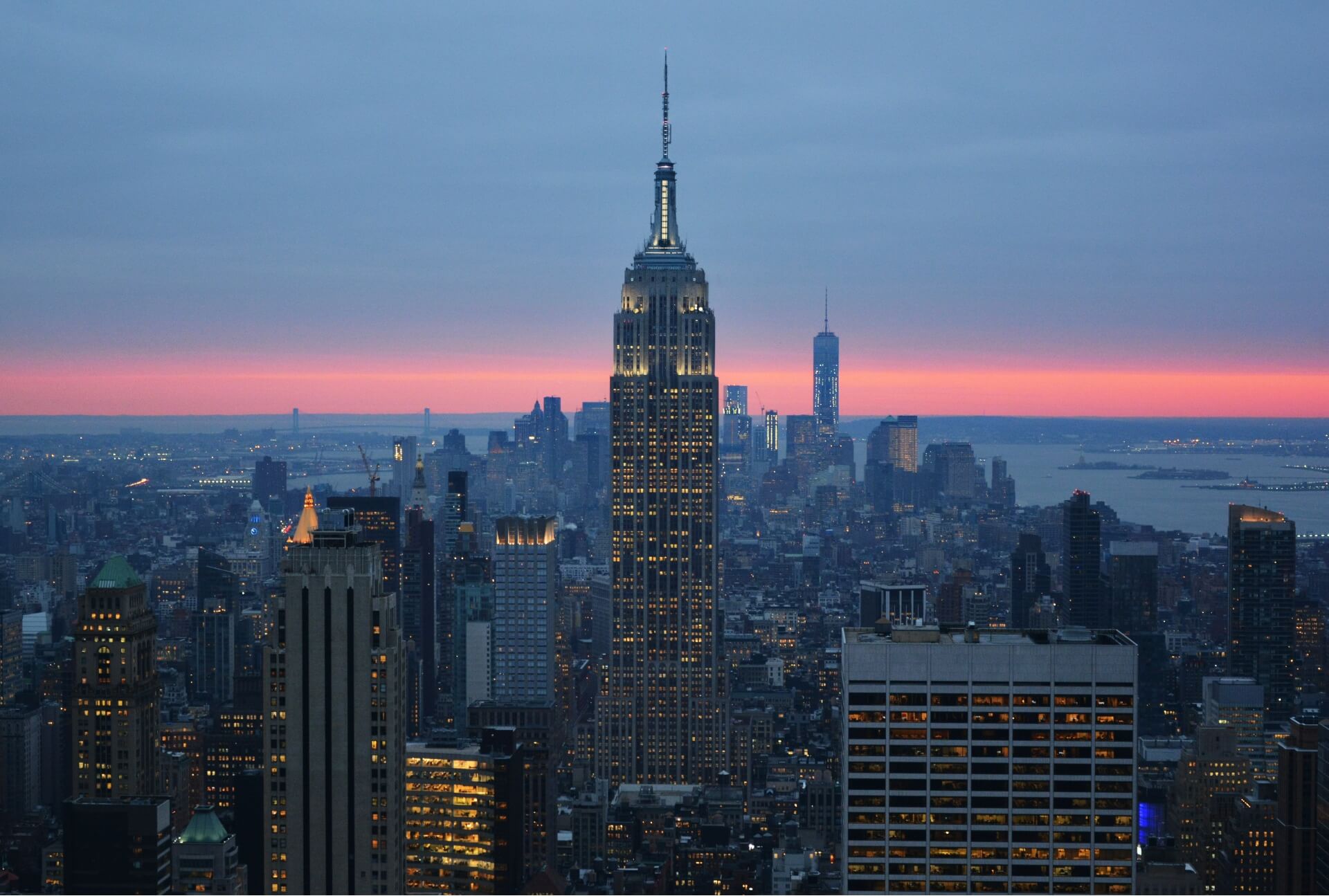 The Empire State Building
The city's most famous building, named after the Empire State itself, is located at 350 Fifth Avenue. It's so large that it was even assigned its own ZIP Code!
For over a decade, the building held the title of the tallest building in New York City. It has also been named one of "The Seven Wonders of the Modern World" by the American Society of Civil Engineers. We know – we don't have to convince you to add this iconic landmark to your to-do list, but some Empire State Building trivia never hurt!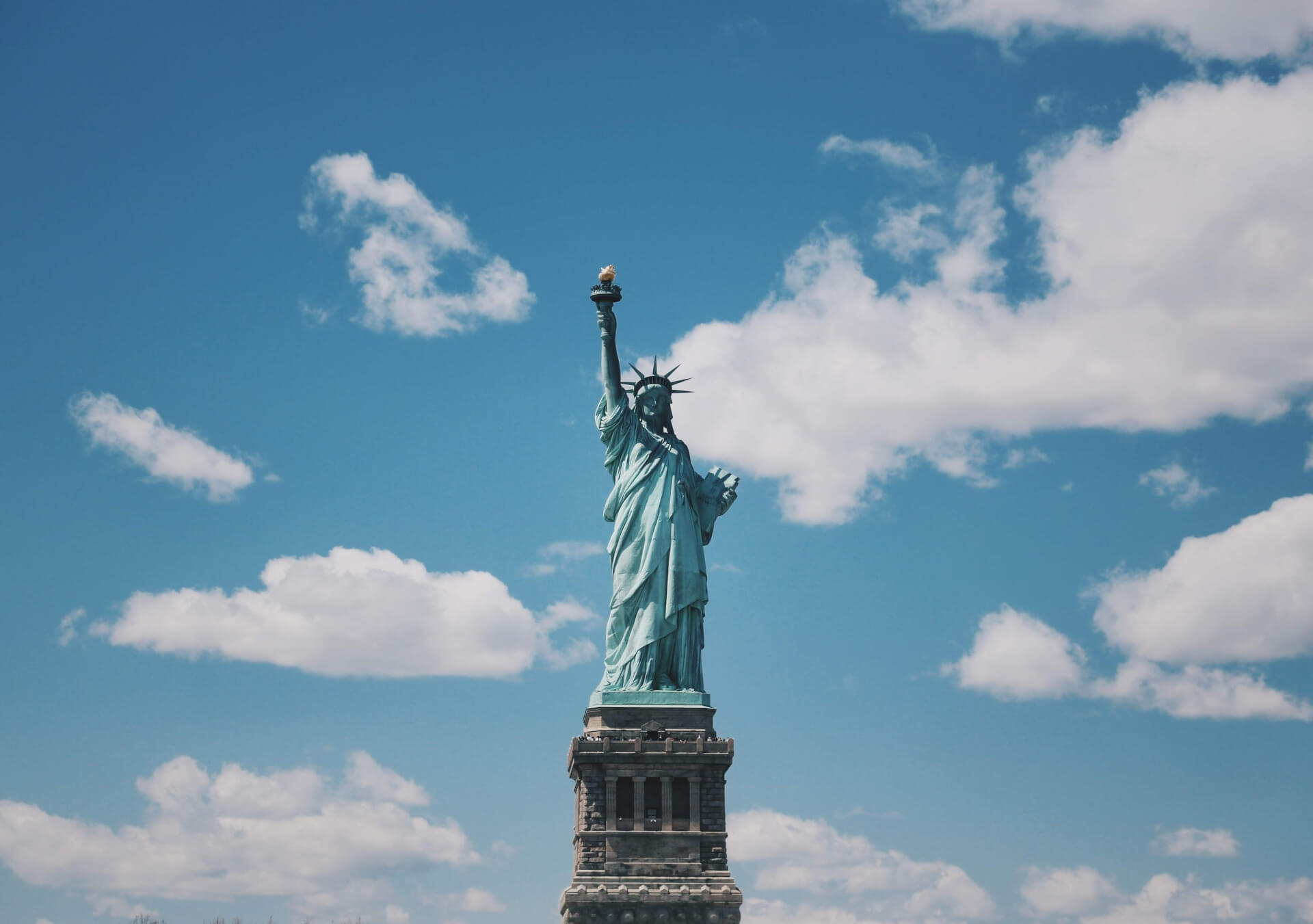 The Statue of Liberty
What was born of a gift from France to the United States has become an emblem of hope and freedom across the country – and especially in New York City. The best way to experience the Statue of Liberty is via a boat tour. You'll enjoy the best and closest views on the one-hour Circle Line Liberty cruise. Alternatively, see the Statue of Liberty by boat for free with a ride on the Staten Island Ferry!
---
NYC Photo Spots for Locals
When you've been living in New York City for a long time, it can feel like you've seen everything there is to see and photographed everything there is to photograph; But that's the best thing about living in New York City: There's always something new to see. No two photographs are ever the same in a city so full of life and – let's be honest – pure chaos.
Check out our list of photo spots to visit in and around the city when you're ready to see the place you call home through a new lens!
Central Park
We know: Central Park? One of the most popular tourist attractions in New York City, that I've visited hundreds of times? You bet! This watering hole of both locals and tourists alike will never have you leaving empty handed. With over 840 acres to explore, we'd be skeptical believe that anyone has explored every inch of the park's ever-evolving landscape. With each new season bringing new elements to enjoy – along with hundreds of thousands of new visitors – there will always be a unique photograph to capture at Central Park.
Camp out by the boathouse to catch a wedding or a romantic rowboat date; Hang out beneath the Bethesda Terrace to capture an intimate, silhouetted moment beneath the arches; Host mini-sessions in mid-century attire at the Conservatory Gardens. Central Park is a photographer's playground!
Pietro Nolita
If you love the color pink, Pietro Nolita is an absolute must-visit. Gather your most fabulous pink 'fits and head to Pietro Nolita for an unmatched retro portrait session.
The Metropolitan Museum
The Metropolitan Museum is the perfect place to visit for all types of photographs; Whether you're looking to take professional yet unique headshots, artistic and romantic couple photographs, or immaculate architectural photos, the Met is the place to go. With new installations happening on a regular basis, it's a timeless destination that can never be fully crossed off the bucket list.
Elevated Acre
This location is so remote, we can't even find a quality image of it online! Located at 55 Water Street, this building-wrapped park known as The Elevated Acre can be accessed through an inconspicuous escalator, set back from the sidewalk. When you go to enjoy this sun-soaked oasis, make sure to share some photographs with us!
Brooklyn Botanic Garden
An escape from the noise and smells of the city can make a world of difference on a rough day, and the Brooklyn Botanic Garden is the perfect place to do it. You'll have to spend a full day at the garden to enjoy everything it has to offer, but that doesn't mean a one or two hour visit won't be worth your while! Enjoy the relaxing sights and smells of plants and flowers while partaking in your favorite therapeutic activity: photography!
The Graduate Hotel, Roosevelt Island
A new addition to New York City's Roosevelt Island, The Graduate Hotel features a fascinating lobby and incredible roof top bar. Don't rush your visit; Enjoy the scenery of Roosevelt Island before and after snapping photos in this artistic new hotel.
Elizabeth Street Garden
Filled with sculptures, fountains, and beautiful florals, the Elizabeth Street Garden is an enchanting community garden located on Elizabeth Street between Prince and Spring. Head to the garden on a quiet, sunny morning to photograph the sculptures as they come to life in the sunlight.
Red Hook Trolley
Located in the cozy nook of Red Hook alongside the Pier 44 Waterfront sits an abandoned trolley. What makes this destination worthwhile is not the trolley alone, but the photo opportunities you'll pass along your way! The neighborhood of Red Hook is filled with antique structures, repurposed industrial buildings, public art, and gorgeous city views. Throw an outdoor beer and a lunch with decent portions (alas!) into your visit, and you'll be sure to remember it as one of your favorite photography outings.
The Floral Escape, Roosevelt Field Mall
This floral installation at Roosevelt Field Mall won't last forever, so make your way out there as soon as you can! Whether you use this destination for self-portraits or to offer some unique mini-sessions, you'll be anything but bored with your final shots.
Queens County Farm
We can't think of a valid reason to pass up on the opportunity to pet some goats and photograph some gorgeous farm land, so consider this your sign to make the journey out to Queens County Farm Museum!
Industry City, Brooklyn
Industry City was all but made for photo ops. Home to a number of restaurants, design studios, offices, retail locations, and art installations, this conglomeration of transformed industrial buildings is a worthwhile photography destination nestled along the water of Sunset Park.
The Beekman Hotel
Whether you're trying your hand in architectural photography or simply love the finer things in life, a visit to the Beekman Hotel is sure to enchant. Located just south of City Hall, there's no trek required to find this architectural masterpiece; And it's even easier to find a good photo spot once you arrive!
The Drama Book Shop
Between its striking wall décor and mesmerizing book sculptures, The Drama Book Shop is a little slice of Broadway located just off of Times Square. Capture fun and unique portraits or simply photograph the shops one-of-a-kind design. You won't be leaving the world of The Drama Book Shop disappointed.
The Oculus
While it's certainly no hidden gem, it is a destination that many have yet to visit since its opening in 2016. It's a magnificent, modern, white structure, characterized by smooth lines, gentle curves, soft yet bright lighting, and high ceilings. The stunning location is home to 12 subway lines, so it won't be difficult to find your way to it – camera in hand!
Billings Arcade, Fort Tyron Park
Amongst the foliage of Fort Tyron Park lies a tunnel of mesmerizing archways that cast brilliant shadows upon any who enter. It's a gorgeous spot to take timeless portraits, romantic couple photographs, or enchanting scenic photographs like the one above.
The Paris Café at TWA
We know… Why would anybody go to JFK when they don't absolutely have to be there?  We'll show you why! Located amongst the maze of JFK terminals is the TWA Hotel. The hotel is fully equipped with a 60's-style restaurant and lounge, a roller rink, a prop plane, and a rooftop pool. We wouldn't say we're quite ready to go out of our way to stay there, but the next time we get booted from a flight at JFK we know exactly the accommodation we'll be requesting!
---