Whether you're getting away for a weekend or planning a cross-country trip, there are countless photo opportunities everywhere you look. From breathtaking waterfalls to wacky roadside attractions, this summer is for snaping photos wherever your journey leads you! For eight weeks, we are going to take you on a virtual summer road trip specifically for the Instagrammer! This week we're checking out some of the most stunning U.S. bridges that boast the best views. So, whip out your smartphones, get ready and don't blink! You might miss something!
Instagrammer's Guide to U.S. Bridges
1. Brooklyn Bridge – New York, New York
Suspended elegantly over the East River, connecting two colorful boroughs, Brooklyn Bridge was one of the first steel-wire suspension bridges to be constructed in the United States. The Brooklyn Bridge hovers over the water and is a sight to see from any direction. With a total length of 5,989 feet, this treasure is a magical part of New York's history and culture. Remembered as a project that seemed to take forever, the Brooklyn Bridge was successfully completed after 14 years of construction with the help of 600 men. Tip: Head to the Brooklyn Bridge Park to catch a movie with a view, a picnic by the water or a workout class to blow off some steam.

2. Bixby Creek Bridge – Big Sur, California 
Planted right above the roaring waves of the Bixby Creek is a massive bridge that will make any passerby stop and snap a quick pic (actually, almost everyone does). Situated along the Highway 1 coastline, 260 feet above, is a whimsical backdrop for any postcard. Finished in 1932 for $200,000, the Bixby Creek Bridge is a concrete creation named after Charles Henry Bixby, a New Yorker that headed to California to make some money off of lumber. Tip: The Old Coast Road is a dirt road exit, north of the highway, that promises impressive sights morning, noon and night.

3. Golden Gate Bridge – San Francisco, California 
Pick just the right night to photograph this beauty and watch your pictures come alive with cotton candy-painted clouds. For this bridge, "International Orange" is its trademark color as it ascends 746 feet into the California sky. As one of the most Instagrammed landmarks in the world, this bridge boasts its popularity as a necessary stop while visiting San Francisco. Making its debut in plenty of movies over the years, the landmark's original purpose was to be the first bridge support in the open ocean. When it finally opened in 1937, the Golden Gate Bridge expanded 1.7 miles long and 90 feet wide and cost about $27 million to construct. Tip: Marin Headlands is an ideal location for hikes, picnics and of course a mini photoshoot!

4. Benson Bridge – Multnomah Falls, Oregon
Cool off from your long hike with a stroll across the charming Benson Bridge and don't forget to take in your lush green surroundings. Built as the main footbridge connecting the two cascades of Multnomah Falls, this 45-foot long structure is dubbed as one of Oregon's most popular outdoor destinations. Named after Simon Benson, an Oregon businessman that backed the money for its construction, the bridge is a truly iconic landmark for the state. Tip: Get there as early as possible and bring some kind of rain sleeve for your camera to avoid the mist flying around in your shots.

5. Mackinac Bridge – St. Ignace, Michigan
Spanning  26,372 feet long and 552 feet high, the "Mighty Mac," comes in at number five as the longest suspension bridge in the world. Built as a means for transportation across the Straits of Mackinac when ferry service had failed, The Mackinac Bridge became the solution. Designed by engineer David B. Steinman, the bridge opened in 1957 and cost roughly around $99,800,000 to build. They say Rome wasn't built in a day, and for this bridge, it took 85,000 blueprints to be satisfied with the final product. Believe it or not, in 2017, the bridge was due for updates and metal pieces were cut away from the middle and auctioned off online. Tip: Fort Michilimackinac State Park is right off the straits of Mackinac and has daily reenactments, tours and a firing of the canon.

6. Royal Gorge Bridge – Canon City, Colorado 
If you're looking for breathtaking, panoramic views for miles – we've got you covered. The Royal Gorge Bridge rises 956 feet above the sparkling Arksans River and goes on for a staggering 1,260 feet. A must-see for those looking for an adrenaline rush, this bridge offers aerial gondolas to take it all in or the more traditional tours by foot. Constructed in 1929, this bridge only cost $350,000 and was built in a snappy 6 months thanks to engineer, George E. Cole. In 2013, a wildfire ripped through a portion of the park and cost $3o million in repairs before reopening in 2014. Tip: Royal Gorge keeps its photographers in mind and offers prime photo lookout areas including Cliff Walk Overlook, Eagle's Nest and Point Sublime.

7. Bob Graham Sunshine Skyway Bridge – Tampa Bay, Florida
Follow the Florida sunshine southwest and eventually, you'll run into a bridge with a lot of history. With a cost of $244 million dollars, the Sunshine Skyway connects St. Petersburg in Pinellas County and Terra Ceia in Manatee County. The bridge, which was completed in 1987 by Figg & Muller Engineering Group, spans an amazing 4.14 miles long and 430 feet high and is one of the only bridges in the world to be built as a cable-stayed concrete bridge. Tip: Photographing the Sunshine Skyway from the fishing piers at each side of the bridge makes for great shots.

8. 
Seven Mile Bridge – Florida Keys, Florida
In order to frolic and splash on the white beaches of Key West, you first must conquer the journey across this monster of a bridge. Stretching 35,862 feet, the Bridge, originally named Knights Key-Pigeon Key-Moser Channel-Pacet Channel Bridge, was first built by railroad tycoon Henry Morrison Flagler as a way to expand his booming railroad business south. Following multiple hurricanes ravaging the tropical area and washing away miles of railroad, a new bridge was built next to it and renamed the Seven Mile Bridge. Tip: Head to the Keys in April and participate in the Seven Mile Bridge Fun Run to commemorate the Florida Keys Bridge Rebuilding Project.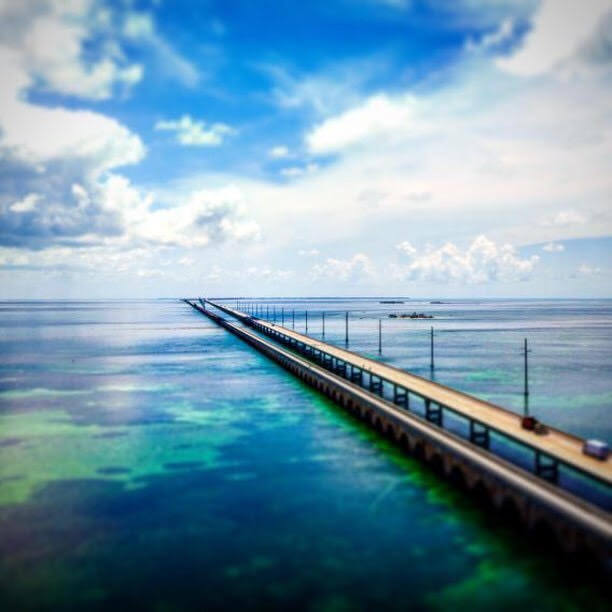 A road trip isn't complete without a few pitstops in between and these bridges will be sure to have you in awe. Why not print your favorite shots HERE to relive the moments you'll cherish forever. Happy road tripping!