Creating your best wedding photo book can be a daunting task; You want it to look and feel as perfect as the day itself. But with dozens of templates, dozens of fonts, and thousands of unique design assets to choose from, narrowing your options down to the dream wedding photo book you have in mind can become a huge time consumer – time that many busy newlyweds don't have to spare!
To save you precious time on design trial and error, we've compiled a list of our favorite photo book templates, assets, and tips, to make creating the best wedding photo book as easy as saying "I do"!
---
Five Templates for the Best Wedding Photo Book
Our book building platform offers dozens of professionally design photo book templates, aimed at greatly simplifying your photo book creation process.
Our Midnight Wedding Template
This template flawlessly mixes collage and full bleed displays, giving you room to feature all of your favorite photographs in a clean and elegant fashion.  Deep blue hues decorate a variety of pages within this template, elevating your simplest photos with a touch of romance and artistry.
The simple and sentimental cover of this wedding template seals its place on our top five list. It features a full bleed image with a small yet elegant emblem of your wedded initial.
Our Minimal Wedding Template
If your wedding photos are filled with color, vibrancy, and detail, let them speak for themselves in our most straightforward, classic template.  Our Minimal Wedding template mixes full bleed pages with stand-alone images, centered within thick white bordering.
This template's image-only cover will make your wedding photo book a stunning display piece, whether you decide to arrange it on shelving or lay it out as a coffee table book.
Our Bohemian Wedding Template
Bring the free-spirited nature of your wedding to life on the pages of your photo book with this unique yet minimal template.  The template features a number of slots for full spread, full bleed photo displays, along with a handful of circular photo frames.  This unconstrained design brings something new to every page, making every flip through feel like the first.
Its cover design allows for the display of you and your loved one's initials, as well as the date of your special day.
Our Diamond Wedding Template
This wedding photo book template is as luxurious and elegant as its name.  It incorporates a mixture of large and small images, even allowing you to aesthetically overlap your photos.  This feature is optimal for highlighting the biggest moments of your special day, as it allows for both landscape shots and detail photos.
However much we love the design each page, we love the cover design even more. It is split horizontally into two sections of color, with a diamond photo slot for your most romantic couple photo directly in center. The back cover is sleek and black, with white text stating simply you and your spouses last name.
Our Breathing Room Template
The final template we want to highlight isn't exclusively a wedding template, but we still adore its elegant features and how they can elevate your wedding photos.  The benefits of this template are reflected by its name; Each photo is given room to shine, even on a spread with half a dozen other images.
While this layout isn't ideal for dramatic landscape photographs or bold scenic shots, it's the perfect template for an intimate wedding that leaves you stocked with ample portraits of people you love.
---
6 Assets We Love
With over 14,000 assets to choose from in our photo book building platform, scrolling through all of the options can be incredibly time consuming. Let us put the spotlight on 6 of our favorite wedding themed assets. You can search these up easily by typing their name into the search bar on the photo book builder's asset tab!
Our "WeDo" Sticker
We love the elegant lettering of this sticker. We recommend layering it over a darker toned image, when a bit of flare is necessary to liven up a spread!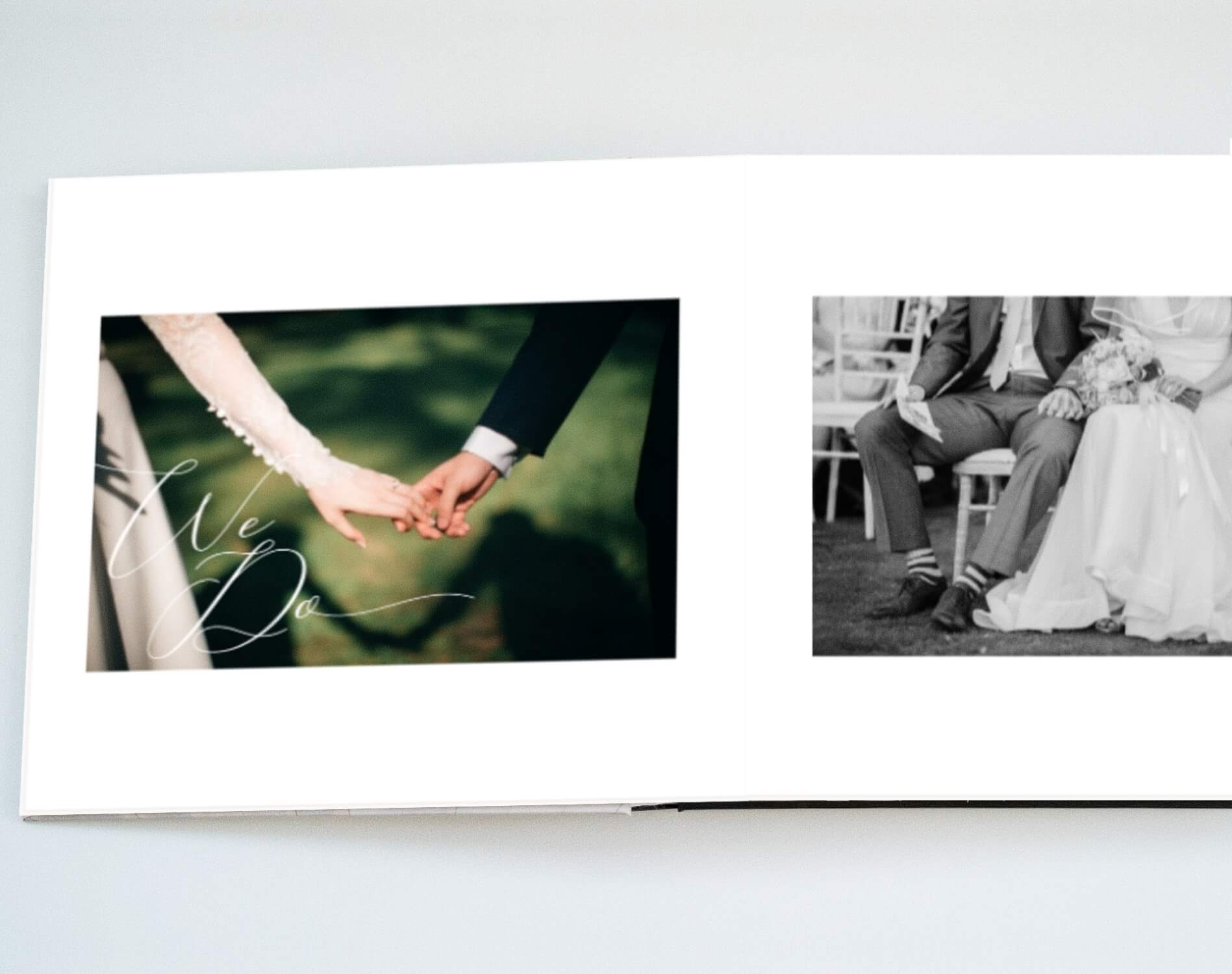 Our "HappilyEverAfter" Sticker
This Happily Ever After sticker is a gorgeous added detail within blank spaces; For example, how it was used between the columns of this rotunda.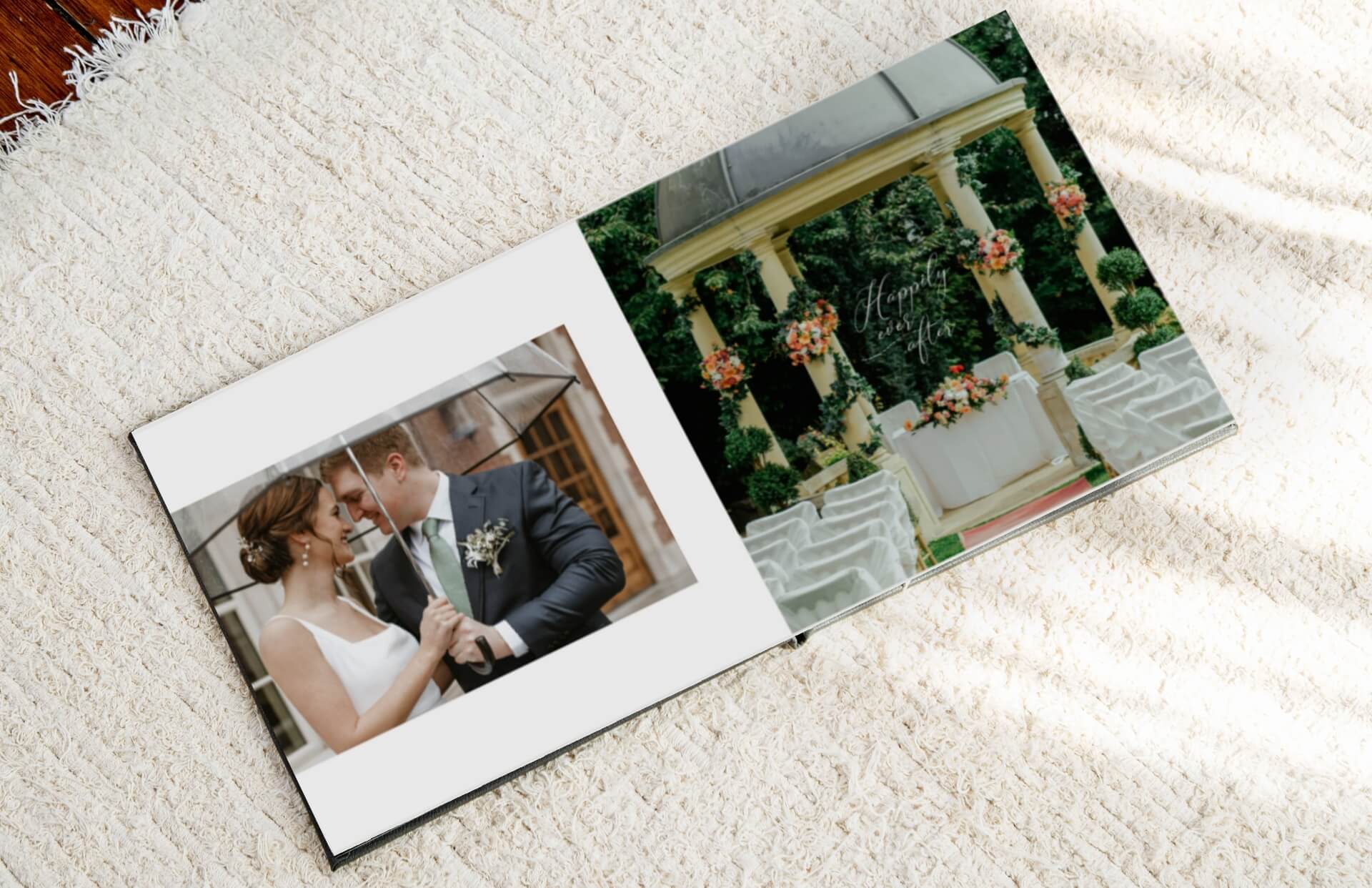 Our "Asset 6" Sticker
Add a splash of excitement to any spread with the playful shape of this Asset 6 sticker. Drop a hexagonal photo frame within this sticker to easily arrange this fun yet elegant frame around one of your favorite photos. You can change the color of the frame as well; Match it to the photo on the page opposite for an extra aesthetic effect in your best wedding photo book.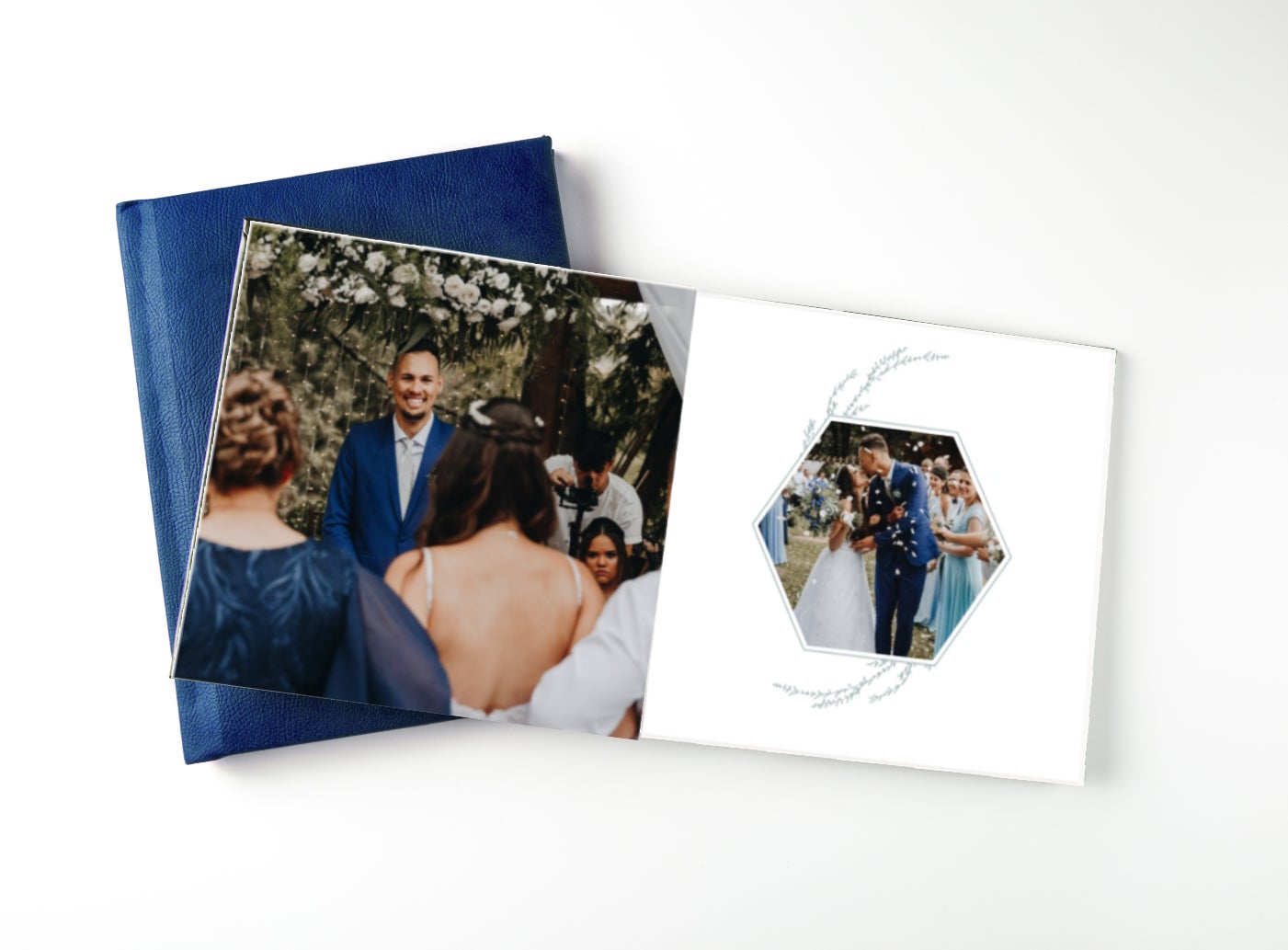 Our "Circle Thin Black Outline Frame 01" Frame
Our Circle Thin Black Outline Frame is a great way to add glimpses into favorite moments, within larger moments – like shown below! You can modify the color of the line around the frame, letting you match either the color of your pages, the color of your font, or the color of your photo.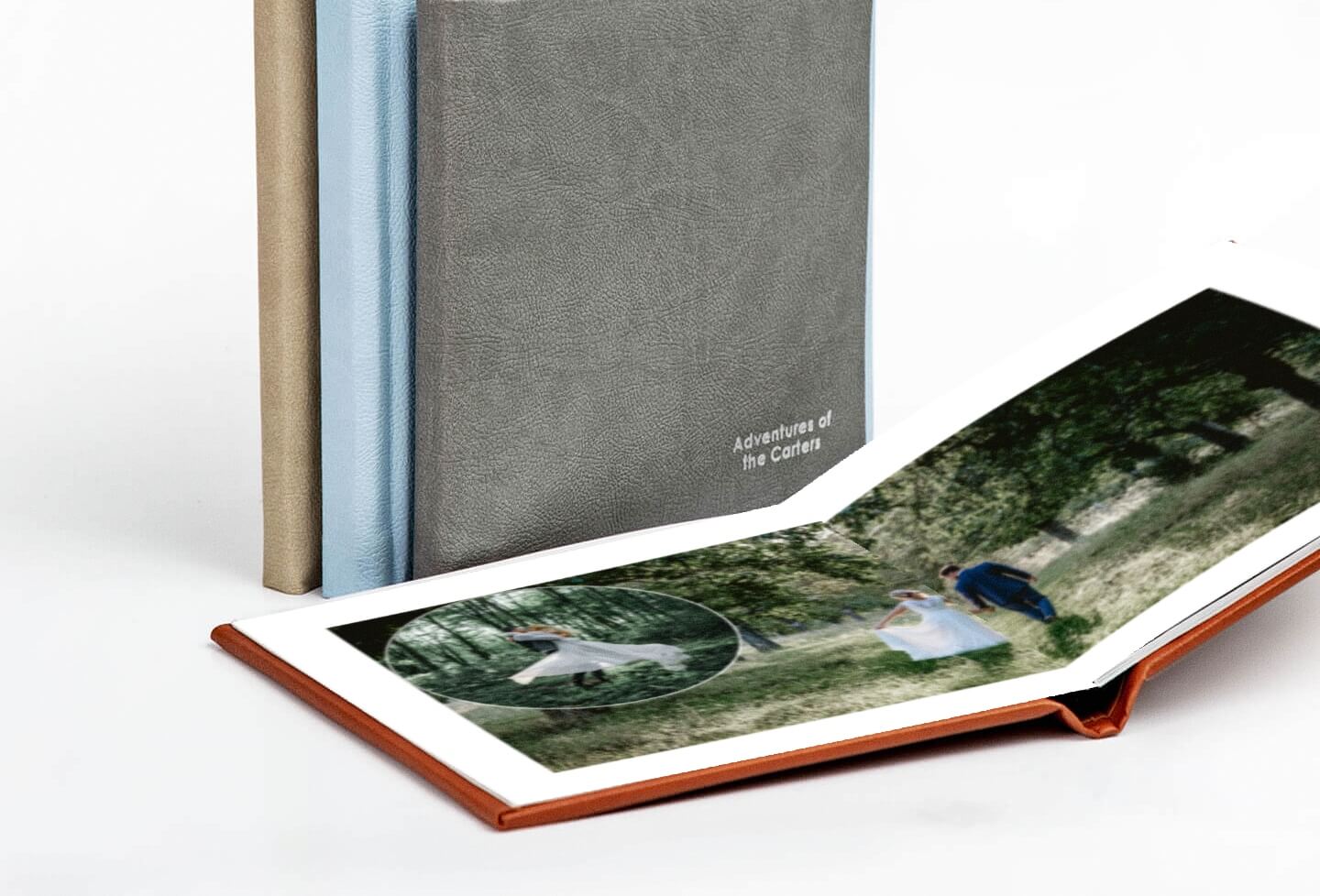 Our "ForeverAndAlways" Sticker
This simple yet meaningful sticker is an adorable addition to simple spreads. We recommend letting its lettering slightly fall off your image, to give it a natural flow.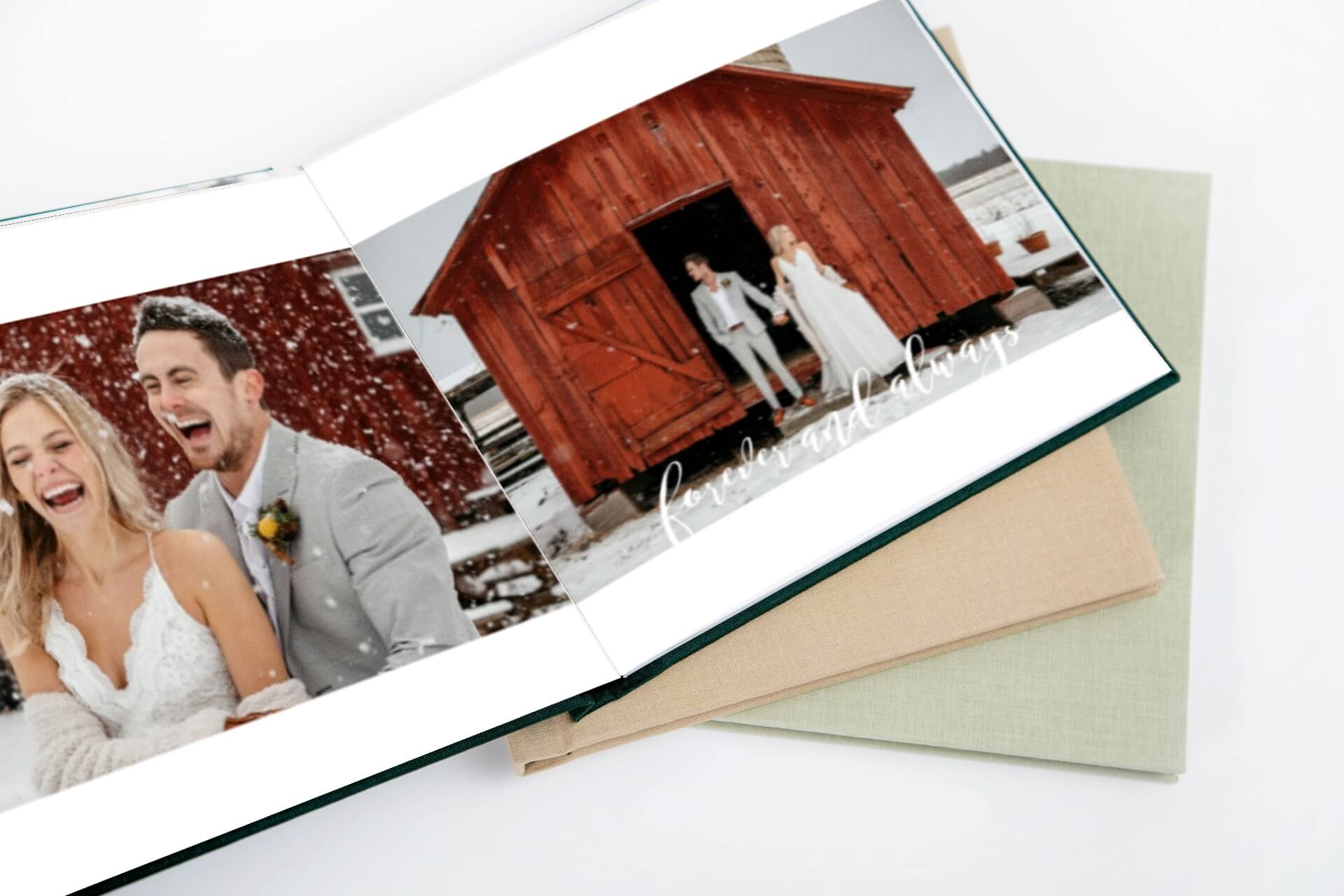 Our Watercolor Flowers Sticker
If you want to add a touch of dimension and color to your wedding album, try our watercolor flower stickers! Search watercolor in the asset search bar, and you'll find a range of watercolor flowers available.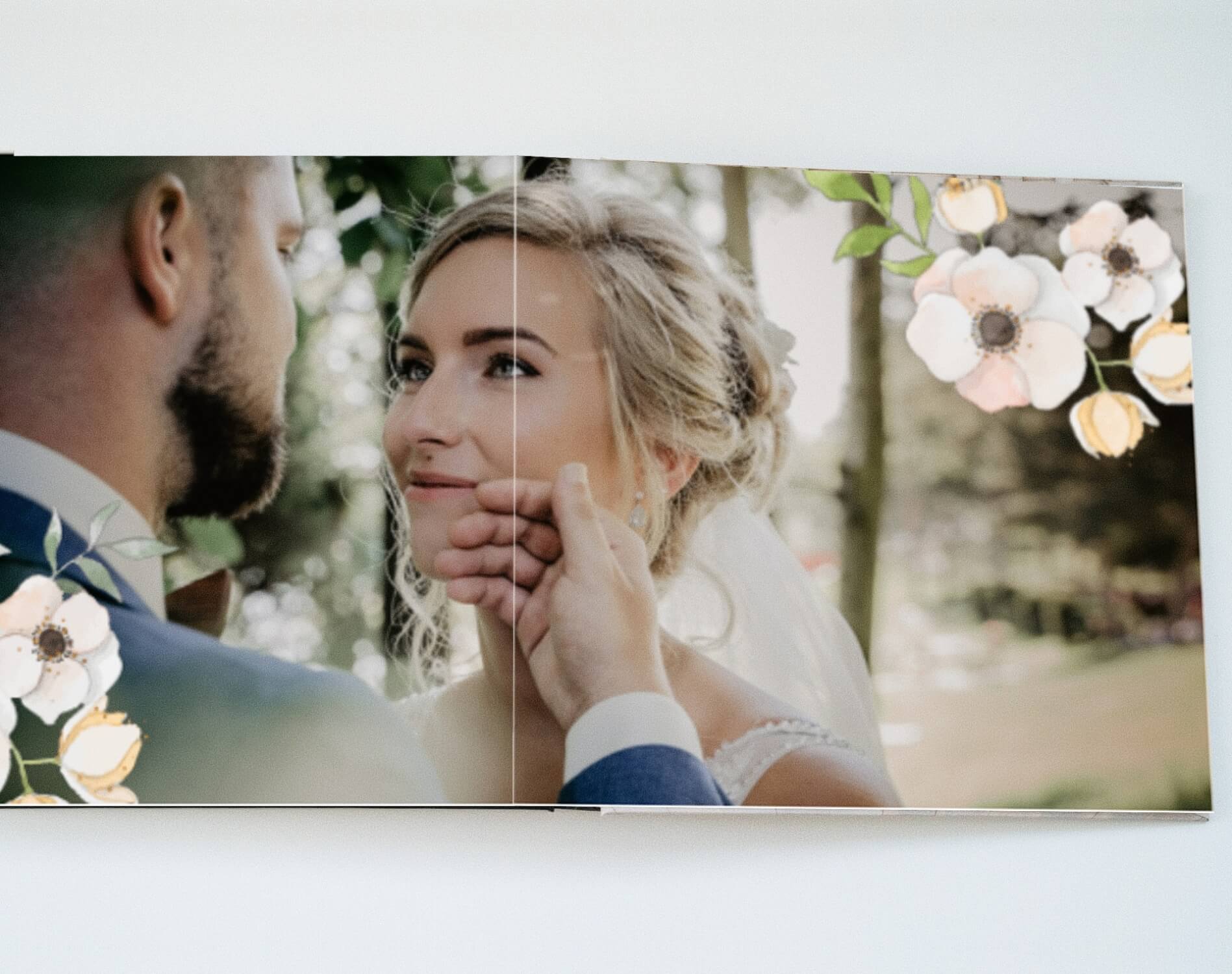 5 Tips for Creating the Best Wedding Photo Book
Now that you're prepared with the templates and assets that will help you create your best wedding photo book, it's time to cover our most valuable wedding photo book tips. They aren't universal, but they apply to nearly every wedding photo book we've come across, so keep them in mind as you put your book together. If they help improve your book, apply them!
Keep your wedding photo book chronological.
As you fill your selected template with photos from your big day, try to keep your arrangement (mostly) chronological. Your photos should be grouped with other photos taken during the same part of your wedding: keep your getting ready photos together, your ceremony photos together, your reception photos together, and so on.  This will create a natural flow in your book while preventing any jarring jumps from page to page.  Your photos each supply context to the photos around them, and keeping photos in a chronological order allows you to aesthetically and appropriately tell your story. Afterall, the best wedding photo book is one that authentically and accurately tells the story of your day!
Don't overcrowd the pages.
You're bound to have hundreds of beloved photos following your wedding.  This can make it difficult to resist filling every inch of your photo book with the pictures you love.  But we're here to insist: resist! Overcrowding your pages can quickly reduce your photo book from an elegant collection to a messy accumulation of images.  With dozens of other ways to print your favorite photos, there's no need to force them all into one book; Afterall, the best wedding photo book is meant to serve as a highlight reel of the special day, sparking memories of other small moments dear to your heart.  Think of it as the photo book version of your wedding's greatest hits!
Make room for details in your wedding photo book.
Giving your photos room to breathe doesn't mean ignoring your precious detail shots! You didn't overlook the details of your wedding while planning it, so don't overlook them in your photo book. Include images of the bouquet, the table settings, the dress, and the venue decorations. Not only will this help you remember the beauty of your wedding selections, but it will bring the aesthetic of your wedding to life. The cohesive colors of the bouquet, the bridesmaid dresses, the table décor and so on will tie the pages of your wedding photo book together.
Check out our master list of can't-miss wedding photos for more photos to include in your book.
Don't overlook the physical details of your photo book.
While a lot of emphasis goes toward the design of your wedding book's inner pages – and rightfully so! – the best wedding photo book will be designed intentionally from cover to cover. For example, if you know you want a wedding photo to be the cover of your photo book, don't order your book with a leather or fabric cover. Alternatively, if you want your photo book to feel thick and luxurious when you hold it, our leather books are the perfect selection.
Choose the color, material, and title of your book with care. It's the first thing you'll see every time you settle in to flip through the pages of your favorite book.
Make your wedding photo book for you.
As you create your wedding photo book, don't forget who you're making it for: you!  The best wedding photo book is one that showcases all of the photos you and your spouse love the most.  While you'll want to show your wedding book to your friends, family, children, and future grandchildren, the hands that will be most frequently turning the pages of your book are those of you and your spouse.
---