A memory book is a priceless way to keep life's most treasured moments wrapped up in one place. With our easy-for-beginners and efficient-for-pros photo book maker, crafting a final product that you absolutely adore has never been simpler.
Follow the guide below and you'll be able to create a memory book that will be passed through generations – all for less than $50.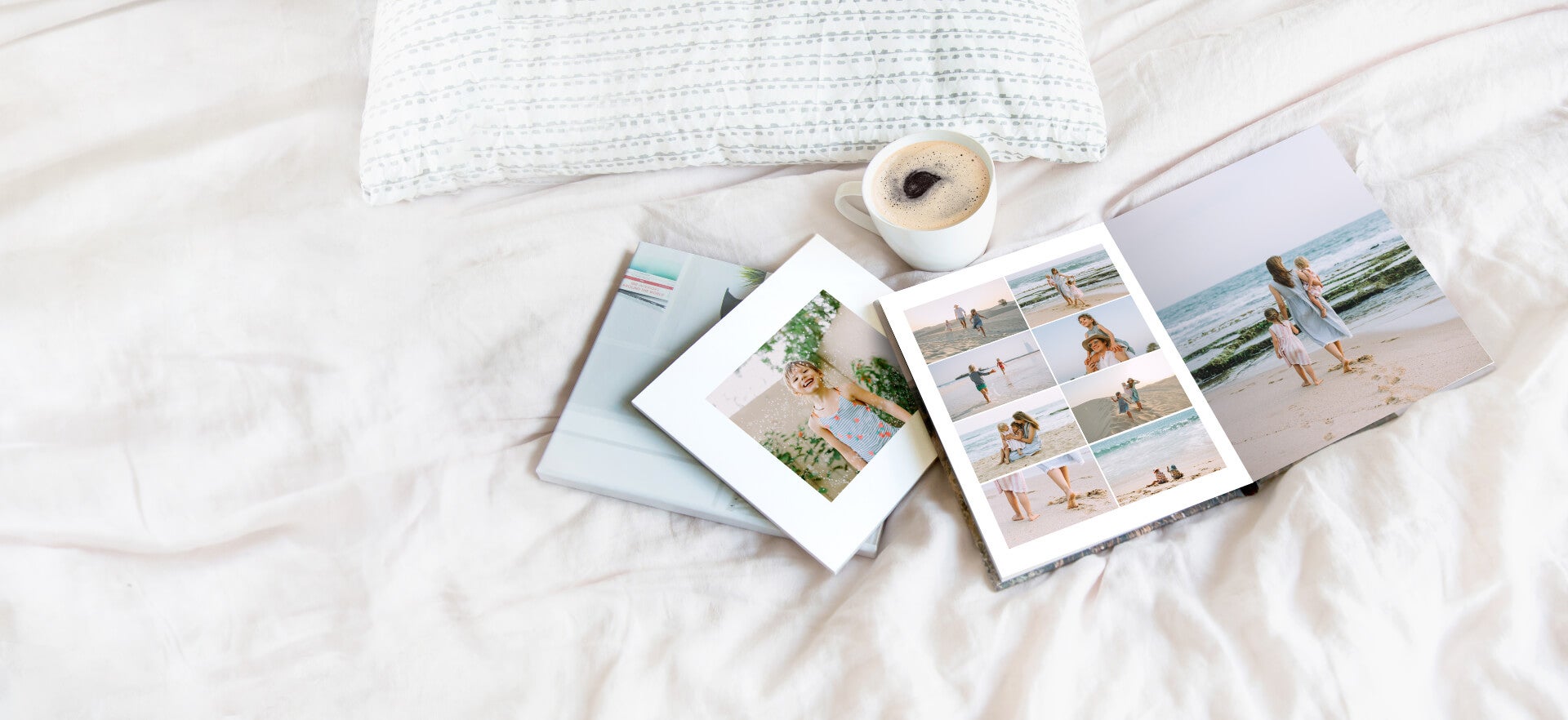 ---
Step one: Select the size of your photo book.
For our $50 photo book project, you will want to select either a 6×6 photo book, or an 8×6 photo book.  The larger sizes will put you over the $50 project budget.
If you want your memory book to feature photos with little to no text, we recommend opting for a square, 6×6 photo book.  If you do want to include text in your memory book, we recommend selecting a portrait-oriented 8×6 photo book. This orientation will leave more white space above and below photos for text.
Step two: Select the wrapping of your photo book.
While our fabric and leather book wrappings will put your project over the $50 budget, our hardcover selection will keep you right on the money!
Step three: Select your photo book template.
Now that you've chosen your photo book's orientation and wrapping, it's time to choose a template you love the most. For memory books, we recommend selecting one of our collage-style templates. Each of our collage templates can be found under the 'Collage' section on the left navigation bar.
OR
Step three: Start your book from scratch.
When you start your book from scratch, you will still be able to drag and drop photo templates onto each individual page. This makes it incredibly easy to create a cohesive, organized photo book layout – with room for text! The ease of self design in this approach makes it the approach we recommend if you're including text in your book!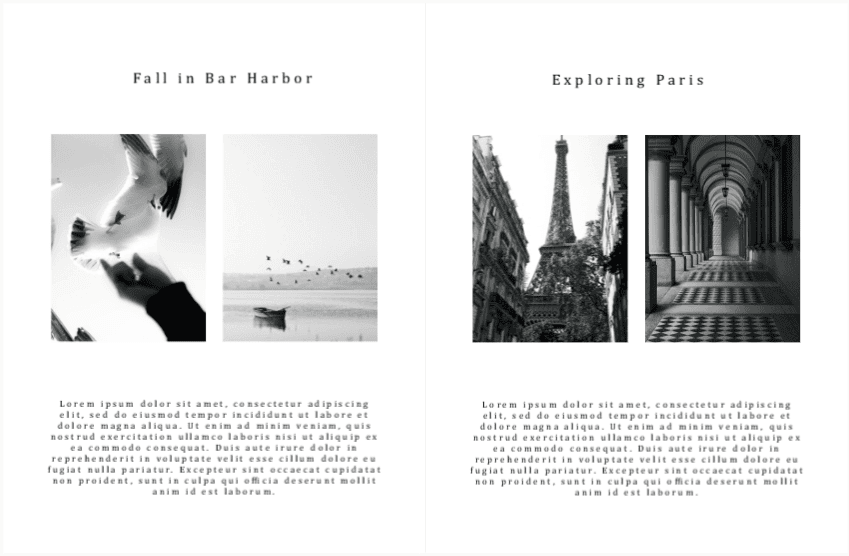 Step four: Add text.
Adding text before uploading your images will save you from any unnecessary trial and error periods, since large text boxes may force you to rearrange your photo grids.
You can add text boxes to your template by simply dragging and dropping the text inserts from the navigation bar – then type away!
Step five: Upload your photos.
It's time to add your photos! The uploading process should take less than five minutes. If you want your book to have a miscellaneous arrangement, select the auto-fill option for your photos when prompted. This will fill each of your photo boxes automatically.
If your photos coincide with text on particular pages, drag and drop your photos into their respective boxes.
(Optional) Step six: Add extra pages!
If you selected the 6×6 orientation for your book, you have room in your budget for a couple extra pages. Use them wisely!
---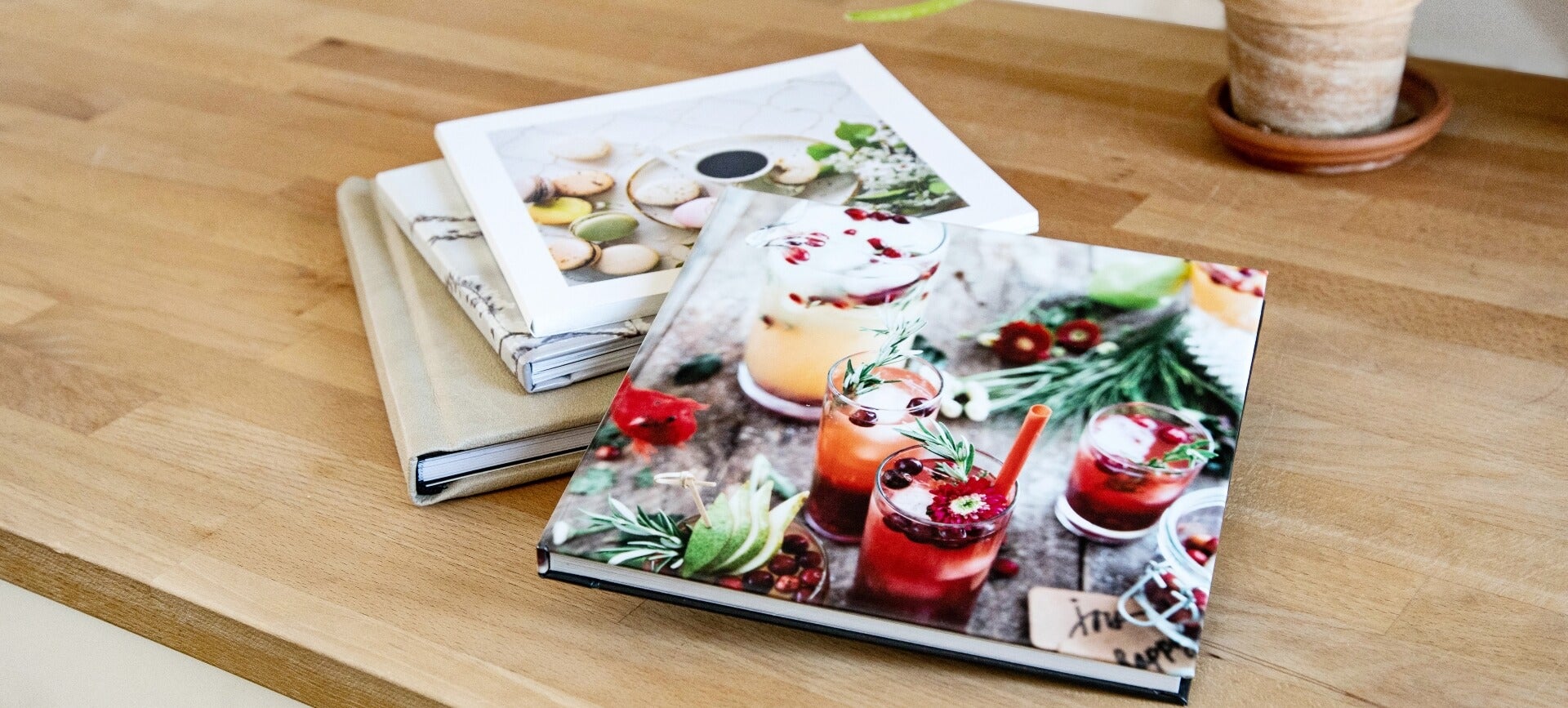 Your memory book is ready!
Just like that, you've created a mesmerizing compilation of memories. Our favorite books are the ones that happen on a schedule, such as annually or monthly. Create a book of memories for each of your romantic anniversaries, gift a book to your child or spouse one ach of their birthdays, close out each year with a fresh memory book, or order one sporadically throughout the year, just because! By regularly ordering books, you'll be slowly but surely creating a collection of memories that will become a prized possession to your family – for generations to come.