Note: This budget is outlined with our 15% off sale in mind.  Use code MyJuly between now and July 13th to get the most out of your bathroom décor.
Your bathroom is one of the most frequently visited rooms in your home. It's often the first place you visit in the morning, and the last place you visit before going to bed. It's the room nearly all your guests will see – even the guests who just run in for a pitstop – and a space with the power to help you recharge after a long day; That's why it's so important to make your bathroom feel like home!
With a little TLC, you can turn your bathroom into an uplifting oasis, filled with soothing colors, enchanting scenery, and precious memories.  In this guide, we're going to teach you how to transform your space with photo prints for only $250.  And don't worry – we won't leave you hanging! We'll wrap up this guide with the additional elements you need to make your bathroom one of your favorite rooms in your home.
---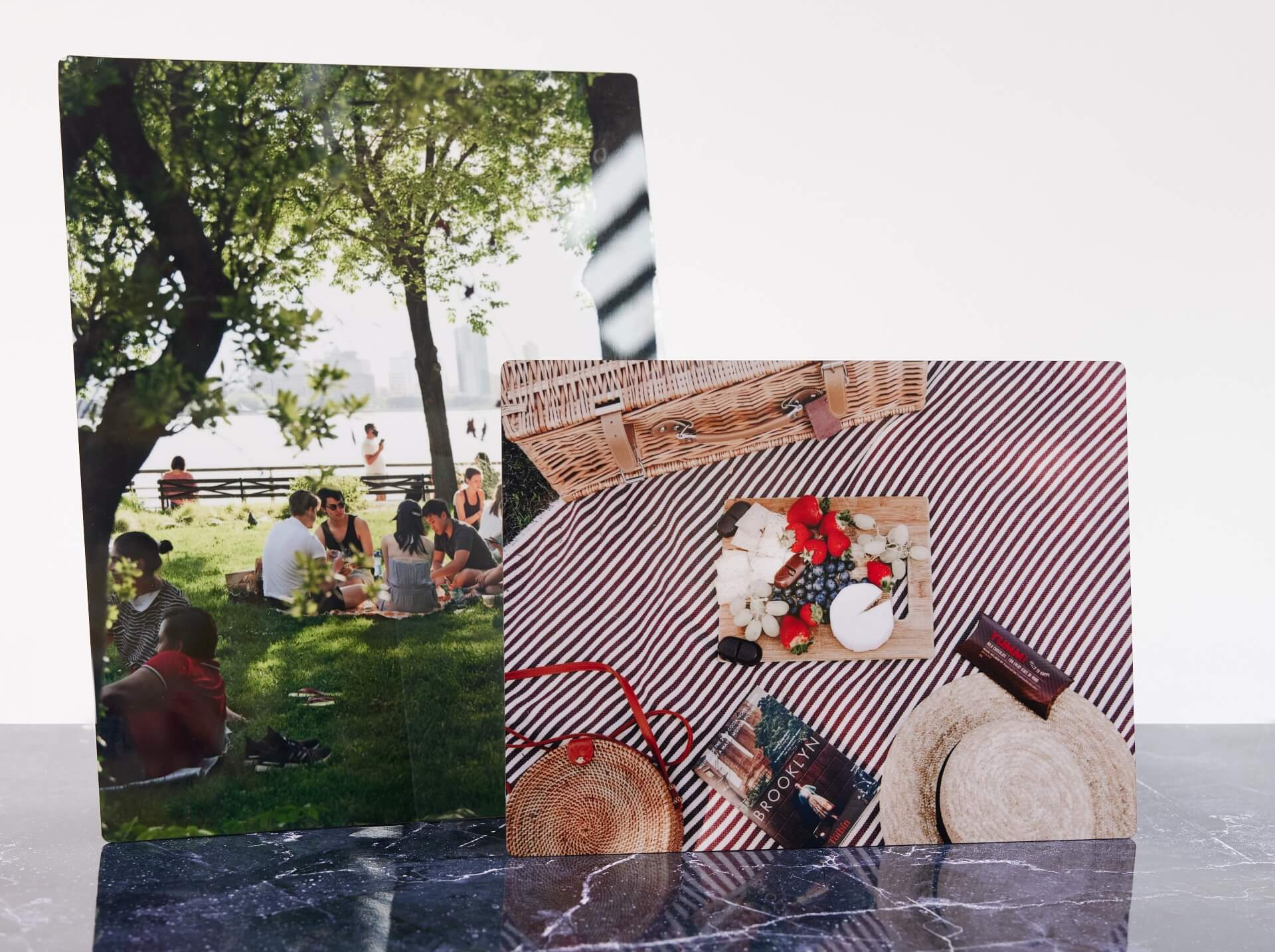 Wall Décor
Budget: $100
No makeover would be complete without the addition of fresh, chic wall décor – and Printique happens to be the proud creator of a range of water-resistant, humidity-safe photo products.
Option One: Metal Prints
Metal prints are the perfect medium for bathroom photography décor. With a range of sizes at your disposal and a luster finish that will keep your prints shining for decades, they're the go to way to add both color and memories to your bathroom wall.
If you're decorating a wall space that is fairly narrow from side to side, we recommend creating two 11x14in metal prints to be arranged above and below one another. If you're decorating a larger wall space, opt for a larger, stand-alone metal print.
Option Two: Fill your frames.
Frames are a gorgeous, elegant, and durable way to decorate your bathroom space.  Since frames can be expensive, we recommend making the most of the frames you already own!  Measure the size of your frames and order meaningful prints to fill them with. You can order five 11x14in classic prints for only $25.00.
If you're hoping for a chic and organized look in your bathroom, use one or two larger frames and prints with a cohesive color scheme. If you're hoping for a cozy, eclectic aesthetic on the other hand, feel free to mix and match frame size, color, and material.
---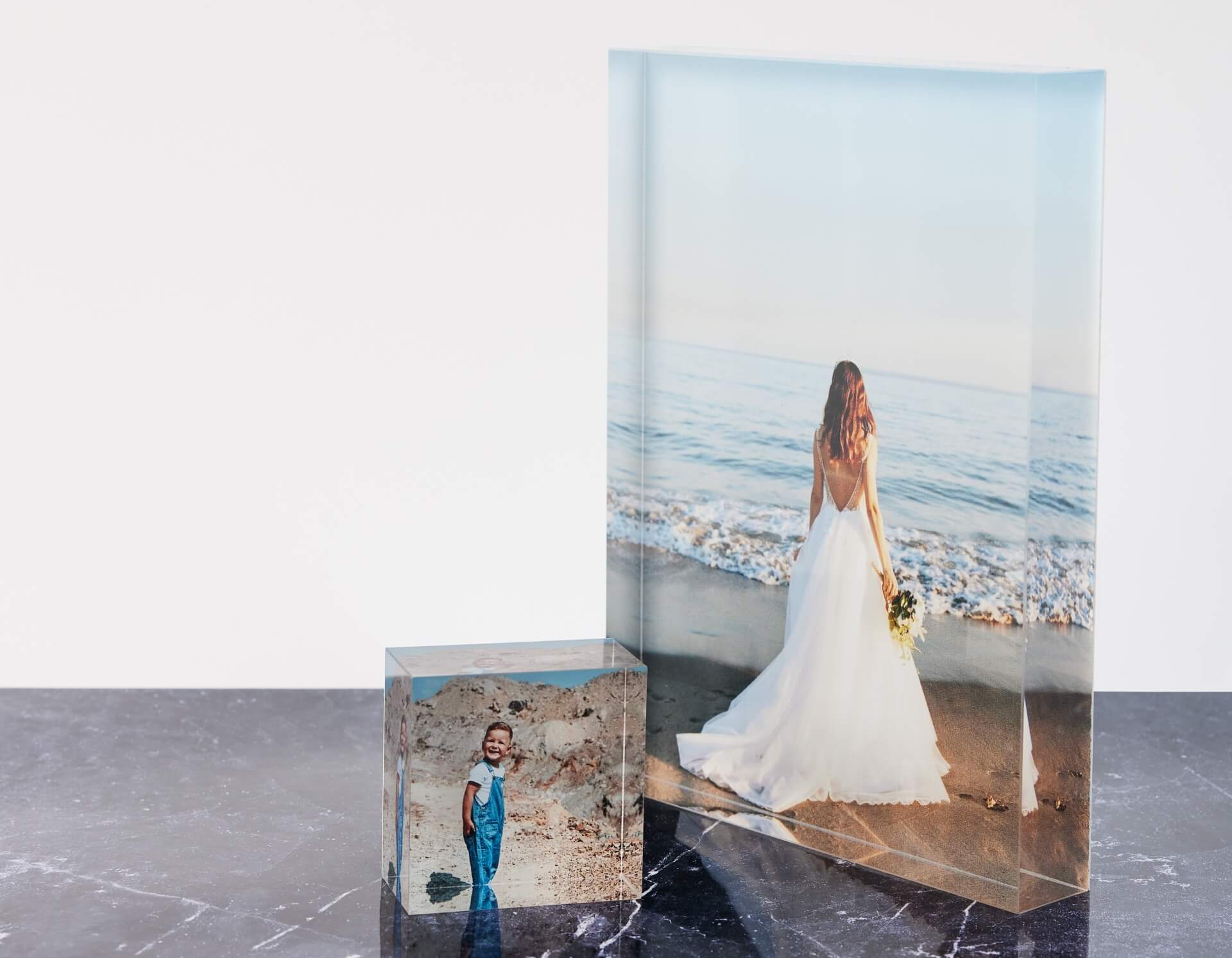 Counter Décor
Budget: $100
Bathroom counterspace is invaluable real estate when it comes to a bathroom transformation. Open counter space begs to be filled with unique pieces; The key? Adding character without adding clutter!
Option One: Acrylic Blocks
Our acrylic blocks are a beautiful, sentimental way to add photo décor to your bathroom space.  You can create your very own 2×2 acrylic photo block for $11.99. A small collection of little memories on acrylic is a precious way to decorate with ease; We especially recommend this decor style in rental bathrooms or bathrooms with limited space!
Option Two: Wood Prints
Wood prints are a guaranteed way to add character to your bathroom, especially if your bathroom already features rustic elements such as wood or exposed brick.  You can also accompany your wood print with an easel, making it easy to stand your print on its own.  Prop it along the sink counter space or on built in shelves and let it work its magic!
Option Three: Framed Prints
Framed prints are a triple threat, being the perfect medium for galleries, standalone wall art, and stand-up décor. One of our favorite ways to incorporate frames into standing bathroom décor is by collecting unique and artistic second-hand frames.  This allows you to create twice as much décor for half the budget – while discovering truly one-of-a-kind pieces along the way!  Head to a local thrift store or browse Facebook marketplace to find a piece that speaks to you – then fill it with your favorite photographs!
---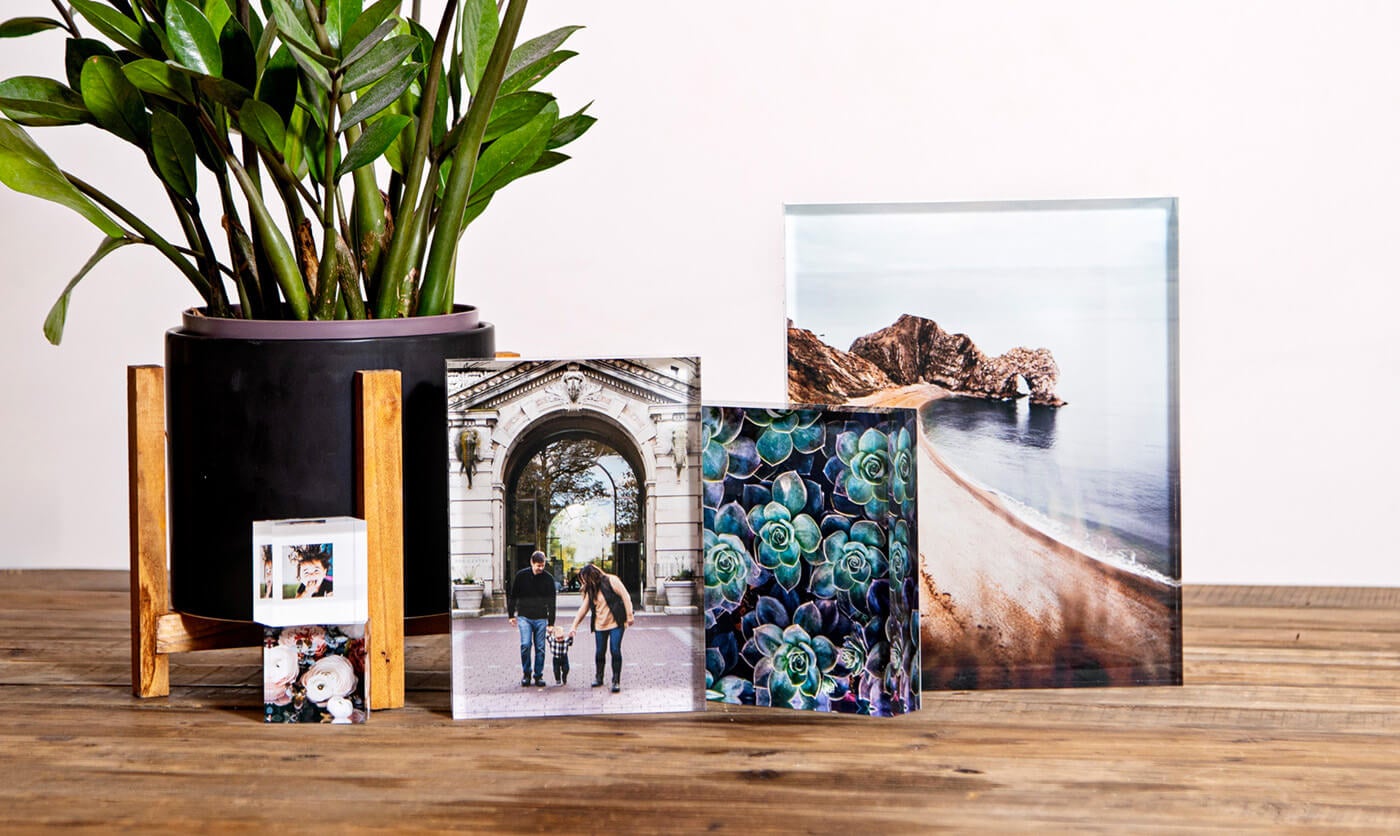 Miscellaneous Elements
Budget: $50
While our hearts belong to photo prints, there's no denying that miscellaneous décor elements play a key role in the aesthetic of your bathroom. Pick and choose from the elements below to make your bathroom feel fitting to you!
Mood Lighting
Lighting can make or break a room; With the range of roles a bathroom plays in our day to day lives, mood lighting is critical.  We recommend adding a light source that is slightly dimmer than the everyday overhead light.  This type of light source allows you to unwind at the end of the day, without sacrificing the bright lighting you rely on to wake you up in the morning.  This type of lighting is often accomplished with string lights, lava lamps, standing lamps, or artistic lights such as sunset lamps.
Plants
Make the most of your bathroom's natural light by adding greenery to the space!  Not only does greenery give a breath of life to your bathroom, but plants contribute positively to your overall mental health. Pothos are one of our favorite plants when it comes to bathroom decor, thanks to their ease of care and long, draping, vibrant leaves. Click here to see even more great plant types for bathroom decor!
No windows in your bathroom? You can still add a splash of greenery with a bundle of eucalyptus.  A eucalyptus bundle displayed around your shower head will naturally release a relaxing and refreshing scent into the air – all while looking aesthetic and beautiful!
Mirrors
Mirrors are an aesthetic and chic way to make your space feel bigger – while doubling the affect of your current decor! Adding mirrors to open wall space or placing them sporadically along counter and shelving space will give your bathroom a splash of glimmer, open space, and color. We love the set of circular mirrors seen here; Poke around online and see what you find!
---