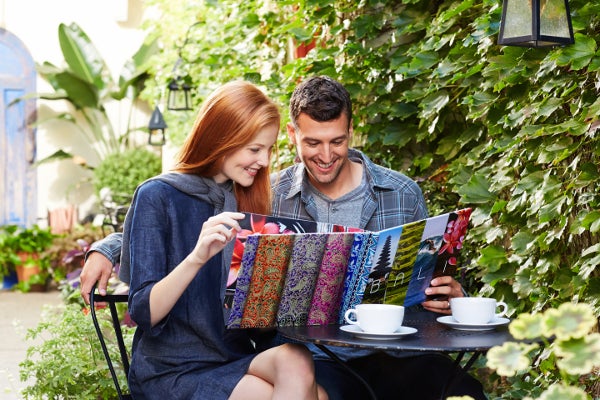 We don't often think of photos as narratives, but good storytelling is crucial to making an album memorable.
We love stories. According to Scientific American, humans have a natural tendency to create characters and narratives out of anything and everything presented to us — including inanimate objects (think Toy Story). Being the social creatures that we are, we communicate best through storytelling.
And as the course of history makes our world more complex, so do our stories. This is true of all forms of expression, from a multi-million dollar movie, to a self-published novel, to — you guessed it — a photo album. Most good stories need planning, though, so think hard about what kinds of shots you need to tell your tale. Here are some tips to help you out.
Telling Your Story: The Introduction
In the introduction, or your first set of photos, declare who your main characters are. If the photo album is about a vacation, you might select photos of you and your friends packing your things, or having fun out on the open road. By the end of your introduction, you'll also want to establish the backdrop of where your story is taking place — the setting.
Each photo raises a question: where are the characters looking? What's their relationship? What are they so surprised about? The next photo might answer this question — or add suspense.
The Body
Pick a unified theme for your story — that way, your audience can group your main subjects around an idea or event without getting confused about the context. Digital Photography School recommends one of these four themes in particular, but feel free to add more themes as "subplots."
1. Relational
These stories focus on the experiences of a person, or several people, over time: the highs and lows of a trip, an evolving relationship between spouses…you get the idea. Psychologically speaking, these are the most engaging stories.
Scientific American adds that social topics account for 65% of all human conversation, regardless of age, gender, or situation.
2. Visual
Visual themes take the form of particular shapes or colors, like a series of shots featuring the same kind of architecture, or a day at the beach that uses water as a focal point.
3. Stylistic
This theme requires the repetition of a style or technique — a series might include various macro shots of similar subjects, such as close-up portraits of people's faces, or monochrome photographs of a variety of sea shells.
4. Locational
Great locational themes may document the same location over time, or the same subjects in different locations. You might have seen the popular series of a girl leading her boyfriend around the world by hand, as Mashable recommends.
The Conclusion
Your most important shot is the last image — the one your audience will most remember. This doesn't mean you have to tie up your story in a neat, "happily ever after" way — some great stories leave the reader to draw his or her own conclusions. But what it does mean is that you want to spend some time planning both your conclusion and how your story will lead into it.
A great way to help structure your story is to ask, "What do I want my first and last images to be? What story do those two images tell?" The rest of the tale will emerge from there.
Editing
Your work isn't done yet. Novels and films go through countless rounds of editing, and so should a good photo album. As well as editing individual photos, you'll want to reflect on which shots you put where, which shots you left out, and why you did it all in the first place.
Remember, a story without a narrative focus isn't really a story at all, so pare down your choices and make it easy for your audience to digest.
If you don't want to leave any photos out, you might make two albums: one album that tells a story and another with the images that were great, but didn't make sense in the narrative. That way, you won't overwhelm people with hundreds of photos, and your album will leave people with a memorable story to tell.
As with anything, presentation is everything. To make their experience even better, treat your audience to a story printed on quality paper — Printique proves affordable, seamless, and professional-quality photo albums that communicate, in rich detail, the memorable moments of your photo story.