Imagine your two favorite Printique photo products combined – metal prints and our premium albums. Building on our commitment to excellence, we would like to introduce you to our new Premium Metal Cover Photo Albums. You can now showcase your story with the contemporary luxury of a premium metal cover album. This new album cover offers stunning metal cover options with our brilliant archival silver halide, lay flat prints. Let's dive in a little more and give you the details on the new high-end albums.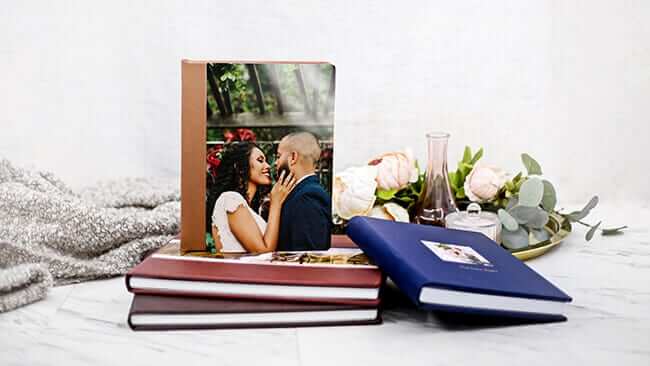 Cover:
Our metal prints are known for their vibrant colors, durability, and luminosity. We offer three choices of metal shapes. 1. Full Metal 2. Window 3. Panoramic. Because our metal album covers are cut and crafted by hand,  we can create metal covers that correspond to the size of the album cover. (Example: A  large window metal inset for an 8×8 album will be  3.92 x 3.92 whereas, the large window metal inset for a 12×12 album will be 5.92 x 5.92.) The cover image can be printed in either black and white or in full color. Your images are infused into the surface of glossy, white metal so colors stay vibrant. The sublimation process gives your images qualities of metal, making them heat and water resistant, so the rest of your album stays extra protected.
The metals are then mounted onto our fine Leather-Lux covers that come in 13 beautiful and rich colors.  The result is an exquisite and high-quality, modern aesthetic.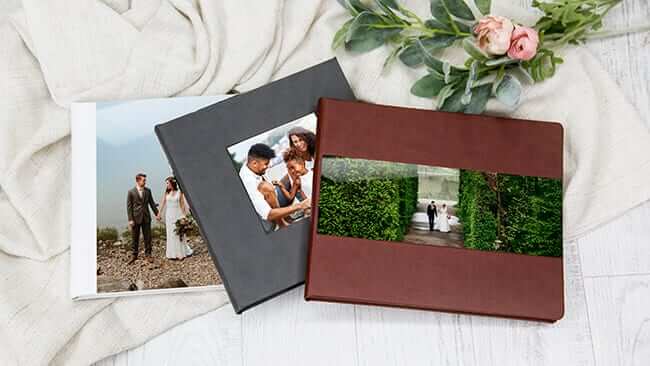 Core:
The interior pages feature amazing silver-halide photographic prints. They offer a thick and sturdy page with our lay flat binding allowing your images to be flat-out gorgeous spanning the page spread with no visible gutters.  Choices for page thickness include thick at #300 or extra thick at #700.  You will also have a choice of natural or gilding (silver, gold, black) for the page edges as well as rounded or square corners.